SKU:UGR70223
Regular price
Sale price
£47.99 GBP
Unit price
per
Liquid error (snippets/price line 121): divided by 0% OFF
Sale
Sold out
---
383

Pieces

6

Est. Time (hrs)
14+

Age

Advanced

Difficulty
LxWxH 280 mm x 105 mm x 115 mm
---
Share
Ugears salutes rescue teams everywhere with the Rescue Hovercraft model. What fire or police department, or search and rescue team, wouldn't love to have this Rescue Hovercraft ready to go after a disaster? When a large storm strikes there can be a neighborhood by neighborhood, or even street-by-street mix of flood zones and dry land, making it impossible for ordinary rescue vehicles, whether boats or trucks, to reach survivors. That's where the hovercraft shines. Able to skim any surface–land, water, mud or ice—on a cushion of air, hovercraft can bring emergency personnel where they're needed most, plucking people from floodwaters and rooftops or delivering supplies to otherwise inaccessible areas.
The Ugears Rescue Hovercraft is a 1:24 scale wooden model of a sleek, twin-propeller all-terrain hovercraft. This DIY wooden model is driven by a spring motor, with a windup ratchet key located on the craft's undercarriage. A Start/Stop switch allows you to wind the engine by giving ten clockwise turns, then engage the motor as the twin thrust propellers spin and the boat executes graceful, preprogrammed left and right turns over a distance of 3 meters, imitating the gentle swaying motion of real hovercraft.
Outstanding realism, clever design and attention to detail are the hallmarks of Ugears models. The Rescue Hovercraft features a wide air cushion skirt, a movable, hand-operated lift fan in the bow, laser-engraved lift fans aft, two large engine-driven thrust fans, helm and cockpit with seating for four, two mounted life preserver rings, headlamps built into the bow and search lights mounted aft of the cockpit for nighttime rescues.
Like all Ugears models, the Rescue Hovercraft is made from art-quality composite wood. You can leave the model in its attractive natural wood state, or paint it in the colors of your local police or fire department. To assemble, just punch the laser pre-cut pieces out of the boards, and snap them together. Each kit comes with a piece of sandpaper and wax—use these to smooth and lubricate the moving parts during assembly. Follow the detailed, step-by-step, full-color illustrated instructions in 11 languages (Ukrainian, English, German, French, Polish, Spanish, Portuguese, Italian, Japanese, Chinese and Korean) for a successful build. With 383 parts and a "Medium" difficulty level, the Rescue Hovercraft model boat promises __ hours or more of enjoyable assembly time as you dream of the rescues your boat will make.
The Rescue Hovercraft joins Serenity's Dream, the Ocean Beauty Yacht, Trimaran Merihobus, and the Research Vessel in the Ugears collection of 3D puzzle ships and boats. This beautiful boat will make a great gift for anyone who loves watercraft or model building, or for children who dream of being real-life heroes as police officers, firefighters, or members of other rescue teams. You can give the model kit as a gift, build the model together with your loved one, or build it yourself and present the finished model as a beautiful, mechanical toy for hours of imaginative play.
View full details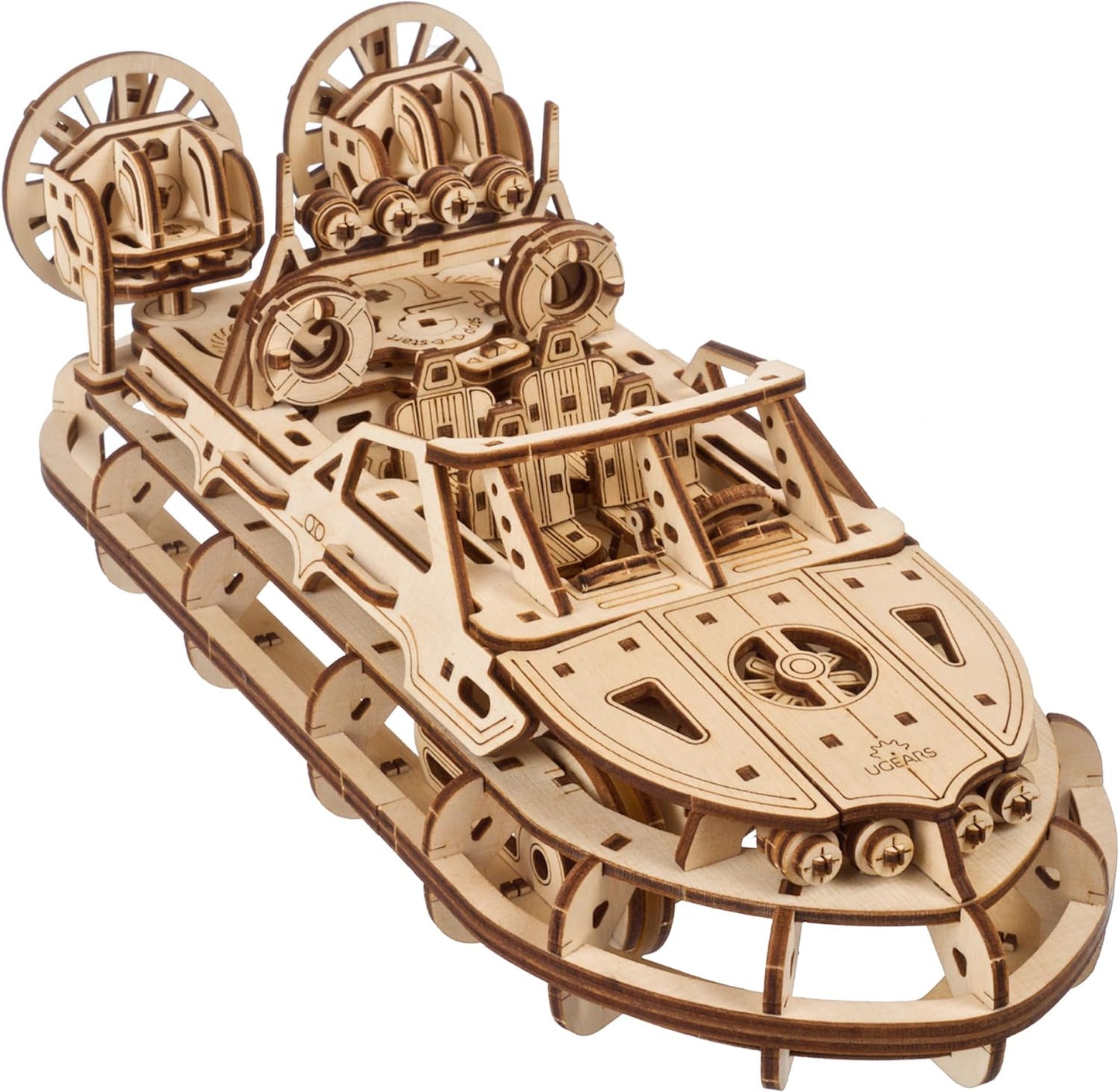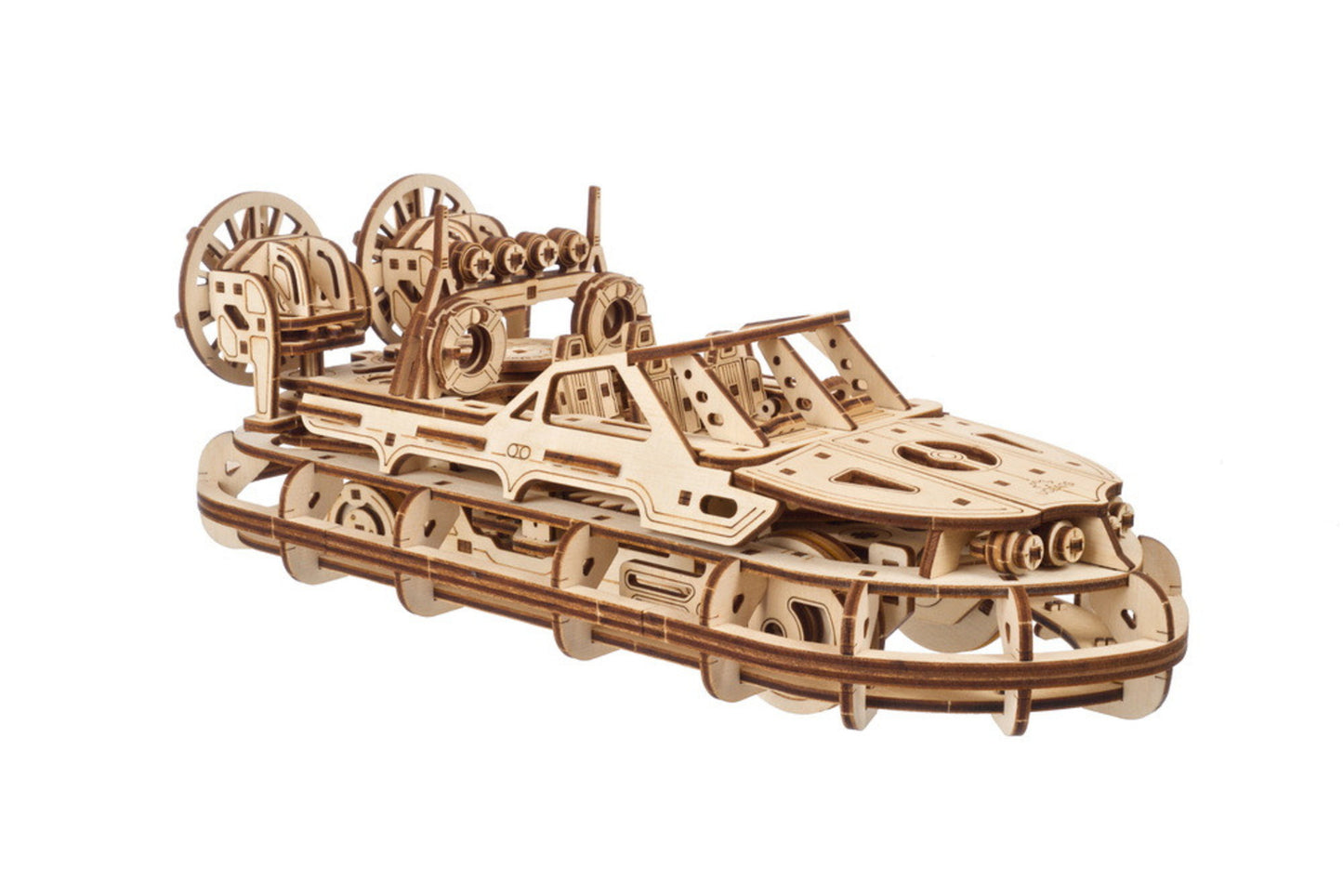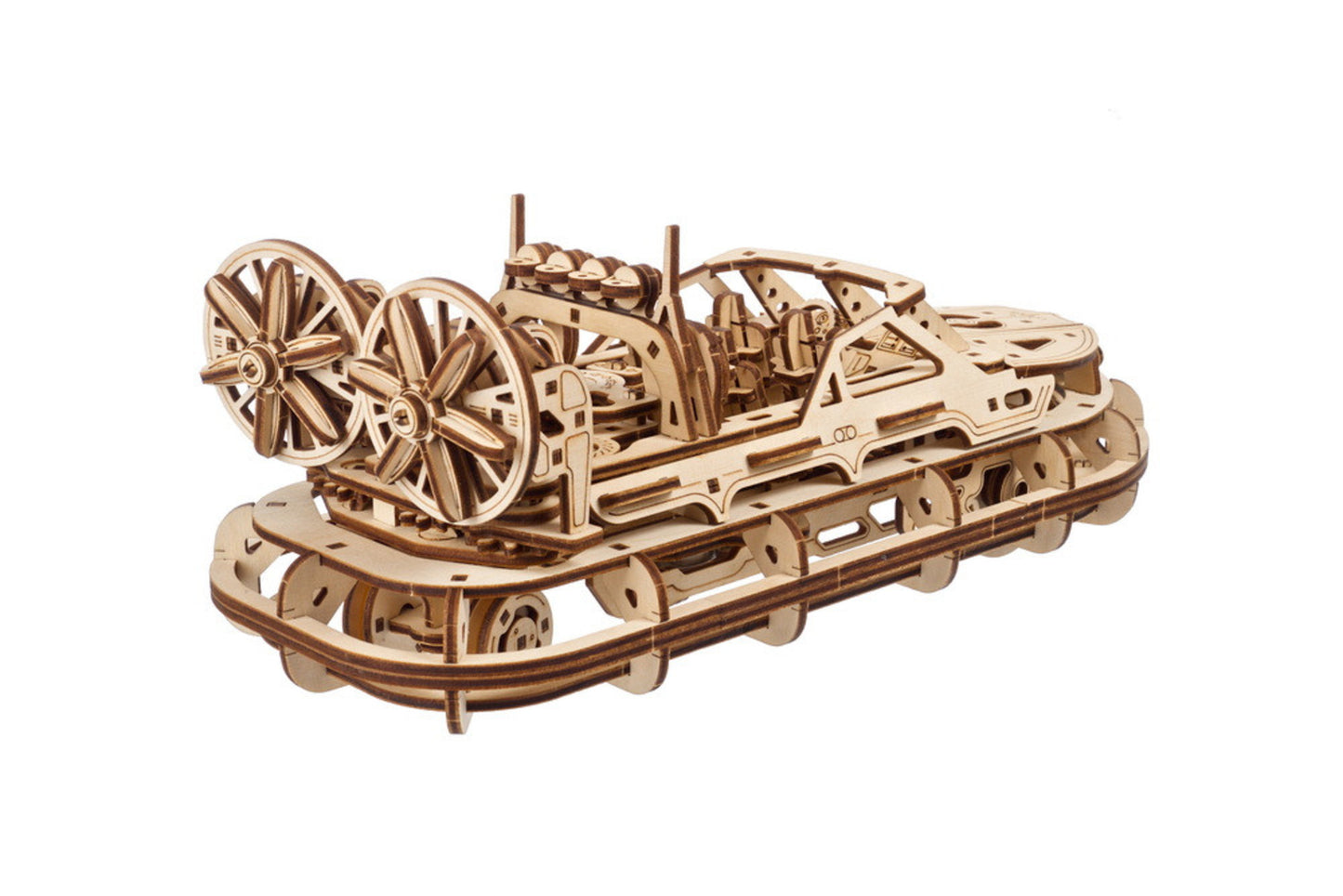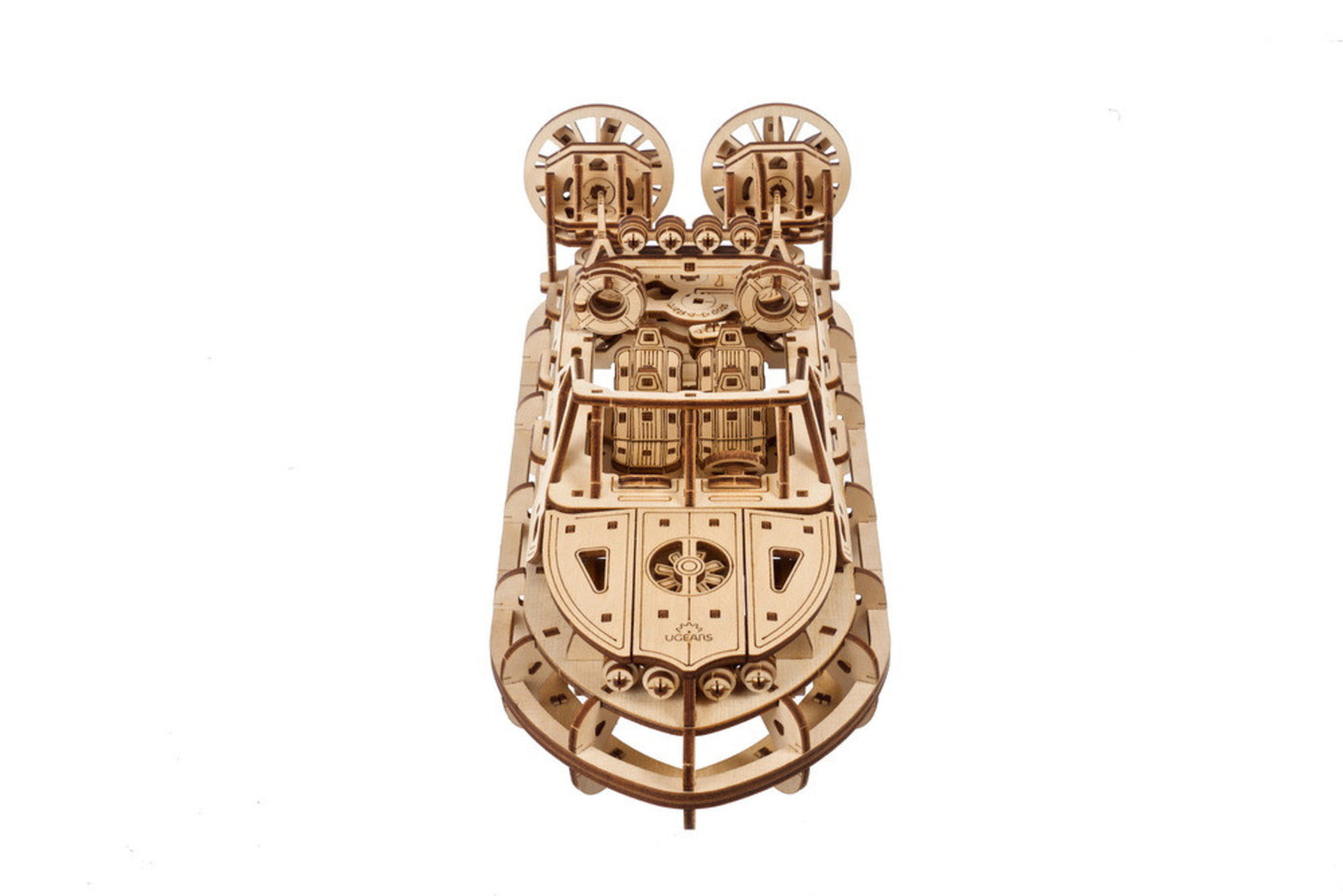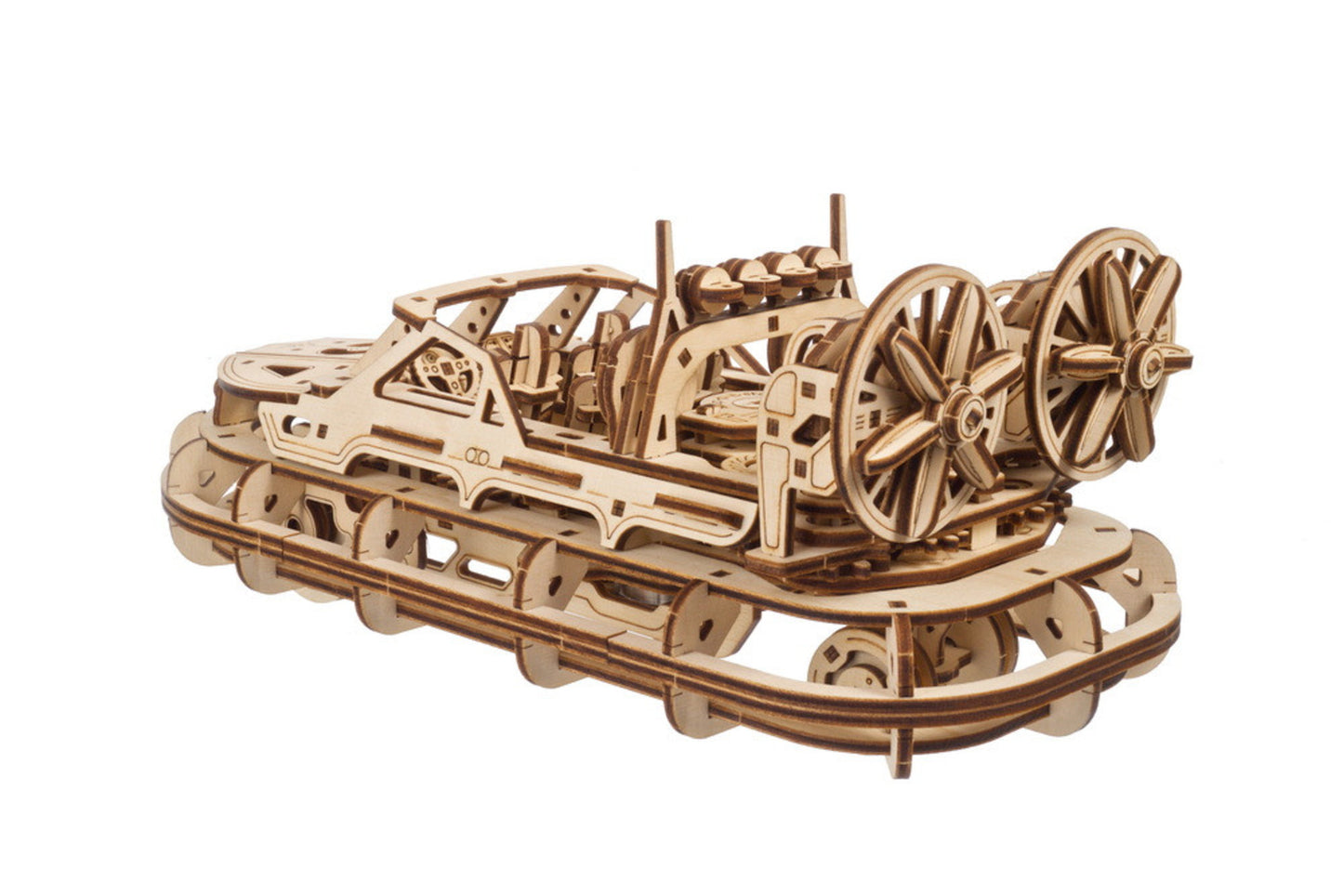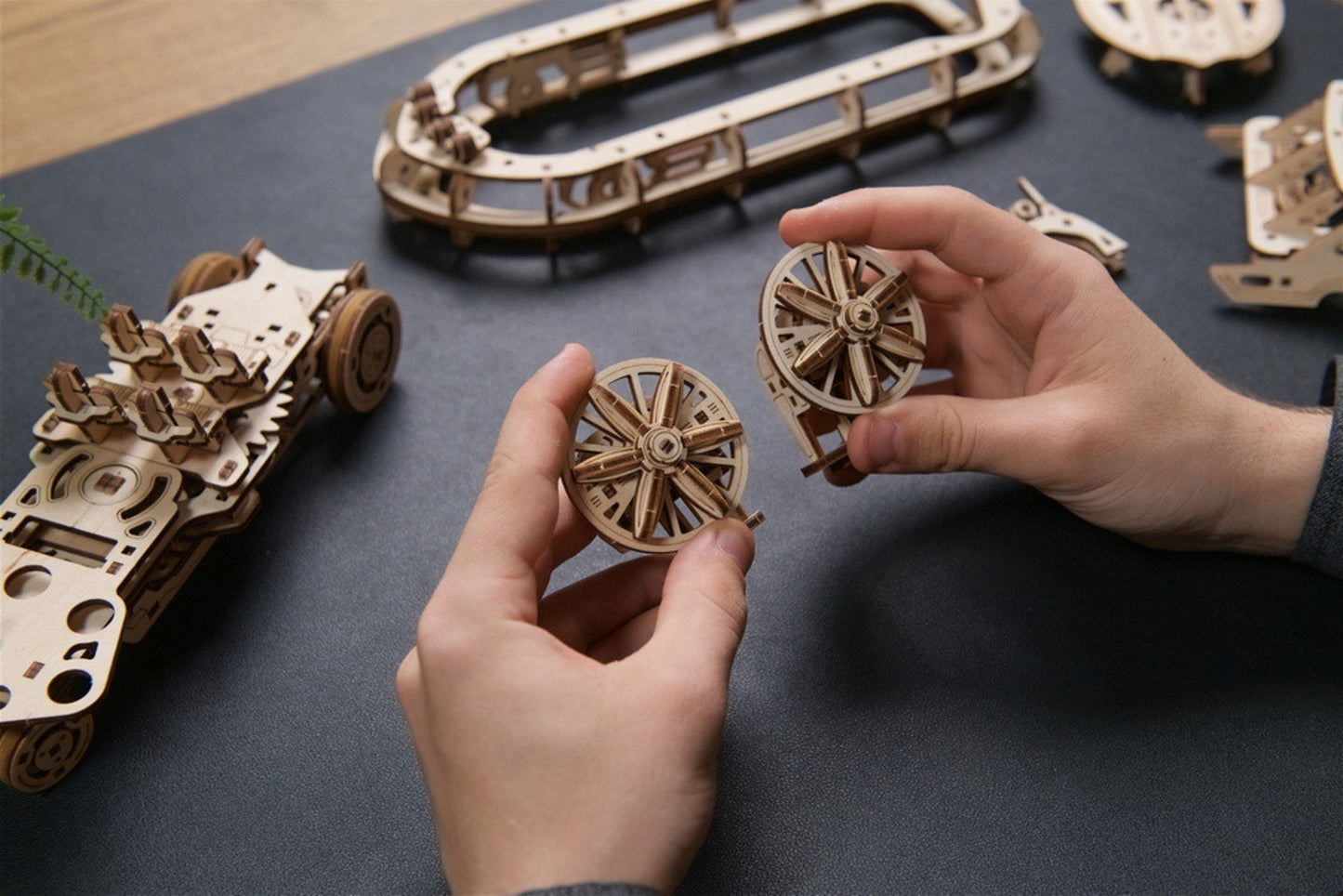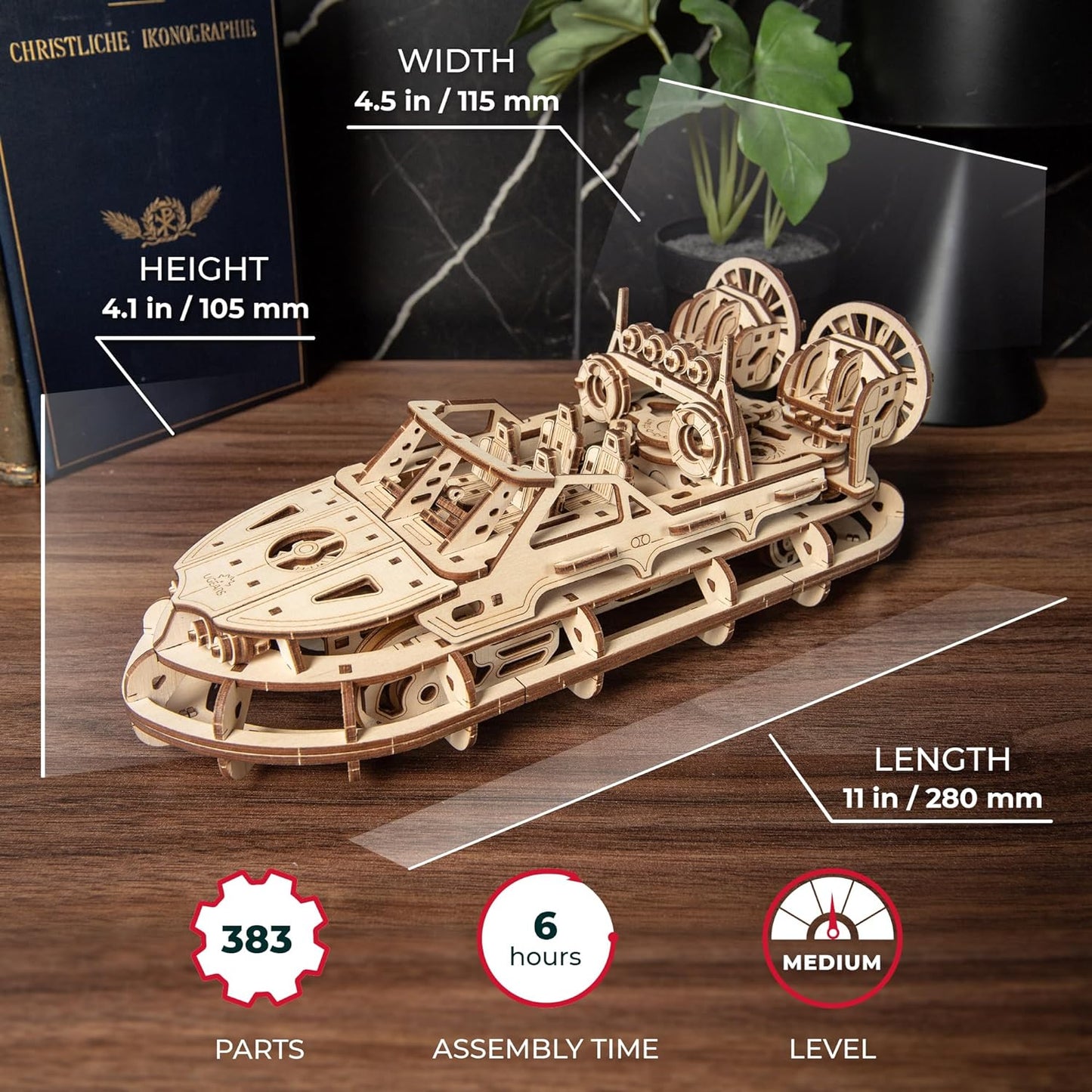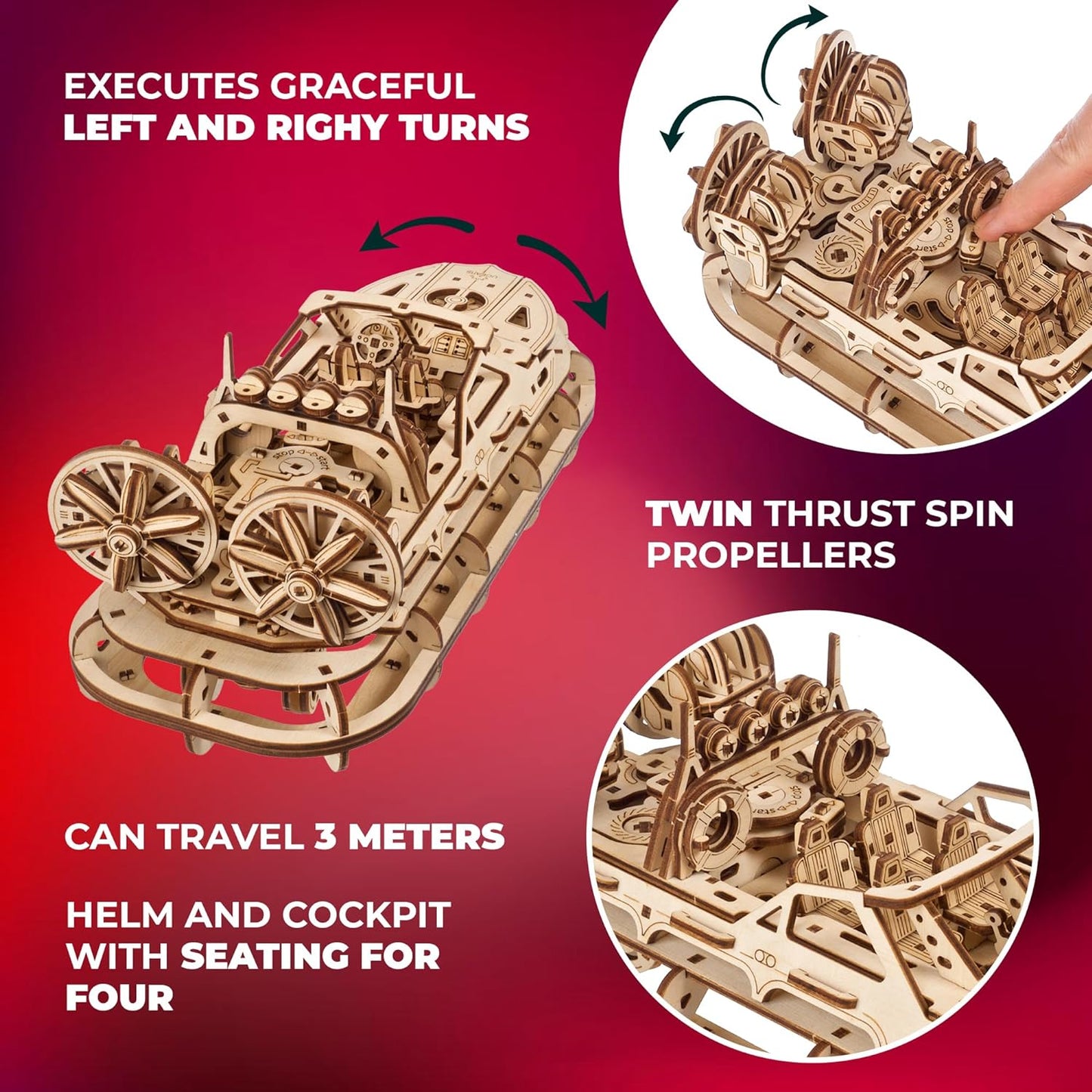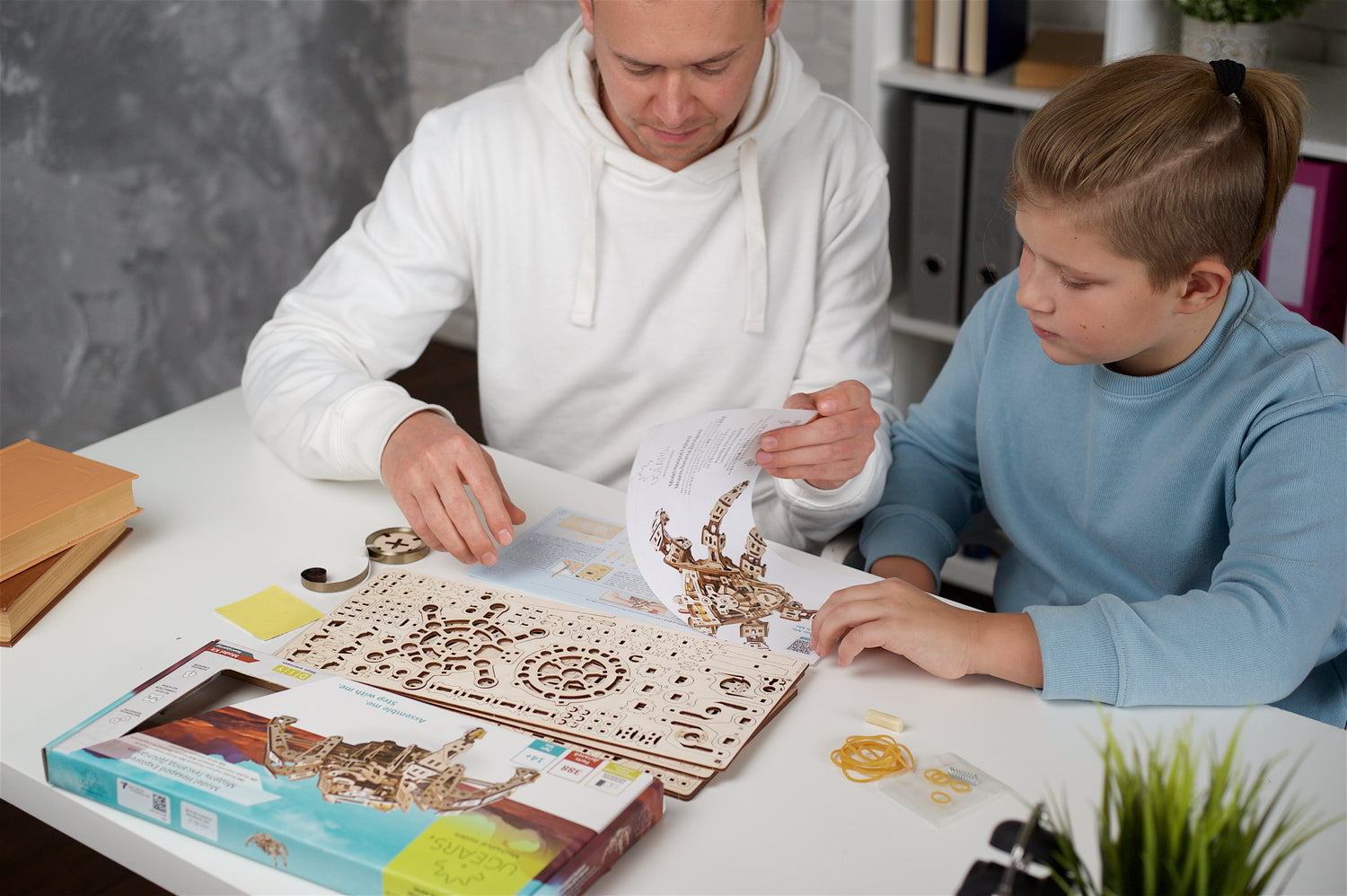 Ready to Build
Ugears models are made from sustainably sourced, laser cut plywood sheets. Everything you need is inside the box, so you can get building right away.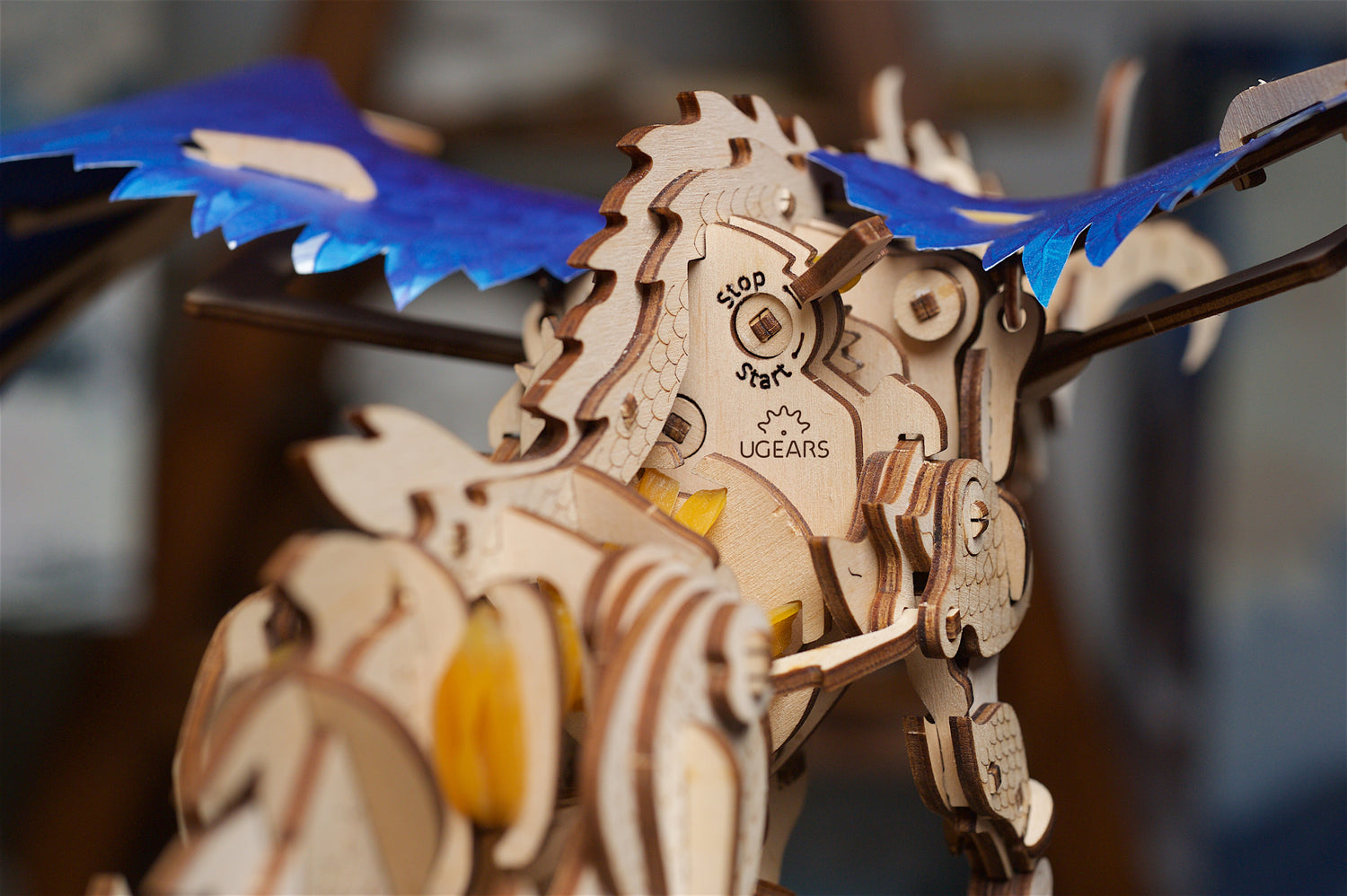 Mechanical
No batteries, no electricity, just Ugears. All mechanical models are powered by the ingenious mechanisms built by you. Just wind up your model and watch it come to life.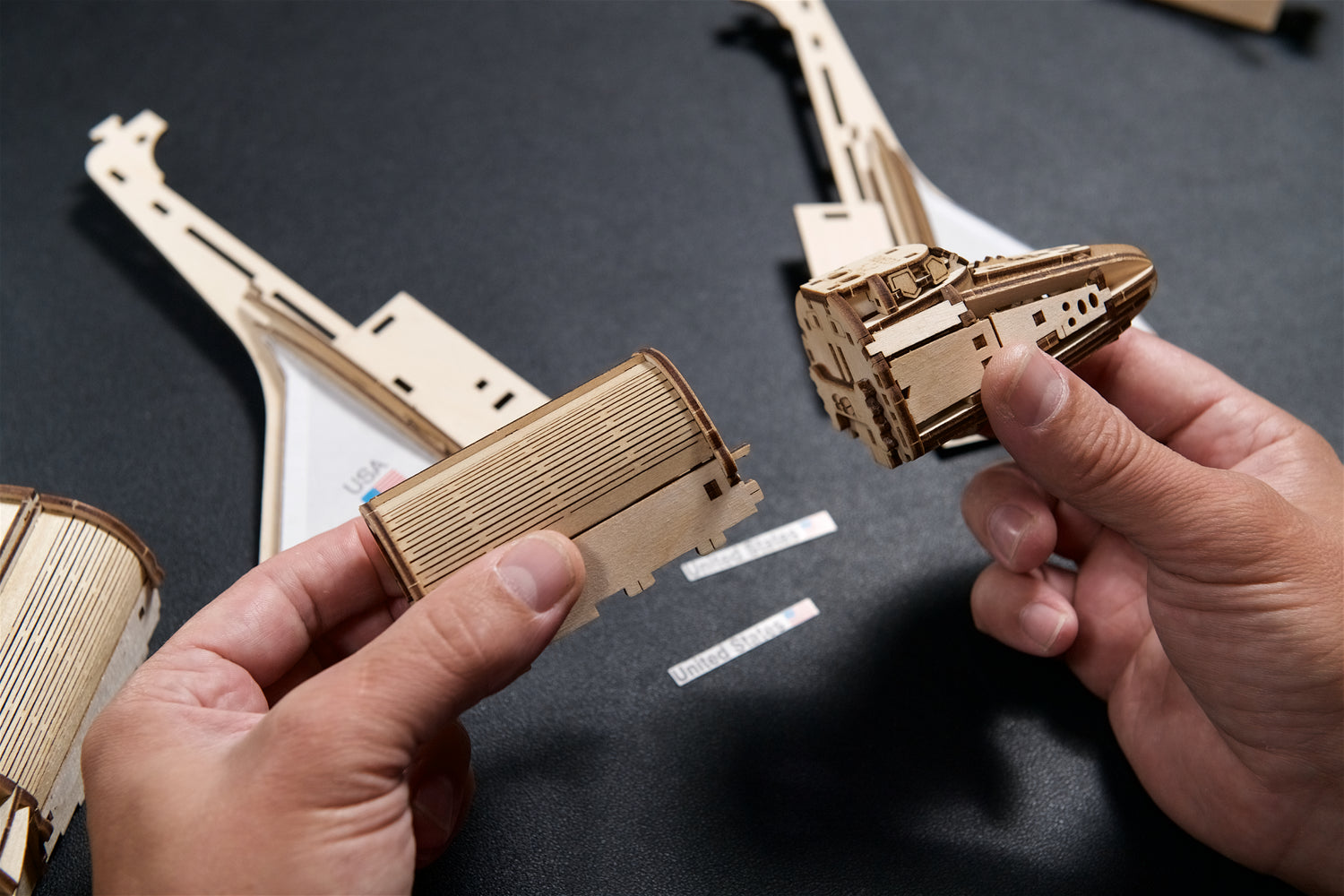 No Glue
Pieces have been designed so they will either click or slide into place. No glue or any other kind of adhesive is needed to build your model.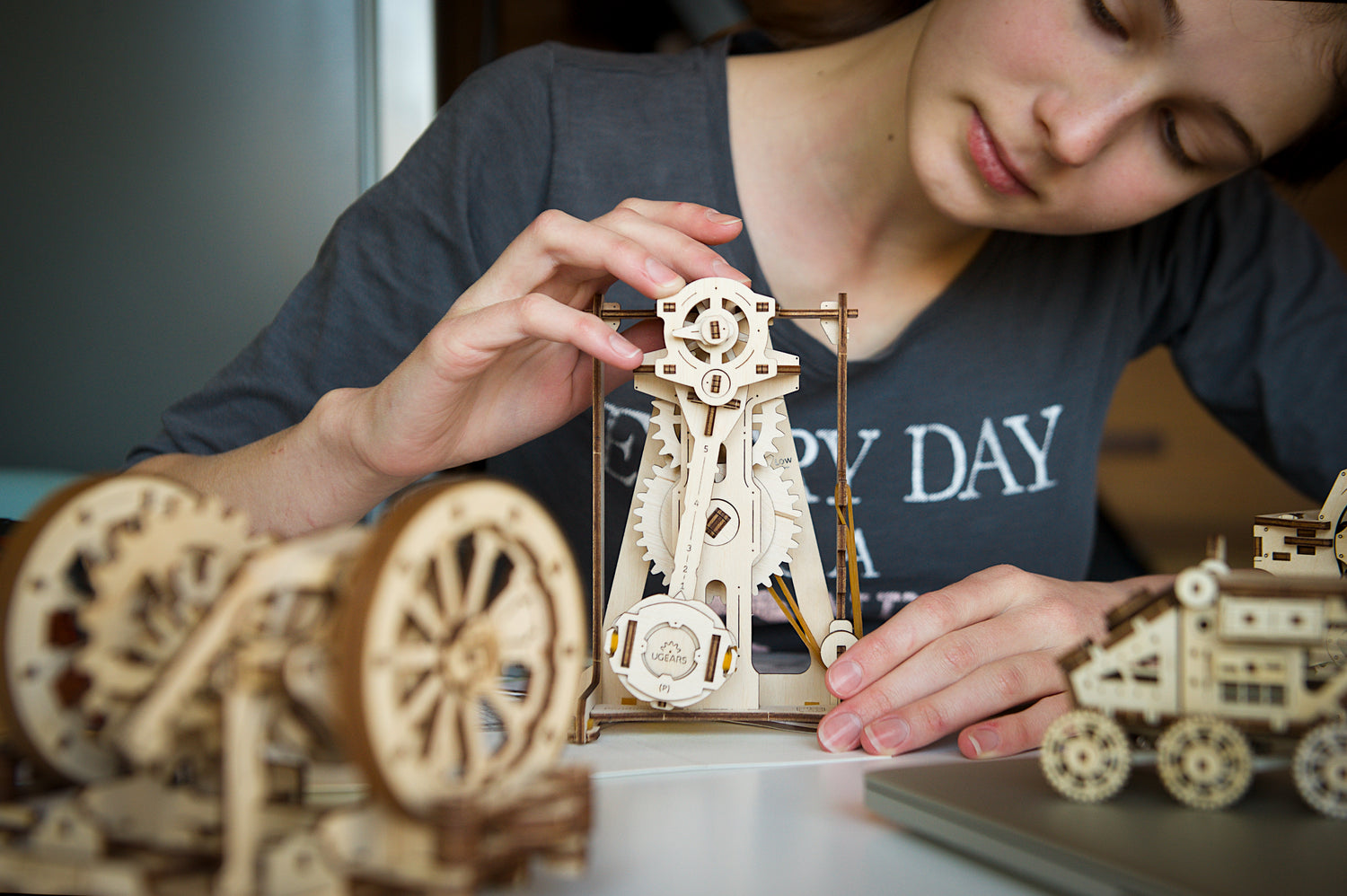 Educational
Models take inspiration from real life inventors and engineers, such as Da Vinci and Galileo. Learn the history behind the model as you build.