SKU:UGR70204
Regular price
Sale price
£52.50 GBP
Unit price
per
Liquid error (snippets/price line 121): divided by 0% OFF
Sale
Sold out
---
423

Pieces

8

Est. Time (hrs)
14+

Age

Advanced

Difficulty
LxWxH 240 mm x 120 mm x 130 mm
---
Share
The eye-popping ORV: This Off-Road Vehicle is a stunning 3D wooden puzzle of a tracked, open-cab crossover. Our model truck kit combines a gorgeous design with exquisite maneuverability and cross-country ability. This DIY truck is a kick-ass addition to the UGears collection of vehicles to build that includes cars, trucks, buggies, rovers, and motorbikes
Exquisite feature: All UGears vehicle model kits and 3D puzzles for adults are prototypes of real-life mechanical marvels with unique features. What makes this off-road crossover special are the four tracked modules that replace wheels making it unstoppable when in motion
Fun building and playing: These off-road model kits for adults promise about 8 hours of engaging, hands-on assembly time. You can build this 423-piece truck model of medium complexity alone or with your ORV buddies, then you can enjoy unlimited hours of trail runs over rough terrain, snow, ice or any obstacle track
Everything included: Truck building kits for adults and kids arrive at your door with everything you need right in the box, including step-by-step instructions in 11 languages and extra parts for a smooth assembly
Impressive gift: Choose the truly unique Tracked Off-Road Vehicle or any other UGears truck model kits for kids as gifts for the off-roaders in your life on birthdays or holidays, any occasion or no occasion. The off-road enthusiasts will be delighted
Kit contains all required components and no glue is required
Precision laser cut plywood. Only requires assembly.
UGears Mechanical Models are self-propelled, mechanical wooden model assembly kits.
Perfect for family projects, puzzle enthusiasts, and hands-on STEM learning
423 parts
Assembly time: 8 hours
Model size 240x120x130mm
Tracked Off-Road Vehicle
Assemble me. Get ready to conquer any terrain!
PRE-ORDER AND GET 10% OFF! UNTIL APRIL 27
Ain't no mountain high enough, ain't no valley low enough, ain't no river wide enough, to keep this jeep from gettin' through! The Tracked Off-Road Vehicle from Ugears is an eye-poppin' rock hoppin', heart-stoppin' ride. Whatever your 4x4 of choice, whether you use a UTV for hunting or to get around the farm, a sport ATV for thrilling trail adventure, a side-by-side for family trips in the country, a dune buggy for getting to your favorite surf spot, or a truck for work and adventure, just one look at the tracks on this wooden jeep model will trigger your "I want!" reflex.
Our 1:24 scaled wooden ORV model has a spring motor that allows it to travel more than three meters in "D" (Drive) mode and more than four meters in "S" (Sport) mode, an open cab, four-wheel drive, a hood that opens to show the engine, and safety bars in back, but the standout feature are the four tracked modules in place of wheels. Rubber track conversion systems, like Mattracks, Rubtrack and those of other manufacturers can be bolted to the rims of ORVs, tractors and rescue vehicles, allowing the vehicle to operate in all conditions and on all terrains. No more getting stuck in the mud or snow—with tracks like these you'll power through, no problem.
To operate your Tracked Off-Road Vehicle 3D puzzle, give up to 26 half turns of the ratchet mechanism located on the model's undercarriage. The stick shift functions as an "On/Off" switch so put it in "P" (Park) mode before winding, place the ORV on a surface, hold it as you slide the shifter to "D" mode, or raise the shifter slightly and move further back into "S" mode, then release the model. A pendulum located at the back operates to make the vehicle move more slowly in Drive mode. If you didn't think those triangular-shaped tracks could give your rig a smooth ride you're in for a surprise! Challenge your four-wheel drive Ugears Tracked Off-Road Vehicle with some trail runs over rough terrain, snow or ice, or put some small obstacles in the way to test the ground clearance. We don't recommend bogging because of the clean-up, but we do think the Ugears Tracked Off-Road Vehicle is one tough mudder.
The Ugears Tracked Off-Road Vehicle is a "Medium" level DIY model, with 423 parts. Spend an enjoyable 8 hours building it from laser pre-cut parts made of art-quality composite wood. Like all Ugears models, you won't need glue or special tools to assemble your DIY model ORV. Model kits arrive at your door with everything you need right in the box, including step-by-step instructions in 11 languages (English, German, Ukrainian, French, Polish, Spanish, Portuguese, Japanese, Italian, Chinese and Korean) to guide your assembly. The kit also comes with a piece of sandpaper for smoothing off any burrs on the parts, and wax to lubricate the gears and other moving parts of the tracked ORV model. Be sure to work in the moving parts, especially the track modules, for optimal function.
This DIY 3D puzzle of a tracked open-cab jeep is a kick-ass addition to the Ugears collection of cars, trucks, buggies, rovers, motorbikes and other vehicles. There's a model for every taste and interest in the amazing catalogue of Ugears mechanical 3D puzzles, whether that's an automaton, robot, vehicle, clock, wooden puzzle box or STEM Lab model designed for students wishing to learn basic mechanics. For off-road enthusiasts, we also offer the Desert Buggy, Pickup Lumberjack, Military Truck, Dozor-B Combat Vehicle, and Scrambler UGR-10 Motorbike. Choose the truly unique Tracked Off-Road Vehicle or any of these other models as a gift for the off-roader in your life, for birthdays or holidays, any occasion or no occasion.
We'd tell you more about this cool off-roader, but the sun's going down—time to make tracks!
View full details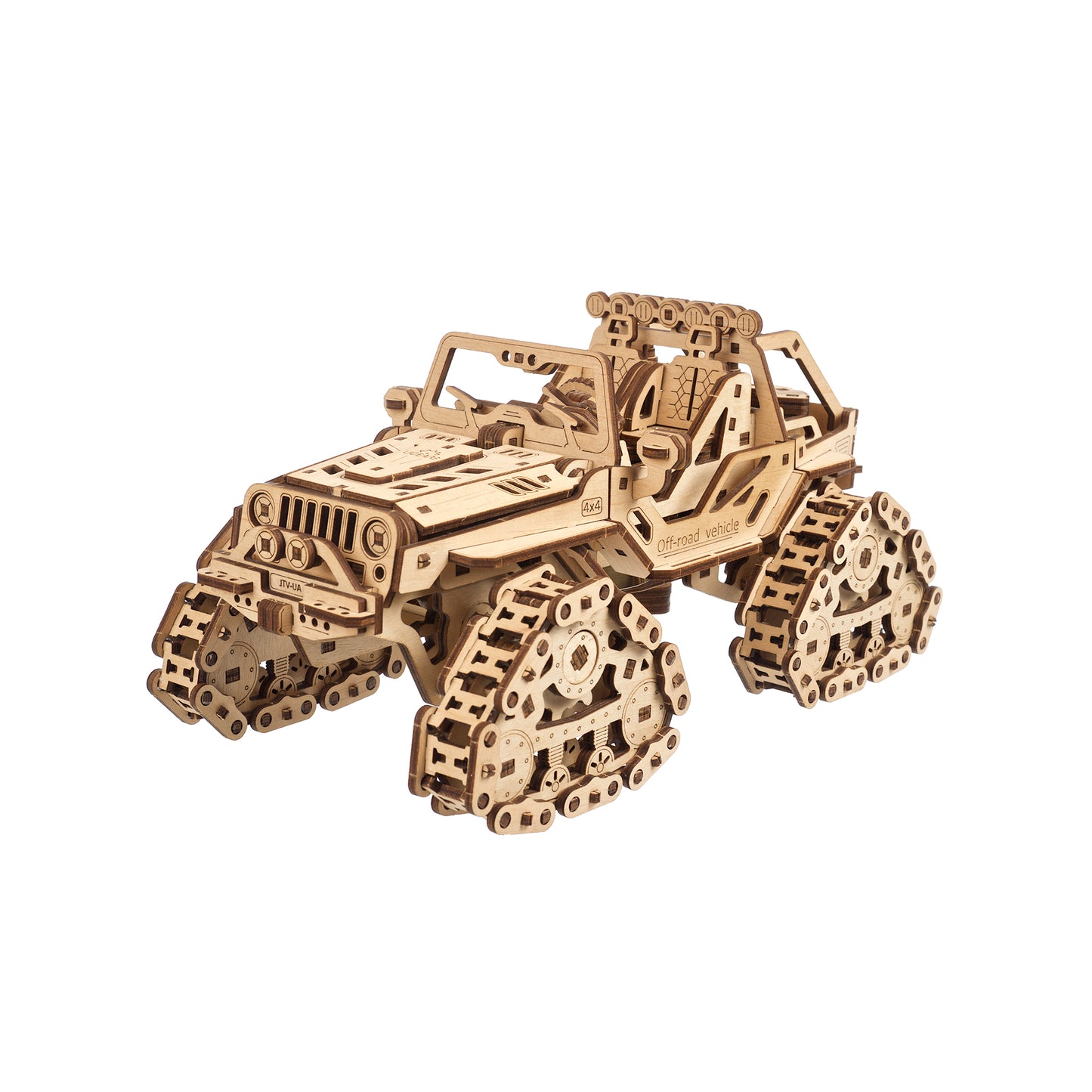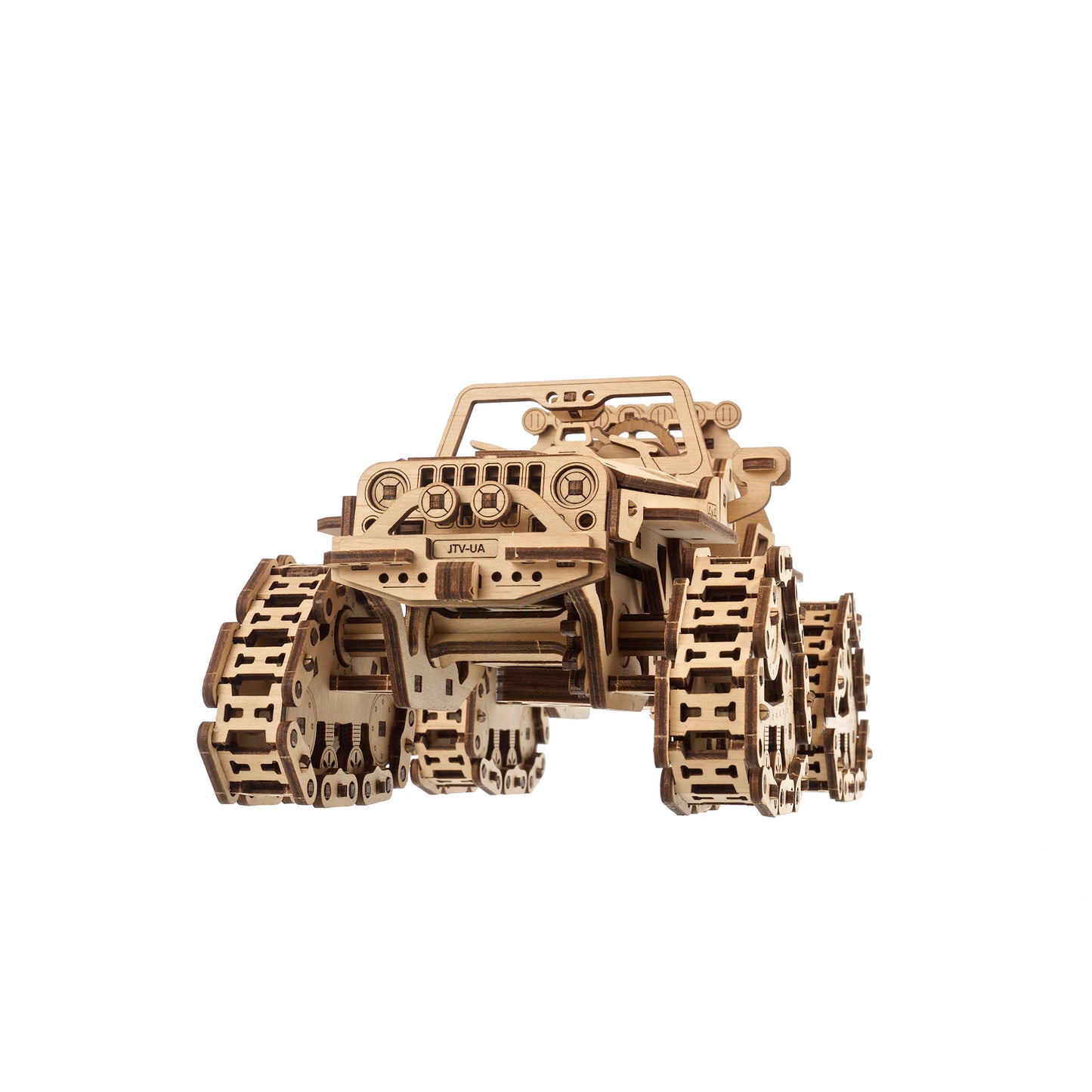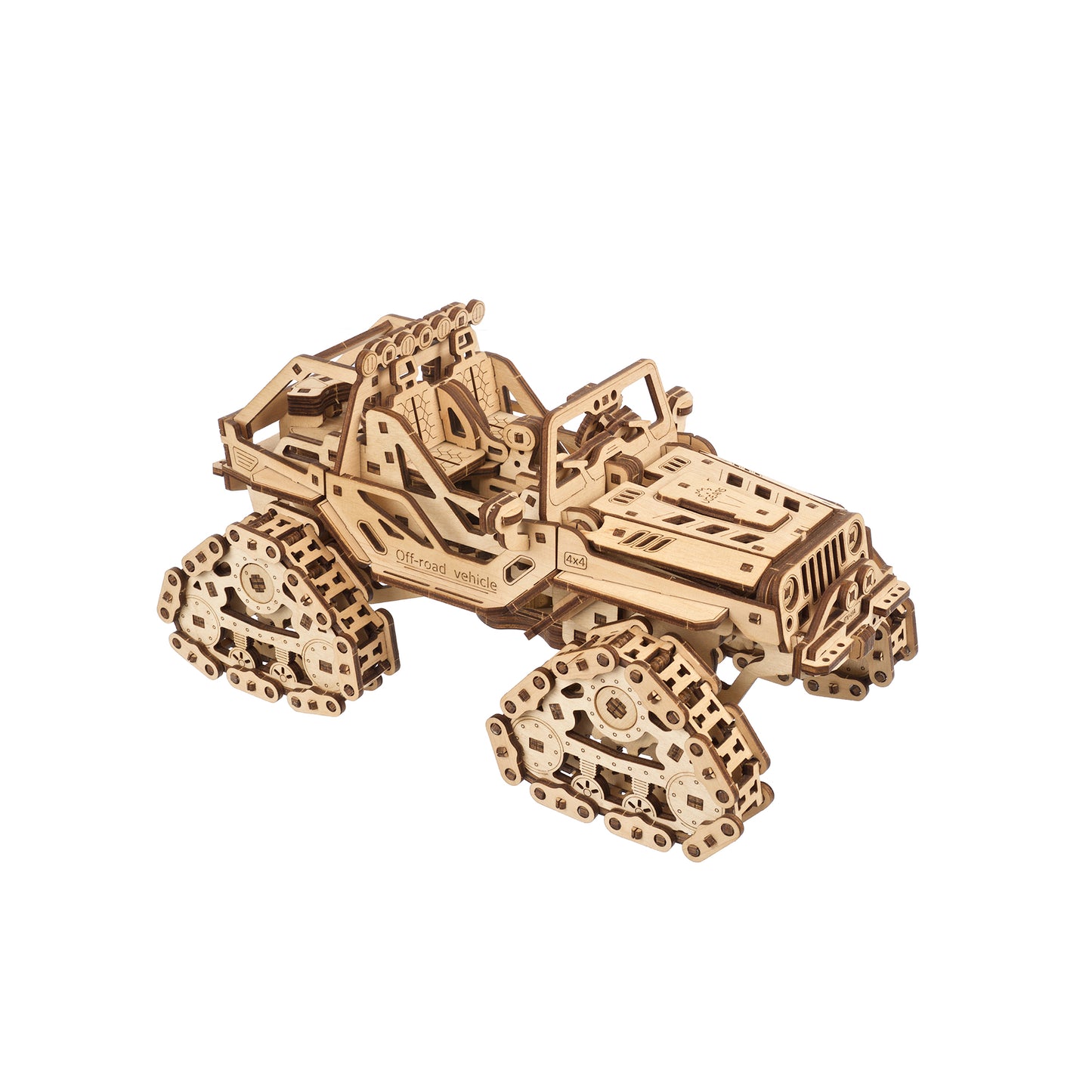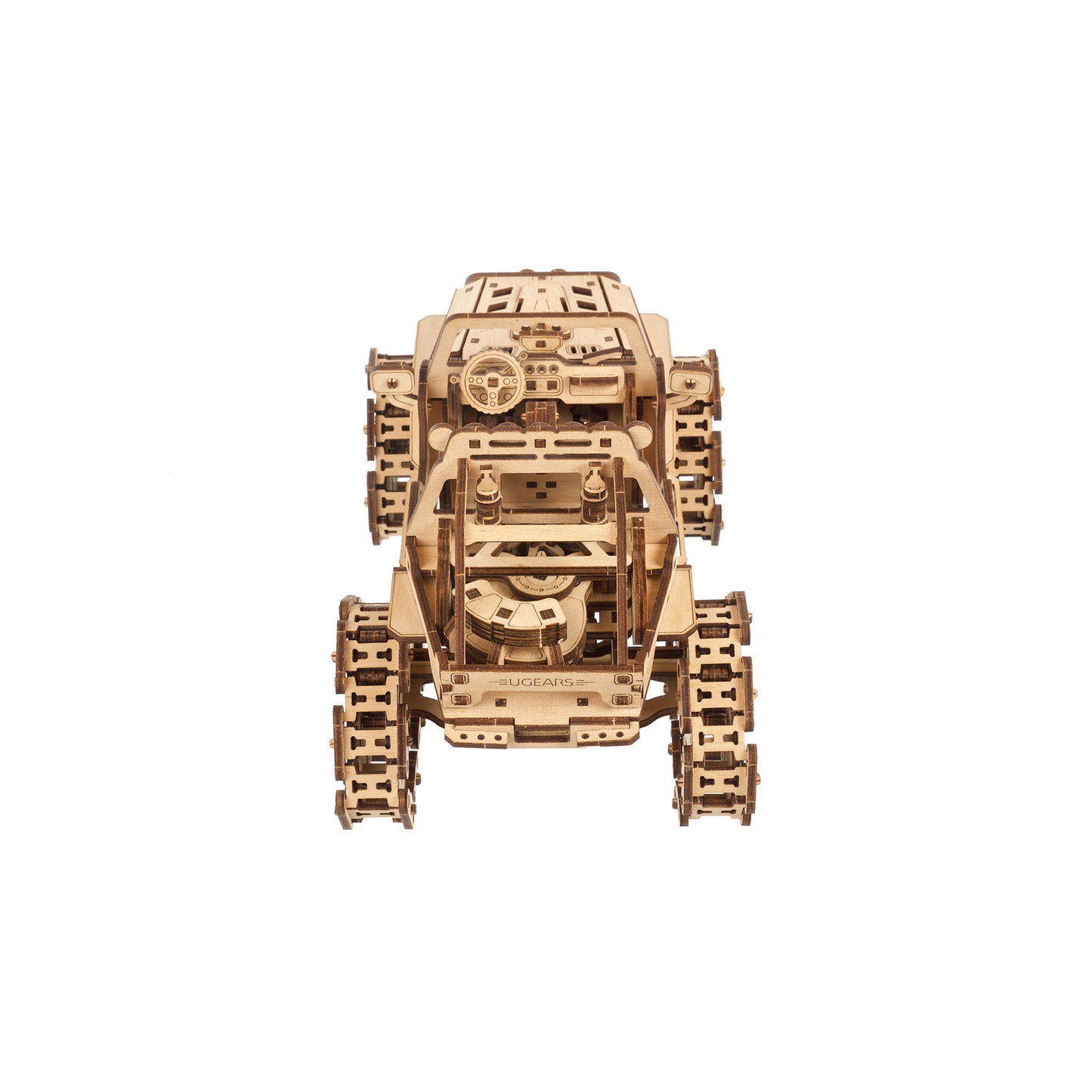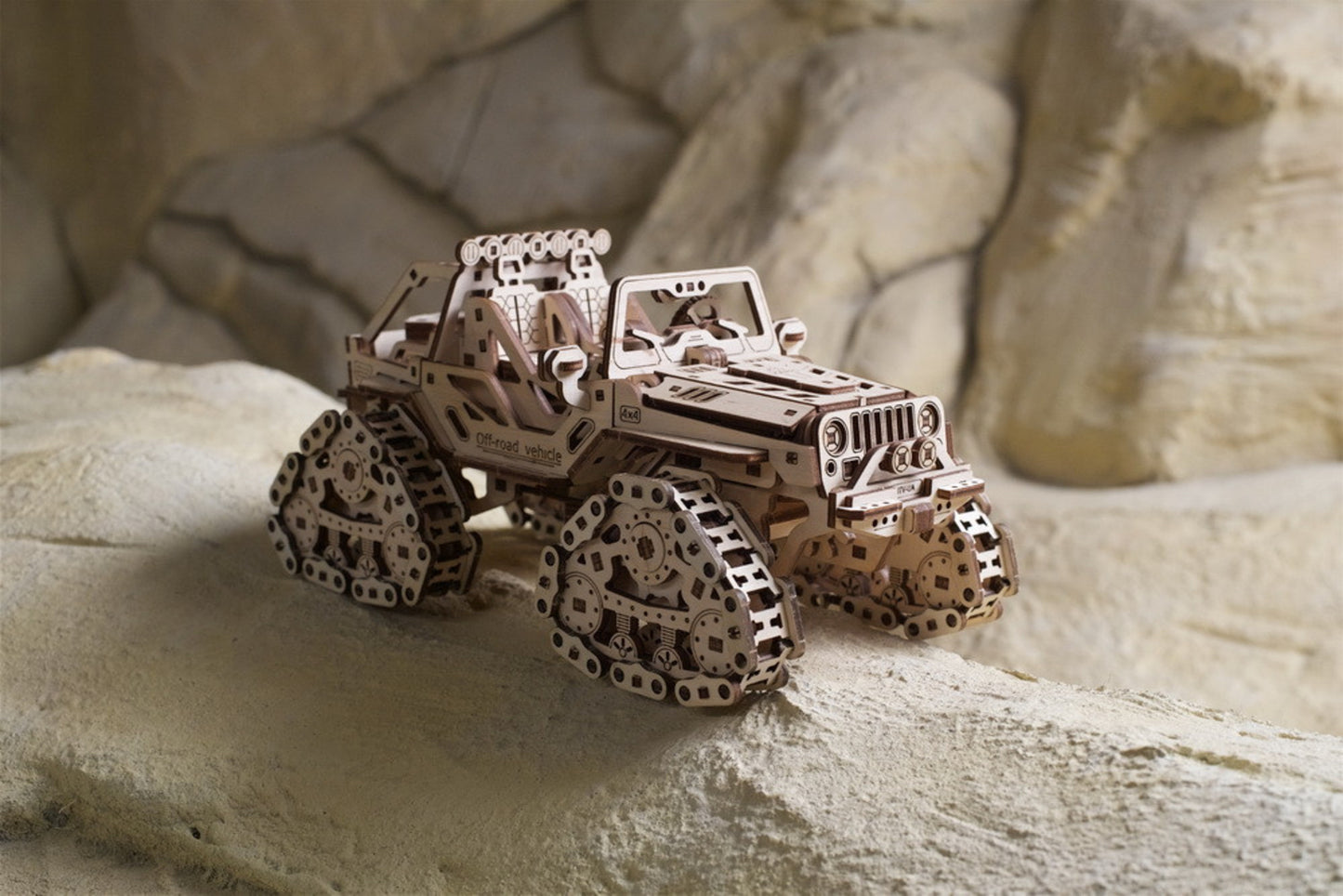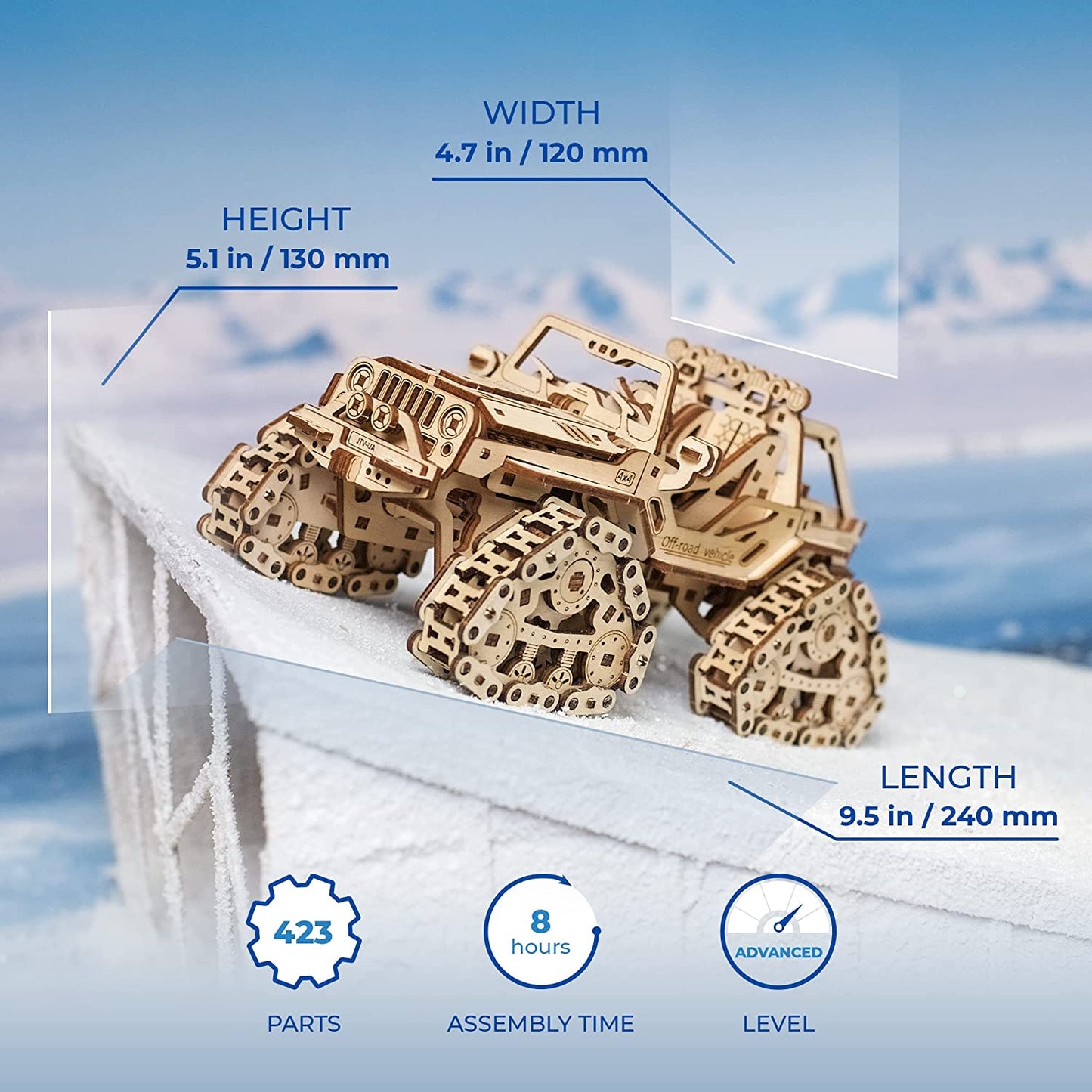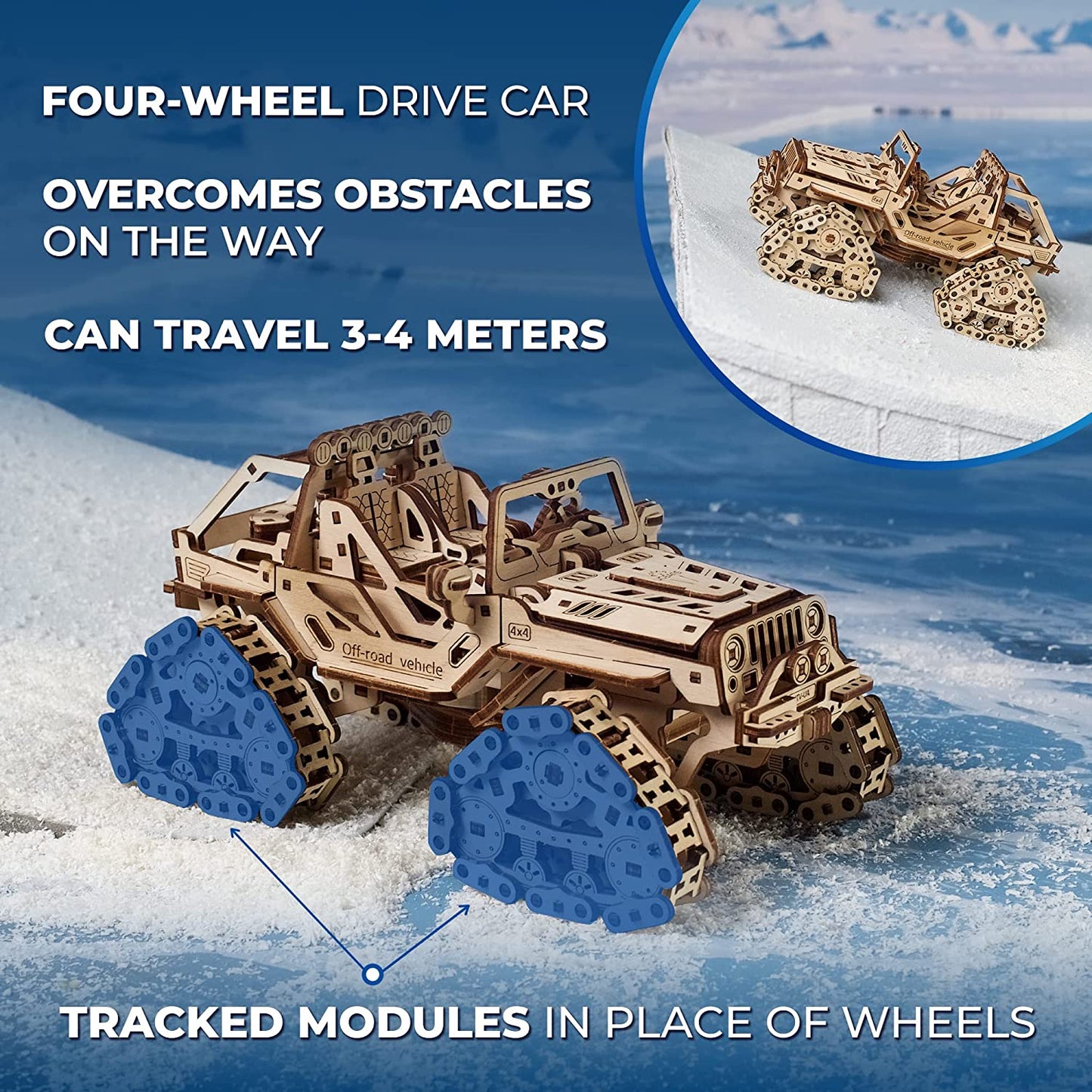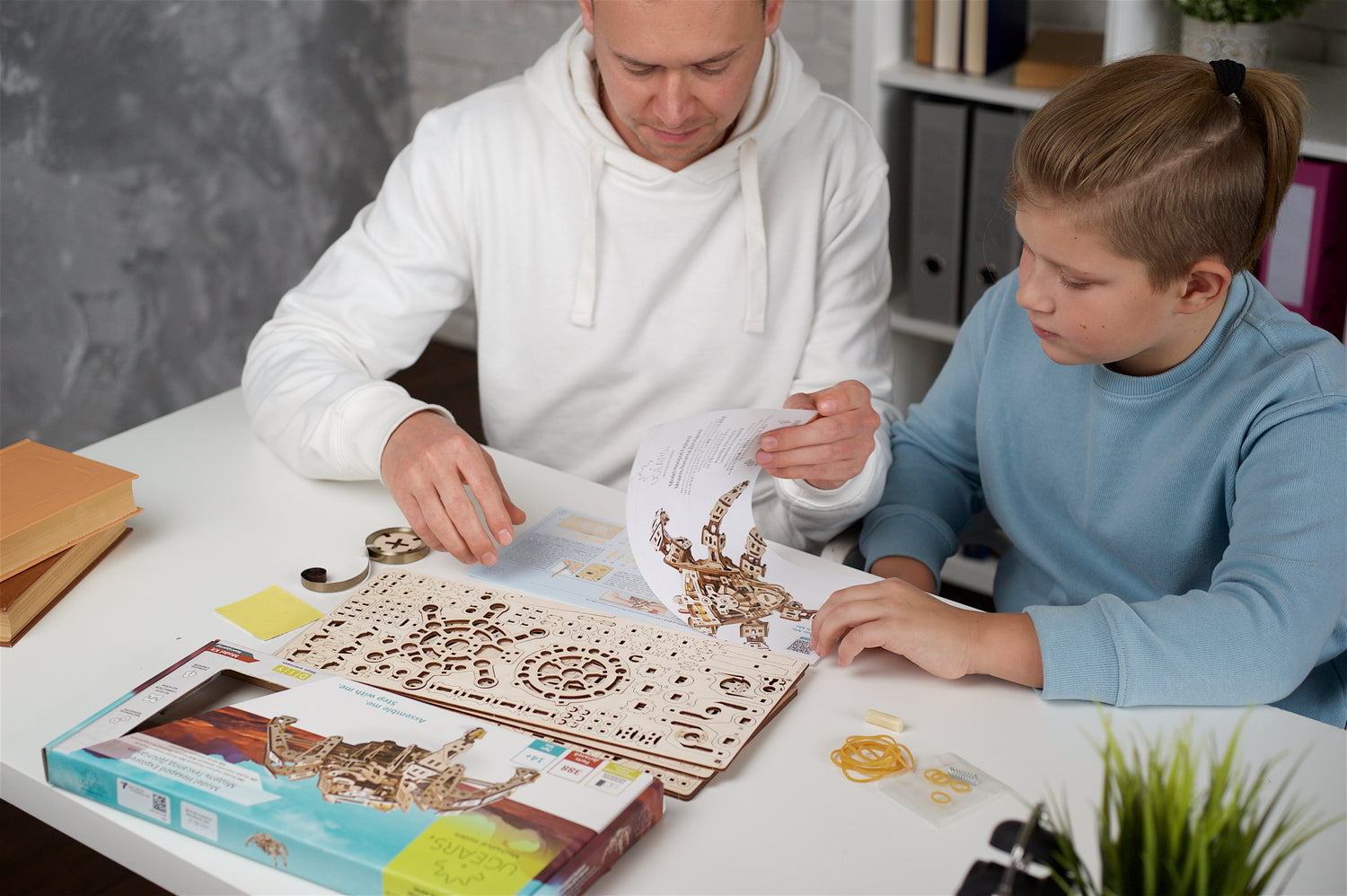 Ready to Build
Ugears models are made from sustainably sourced, laser cut plywood sheets. Everything you need is inside the box, so you can get building right away.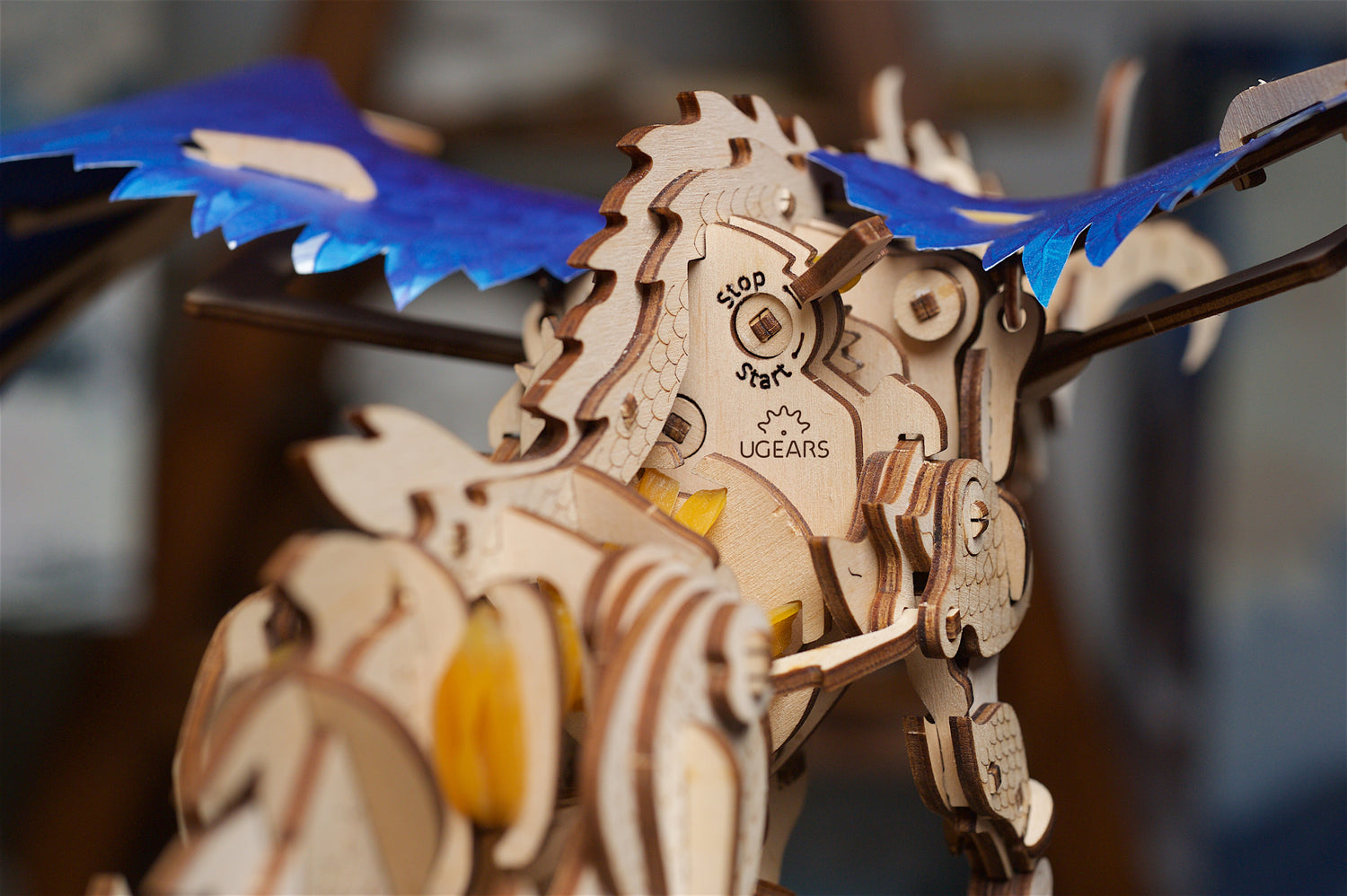 Mechanical
No batteries, no electricity, just Ugears. All mechanical models are powered by the ingenious mechanisms built by you. Just wind up your model and watch it come to life.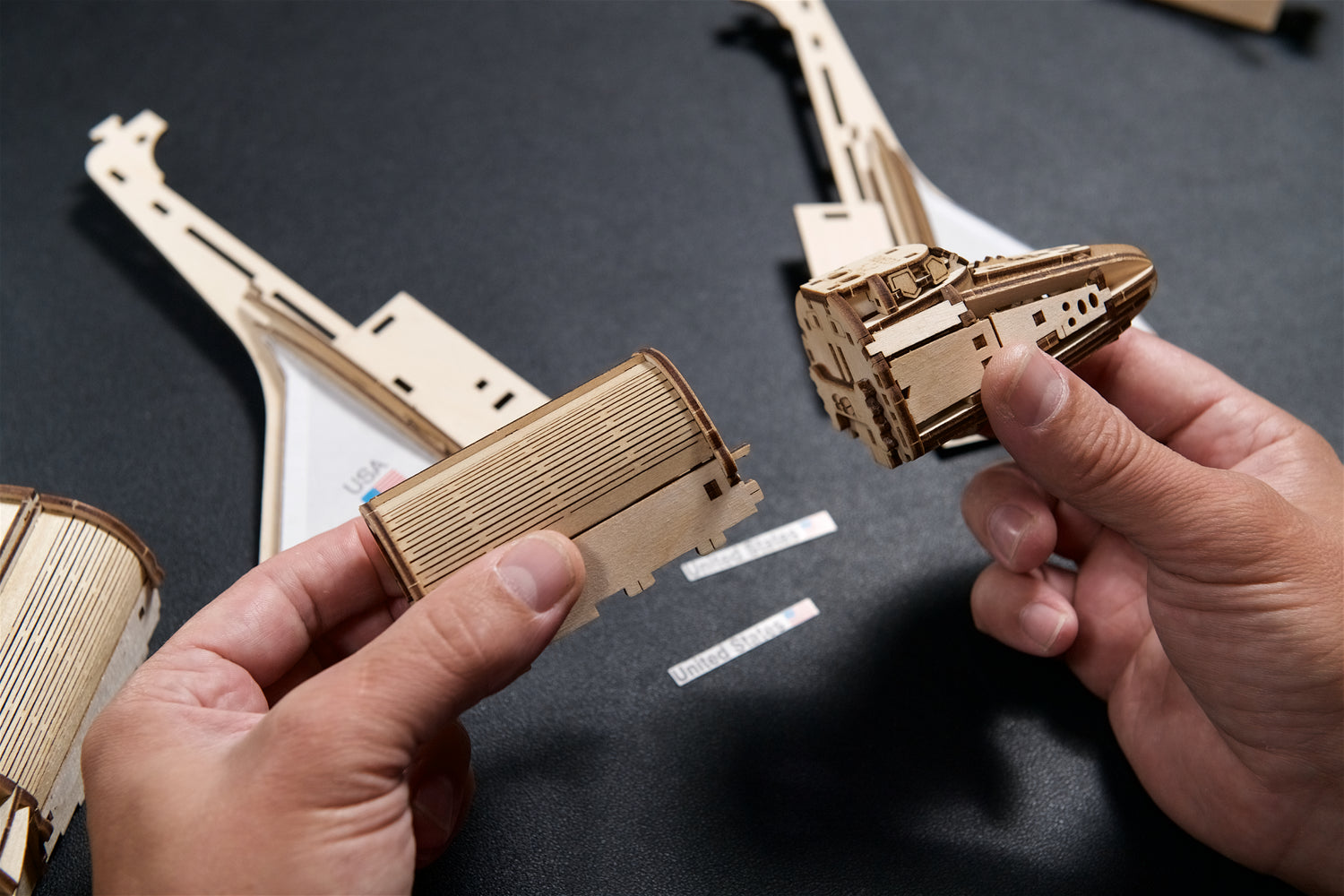 No Glue
Pieces have been designed so they will either click or slide into place. No glue or any other kind of adhesive is needed to build your model.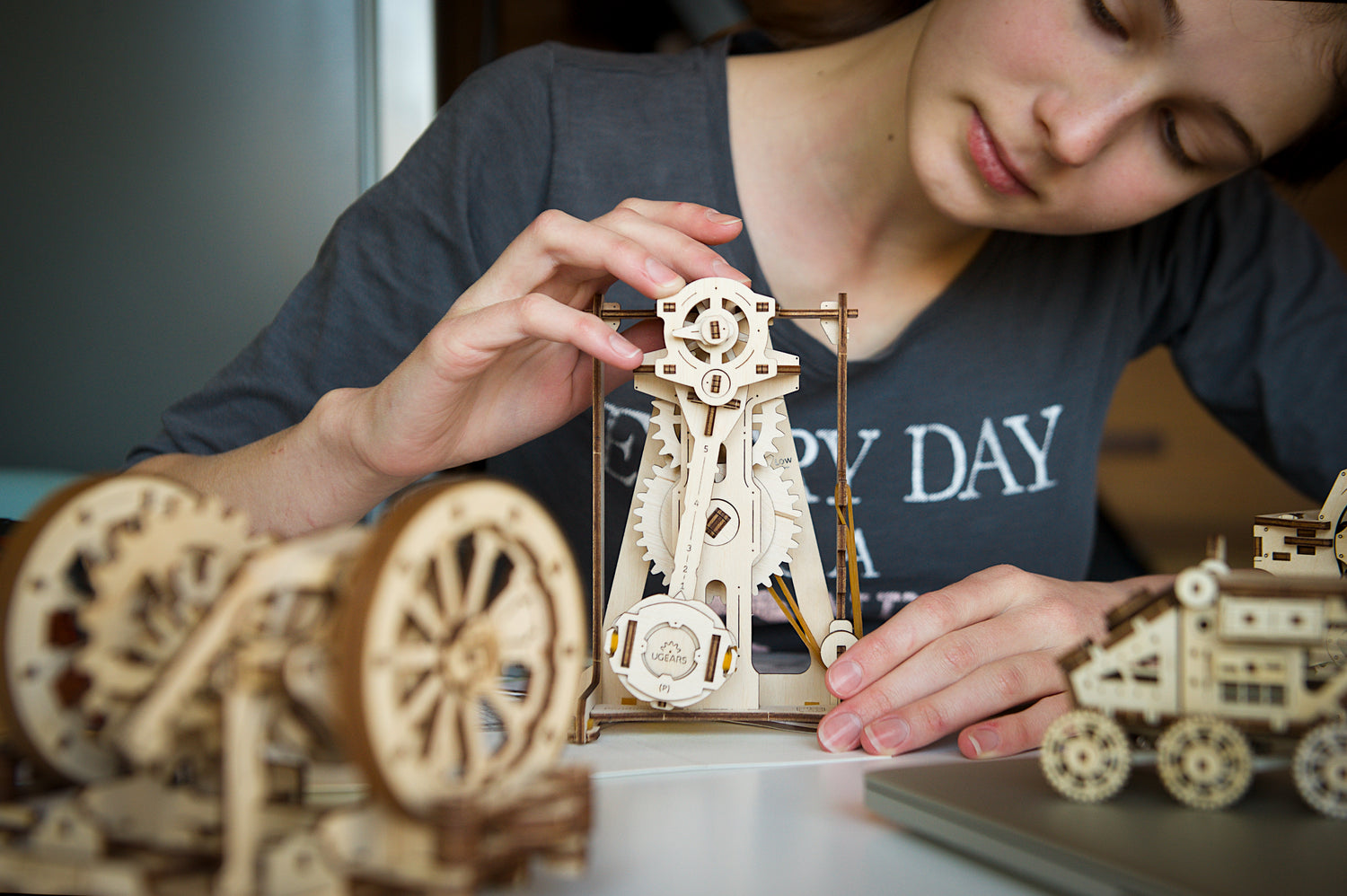 Educational
Models take inspiration from real life inventors and engineers, such as Da Vinci and Galileo. Learn the history behind the model as you build.