SKU:UGR70202
Regular price
Sale price
£30.99 GBP
Unit price
per
Liquid error (snippets/price line 121): divided by 0% OFF
Sale
Sold out
---
222

Pieces

4

Est. Time (hrs)
14+

Age

Advanced

Difficulty
LxWxH 210 mm x 75 mm x 135 mm
---
Share
Dual engine functionality: The Sports Car Rapid Mouse is the second vintage car model kit in the new Dual Motors collection by UGears. To start the wooden toy car, wind the ratchet on the spring motor for six full rotations or activate the pullback mechanism by simply pulling back and releasing the car on a flat surface
Vintage race car: This gorgeous 1:24 scale mechanical model automobile is a miniature of a mid-20th century classic roadster. Similar to other UGears 3D puzzles for adults and buildable model car kits, our convertible racer features a wonderfully detailed interior and exterior and impeccable mechanics
Build and play: Rapid Mouse model kits for adults and children are fun and easy to build. It will take you about 4 hours to assemble this 227-piece roadster model car, then you can enjoy unlimited racing. This model car can turn left or right by adjusting the front wheels or it can go straight for distance
No glue or extra tools: All our model building kits and 3D puzzles include everything you need for assembly. Simply punch the pieces out of the laser pre-cut boards then snap them together following our illustrated step-by-step instructions in 11 languages
Classy gift: There isn't such a thing as too many classic car model kits to build. Delight the car lovers and collectors of antique and old cars in your life with the stunning UGears Sports Car Rapid Mouse
Kit contains all required components and no glue is required
Precision laser cut plywood. Only requires assembly.
UGears Mechanical Models are self-propelled, mechanical wooden model assembly kits.
Perfect for family projects, puzzle enthusiasts, and hands-on STEM learning
222 parts
Assembly time: 4 hours
Model size 210x75x135mm
Sports Car Rapid Mouse
Assemble me. Go to the car show with me!
PRE-ORDER AND GET 10% OFF! UNTIL APRIL 27
Introducing the Sports Car Rapid Mouse, a mid-20th century classic roadster. This gorgeous 1:24 scale automobile model is the second model in the Dual Motors series by Ugears, joining the Hot Rod, and is sure to set hearts fluttering for all you car lovers out there. Imagine riding down a country road in this beauty, watching jaws drop as the people you pass go absolutely gaga over your sports car. Take it to a Saturday morning car show and get ready for the crowds and questions, ride in your hometown parade, or go motoring in the country—the only limit is your imagination! Beautiful lines, attention to detail, great design and mechanics—this car has everything you've come to expect from Ugears.
There's just something about driving a convertible that makes you feel alive—maybe it's the wind in your hair, the sounds of church bells and children that reach your ears, the smell of the woods and grass as you drive through the country. The first cars were open air, and once you drive a convertible you'll wonder why we ever got away from that (OK, admittedly there is this thing called weather…). Start your Dual Motors collection today with the Sports Car Rapid Mouse convertible, and get ready for more mini model cars to add to your fleet of classic automobiles.
The Sports Car mini car model has dual engine functionality. Wind the spring motor with six full rotations of the ratchet key located on the model car's undercarriage, or pull the Sports Car back along a flat surface, release and watch the car speed off, like any pullback toy car. This wooden model car can turn left or right by adjusting the front wheels, or point it straight and go for distance. Rubberband tires give traction and are easy to mount and replace. The Ugears Sports Car Rapid Mouse features realistic scaling, a wonderfully detailed interior, functional boot-mounted spare wheel that can be interchanged with either of the front wheels, side doors that open, and a manual hard-top with sunroof that folds up and down, and clicks into place.
The Sports Car Rapid Mouse DIY mini auto kit has 226 parts and is rated "Easy" level. Everything you need for assembly comes right in the box. Simply punch the pieces out of the laser pre-cut boards then snap them together following our illustrated step-by-step instructions in 11 languages (English, Ukrainian, German, Spanish, French, Italian, Portuguese, Polish, Japanese, Chinese, and Korean). Enjoy 4 hours of lightly challenging build time then hours of play time with your DIY toy car model. And if you enjoy this classic mini Sports Car, check out the other models in Ugears' outstanding line of 3D puzzles, DIY model kits, automatons, robots, wooden puzzle boxes and STEM Lab model kits.
The Sports Car is a handsome addition to our growing catalog of Ugears race cars, motorbikes, trucks and other outstanding automotive DIY models and a great gift for any car lover or 3D puzzle enthusiast. You can leave it in its attractive natural wood state or live your dreams on a small scale by painting or staining it in a custom color scheme of your choosing. Happy motoring!
View full details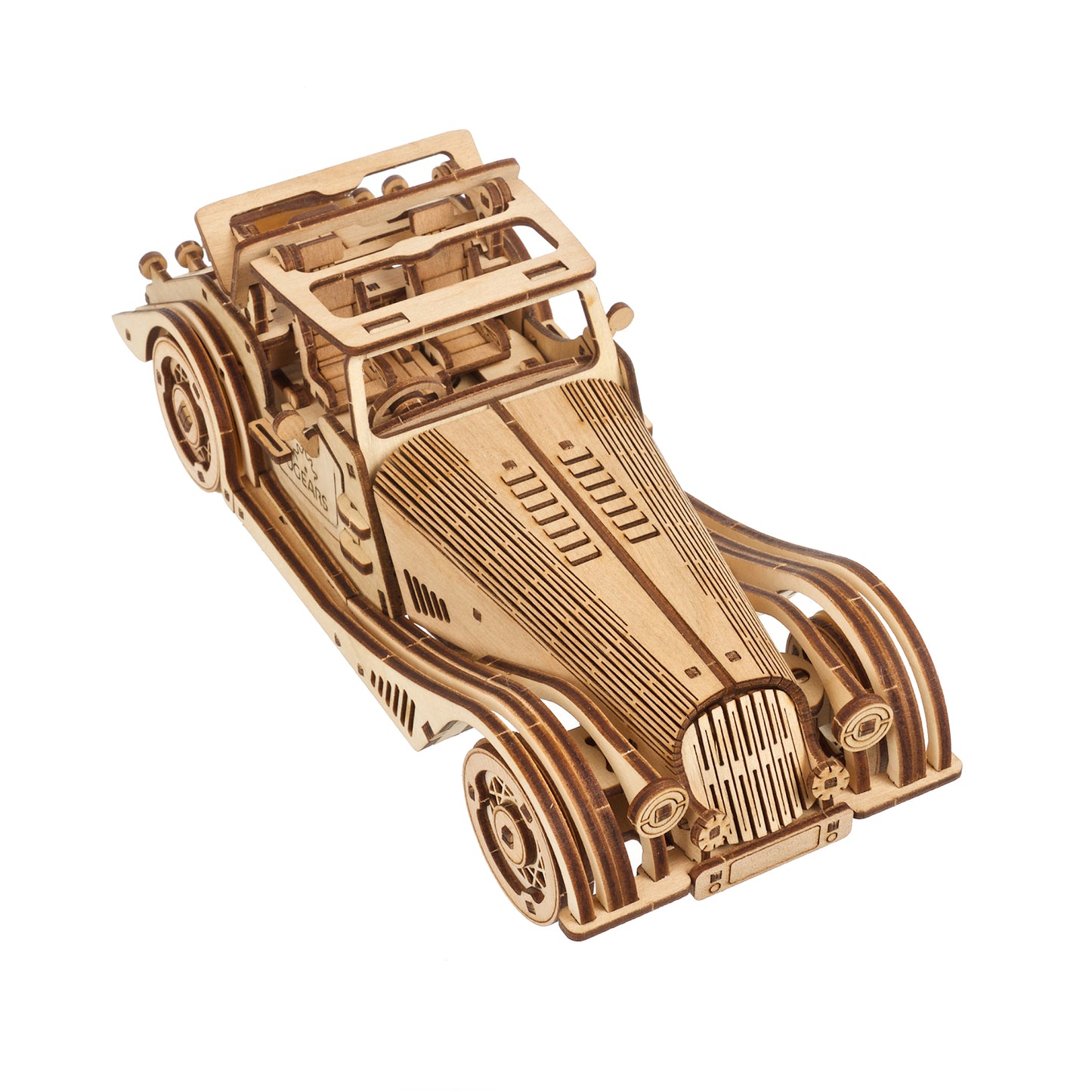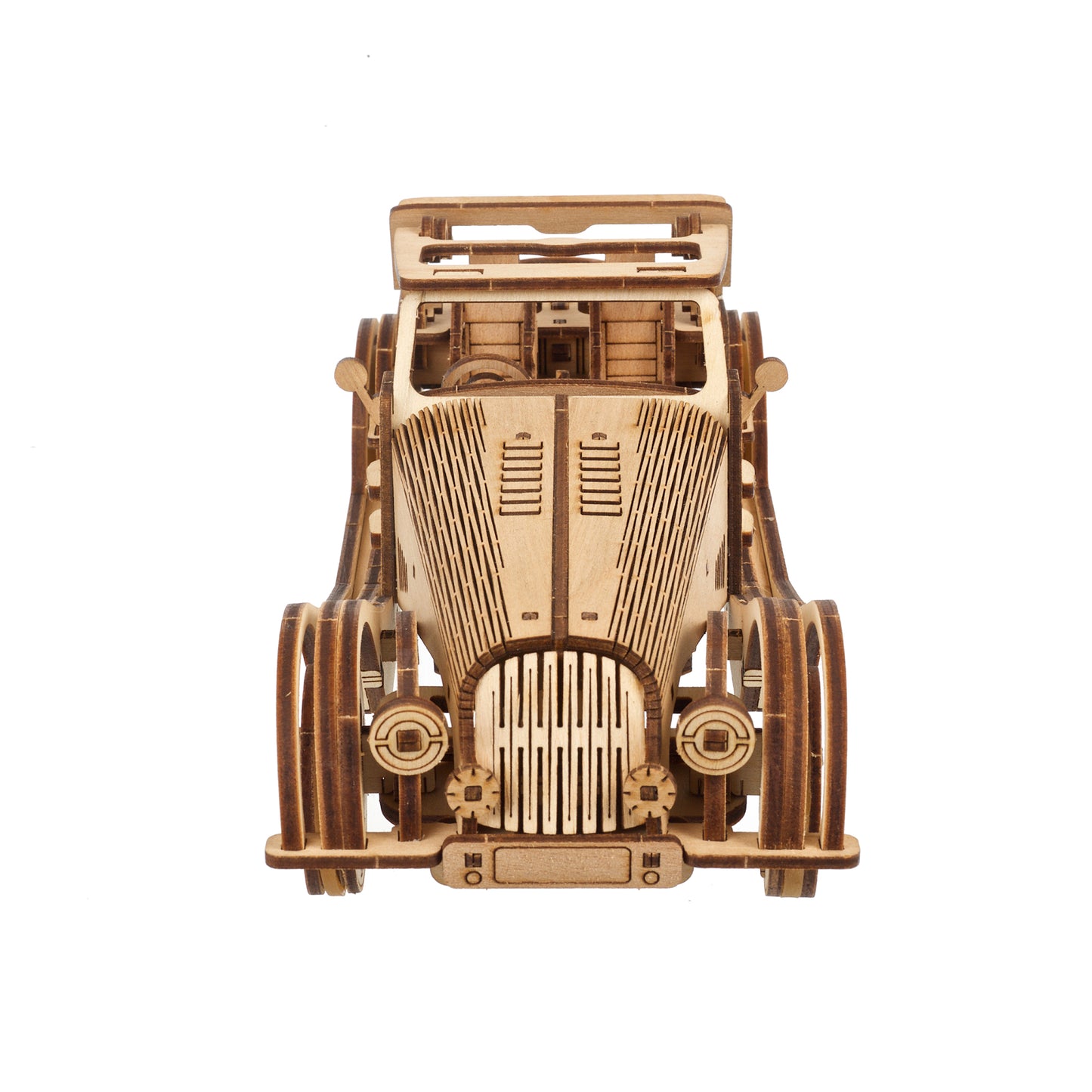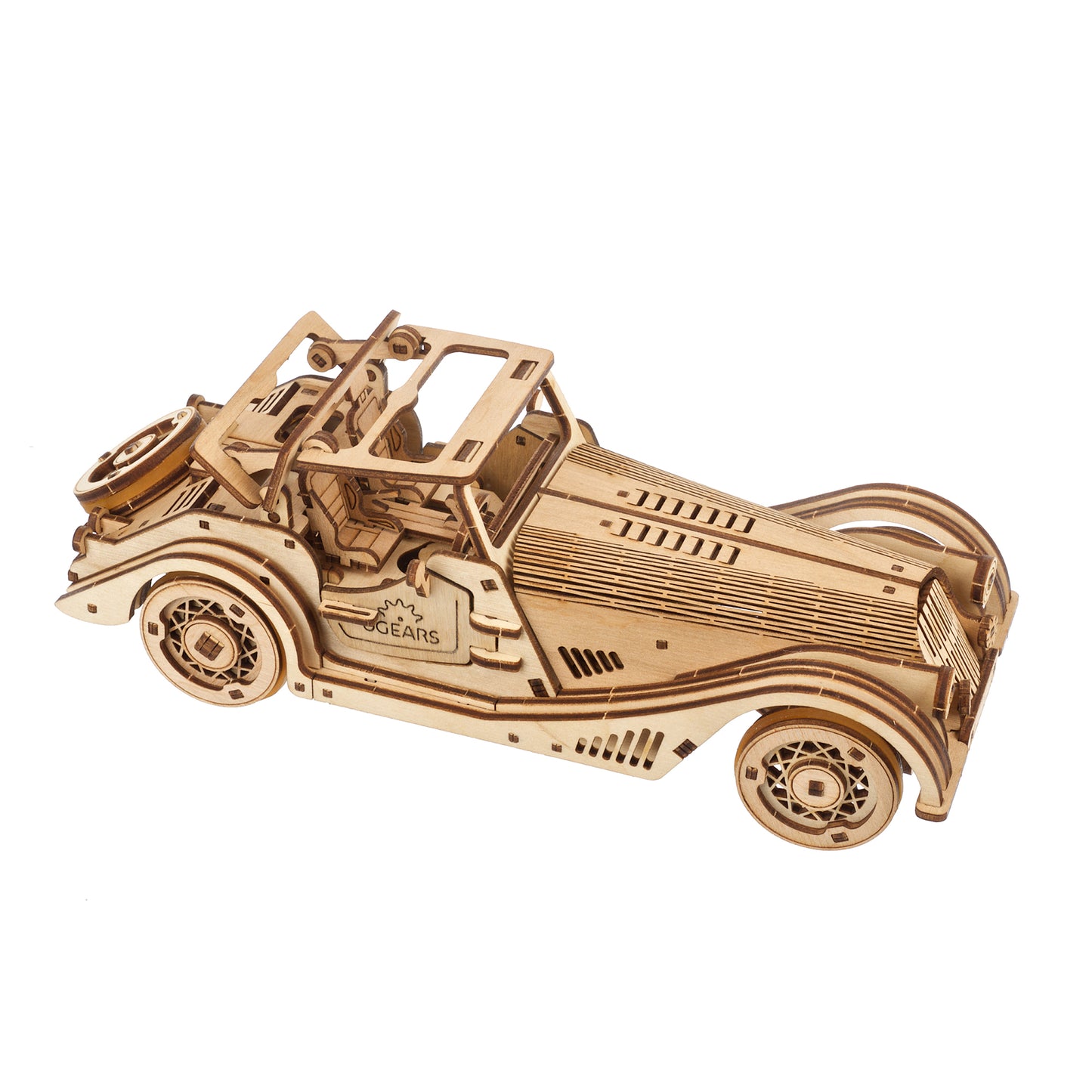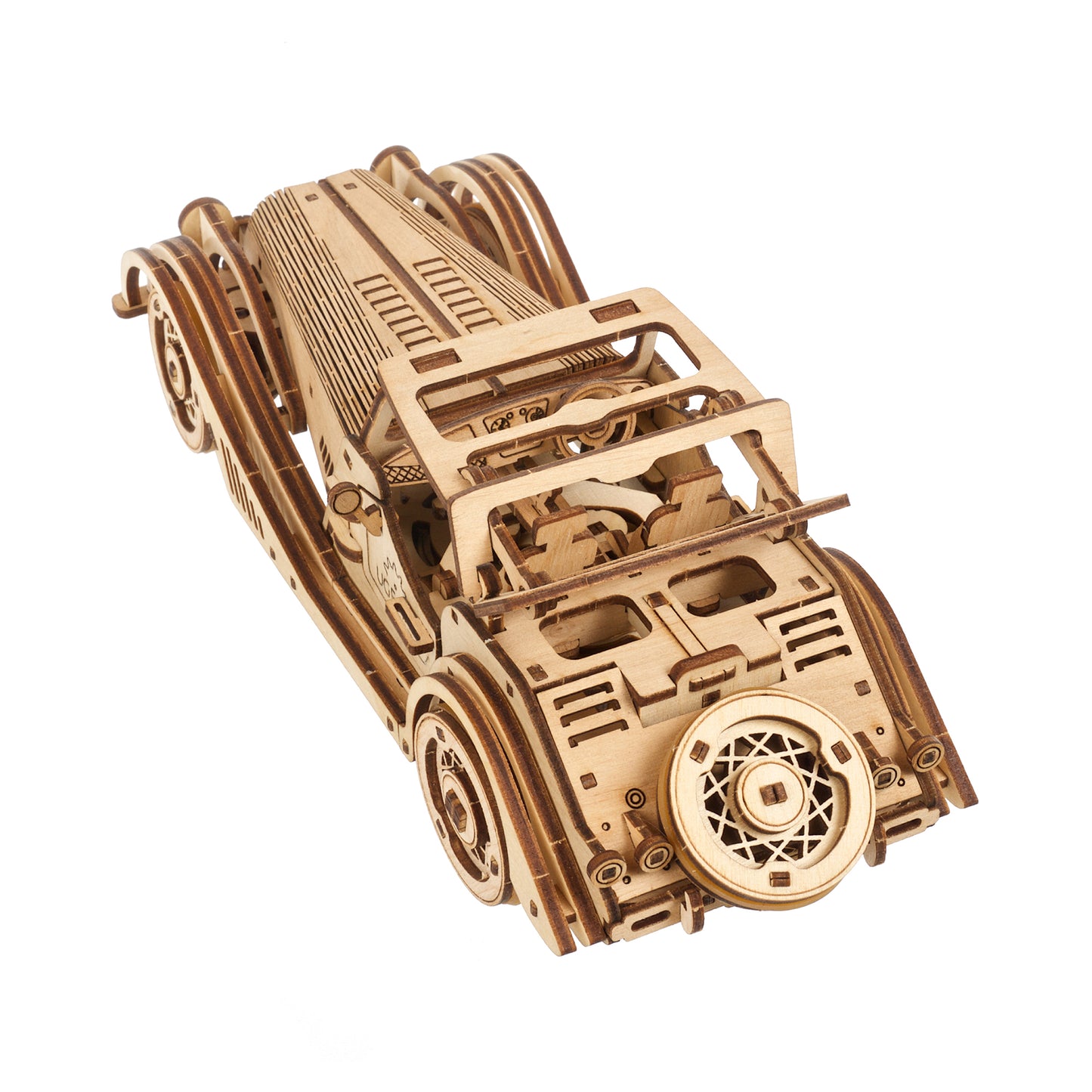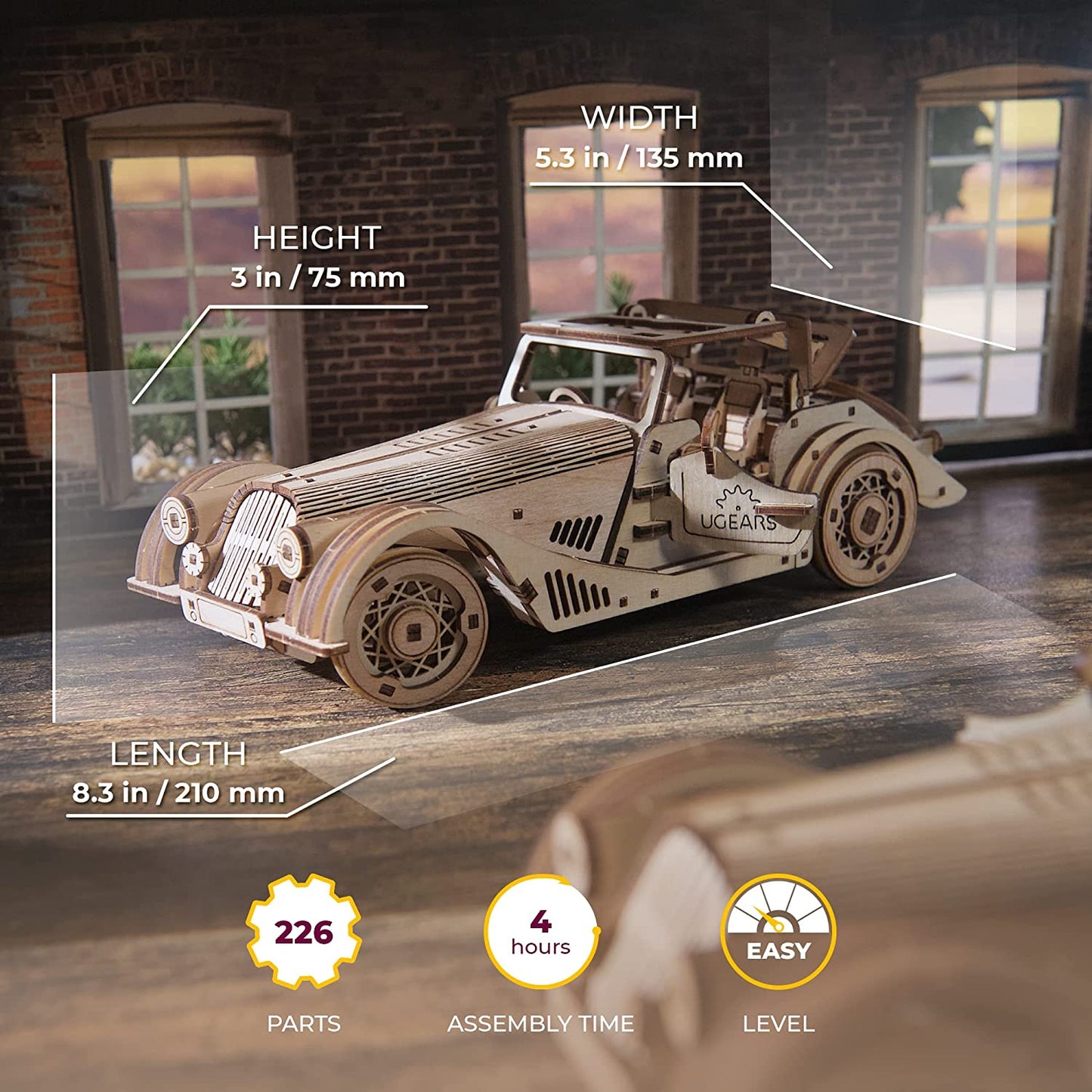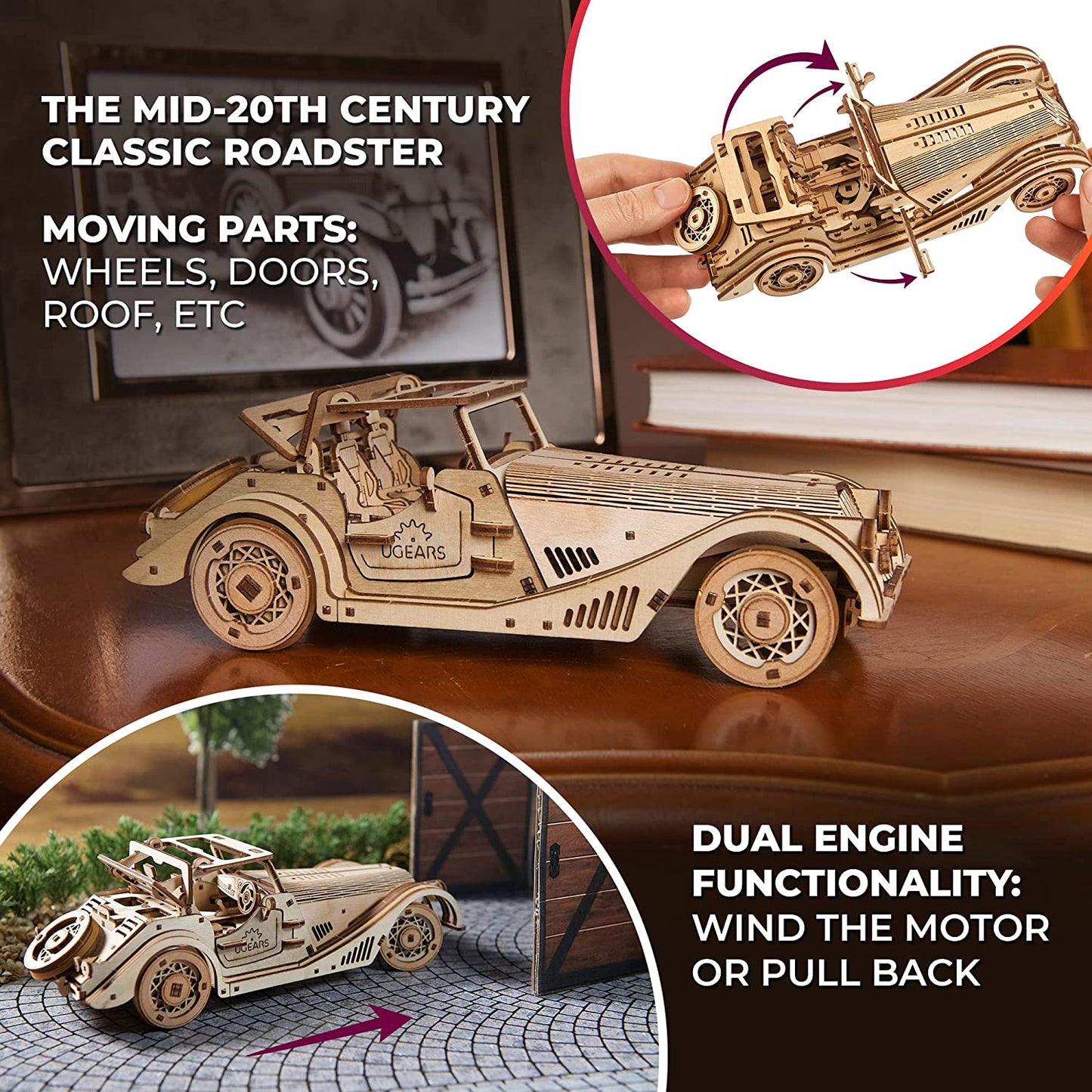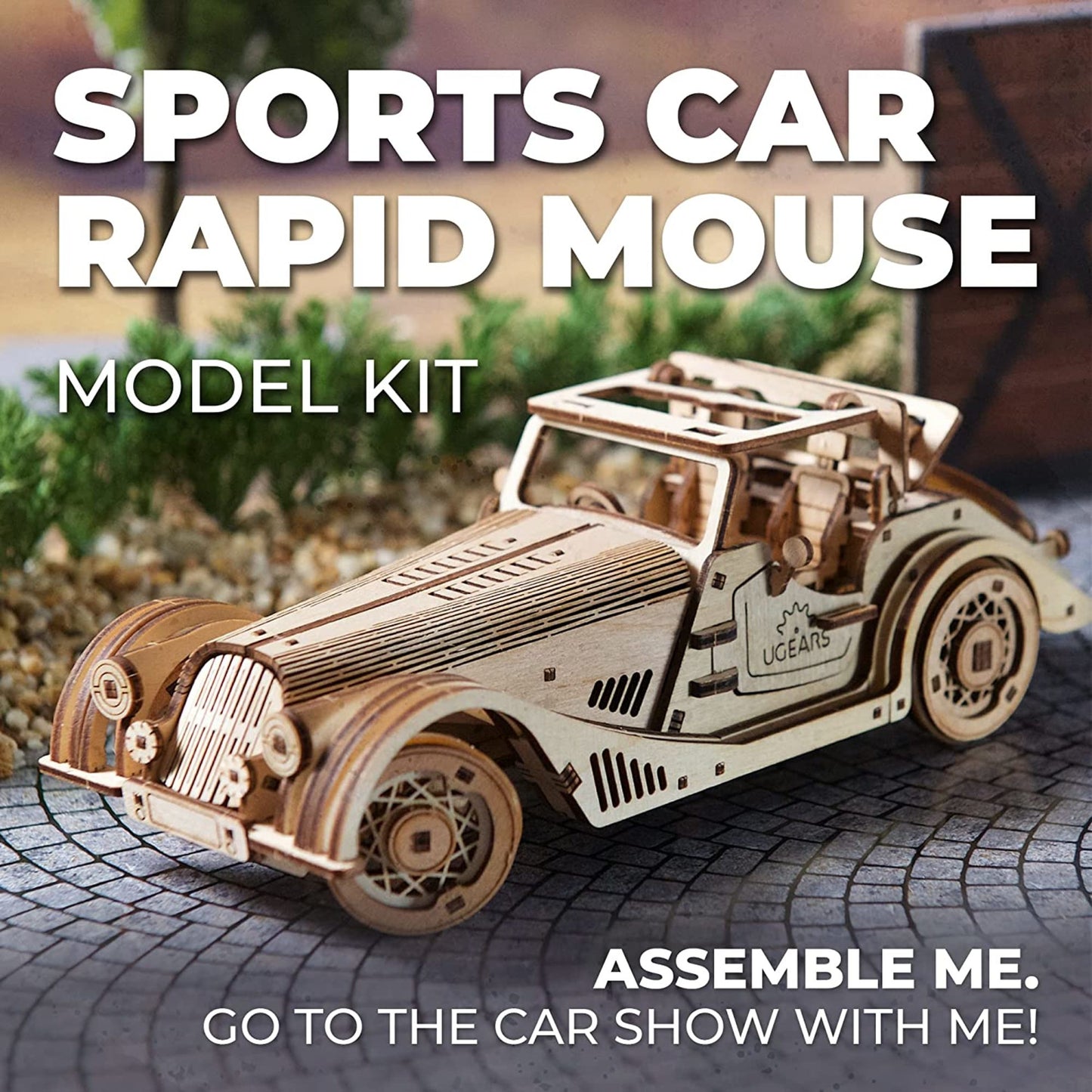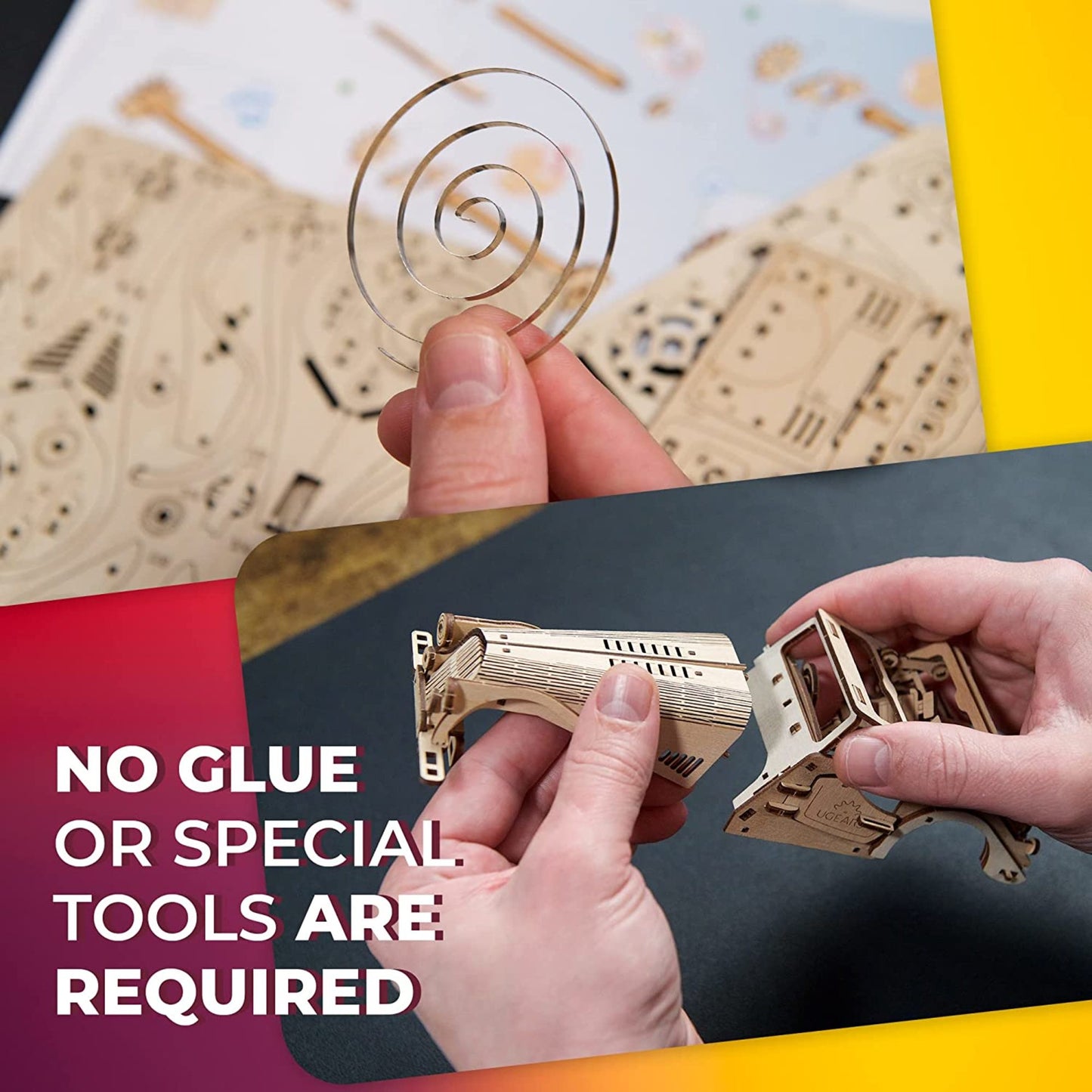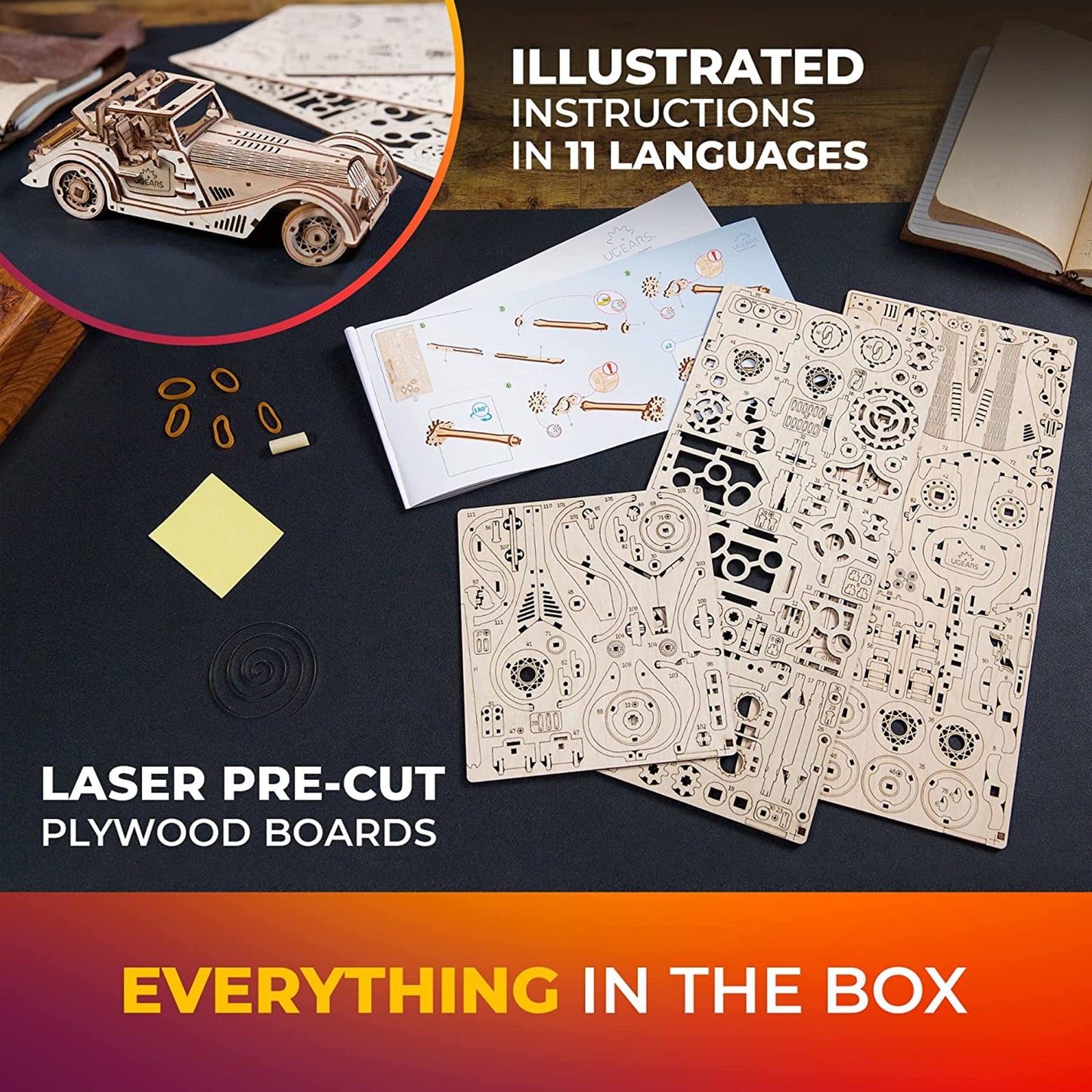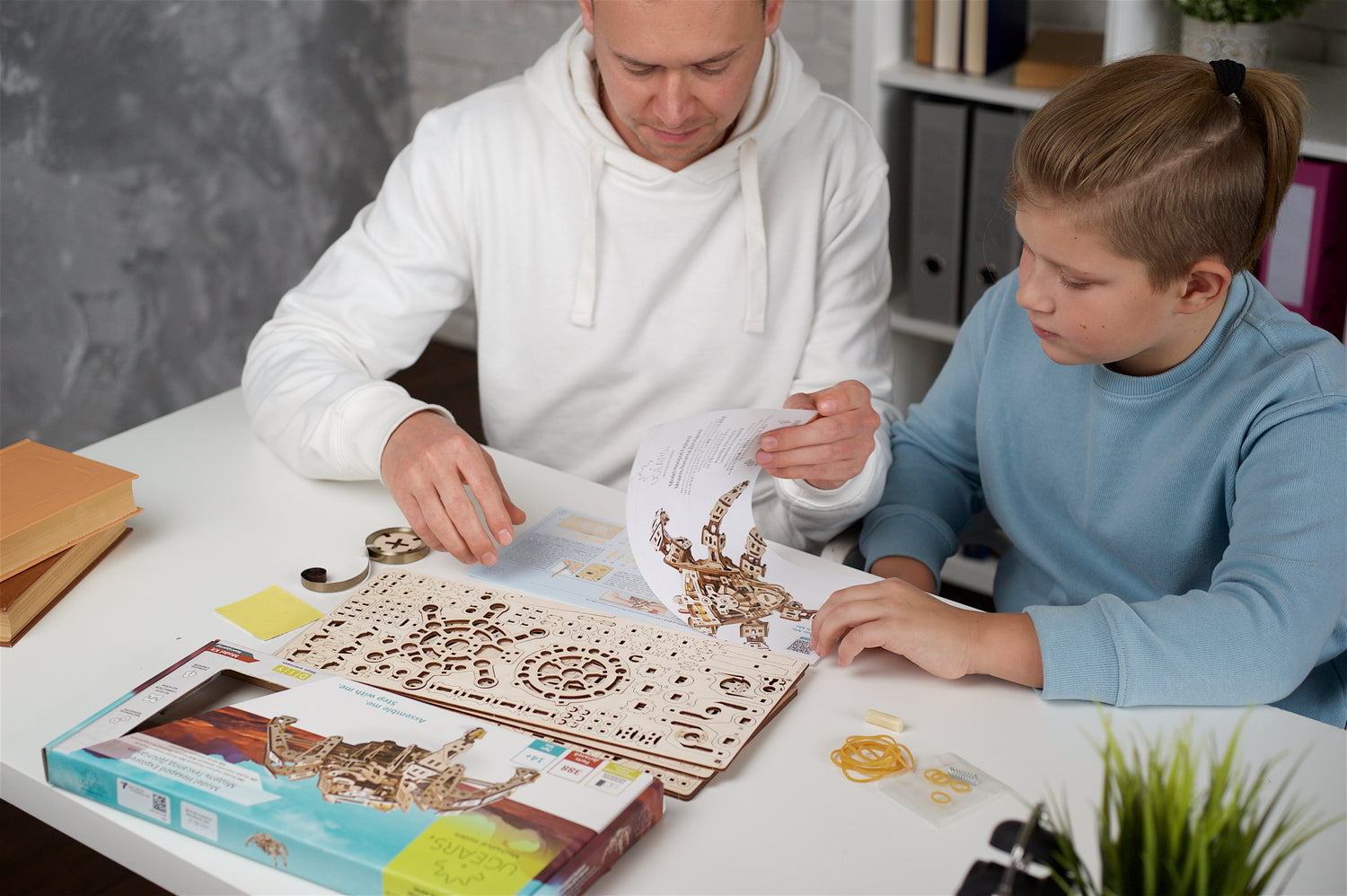 Ready to Build
Ugears models are made from sustainably sourced, laser cut plywood sheets. Everything you need is inside the box, so you can get building right away.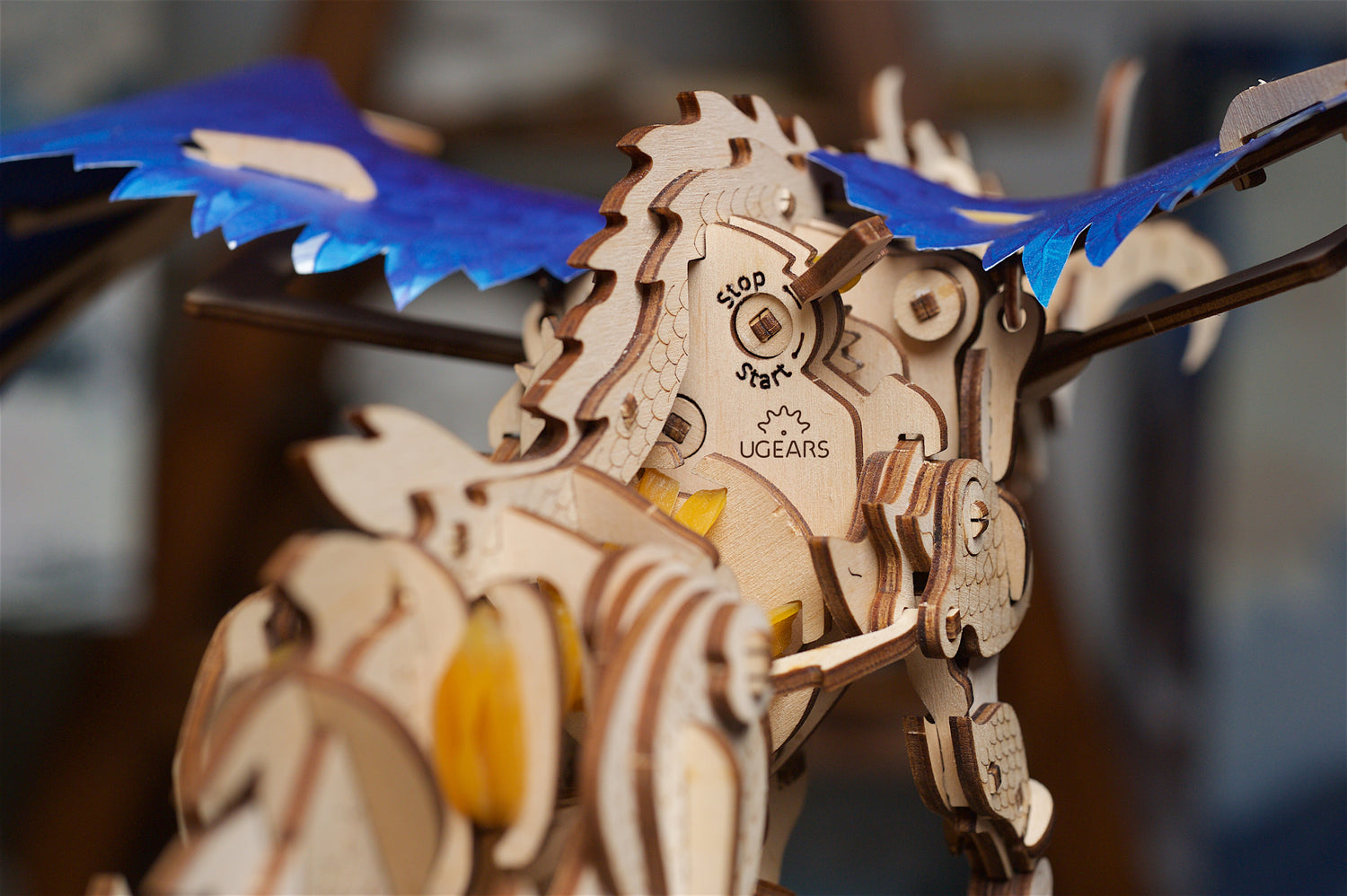 Mechanical
No batteries, no electricity, just Ugears. All mechanical models are powered by the ingenious mechanisms built by you. Just wind up your model and watch it come to life.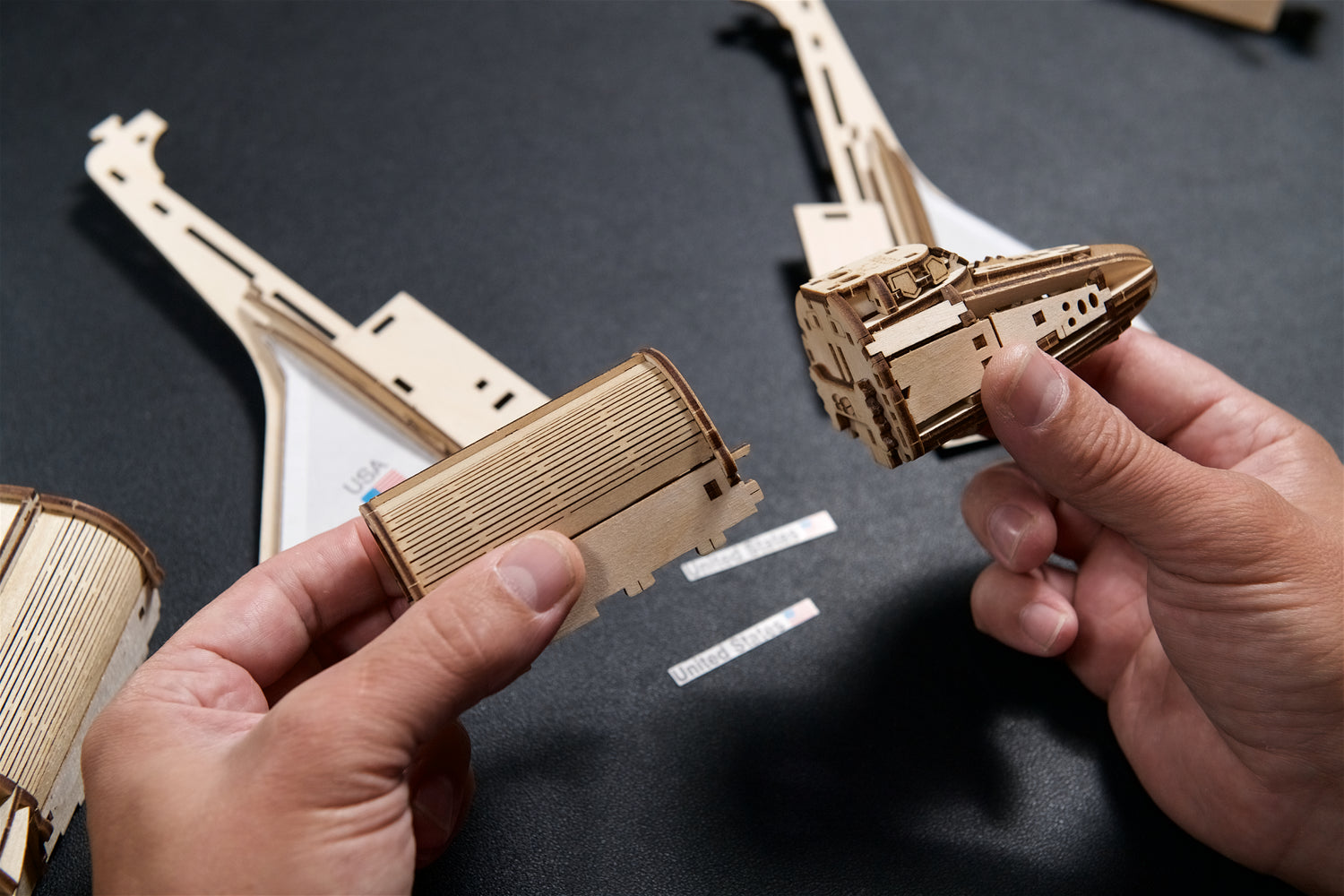 No Glue
Pieces have been designed so they will either click or slide into place. No glue or any other kind of adhesive is needed to build your model.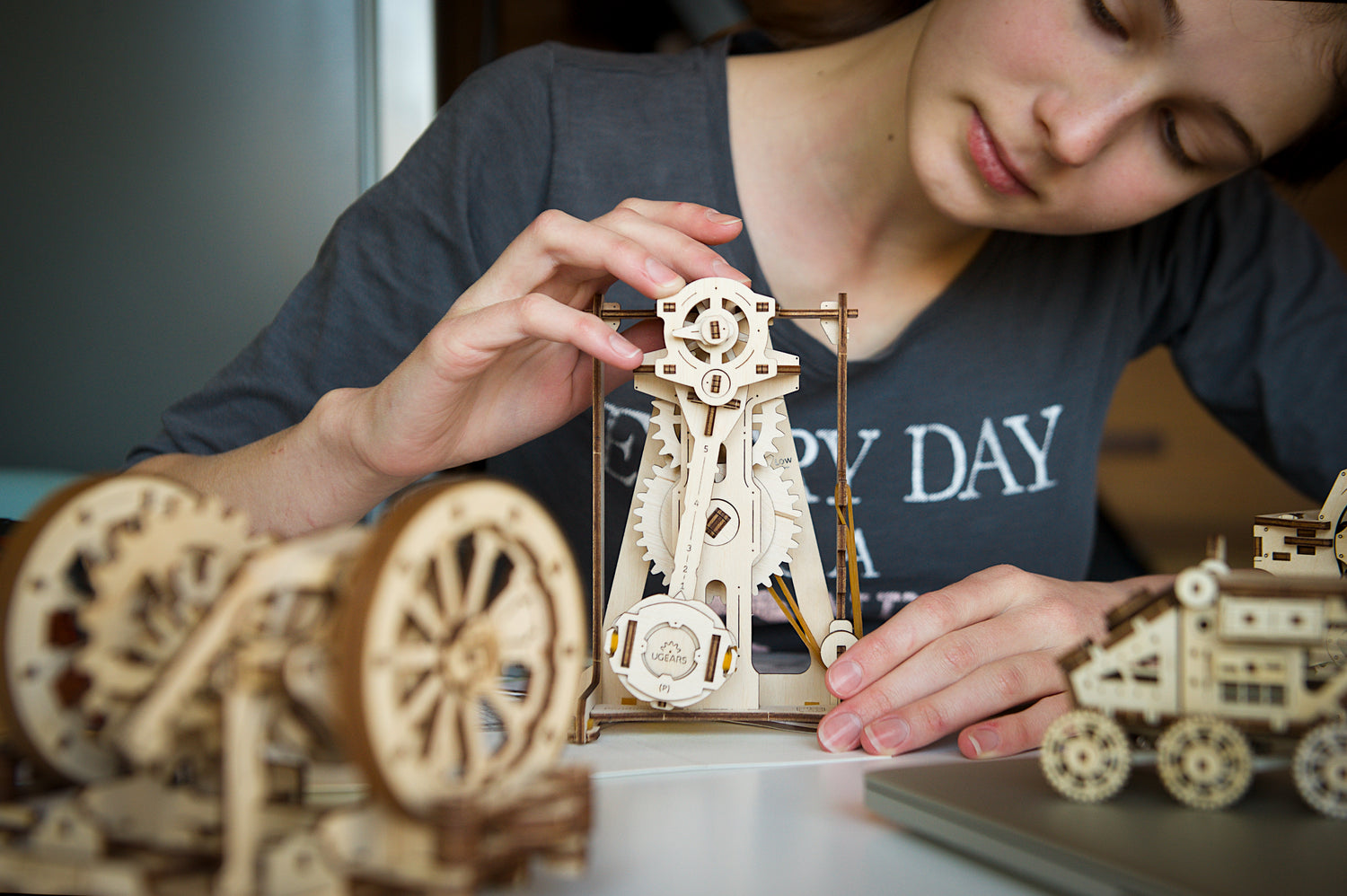 Educational
Models take inspiration from real life inventors and engineers, such as Da Vinci and Galileo. Learn the history behind the model as you build.