SKU:UGR70197
Regular price
Sale price
£10.50 GBP
Unit price
per
Liquid error (snippets/price line 121): divided by 0% OFF
Sale
Sold out
---
45

Pieces

30

Est. Time (min)
---
Share
The "Bravery" series of U-Fidgets from UGears celebrates some of the heroes bravely defending Ukraine against the invader. The set features four small wooden figurines you assemble yourself, each with simple mechanical elements:
Trident (2.5 x 4.8 x 1 cm) — a symbol of Ukrainian sovereignty and territorial integrity dating to the Rurik Dynasty (9th-13th century).
Ghost of Kyiv (8.4 x 2.55 x 5.65 cm) — mythical defender of the skies over Kyiv in his MiG-29 fighter aircraft.
Patron the Bomb-sniffing Dog (5.7 x 2.65 x 4.15 cm) — four-legged hero of the effort to rid Ukrainian soil of unexploded ordnance, with a wagging tail and a nose that knows.
Signals Intelligence Station (8.1 x 5.1 x 1.6 cm) — tactical, truck-mounted SIGINT station, for staying one step ahead of the enemy.
Each DIY fidget has a spinning element to keep your fingers occupied, as well as an eyelet for hanging as an ornament or use as a keychain. Made of art-quality natural composite wood, you can leave your wooden model U-Fidgets in their natural state or colour with a light coat of paint or stain. These simple 3D puzzles come with illustrated instructions and are easy to assemble, for even the youngest builders.
Dedicated to the Armed Forces of Ukraine.
Kit contains all required components and no glue is required
Precision laser cut plywood. Only requires assembly.
UGears Mechanical Models are self-propelled, mechanical wooden model assembly kits.
Perfect for family projects, puzzle enthusiasts, and hands-on STEM learning
45 parts
Assembly time: 0.6 hours
Model size Radio-technical intelligence station 82x51x16mm
Model size Tryzub (Trident) 25x48x10mm
Model size Ghost of Kyiv 84x25.5x56.5mm
Model size Patron (dog) 57x41.5x26.5mm
Fidgets Bravery
The "Bravery" series of U-Fidgets from Ugears celebrates some of the heroes bravely defending Ukraine against the invader. The set features four small wooden figurines you assemble yourself, each with simple mechanical elements:
Trident (2.5 x 4.8 x 1 cm) — a symbol of Ukrainian sovereignty and territorial integrity dating to the Rurik Dynasty (9th-13th century).
Ghost of Kyiv (8.4 x 2.55 x 5.65 cm) — mythical defender of the skies over Kyiv in his MiG-29 fighter aircraft.
Patron the Bomb-sniffing Dog (5.7 x 2.65 x 4.15 cm) — four-legged hero of the effort to rid Ukrainian soil of unexploded ordnance, with a wagging tail and a nose that knows.
Signals Intelligence Station (8.1 x 5.1 x 1.6 cm) — tactical, truck-mounted SIGINT station, for staying one step ahead of the enemy.
Each DIY fidget has a spinning element to keep your fingers occupied, as well as an eyelet for hanging as an ornament or use as a keychain. Made of art-quality natural composite wood, you can leave your wooden model U-Fidgets in their natural state or color with a light coat of paint or stain. These simple 3D puzzles come with illustrated instructions and are easy to assemble, for even the youngest builders.
Dedicated to the Armed Forces of Ukraine.
View full details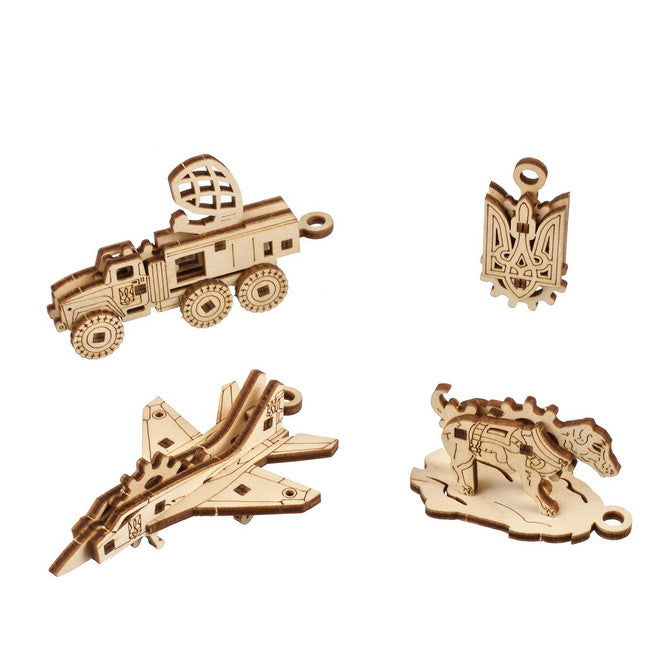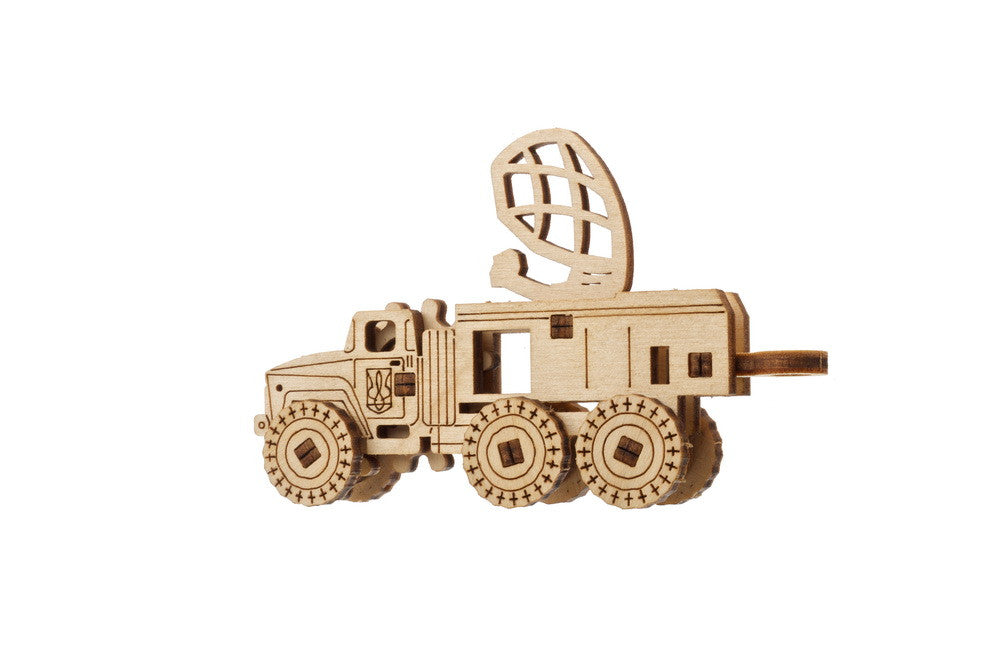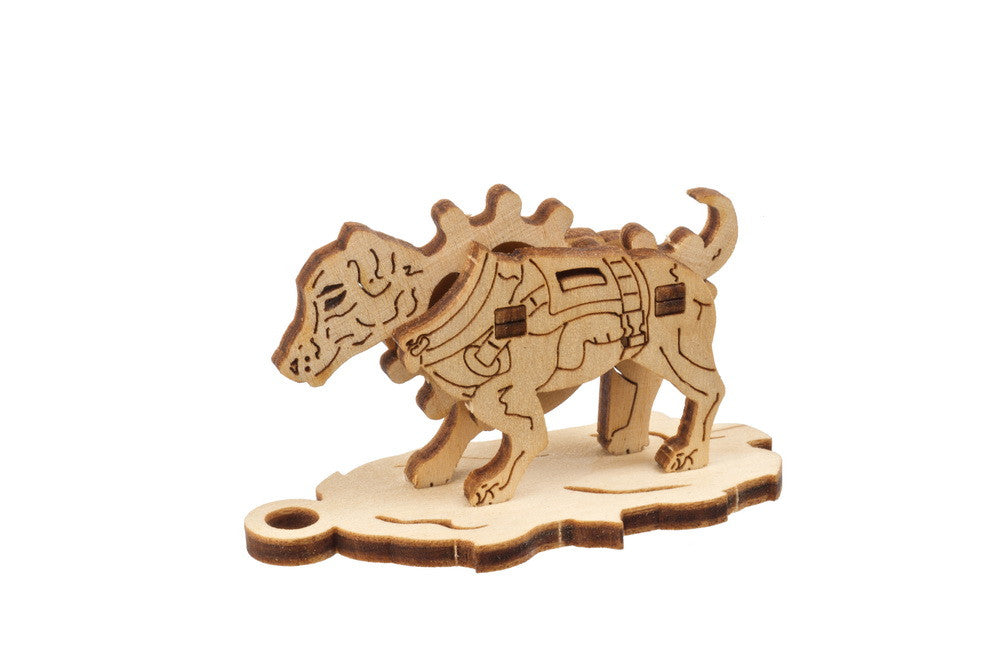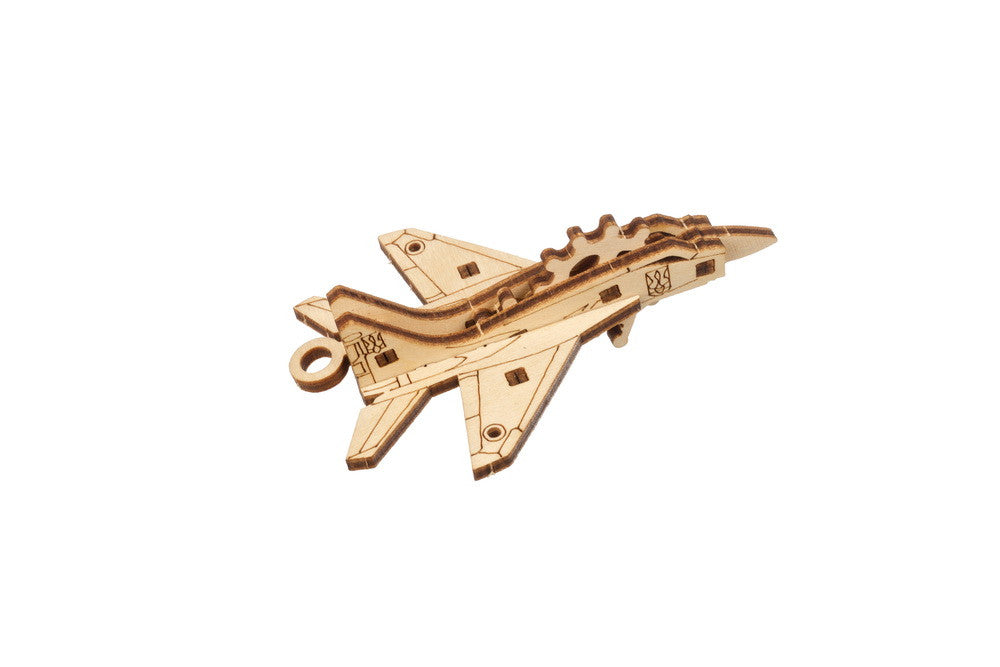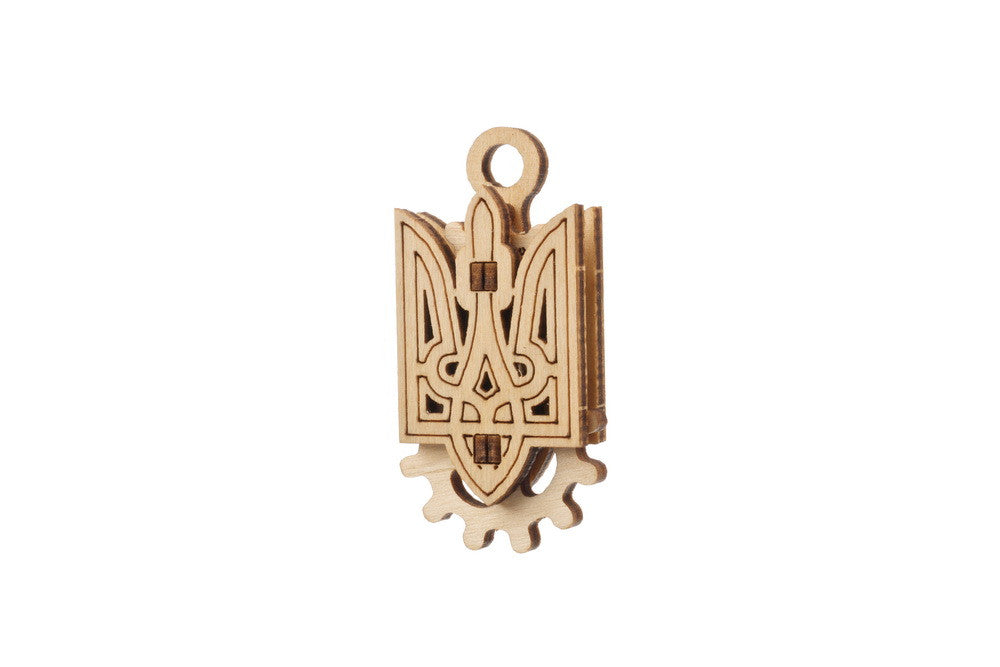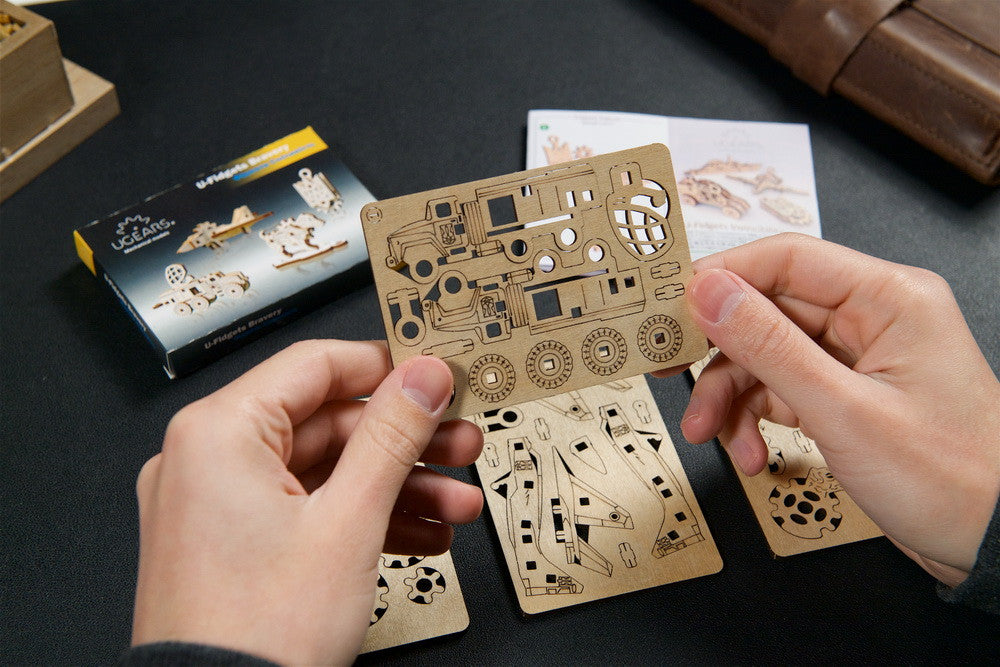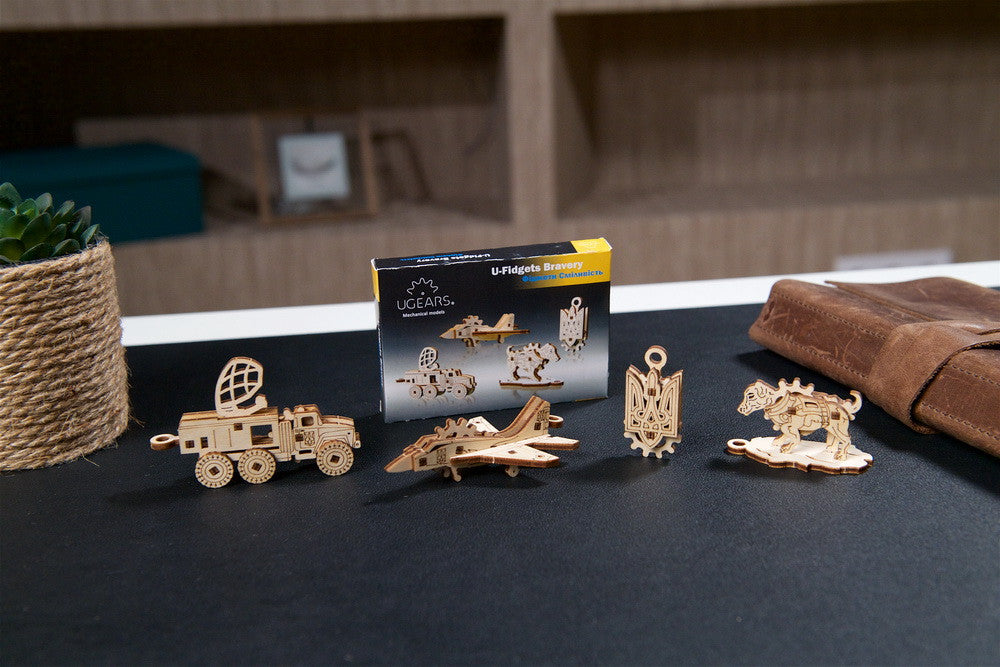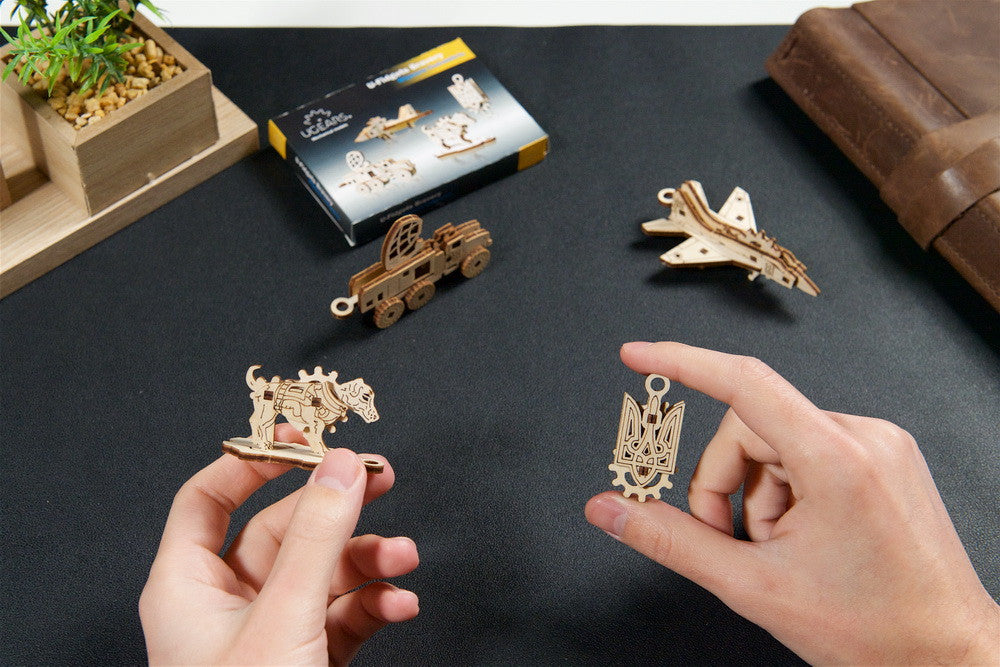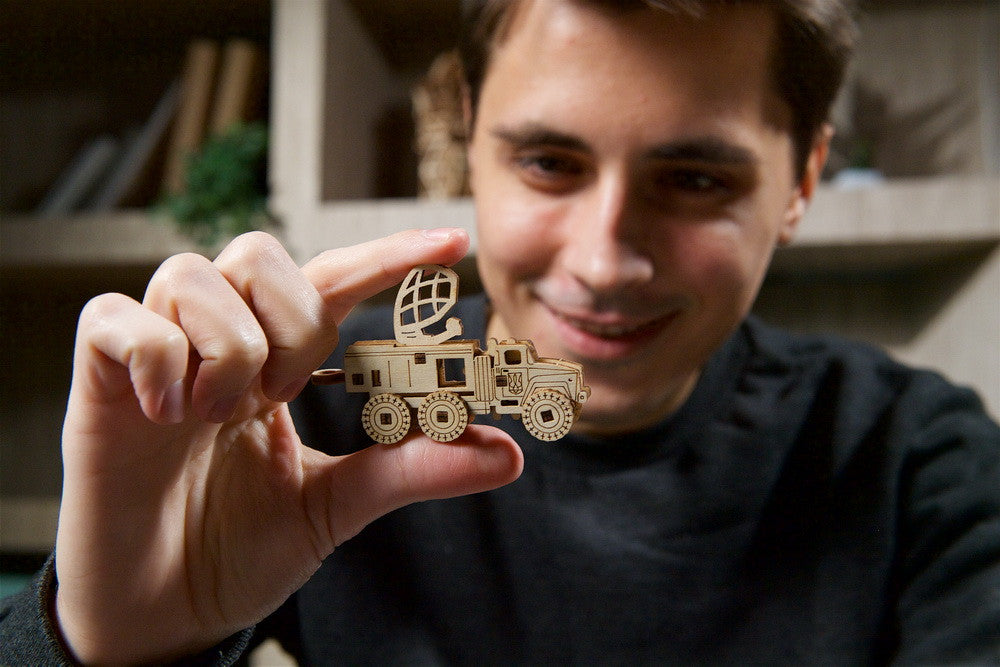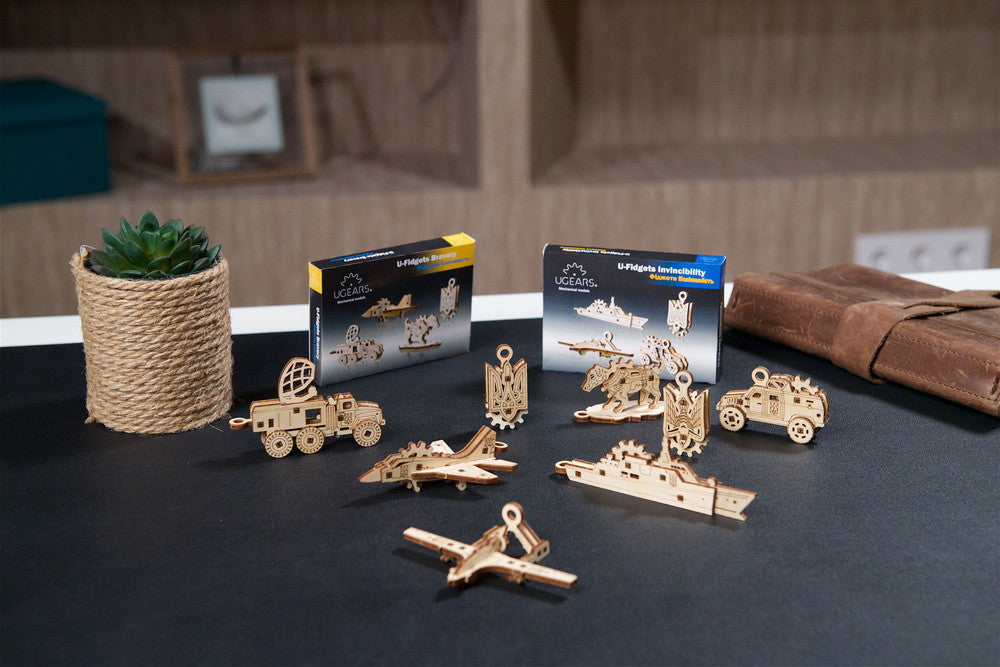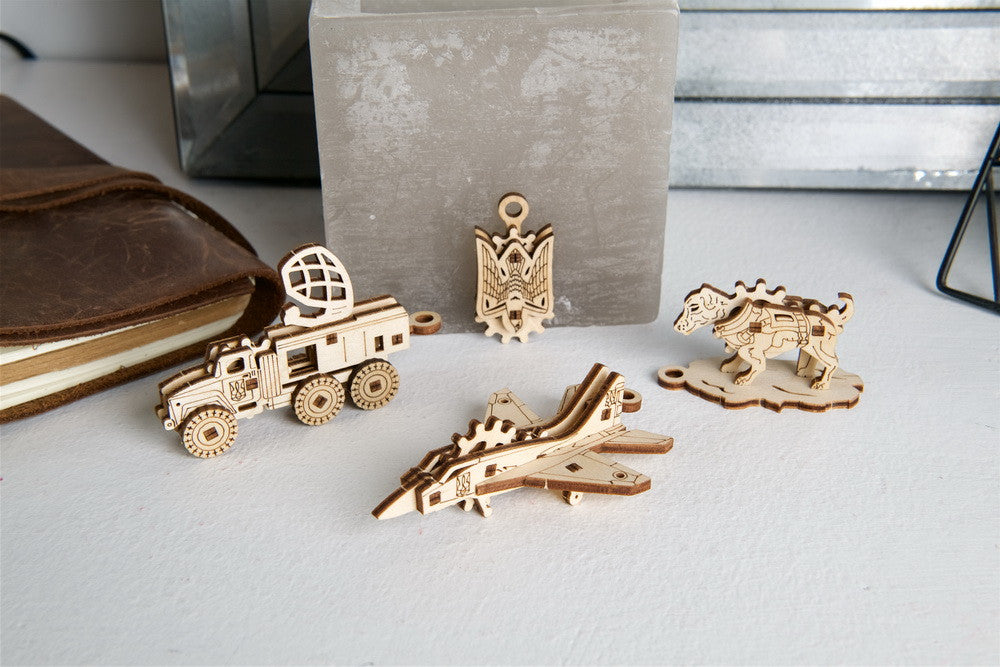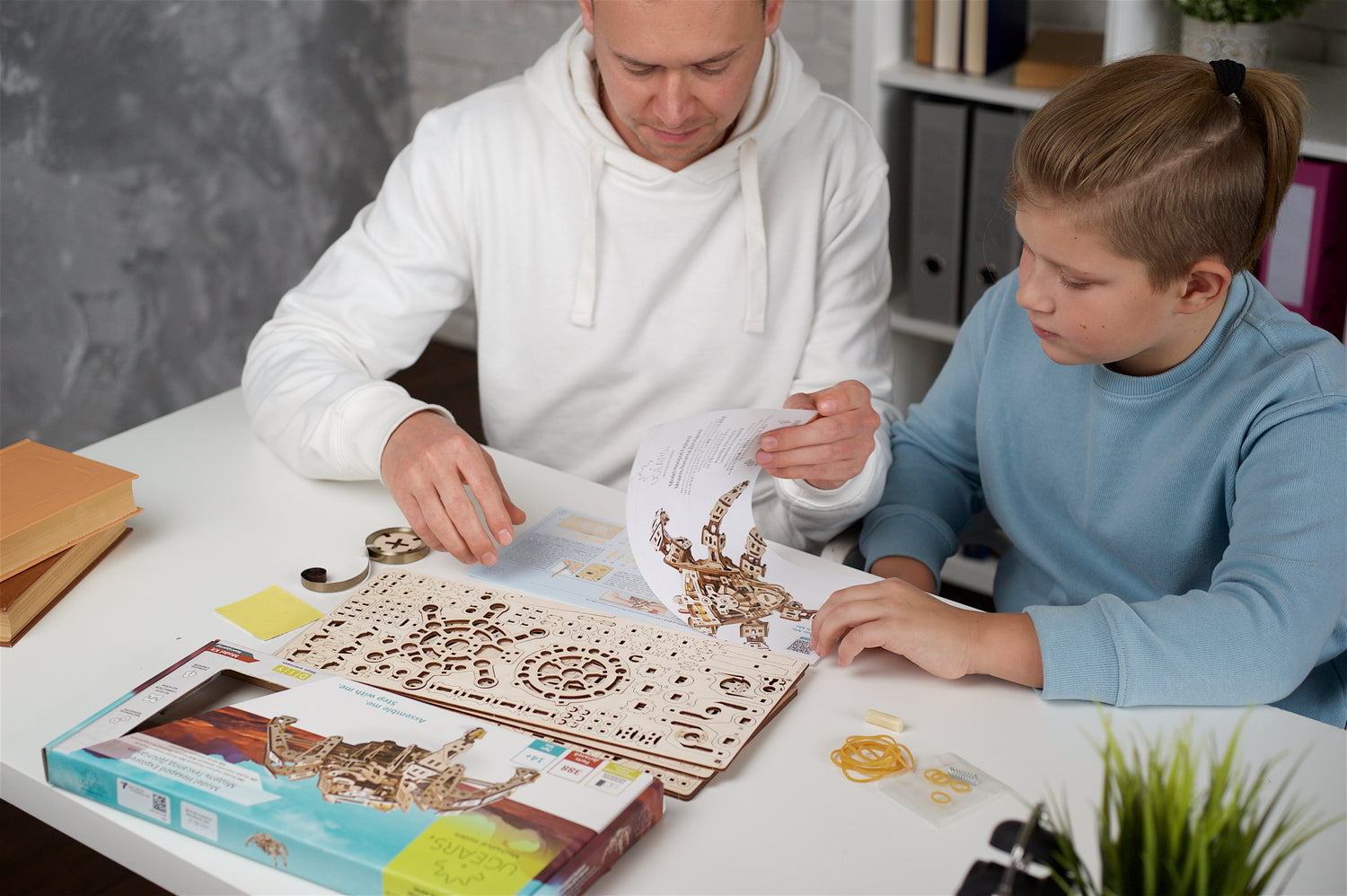 Ready to Build
Ugears models are made from sustainably sourced, laser cut plywood sheets. Everything you need is inside the box, so you can get building right away.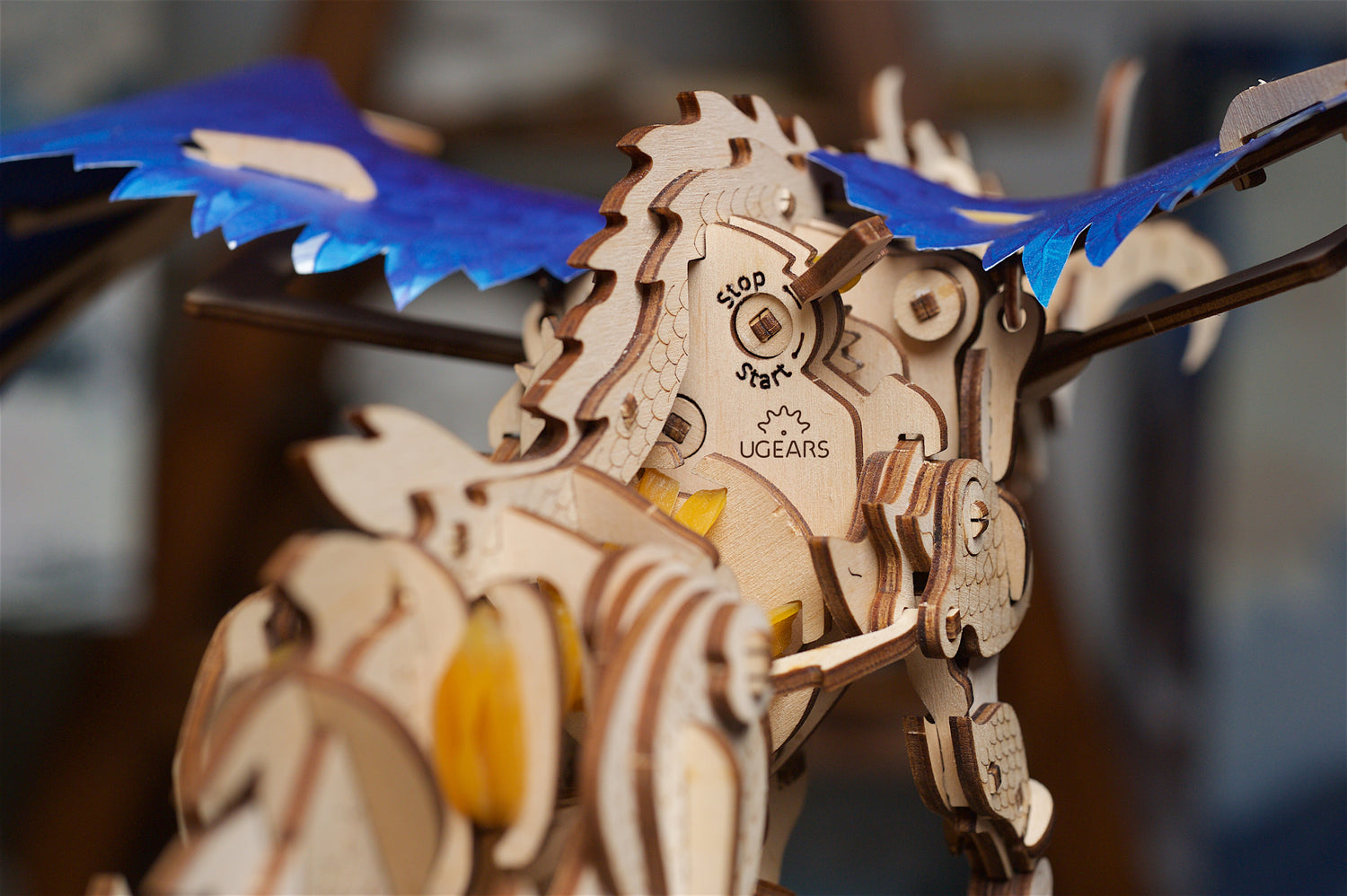 Mechanical
No batteries, no electricity, just Ugears. All mechanical models are powered by the ingenious mechanisms built by you. Just wind up your model and watch it come to life.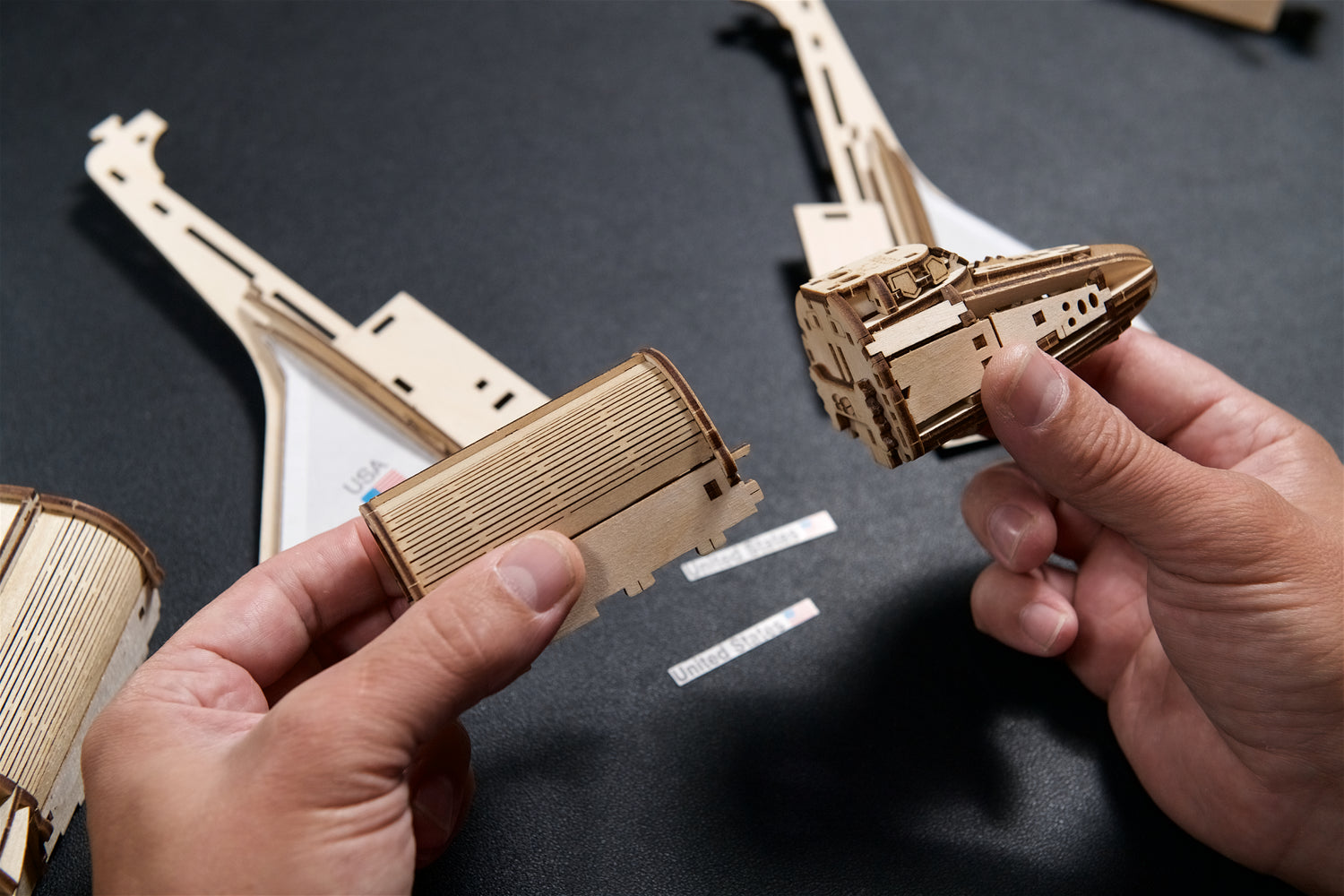 No Glue
Pieces have been designed so they will either click or slide into place. No glue or any other kind of adhesive is needed to build your model.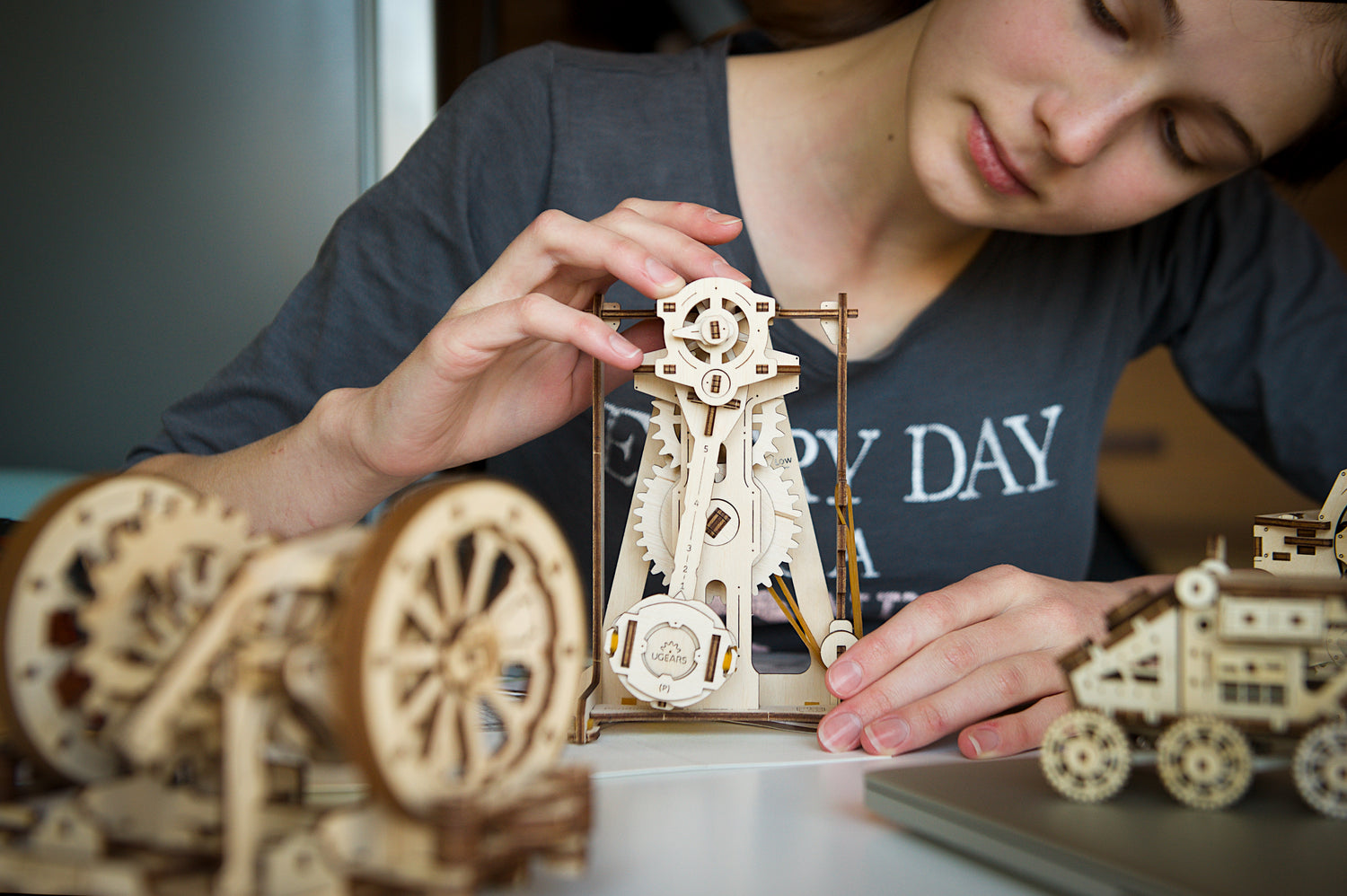 Educational
Models take inspiration from real life inventors and engineers, such as Da Vinci and Galileo. Learn the history behind the model as you build.