SKU:UGR70195
Regular price
Sale price
£21.99 GBP
Unit price
per
Liquid error (snippets/price line 121): divided by 0% OFF
Sale
Sold out
---
62

Pieces

30

Est. Time (min)
LxWxH 302 mm x 60 mm x 132 mm
---
Share
Supercar in its Frame: Meet the Roadster MK3 from our Classic Vehicles collection, the first series in a new line of UGears 2.5D wooden puzzle for adults and kids. This gorgeous DIY 2.5D wooden picture model has movable elements and comes in its own frame suitable for hanging on a wall or placing on a desk or shelf
Legendary muscle car: Our Roadster MK3 car model is a miniature reproduction of memorable cars from the past century. This vintage car model kit turns into a classically styled muscle car resembling the original Shelby Cobra
Interactive décor: Once assembled, this retro car model can be displayed anywhere because both a stand and a picture mount are included. Even better, the car model comes to life with a side door that opens, wheels that turn, a hood and a boot that open and close, and a movable stick shift
Easy assembly: Similar to other UGears 3D model kits for adults and mechanical puzzles for kids, this classic model car kit comes with all necessary tools, extra parts and illustrated instructions in 11 languages. You can assemble this 67-piece classic model car in about 30 minutes
Excellent gift idea: Our buildable model car kits will please automobile enthusiasts and collectors of antique old cars. Diversify your collection of vintage supercars with the UGears Roadster MK3 2.5D picture puzzle
Kit contains all required components and no glue is required
Precision laser cut plywood. Only requires assembly.
UGears Mechanical Models are self-propelled, mechanical wooden model assembly kits.
Perfect for family projects, puzzle enthusiasts, and hands-on STEM learning
62 parts
Assembly time: 0.5 hours
Model size 302x132x60mm
Hang on the wall or place on a shelf!
Meet the Roadster MK3 from the 2.5D Classic Vehicles collection—the first series in our new line of Ugears 2.5D puzzles! This beautiful DIY 2.5D wooden picture model has movable elements and comes in its own frame, suitable for hanging on a wall or standing on a desk or shelf. The Roadster MK3 depicts a classically-styled muscle car, and will be an attractive addition to your home or office decor. This automotive picture model comes to life with a side door that opens, wheels that turn, hood and boot that open and close, and a movable stick shifter.
Like our classic Ugears 3D puzzles, 2.5D puzzles are made of art-quality composite wood, with recognizable Ugears design, and can be assembled without glue or special tools. The pieces are pre-cut into boards using a laser method that provides precise hairline cuts. Just punch the pieces out and snap them together to create a complete picture model. Our new line of 2.5D picture puzzles are perfect for those who want to decorate their interior space with beautiful objects created by their own hands.
The Roadster MK3, like the other Classic Vehicles in our new line of 2.5D puzzles, is different from anything Ugears has manufactured before. These wooden mechanical pictures are meant for static display, but with a twist: movable parts that bring the picture to life. The Roadster MK3 is a handsome addition to Ugears' outstanding collection of cars, motorbikes, trucks and other outstanding automotive DIY models.
Ugears is loved all over the world for innovative wooden mechanical models that move, each with ingenious design and engineering. With our 2.5D models we've flattened everything and placed the model in a frame, for those who enjoy displaying attractive DIY crafts. Ugears 2.5D puzzles are a fun, dynamic alternative to traditional jigsaw puzzles, which have to be glued to a base then mounted in a frame if you want to preserve and display your work. Your Roadster MK3 2.5D picture puzzle comes in its own frame, with leg stands and a picture mount—just assemble and place or hang your Roadster wherever you want!
There are 62 pieces in the Roadster MK3 2.5D Puzzle kit, with an estimated assembly time of 20-30 minutes. All models in our new 2.5D puzzle series are easy to assemble, so even those without any previous modeling experience can create something beautiful to hang on their wall. The Roadster MK3 comes with step-by-step, full-color, easy-to-follow instructions in 11 languages (Ukrainian, English, German, French, Polish, Spanish, Portuguese, Italian, Japanese, Chinese and Korean) to guide your build.
Classic styling and iconic Ugears' design make your Roadster MK3 2.5D picture puzzle a stylish display piece for any interior. You can leave your 2.5D picture muscle car model in its attractive natural wood state, or color, paint or stain it in a color scheme of your choosing (paints not included). Unleash your inner builder and your inner artist with Ugears!
Start your collection of Ugears wooden 2.5D picture puzzles today with the Roadster MK3, then branch out and explore the wonderful world ofUgears mechanical 3D puzzles, including cars, trucks, ships, motorbikes, automatons, robots, wooden puzzle boxes and STEM Lab model kits.
Welcome to a wonderful world of mechanics and creativity. Welcome to the world of Ugears!
View full details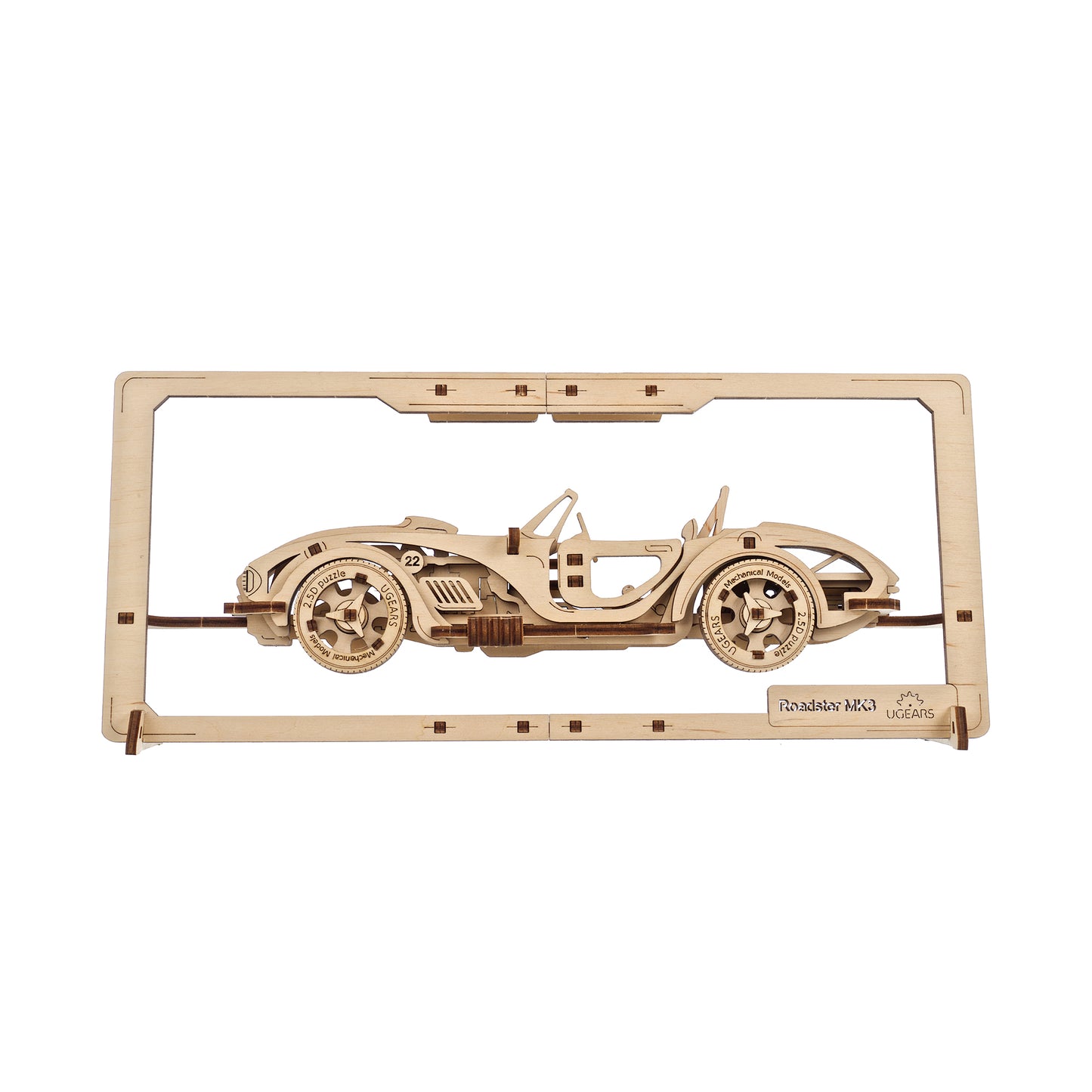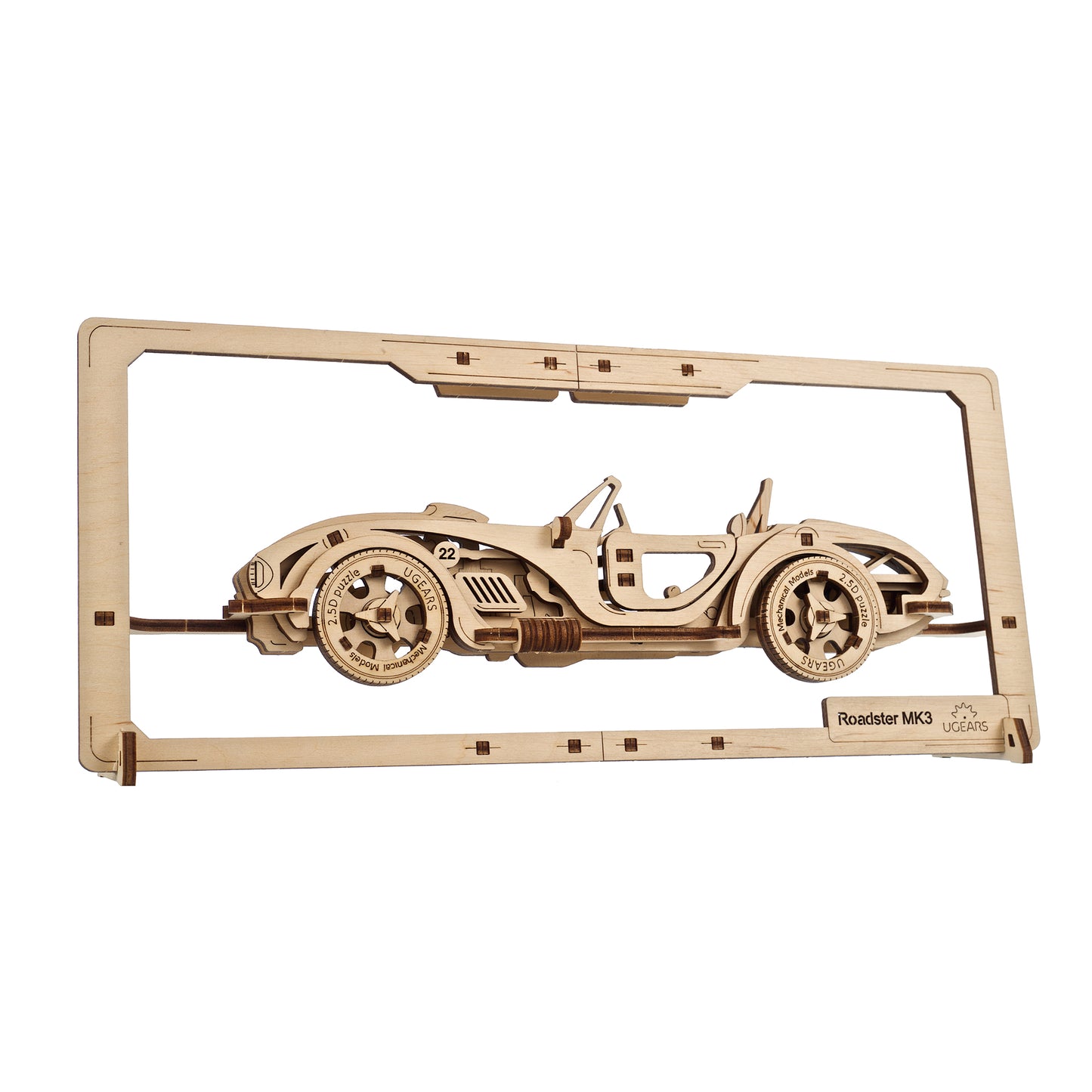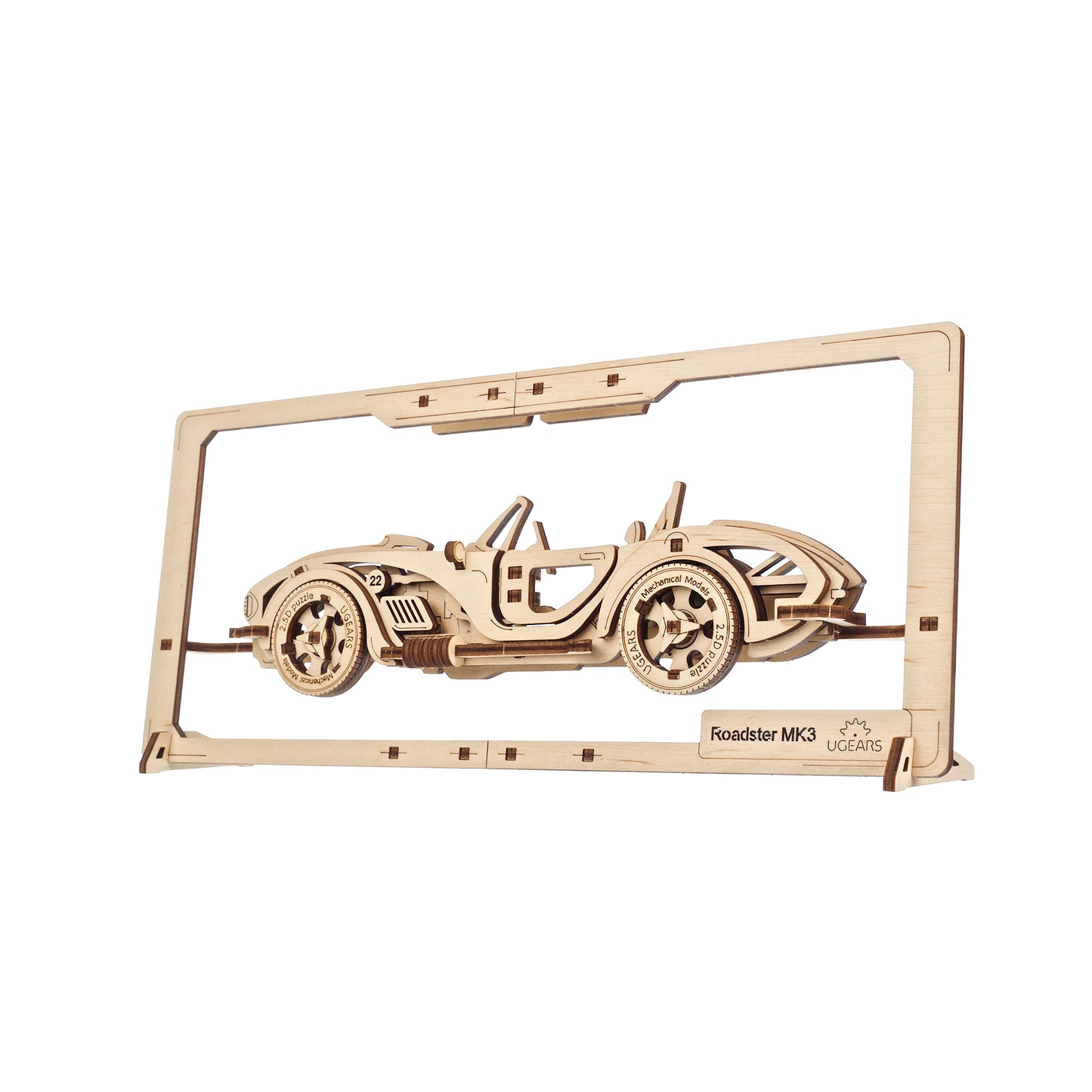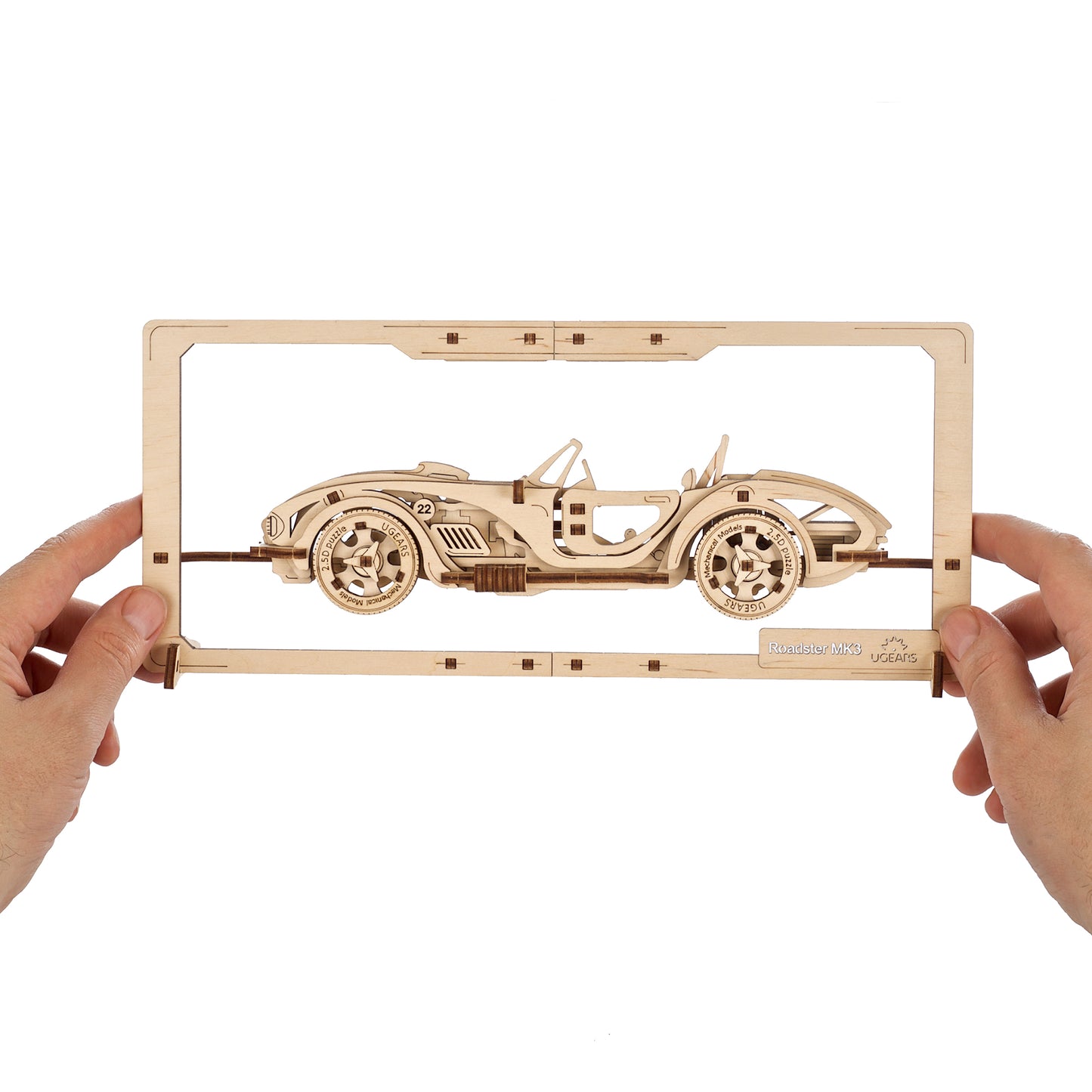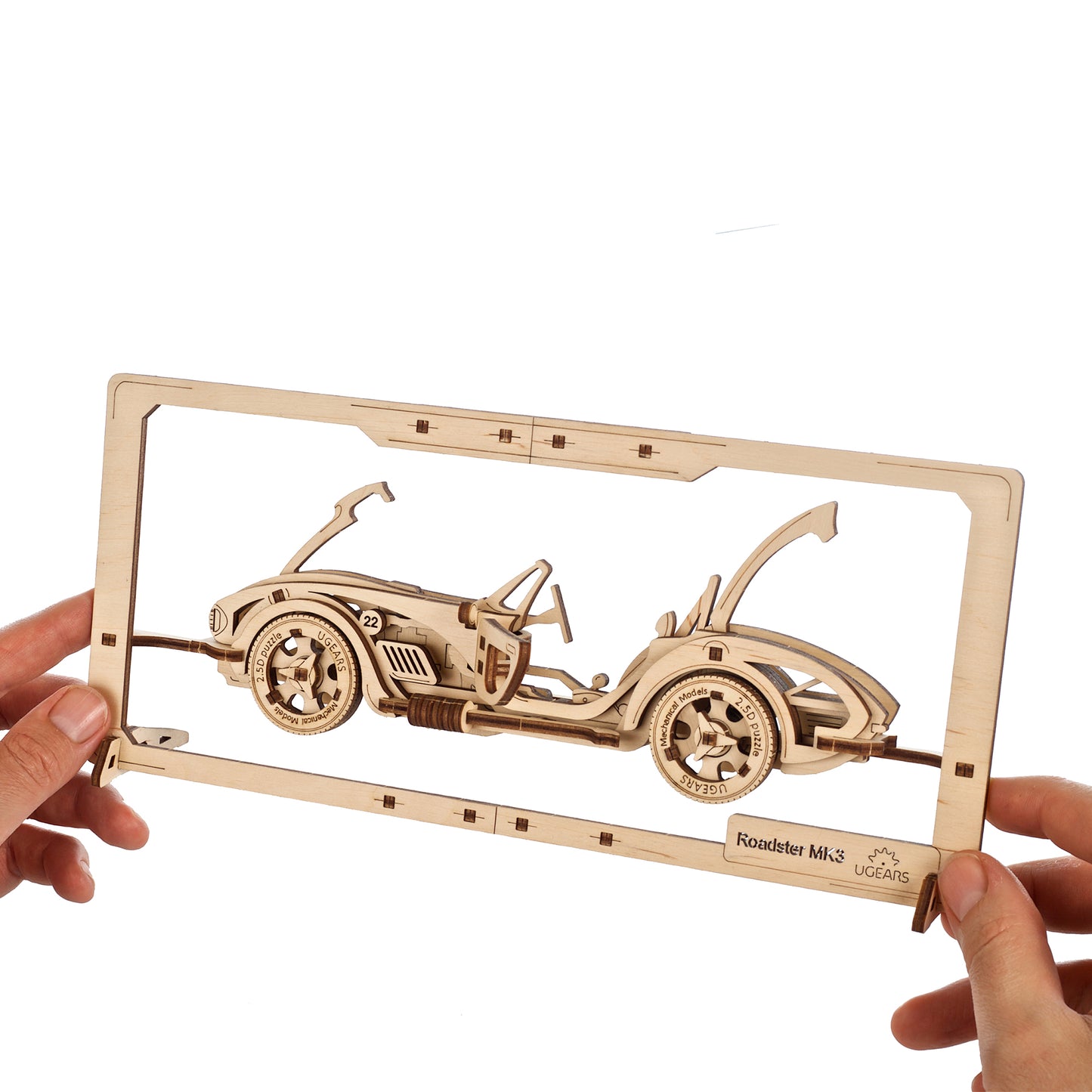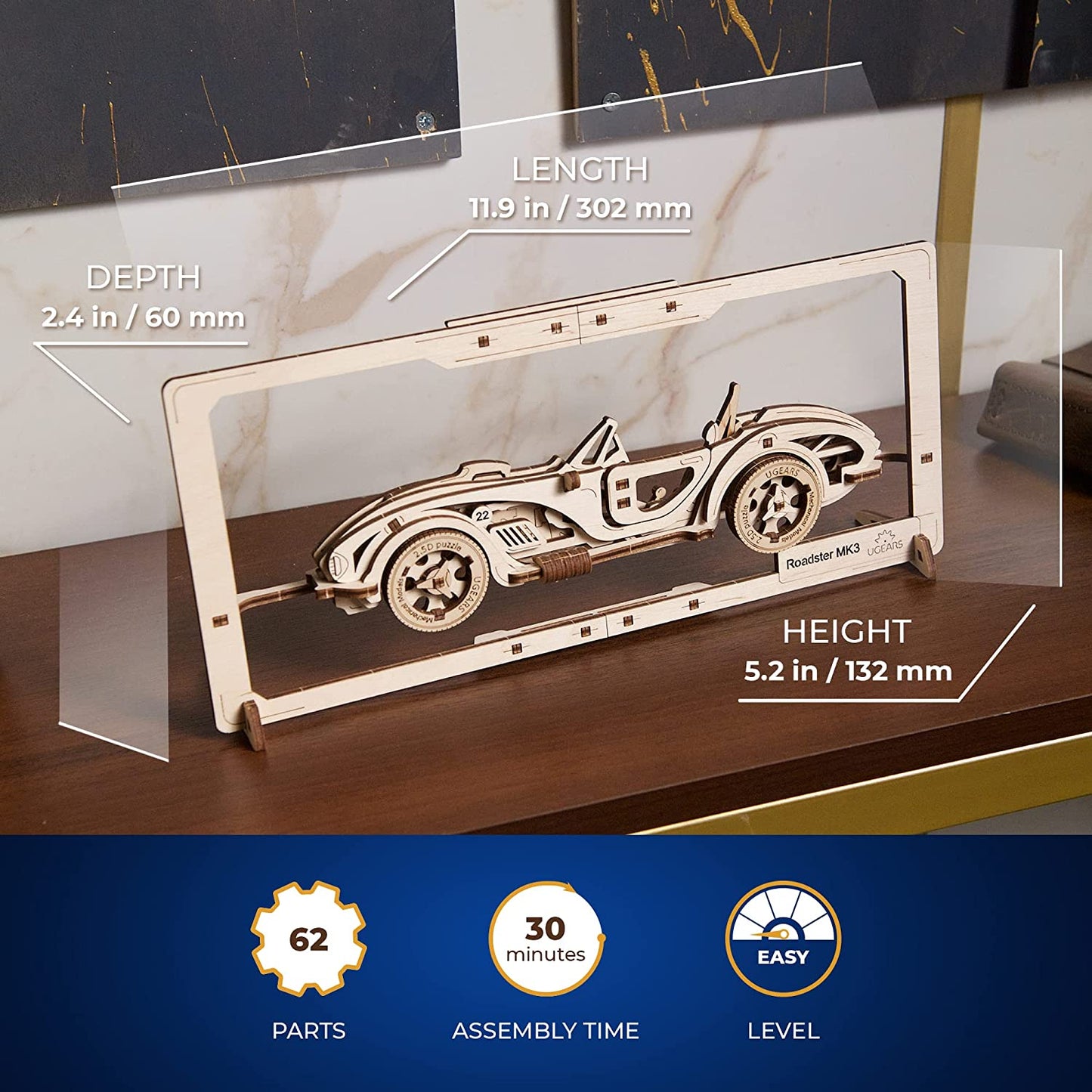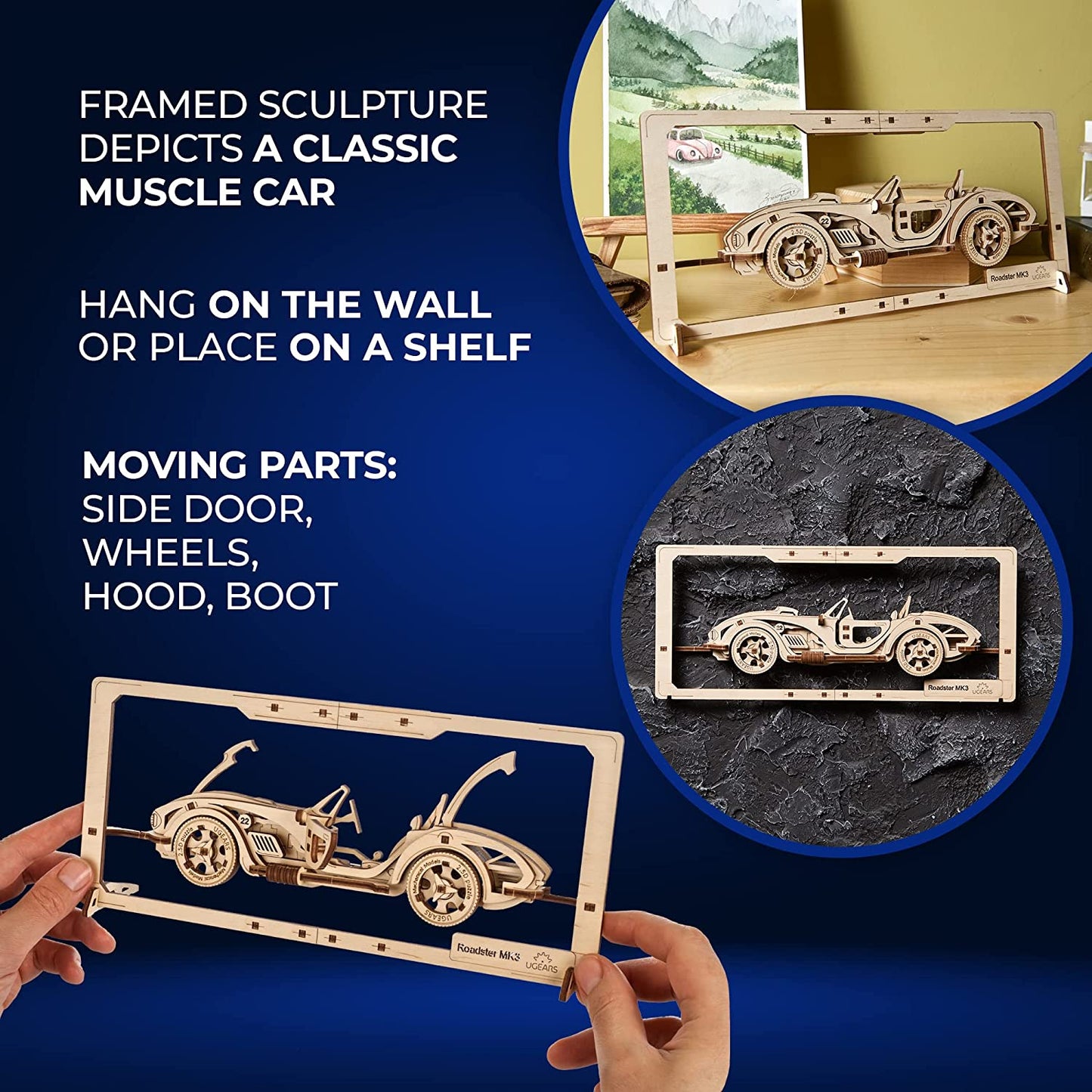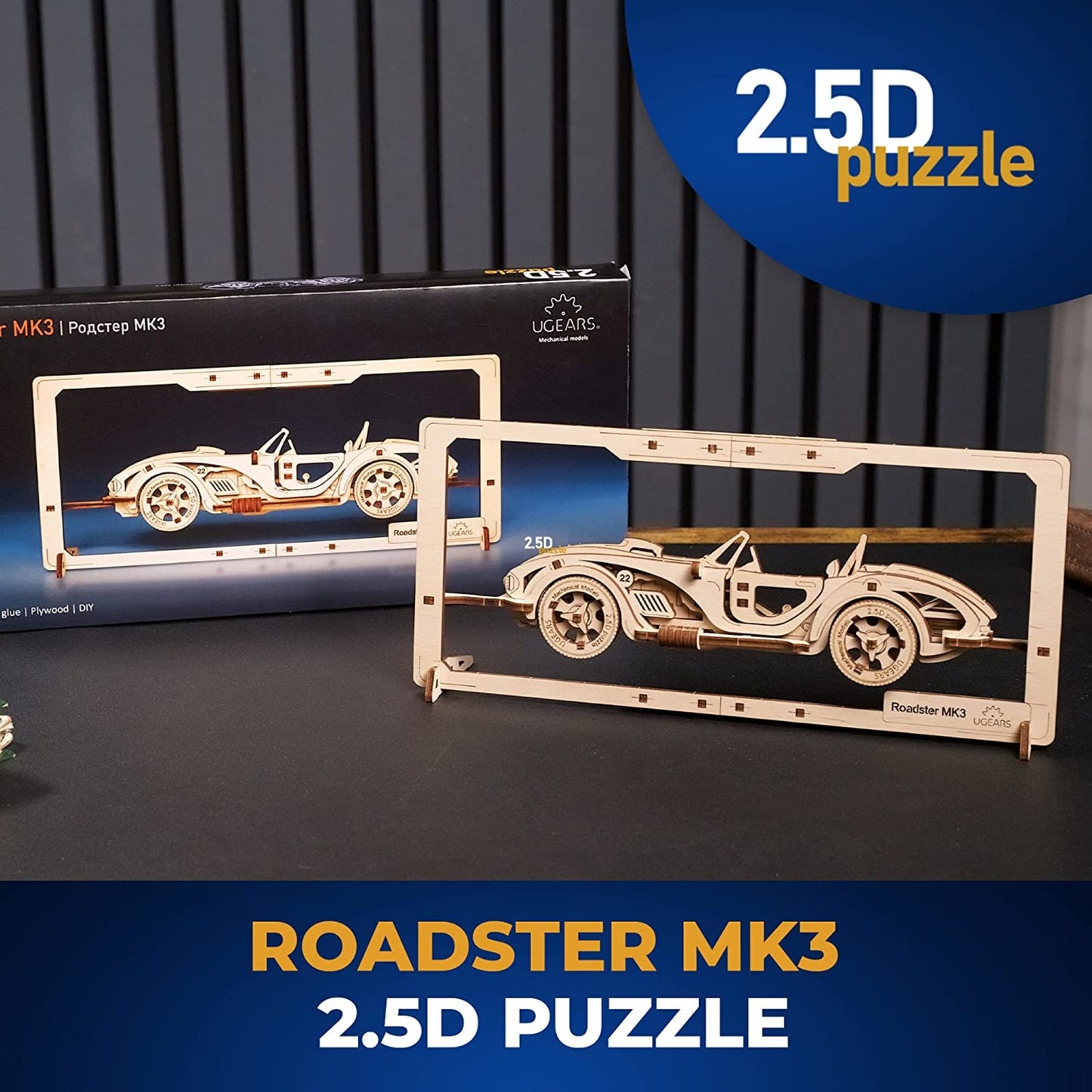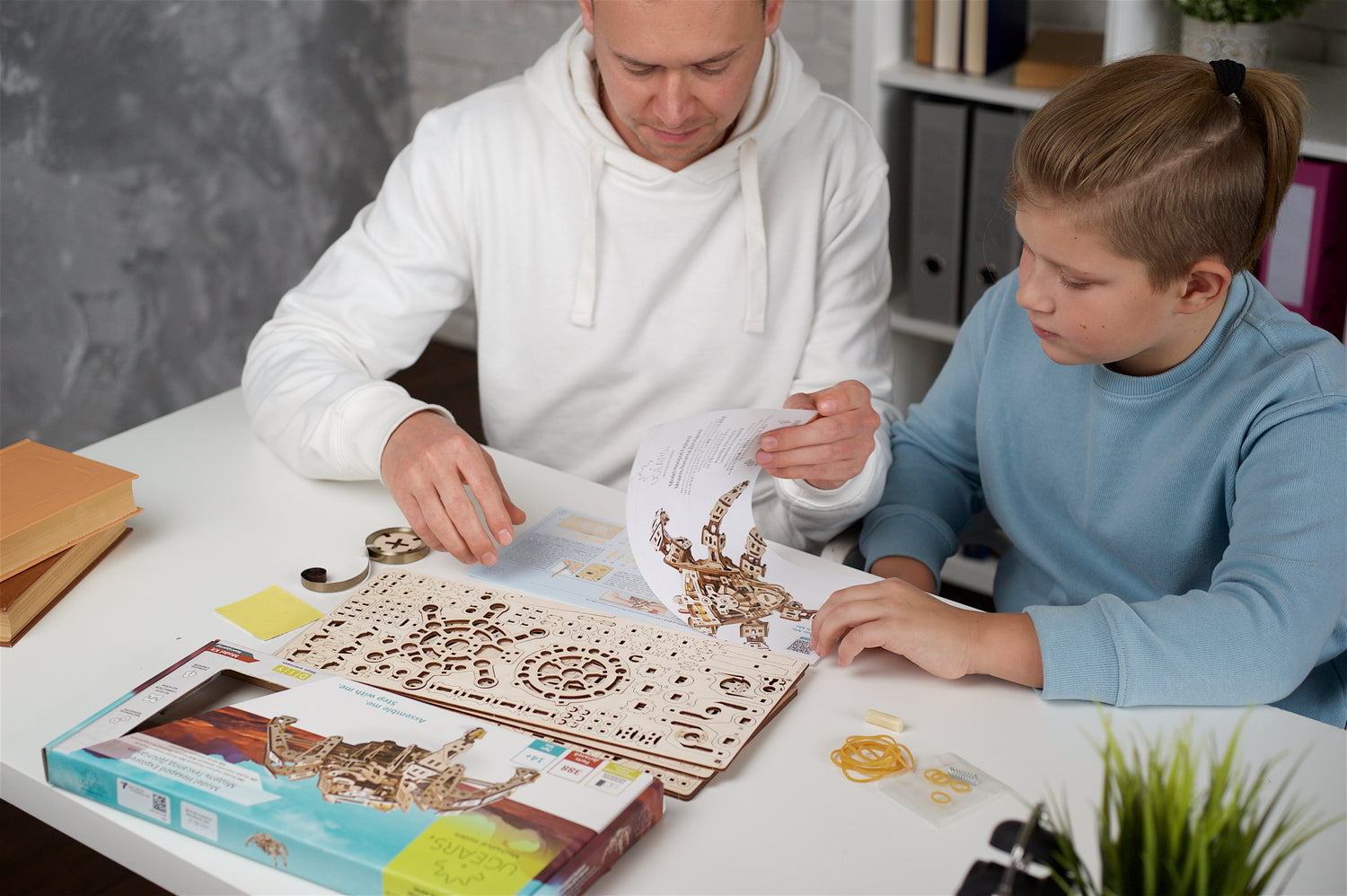 Ready to Build
Ugears models are made from sustainably sourced, laser cut plywood sheets. Everything you need is inside the box, so you can get building right away.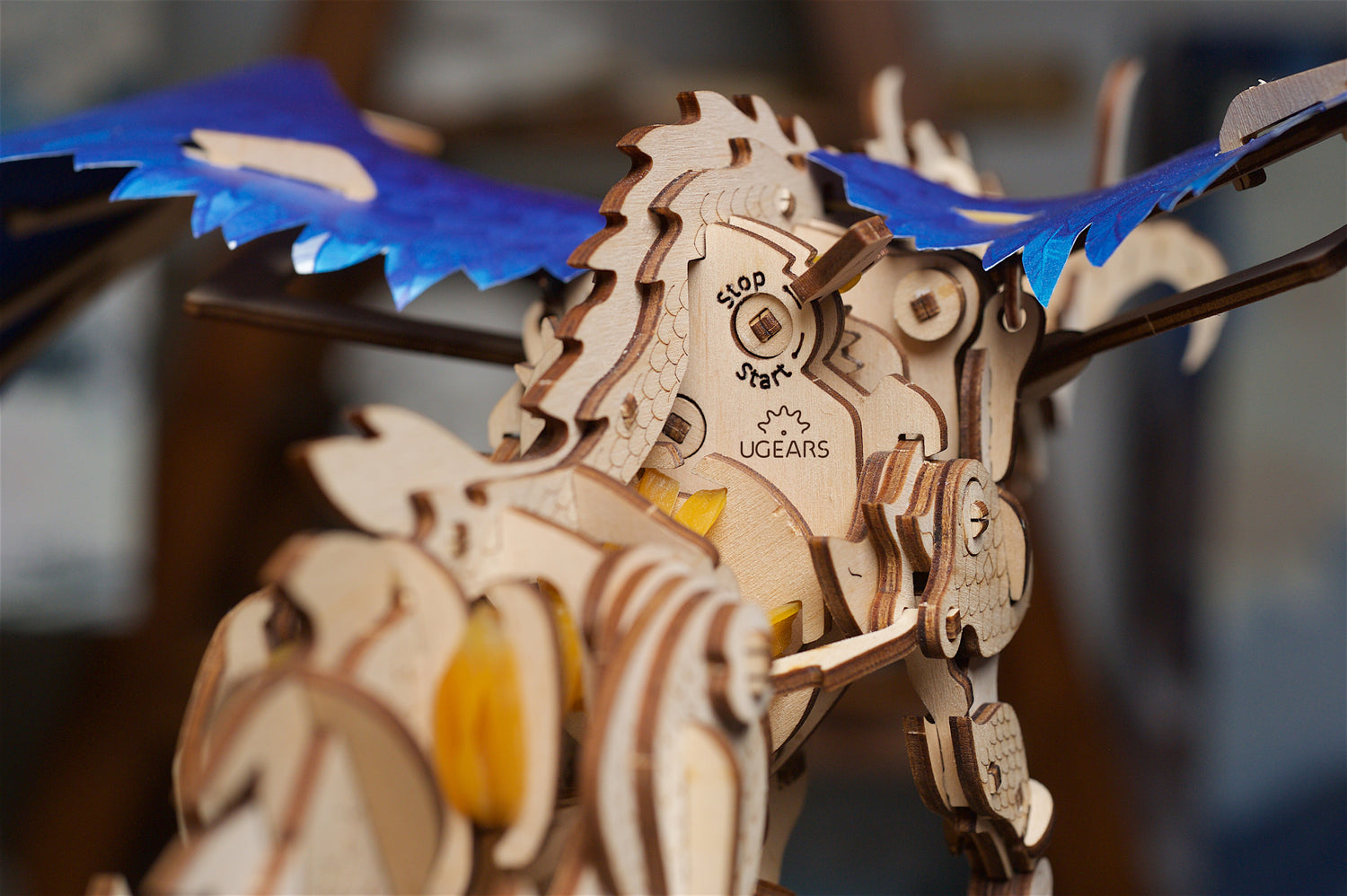 Mechanical
No batteries, no electricity, just Ugears. All mechanical models are powered by the ingenious mechanisms built by you. Just wind up your model and watch it come to life.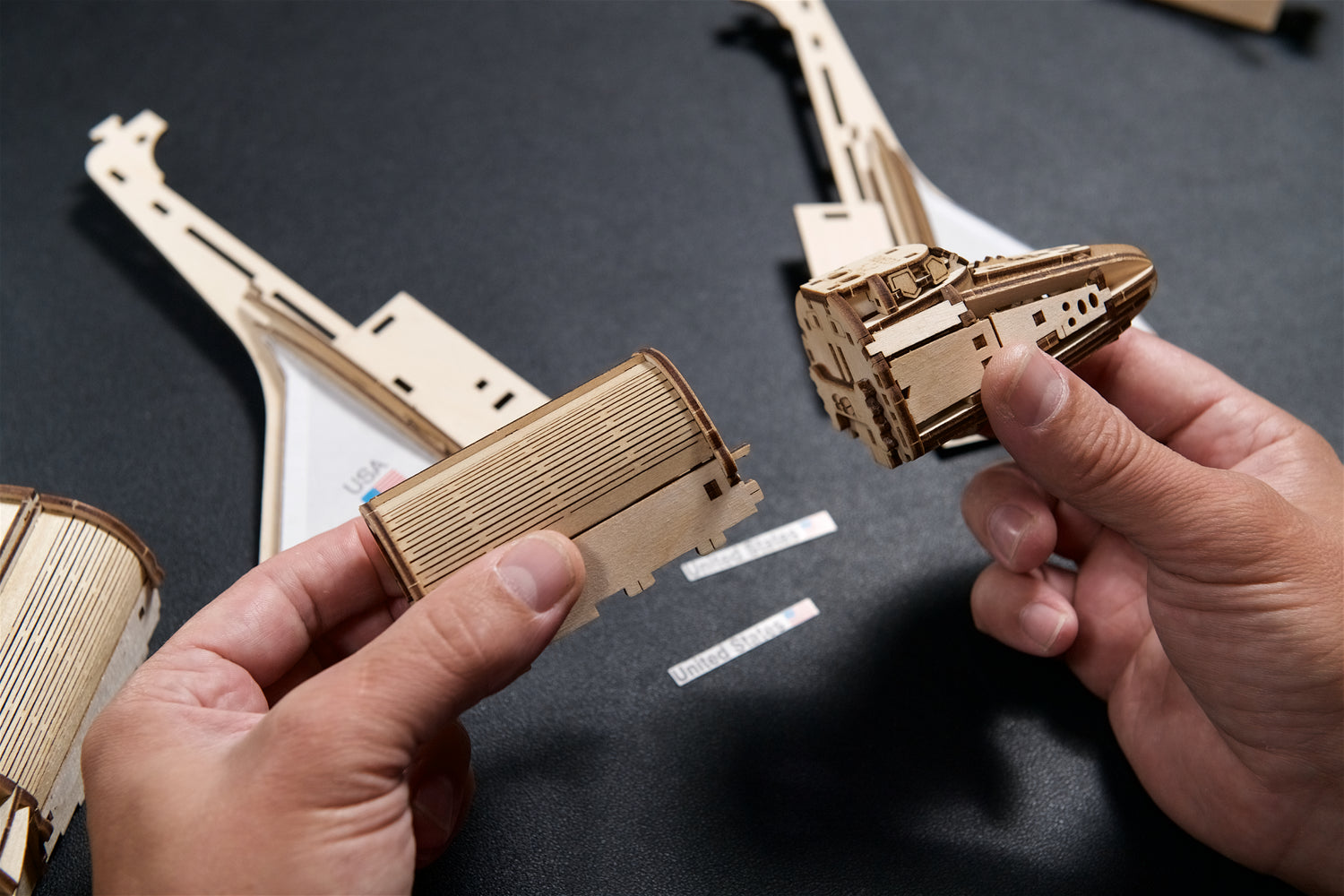 No Glue
Pieces have been designed so they will either click or slide into place. No glue or any other kind of adhesive is needed to build your model.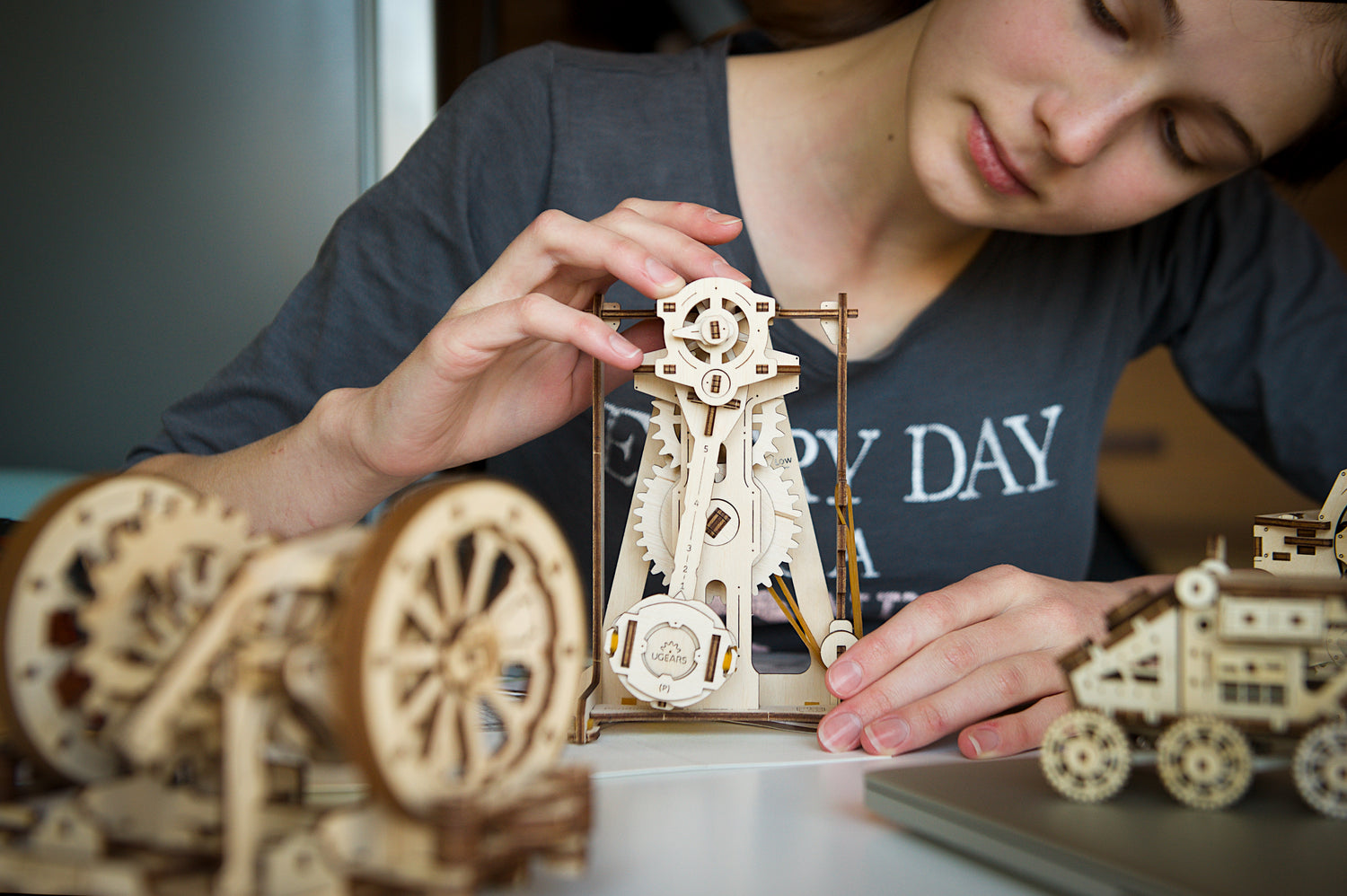 Educational
Models take inspiration from real life inventors and engineers, such as Da Vinci and Galileo. Learn the history behind the model as you build.