SKU:UGR70193
Regular price
Sale price
£11.99 GBP
Unit price
per
Liquid error (snippets/price line 121): divided by 0% OFF
Sale
Sold out
---
95

Pieces

1

Est. Time (hrs)
LxWxH 315 mm x 190 mm x 115 mm
---
Share
Stunning Ocean Beauty Yacht: The UGears Ocean Beauty Yacht model is both a fun toy and an attractive decorative item to place on the shelf. This beautiful DIY model brings an adventurous sea-travel vibe into your home or office.
Relaxing and fun: Putting together our model building kits is an exciting, hands-on experience. You can assemble this 3D wooden puzzle alone or in good company. Plan for about 60 minutes to put together this sailing vessel.
Interesting features: This 3D puzzle wooden yacht model features a large cockpit with twin wheels that spin and an open transom, for draining seawater when you take a big wave on the nose that washes over the deck. There's also a surfboard that can be towed for fun!
Everything in the box: No extra tools or glue are needed to assemble UGears engineering toys and DIY projects for adults. Illustrated, step-by-step instructions will keep you on track
Fun decor: The decorative Ocean Beauty Yacht comes with a sturdy display stand. Place it on your desk and daydream about the sailing adventures and island hopping in the warm summer!
Kit contains all required components and no glue is required
Precision laser cut plywood. Only requires assembly.
UGears Mechanical Models are self-propelled, mechanical wooden model assembly kits.
Perfect for family projects, puzzle enthusiasts, and hands-on STEM learning
95 parts
Assembly time: 1 hours
Model size 315x190x115mm
Ocean Beauty Yacht
Assemble me. Take an ocean voyage with me!
Catch the wind, feel the salt breeze, take to the seas or go island hopping in the stunning Ocean Beauty Yacht by Ugears. This DIY wooden model sailing vessel is a beautiful static model, with two gleaming white paper sails, and comes with its own sturdy stand for display on your shelf, mantle or desk. The model is somewhat different from other Ugears mechanical models in that the Yacht doesn't have gears and isn't propelled by a spring or rubber band motor—it's rather meant as a handsome display piece for your home or office decor.
This DIY wooden yacht model has a curved mainsail with swinging boom, and a triangular jib, both fixed to a tall mast with spreader for the starboard and port shrouds. Stanchions and rope railing line the deck. Two life preservers and an anchor add further touches of realism. On the stern is a flagpole for flying your yacht ensign—leave the white paper flag clean, color it, or affix a sticker or printout of whichever national flag or yacht club flag you choose.
This 3D puzzle wooden yacht model features a large cockpit with twin wheels that spin (it's Ugears so we have to have some moving parts!) and an open transom, for draining seawater when you get pooped by the stern wave or a following sea, or take a big wave on the nose that washes over the deck. The open transom is also good for swimming off the back, or getting in and out of the model dinghy, towed behind the yacht on a string (included). The dinghy features miniature oar locks and oars, and can seat a figurine of your choosing (not included). There's also a surfboard that can be towed for fun or in case you find a great break near the shore.
The decorative Ocean Beauty Yacht comes with a sturdy display stand, which the vessel slides in and out of. To mount the yacht for secure display, just slide the boat forward so that the keel locks into the slot on the stand. Slide back to easily remove the model when you want to admire it up close!
The Ocean Beauty Yacht is sister to the Trimaran Merihobus as Ugears DIY model sailing vessels, and joins the Ugears Research Vessel and Tugboat in our growing fleet of wooden model ships and boats. The Yacht only has 95 parts and is rated "Easy" to assemble, so makes a great starter kit for newcomers. No glue or special tools required for construction. The model kit includes detailed, illustrated instructions in 11 languages (English, German, Ukrainian, French, Polish, Spanish, Portuguese, Italian, Japanese, Chinese and Korean) to guide your assembly. If you break a part during construction, just email us–we'll be glad to send you replacement parts free of charge.
The Ocean Beauty Yacht is a wonderful gift for any sailing enthusiast or model hobbyist among your friends and family. Or why not give the gift of a new hobby, as even beginners can build this simple 3D puzzle. They say a boat is a hole in the ocean into which you pour money, but this lovely yacht model lets you live the sailor's dream for a song!
View full details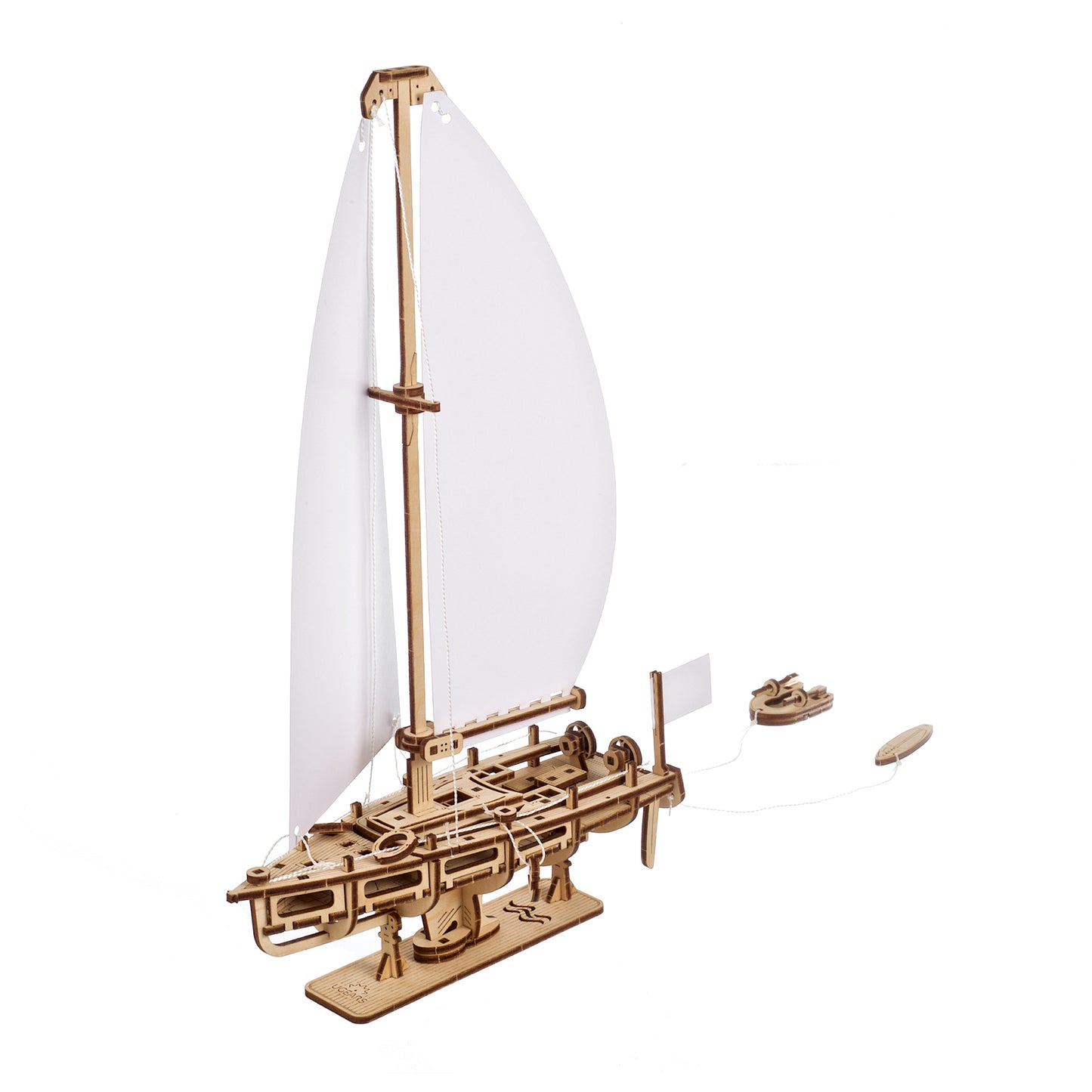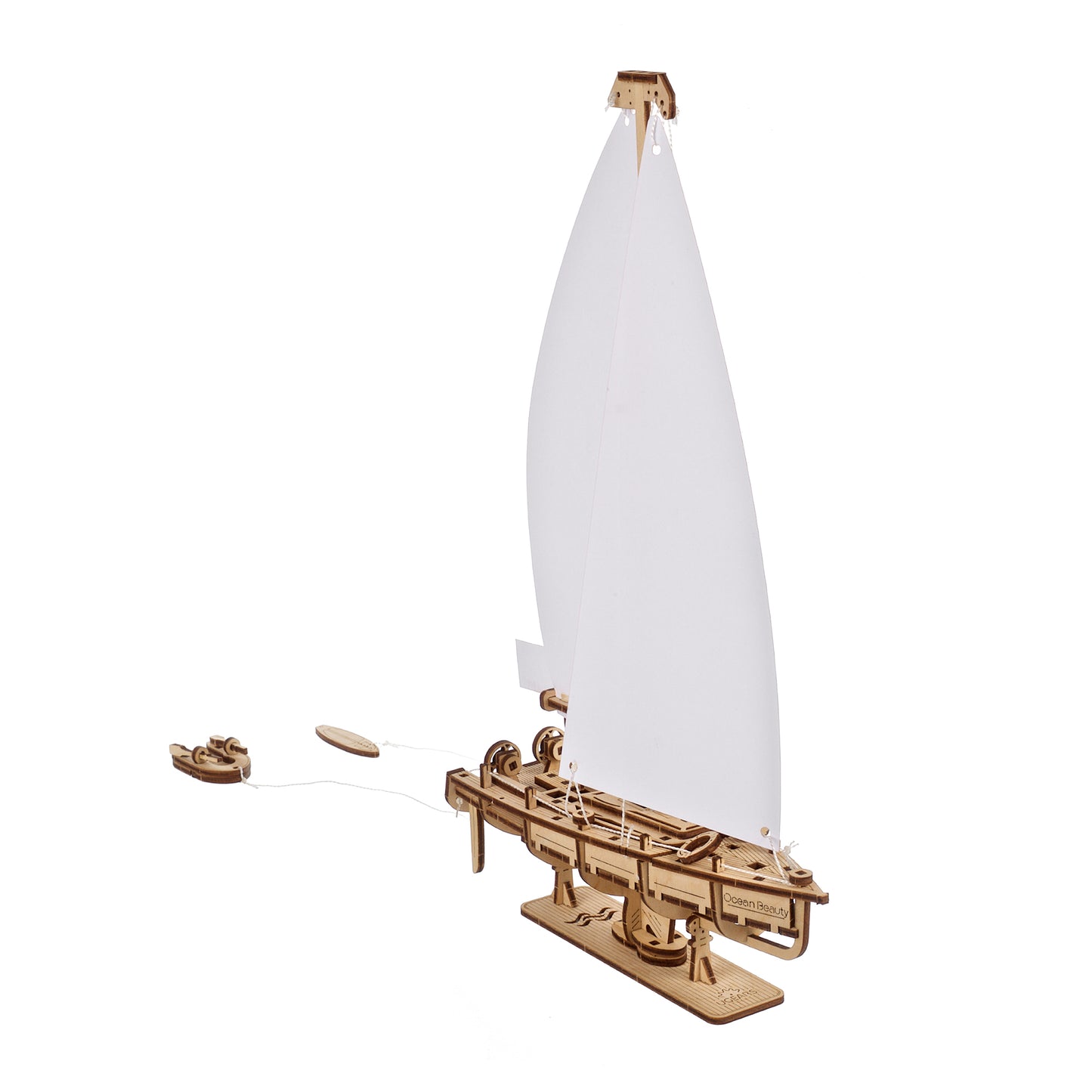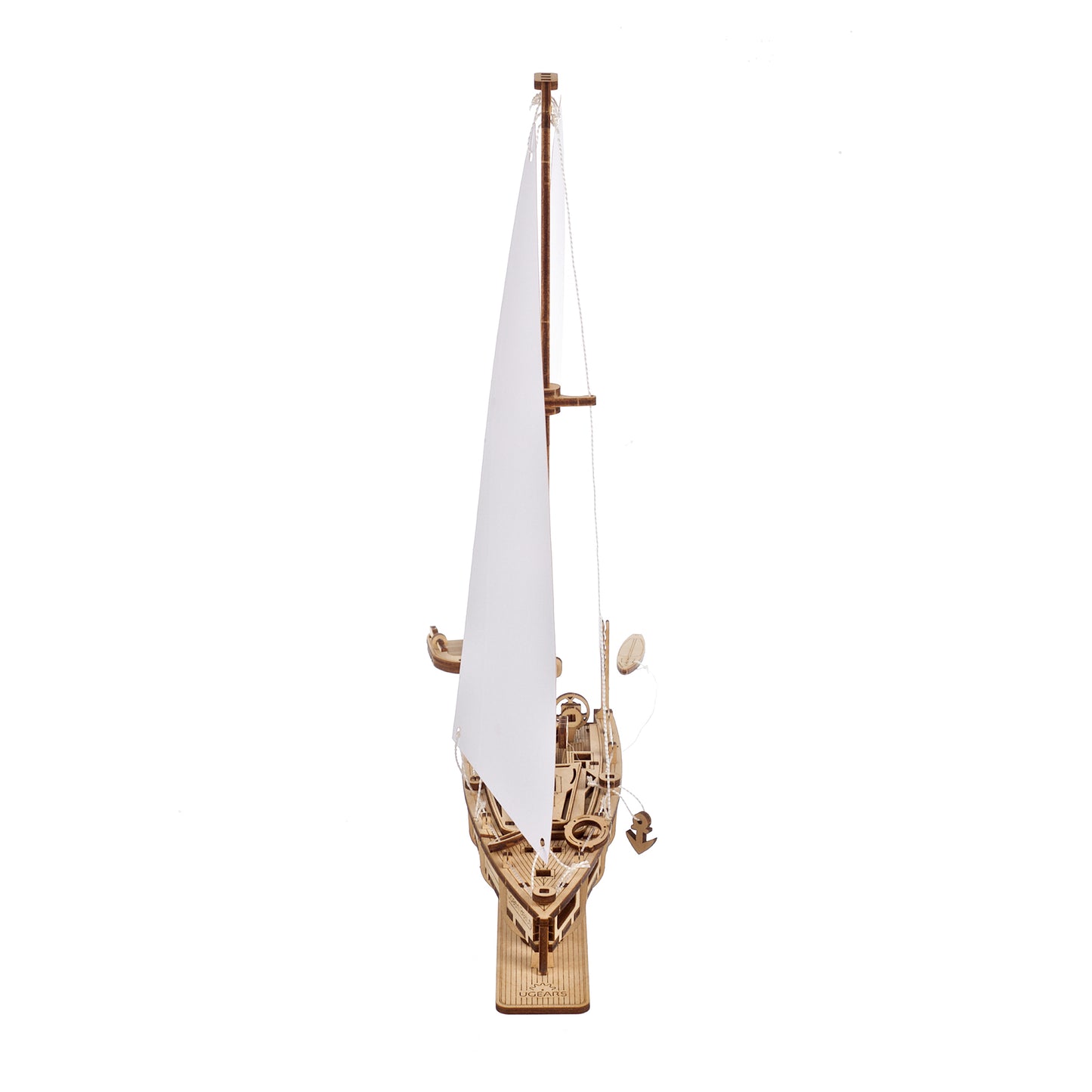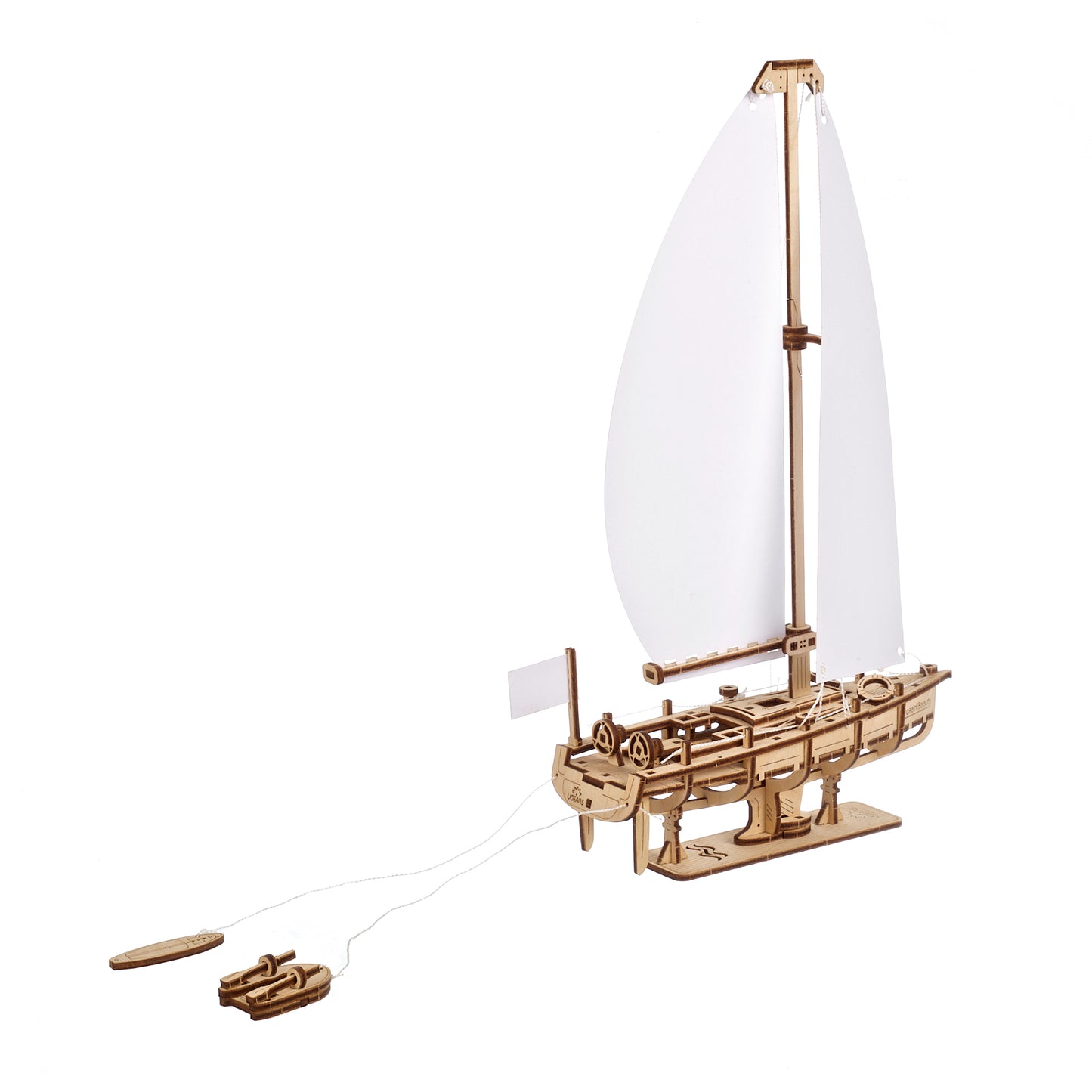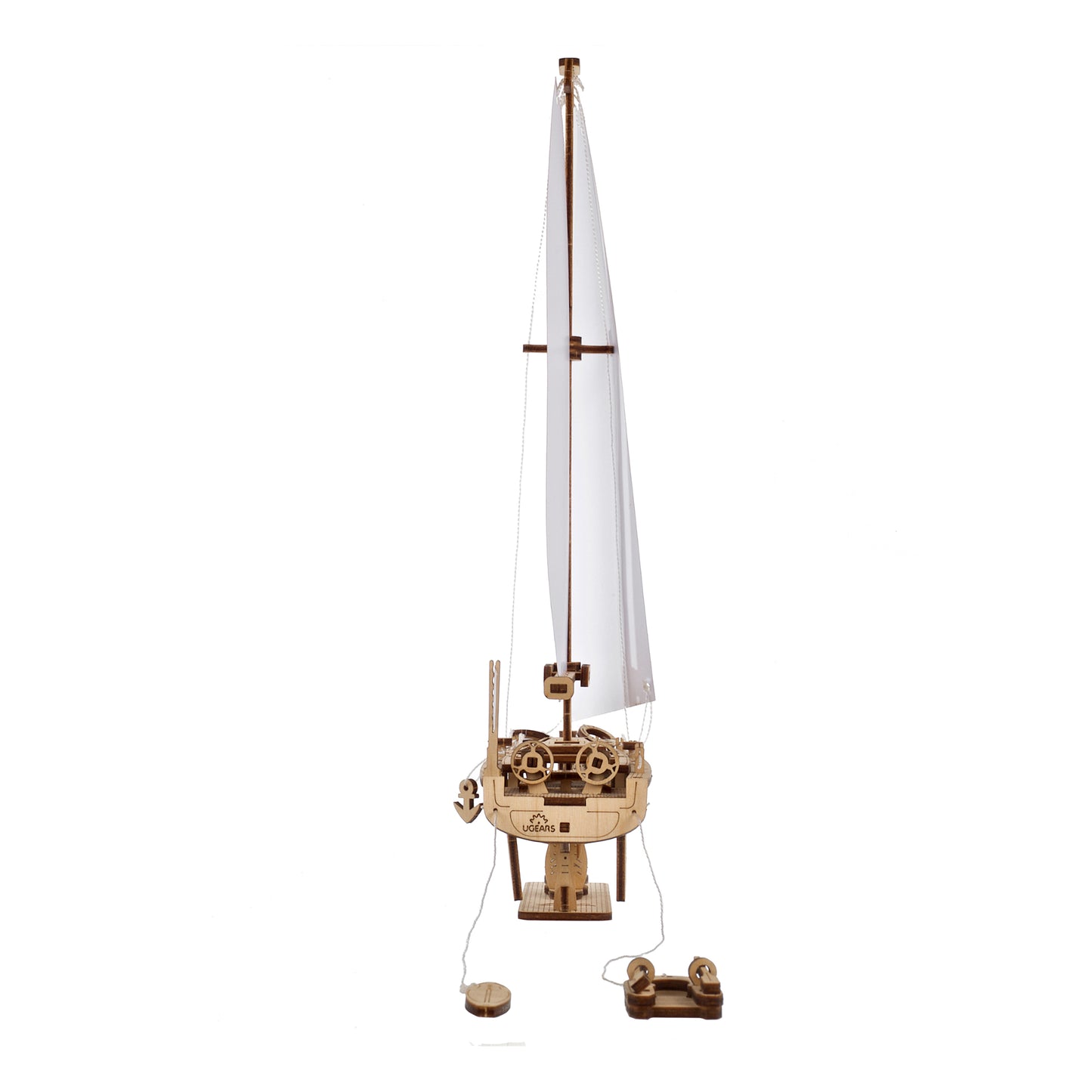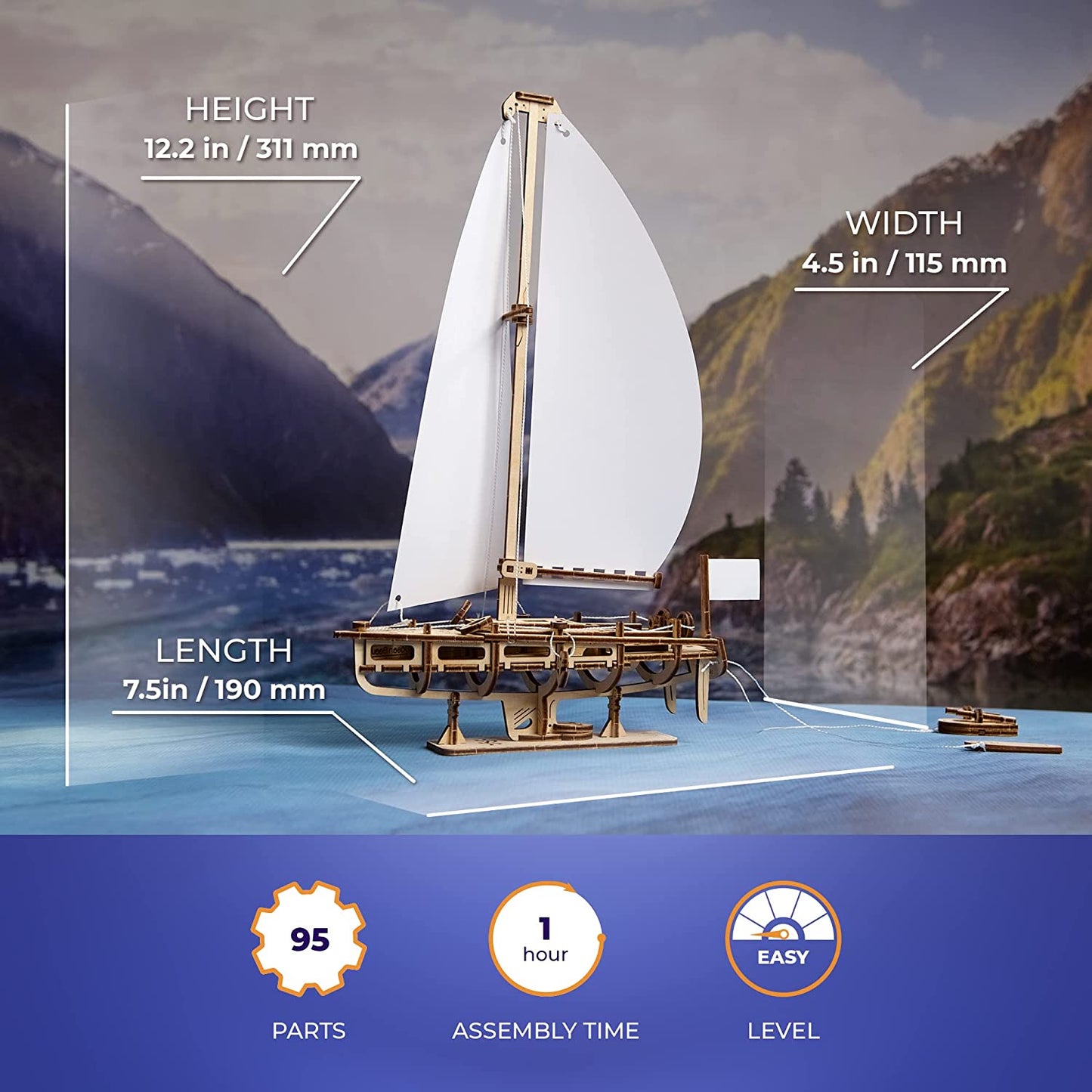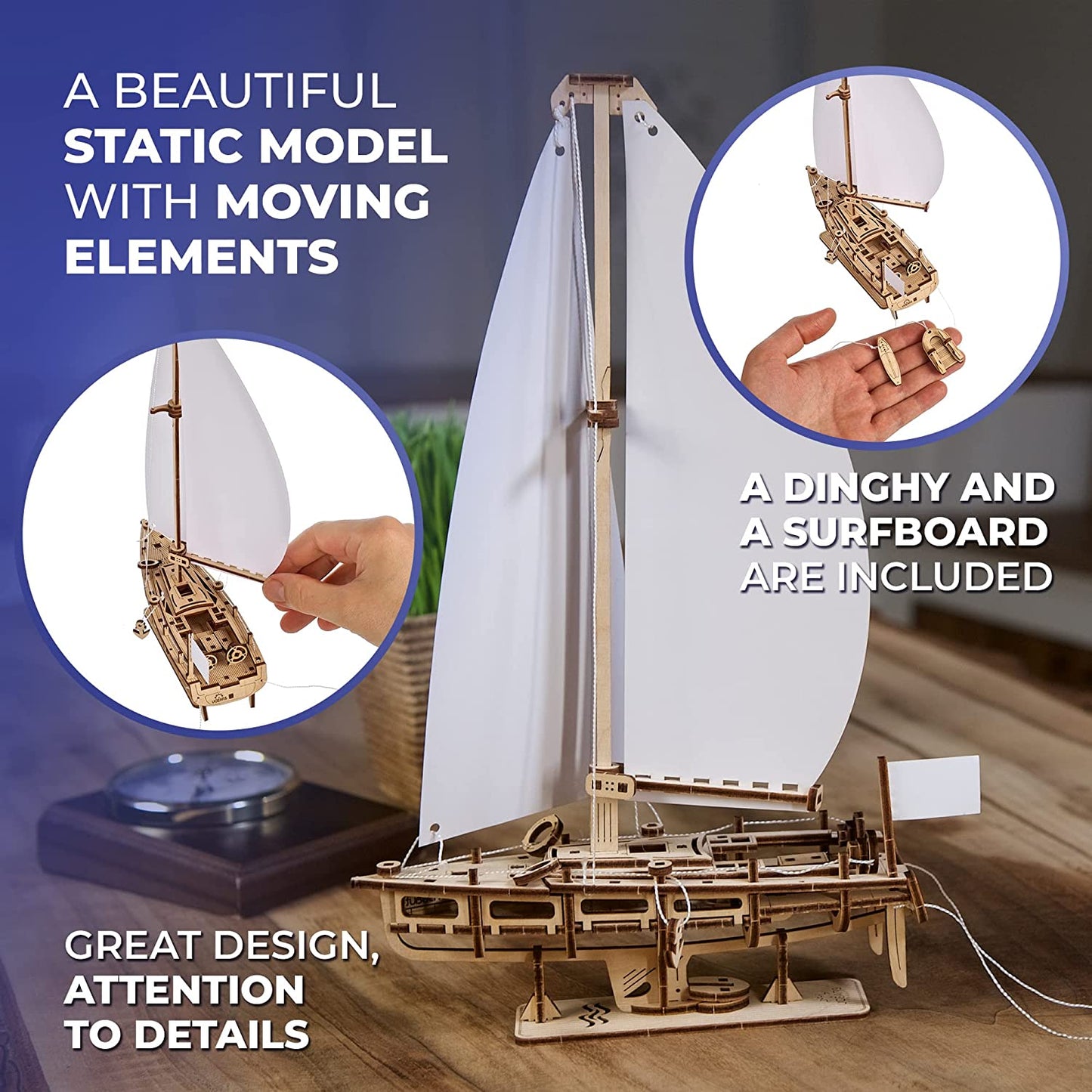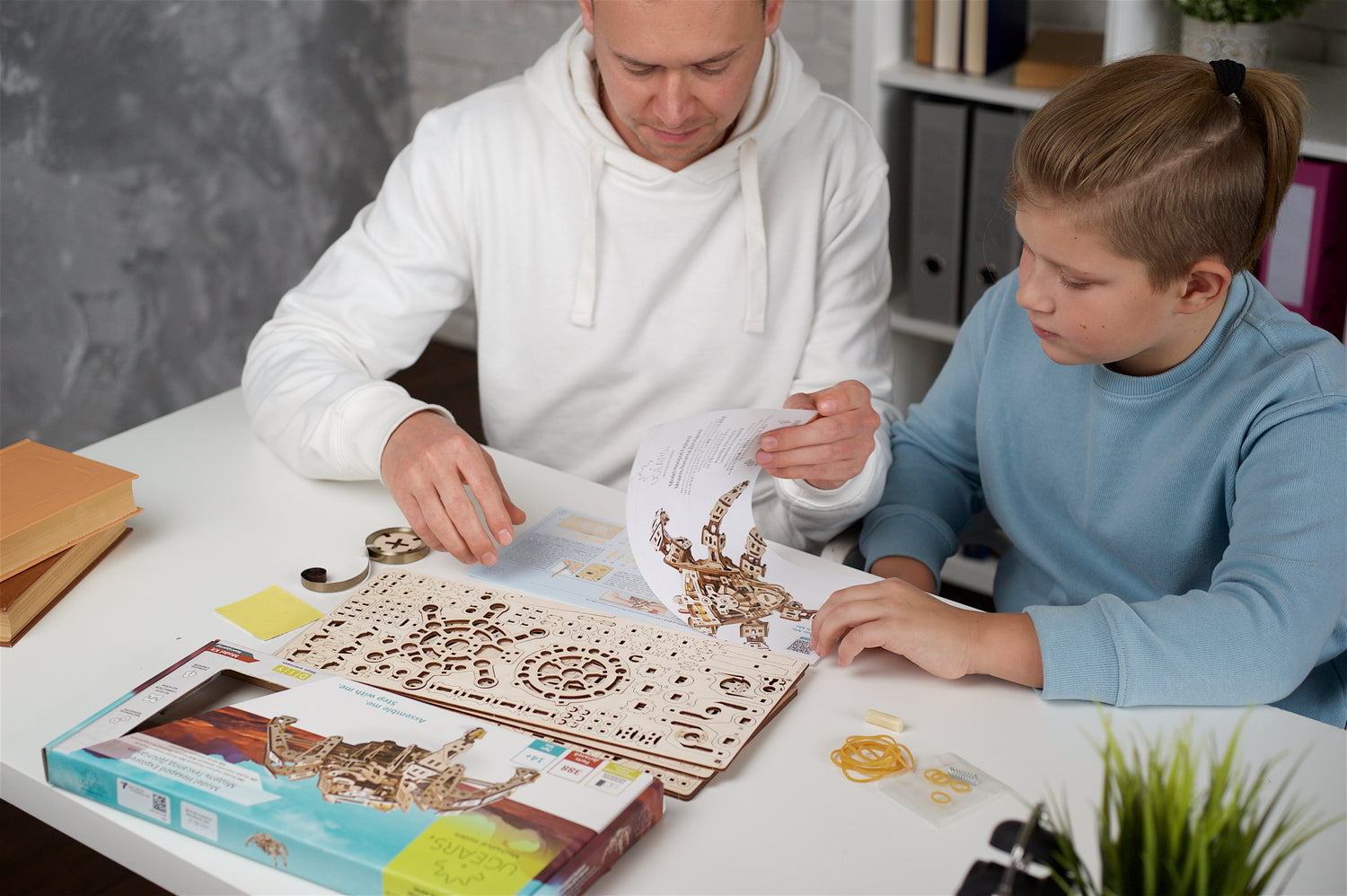 Ready to Build
Ugears models are made from sustainably sourced, laser cut plywood sheets. Everything you need is inside the box, so you can get building right away.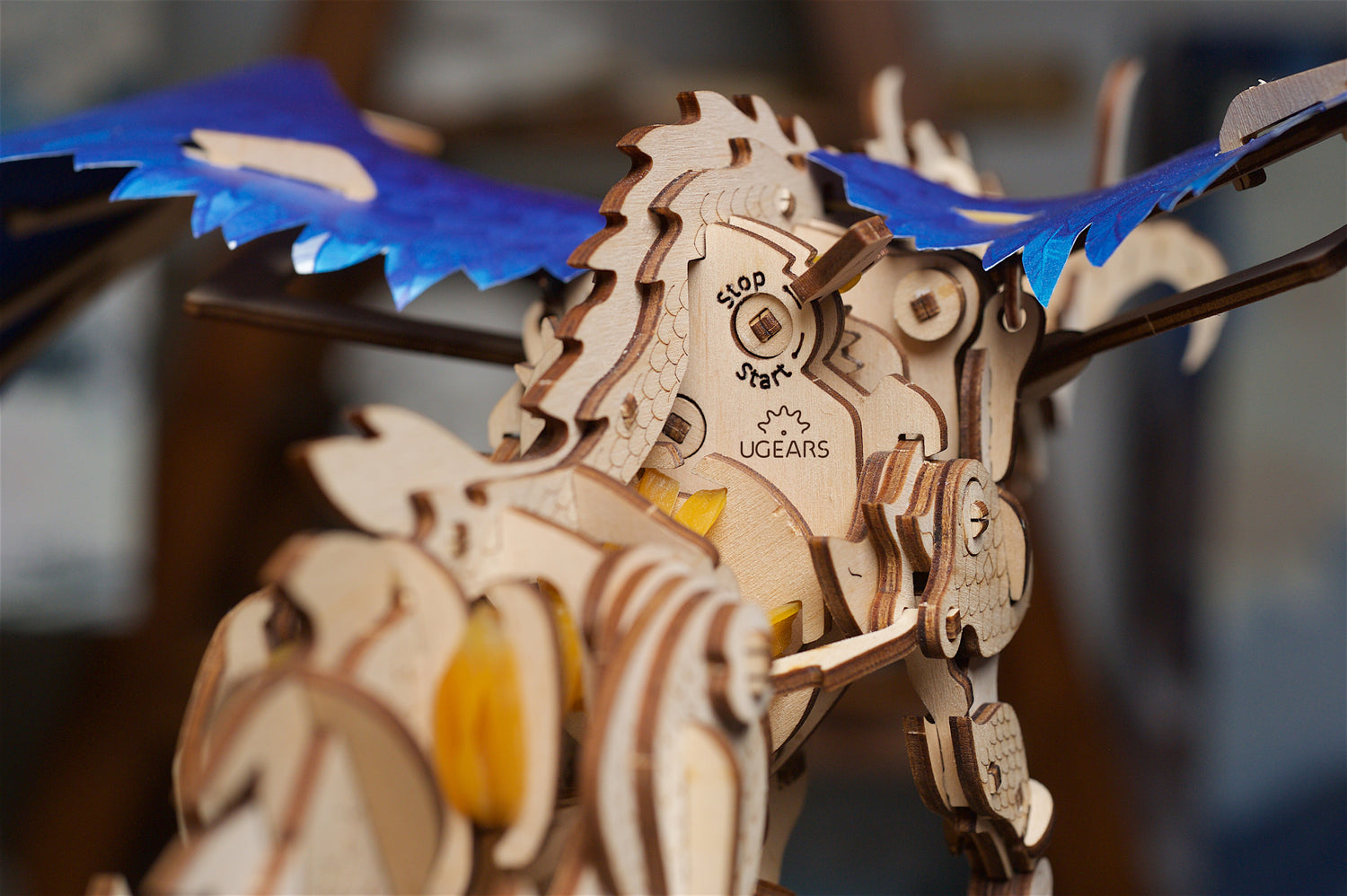 Mechanical
No batteries, no electricity, just Ugears. All mechanical models are powered by the ingenious mechanisms built by you. Just wind up your model and watch it come to life.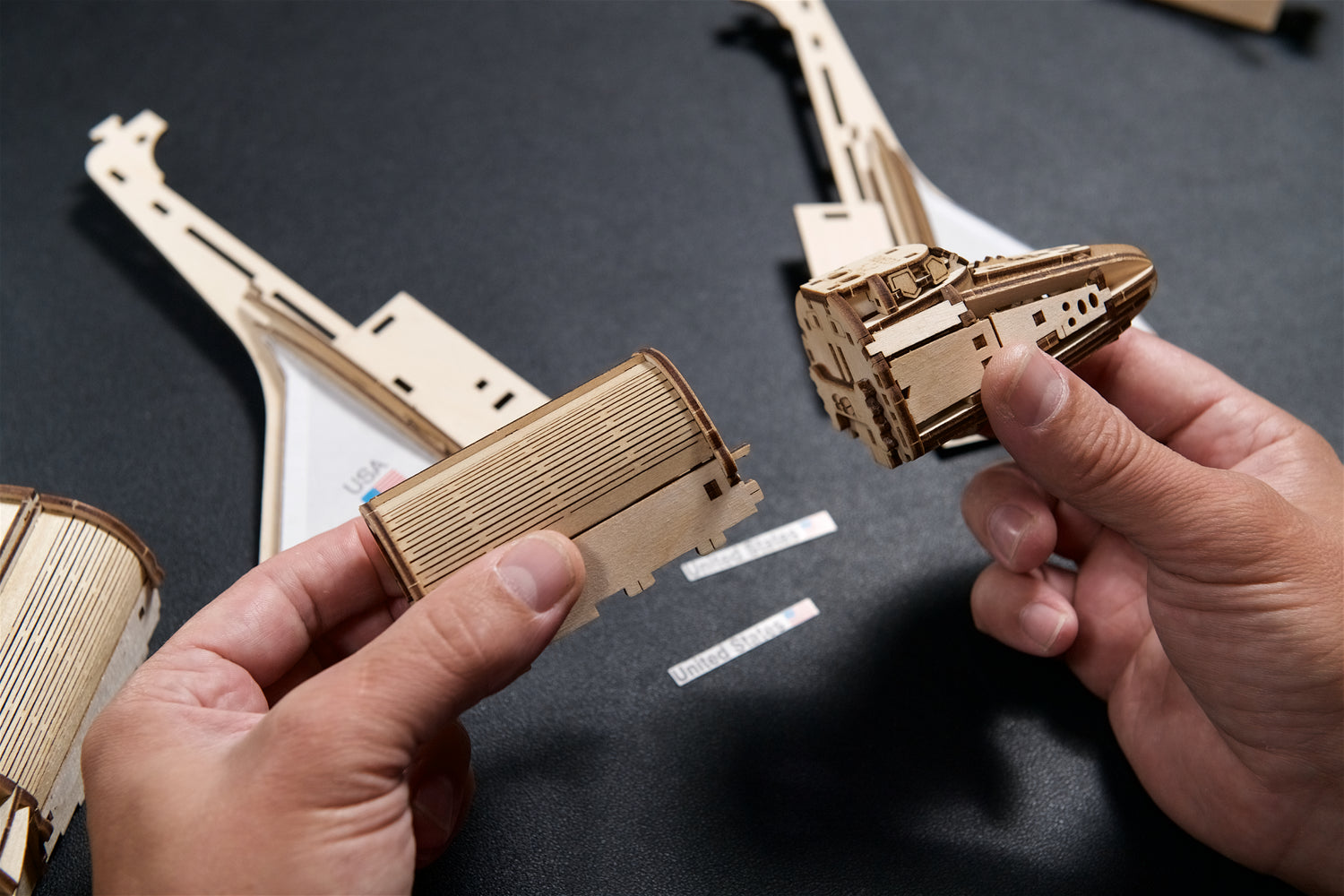 No Glue
Pieces have been designed so they will either click or slide into place. No glue or any other kind of adhesive is needed to build your model.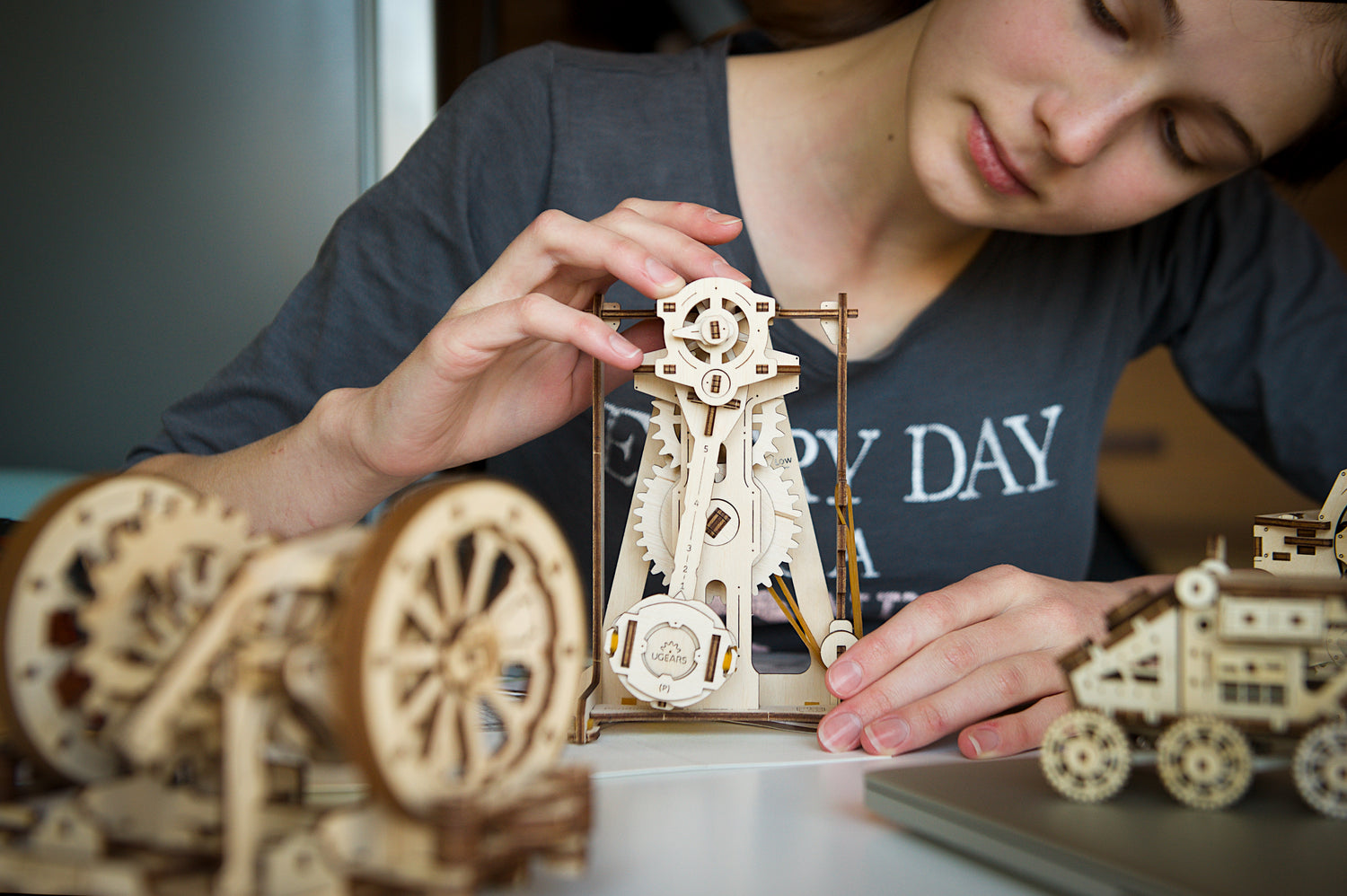 Educational
Models take inspiration from real life inventors and engineers, such as Da Vinci and Galileo. Learn the history behind the model as you build.