SKU:UGR70192
Regular price
Sale price
£29.99 GBP
Unit price
per
Liquid error (snippets/price line 121): divided by 0% OFF
Sale
Sold out
---
207

Pieces

3

Est. Time (hrs)
14+

Age

Medium

Difficulty
LxWxH 185 mm x 75 mm x 120 mm
---
Share
Dual engine functionality: Hot Rod Furious Mouse is the first model kit in the new Dual Motors collection by UGears. To start the wooden toy car, wind the spring motor for six full rotations of the ratchet or activate the pullback mechanism by simply pulling back and releasing the car on a flat surface
Astonishing design: UGears building kits for adults delight everyone with their beauty, complexity and attention to details. This 3D wooden puzzle looks realistic and moves swiftly. You'll enjoy turning the front wheels from side to side and opening the doors
Easy assembly: This vintage care model kit has 207 parts and is rated "Easy." It's a perfect introduction into the world of model building kits and 3D puzzles for beginners. You can bring the model hot rod to life in about 4 hours
Everything in the box: All UGears model kits for adults and kids come with all the necessary parts and tools for a smooth and fun building adventure. Simply follow the illustrated, step-by-step instructions that come in 11 languages
Gorgeous gift: This is a beautiful gift for fans of antique, old cars and buildable model car kits. Stay creative after assembly and colour, modify or soup up the Hot Rod Furious Mouse to your heart's content
Kit contains all required components and no glue is required
Precision laser cut plywood. Only requires assembly.
UGears Mechanical Models are self-propelled, mechanical wooden model assembly kits.
Perfect for family projects, puzzle enthusiasts, and hands-on STEM learning
207 parts
Assembly time: 3 hours
Model size 185x75x120mm
Hot Rod Furious Mouse
Assemble me. Turn on the power!
When you see a hot rod car on the street, what first draws your eye? Is it the custom paint job, the shiny chrome details, the souped-up engine, or the body modifications that transformed a boring factory model into a beautiful supermodel ready for the auto show catwalk? Hot rods are personal automotive visions brought to life. They are pure passion (va-va-vroom!)—the outward expression of a deep-seated love of cars. They are someone's baby, someone's pride and joy—the type of someone for whom the idea of buying and driving a factory car is unthinkably lazy and dull.
At Ugears we get it. Our engineers and designers understand the kind of automotive obsession that borders on crazy, that leaves your spouse wondering why you'd rather be in the garage or workroom tinkering late on a Saturday night. So here you go, all you crazy car fans, all you beautiful builders of beautiful machinery: we bring you the Hot Rod Furious Mouse, the first model in the new Dual Motors collection by Ugears. Start your Dual Motors collection today, and get ready for more model cars to set your car-loving heart a-thumping.
The Hot Rod Furious Mouse car model has dual engine functionality: you can wind the spring motor by giving six full rotations of the ratchet key located on the model car's undercarriage, or you can simply pull the Hot Rod back along a flat surface then release and watch the car speed off, as you would with any pullback toy car. Turn the front wheels of your Hot Rod left or right to make graceful turns, or race down the straightaway. Other details in the Ugears Hot Rod Furious Mouse include realistic scaling, wonderful detailing on engine and interiors, and twin doors with lock and handle mechanism.
The Hot Rod Furious Mouse model kit has 207 parts and is rated "Easy" level. Simply punch the pieces out of the laser pre-cut boards then snap them together following our illustrated step-by-step instructions in 11 languages (English, Ukrainian, German, Spanish, French, Italian, Portuguese, Polish, Japanese, Chinese, and Korean). Even beginner model builders should be able to assemble this DIY toy car model in 4 hours or less, then enjoy hours of play. Hot tip for assembling your Hot Rod Furious Mouse: "develop" the chassis (i.e., make sure all moving parts are lightly sanded and lubricated, and that all gears move smoothly through test runs) before placing the body module on top. Like all of Ugears' outstanding line of 3D puzzles, DIY model kits, automatons, robots, wooden puzzle boxes and STEM Lab model kits, you don't need glue or special tools to assemble your Hot Rod, everything you need comes right in the box.
The Hot Rod Furious Mouse is a spiffy addition to our growing catalog of Ugears race cars, motorbikes, trucks and other outstanding automotive DIY models. It's a great gift for any car lover or 3D puzzle enthusiast. It can be left in its attractive natural wood state or colored or painted in a custom color scheme of your choosing. Go ahead all you super hobbyists—color, modify or soup up the Hot Rod Furious Mouse to your heart's content! It's in the spirit of the thing, right?
View full details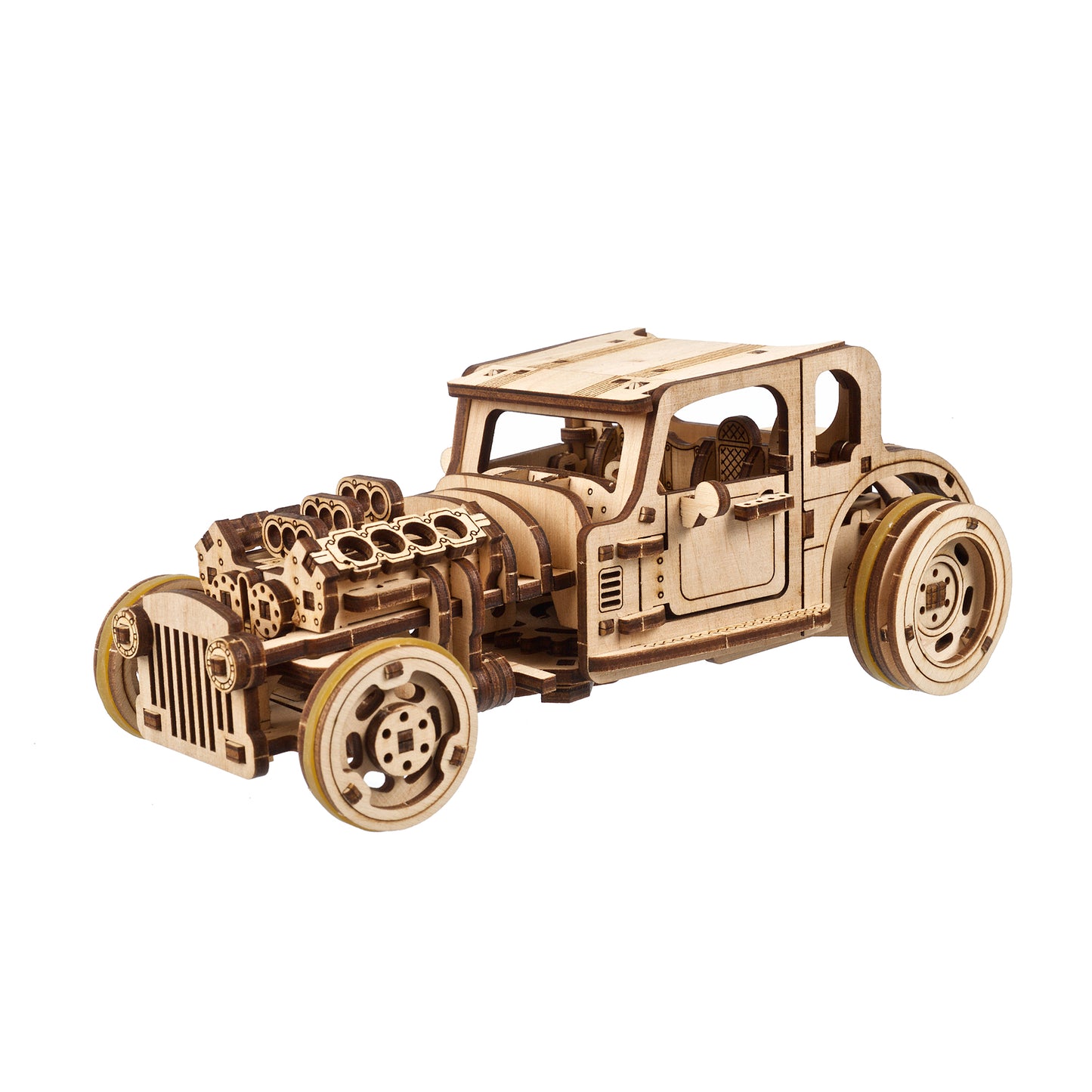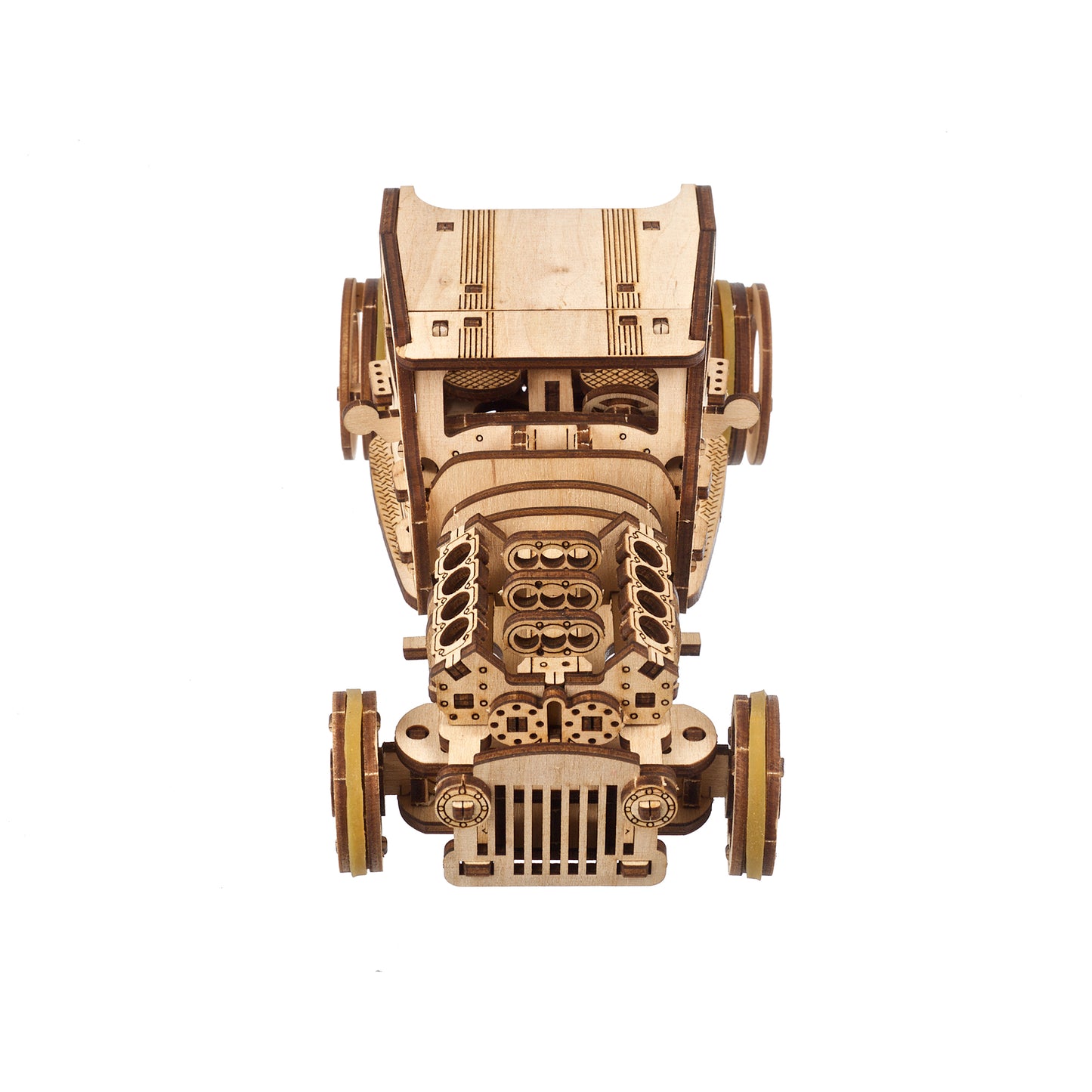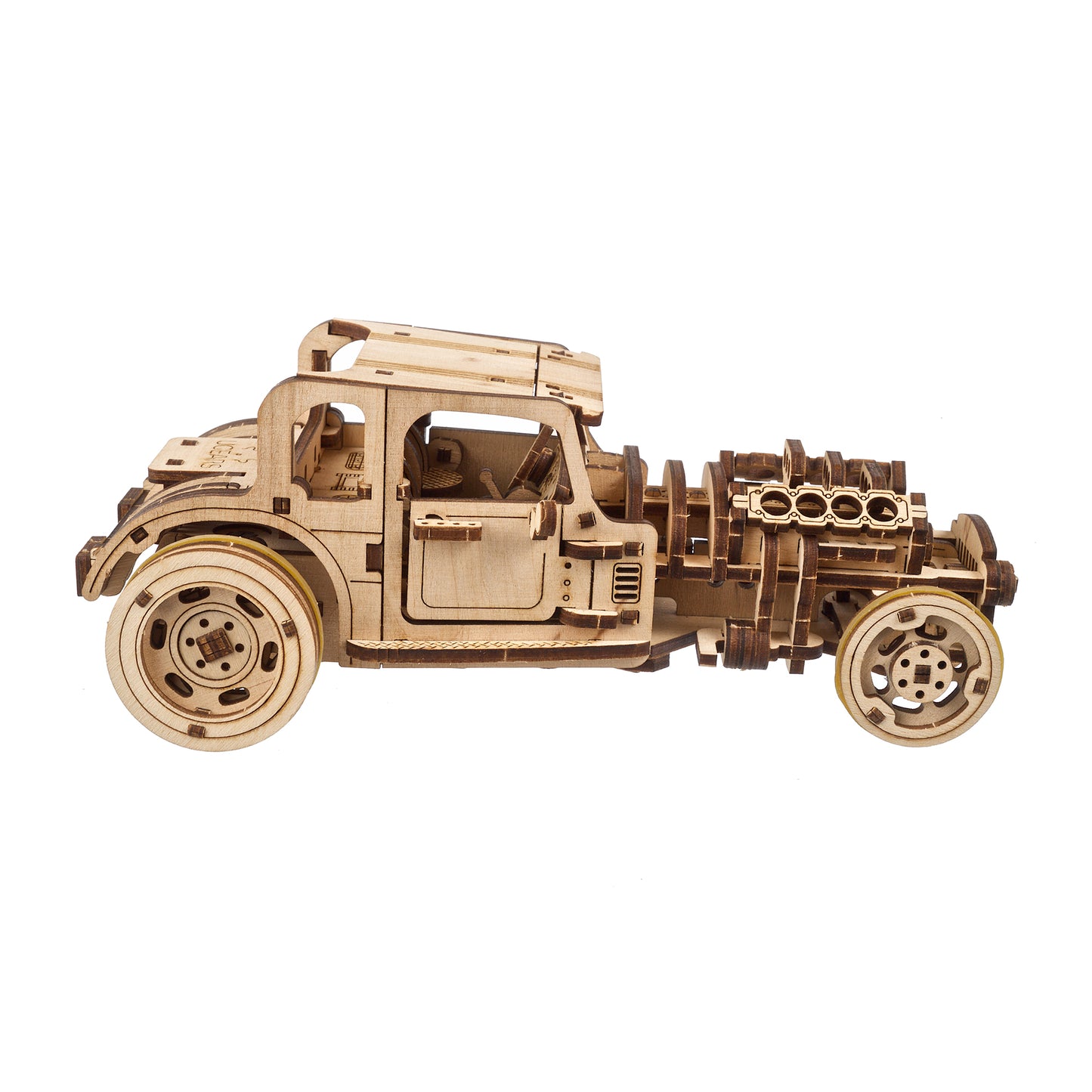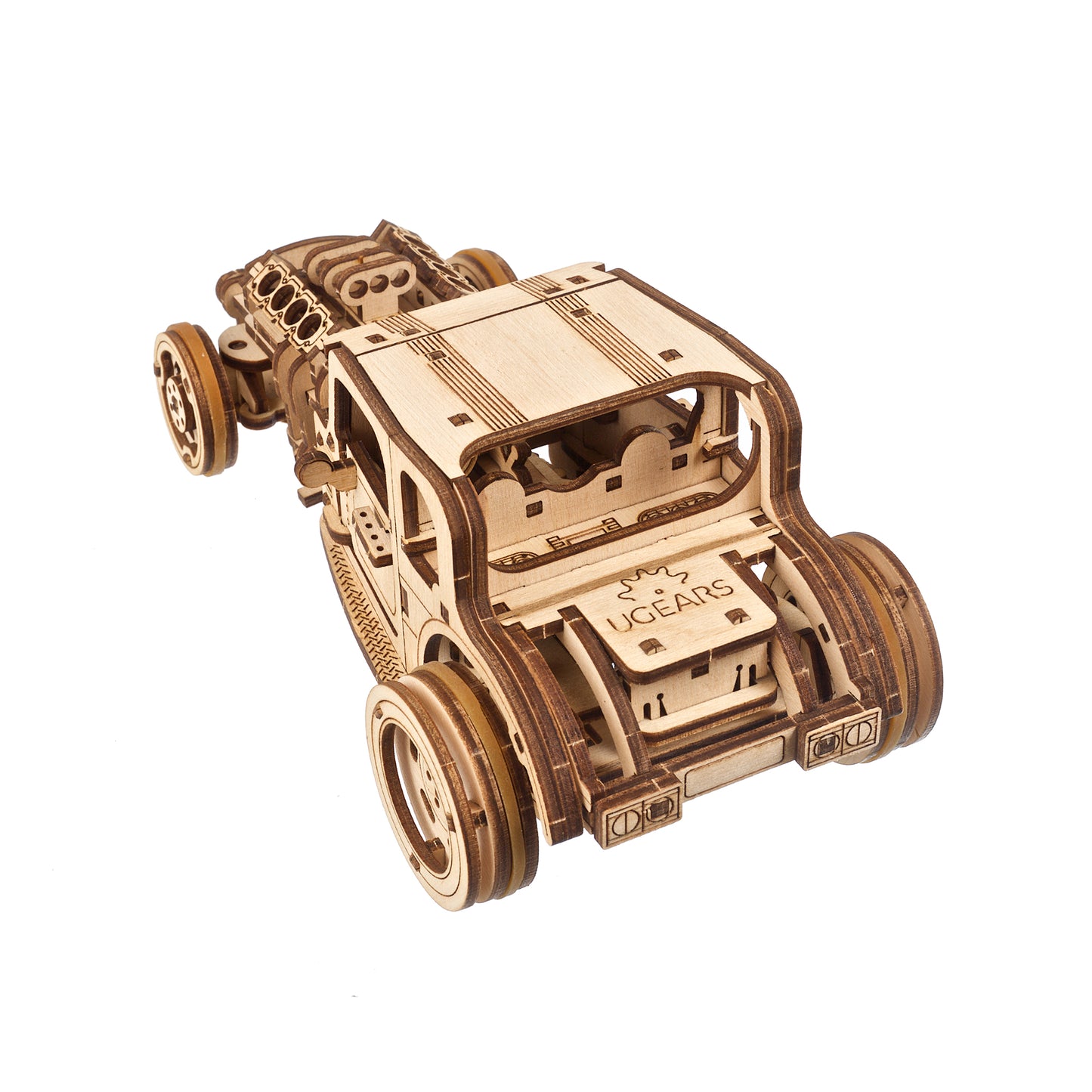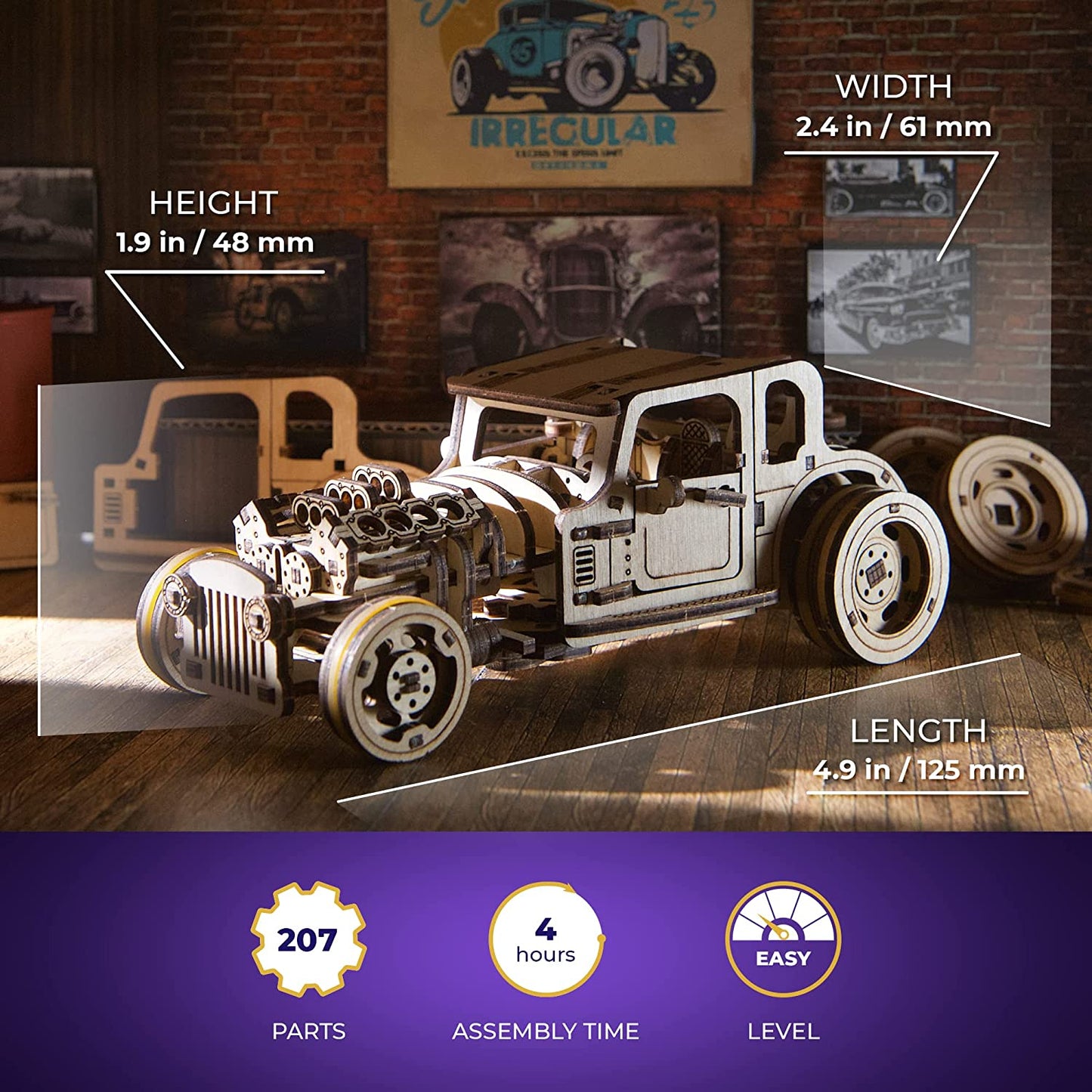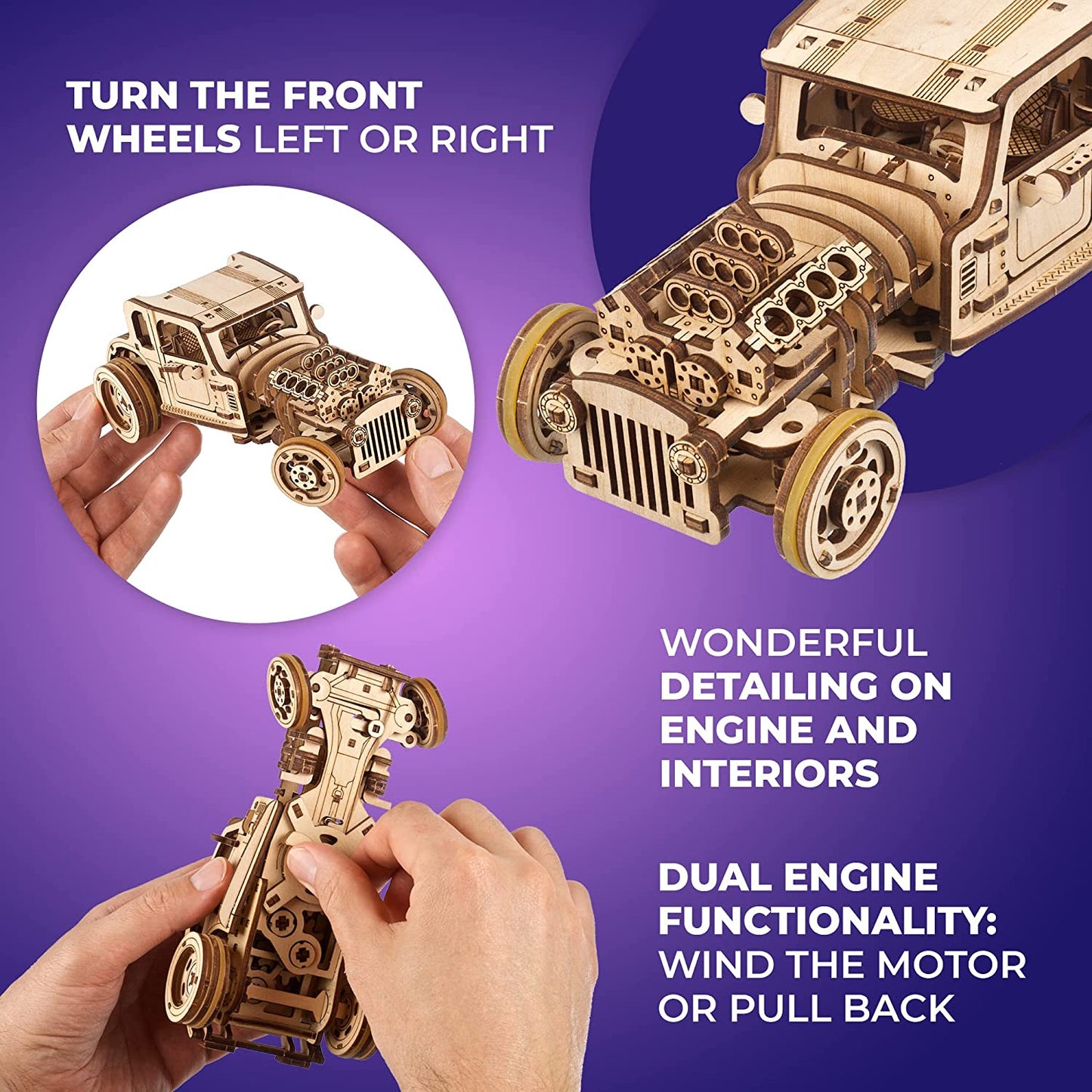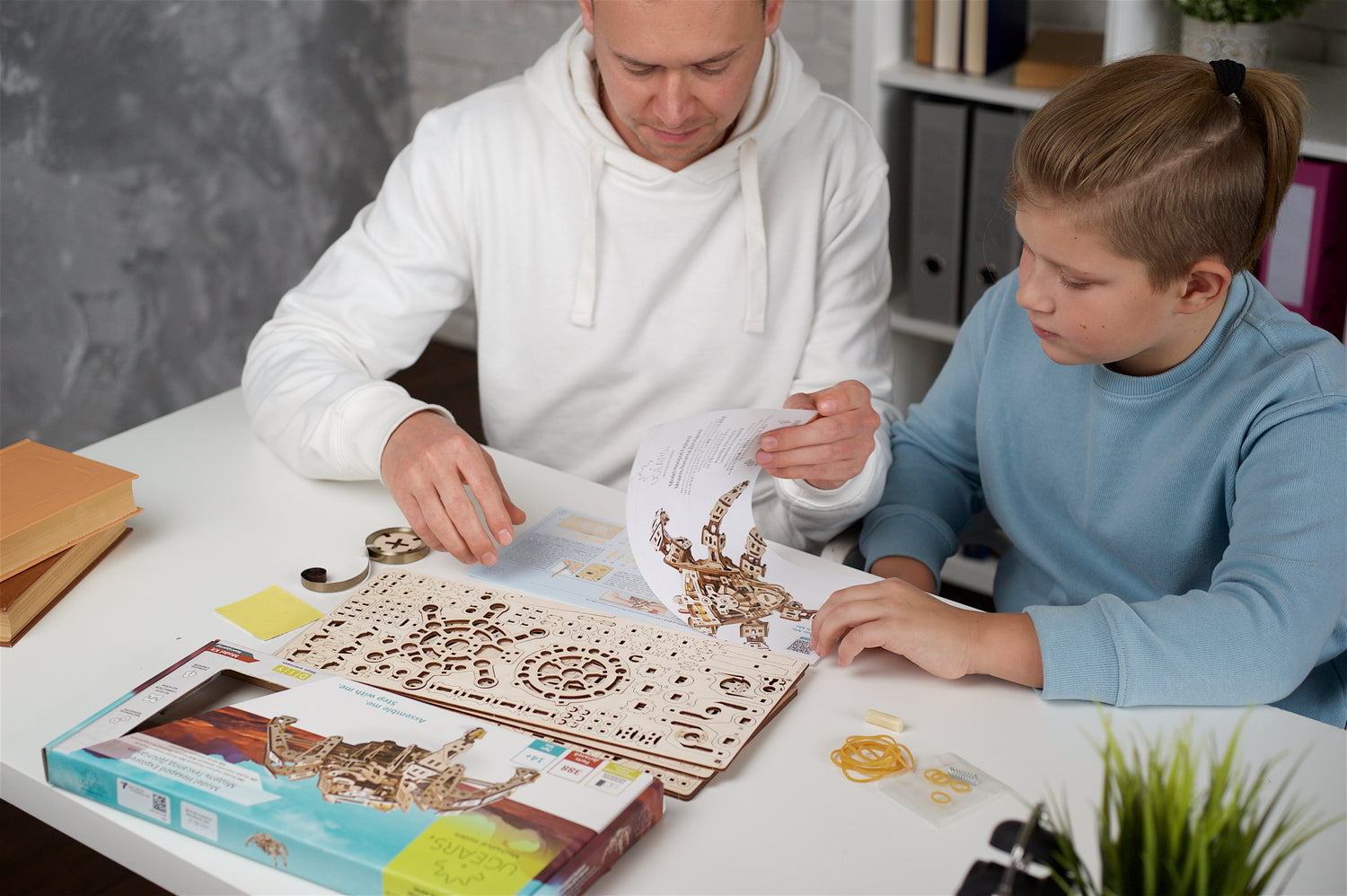 Ready to Build
Ugears models are made from sustainably sourced, laser cut plywood sheets. Everything you need is inside the box, so you can get building right away.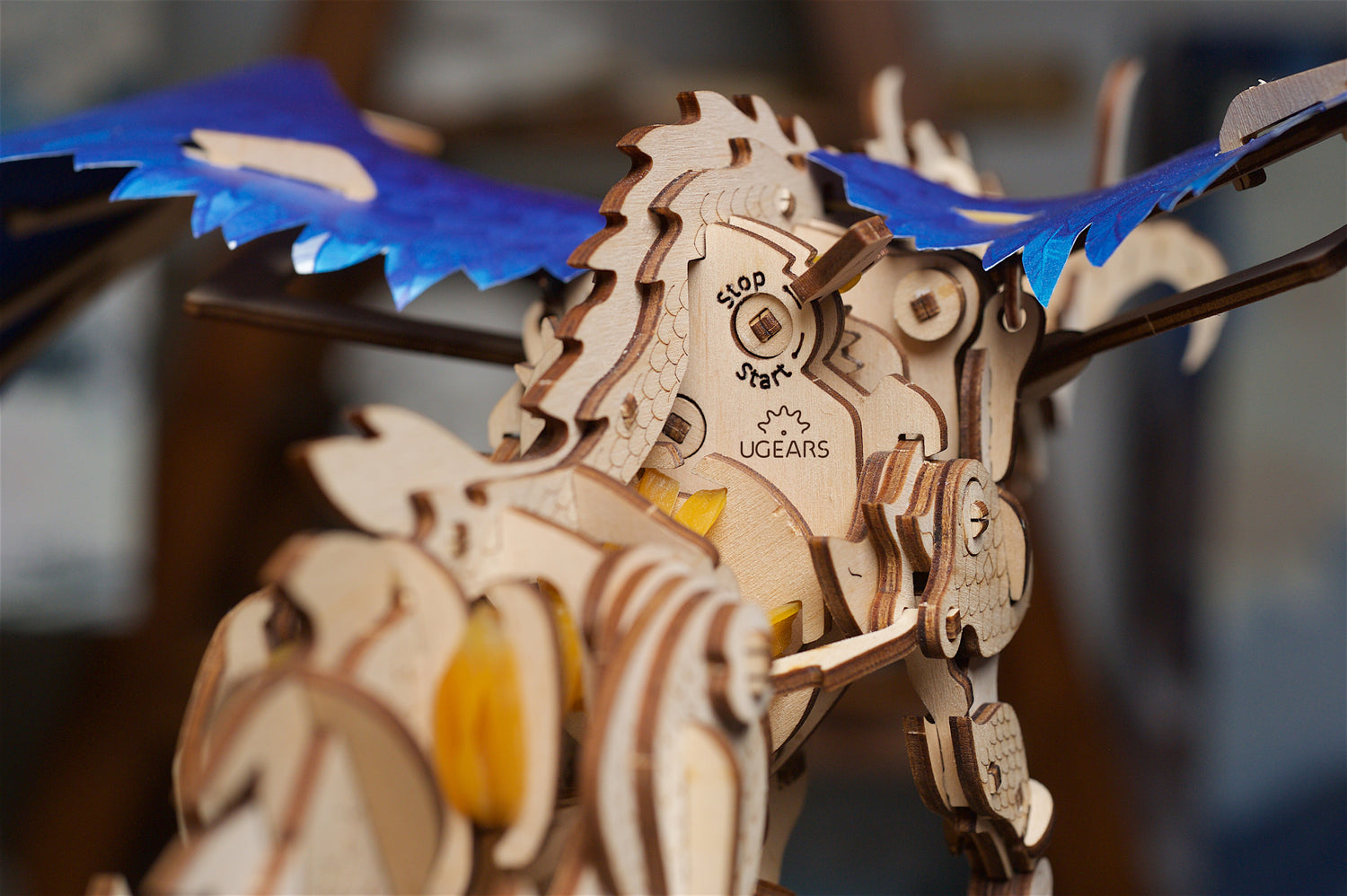 Mechanical
No batteries, no electricity, just Ugears. All mechanical models are powered by the ingenious mechanisms built by you. Just wind up your model and watch it come to life.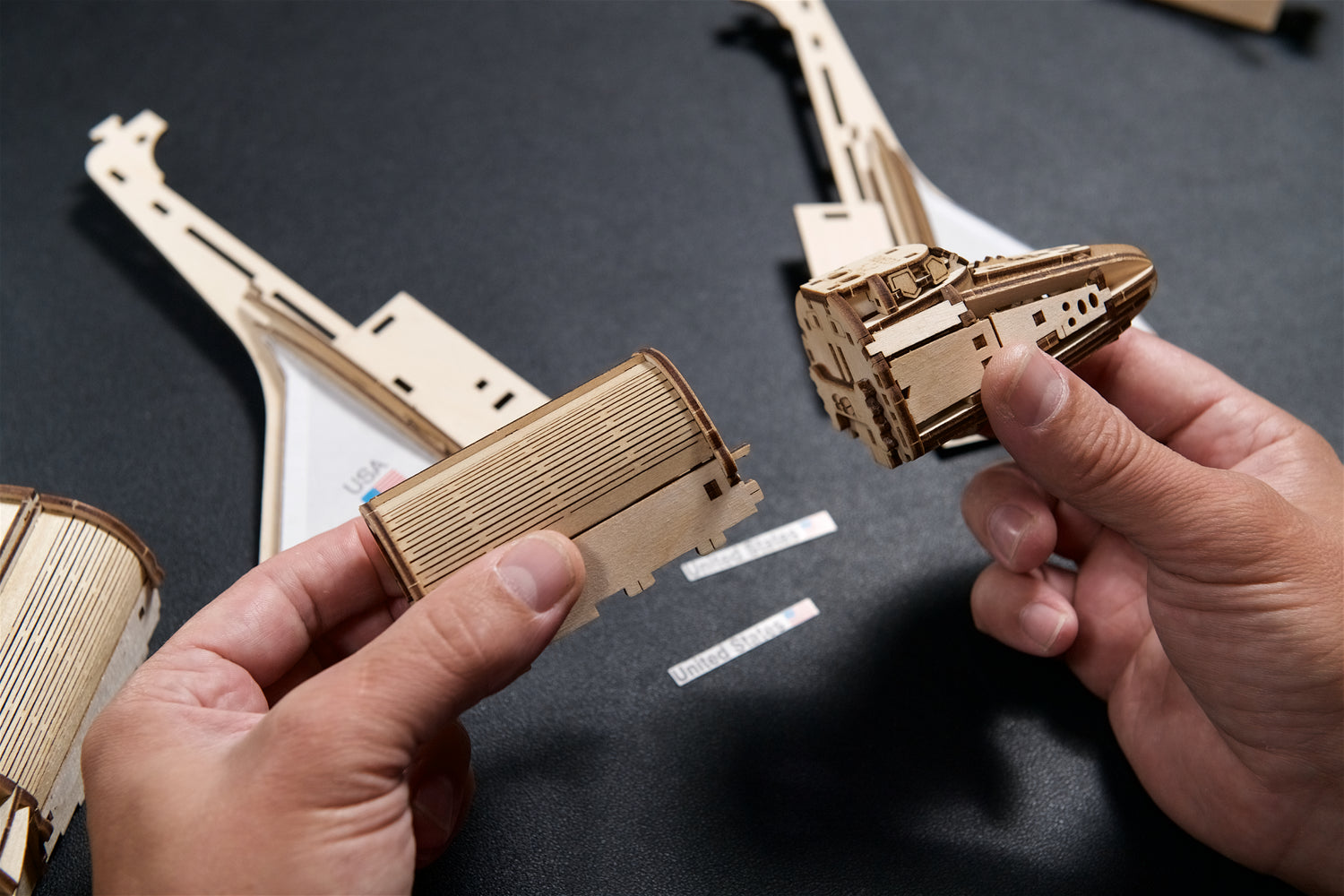 No Glue
Pieces have been designed so they will either click or slide into place. No glue or any other kind of adhesive is needed to build your model.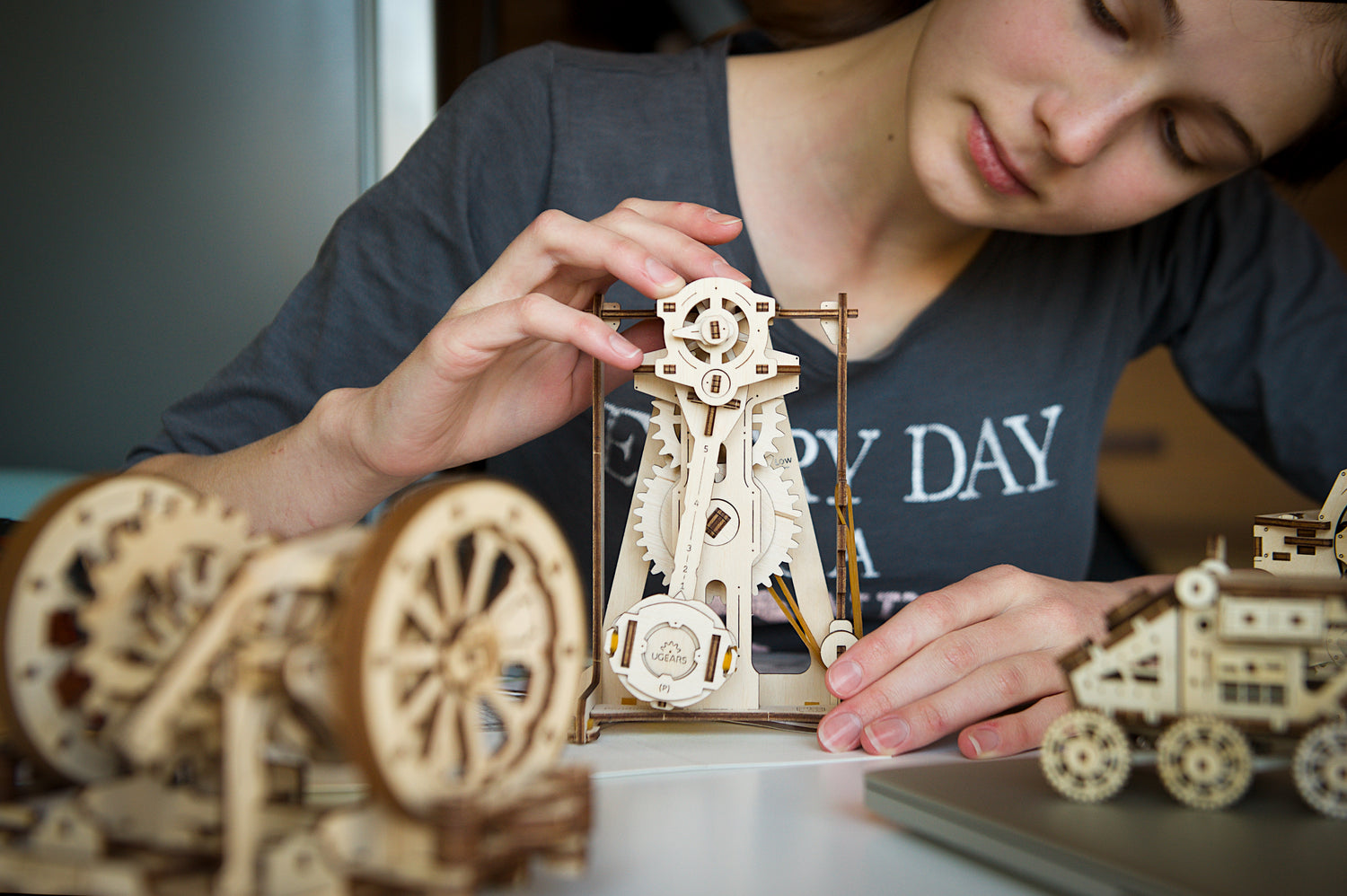 Educational
Models take inspiration from real life inventors and engineers, such as Da Vinci and Galileo. Learn the history behind the model as you build.