SKU:UGR70191
Regular price
Sale price
£38.99 GBP
Unit price
per
Liquid error (snippets/price line 121): divided by 0% OFF
Sale
Sold out
---
181

Pieces

5

Est. Time (hrs)
14+

Age

Medium

Difficulty
LxWxH 170 mm x 275 mm x 200 mm
---
Share
Legendary hero: Meet the fascinating Ghost of Kyiv wooden puzzle for adults. This military aircraft model kit is a miniature of the invincible MiG-29 fighter jet, the protector of Kyiv skies and terror of enemy airplanes
It floats: Thanks to the science of tensegrity, this fighter jet toy hovers above its stand. Four thin fishing lines under the military plane keep it afloat and allow it to roll right or left
Everything in the box: Just punch the pieces out of the laser pre-cut boards then snap them together following our illustrated, step-by-step instructions in 11 languages. Our military model kits require no glue or extra tools
Gorgeous gift: All UGears wooden model airplane kits for adults and kids are challenging, yet rewarding adventures. The Ghost of Kyiv military airplane will adorn any home or office beautifully. Assemble yours with pride
Kit contains all required components and no glue is required
Precision laser cut plywood. Only requires assembly.
UGears Mechanical Models are self-propelled, mechanical wooden model assembly kits.
Perfect for family projects, puzzle enthusiasts, and hands-on STEM learning
181 parts
Assembly time: 5 hours
Model size 170x275x200mm
The Ghost of Kyiv Ukrainian Fighter
Assemble me. Defend the skies above Kyiv!
The Ghost of Kyiv. Ace fighter pilot of the Ukrainian Air Force. Grim Reaper of 40 russian aircraft. Who was this indomitable defender of Ukraine's capital? He suddenly appeared in his MiG-29 fighter where not expected. He lived in the heads of russian pilots, fearfully holding to russian airspace, not daring to fly sorties over Kyiv, while at the same time inspiring a nation fighting against hopeless odds. Was he man or myth? One pilot or many? Is he still guarding Ukrainian skies, or was he killed in combat?
People need hope, they need heroes, and in the early days of russia's February 2022 full-scale invasion of Ukraine, the Ghost of Kyiv became that hero for millions of Ukrainians. As the number of kills—enemy aircraft shot down in aerial combat—credited to the Ghost grew, so did the legend. But legends aside, the fact is, russia failed to achieve air superiority over Kyiv in the early days of the war—a key point in Ukraine's survival—thanks in large part to the brave pilots of the 40th Tactical Air Force Brigade of Ukraine, the true "Ghosts of Kyiv."
Ugears, a proudly Ukrainian company, brings the Ghost of Kyiv to life in this 1:72 scale model of the MiG-29 fighter jet flown by the Ghost. The model is distinguished by its realism, with movable ailerons, wing flaps, and tail rudders, retractable landing gear front and back, detachable missiles, and pop-up canopy. But the standout feature of this DIY 3D wooden aircraft model is the way it hovers in the air like a phantasm, thanks to our use of tensegrity (tensional integrity or floating compression), an elegant structural engineering principle used in some bridges and stadium roofs. Four thin fishing lines, with ratchet-aided tension adjustment, allow the DIY model aircraft to float above its stand, as if by magic, even though the lines are below the model! A slider at the rear of the model allows you to roll the aircraft left and right, simulating flight. You can also change the MiG-29's pitch angle using adjusters located underneath the stand.
The stand over which The Ghost of Kyiv seemingly levitates tells a story. The base of the stand features an attractive wooden cutout stylized map of Kyiv, symbolizing the city and all her inhabitants under the Ghost's protection. The sides of the base feature a panoramic view of the Kyiv skyline. The arm of the stand displays a downed enemy aircraft—add one more to the Ghost's tally! This wooden model MiG-29 is a companion piece or "big brother" to The Ghost of Kyiv Attacks, a smaller, simpler "mechanical stories" model from Ugears' Age of Bravery series, celebrating Ukrainian defenders throughout history and highlighting some of the standout episodes and stories of the current war. Collect them all!
The Ghost of Kyiv Ukrainian Fighter wooden DIY model kit has 181 parts, with an estimated assembly time of 5 hours. The kit includes everything you need for assembly. No glue or additional tools required. Parts are carefully laser pre-cut into high quality plywood boards, and can be removed with light pressure then snapped together following illustrated, step-by-step instructions in 11 languages (English, Ukrainian, German, Spanish, French, Italian, Portuguese, Polish, Japanese, Chinese, and Korean). If you break a part during construction let us know and we'll be glad to provide replacement parts for your 3D puzzle free of charge.
Assemble this mechanical 3D puzzle and enjoy telling and retelling the legend of the brave fighter pilot heroically defending his city against invaders—part of the history and mythology connected to the rebirth of the modern Ukrainian state. The Ghost of Kyiv Ukrainian Fighter is an interesting and educational project for hobbyists and families to work on together, and an attention-grabbing display piece for your home or office with its gravity-defying tensegrity construction. This model MiG-29 aircraft will make an original gift for those interested in aircraft modeling, military history, aviation, and for anyone rooting for Ukraine to preserve its freedom and independence against russian aggression. Part of the proceeds from each The Ghost of Kyiv Ukrainian Fighter model purchased on our international website will be donated to Ukrainian relief and defense.
View full details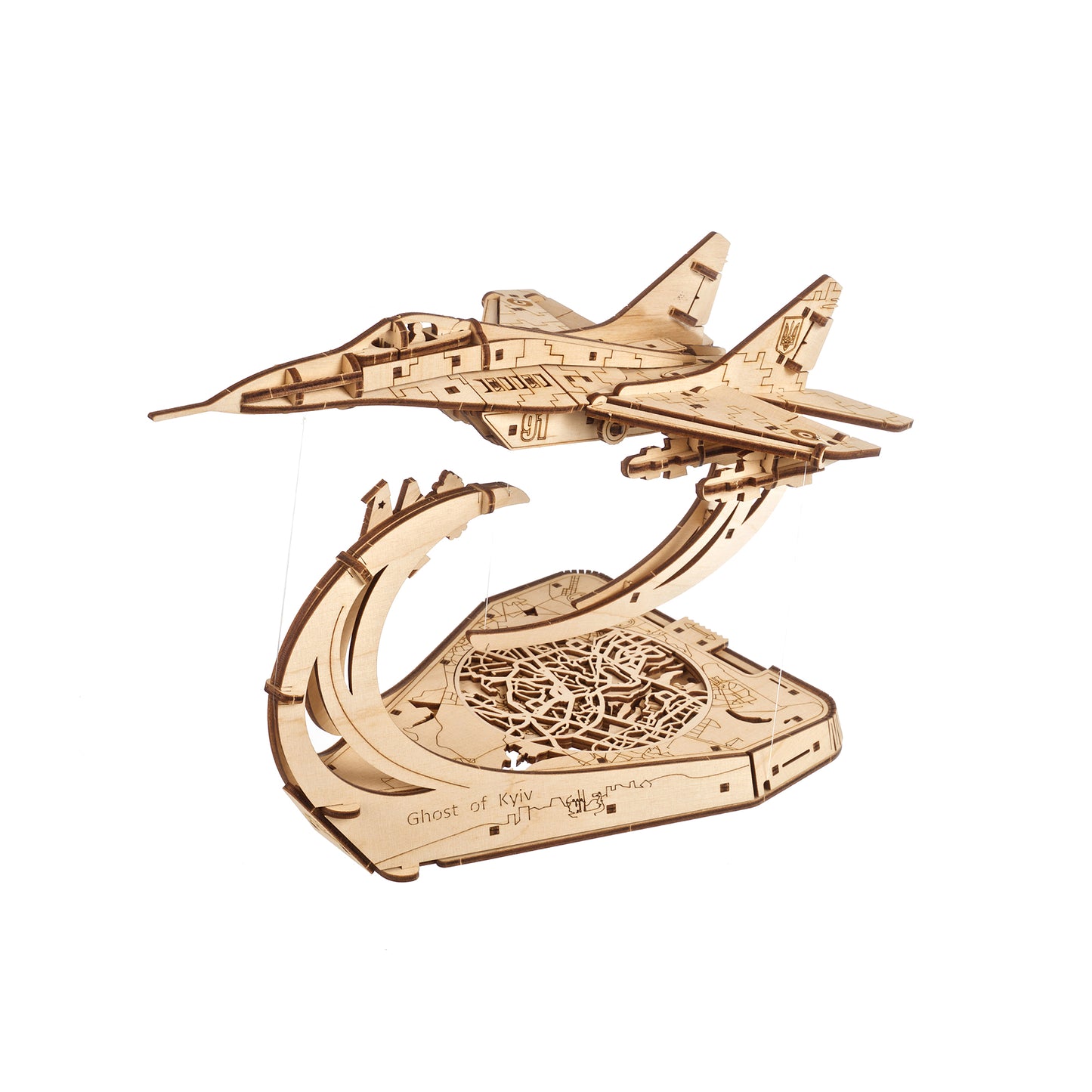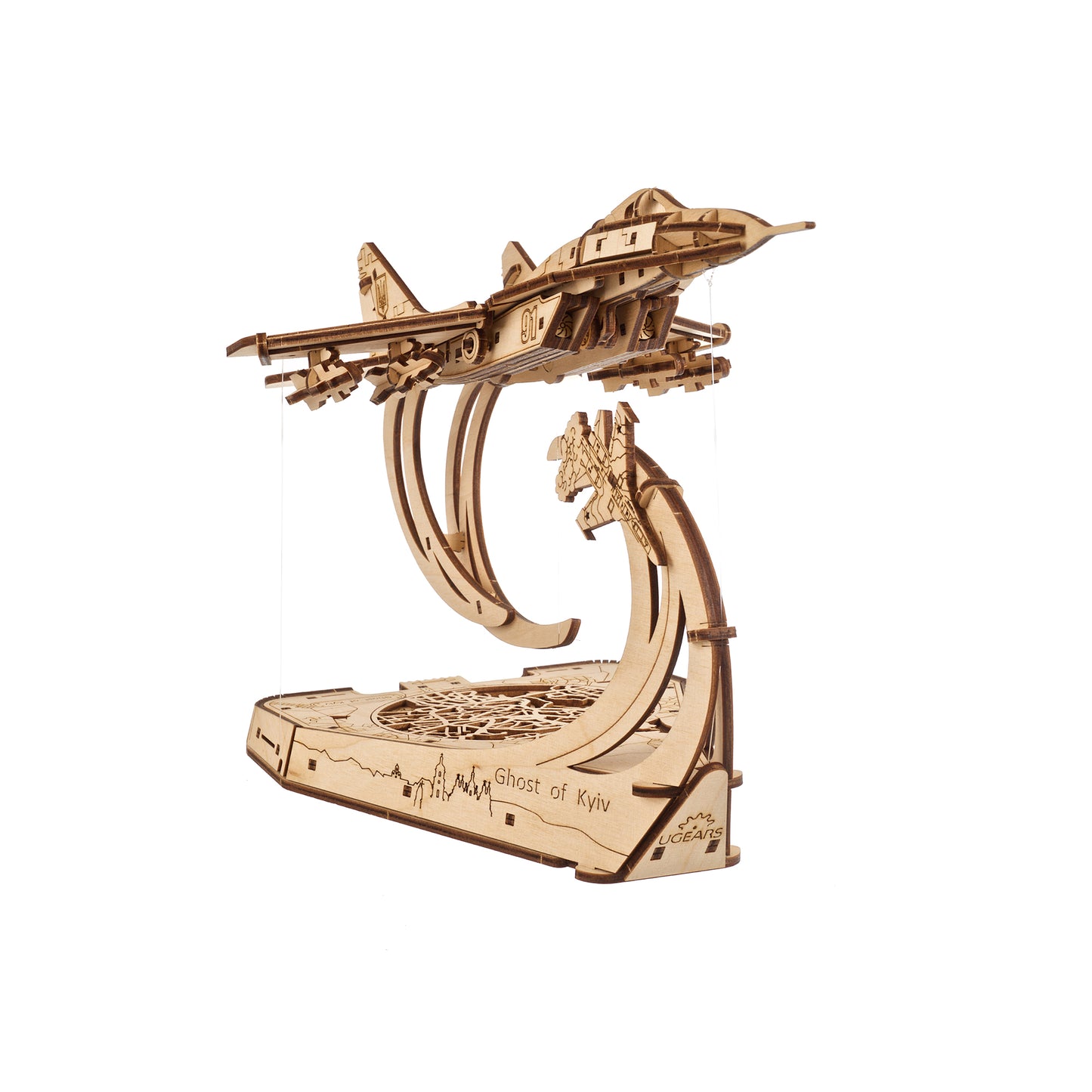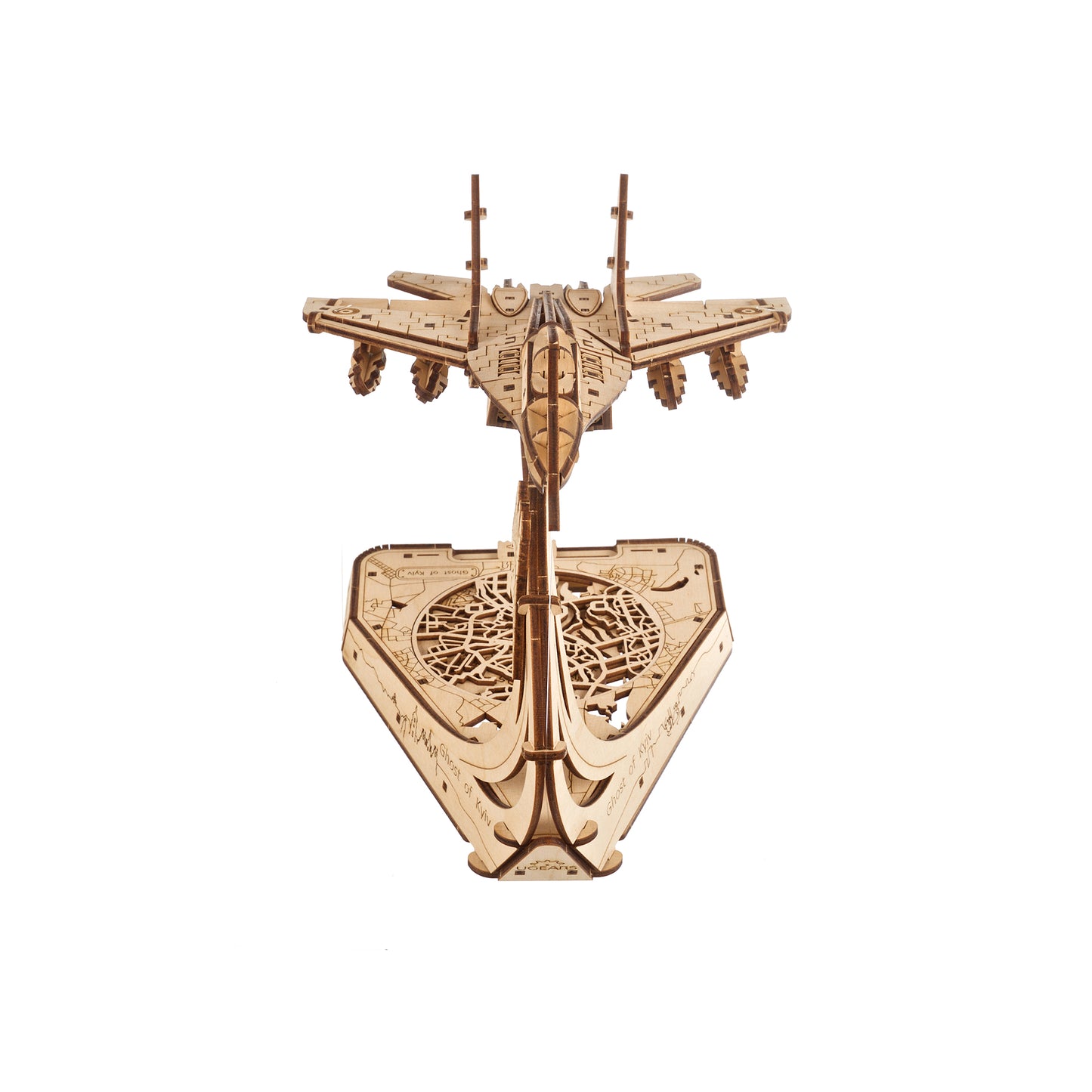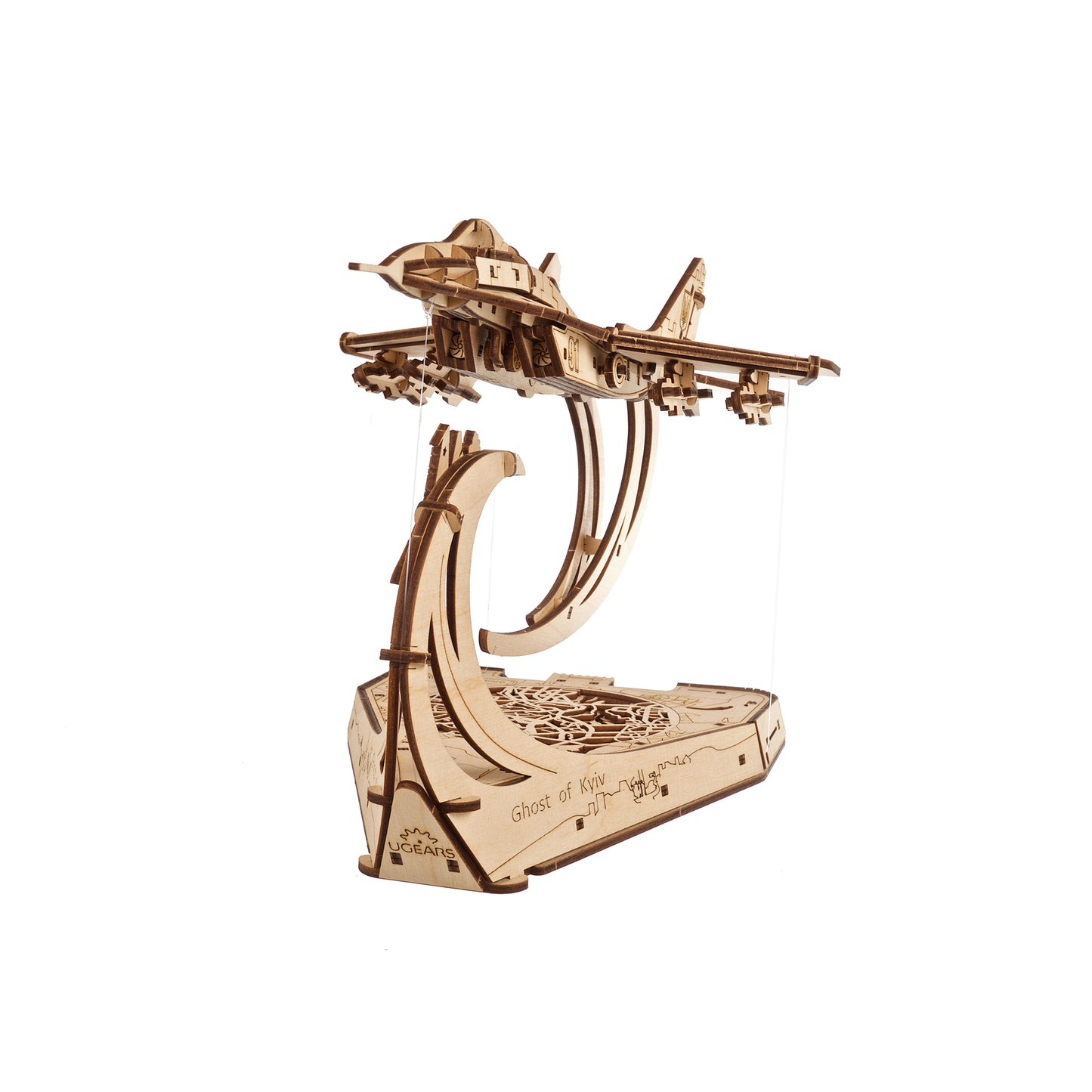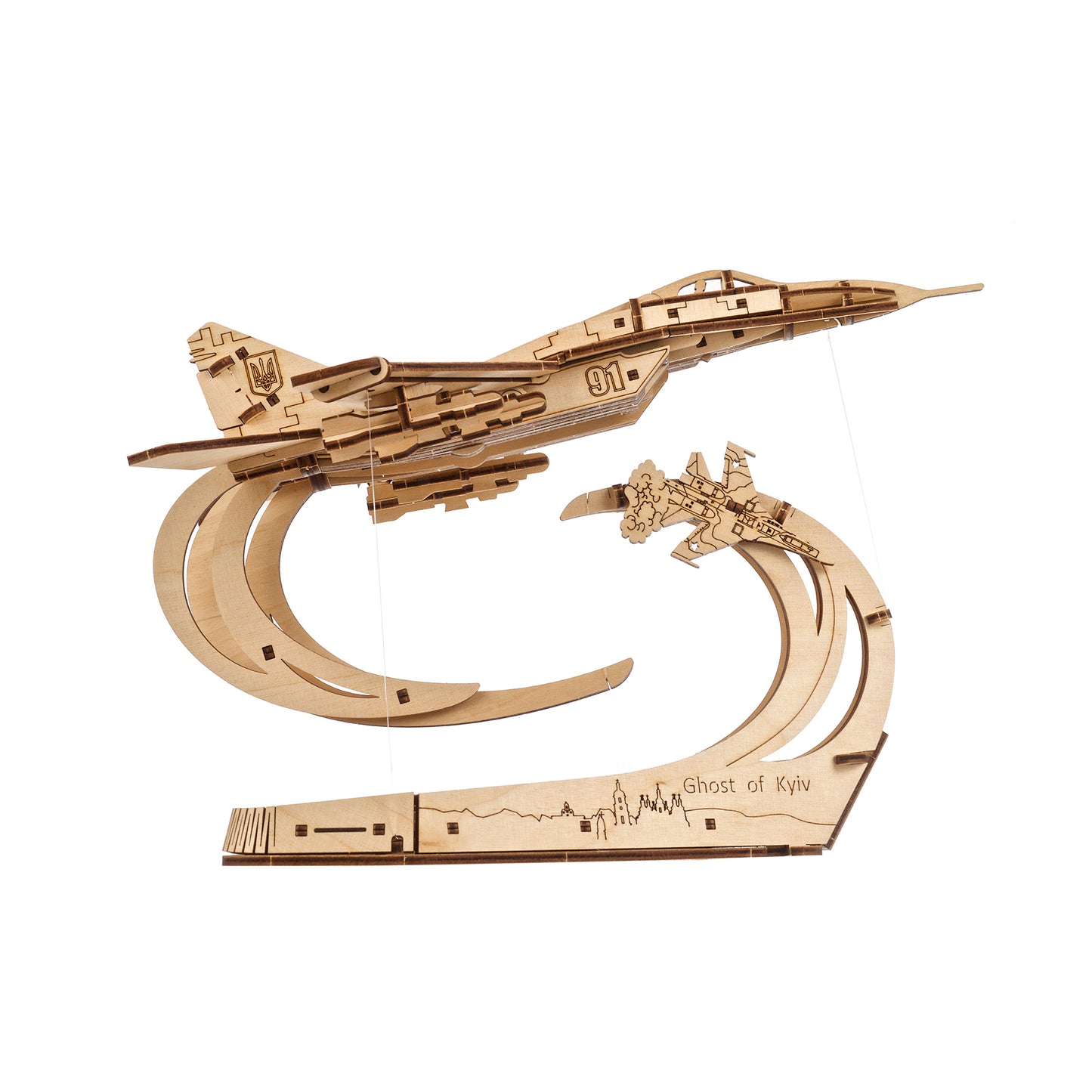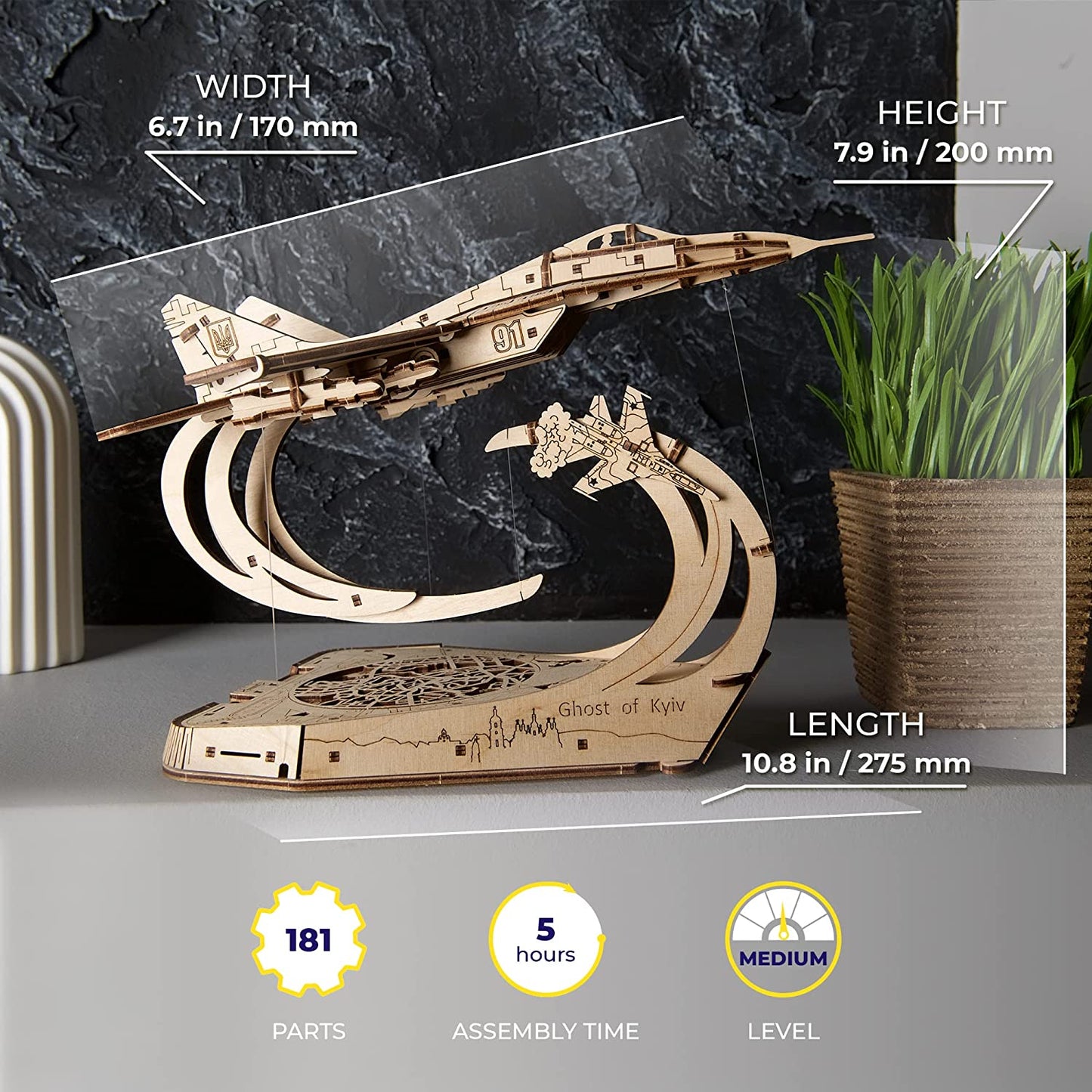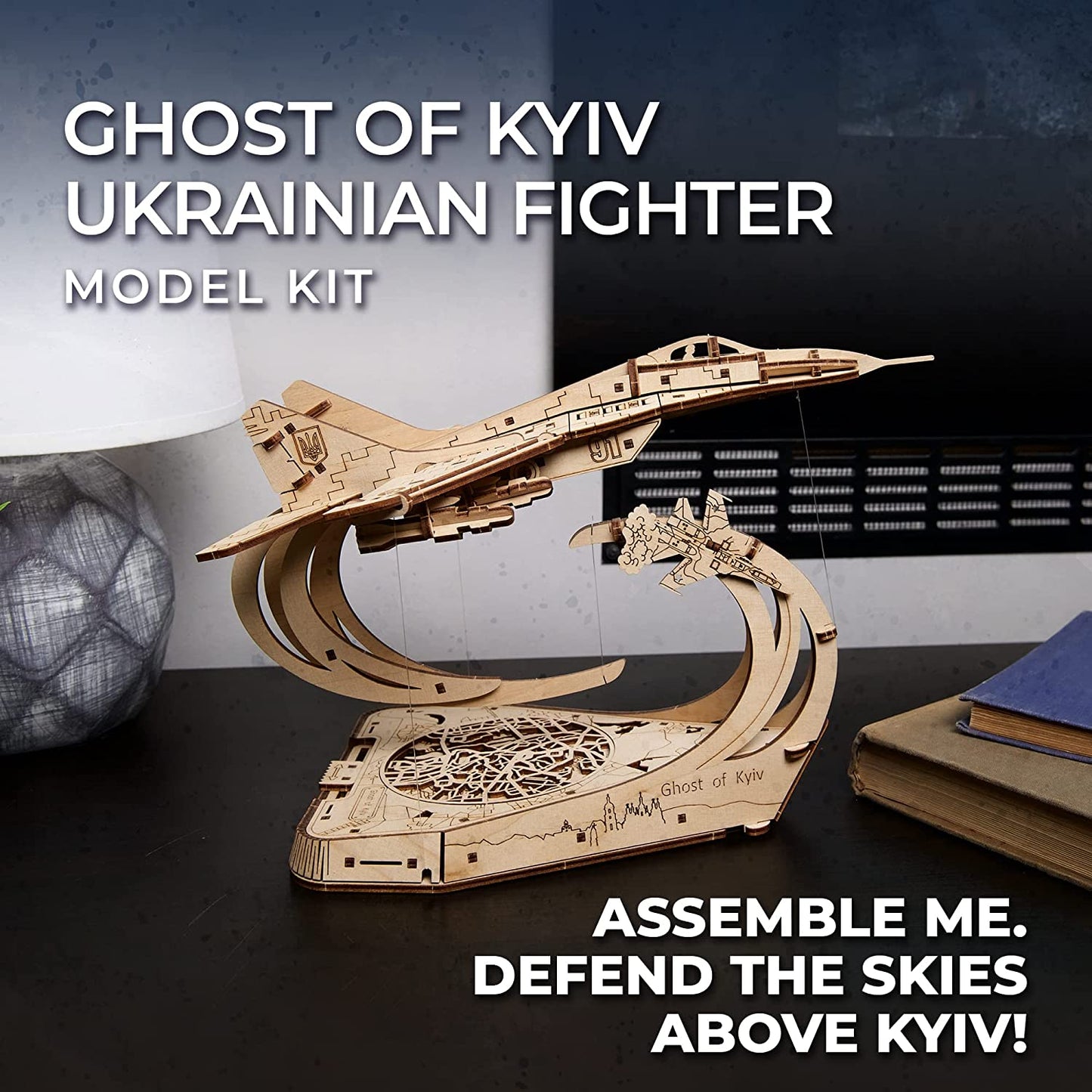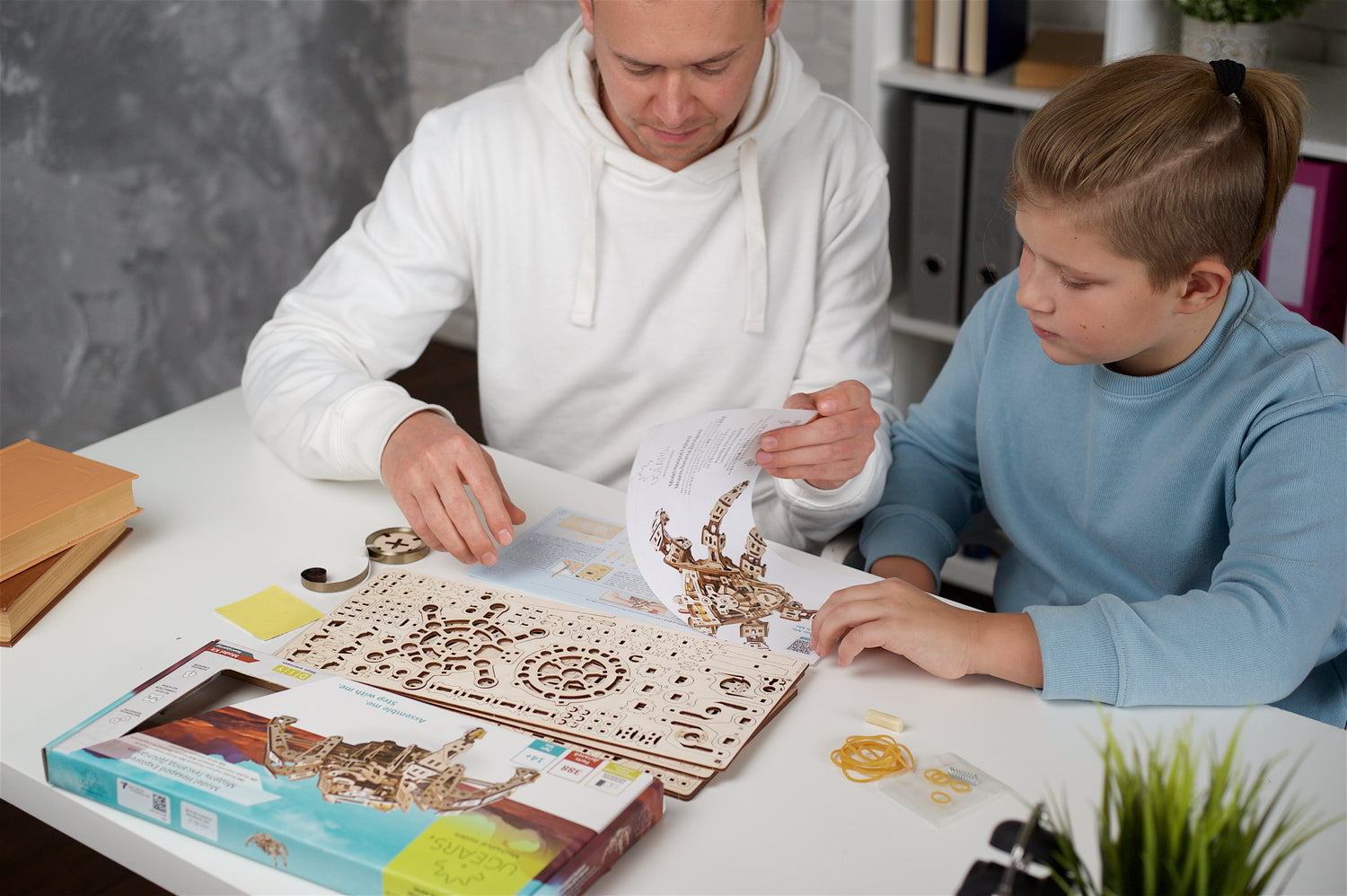 Ready to Build
Ugears models are made from sustainably sourced, laser cut plywood sheets. Everything you need is inside the box, so you can get building right away.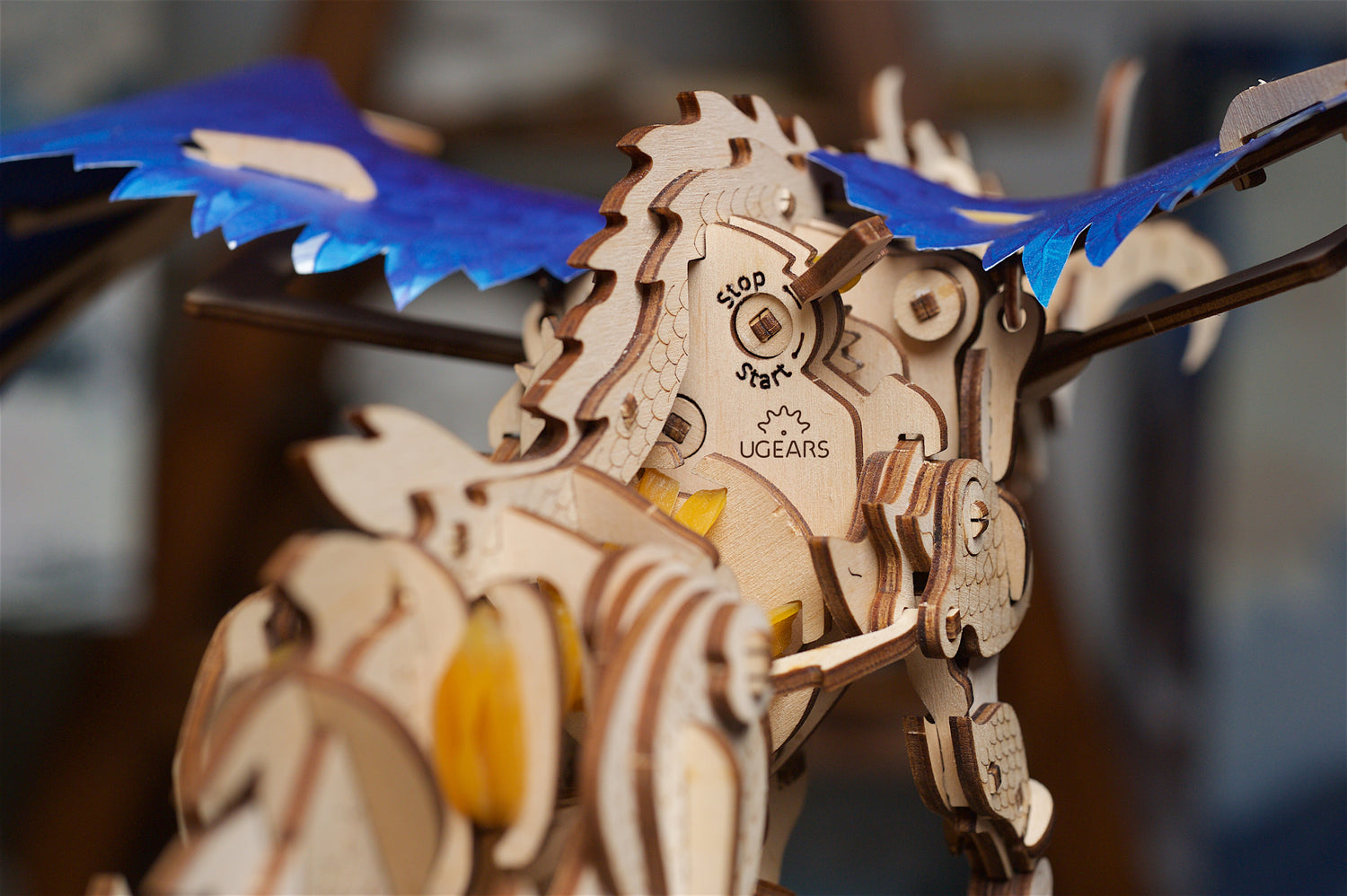 Mechanical
No batteries, no electricity, just Ugears. All mechanical models are powered by the ingenious mechanisms built by you. Just wind up your model and watch it come to life.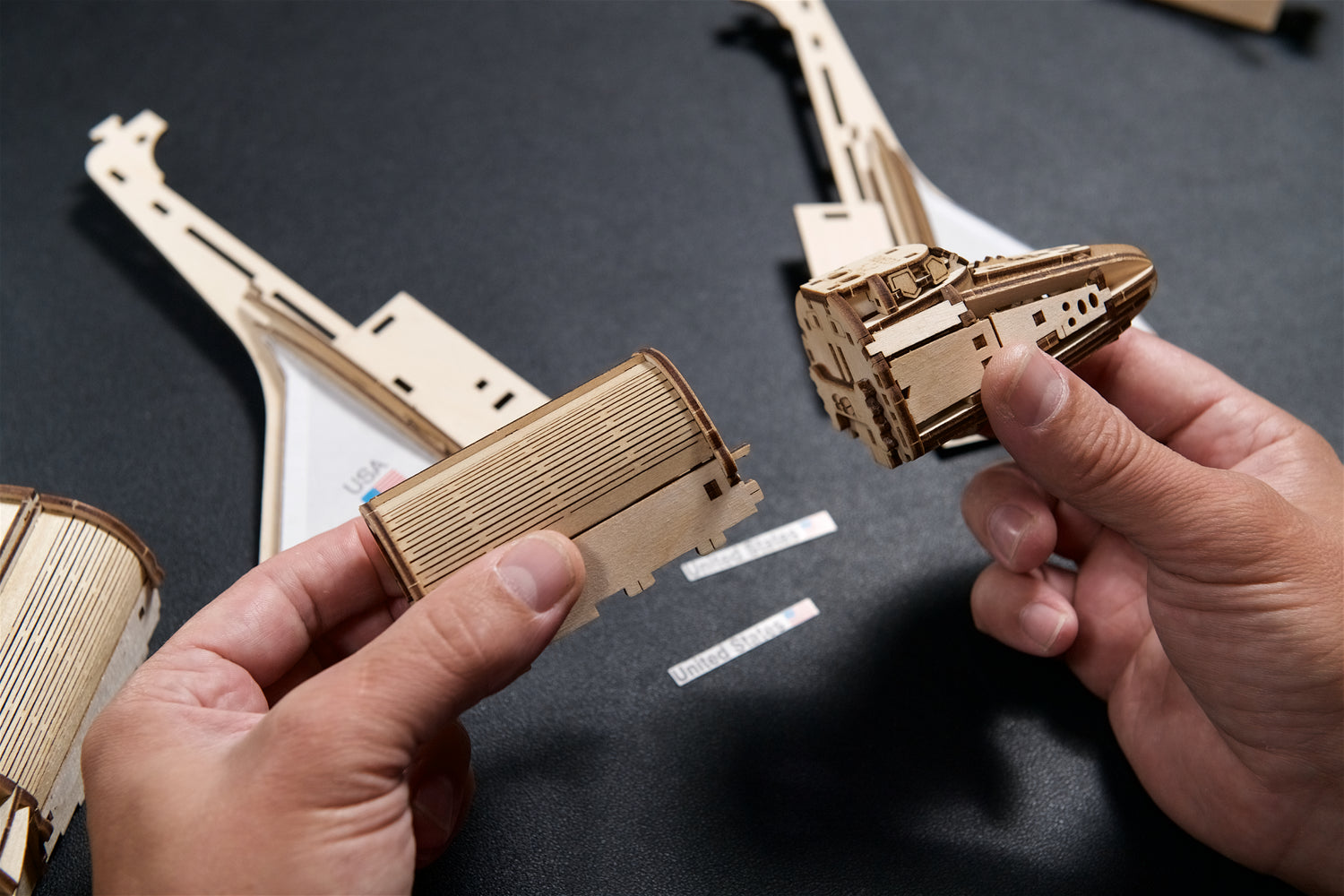 No Glue
Pieces have been designed so they will either click or slide into place. No glue or any other kind of adhesive is needed to build your model.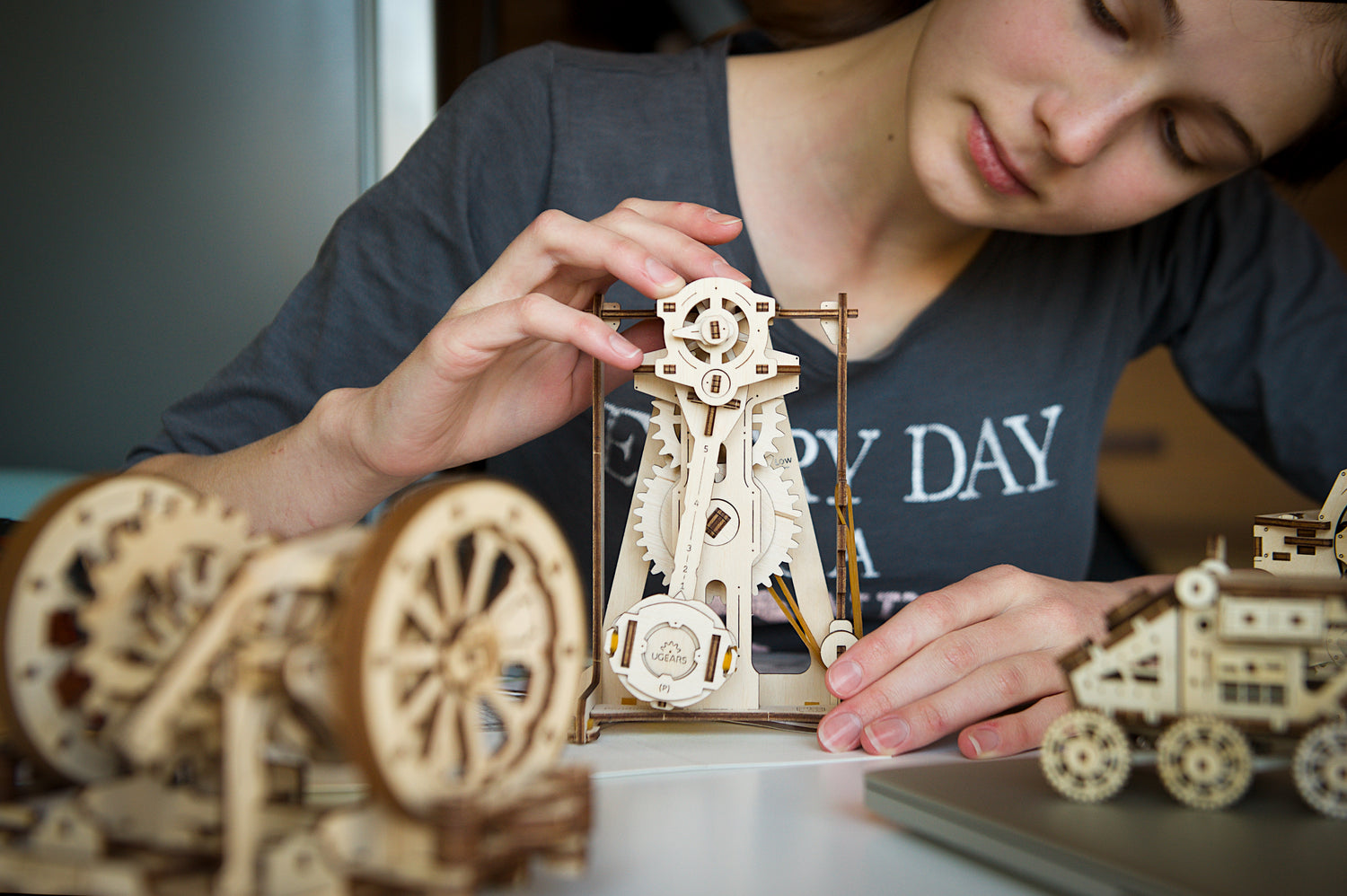 Educational
Models take inspiration from real life inventors and engineers, such as Da Vinci and Galileo. Learn the history behind the model as you build.