SKU:UGR70190
Regular price
Sale price
£52.50 GBP
Unit price
per
Liquid error (snippets/price line 121): divided by 0% OFF
Sale
Sold out
---
300

Pieces

8

Est. Time (hrs)
14+

Age

Advanced

Difficulty
LxWxH 260 mm x 110 mm x 105 mm
---
Share
Life-saving combat vehicle: The UGears Dozor-B military vehicle is a miniature of an armoured personnel carrier designed for combat. Since Russia's aggression in Ukraine, the Dozor-B has been fully employed in reconnaissance, rescue and humanitarian missions
Mechanical marvel: This 3D puzzle features all-wheel drive, full suspension, and a spring motor that allows it to travel up to 26 ft/ 8 meters. Doors that open, wheels that spin on any surface, and the working winch are truly impressive
Assembling adventure: The Dozor-B woodworking kit is a "medium" difficulty DIY project for adults with 300 parts. Plan for about 8 hours of challenging yet rewording building time on your own or with your buddies
Everything in the box: No glue or extra tools are required to build our wooden 3D puzzles for adults. Simply, follow the illustrated instructions. Pay special attention to installing the pieces with their correct orientation, and lightly sand and lubricate all moving parts for optimal function
Meaningful gift: UGears building kits for adults and 3D puzzles for kids always surprise, delight and inspire. Add Dozor-B army vehicles to your collection to celebrate Ukrainian courage
Kit contains all required components and no glue is required
Precision laser cut plywood. Only requires assembly.
UGears Mechanical Models are self-propelled, mechanical wooden model assembly kits.
Perfect for family projects, puzzle enthusiasts, and hands-on STEM learning
300 parts
Assembly time: 8 hours
Model size 260x110x105mm
Dozor-B Combat Vehicle
Assemble me. Let's carry out reconnaissance!
Ugears continues to celebrate the brave fighting men and women of Ukraine's armed forces with the Dozor-B TCWV (Tactical Combat Wheeled Vehicle), an all-wheel drive armored personnel carrier (APC). Manufactured in Ukraine and first put into service in 2007, the Dozor-B is a multi-purpose light armored vehicle for transporting personnel, weapons, medical supplies and military equipment in combat environments. It has a driving compartment, fighting compartment (the APC is usually fitted with a remote-controlled anti-aircraft machine gun that can rotate 360°) and troop compartment with ports for observation and small arms fire. The armored hull and ventilation, heating and air conditioning systems in the troop compartment provide soldiers protection against mines, small arms fire, harsh weather and even NBC conditions (employment of nuclear, biologic or chemical weapons).
The Ugears Dozor-B Combat Vehicle DIY model is also proudly made in Ukraine. It has "armor" in the form of 3.7 mm-thick plywood, all-wheel drive, full suspension, and a spring motor that allows it to travel a considerable distance (about 8 meters). Because this is Ugears, and because we love to delight and amaze our fans with cool extras, the Ugears Dozor-B Combat Vehicle features a working winch, just like its real world analogue, for self-recovery or recovery of vehicles of similar weight. Pull the front bumper-mounted winch out, hook it to an object, and watch it pull the Dozor-B forward!
Other mechanical features of the Dozor-B Combat Vehicle include opening driver and passenger side doors, and a top hatch and rear hatch that open to reveal the detailed troop compartment, complete with bench seating and rubber band seat belts! Decorative elements on the outside of the vehicle include a tool rack with crowbar, pick, axe and shovel, spare gas cans on the rear hatch for long-distance missions, and laser-engraved riveting. A ratchet knob on top (where the machine gun would normally go) allows you to wind the APC's spring motor. To set the model in motion, just lower the "Start/Stop" lever on the side of the vehicle and watch all four wheels power out!
The Dozor-B DIY armored personnel carrier model kit contains 300 parts, is rated "Medium" (for somewhat experienced modelers) and promises 8 hours of exciting construction time. Everything you need to build the Dozor-B Combat Vehicle comes included in the box. No glue or special tools are required. Be sure to closely follow the illustrated, step-by-step instructions in 11 languages (English, Ukrainian, German, Spanish, French, Italian, Portuguese, Polish, Japanese, Chinese, and Korean) for a successful build. Pay special attention to installing the pieces with their correct orientation, and lightly sand and lubricate (with the included piece of wax) all moving parts for optimal function. One great design feature of the Dozor-B Combat Vehicle is that the rubber bands in the suspension system and in the winch mechanism can be replaced, if and when needed, without disassembling the entire model. You can leave your Dozor-B in its attractive natural wood state, paint it military drab, add a camouflage pattern or unleash your inner artist with a color scheme of your choosing. Enjoy hours of imaginative play as your Dozor-B Combat Vehicle carries out patrols, brings aid to civilians, rescues wounded troops, and helps in the defense of the Ukrainian homeland.
From the beginning of russia's full-scale invasion of Ukraine, Ugears has taken on the challenge and responsibility of helping in the ways we know best, with humanitarian aid to refugees and procurement and donations of military and civilian supplies using our international business contacts and knowledge of supply chains. We love our homeland. We love our families, our cities and towns, our agricultural heartland, our language and our culture. We love freedom; we refuse to surrender our democracy or bow down to tyranny. Our new line of military-themed models are our way of demonstrating and celebrating the Ukrainian spirit of resistance that has inspired the world. Along with full-size models like the Dozor-B Combat Vehicle, the Ugears' Age of Bravery series are a line of simple "mechanical stories" depicting Ukrainian defenders throughout history, particularly highlighting some of the standout episodes and stories of the current war. Collect them all!
This DIY wooden model of a Ukrainian armed forces armored personnel carrier will make a worthwhile project or an original gift for anyone interested in military models, military history, four wheel drive trucks, combat vehicles, and for those who support Ukraine's efforts to preserve our freedom and independence against russian aggression. Part of the proceeds from each Dozor-B Combat Vehicle model purchased on our international website will be donated to Ukrainian relief and defense.
View full details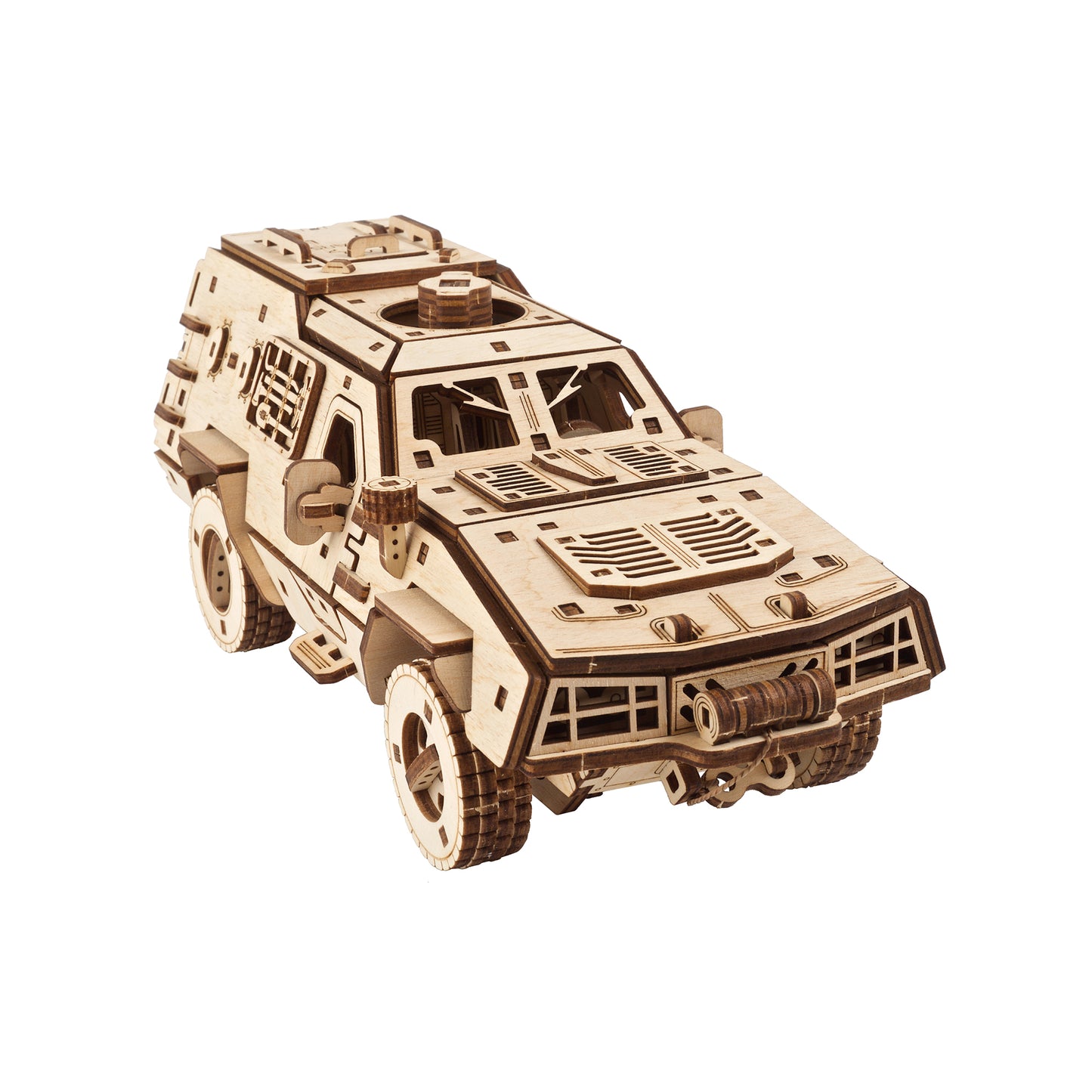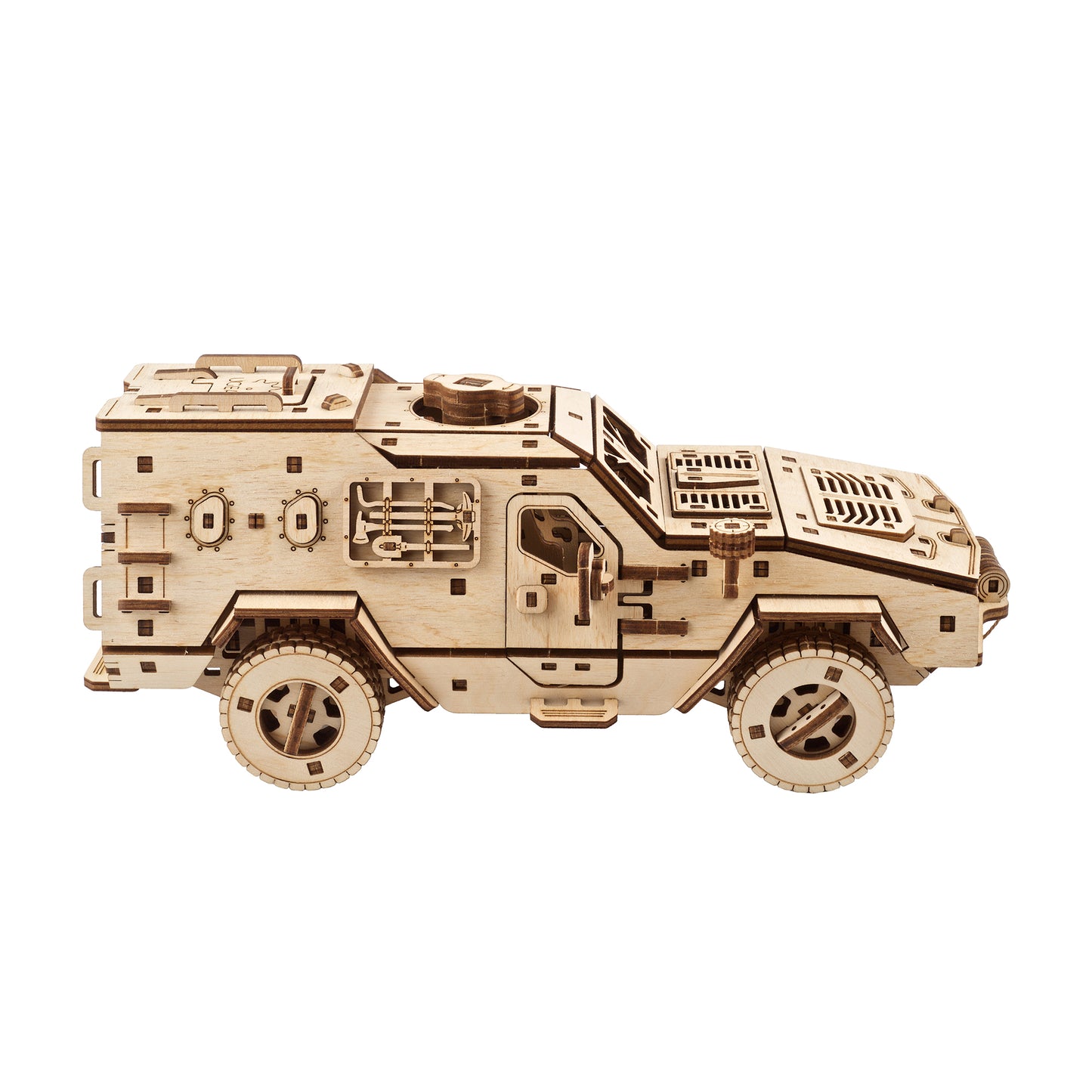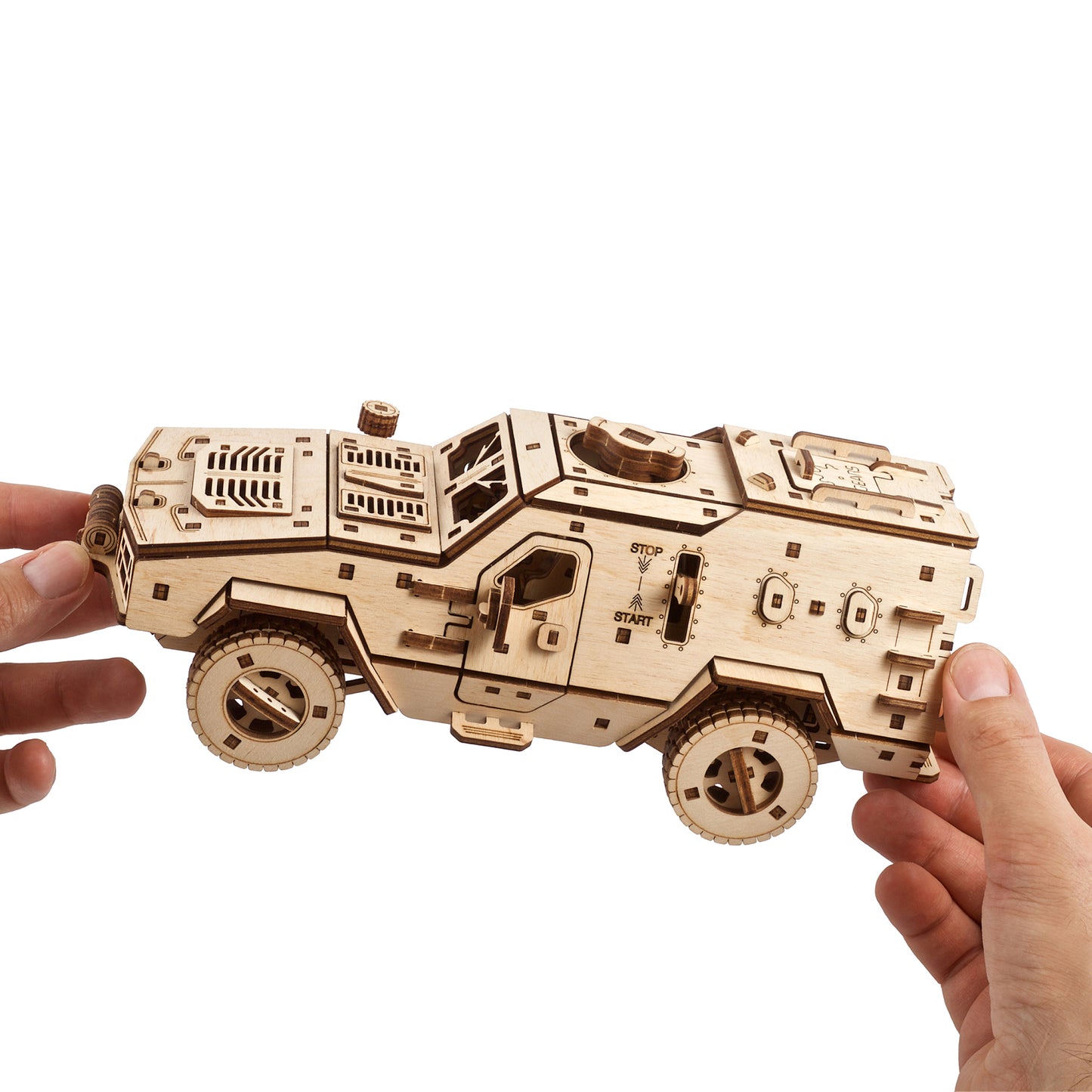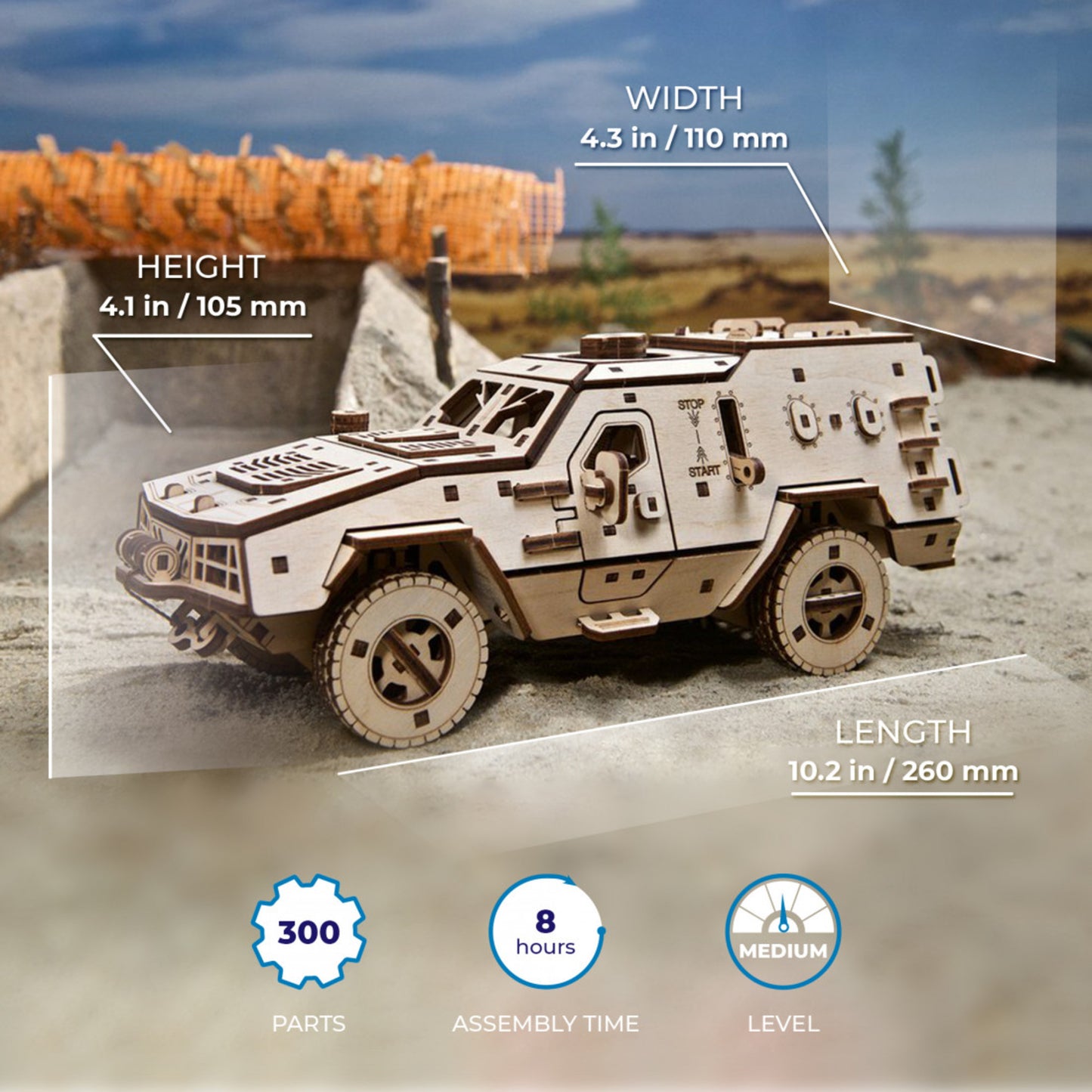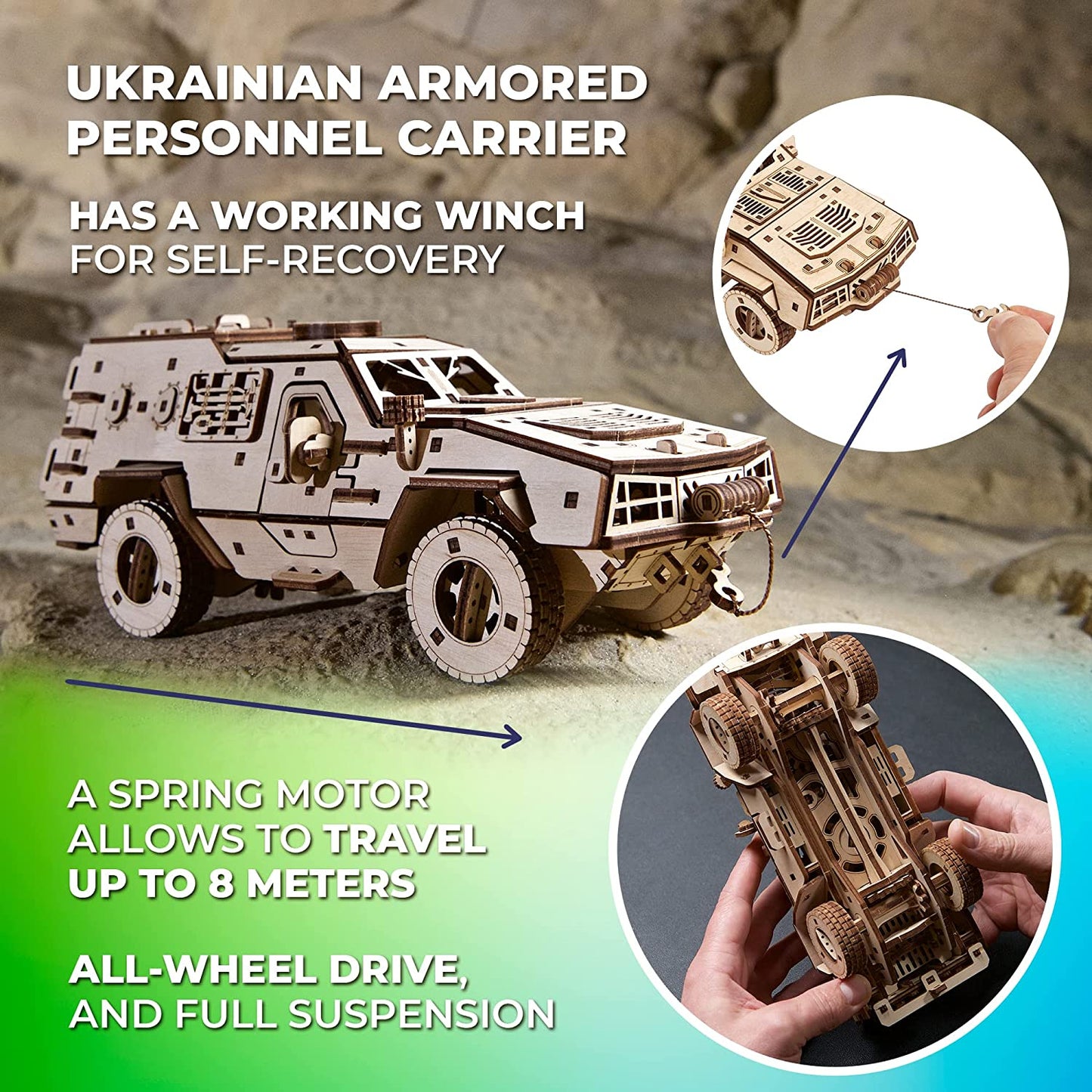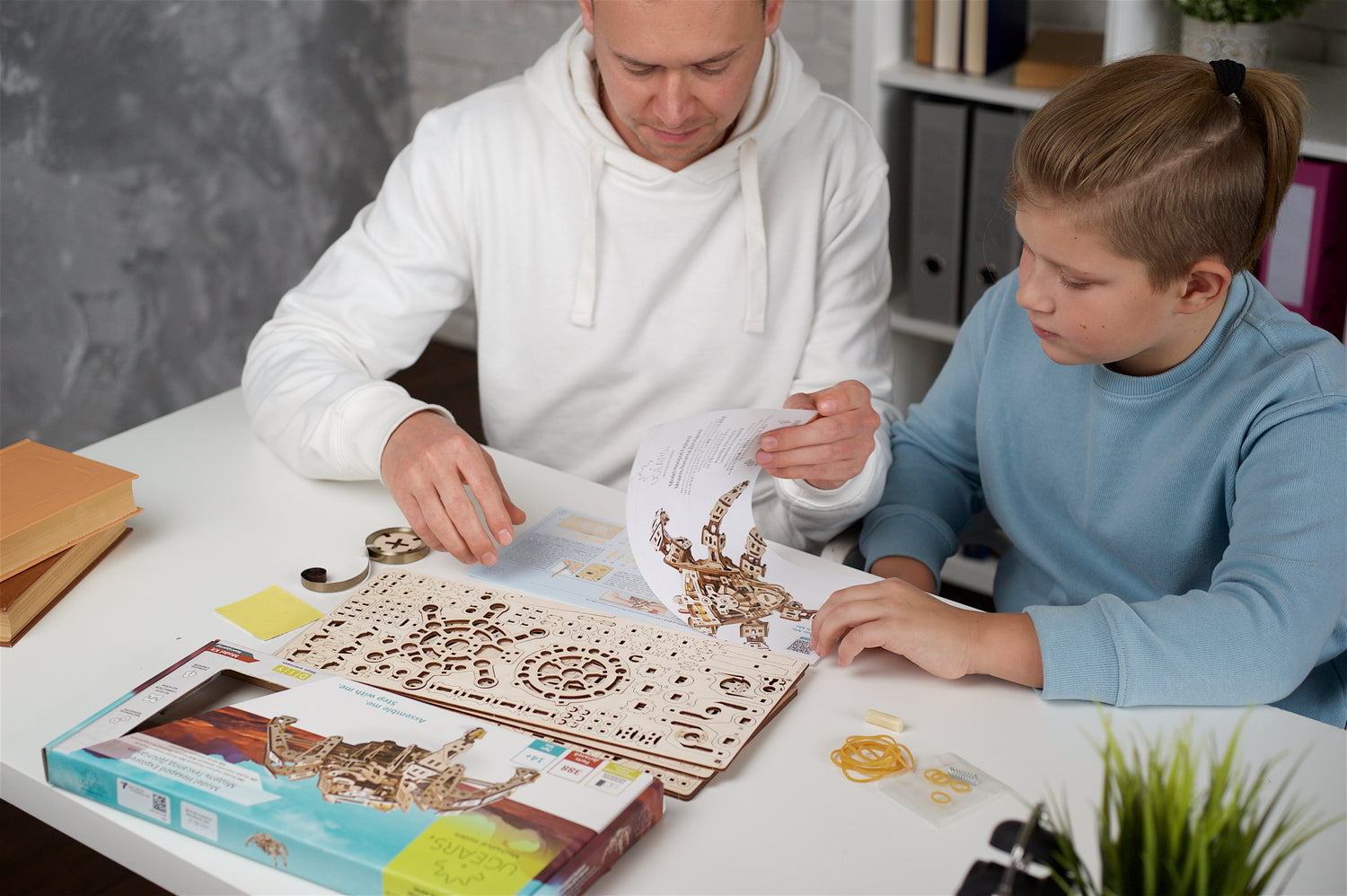 Ready to Build
Ugears models are made from sustainably sourced, laser cut plywood sheets. Everything you need is inside the box, so you can get building right away.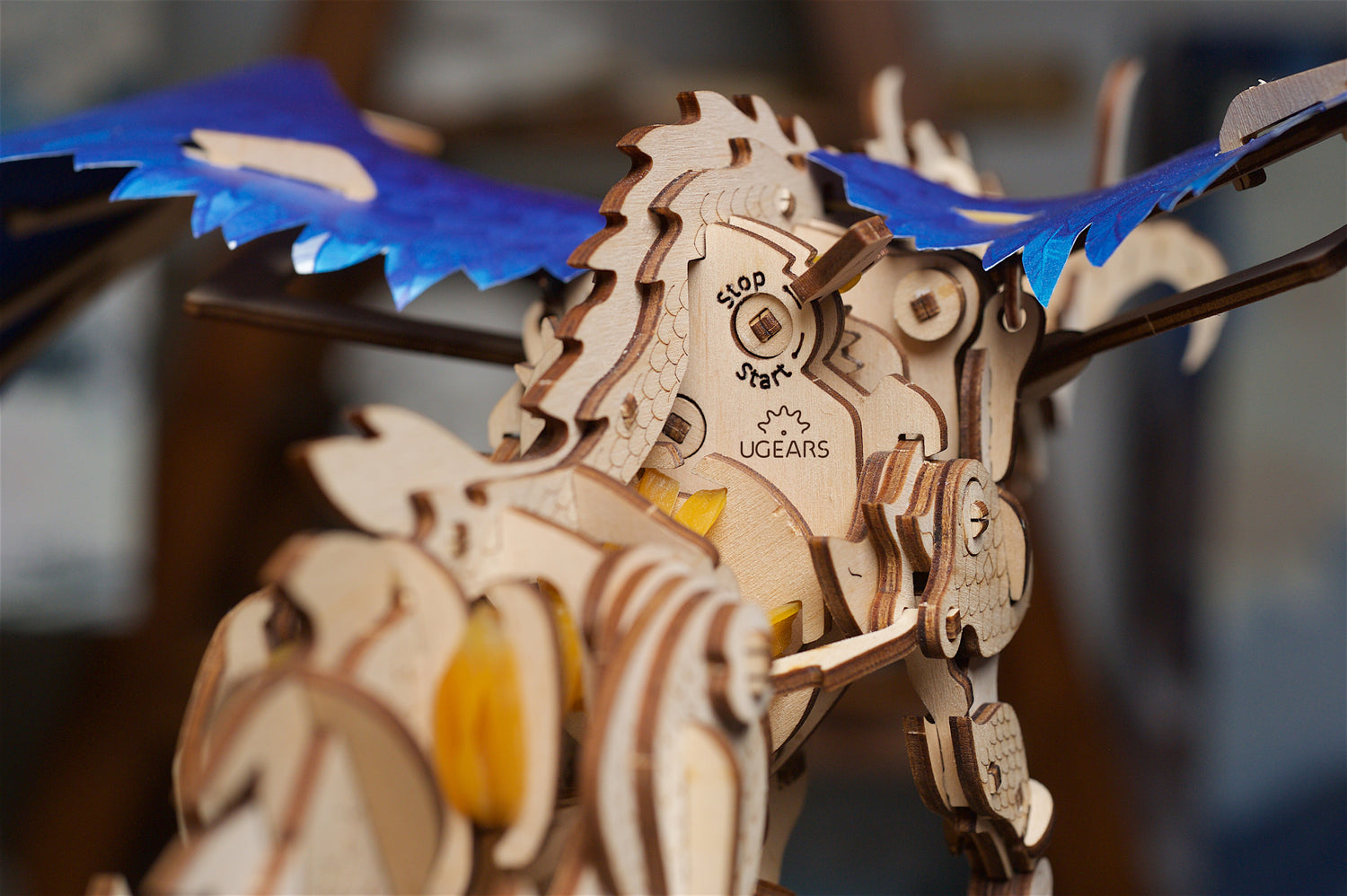 Mechanical
No batteries, no electricity, just Ugears. All mechanical models are powered by the ingenious mechanisms built by you. Just wind up your model and watch it come to life.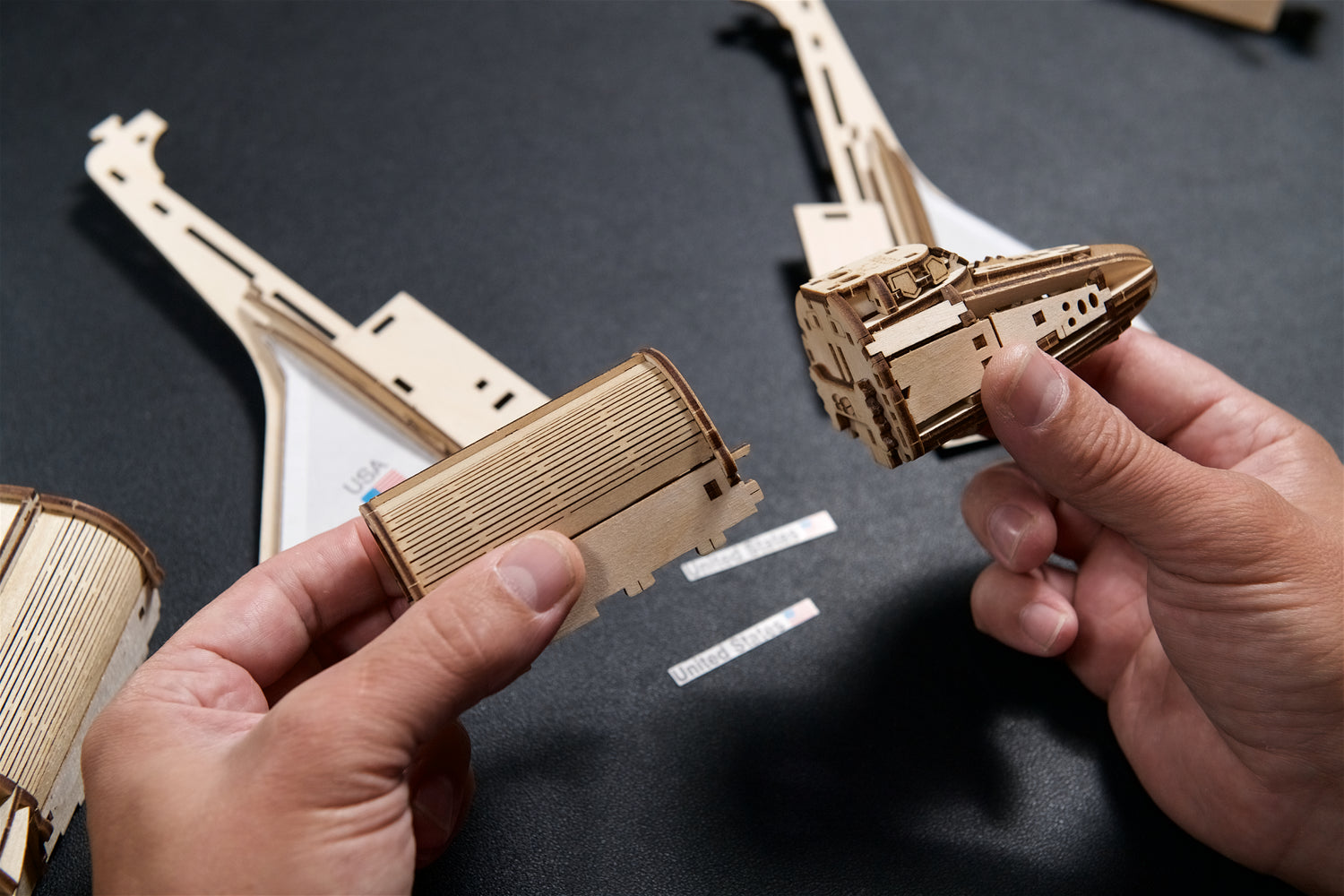 No Glue
Pieces have been designed so they will either click or slide into place. No glue or any other kind of adhesive is needed to build your model.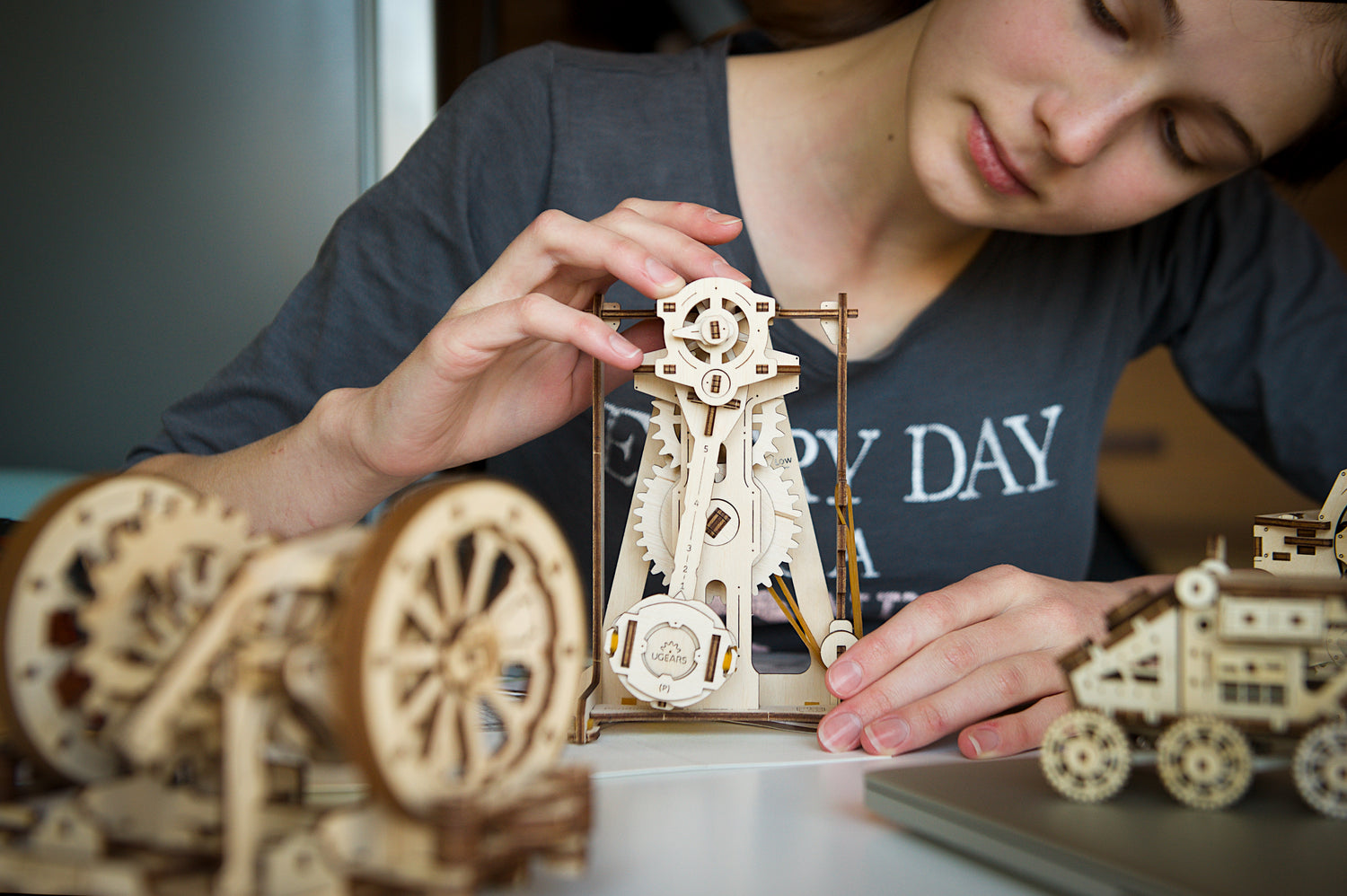 Educational
Models take inspiration from real life inventors and engineers, such as Da Vinci and Galileo. Learn the history behind the model as you build.