SKU:UGR70189
Regular price
Sale price
£39.50 GBP
Unit price
per
Liquid error (snippets/price line 121): divided by 0% OFF
Sale
Sold out
---
127

Pieces

3

Est. Time (hrs)
14+

Age

Medium

Difficulty
LxWxH 276 mm x 335 mm x 85 mm
---
Share
Patriotic icon: The Bayraktar TB2 combat drone is an amazing 3D puzzle in the new UGears ZSU (Ukrainian Armed Forces) model line. This DIY airplane kit is an authentic miniature of the unmanned aerial vehicle that is pivotal in the defense of Ukraine during Russia's invasion
Mechanical masterpiece: Our DIY airplane combines UGears signature design, detail precision and mechanical science. Once assembled, this 3D mechanical wooden puzzle can move its propeller, rudders, wing ailerons, and surveillance camera . It even has detachable missiles
Assembly adventure: Invite your friends and family to build this fascinating airplane model together. This intermediate - level airplane construction kit promises 3 hours of hands - on activity and story - telling about Ukrainian bravery and solidarity
No extra tools or glue required: The aircraft kit includes everything you need. Just punch the pieces out of the laser pre - cut boards then snap them together following our illustrated, step - by - step instructions in 11 languages
Meaningful gift: This 3D wooden puzzle will delight aviation enthusiasts and military buffs of all ages. UGears mechanical models are excellent birthday and holiday gifts. Inspire courage and bravery , a ssemble the invincible Bayraktar TB2 combat drone
Kit contains all required components and no glue is required
Precision laser cut plywood. Only requires assembly.
UGears Mechanical Models are self-propelled, mechanical wooden model assembly kits.
Perfect for family projects, puzzle enthusiasts, and hands-on STEM learning
127 parts
Assembly time: 3 hours
Model size 276x335x85mm
Bayraktar TB2 combat drone
Assemble me. Defeat the invaders with me!
After russia's February 2022 full-scale invasion of its neighbor, Ukraine, a new word entered the hearts and minds of both Ukrainians and the invaders: Bayraktar. For Ukrainians, the Bayraktar unmanned aerial vehicle, or drone, means protection, retribution, inspiration. For russian commanders and troops, death and destruction.
The Bayraktar TB2 is a medium-altitude long-endurance unmanned combat aerial vehicle capable of remotely controlled or autonomous flight operations. It is manufactured by the Turkish company Baykar Makina Sanayi ve Ticaret A.Ş. The largest operator of TB2 drones is the Turkish military, but an export model has been sold to the militaries of a number of other countries.
With their near-invisibility to conventional air defense systems, their surveillance capabilities, glide bombs and laser-guided missiles, Bayraktar drones have stopped the advance of armored columns, taken out command posts, and destroyed fuel trains, helicopters and radar stations. They even served to distract the anti-aircraft defenses of the moskva, flagship battle cruiser of russia's Black Sea fleet, before it was sunk by Neptune missiles. Manufactured in Turkey, the Bayraktar TB2 is a simple, relatively inexpensive drone (one-sixth the cost of a U.S.-built Reaper drone), but it has had outsized impact on the conflict and even the culture of Ukraine.
After many requests from our fans, and to honor Ukraine's armed forces, Ugears is proud to introduce the Bayraktar TB2 combat drone wooden model. The Bayraktar TB2 combat drone model has movable rudders on the inverted V-tail structure, moveable wing ailerons, a moving surveillance camera under the body, and detachable missiles under the wings. The Bayraktar TB2 combat drone makes a buzzing sound when in operation, adding to the realism of this DIY wooden drone model. The model has a built-in ratchet key to wind the spring motor, which transmits power and rotation to the wheels and spinning push propeller. A start/stop lever on the side of the drone allows you to control the drone's movement. To operate, just give the winding key about 6 complete turns, place the model on the floor or other flat surface, flip the start lever to the upper position, and watch as your wooden UAV model taxis down the runway, ready to take off on its next secret mission.
The Bayraktar TB2 combat drone is an integral part of Ugears new ZSU model line, created to inspire people in difficult times. Like all of Ugears' outstanding line of 3D puzzles, DIY model kits, automatons, robots, wooden puzzle boxes and STEM Lab model kits, the Bayraktar TB2 combat drone assembles without need of glue or special tools. Just punch the pieces out of the laser pre-cut boards then snap them together following our illustrated step-by-step instructions in 11 languages (English, Ukrainian, German, Spanish, French, Italian, Turkish, Polish, Japanese, Chinese, and Korean).
The Bayraktar TB2 combat drone model kit has 125 parts and promises 3 hours of entertaining assembly. This can-do UAV is a medium level model, meant for those with a bit of modeling experience or anyone up for a moderate challenge. As you begin your assembly, make sure to place the elements on the correct side of the main body. Lightly sand and lubricate all moving pieces for optimal function, paying special attention to the gears that intersect at a 90 degree angle, in order to avoid wedging. As always, if you break a piece during assembly, contact our outstanding customer service team and we'll send you replacement parts free of charge.
After building, you and your friends and family can enjoy playing with the Bayraktar TB2 combat drone model, dreaming up new missions to defend the homeland against a hostile invading army. Surveil the area with medium altitude passes, using the underbelly-mounted video camera, taking note of enemy weapons and positions, then fire away with your drone's missiles at your chosen targets. Reenact for your children, grandchildren, nieces and nephews, or neighborhood children, the amazing story of how Ukraine's smart tactical use of Bayraktar drones helped sink russia's flagship guided missile cruiser, the moskva.
Ugears is a proudly Ukrainian company. We hope that the Bayraktar TB2 combat drone model serves as an inspiration, and a reminder that everyone can be brave and stand up to a bully, it just takes heart. And remember, when you buy the Bayraktar TB2 combat drone, for yourself or as a special gift for a loved one, you help support Ukraine, as a portion of proceeds from each sale on our international website will be donated to relief efforts. This wooden model drone is a great gift idea, and will appeal to aviation enthusiasts, military buffs, anyone who enjoys building cool mechanical models and 3D puzzles, and those wishing to show their solidarity with Ukraine's armed struggle against russian aggression.
View full details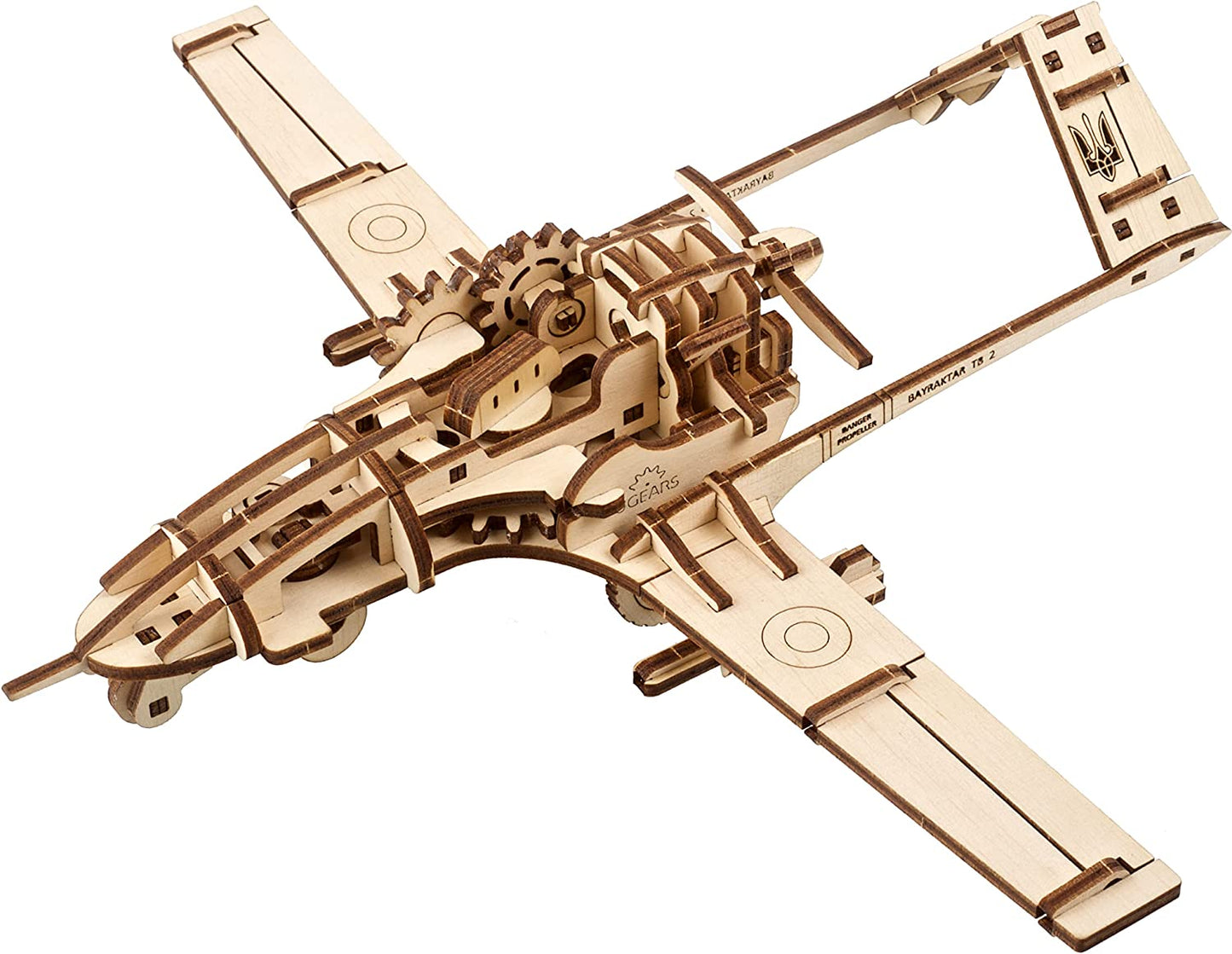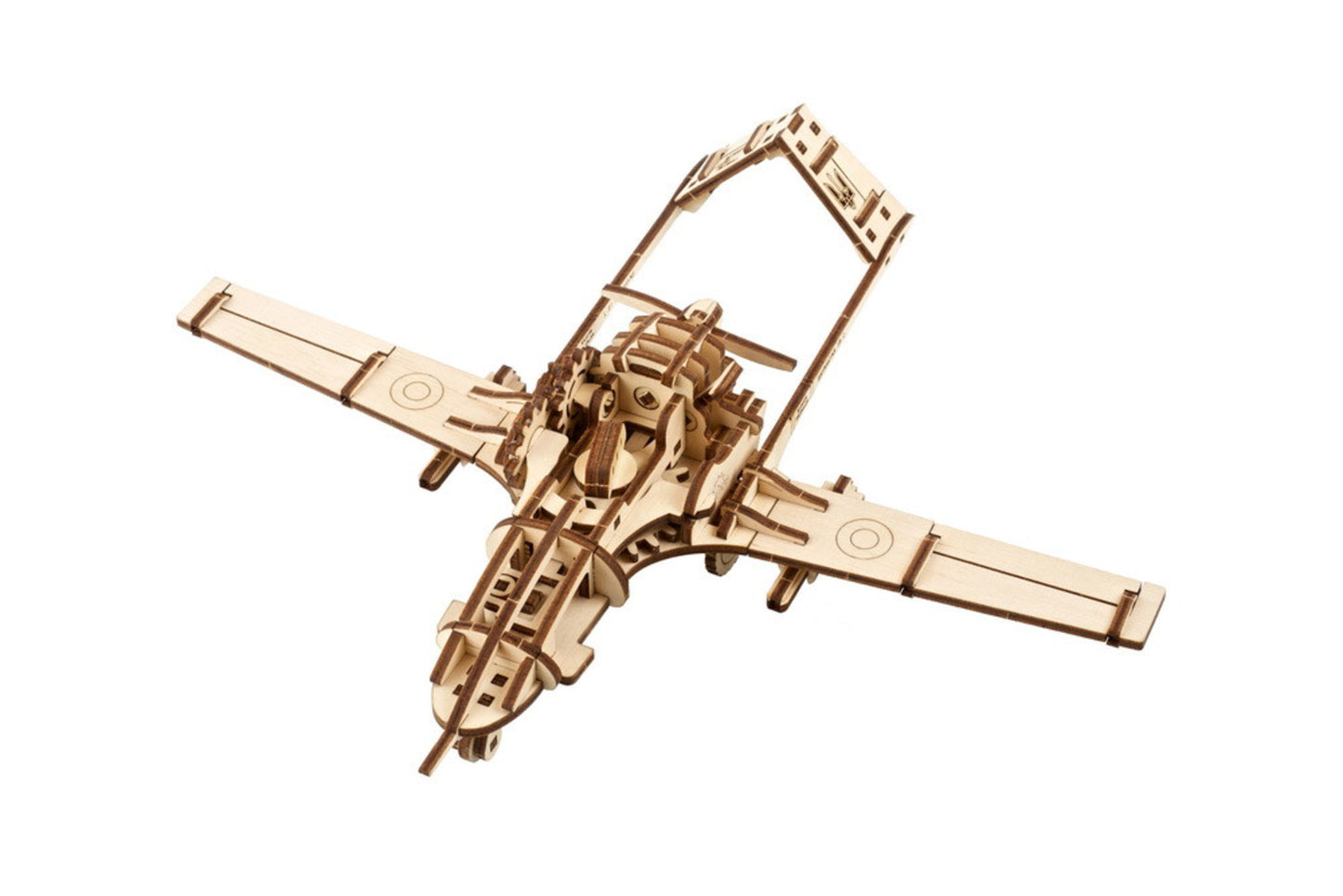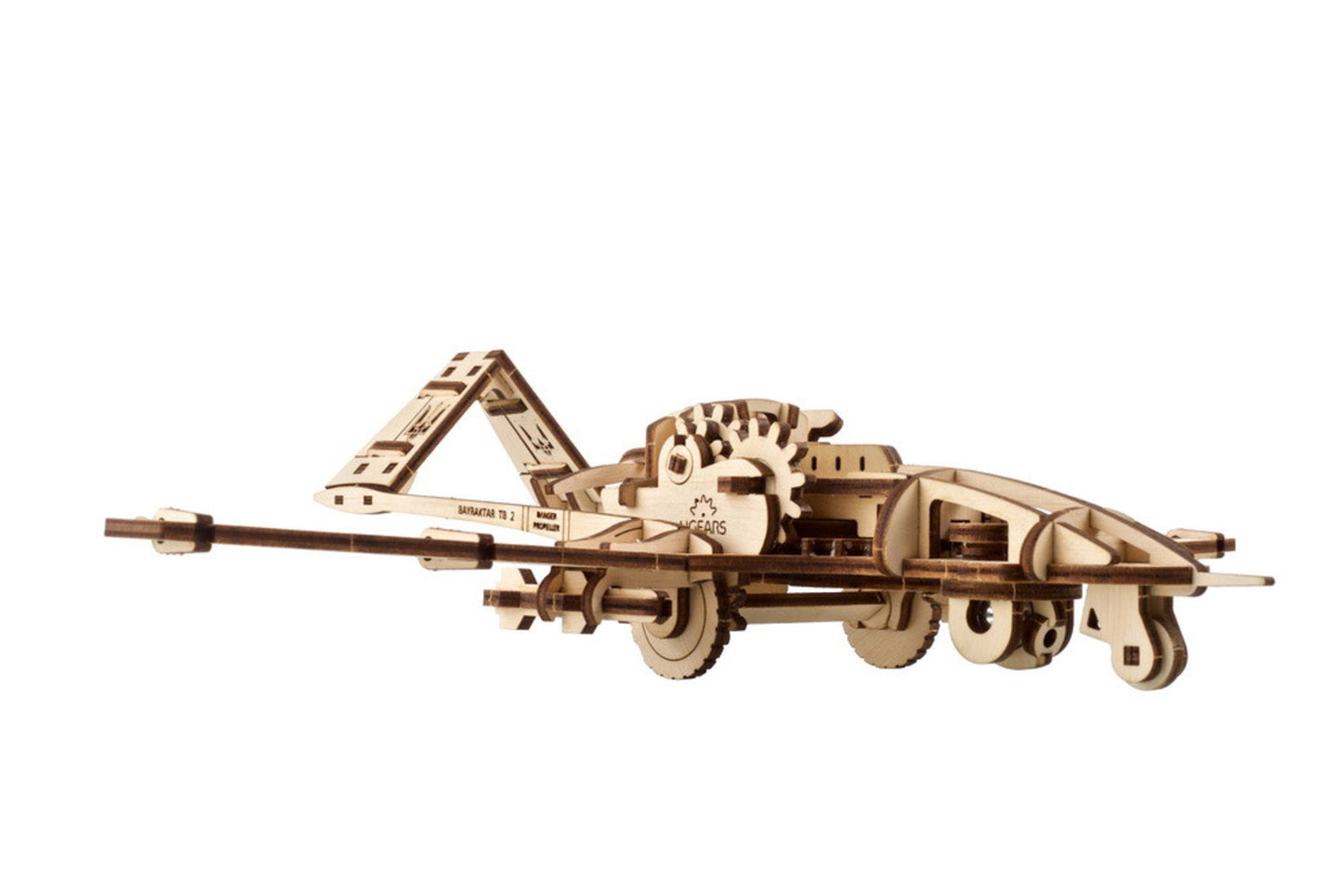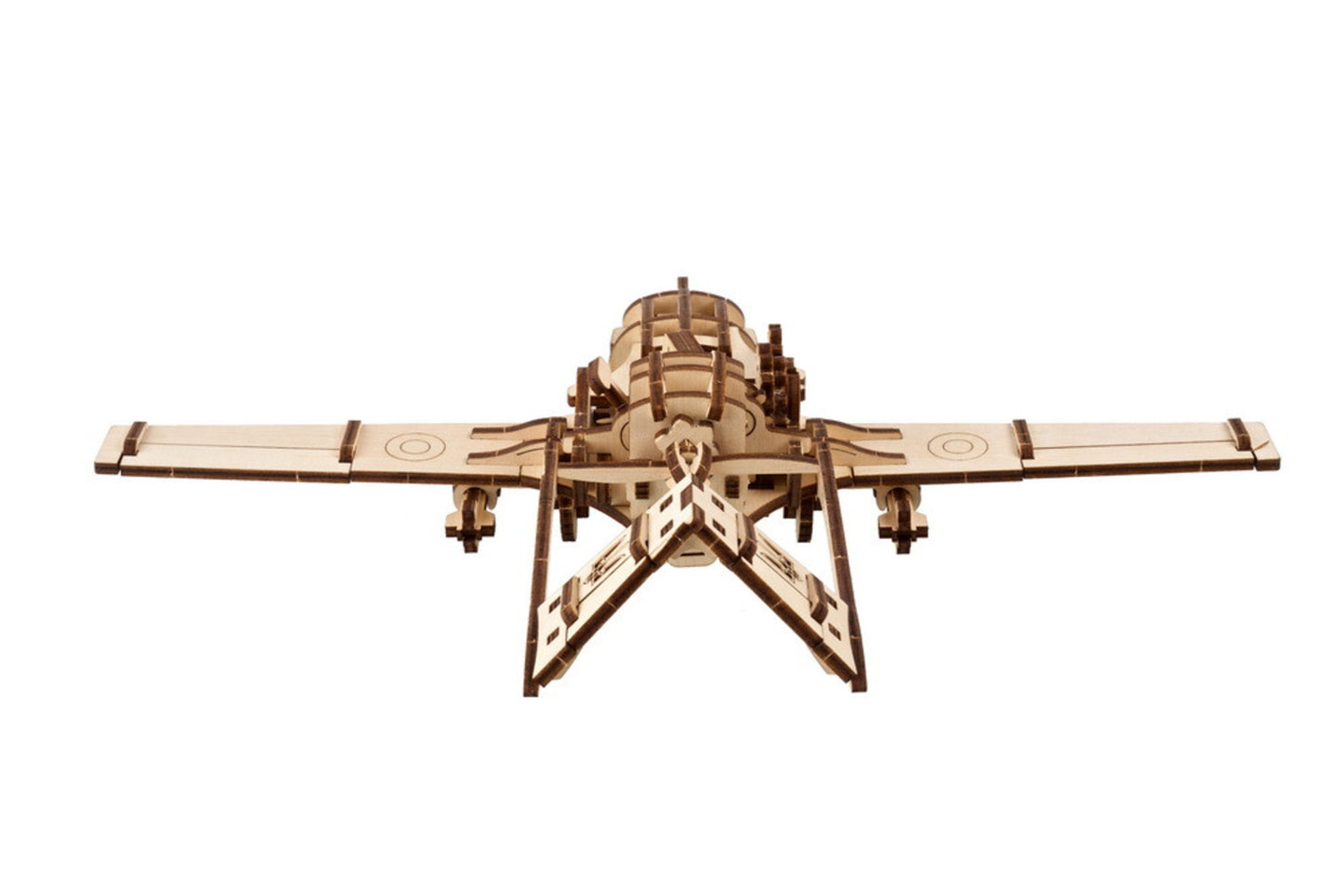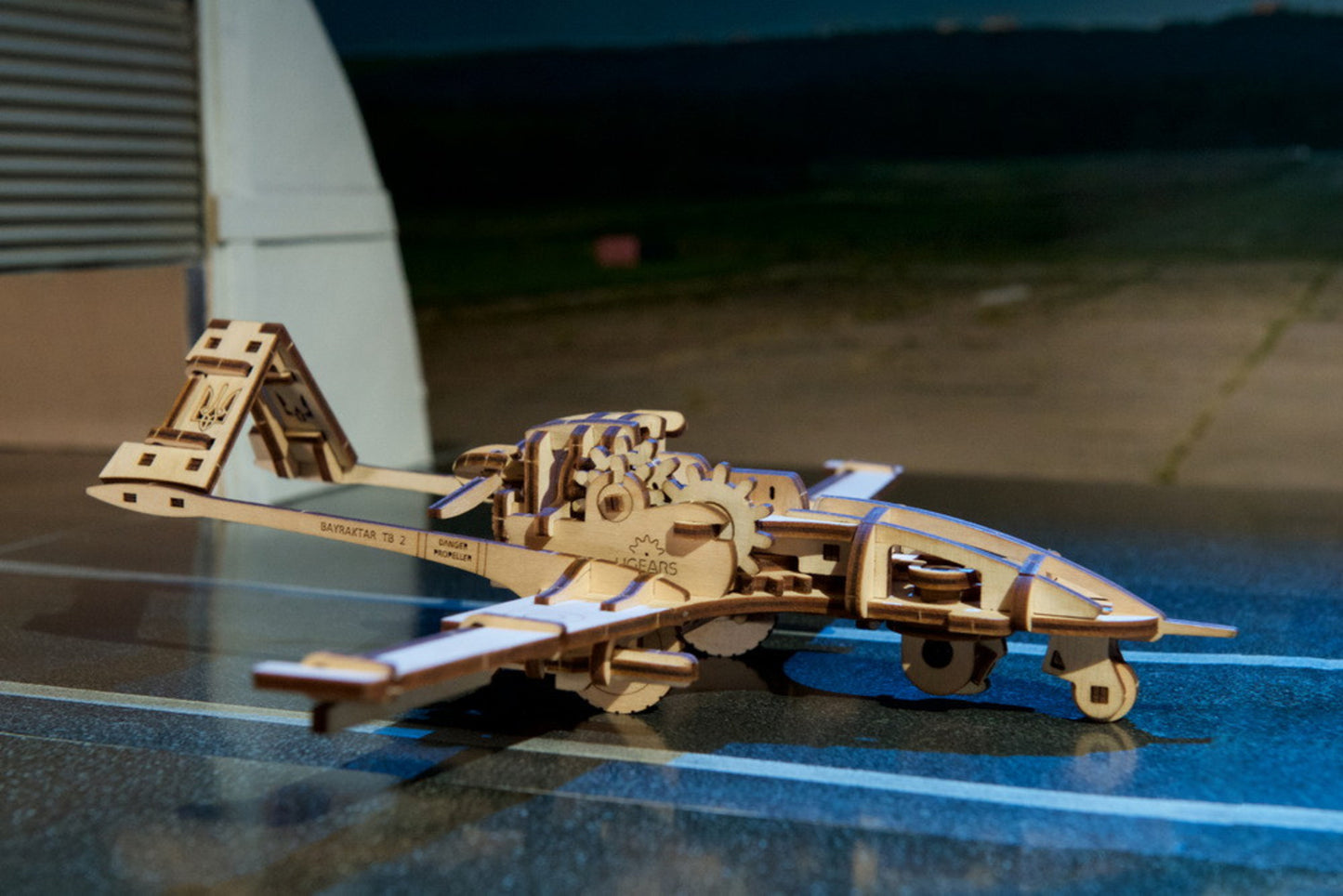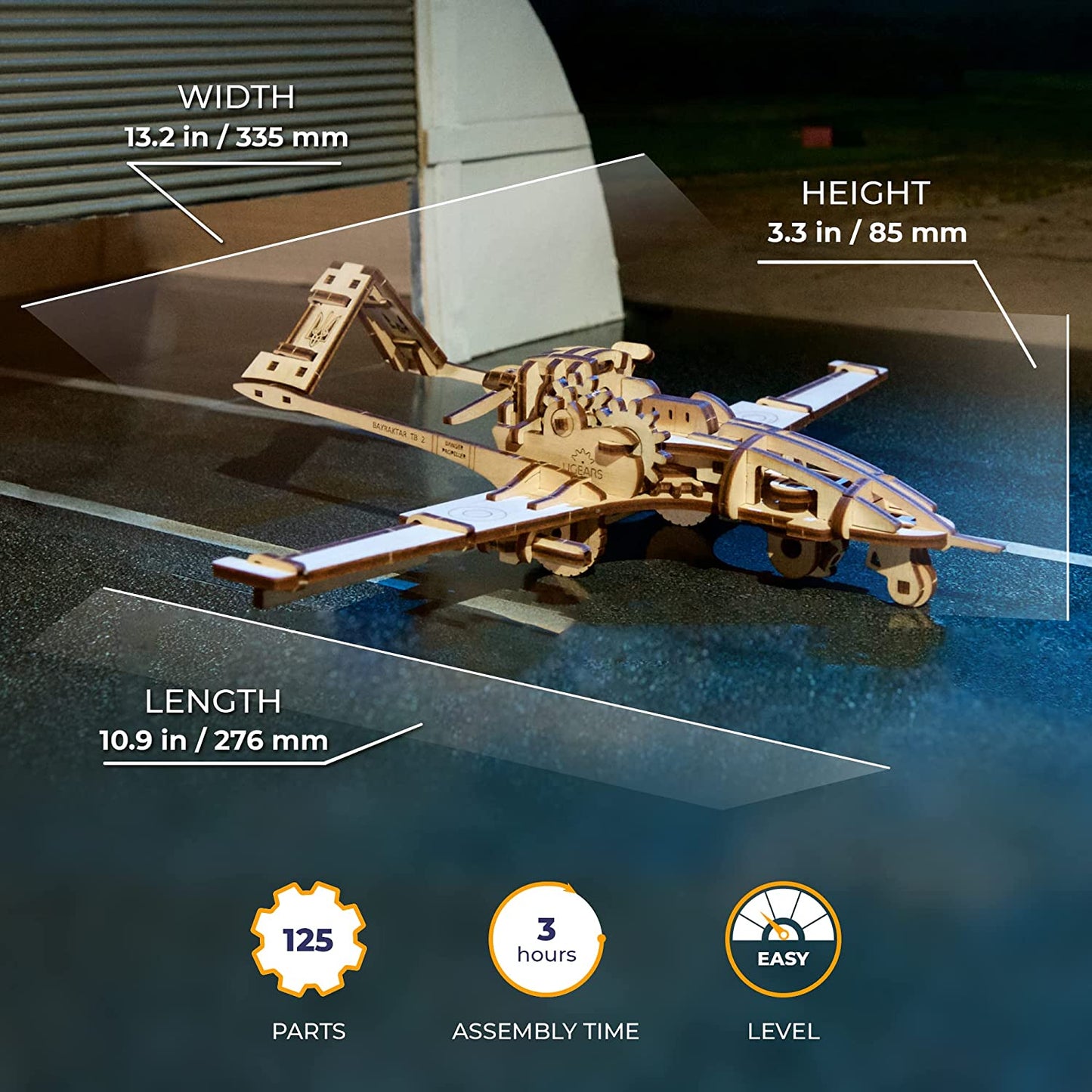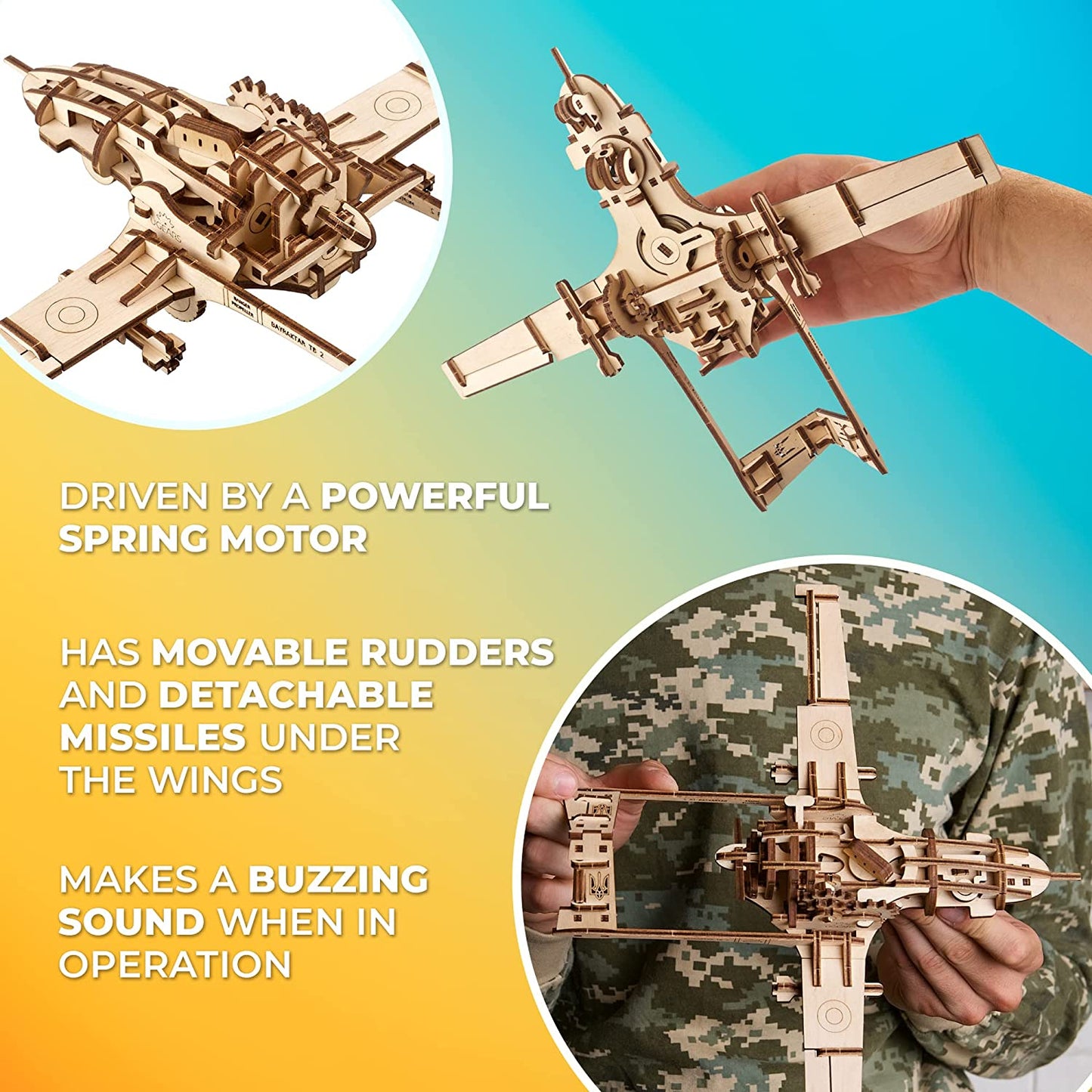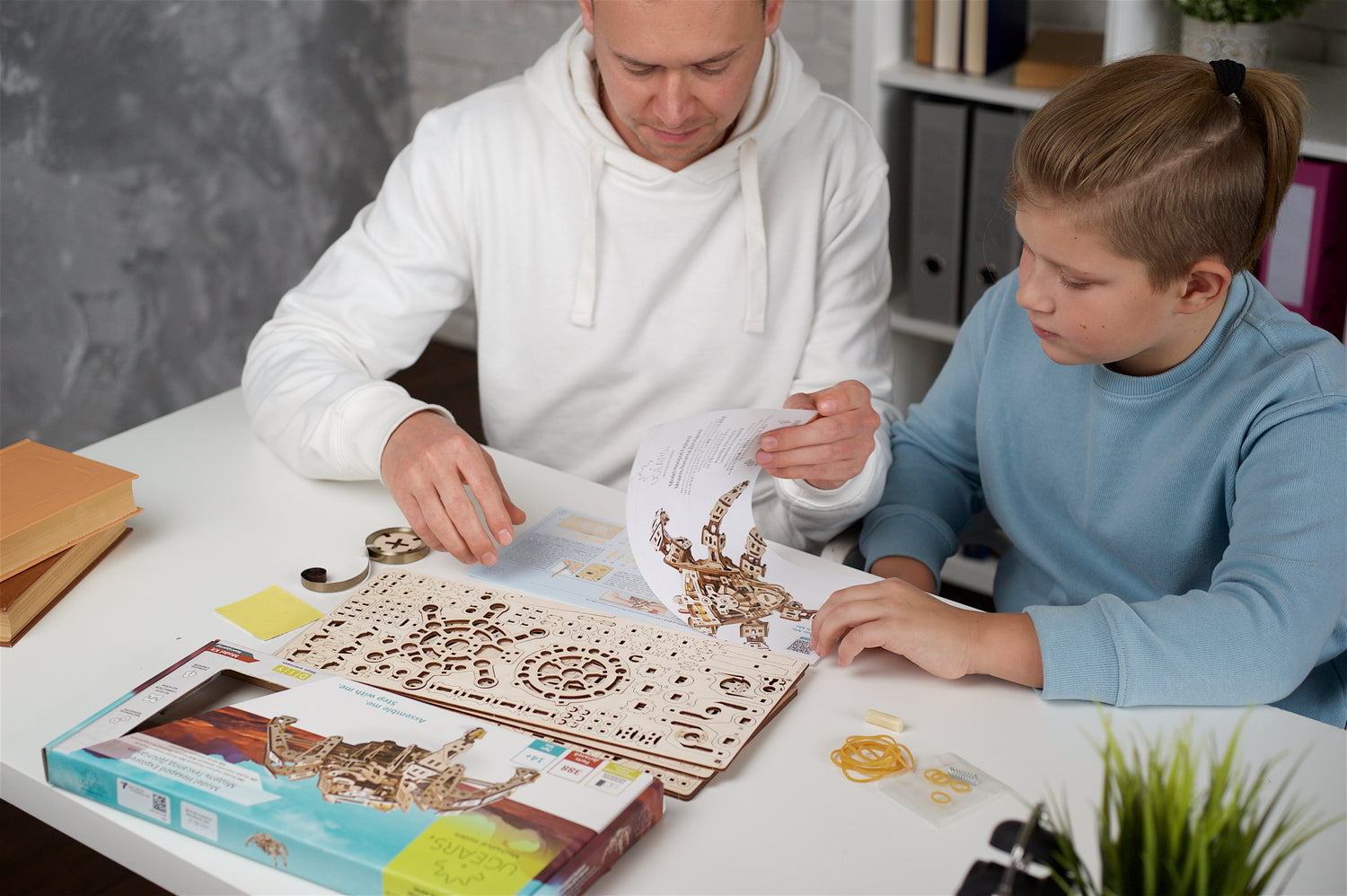 Ready to Build
Ugears models are made from sustainably sourced, laser cut plywood sheets. Everything you need is inside the box, so you can get building right away.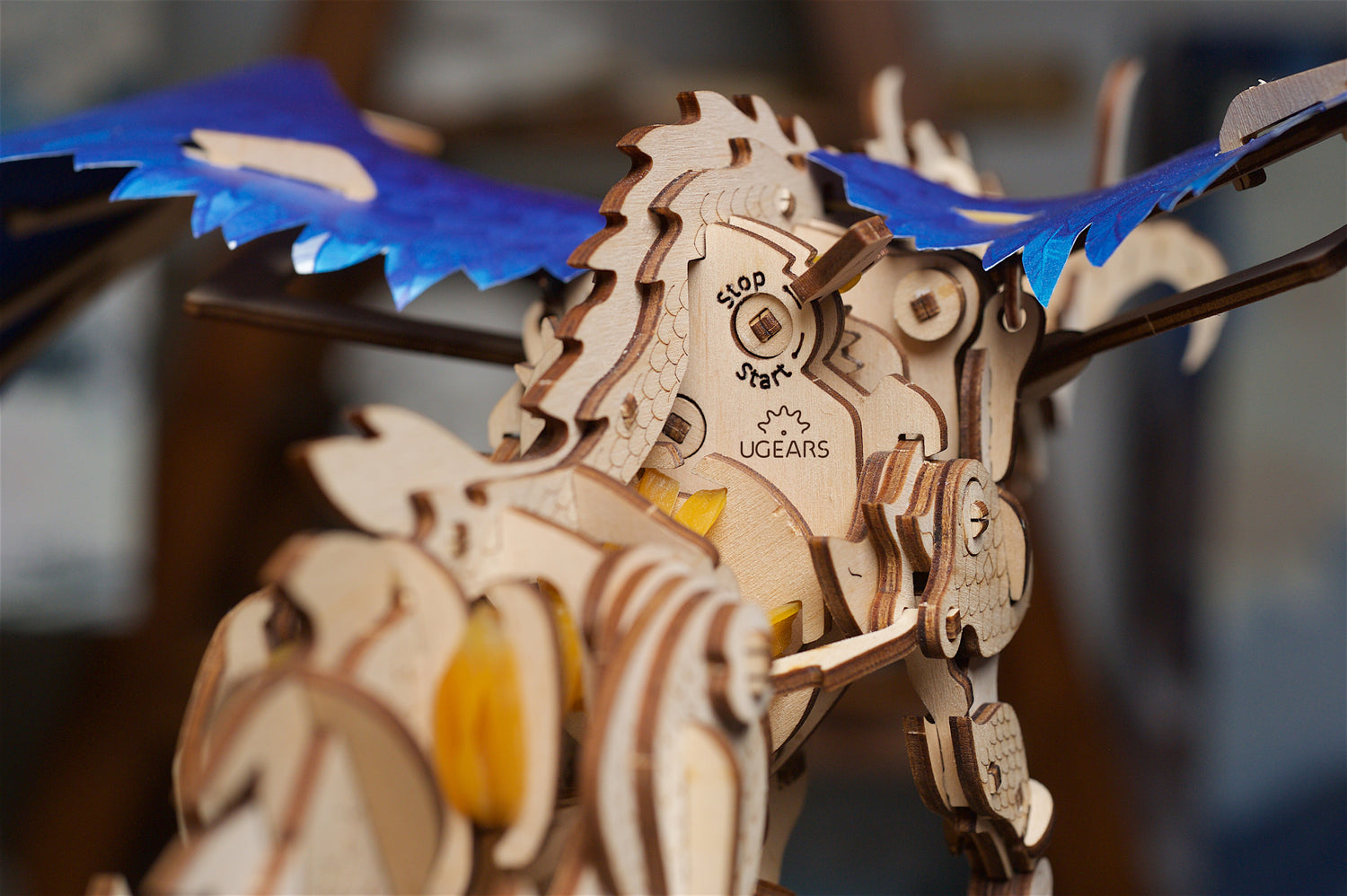 Mechanical
No batteries, no electricity, just Ugears. All mechanical models are powered by the ingenious mechanisms built by you. Just wind up your model and watch it come to life.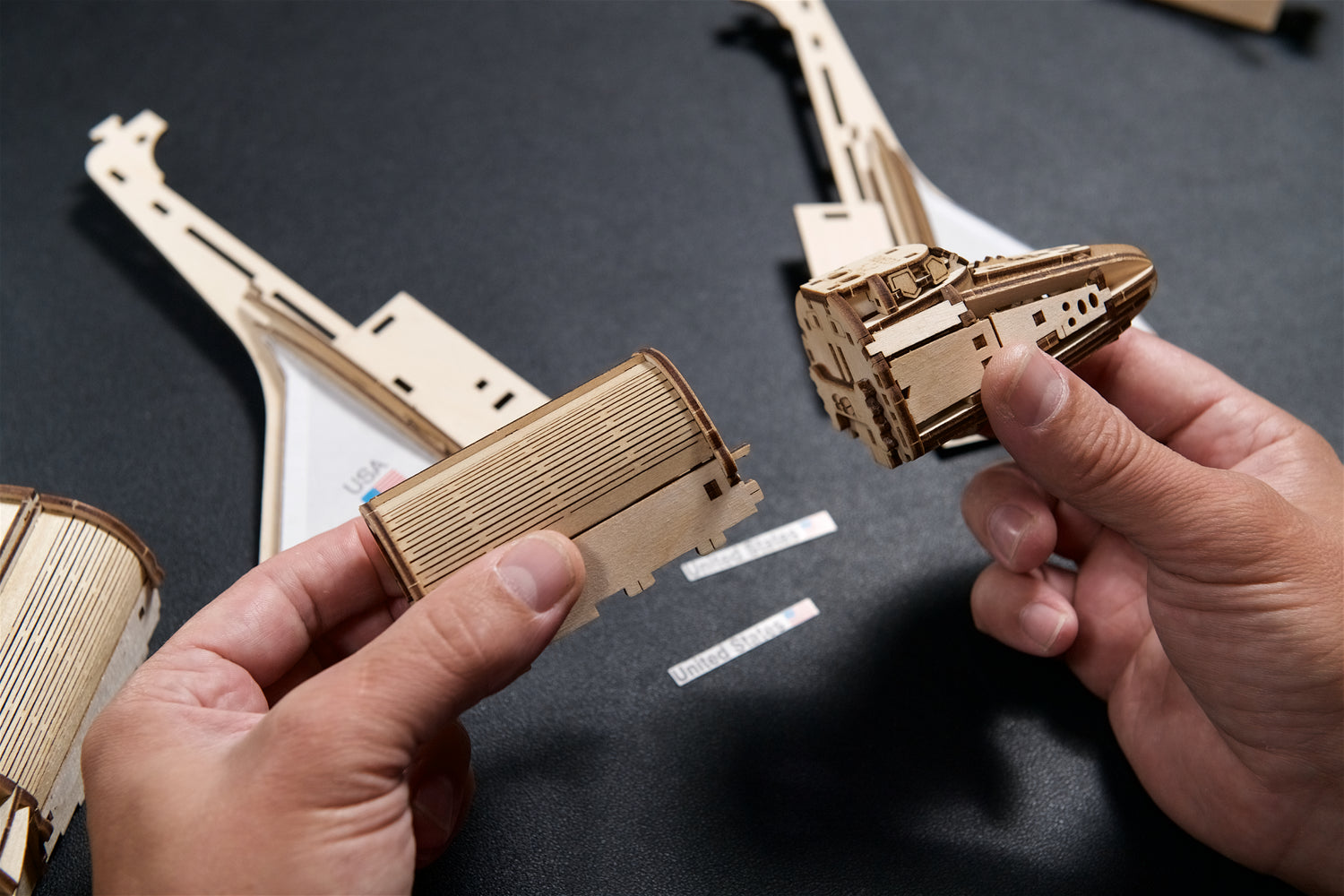 No Glue
Pieces have been designed so they will either click or slide into place. No glue or any other kind of adhesive is needed to build your model.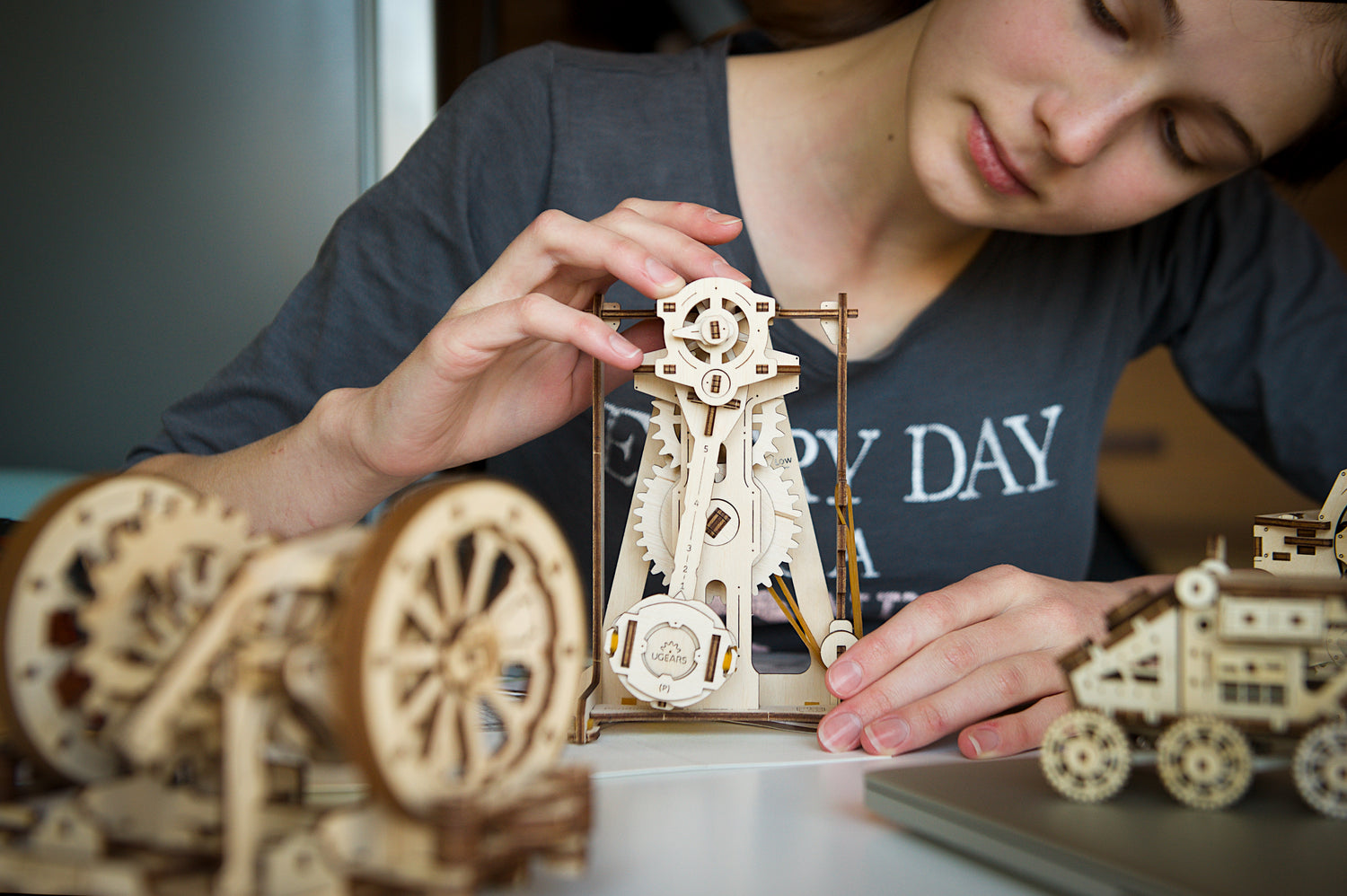 Educational
Models take inspiration from real life inventors and engineers, such as Da Vinci and Galileo. Learn the history behind the model as you build.