SKU:UGR70188
Regular price
Sale price
£57.99 GBP
Unit price
per
Liquid error (snippets/price line 121): divided by 0% OFF
Sale
Sold out
---
247

Pieces

4

Est. Time (hrs)
14+

Age

Advanced

Difficulty
---
Share
Christmas is a magical time. This year, make it more magical than ever with the UGears Harry Potter™ Advent Calendar. The excitement and adventure grow each day, starting December 1st as you open the first of 24 windows, revealing an envelope containing wooden parts and instructions. Connect the parts together to build a figurine or other special item from the universe of Harry Potter™, created by J.K. Rowling, then display them on the enchanting box, hang them on the Christmas tree, or play with them as your collection grows throughout the month.
Models in the Harry Potter™ Advent Calendar collection are made of attractive natural composite wood, and include figurines of Harry Potter™, Hermione Granger™ and Ronald Weasley™ that rotate on spinning gear platforms, as does the Goblet of Fire™. As you open the windows one by one you'll get to build iconic Harry Potter™ items, like spinning badges with the emblems of the Hogwarts™ School of Witchcraft and Wizardry and its four houses—Gryffindor™, Hufflepuff™, Ravenclaw™, and Slytherin™. These badges and many of the other items you will build are U-fidgets: fun little mechanical toys with spinning gears to keep small hands occupied. Assembly is fun and easy and can be accomplished in a few minutes.
Each DIY magical miniature model has its own movement to engage young minds and teach basic principles of mechanics. As an extra holiday decorating bonus, many models in the Harry Potter™ Advent Calendar collection have a hanging loop, making them perfect ornaments for the Christmas tree. Among these are a Golden Snitch™, Quidditch™ Beater Bats, Harry's Spellbook, Sorting Hat™, Gringotts™ Coins, Buckbeak™ hippogriff, Time-Turner, Platform 9 ¾™ sign, and a cute Hedwig™ owl. These and more are included in your Harry Potter™ Advent Calendar collection. As Christmas approaches your model collection and your children's excitement grow in tandem!
UGears is a proudly Ukrainian company producing a wide range of delightful and educational wooden mechanical models, 3D puzzles, children's colouring models, automatons, robots, wooden puzzle boxes and STEM Lab model kits. Our DIY models are known around the world for their ingenious mechanical actions, steampunk sensibility, fine detail, and charming, unexpected extra touches. The Harry Potter™ Advent Calendar is a proud addition to our catalogue and is the gift that keeps giving, as each new day brings the excitement of a new window, a new DIY project, and a new Harry Potter-themed mechanical model/ornament to play with or display.
Like all UGears models, the pieces of the individual models included in The Harry Potter™ Advent Calendar box set are laser pre-cut into high quality composite wooden boards. You won't need any glue or special tools to build these charming wooden model keepsakes, just snap the precision-lasered wooden pieces together. Illustrated step-by-step instructions guide your assembly, in 11 languages (Ukrainian, English, German, Spanish, French, Italian, Portuguese, Polish, Japanese, Chinese, and Korean). If you ever get stuck or need help troubleshooting, just contact our customer service team and we'll be glad to help. Feeling extra creative and extra festive? You can colour, paint or stain your Harry Potter-themed models in a colour scheme of your choosing (paints not included).
The Harry Potter™ Advent Calendar is sure to delight fans of the Harry Potter series of books and movies, model enthusiasts, parents looking for a fun craft project to build with their children over the holidays, and anyone looking to add a little magic to the season. When you build a UGears model you don't just have a display piece, you have an ingenious mechanical toy that's designed to engage young imaginations. Help your children discover the fun of mechanics, gears, and building something with their own hands. The Harry Potter™ Advent Calendar is a great gift for the holidays, as each day brings a new activity and a new wizarding toy / keepsake / ornament. Can't wait for December to roll around? There's no reason you can't celebrate "Christmas in July," or make any month you choose a fun-filled Harry Potter™ Advent extravaganza!
Kit contains all required components and no glue is required
Precision laser cut plywood. Only requires assembly.
UGears Mechanical Models are self-propelled, mechanical wooden model assembly kits.
Perfect for family projects, puzzle enthusiasts, and hands-on STEM learning
247 parts
Assembly time: 4 hours
Model size 44x26x10mm
Model size 130x59x35mm
Harry Potter
™

Advent Calendar
Assemble me. Discover the world of Harry Potter

™

with me

Christmas is a magical time. This year, make it more magical than ever with the Ugears Harry Potter™ Advent Calendar. The excitement and adventure grow each day, starting December 1st as you open the first of 24 windows, revealing an envelope containing wooden parts and instructions. Connect the parts together to build a figurine or other special item from the universe of Harry Potter™, created by J.K. Rowling, then display them on the enchanting box, hang them on the Christmas tree, or play with them as your collection grows throughout the month.

Models in the Harry Potter™ Advent Calendar collection are made of attractive natural composite wood, and include figurines of HarryPotter™, Hermione Granger™ and Ronald Weasley™ that rotate on spinning gear platforms, as does the Goblet of Fire™. As you open the windows one by one you'll get to build iconic Harry Potter™ items, like spinning badges with the emblems of the Hogwarts™ School of Witchcraft and Wizardry and its four houses—Gryffindor™, Hufflepuff™, Ravenclaw™, and Slytherin™. These badges and many of the other items you will build are U-fidgets: fun little mechanical toys with spinning gears to keep small hands occupied. Assembly is fun and easy and can be accomplished in a few minutes.

Each DIY magical miniature model has its own movement to engage young minds and teach basic principles of mechanics. As an extra holiday decorating bonus, many models in the Harry Potter™ Advent Calendar collection have a hanging loop, making them perfect ornaments for the Christmas tree. Among these are a Golden Snitch™, Quidditch™ Beater Bats, Harry's Spellbook, Sorting Hat™, Gringotts™ Coins, Buckbeak™ hippogriff, Time-Turner, Platform 9 ¾™ sign, and a cute Hedwig™ owl. These and more are included in your Harry Potter™ Advent Calendar collection. As Christmas approaches your model collection and your children's excitement grow in tandem!

Ugears is a proudly Ukrainian company producing a wide range of delightful and educational wooden mechanical models, 3D puzzles, children's coloring models, automatons, robots, wooden puzzle boxes and STEM Lab model kits. Our DIY models are known around the world for their ingenious mechanical actions, steampunk sensibility, fine detail, and charming, unexpected extra touches. The Harry Potter™ Advent Calendar is a proud addition to our catalogue and is the gift that keeps giving, as each new day brings the excitement of a new window, a new DIY project, and a new Harry Potter-themed mechanical model/ornament to play with or display.

Like all Ugears models, the pieces of the individual models included in The Harry Potter™ Advent Calendar box set are laser pre-cut into high quality composite wooden boards. You won't need any glue or special tools to build these charming wooden model keepsakes, just snap the precision-lasered wooden pieces together. Illustrated step-by-step instructions guide your assembly, in 11 languages (Ukrainian, English, German, Spanish, French, Italian, Portuguese, Polish, Japanese, Chinese, and Korean). If you ever get stuck or need help troubleshooting, just contact our customer service team and we'll be glad to help. Feeling extra creative and extra festive? You can color, paint or stain your Harry Potter-themed models in a color scheme of your choosing (paints not included).

The Harry Potter™ Advent Calendar is sure to delight fans of the Harry Potter series of books and movies, model enthusiasts, parents looking for a fun craft project to build with their children over the holidays, and anyone looking to add a little magic to the season. When you build a Ugears model you don't just have a display piece, you have an ingenious mechanical toy that's designed to engage young imaginations. Help your children discover the fun of mechanics, gears, and building something with their own hands. The Harry Potter™ Advent Calendar is a great gift for the holidays, as each day brings a new activity and a new wizarding toy / keepsake / ornament. Can't wait for December to roll around? There's no reason you can't celebrate "Christmas in July," or make any month you choose a fun-filled Harry Potter™ Advent extravaganza!
View full details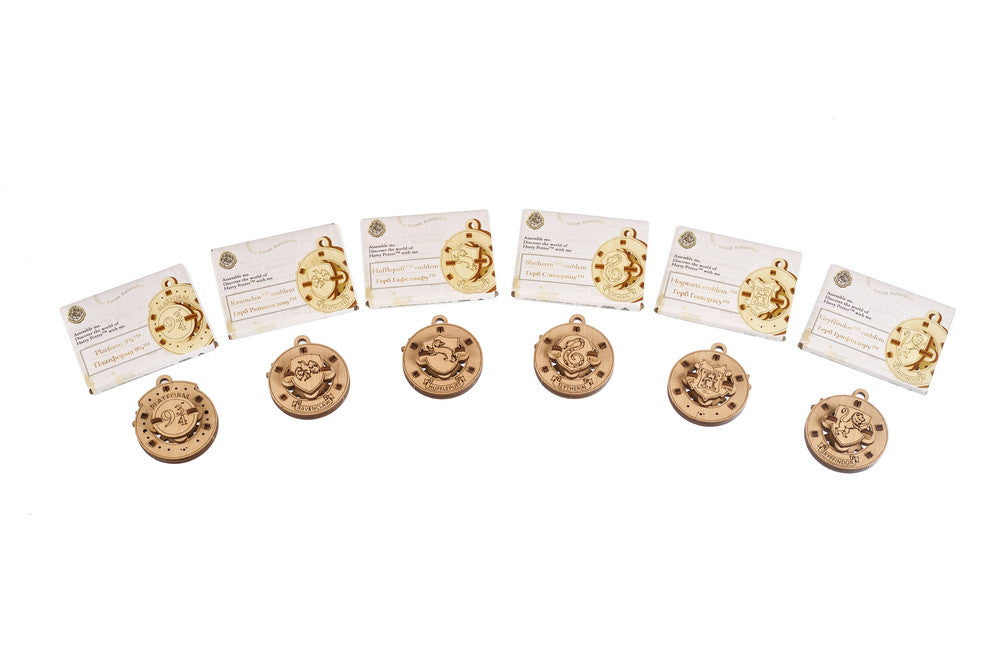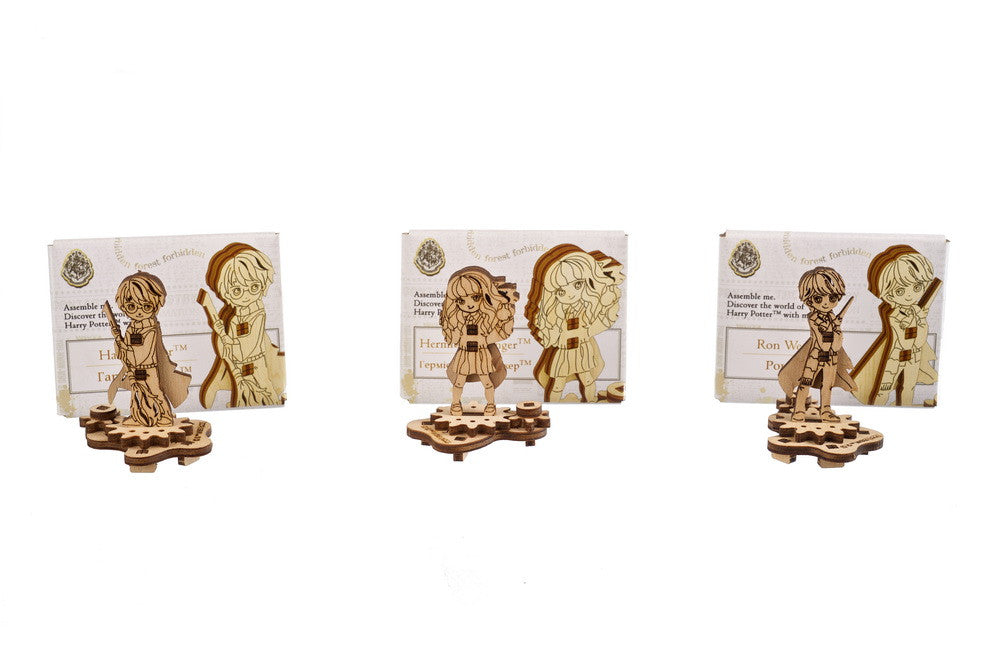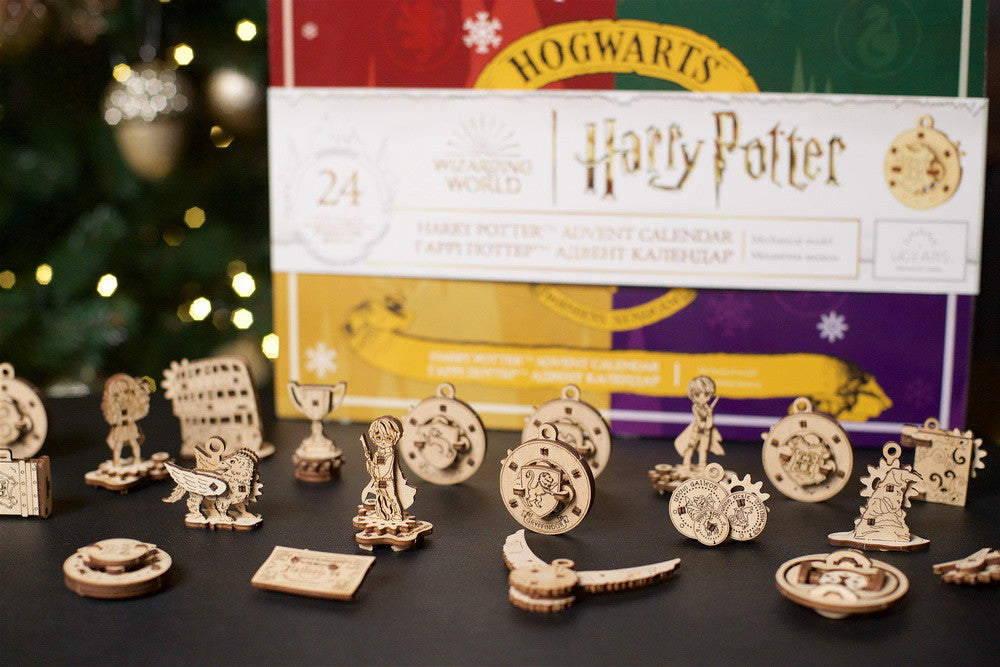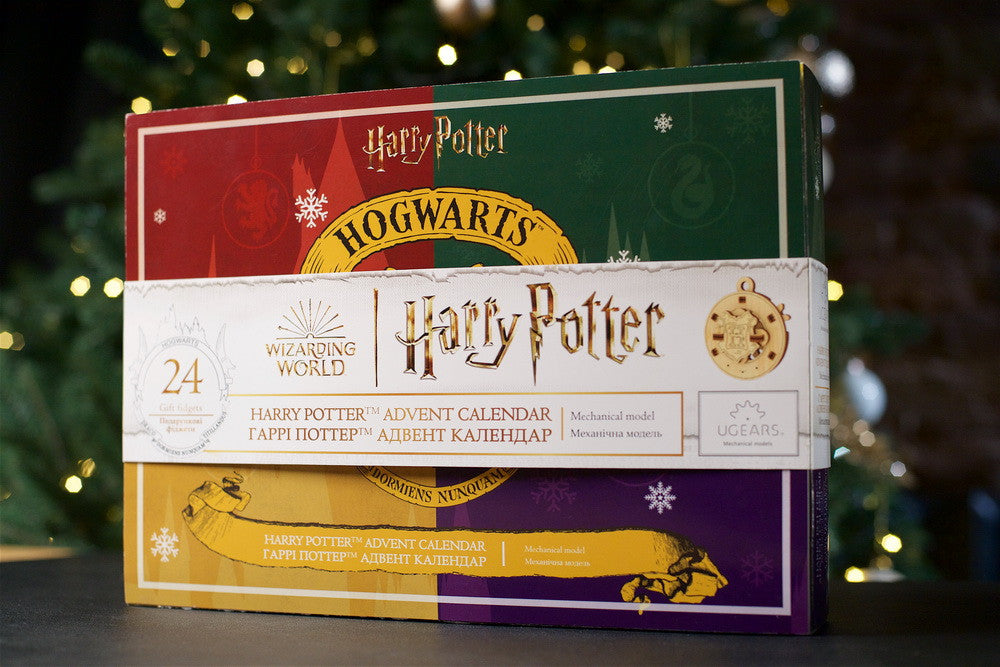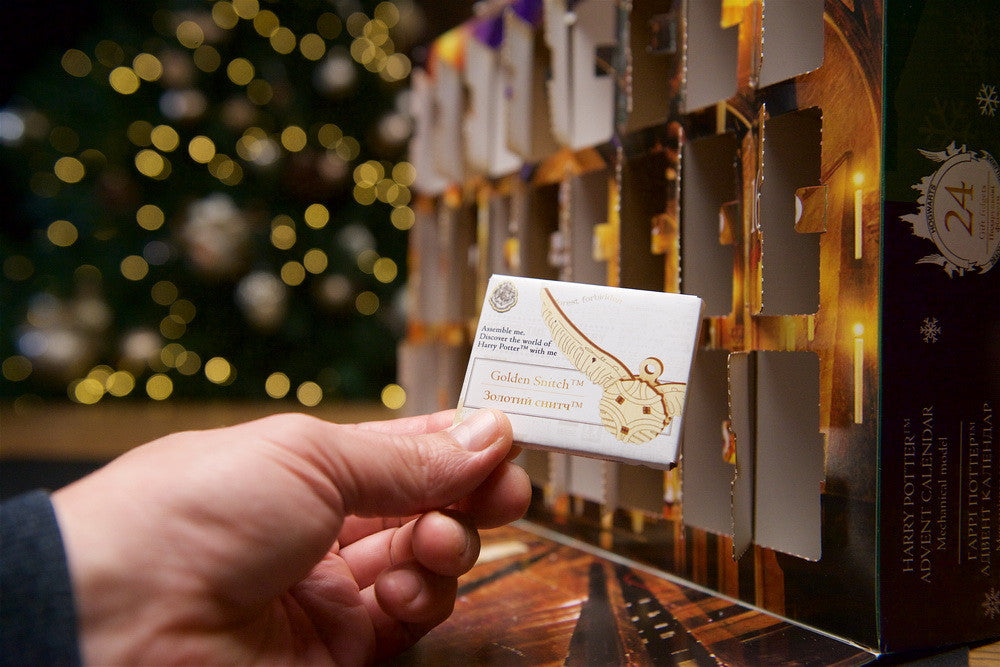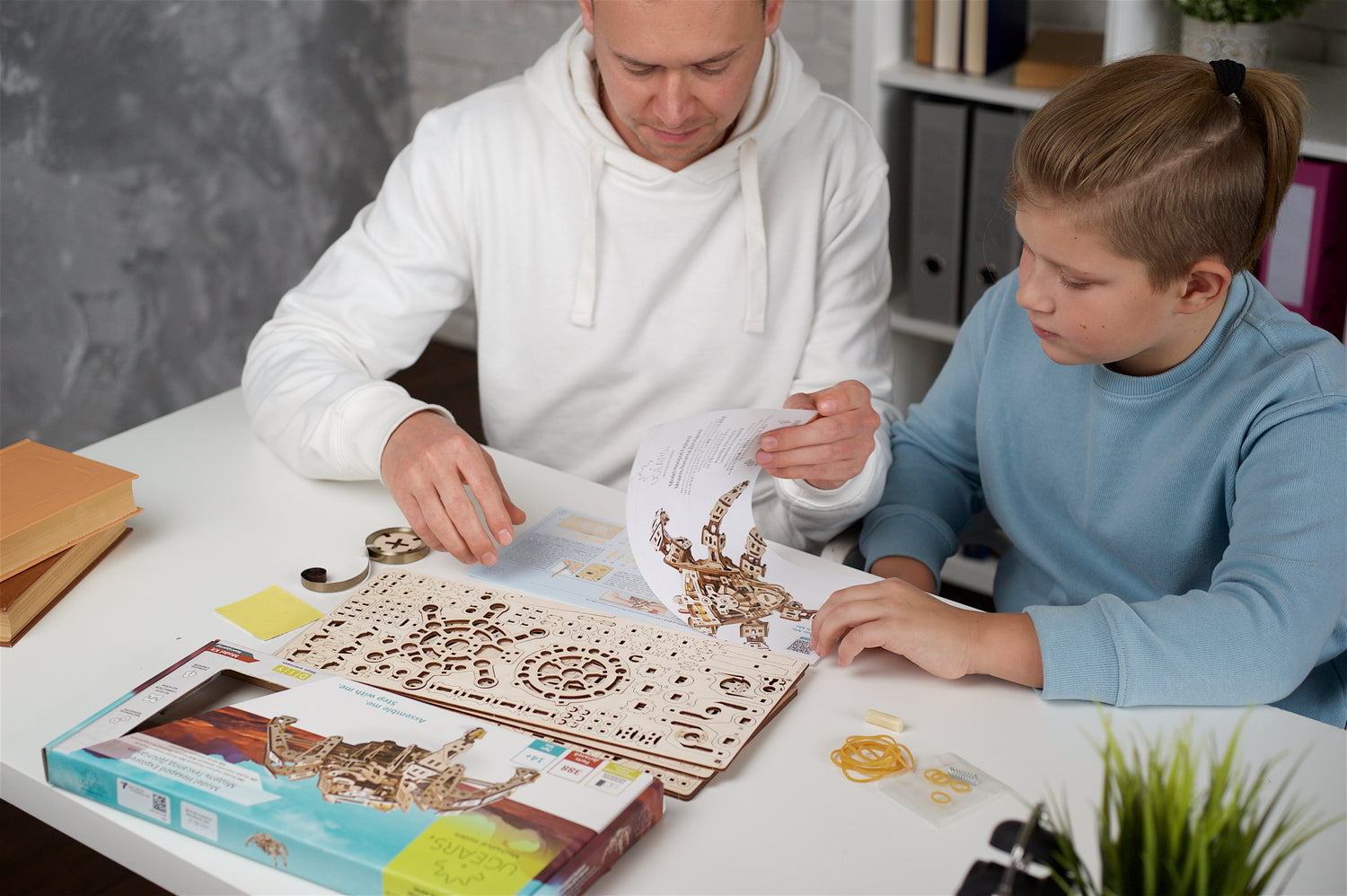 Ready to Build
Ugears models are made from sustainably sourced, laser cut plywood sheets. Everything you need is inside the box, so you can get building right away.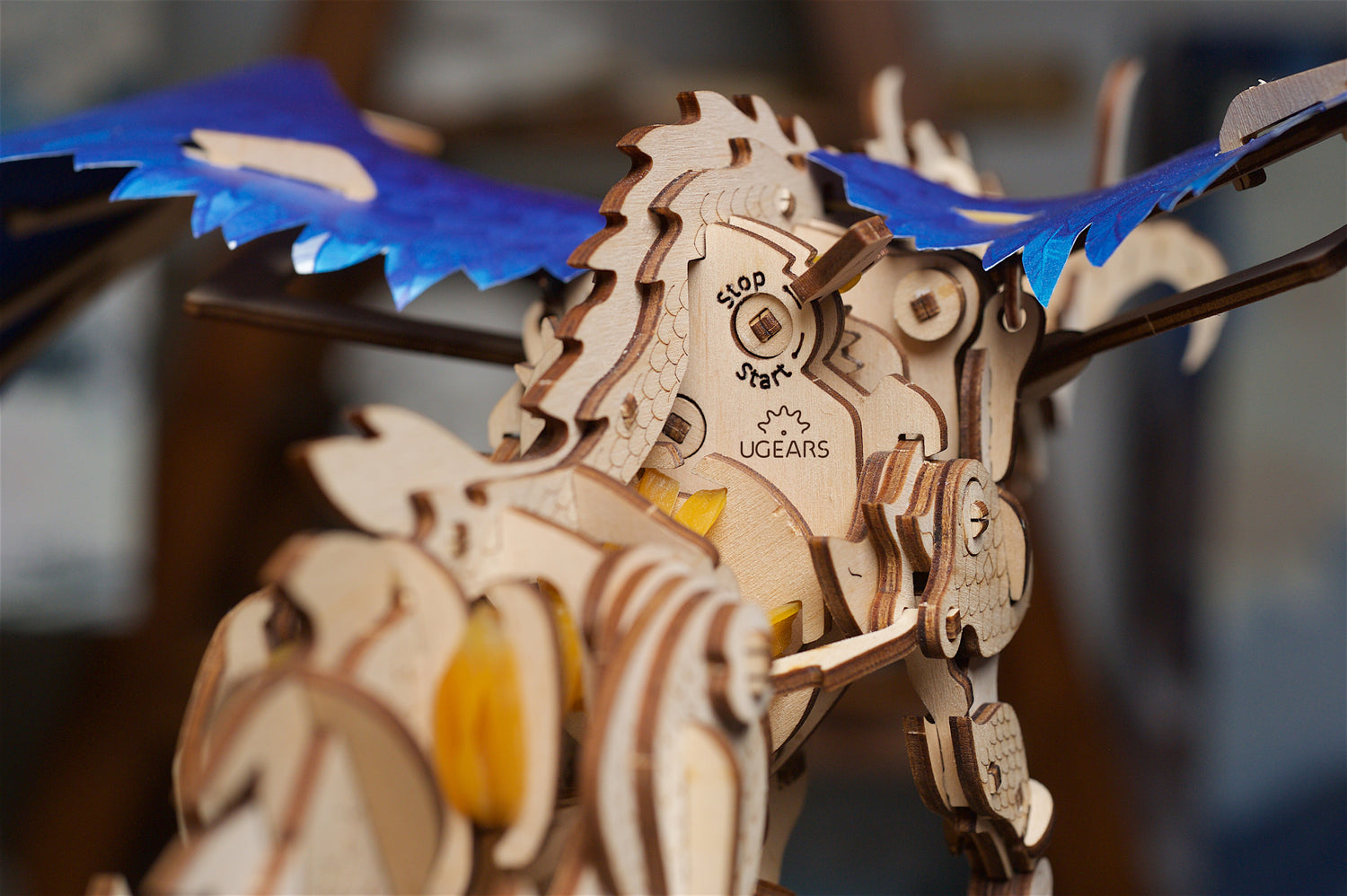 Mechanical
No batteries, no electricity, just Ugears. All mechanical models are powered by the ingenious mechanisms built by you. Just wind up your model and watch it come to life.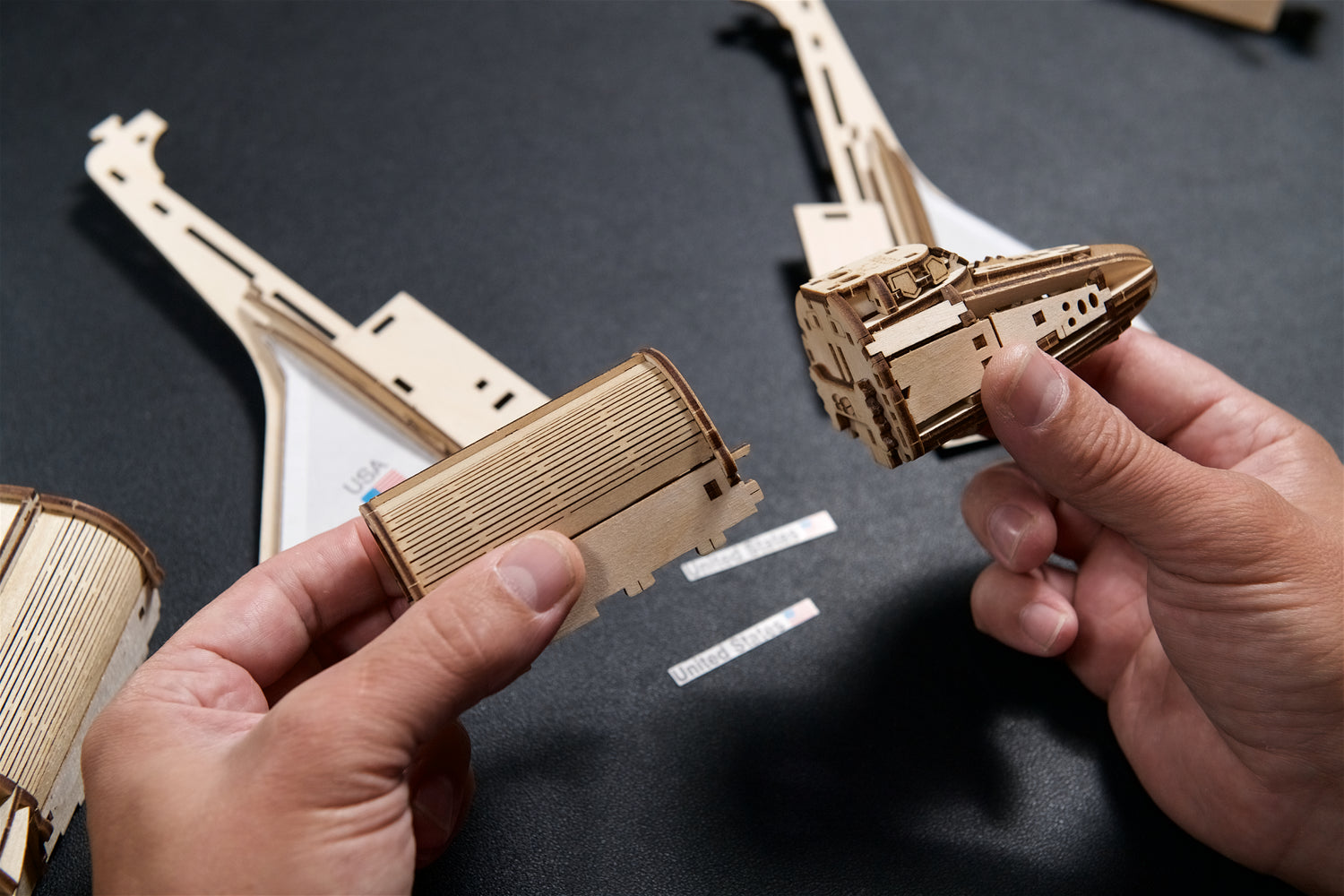 No Glue
Pieces have been designed so they will either click or slide into place. No glue or any other kind of adhesive is needed to build your model.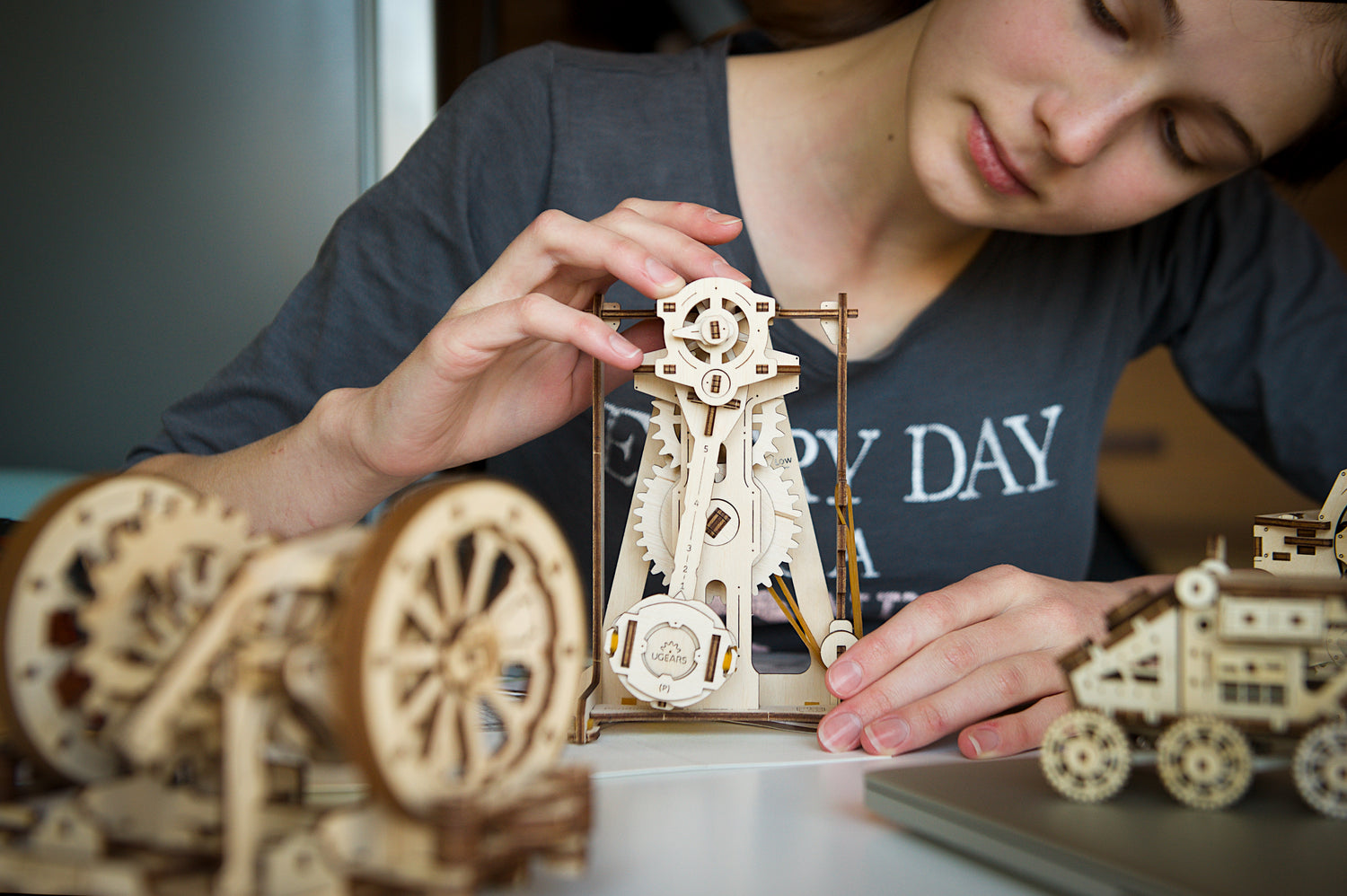 Educational
Models take inspiration from real life inventors and engineers, such as Da Vinci and Galileo. Learn the history behind the model as you build.