SKU:UGR70187
Regular price
Sale price
£12.99 GBP
Unit price
per
Liquid error (snippets/price line 121): divided by 0% OFF
Sale
Sold out
---
52

Pieces

30

Est. Time (min)
LxWxH 305 mm x 110 mm x 40 mm
---
Share
Inspired by Real Stories from the Front: The UGears Ghost of Kyiv attacks model is part of the exclusive Age of Bravery collection by UGears, made to honour the Ukrainian nation and the Ukrainian defenders who are defending their native land.
Relaxing and fun: Putting together our mechanical model kits is an exciting, hands-on experience. You can assemble this 3D wooden puzzle alone or in good company. Plan for about 30 minutes to put together this Ghost of Kyiv model.
Mechanical power: The mechanism is quite interesting: move the lever on the front right to make the Ukrainian MiG-29 launch a missile that hits the enemy aircraft, which then spins in the air, simulating a fall. Thus, The Ghost of Kyiv protects the capital of Ukraine.
Everything in the box: No extra tools or glue are needed to assemble UGears engineering toys and DIY projects for adults. Illustrated, step-by-step instructions will keep you on track
Bonus Gift: Each kit of the Age of Bravery series includes a bonus surprise: a Fidget Trident. This miniature model by UGears is an original souvenir with its own mechanical action, and has a lug for hanging or for use as a stylish, patriotic keychain
Kit contains all required components and no glue is required
Precision laser cut plywood. Only requires assembly.
UGears Mechanical Models are self-propelled, mechanical wooden model assembly kits.
Perfect for family projects, puzzle enthusiasts, and hands-on STEM learning
52 parts
Assembly time: 0.5 hours
Model size 305x110x40mm
The Ghost of Kyiv attacks
Assemble me. I will protect your city!
Modern Ukraine has a beautiful legend about a heroic ace pilot who defended the skies over Kyiv in his MiG-29 fighter. During the first 30 hours of the full-scale invasion of russia, "The Ghost of Kyiv" shot down six hostile russian aircraft, taking his place in the history of Ukraine forever. In total, he was credited with at least 40 kills. People called this unknown hero "The Ghost of Kyiv." It is impossible to overcome him, it is impossible not to admire him. In fact, the "Ghost of Kyiv" is a composite character of the pilots of the 40th Tactical Air Force Brigade of Ukraine, which has bravely defended Ukrainian skies ever since russia launched its war of aggression.
Ugears presents The Ghost of Kyiv Attacks, another mechanical mini-model of the special exclusive Age of Bravery collection. We developed this collection to pay tribute to the Ukrainian nation and Ukrainian defenders throughout history, including those fighting for the freedom of our country right now. We call the Age of Bravery series models "mechanical stories" because they depict real events of the current war.
The Ghost of Kyiv Attacks model consists of a MiG-29 fighter of the Ukrainian Air Force and a fighter of the russian invaders. The mechanism is quite interesting: move the lever on the front right to make the Ukrainian MiG-29 launch a missile that hits the enemy aircraft, which then spins in the air, simulating a fall. Thus, The Ghost of Kyiv protects the capital of Ukraine. The main historical sights of Kyiv are engraved on the model: St. Sophia Cathedral, a monument to Vladimir the Great and a monument to the founders of Kyiv: Kyi, Shchek, and Khoriv. On the model, not only the missile moves but also the clouds.
Each kit of the Age of Bravery series includes a bonus surprise: a Fidget Trident. This miniature model by Ugears is an original souvenir with its own mechanical action, and has a lug for hanging or for use as a stylish, patriotic keychain. The Trident is the coat of arms of Ukraine, a symbol of its strength, freedom, and indomitable spirit.
Our engineers and designers have made the Age of Bravery series models simple, with straightforward mechanisms. That's why even beginners who have never done modeling before can assemble them.
The Ghost of Kyiv Attacks wooden model has 52 parts. It will take you no more than 30minutes to build this interesting toy with its fascinating backstory. In the kit, you will find everything you need for assembly. No glue or other additional tools are needed. All parts are carefully laser cut on a plywood board, and can be removed with light pressure then connected together following illustrated, step-by-step instructions in 11 languages (English, Ukrainian, German, Spanish, French, Italian, Portuguese, Polish, Japanese, Chinese, and Korean). Assembly is simple and fun, and if any of the parts break we'll send you replacement parts for free!
Assemble The Ghost of Kyiv Attacks mechanical 3D puzzle and become part of the legend of the brave fighter pilot heroically defending his city against invaders. This model will be a fun entertainment for you, your friends, and family. It's also an original gift for anyone interested in modeling, history, and for those rooting for Ukraine to preserve its freedom and independence. Ukraine will win!
Glory to the Armed Forces of Ukraine! Glory to Ukraine!
View full details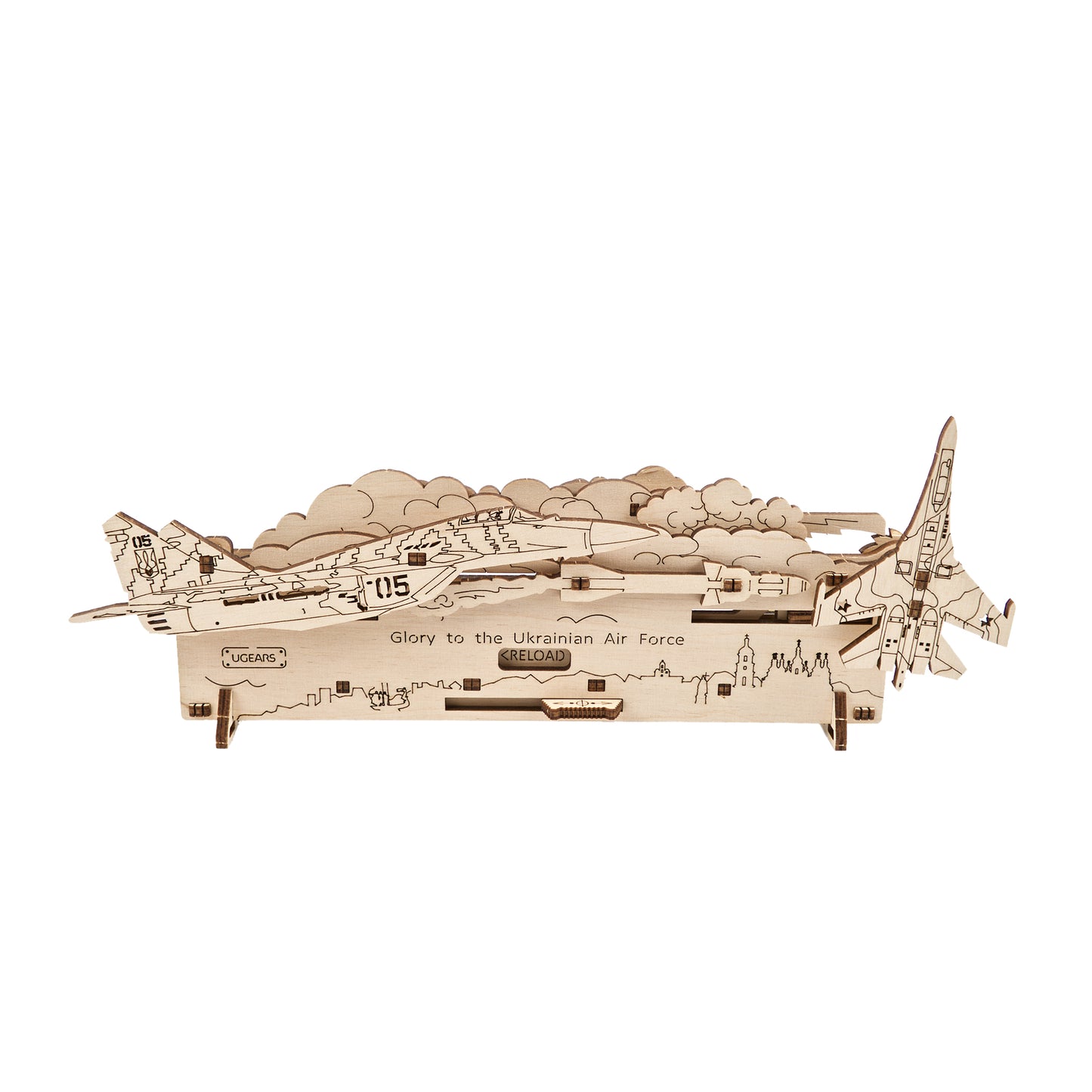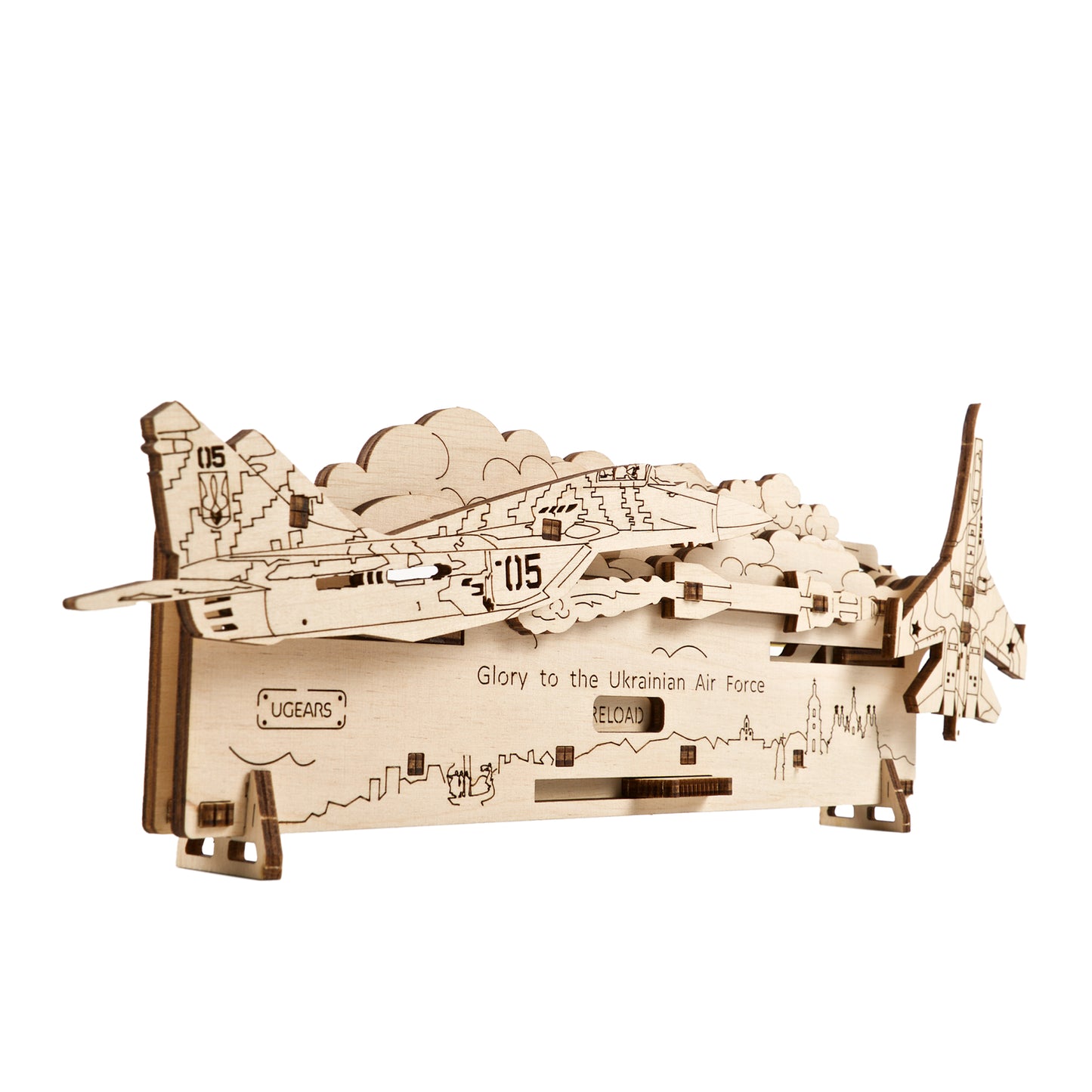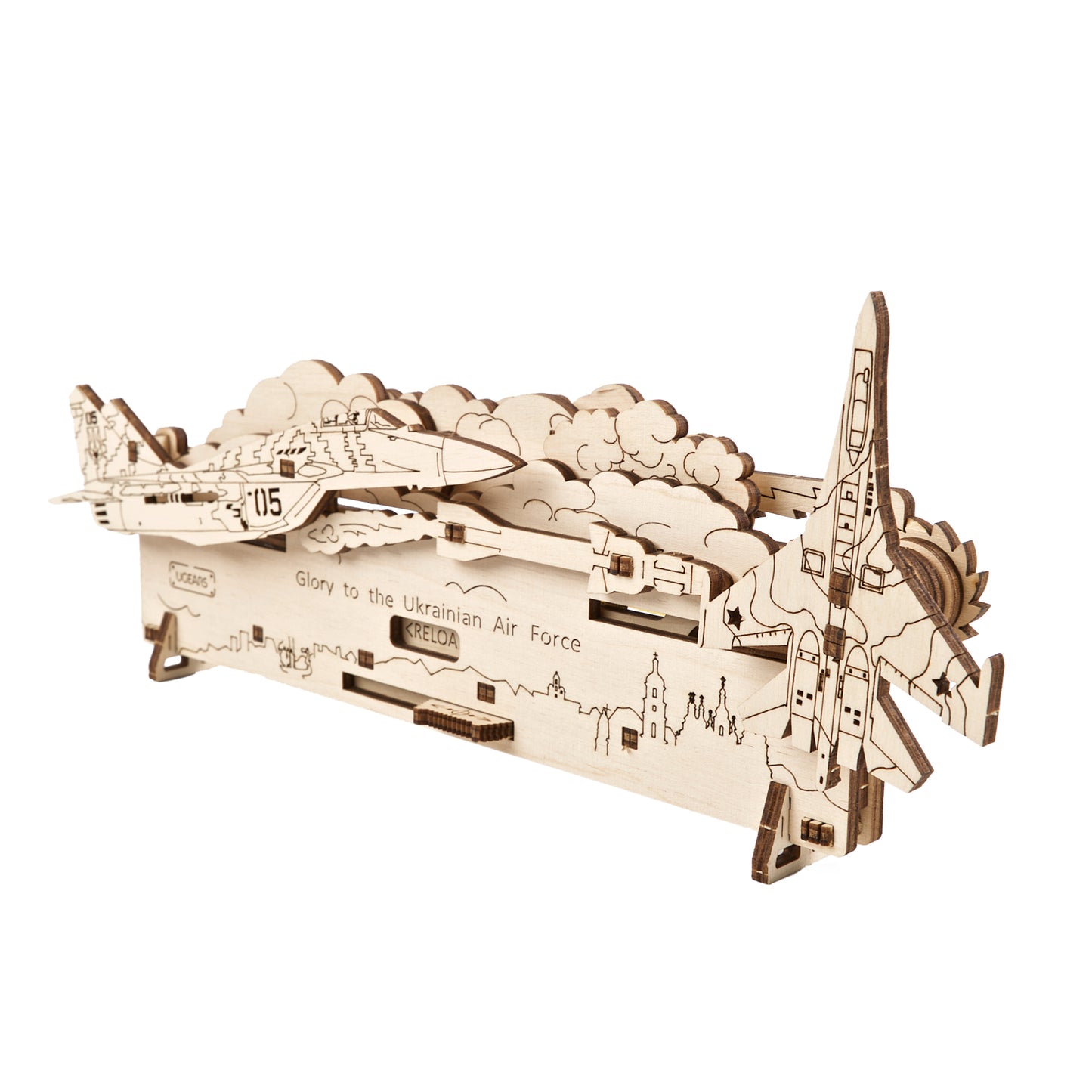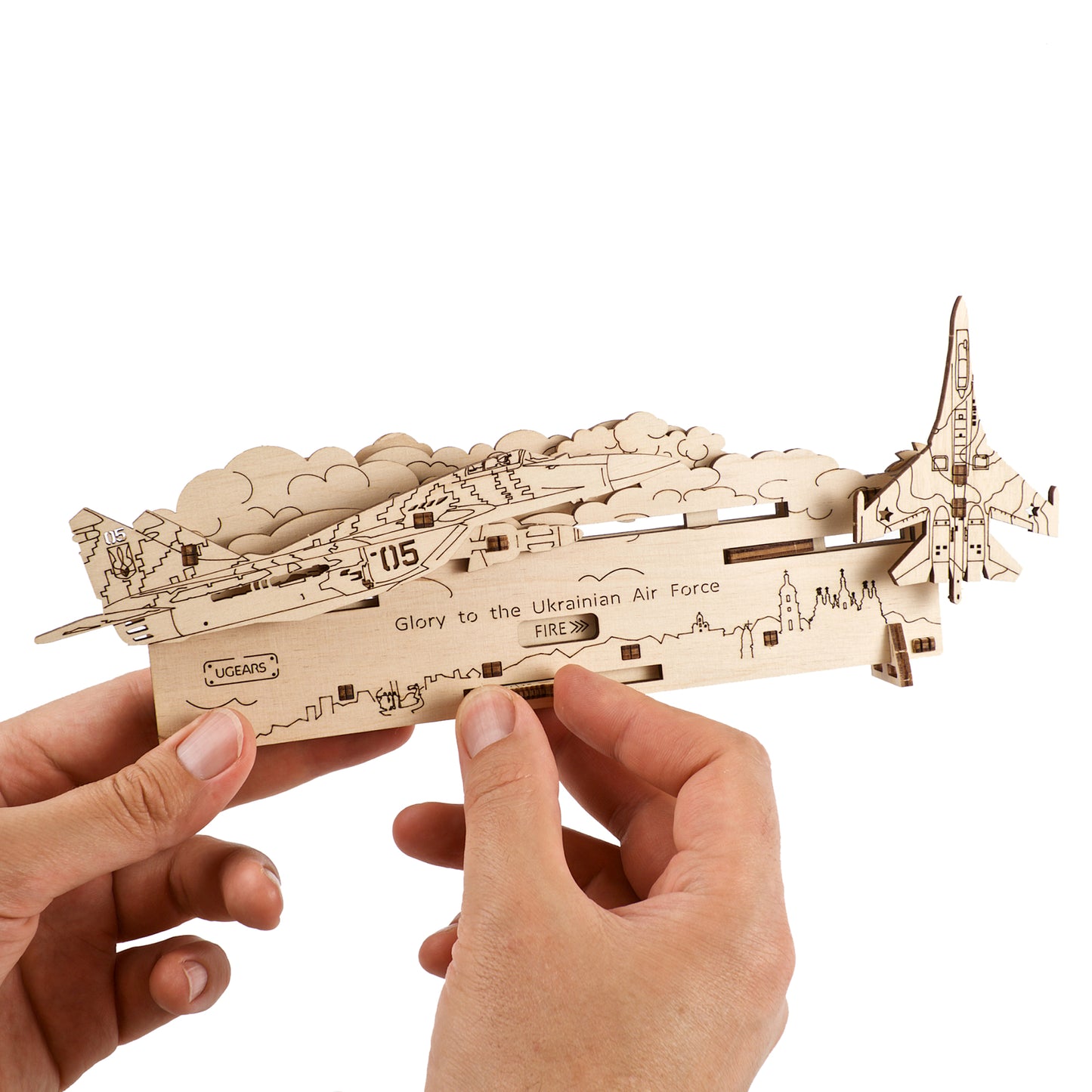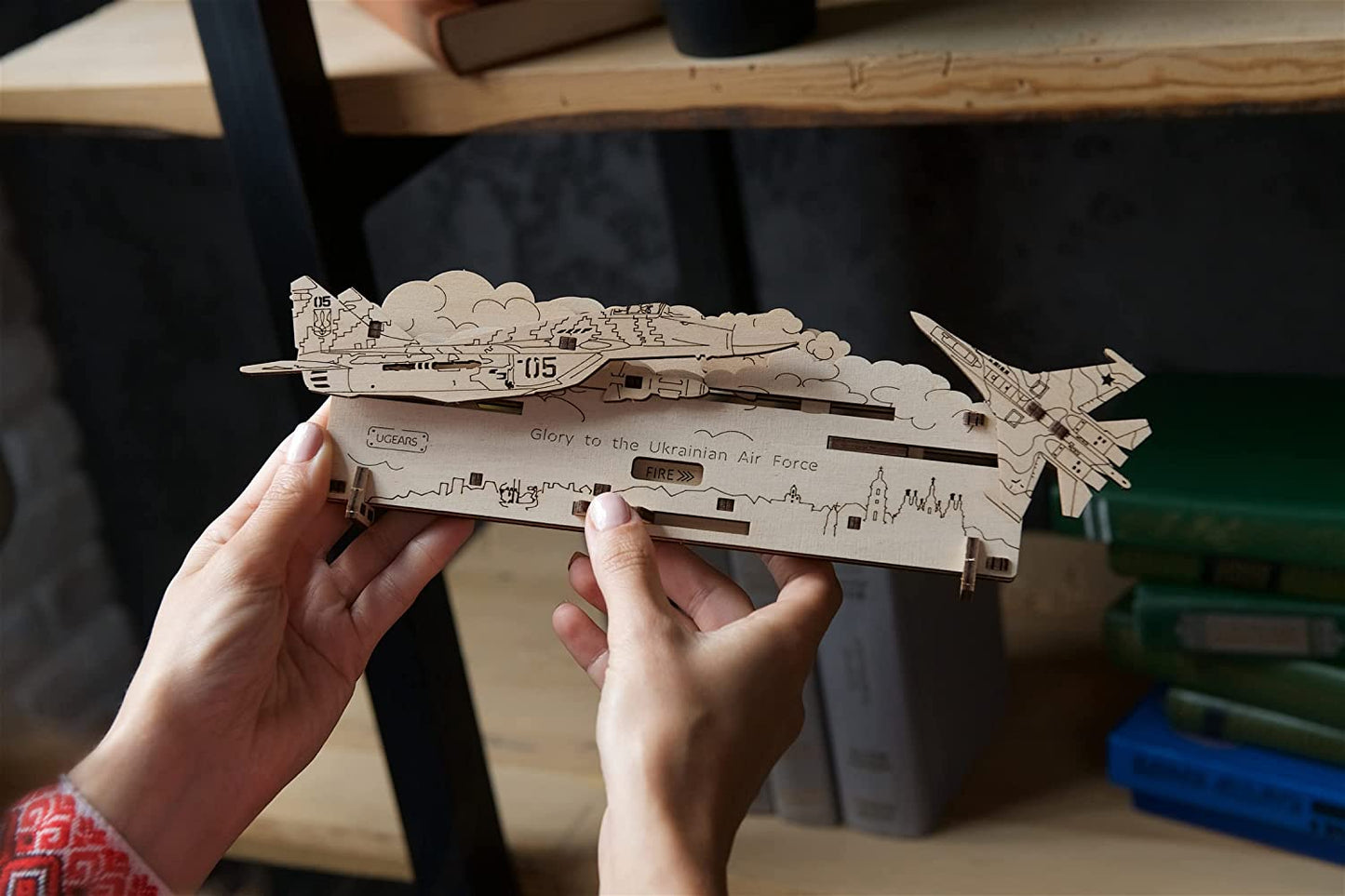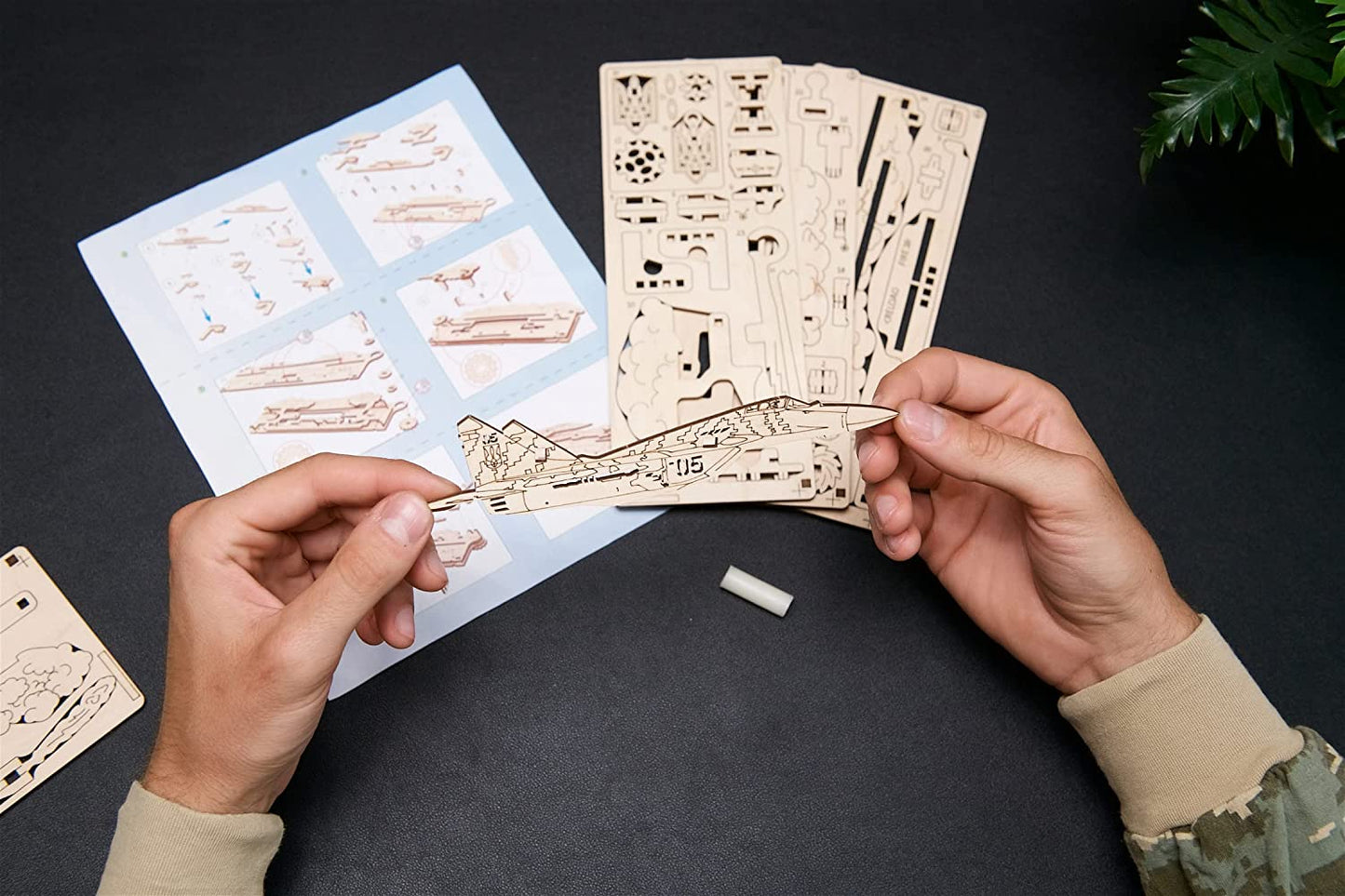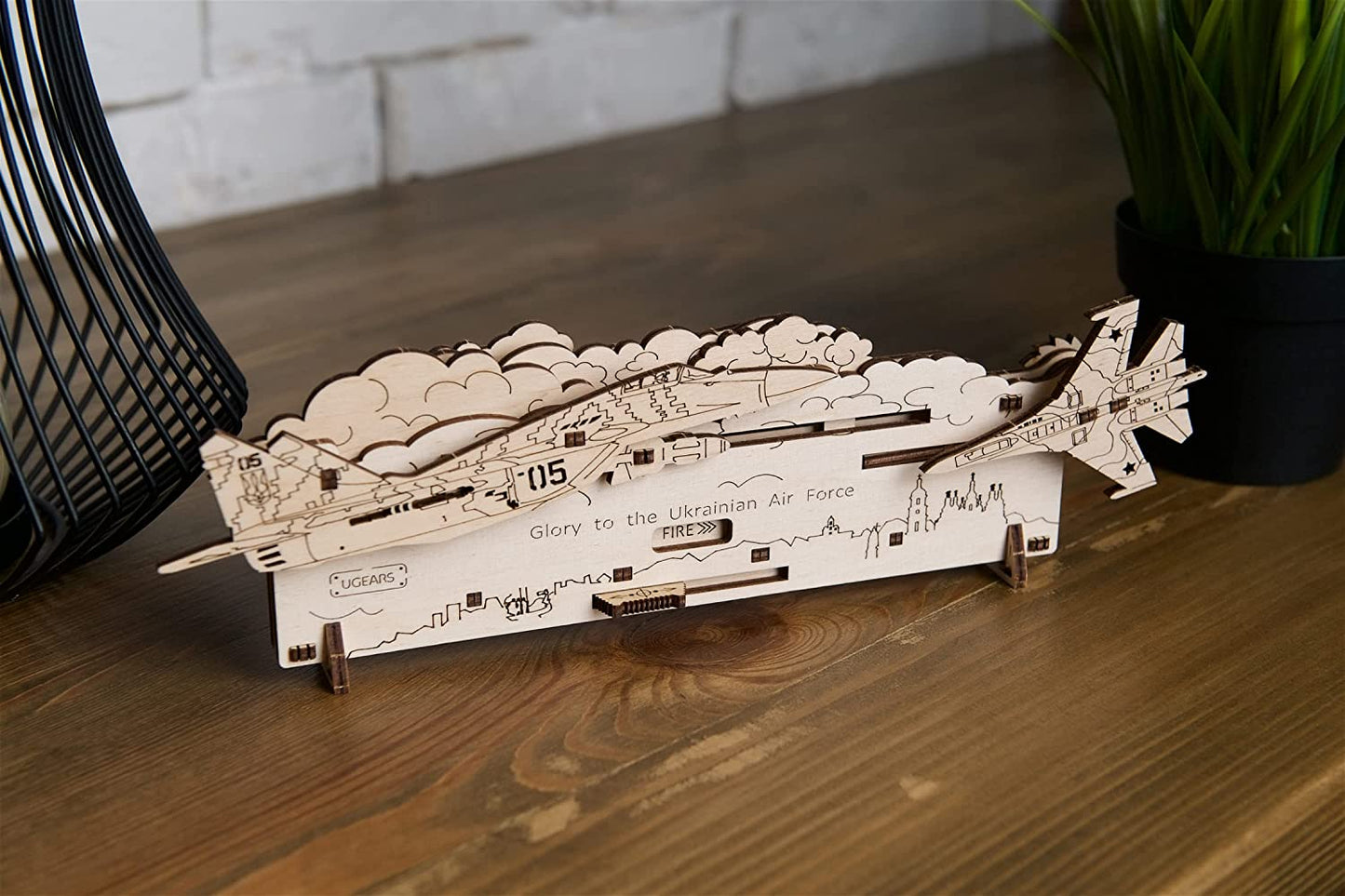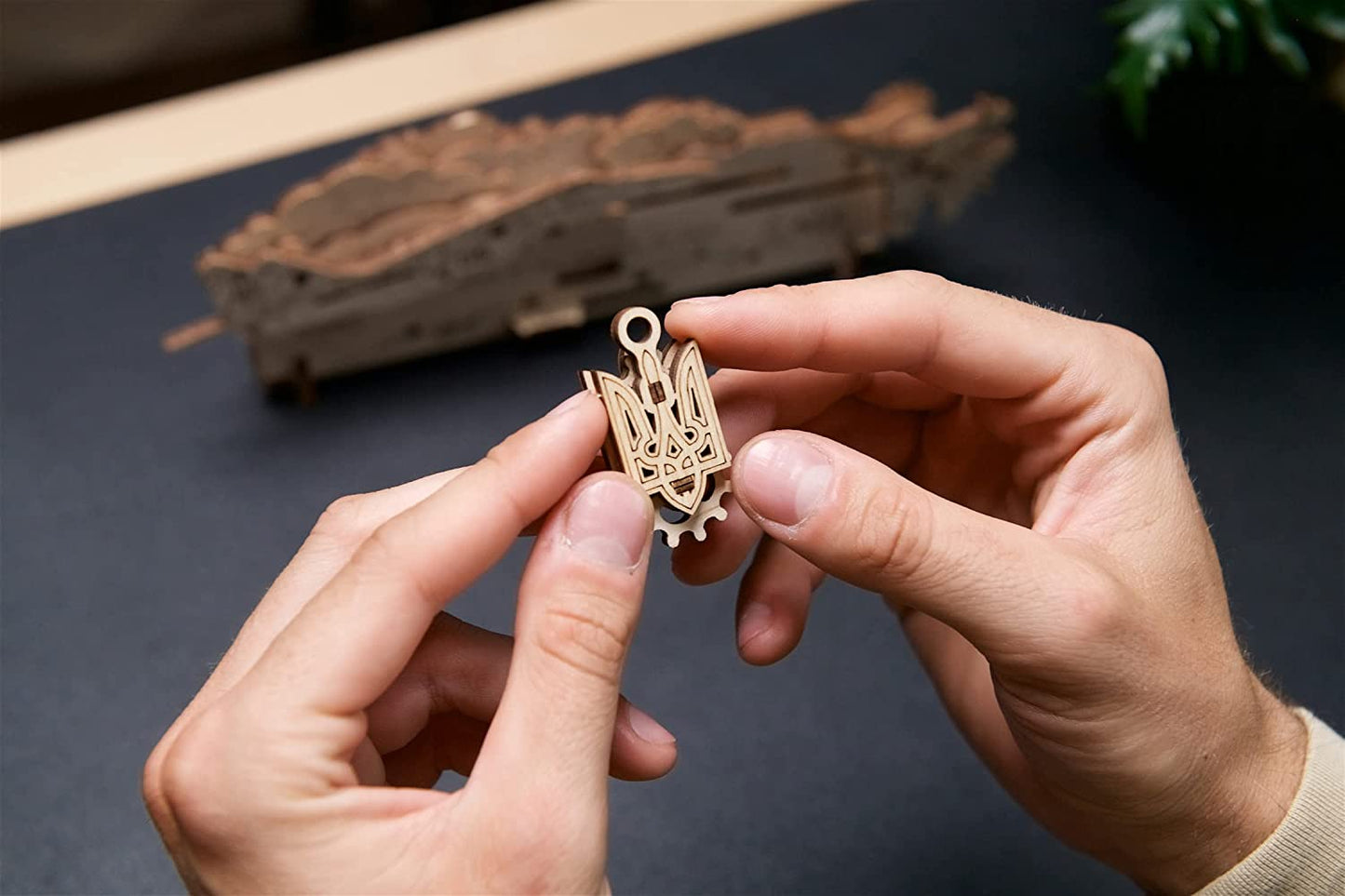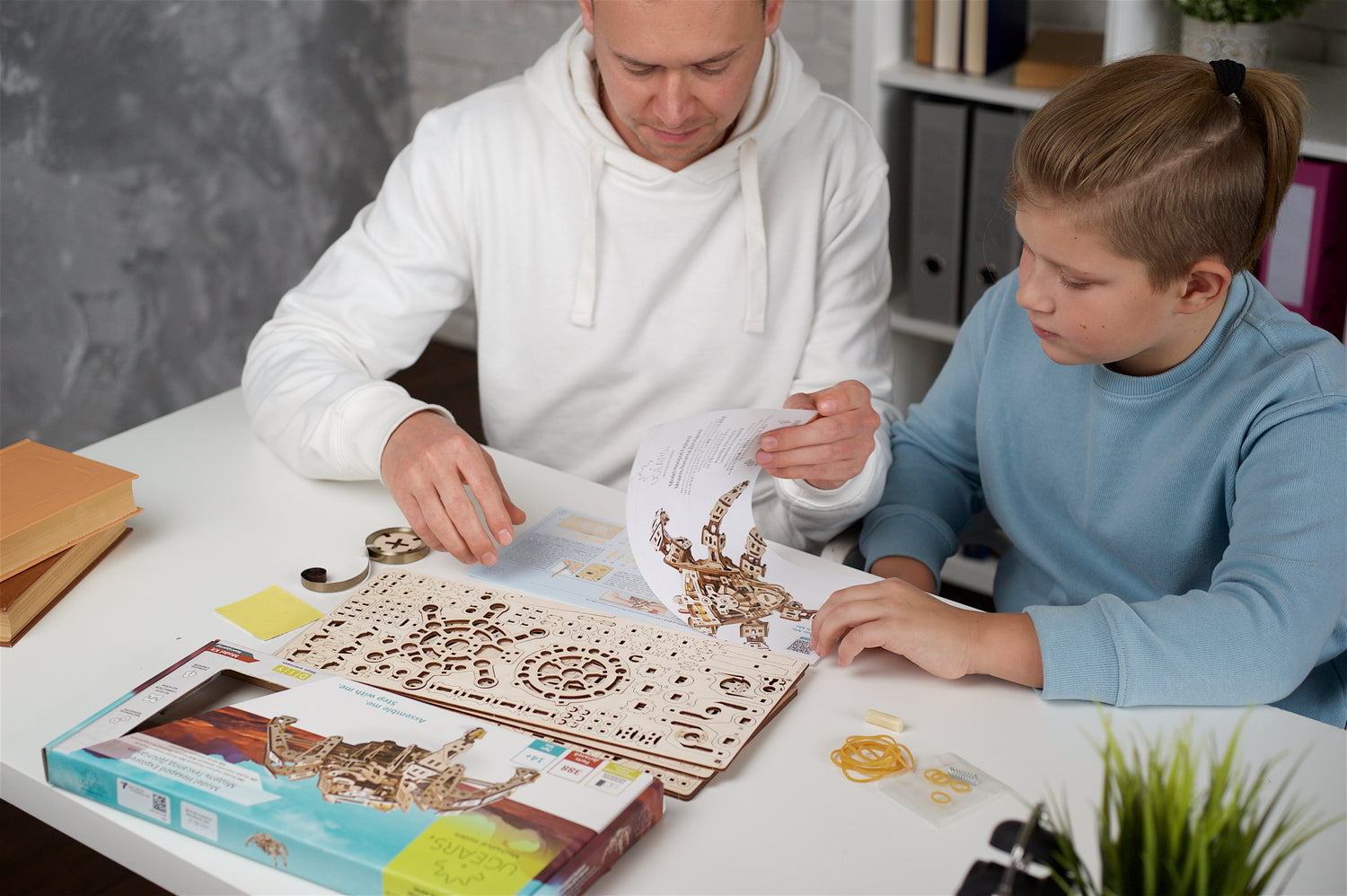 Ready to Build
Ugears models are made from sustainably sourced, laser cut plywood sheets. Everything you need is inside the box, so you can get building right away.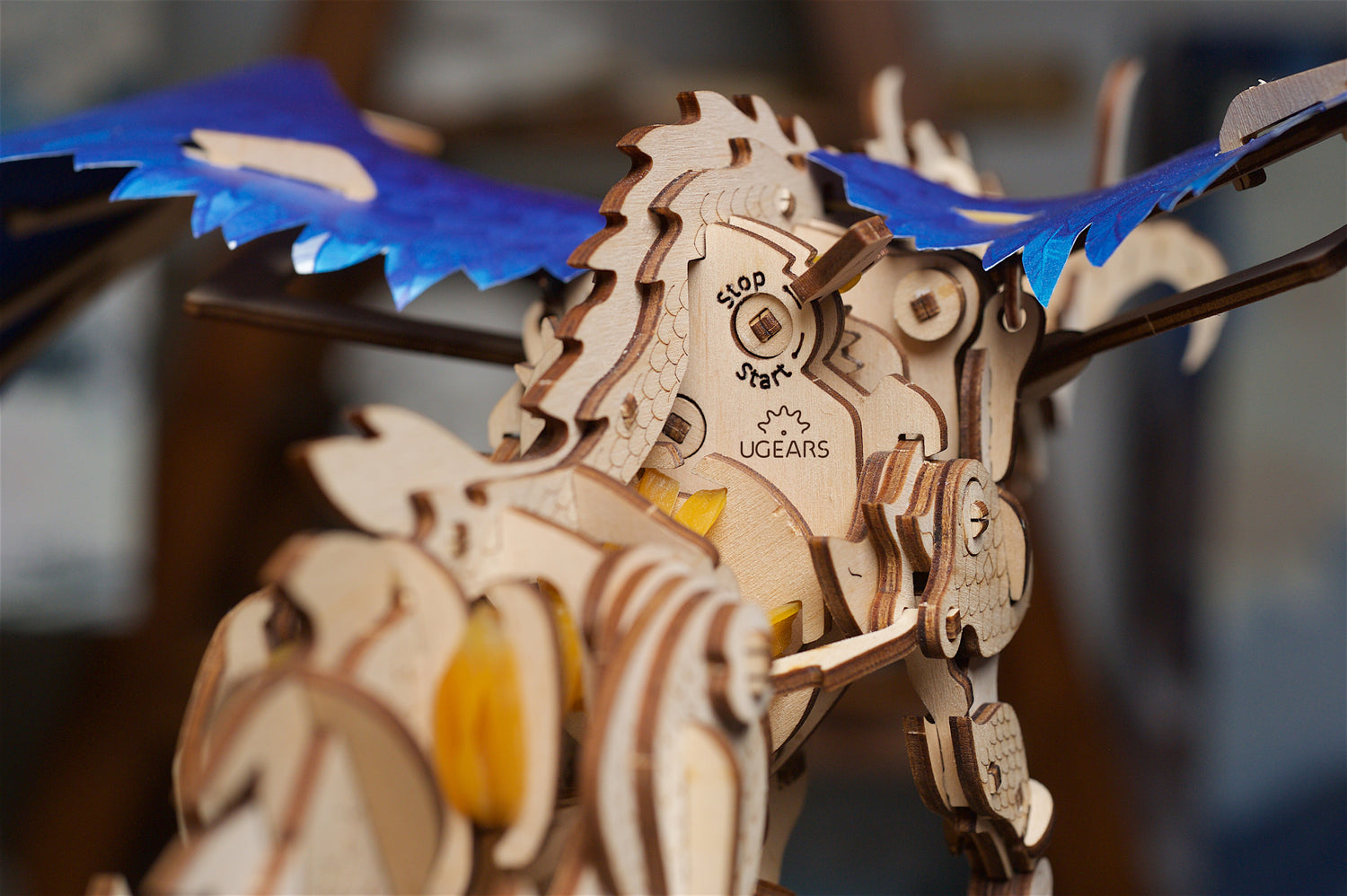 Mechanical
No batteries, no electricity, just Ugears. All mechanical models are powered by the ingenious mechanisms built by you. Just wind up your model and watch it come to life.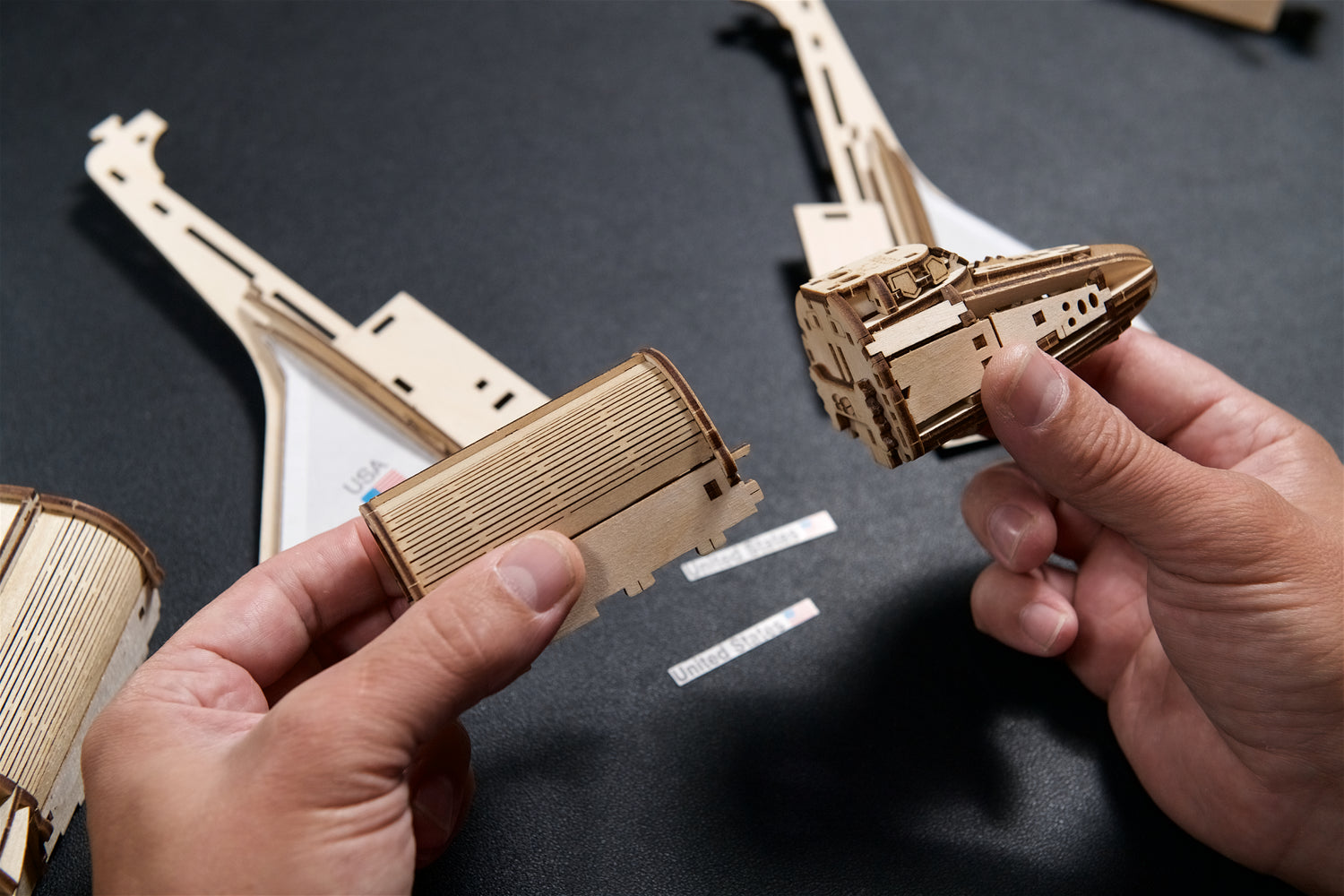 No Glue
Pieces have been designed so they will either click or slide into place. No glue or any other kind of adhesive is needed to build your model.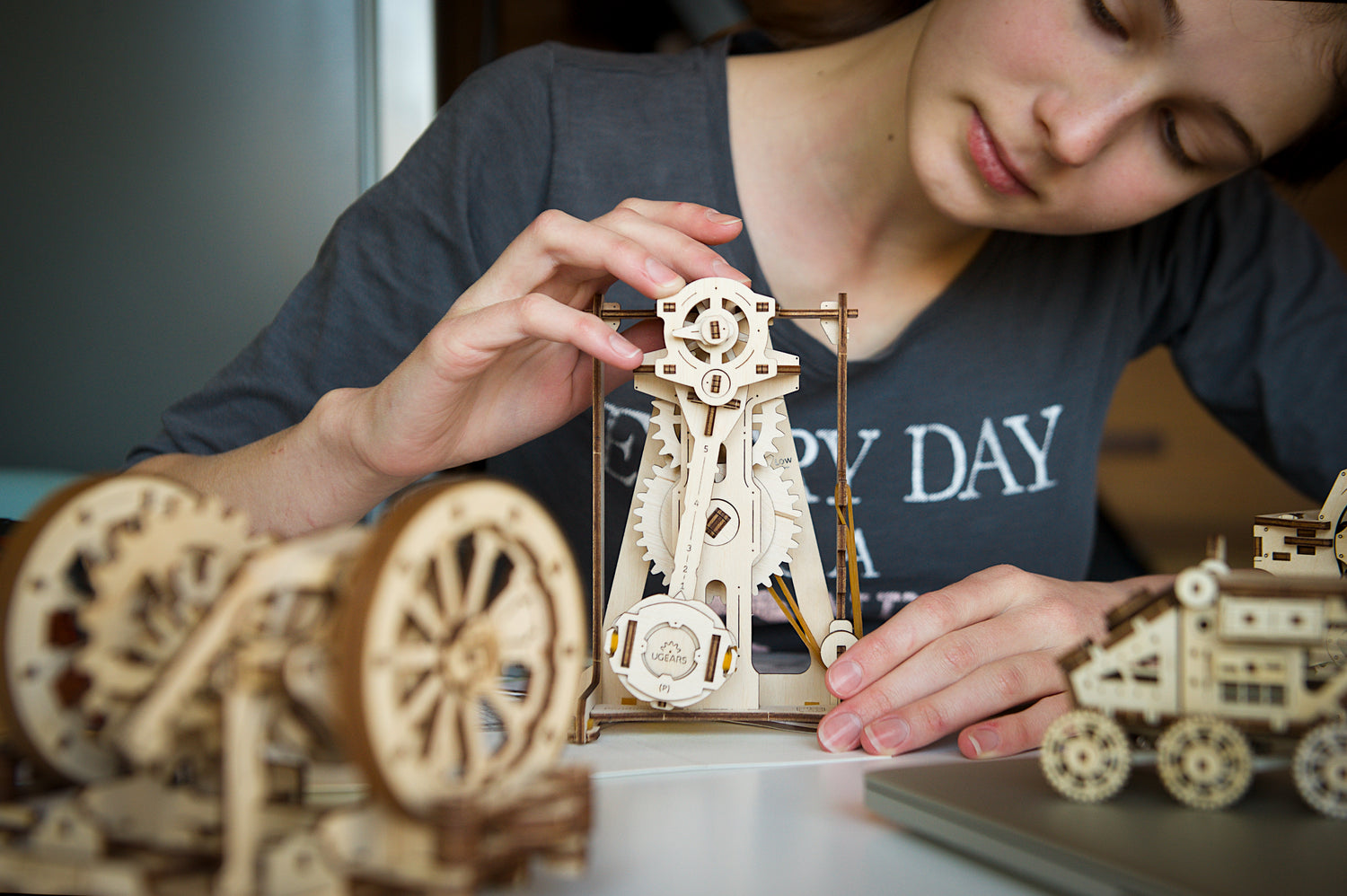 Educational
Models take inspiration from real life inventors and engineers, such as Da Vinci and Galileo. Learn the history behind the model as you build.