SKU:UGR70183
Regular price
Sale price
£52.50 GBP
Unit price
per
Liquid error (snippets/price line 121): divided by 0% OFF
Sale
Sold out
---
354

Pieces

8

Est. Time (hrs)
14+

Age

Advanced

Difficulty
LxWxH 265 mm x 245 mm x 125 mm
---
Share
Fascinating air racer: The Mad Hornet Airplane is our most beautiful, complex aircraft model kit to date. This DIY airplane puzzle is a miniature of a real legend from the " Golden Age of Flight " in the past century
8 hours of assembly adventure: Our vintage airplane construction kit is a " medium " difficulty DIY wooden model with 354 parts. Put together this engineering kit with your flight buddies or family
Two operating modes: Once assembled, watch the wooden toy airplane in action. In pre - flight check mode, the propeller spins, the wings flap, and the tail rudder wiggles. In taxi mode, the wood aircraft gracefully travels up to 8 ft
Everything included: All UGears 3D mechanical wooden puzzles include easy - to - follow, illustrated instructions in 11 languages, wax, sanding paper, and extra pieces as backup
Beautiful décor: The Mad Hornet racer will be an exquisite addition to your collection of vintage airplane models and engineering toys. Assemble this gorgeous airplane building kit and watch it perform
Kit contains all required components and no glue is required
Precision laser cut plywood. Only requires assembly.
UGears Mechanical Models are self-propelled, mechanical wooden model assembly kits.
Perfect for family projects, puzzle enthusiasts, and hands-on STEM learning
354 parts
Assembly time: 8 hours
Model size 265x245x125mm
Mad Hornet Airplane
Assemble me. Perform preflight checks then taxi to the runway!
Engine—check. Propeller—check. Rudder—check. Flaps—check. Flight control—check. Pretaxi checks complete.
"Mad Hornet to Tower, request taxi to runway 1 6."
"Tower to Mad Hornet, Roger that, clear to taxi to Runway 1 6 via taxiway Alpha. Winds are currently out of the south at 1 8 0 at 10 knots. Clear skies, visibility is 10+. It's a great day for flying!"
Every day is a great day for flying with your Ugears Mad Hornet vintage racer. Inspired by the Granville Brothers' Gee Bee Model R-1 Super Sportster and other vintage racing aircraft of the 1930's, the Mad Hornet Airplane has a fat, teardrop-shaped fuselage and a cockpit located well aft, to give the pilot better visibility for tight turns around race course pylons.
The 1920's and 30's were the "Golden Age of Flight." Aircraft design evolved from cloth and wooden biplanes to metal monoplanes, and ever more powerful aircraft engines opened up new possibilities for military and civilian use. Air racing, as depicted in the popular "Rocketeer" comic books, became a spectator sport. The Gee Bee R-1 won the Thompson Trophy (one of the most prestigious U.S. air races) in 1932, piloted by Jimmy Doolittle, who would go on to win the Medal of Honor for leading a daring bombing raid on Japan after Pearl Harbor. With a maximum speed of 294 mph, the R-1 lapped all but one of its competitors in the 1932 race because it was able to stay high on the course owing to its excellent maneuverability at high speeds. In Doolittle's words, "she is the sweetest ship I've ever flown."
The Ugears Mad Hornet Airplane is a "Medium" difficulty DIY wooden model with 354 parts, promising 8 hours of enjoyable assembly time. The airplane model is powered by a wind-up helical spring motor, often used in watch mechanisms and other precision instruments. Various gear sets transmit power from the spring to the aircraft's movable parts. The Mad Hornet features two modes: pre-flight check mode and taxi mode. Choose the mode by setting the rotating drum in one of two positions. Insert the special key into the stopper slot, then give up to 21 pulls on the winding string. Place the aircraft on a flat surface, then remove the key and watch as your Mad Hornet comes to life. In check mode the propeller spins while the wing flaps and tail rudder wiggle, before the aircraft switches automatically to taxi across the airfield to the runway for takeoff. In taxi mode your aircraft starts taxiing immediately, traveling up to 2.5 meters!
Ugears is known around the world for producing beautiful wooden DIY models and 3D puzzles, including all types of vehicles—cars, trucks, motorbikes, trains, boats and airplanes. The Mad Hornet is our most beautiful, complex aircraft model to date. We're also known for our throwback, steampunk sensibility, so this short and stout 1930's speed ship seemed perfect for a signature Ugears flyer. The Mad Hornet is an attractive decorative item for your home or office shelf, but with all that engineering it's really meant for imaginative play, especially showing off the pre-flight sequence. The Mad Hornet's spinning propeller and moving tail rudder and wing flaps working in tandem are plenty cool, but the sequential action of having the model aircraft taxi after ground checks are complete is unique in our collection.
No glue or special tools are required to assemble this DIY model kit, just punch the pre-cut pieces out of their composite wood boards and snap them together. When assembling your Mad Hornet Airplane model, remember to lightly sand and wax the moving parts to make them run smoothly. This is a "Medium" difficulty model so meant for somewhat experienced modelers or those up for a challenge. The model kit includes detailed, illustrated instructions in 11 languages (Ukrainian, English, German, Spanish, French, Italian, Portuguese, Polish, Japanese, Chinese, and Korean) to guide your assembly. If you're not yet familiar with the Ugears catalogue of 3D puzzles, DIY model kits, automatons, robots, wooden puzzle boxes and STEM Lab models you could order one of our simpler models together with the Mad Hornet as a warm-up build.
The Mad Hornet Airplane is sure to appeal to aviation enthusiasts, model airplane hobbyists, those who appreciate clever design, and admirers of "those magnificent men in their flying machines." Looking for a thoughtful, unique gift? Check. Are there any aircraft lovers among your circle of friends and family? Check. The Mad Hornet is the perfect gift for birthdays or holidays. For anyone who's dreamed of piloting a one-seater from the Golden Age of Flight and dancing among the clouds, this flyer's for you!
View full details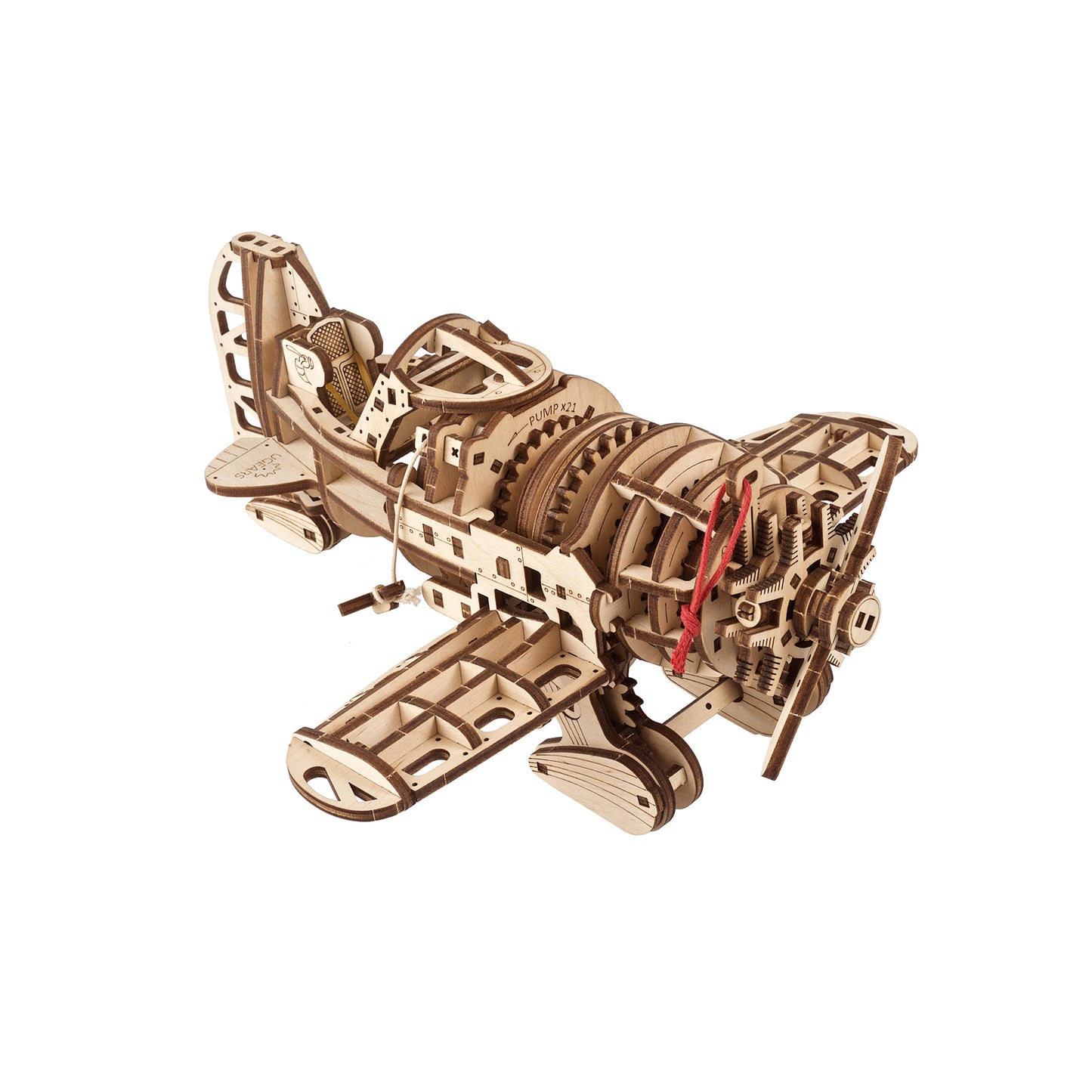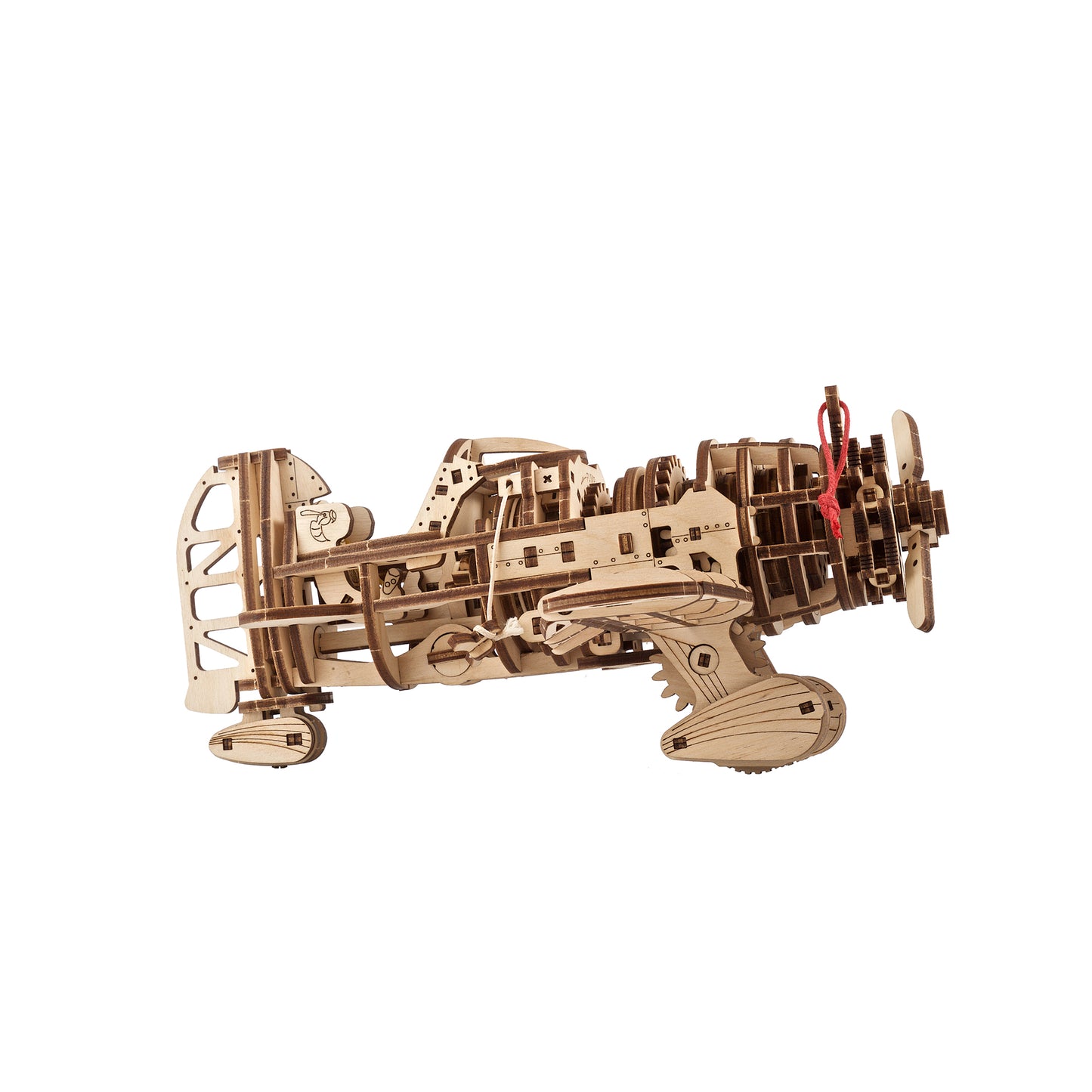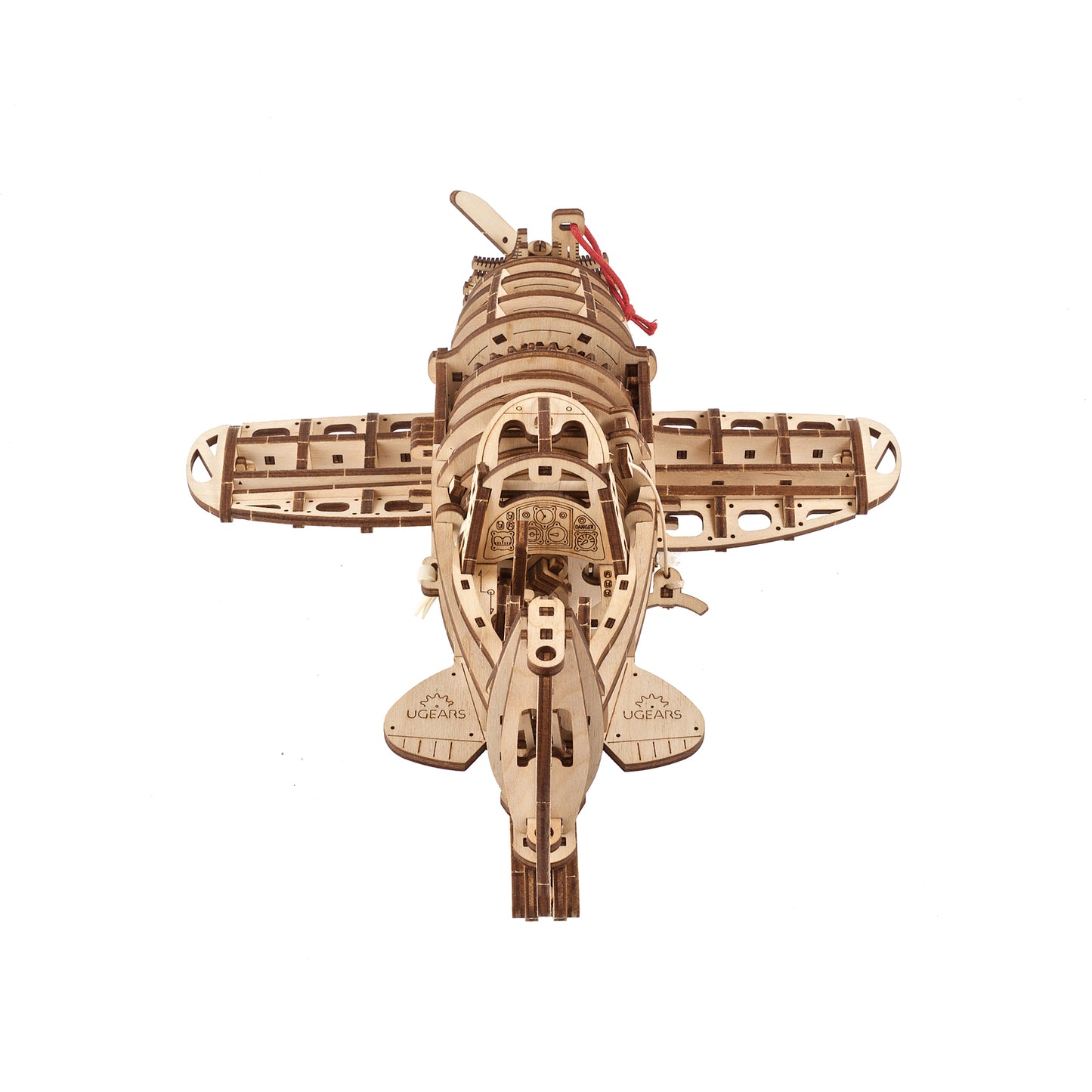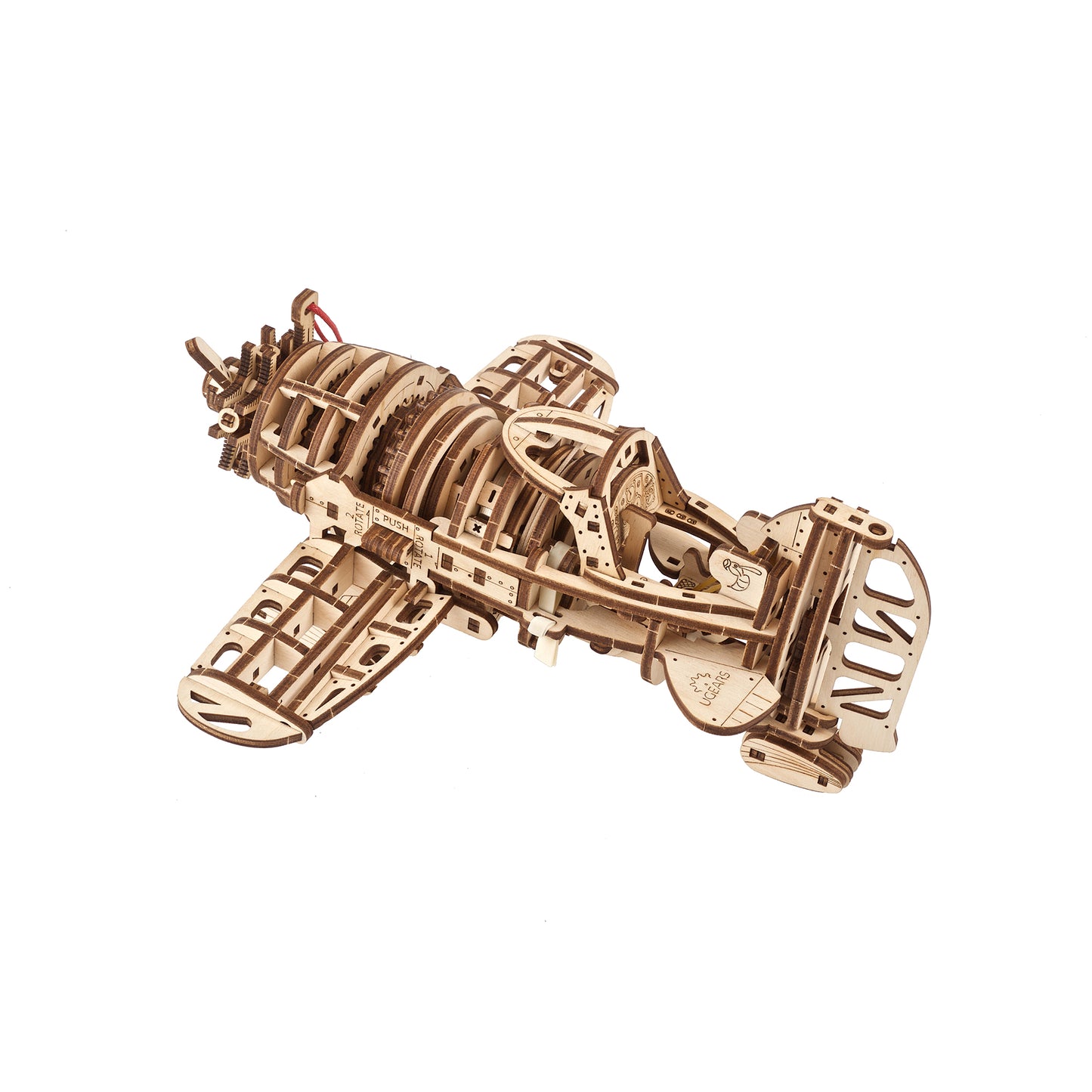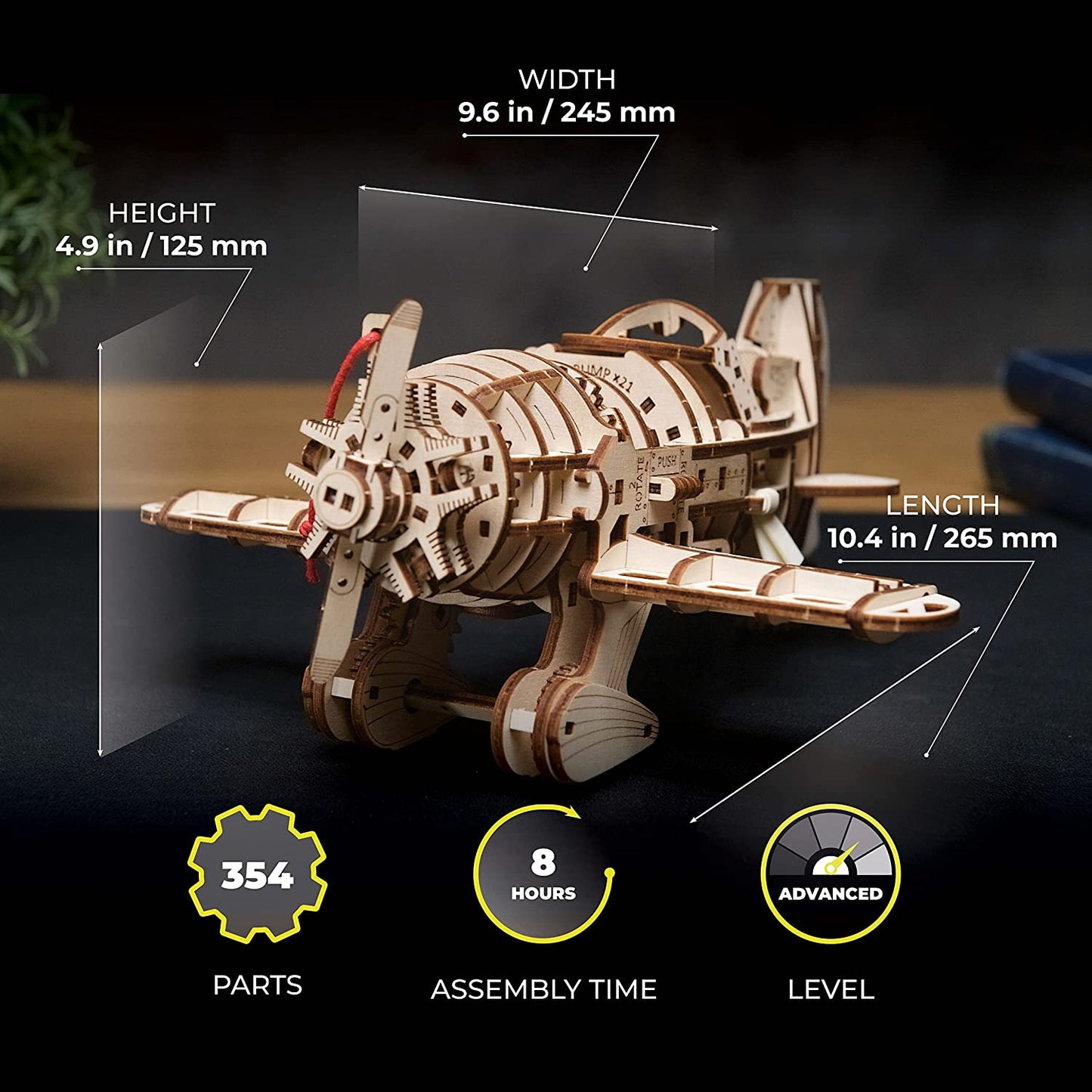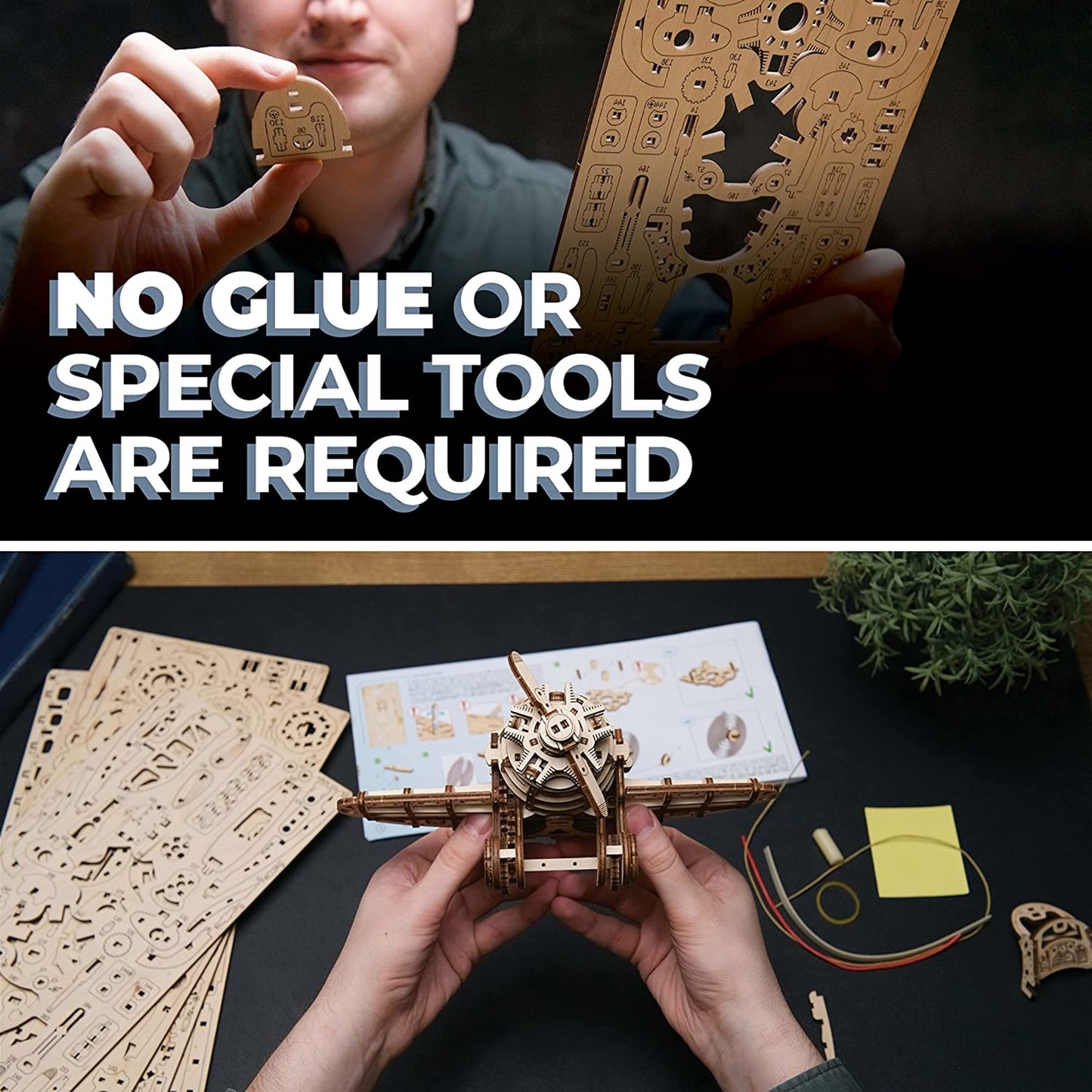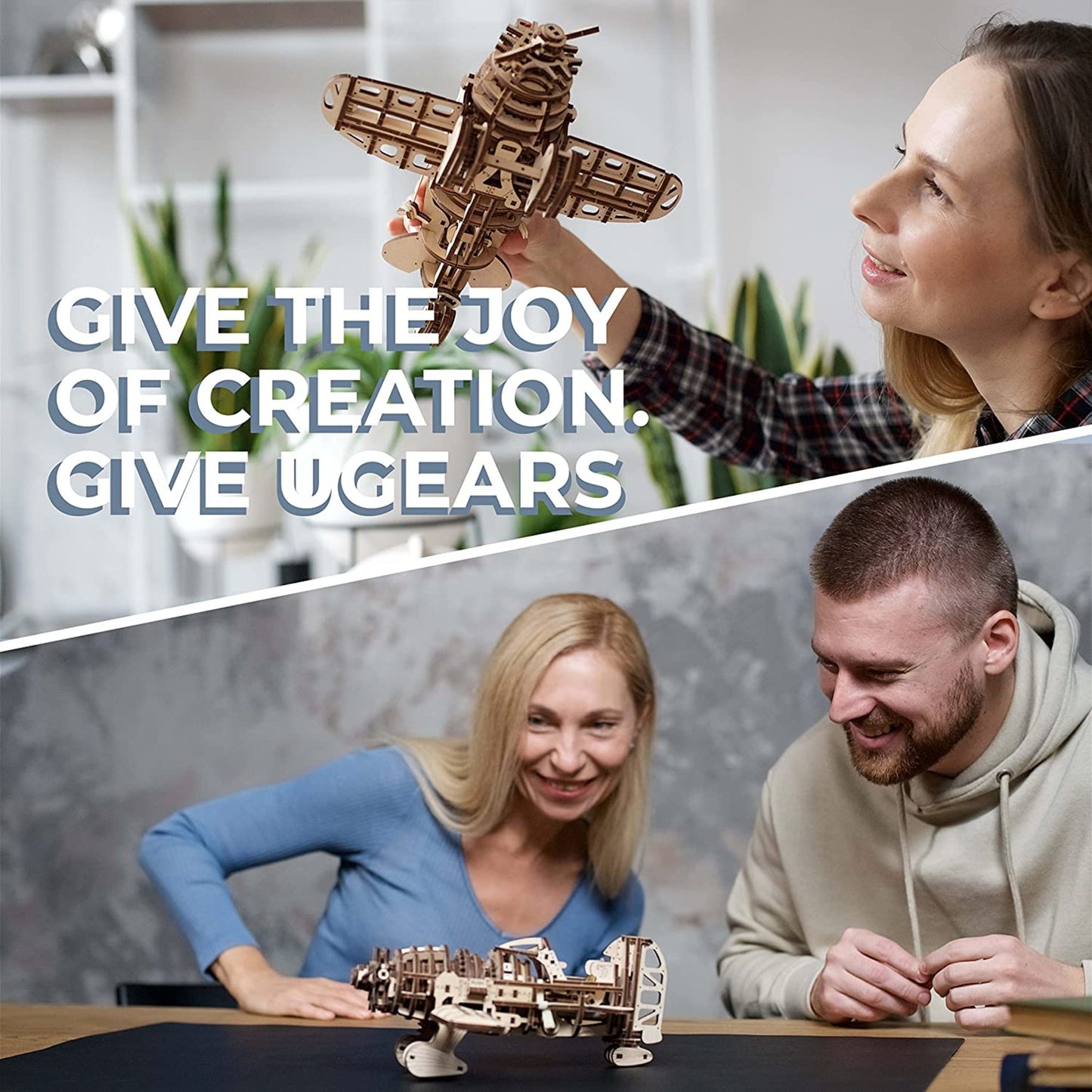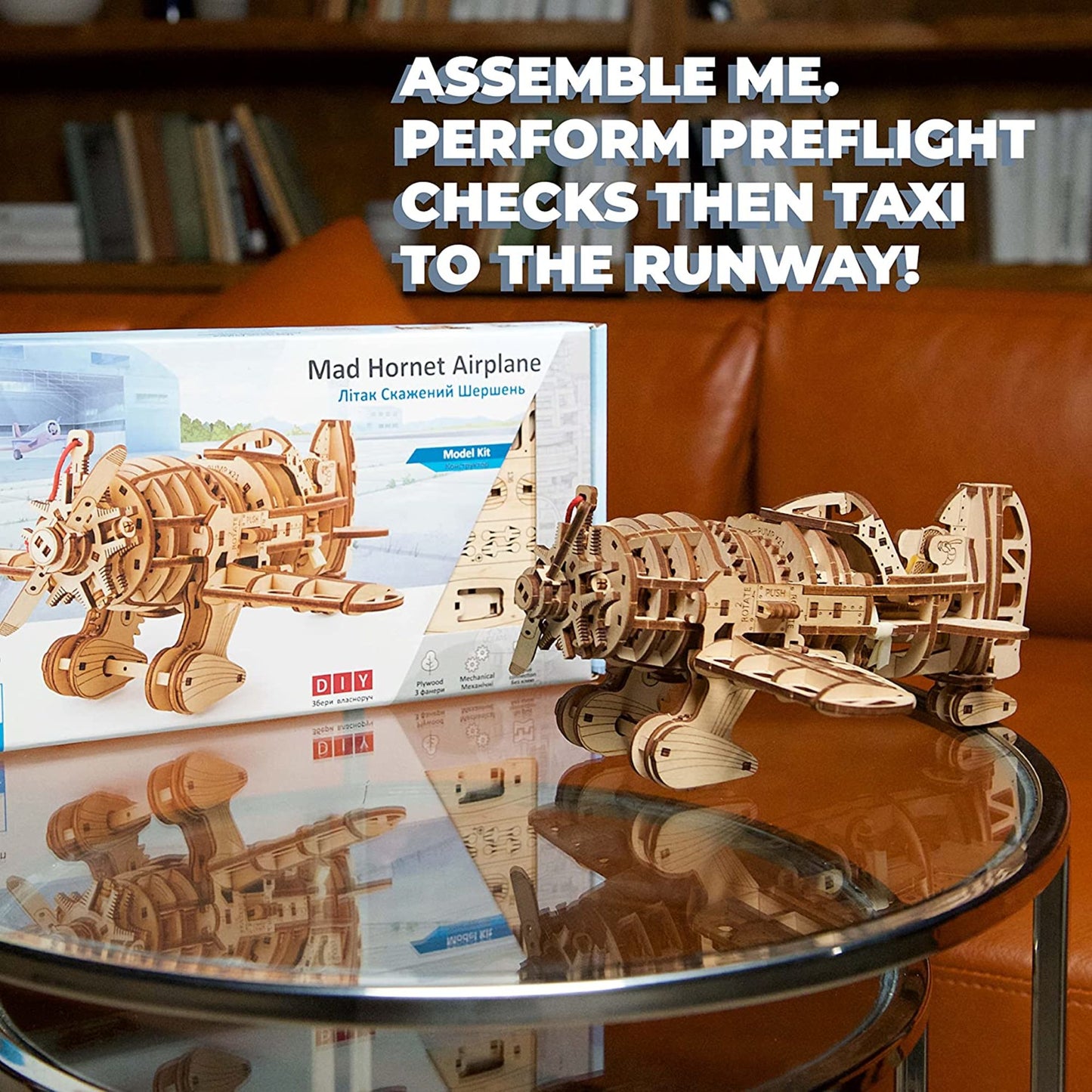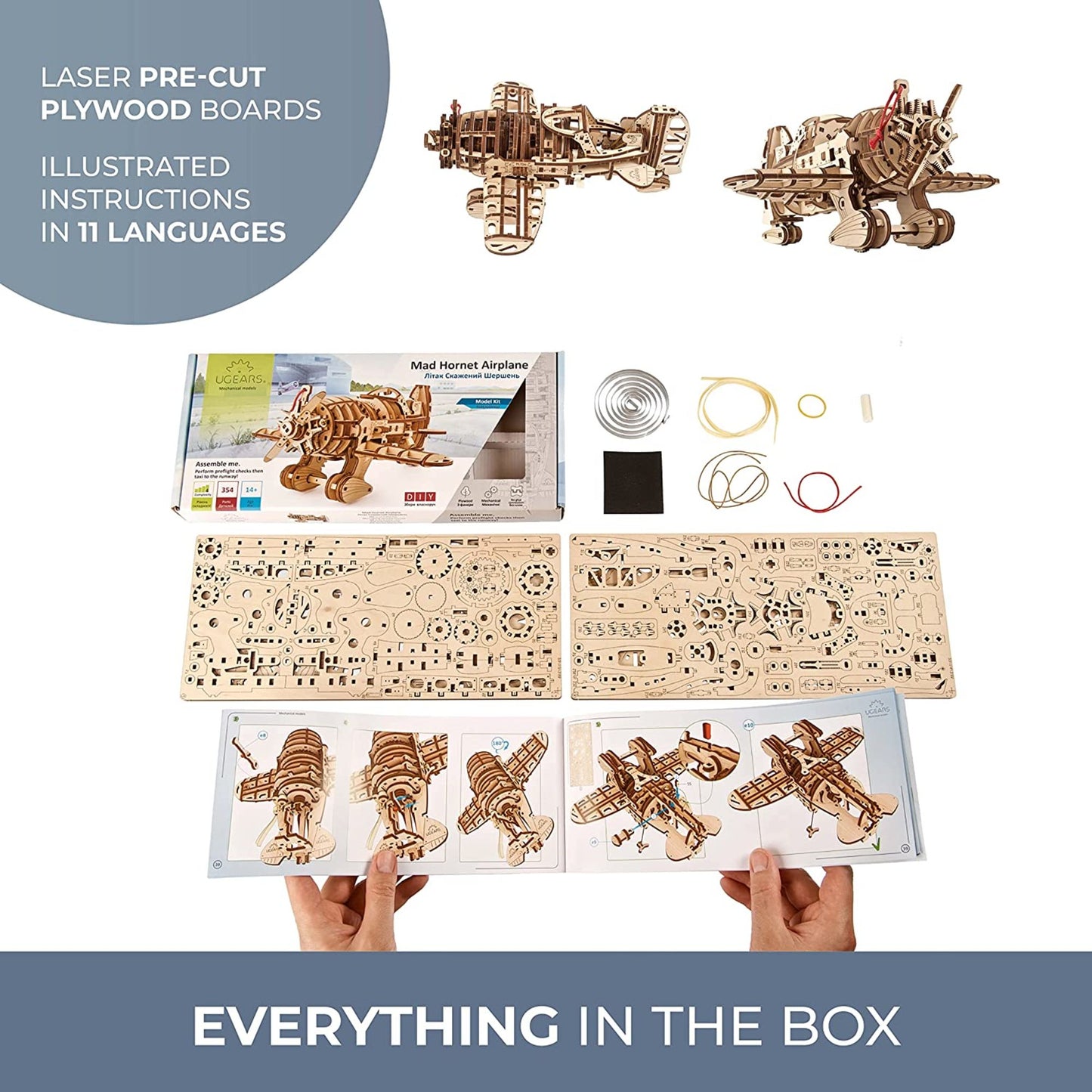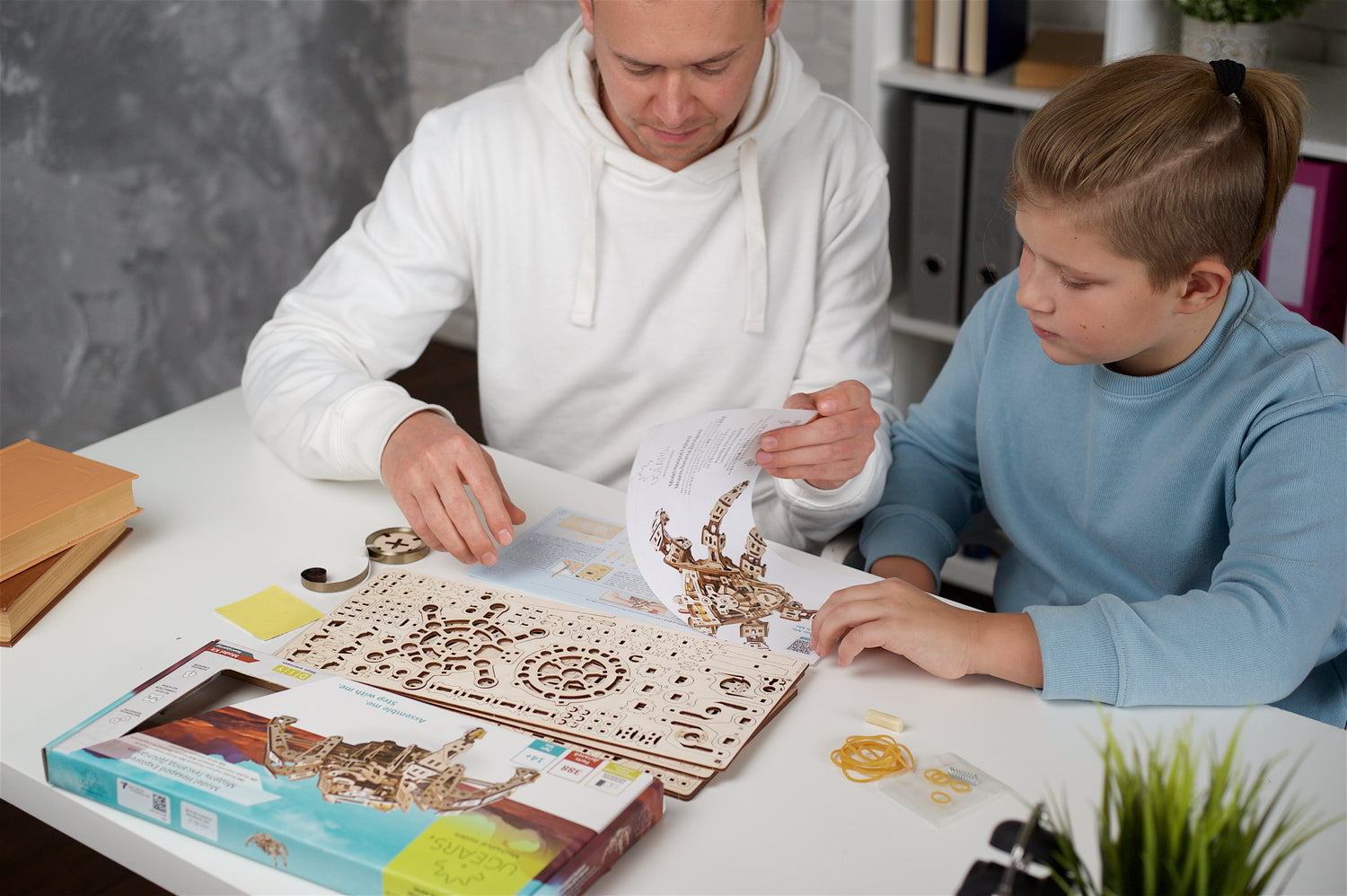 Ready to Build
Ugears models are made from sustainably sourced, laser cut plywood sheets. Everything you need is inside the box, so you can get building right away.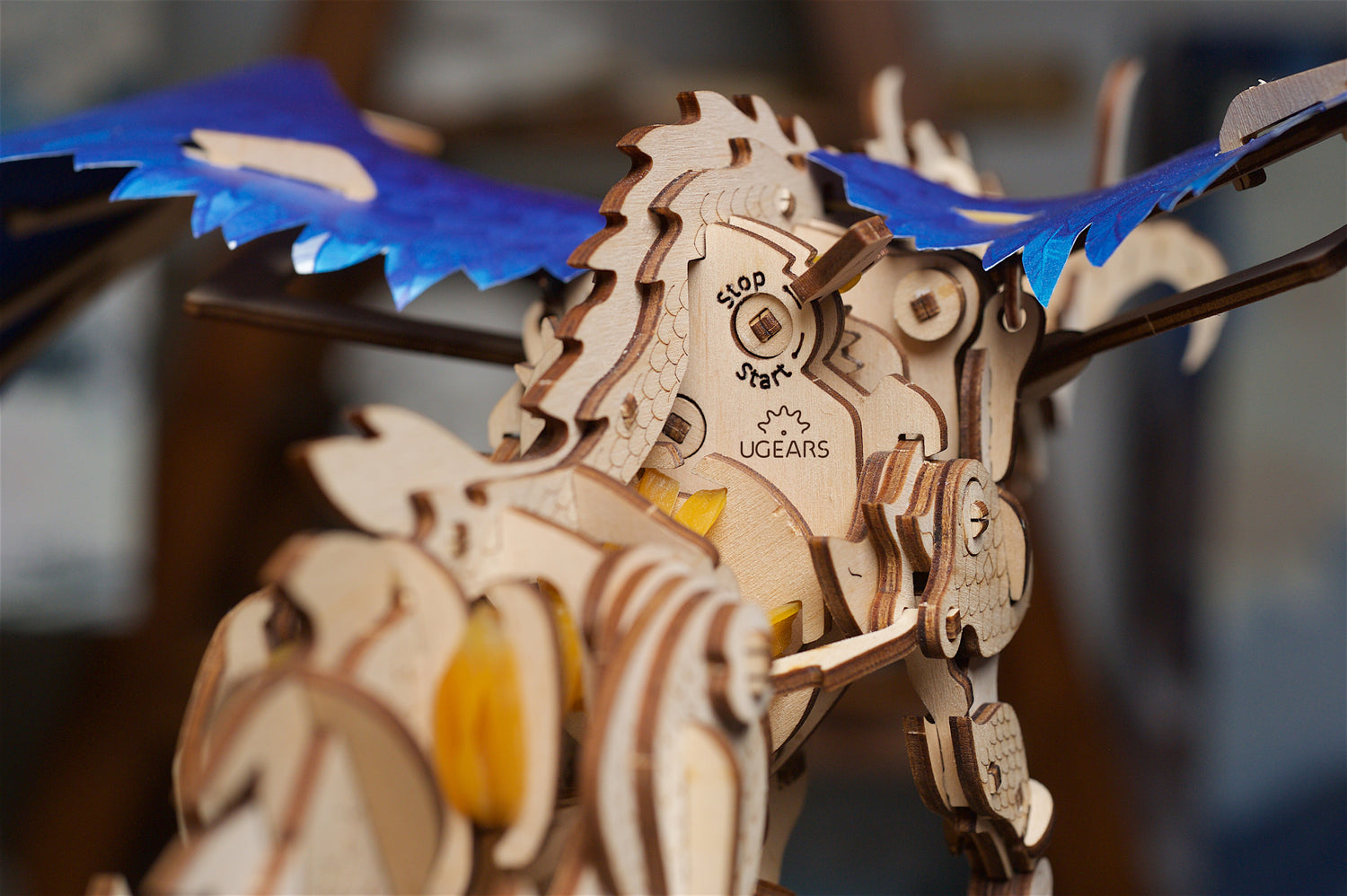 Mechanical
No batteries, no electricity, just Ugears. All mechanical models are powered by the ingenious mechanisms built by you. Just wind up your model and watch it come to life.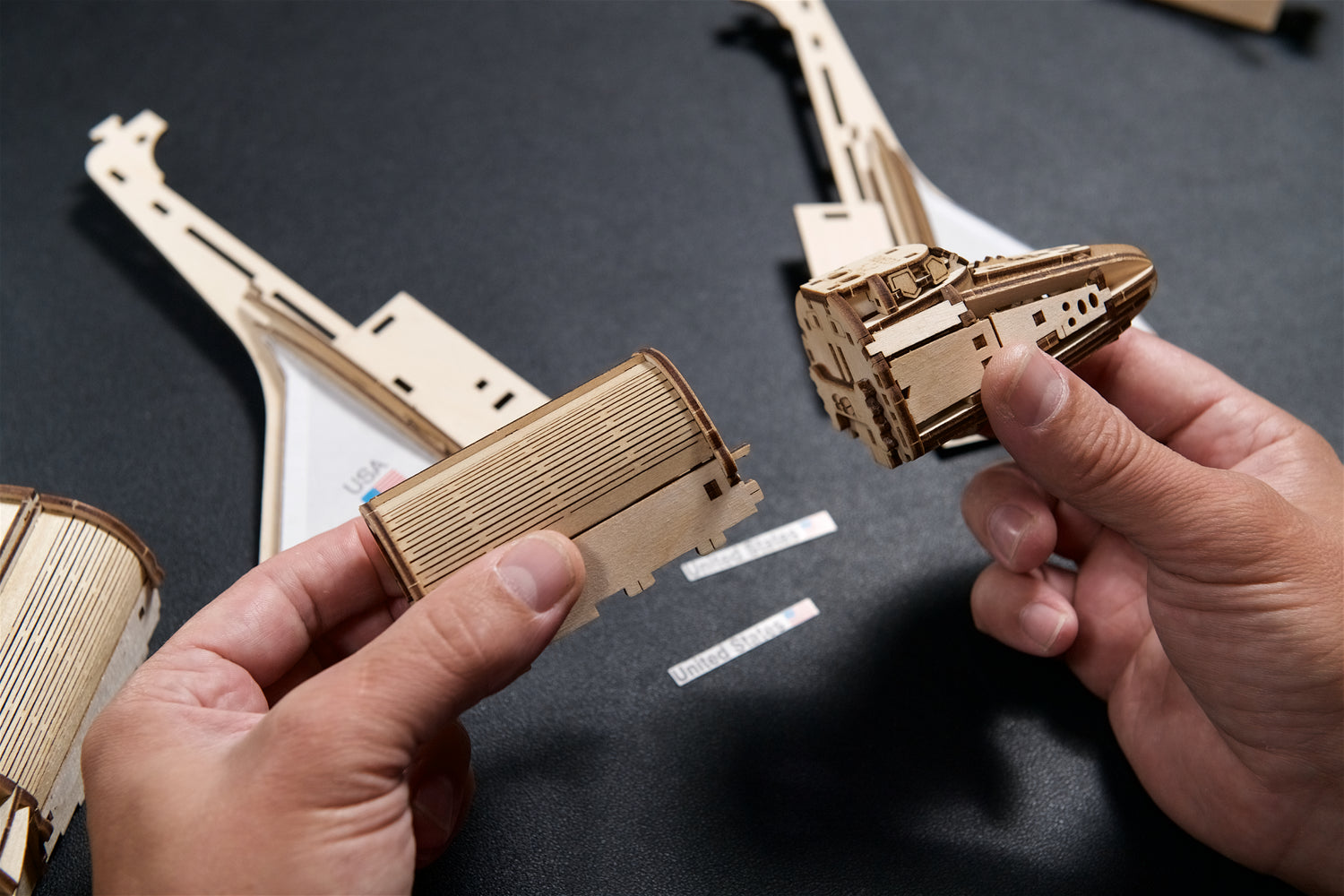 No Glue
Pieces have been designed so they will either click or slide into place. No glue or any other kind of adhesive is needed to build your model.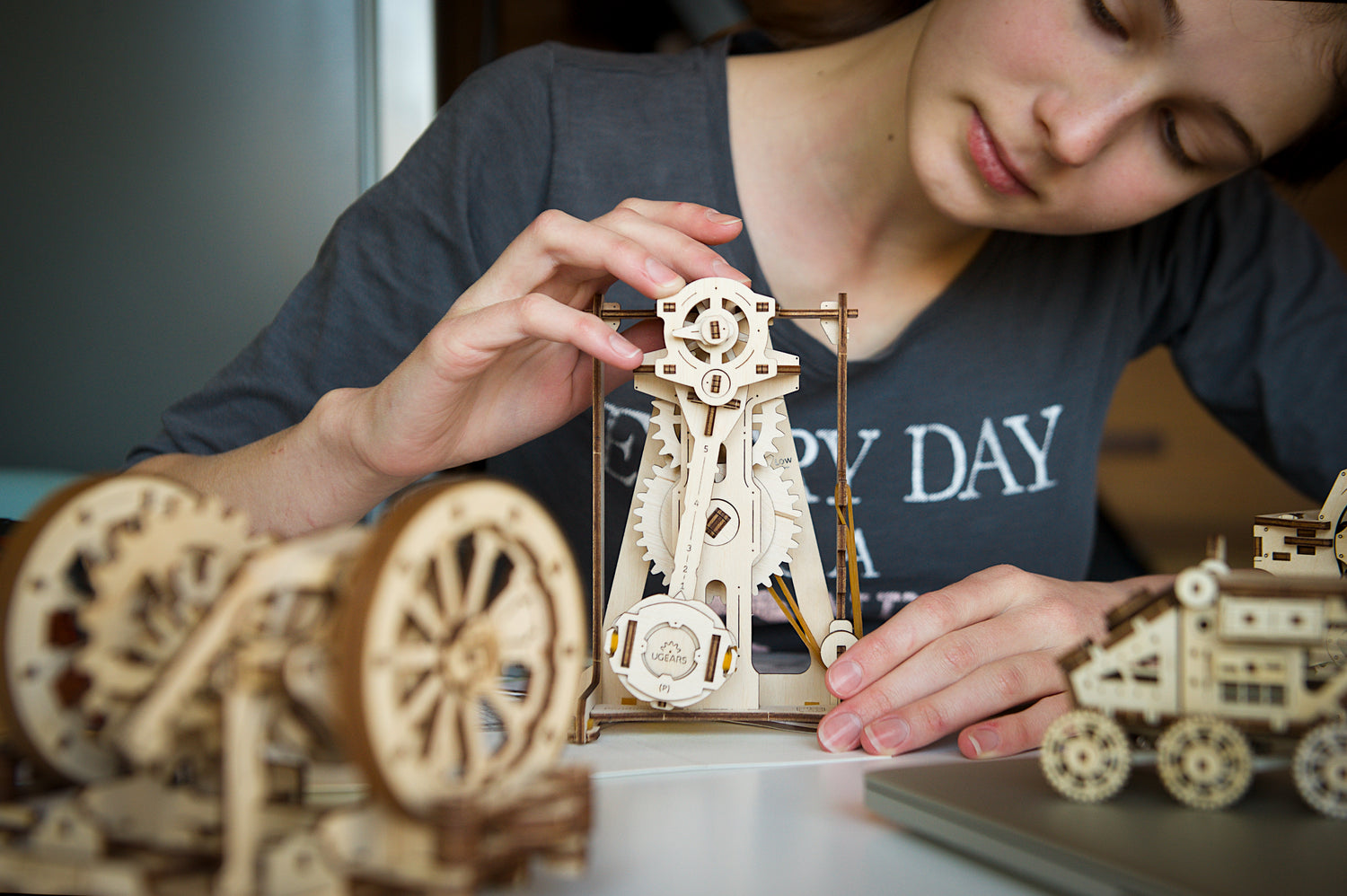 Educational
Models take inspiration from real life inventors and engineers, such as Da Vinci and Galileo. Learn the history behind the model as you build.