SKU:UGR70178
Regular price
Sale price
£78.99 GBP
Unit price
per
Liquid error (snippets/price line 121): divided by 0% OFF
Sale
Sold out
---
573

Pieces

8

Est. Time (hrs)
14+

Age

Advanced

Difficulty
LxWxH 280 mm x 285 mm x 120 mm
---
Share
Xylophone
2 Playing Modes - In "manual mode" when you press a key, the hammer strikes the plate and the sound of the corresponding note is heard. In "programmed melody mode" you arrange a series of boards along a rotating drum, then turn the drum as pins on each board trigger the hammers to strike the right notes.
Fun for entire Family! - Build it as a family then enjoy singing simple melodies together, accompanied by a musical instrument you've built with your own hands! Take turns programming melodies into the rotating drum then play a game of "Name that Tune."
Great gift! - Maybe it's time to start a UGears band? Do you know any musicians or families with small children? The Mechanical Celesta makes an original, thoughtful gift for birthdays or holidays, and is a great way for children to learn the notes of the C major scale.
The Mechanical Celesta from UGears is a unique combination of design, engineering and art, and is sure to delight musicians, modelers, 3D puzzle enthusiasts and even programmers. Program known melodies into the player piano drum, or create original compositions that others can play simply by turning the crank. Your audiences will be impressed by your creativity and ingenuity as you play original music on an instrument you built yourself!
Kit contains all required components and no glue is required
Precision laser cut plywood. Only requires assembly.
UGears Mechanical Models are self-propelled, mechanical wooden model assembly kits.
Perfect for family projects, puzzle enthusiasts, and hands-on STEM learning
573 parts
Assembly time: 8 hours
Model size 280x285x120mm
Ugears Mechanical Celesta. Play music on the keys or create programmed melodies
Assemble me. Let the celestial music play!
Do Re Mi Fa So La Ti Do. As Julie Andrews said in the Sound of Music, "once you have these notes in your heads you can sing a million different tunes by mixing them up." Ugears is proud to introduce the second DIY musical instrument in our collection—the Mechanical Celesta. Like the Ugears Hurdy-Gurdy, the Mechanical Celesta is both a wooden mechanical model and a functional musical instrument. This special musical model is a simpler version of a pianola, and includes elements of a piano, a music box, and a xylophone. There are two modes of playing the instrument: you can use the keys to strike the metal plates, producing musical notes over an octave range, from C to C, or you can "pre-program" the instrument by composing a melody on the player piano drum, then play it by turning the knob!
When you buy the Mechanical Celesta by Ugears and start to assemble it, you will find that the instructions show how to install the programming pins using the Carol of the Bells melody as an example. And it's not only because Christmas is coming. On October 5 this year it will be 100 years since the premiere of "Shchedryk" by Ukrainian composer Mykola Leontovych at Carnegie Hall. Today it's known to the whole world as Carol of the Bells. The song sounds great when performed on your Mechanical Celesta by Ugears. This centennial is why we released the model this year and why it's so special to us.
Thanks to the Mechanical Celesta's ease of use, even the smallest child or those without any prior musical knowledge can begin to play music, by striking the keys or turning the crank to produce pre-programmed melodies. In "manual mode" when you press a key, the hammer strikes the plate and the sound of the corresponding note is heard. In "programmed melody mode" you arrange a series of boards along a rotating drum, then turn the drum as pins on each board trigger the hammers to strike the right notes.
This fun DIY musical model / 3D puzzle consists of 573 pieces and promises 8 hours of enjoyable assembly time. The Mechanical Celesta is rated "intermediate" difficulty. In addition to laser pre-cut high quality plywood boards, the model kit also includes cotton ropes, wooden balls and metal plates. To assemble, follow the detailed, illustrated instructions available in 11 languages (Ukrainian, English, German, Spanish, French, Italian, Portuguese, Polish, Japanese, Chinese, and Korean). You don't need glue or special tools to assemble your Mechanical Celesta. Everything you need to build your functional musical instrument comes right in the box.
We know that 3D puzzle building can be tricky, and accidents sometimes happen. That's why we back each of our wooden mechanical model kits with a promise: if you break a piece during construction, we will send you replacement parts free of charge. And if you get stuck during the construction, or something's not quite right, you can contact our customer service team 24/7 and we'll help you with troubleshooting. Outstanding, industry-leading customer service is just part of what makes Ugears so special, and why we have fans in more than 85 countries on 5 continents.
Like all of our mechanical models, 3d puzzles, wooden puzzle boxes, robots, automatons and kinetic sculptures, the Mechanical Celesta has a beautiful, clever design, and is sure to delight your family and friends. Build it as a family then enjoy singing simple melodies together, accompanied by a musical instrument you've built with your own hands! Take turns programming melodies into the rotating drum then play a game of "Name that Tune."
The Ugears collection of fascinating mechanical models, 3D puzzles, game accessories, wooden puzzle boxes, children's toys and education STEM Lab model kits now includes two musical instruments: the Hurdy-Gurdy and the Mechanical Celesta. Maybe it's time to start a Ugears band? Do you know any musicians or families with small children? The Mechanical Celesta makes an original, thoughtful gift for birthdays or holidays, and is a great way for children to learn the notes of the C major scale.
The Mechanical Celesta from Ugears is a unique combination of design, engineering and art, and is sure to delight musicians, modelers, 3D puzzle enthusiasts and even programmers. Program known melodies into the player piano drum, or create original compositions that others can play simply by turning the crank. Your audiences will be impressed by your creativity and ingenuity as you play original music on an instrument you built yourself!
View full details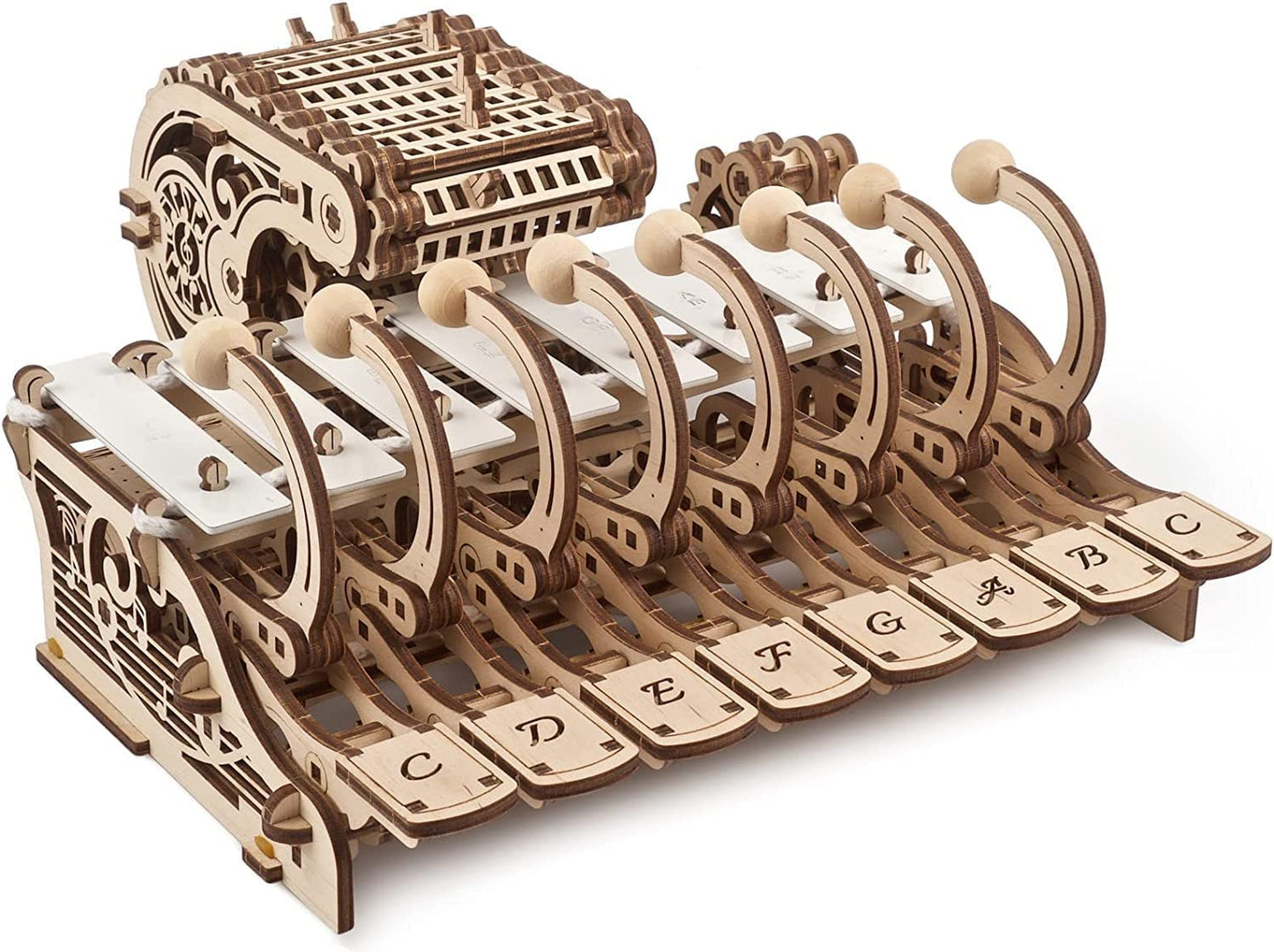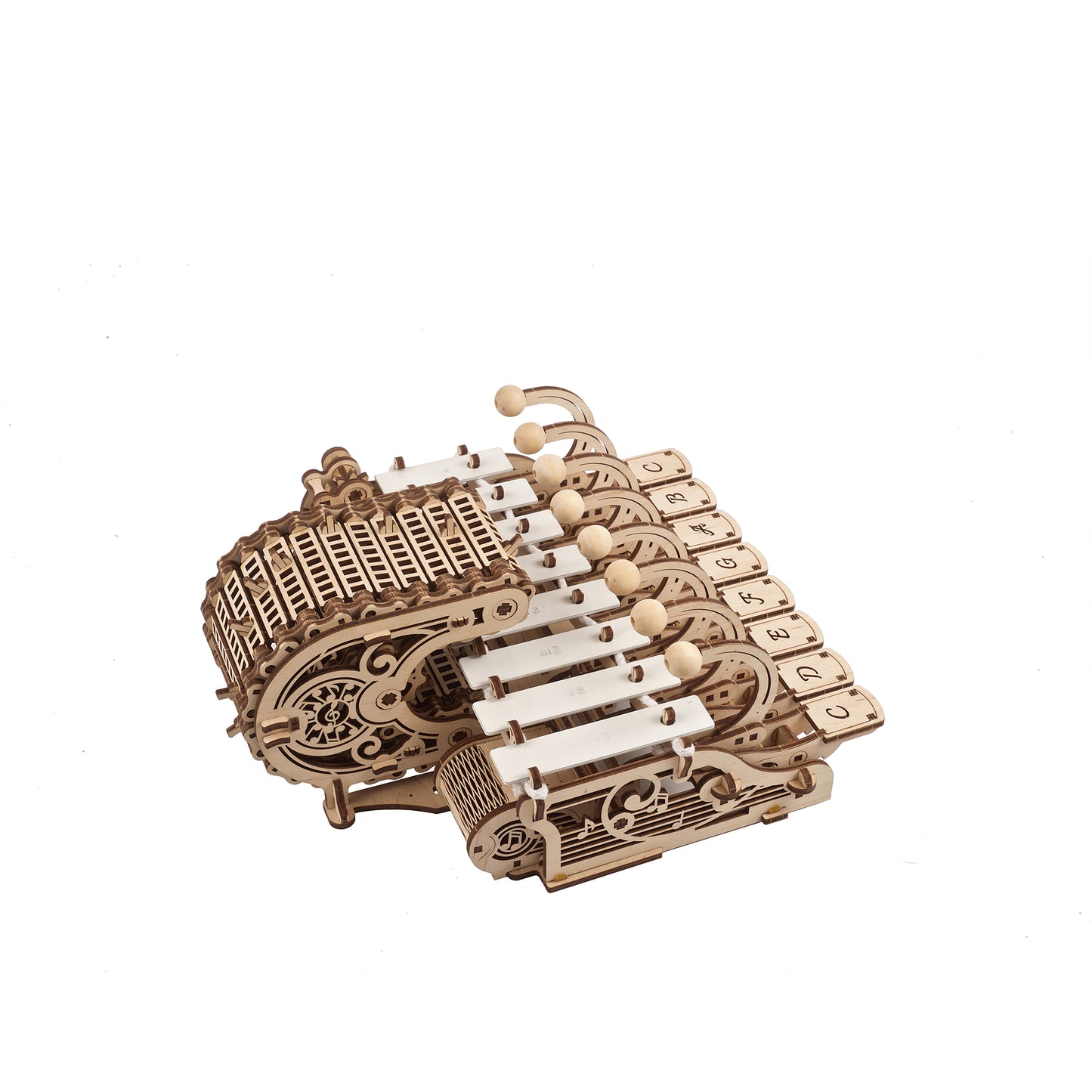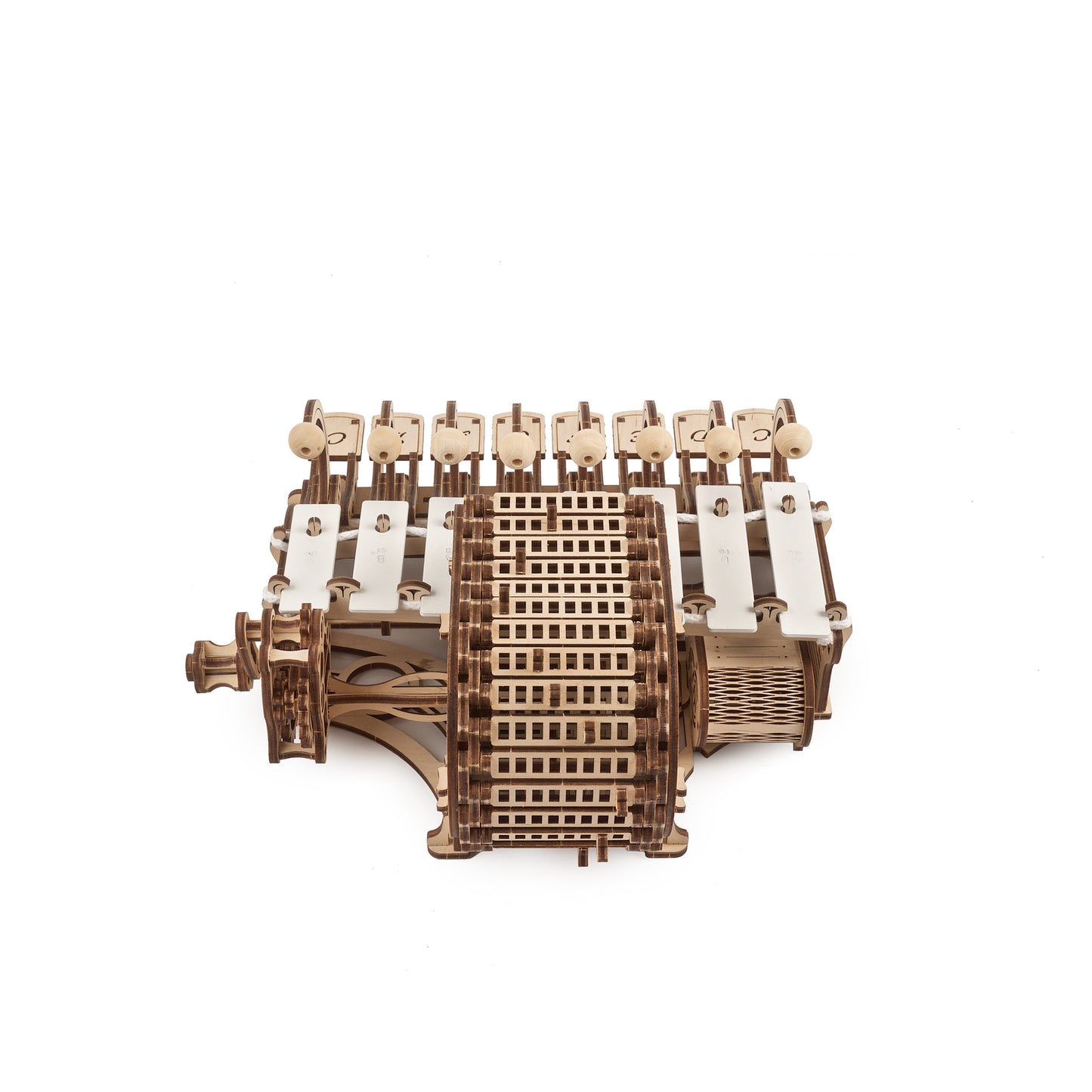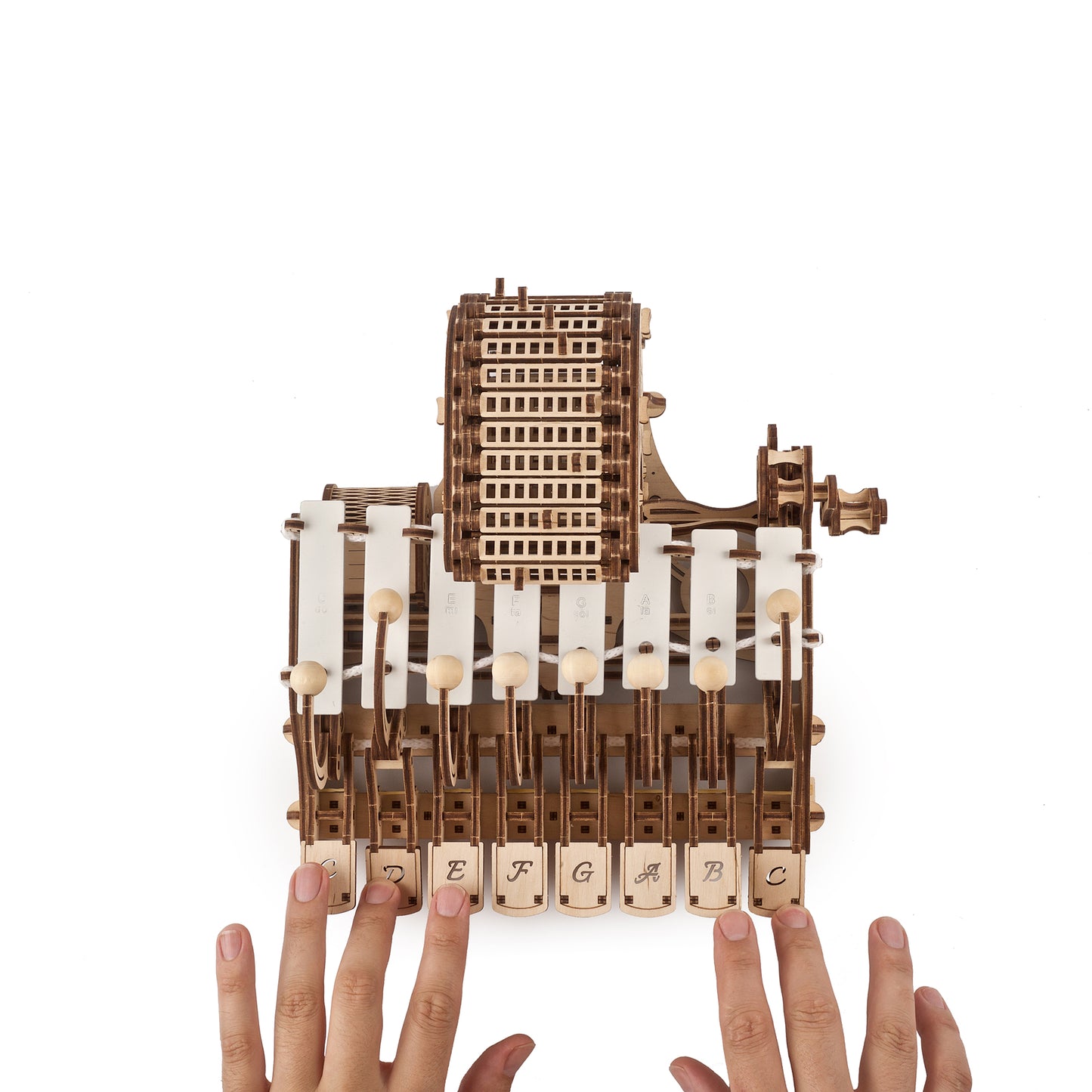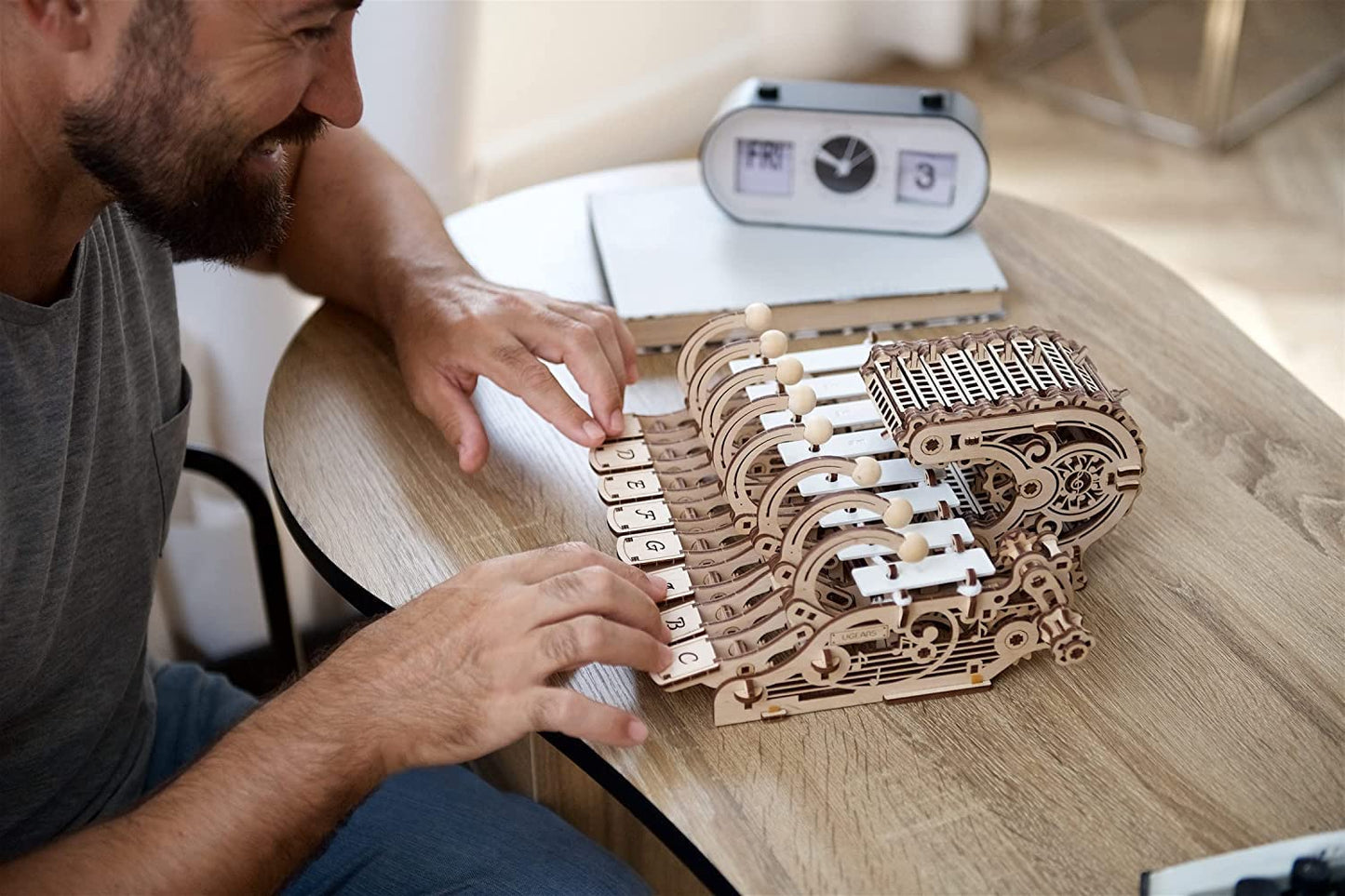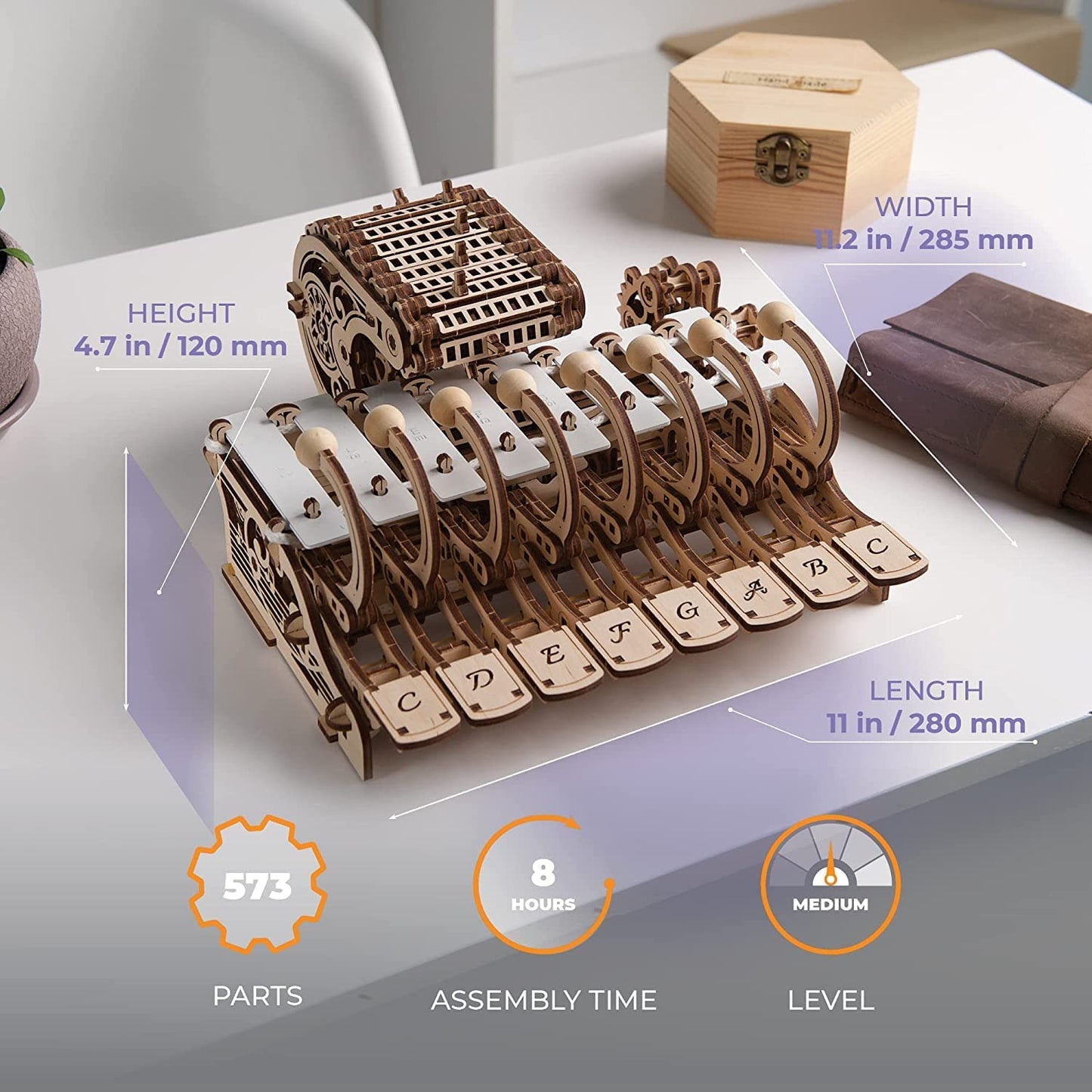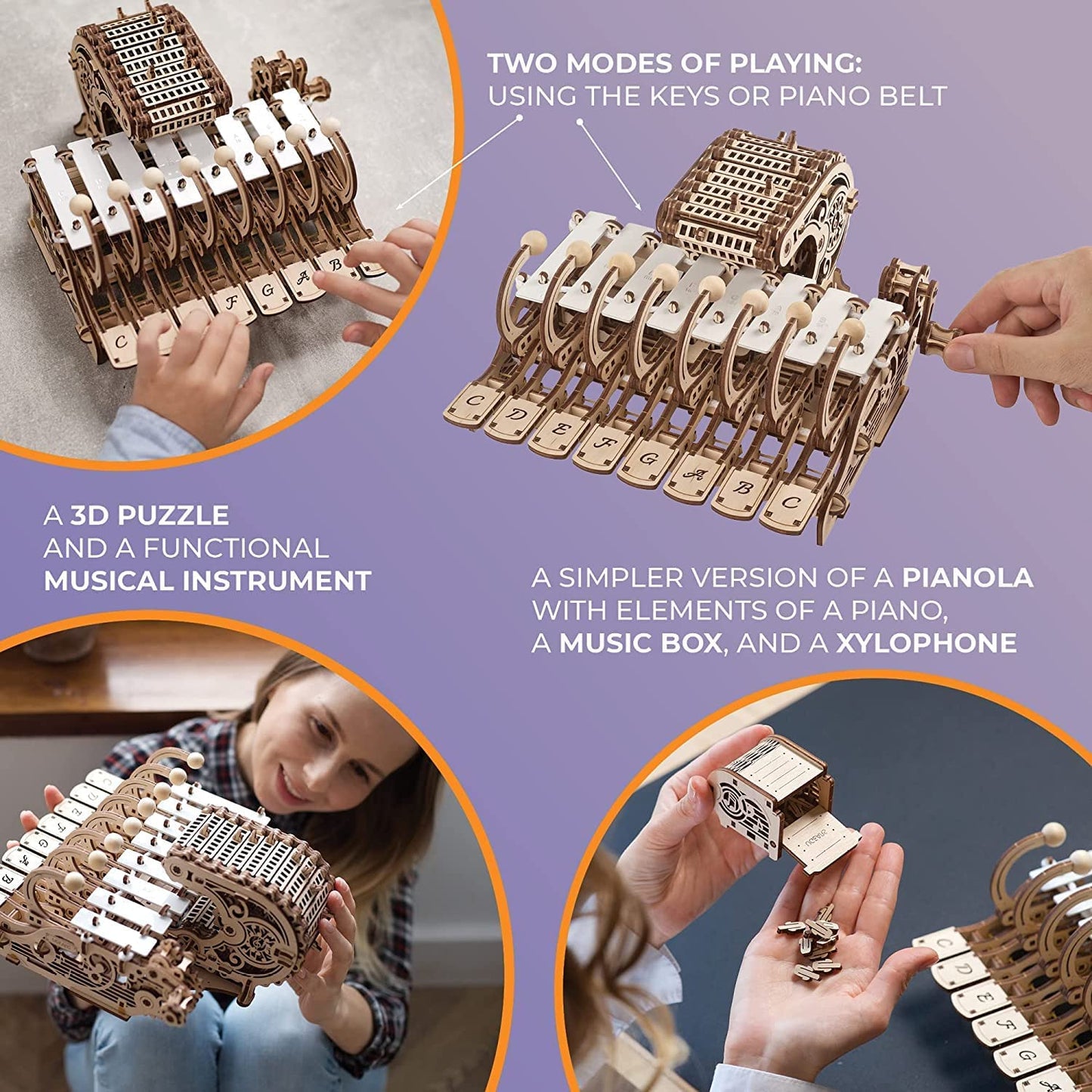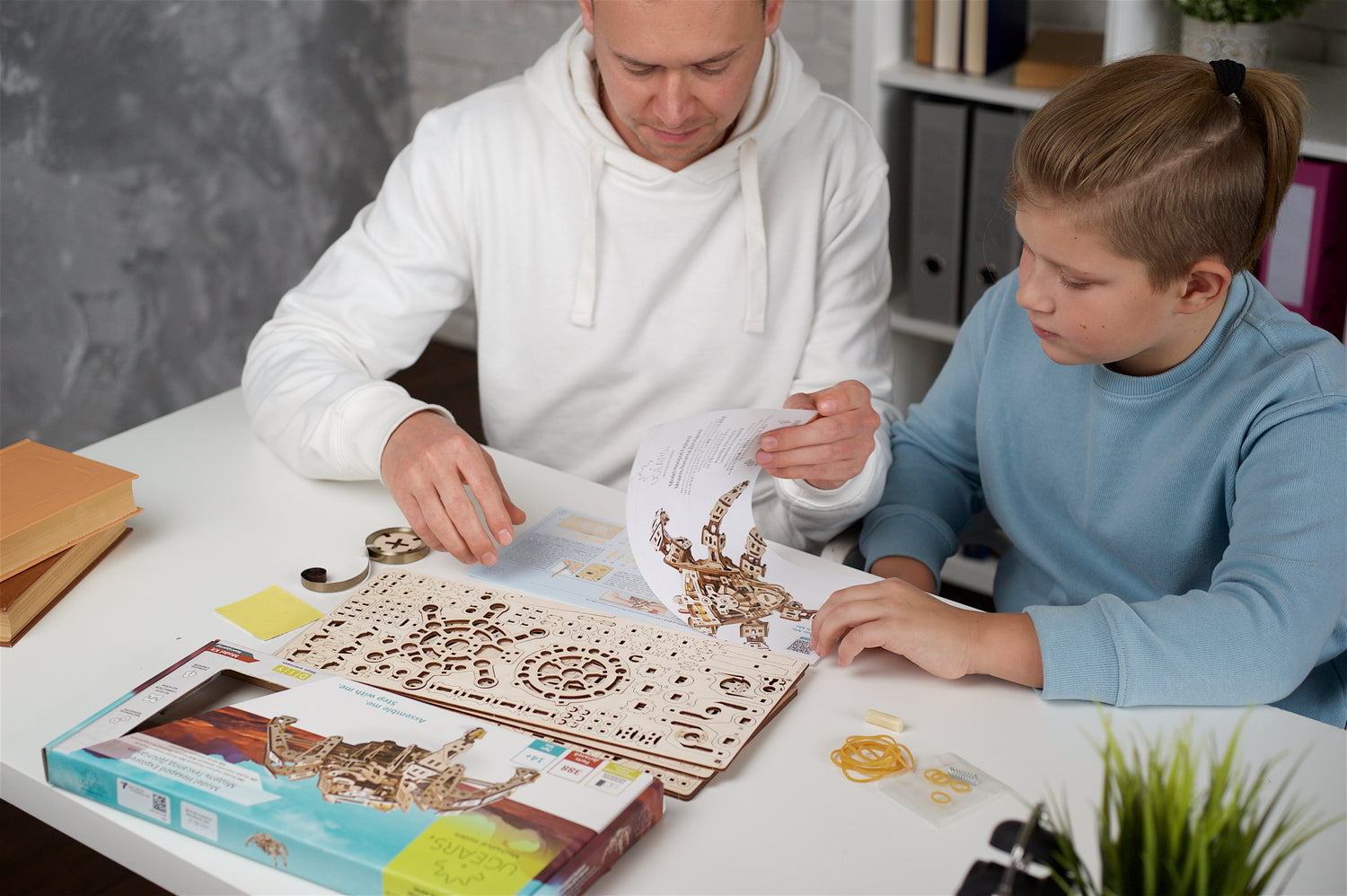 Ready to Build
Ugears models are made from sustainably sourced, laser cut plywood sheets. Everything you need is inside the box, so you can get building right away.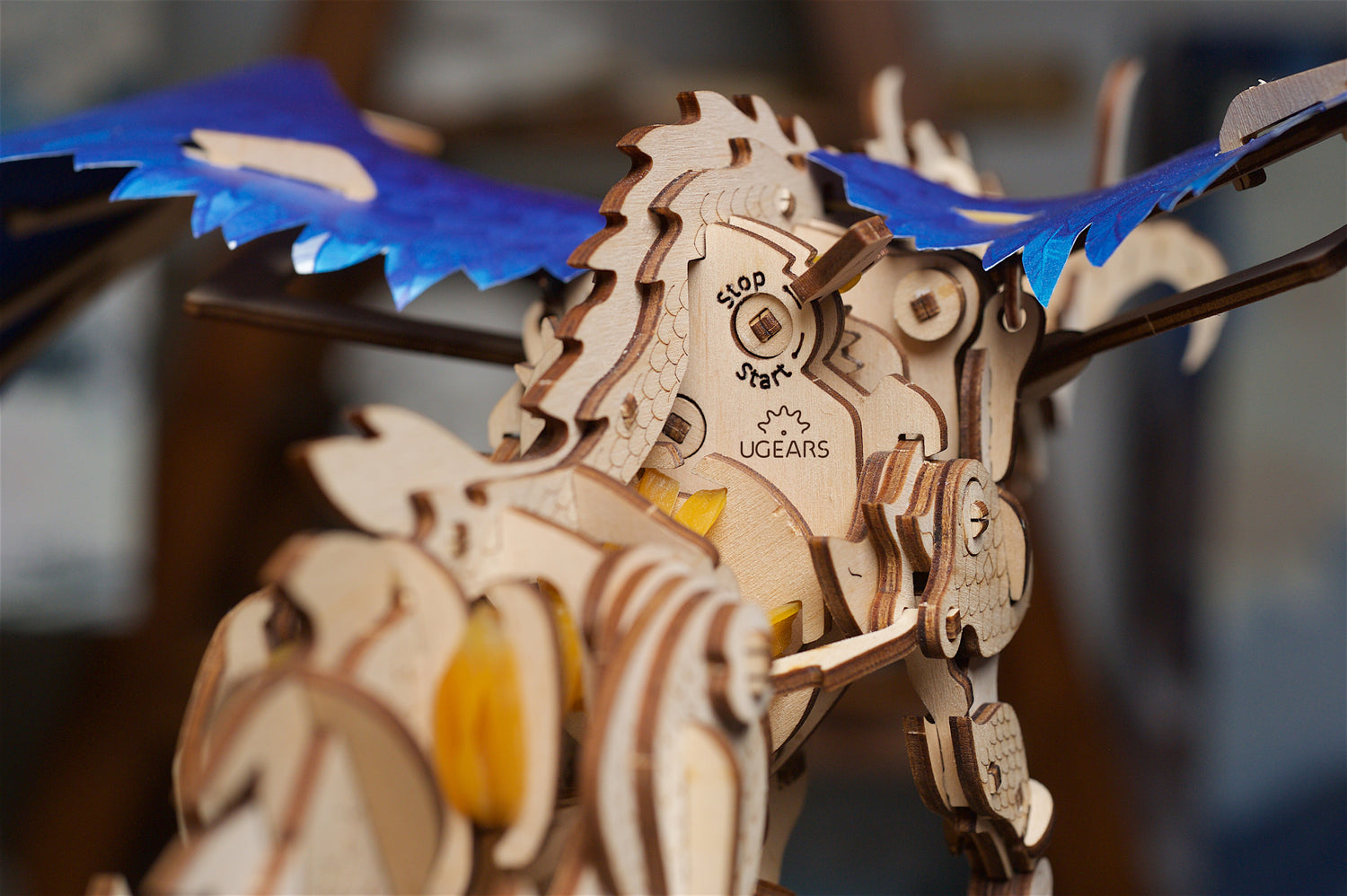 Mechanical
No batteries, no electricity, just Ugears. All mechanical models are powered by the ingenious mechanisms built by you. Just wind up your model and watch it come to life.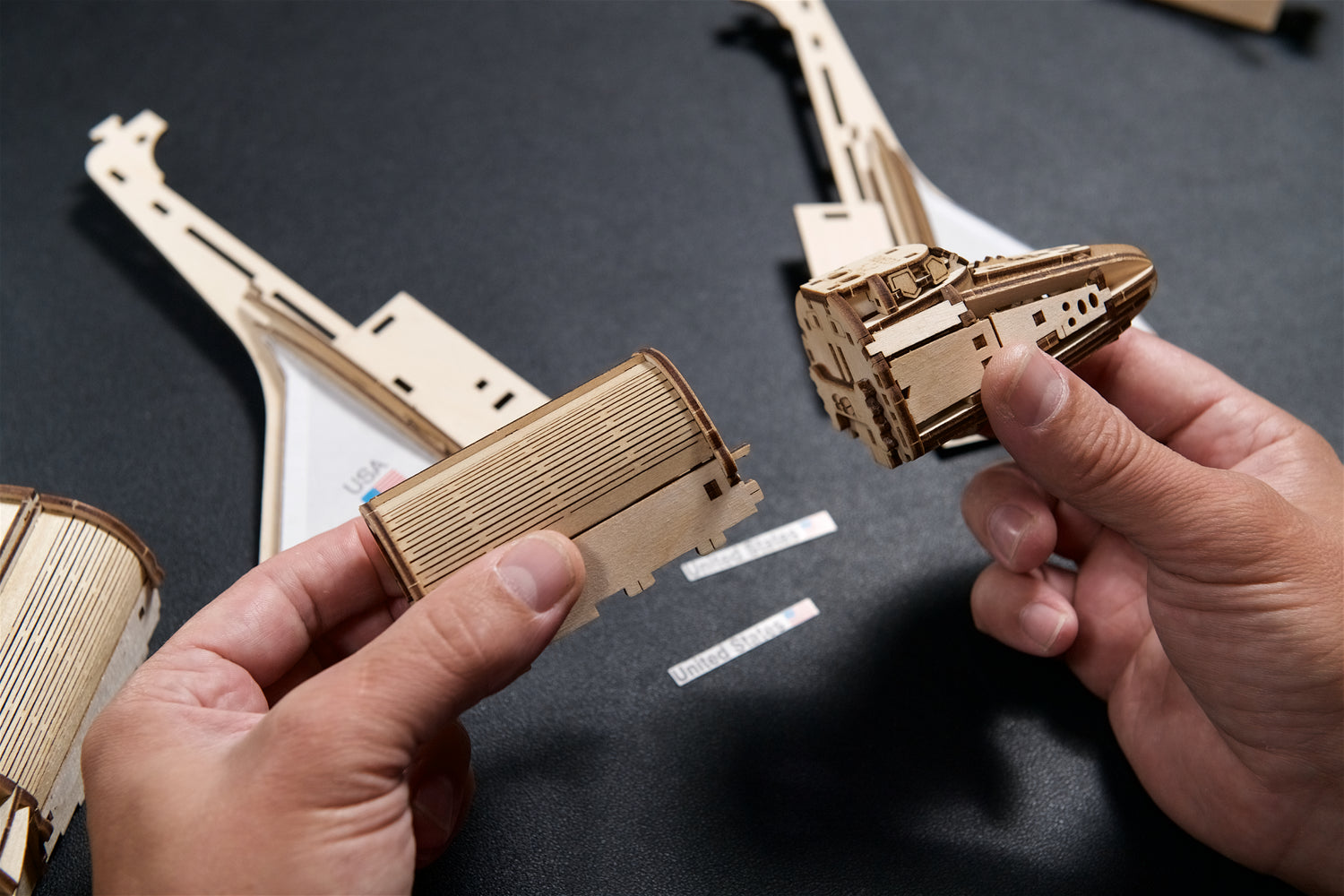 No Glue
Pieces have been designed so they will either click or slide into place. No glue or any other kind of adhesive is needed to build your model.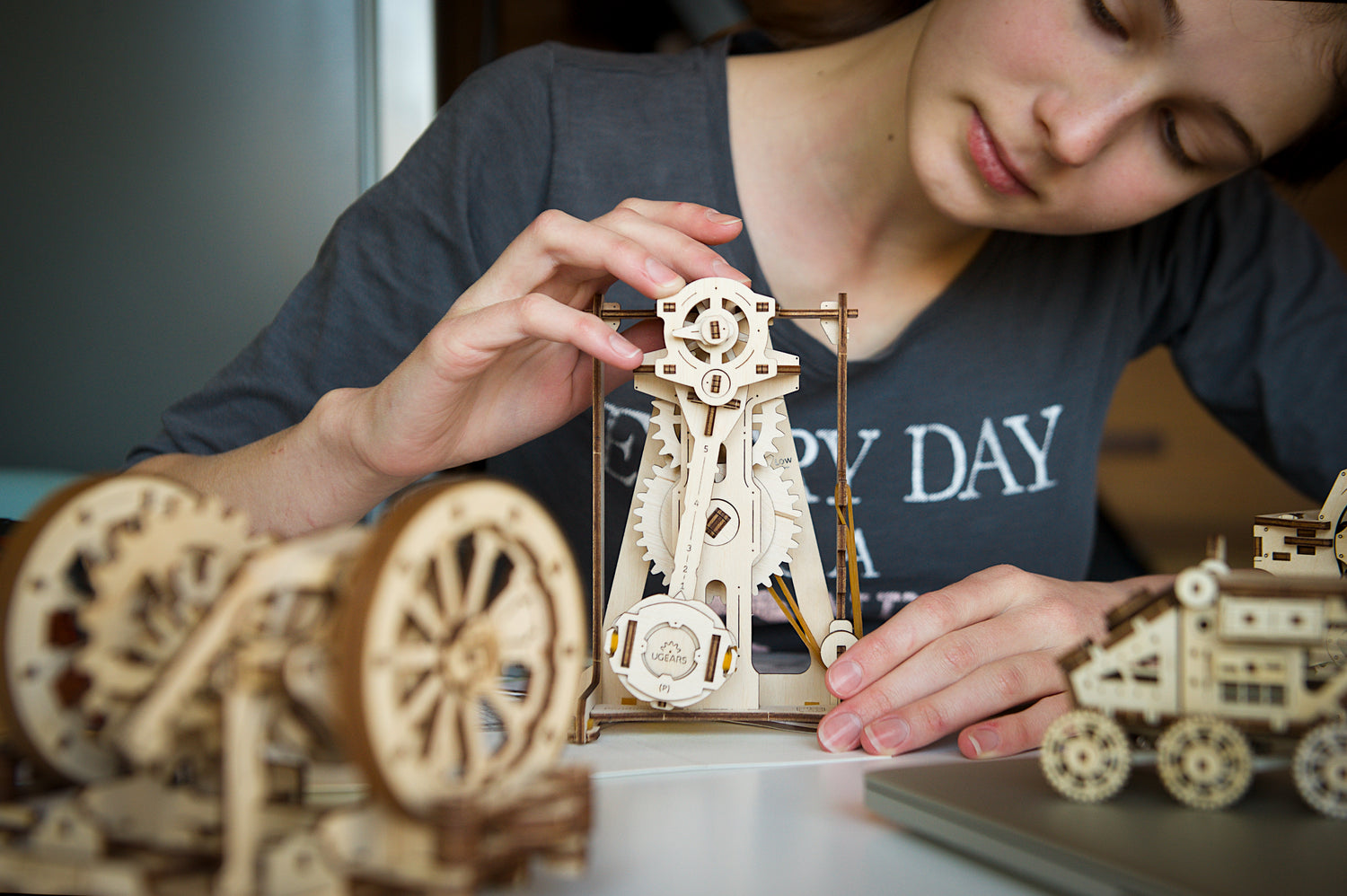 Educational
Models take inspiration from real life inventors and engineers, such as Da Vinci and Galileo. Learn the history behind the model as you build.