SKU:UGR70175
Regular price
Sale price
£43.99 GBP
Unit price
per
Liquid error (snippets/price line 121): divided by 0% OFF
Sale
Sold out
---
337

Pieces

7

Est. Time (hrs)
14+

Age

Advanced

Difficulty
LxWxH 265 mm x 125 mm x 144 mm
---
Share
Vintage design: The Retro Car UGR-T 3D wooden puzzle pays homage to the dawn of the automobile age. Our retro model kits for adults keep the dust off the beautiful antique old cars
Amazing detailing: Just like all UGears model kits for adults and engineering toys for kids, this vintage car model kit is rich in precise details. You can open the doors and the hood, raise and lower the roof, turn the steering wheel, and more
Joyful experience: Prepare for 7+ hours of assembly fun. Vintage car building kits for adults will delight experienced modelers and fans of historic cars alike. Excellent model kits for assembling solo or in good company
Smooth ride: Wind the spring-powered motor using the built-in ratchet key, place this mechanical model on a flat surface as you hold it with one hand, press "start," then release it and watch it go
Precious gift: A UGears classic model car kit is a great holiday, birthday, or anytime gift and stylish addition to any interior. Reward yourself or delight your loved ones with the gorgeous Retro Car UGR-T
Kit contains all required components and no glue is required
Precision laser cut plywood. Only requires assembly.
UGears Mechanical Models are self-propelled, mechanical wooden model assembly kits.
Perfect for family projects, puzzle enthusiasts, and hands-on STEM learning
337 parts
Assembly time: 7 hours
Model size 265x125x144mm
Retro Car UGR-T by Ugears. Assemble me. Drive the legend!
The Retro Car UGR-T is a stylish new addition to Ugears' ever-growing collection of historic and modern cars, racers, motorbikes, trucks and other outstanding automotive DIY models.
This vintage model pays homage to the dawn of the automobile age.
Ugears' team of engineers and designers have developed a special, classic car model to take you back to that age. Outstanding features include the functional convertible folding roof with fabric overlay; latching cab doors that open to the front; the hood that opens on both sides, revealing a functional 4 cylinder engine with crankshaft; a skeuomorphic pendulum that simulates the sound of a rumbling motor; front wheels that turn using the steering wheel; and a spare wheel mounted at the back. To operate the Retro Car UGR-T, set the Start/Stop button to "Stop" as you wind the spring-powered motor using the built-in ratchet key under the chassis. Place the model on a flat surface as you hold it with one hand, press "Start," then release and watch it go. The car has Forward, Neutral, and Reverse gears.
Did you know the age of mass-produced cars also heralded the age of mass car theft? With no way to lock open cabs, easily hot-wired transmissions, and no readily identifiable individual markings or serial numbers, mass-produced cars were an attractive target for thieves. Moreover, cars gave criminals an easy way to transport stolen goods or make a quick getaway after a bank robbery. During Prohibition in the United States (1920-33), many a car had a false undercarriage installed for concealing bootleg liquor! In fact, the rise and development of the FBI tracks with the rise and evolution of mass-produced automobiles.
The Retro Car UGR-T wooden model consists of 337 parts, is rated "advanced" level, and promises 7+ hours of enjoyable assembly time. No glue or other tools are required to assemble this attractive DIY wooden model—everything you need comes right in the box. Parts are carefully laser pre-cut into plywood boards, from which they are easily removed and connected to each other. Detailed, illustrated instructions in 11 languages (English, German, Spanish, French, Italian, Polish, Ukrainian, Chinese, Japanese, Korean, and Russian) will guide your assembly for a successful build. If you break a piece during construction, just let us know and we'll be happy to provide a replacement part free of charge.
Early handbuilt cars came in a variety of colors (but black paint dried faster)! You can choose to leave your Retro Car UGR-T in its attractive natural wood state, paint or stain it in your own original color scheme, or paint it black.
The Retro Car UGR-T is the perfect place to start your collection of Ugears wooden model cars. Other classic American car and truck models from Ugears include the Pickup Lumberjack, Dream Cabriolet, and Drift Cobra. From there you can branch out to motorbikes, trains, ships and all kinds of mechanical marvels as you explore the wonderful world of Ugears 3D puzzles, DIY model kits, automatons, robots, wooden puzzle boxes and STEM Lab model kits.
The Retro Car UGR-T model will appeal to fans of historic cars, car modeling enthusiasts and people who love a good 3D puzzle. This DIY wooden car model is a great holiday, birthday, or anytime gift, a stylish addition to any interior, and promises hours of fun assembly and imaginative play. Have a great time as you go back in time with the Retro Car UGR-T!
View full details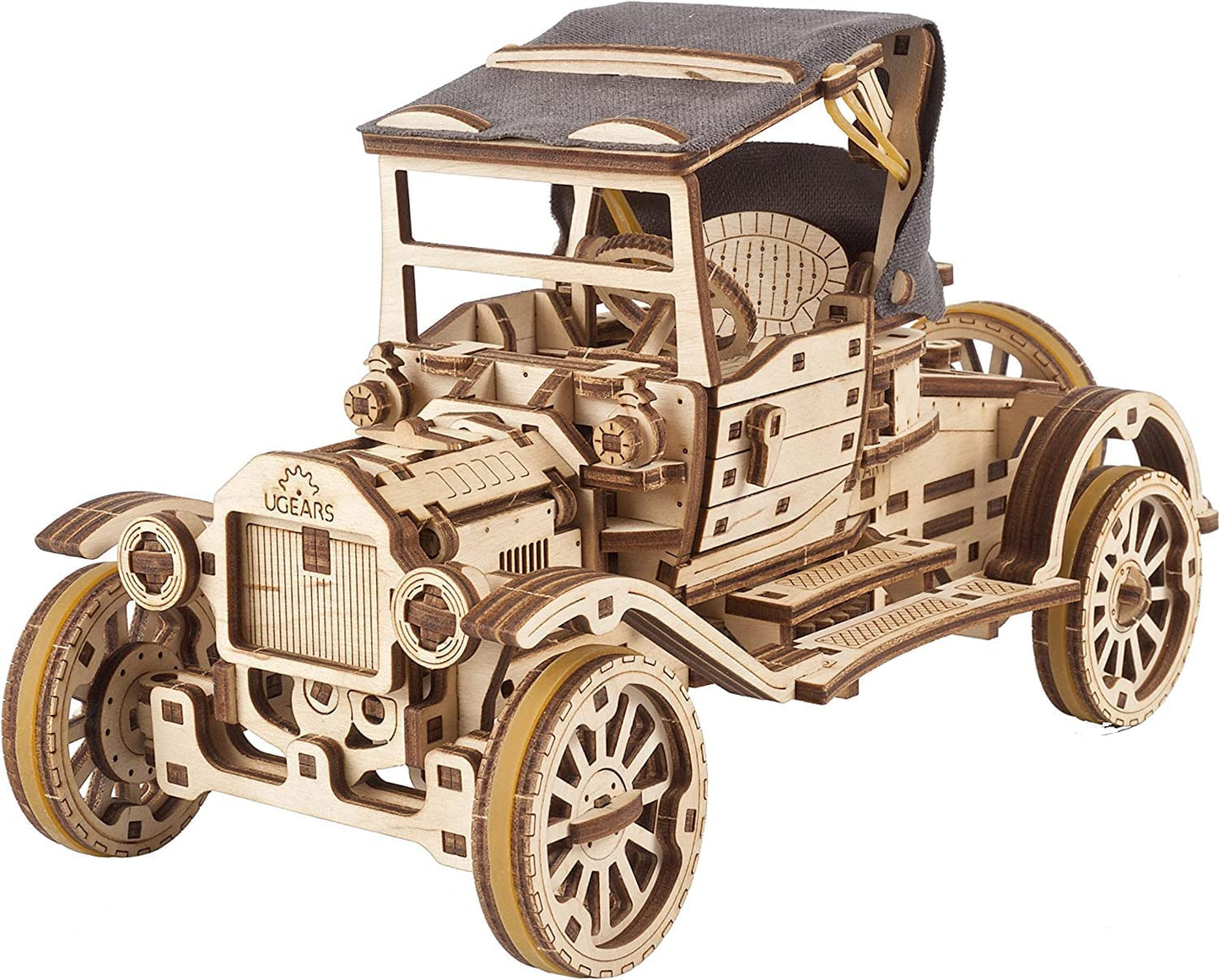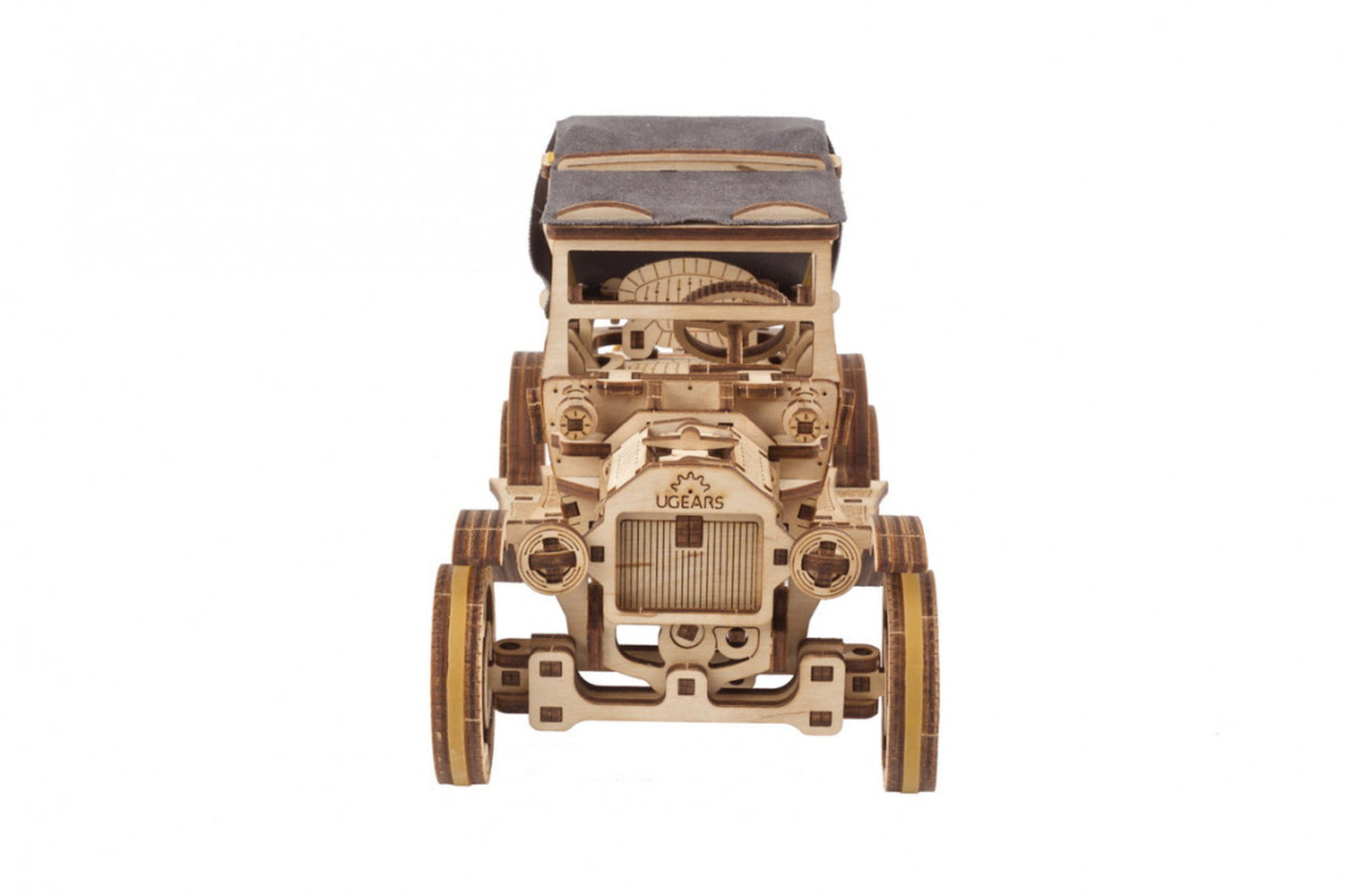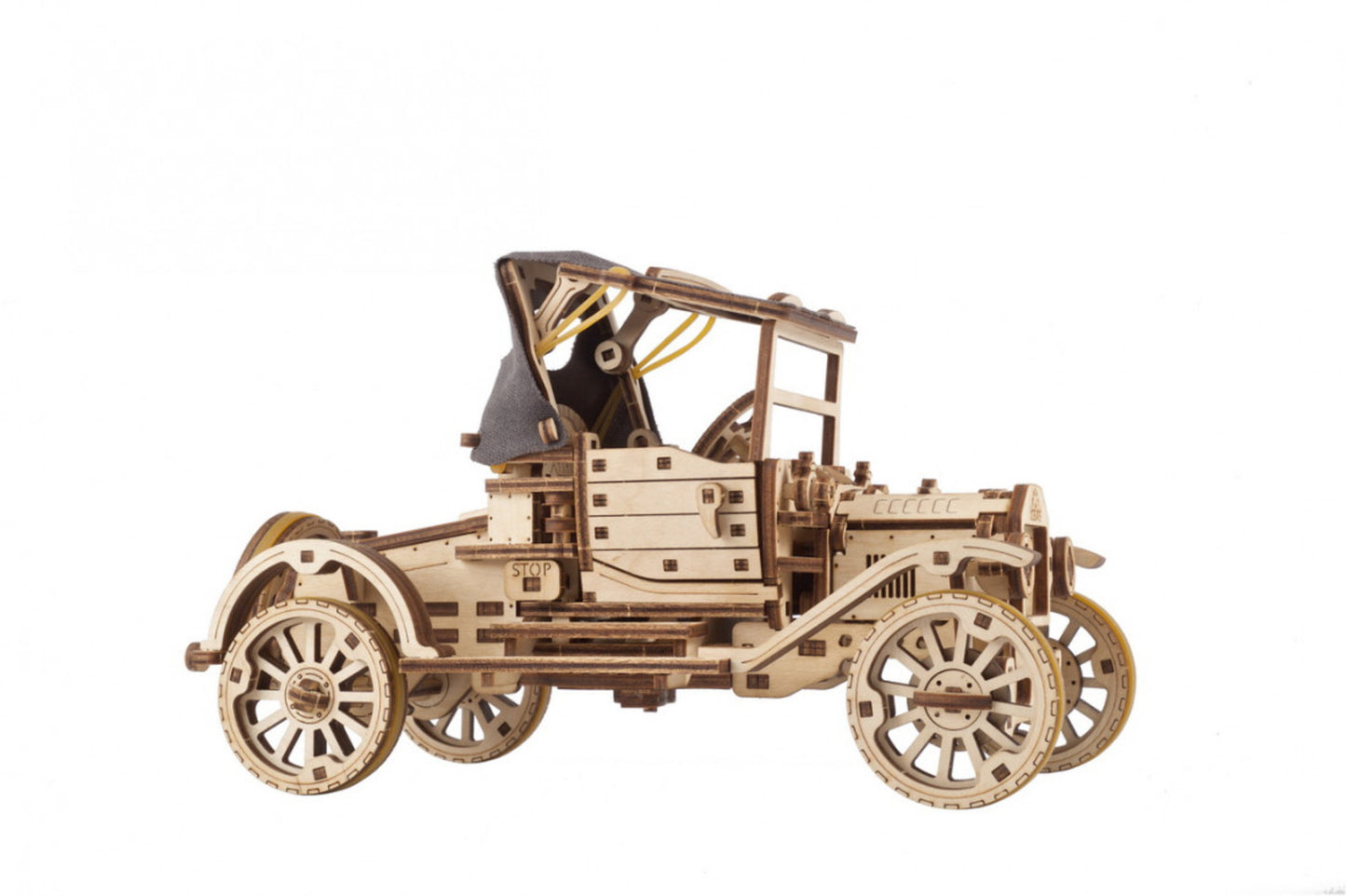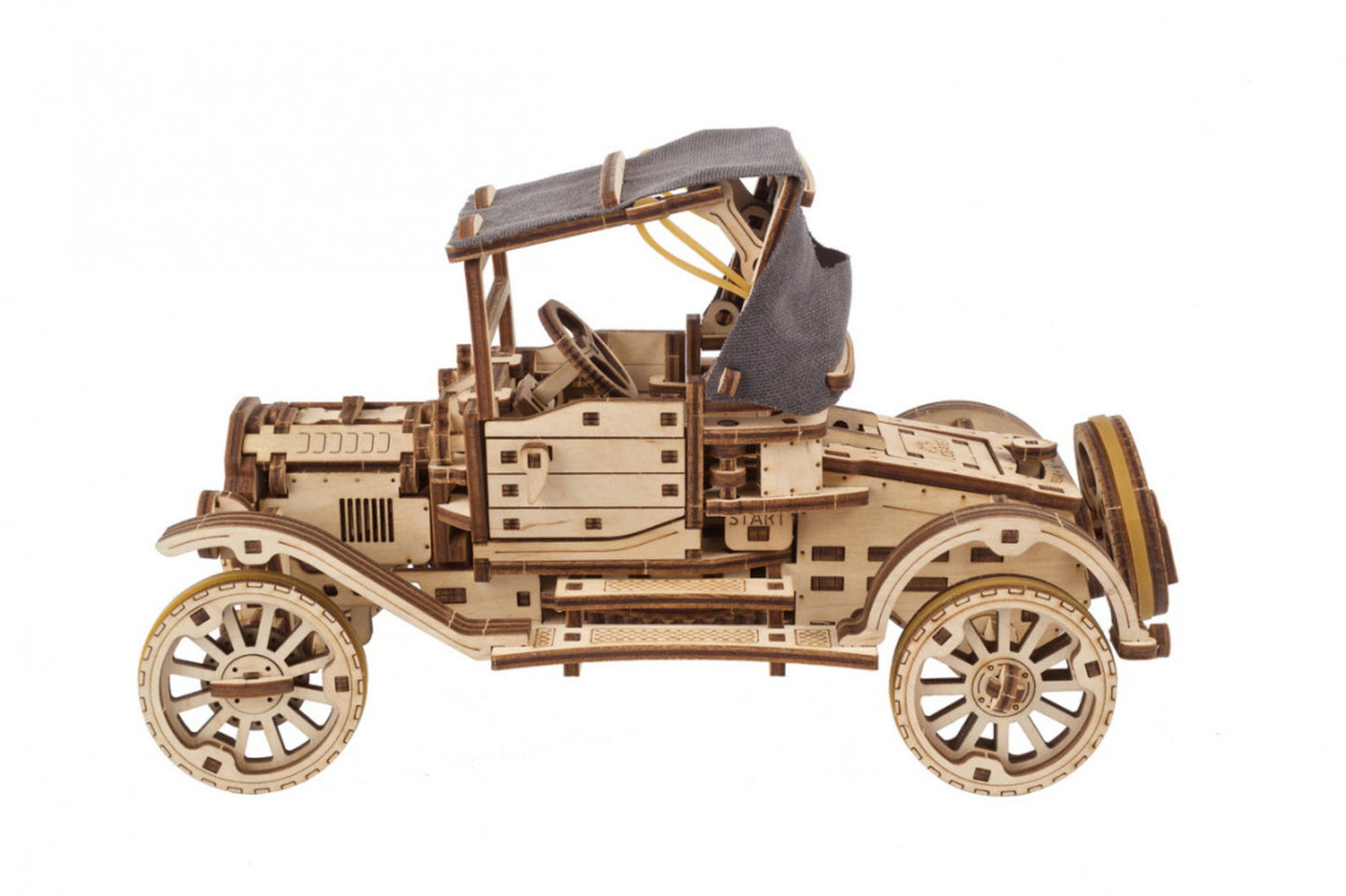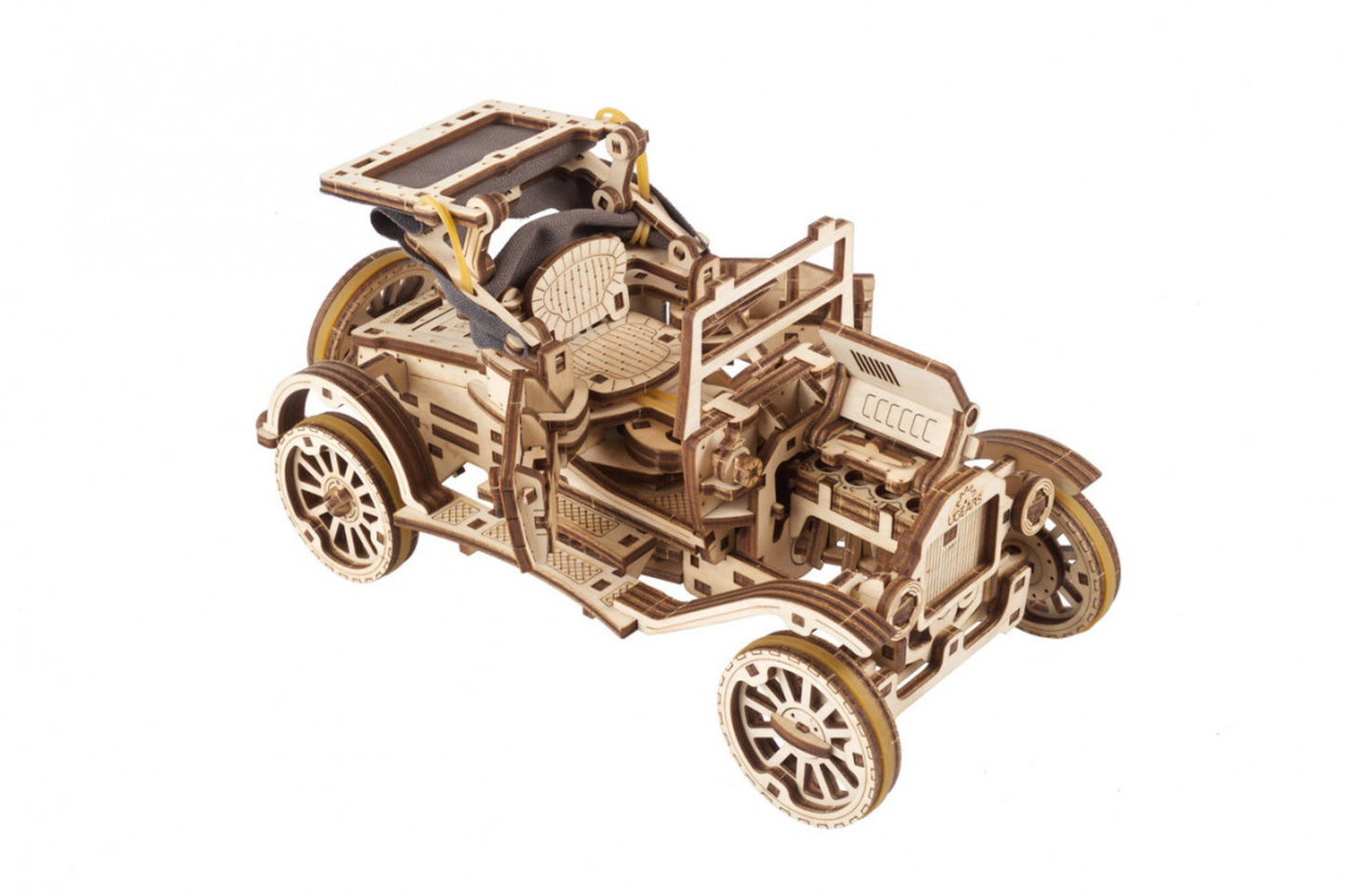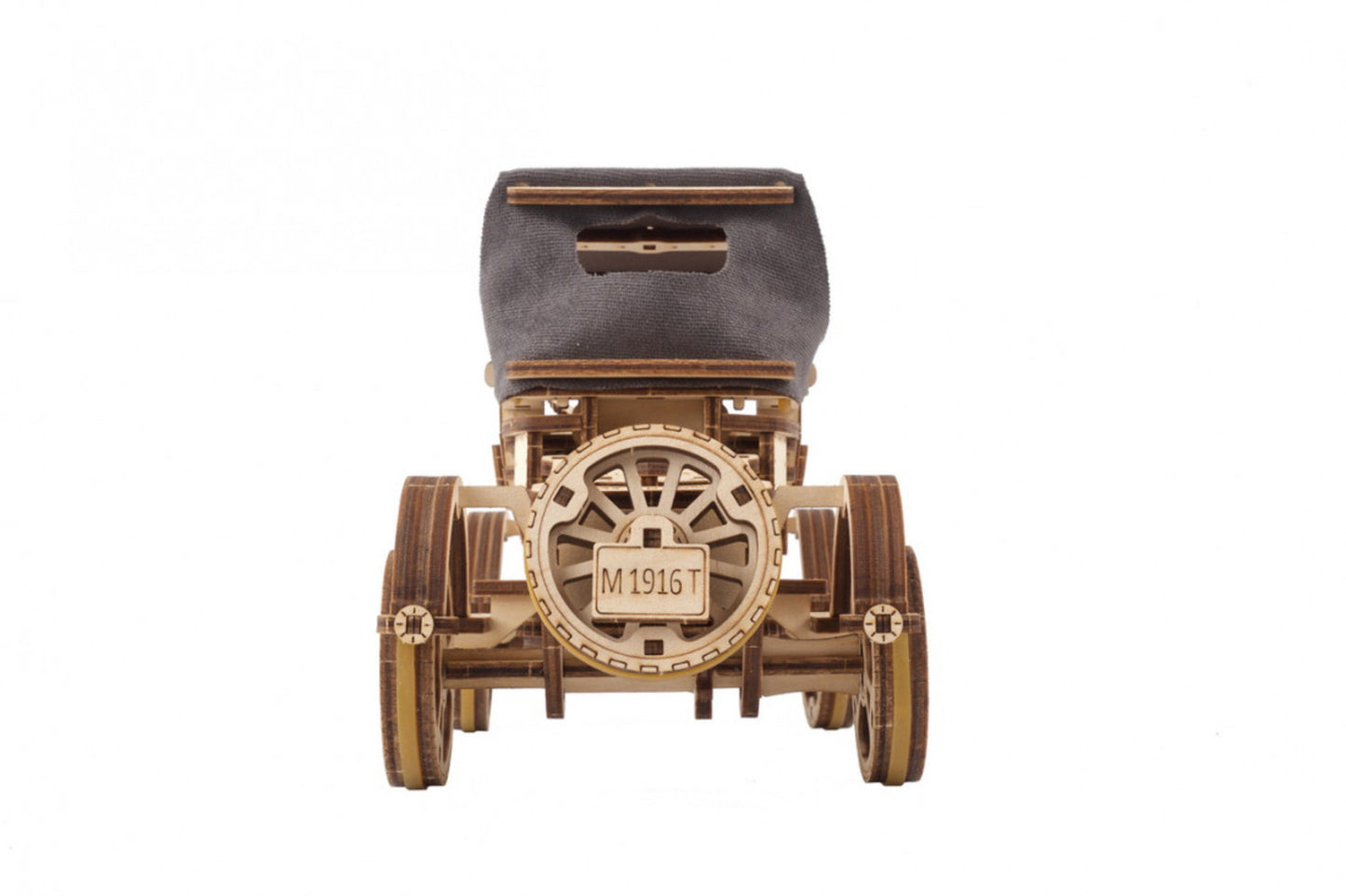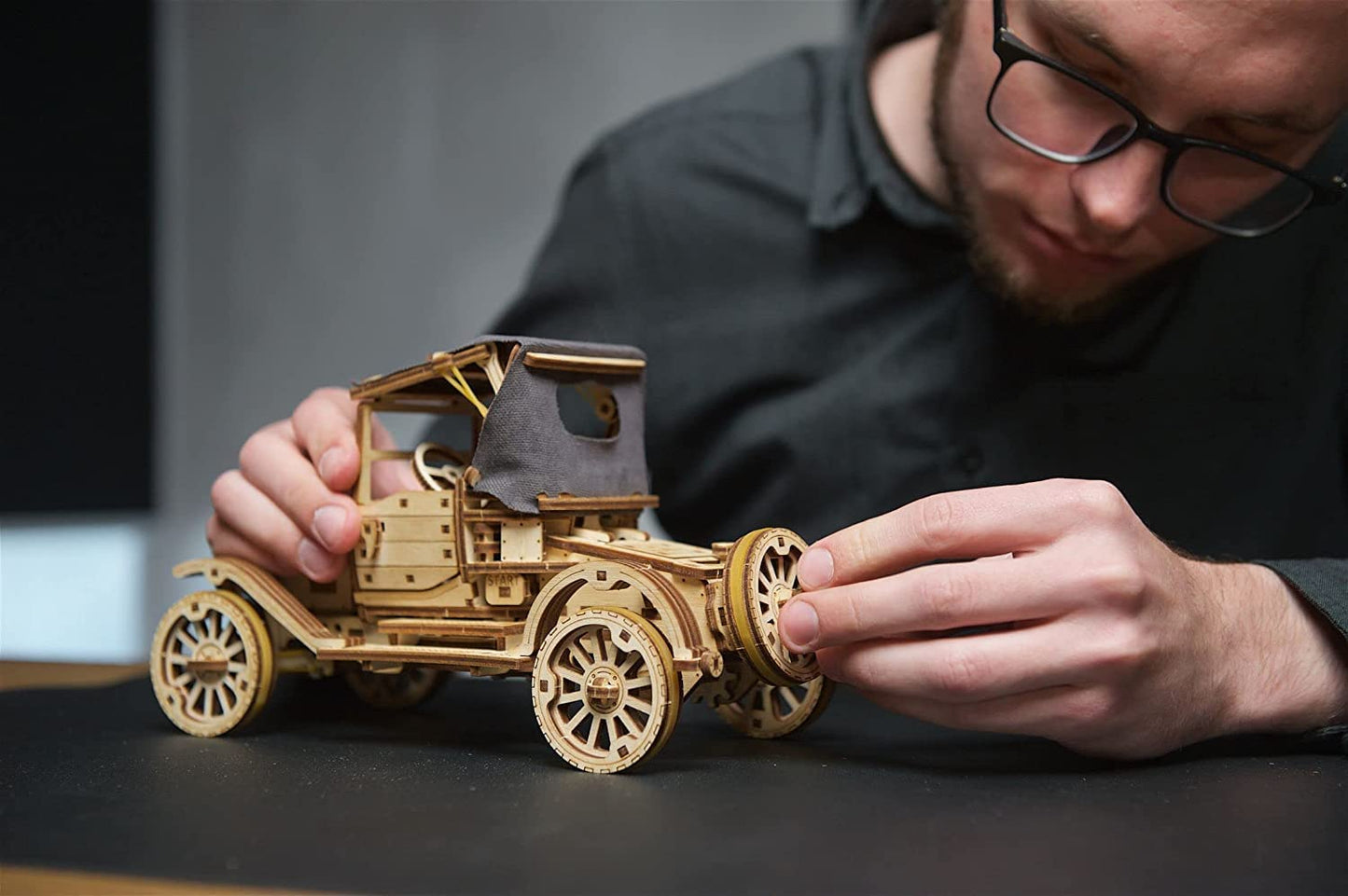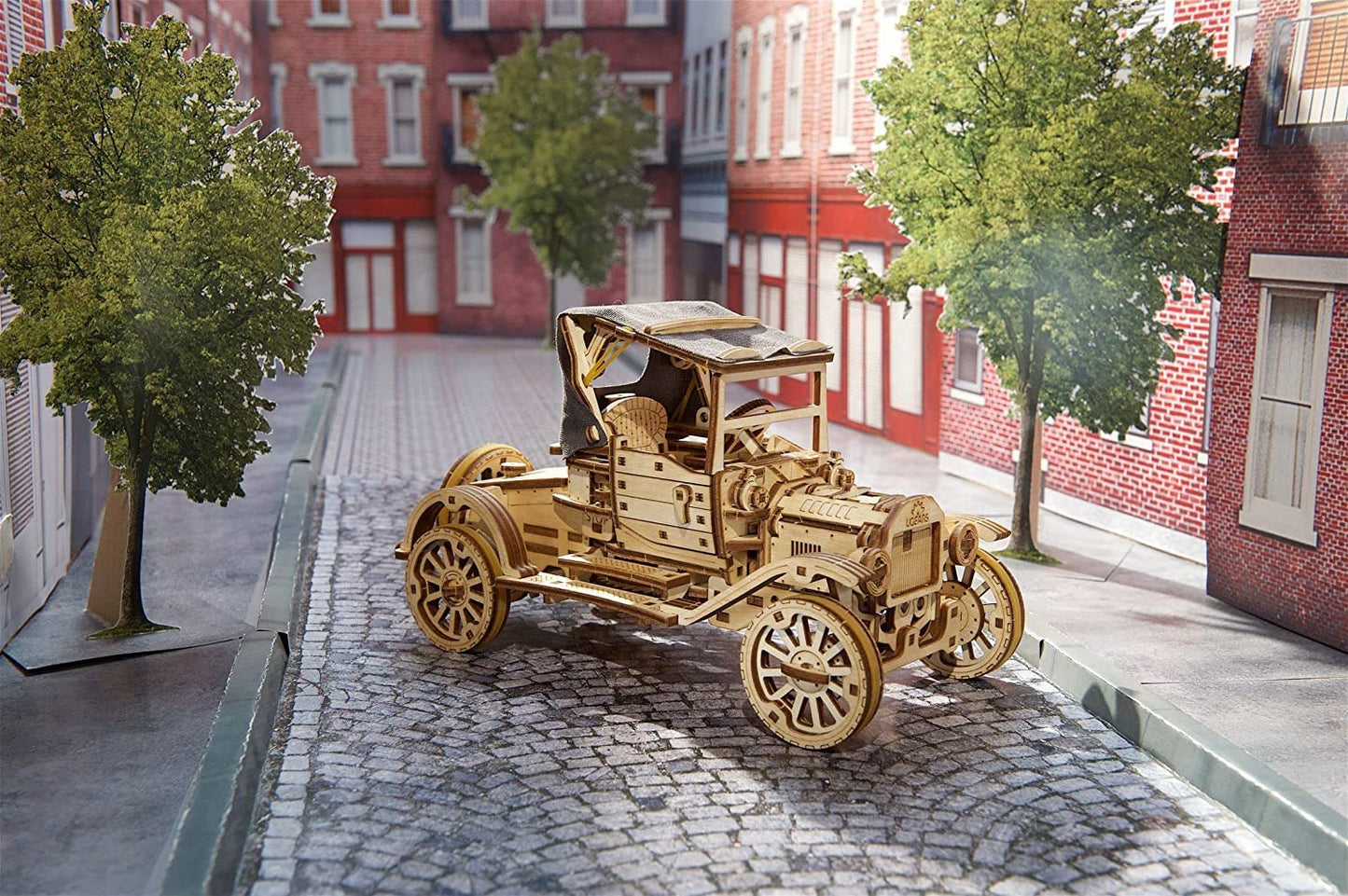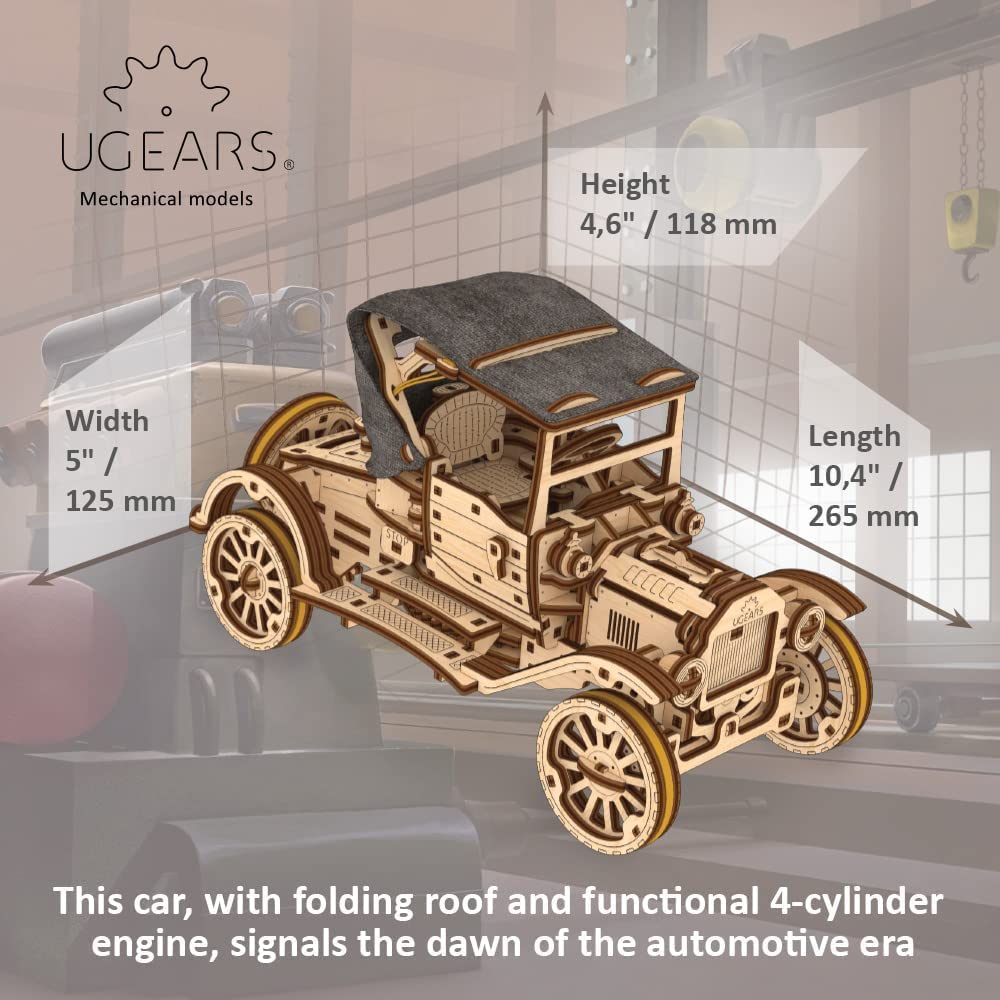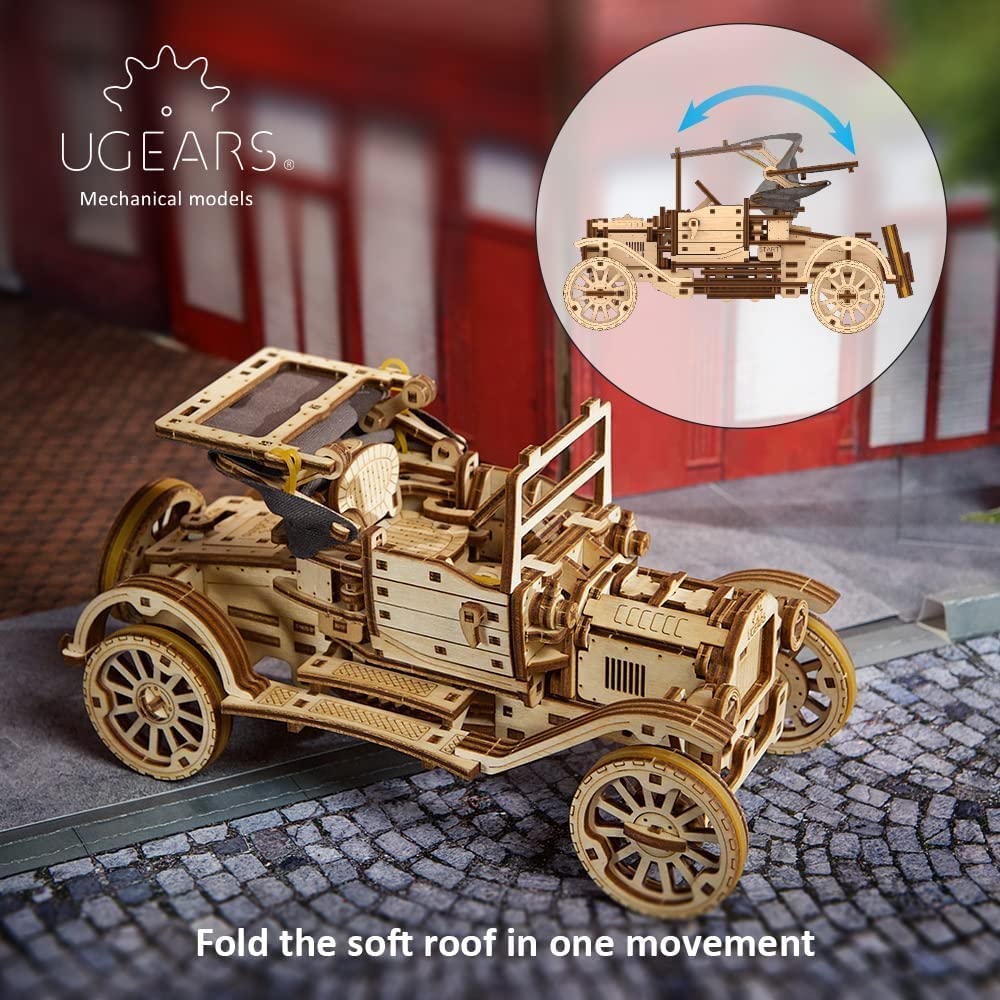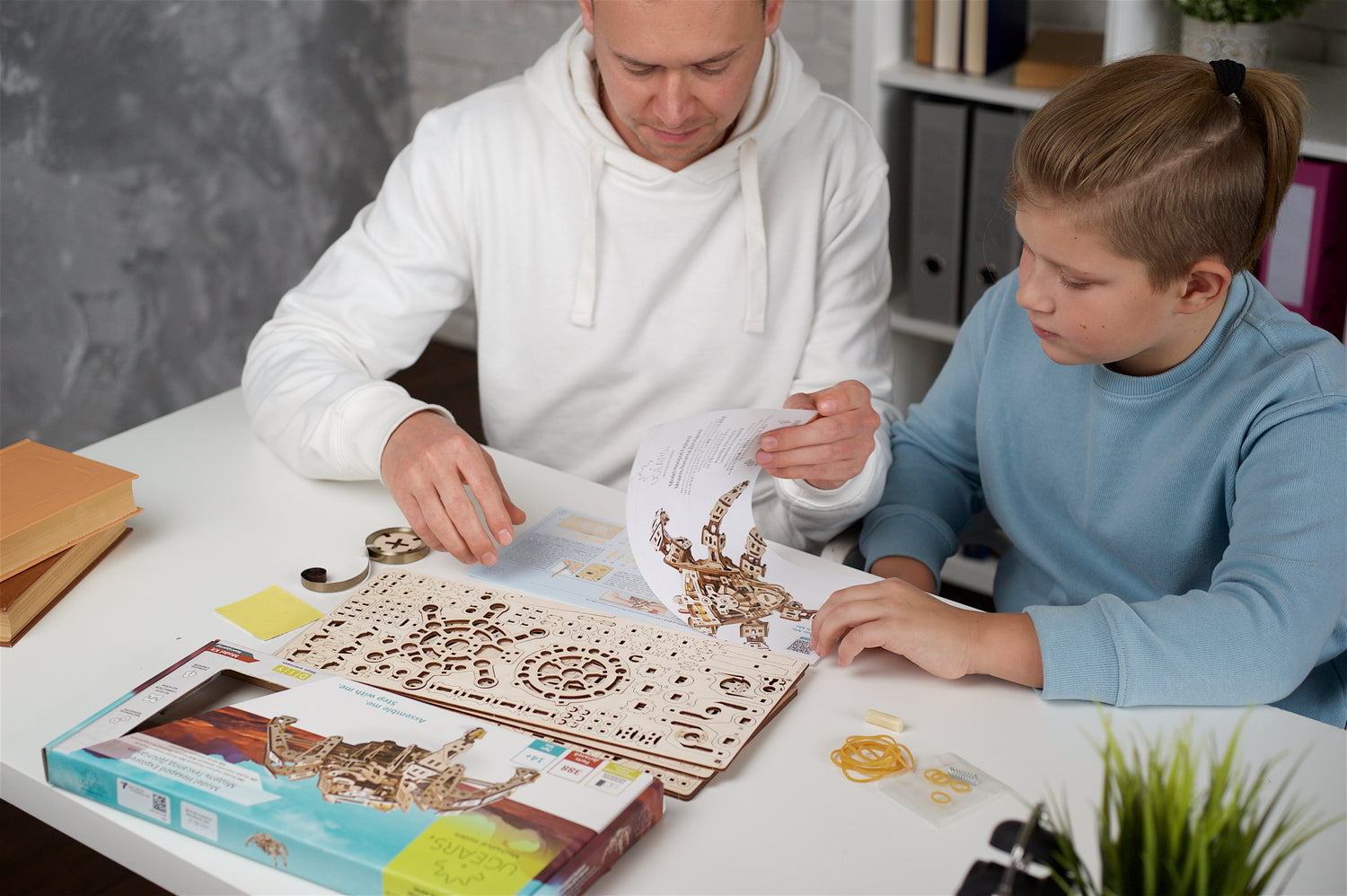 Ready to Build
Ugears models are made from sustainably sourced, laser cut plywood sheets. Everything you need is inside the box, so you can get building right away.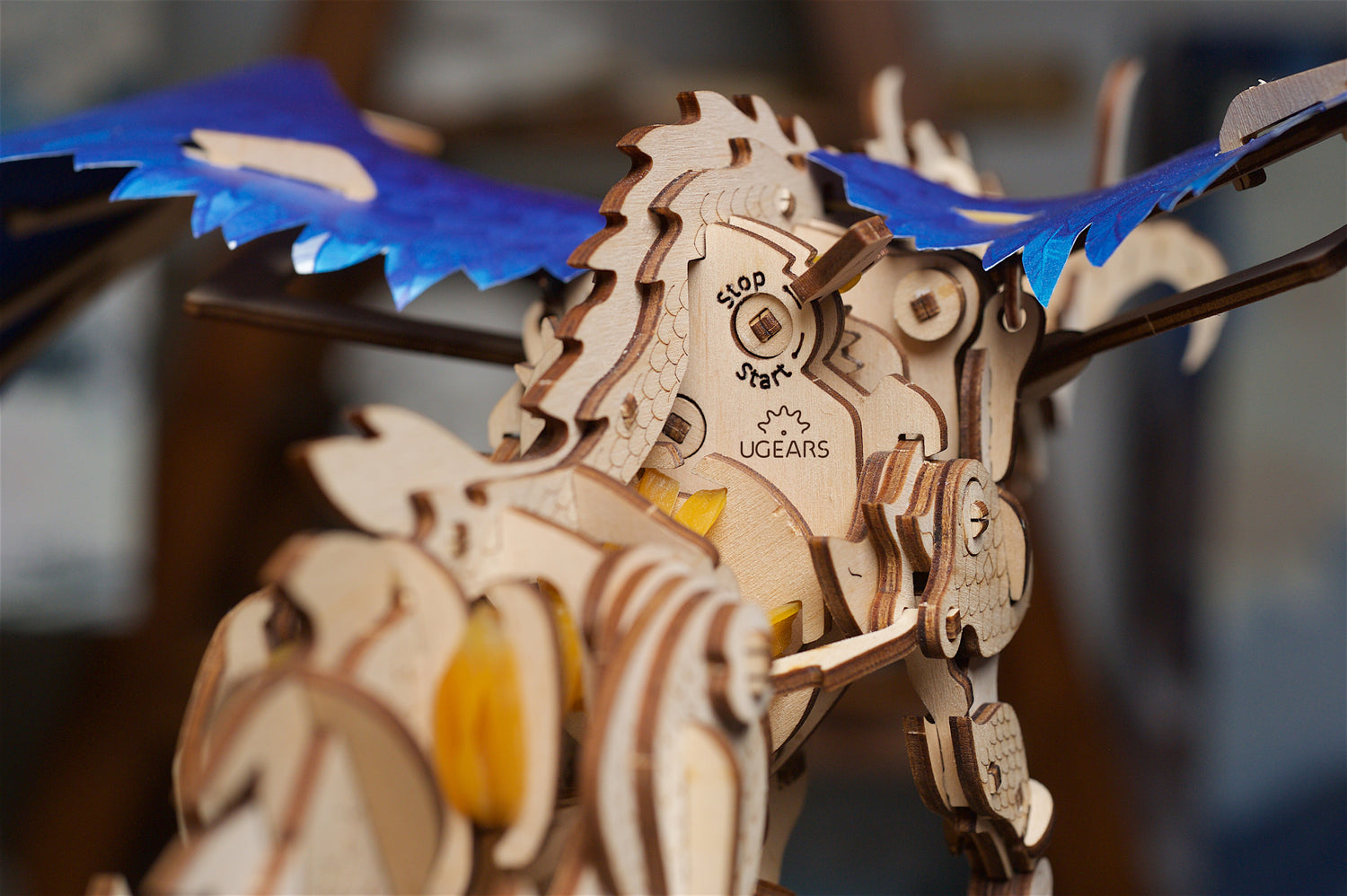 Mechanical
No batteries, no electricity, just Ugears. All mechanical models are powered by the ingenious mechanisms built by you. Just wind up your model and watch it come to life.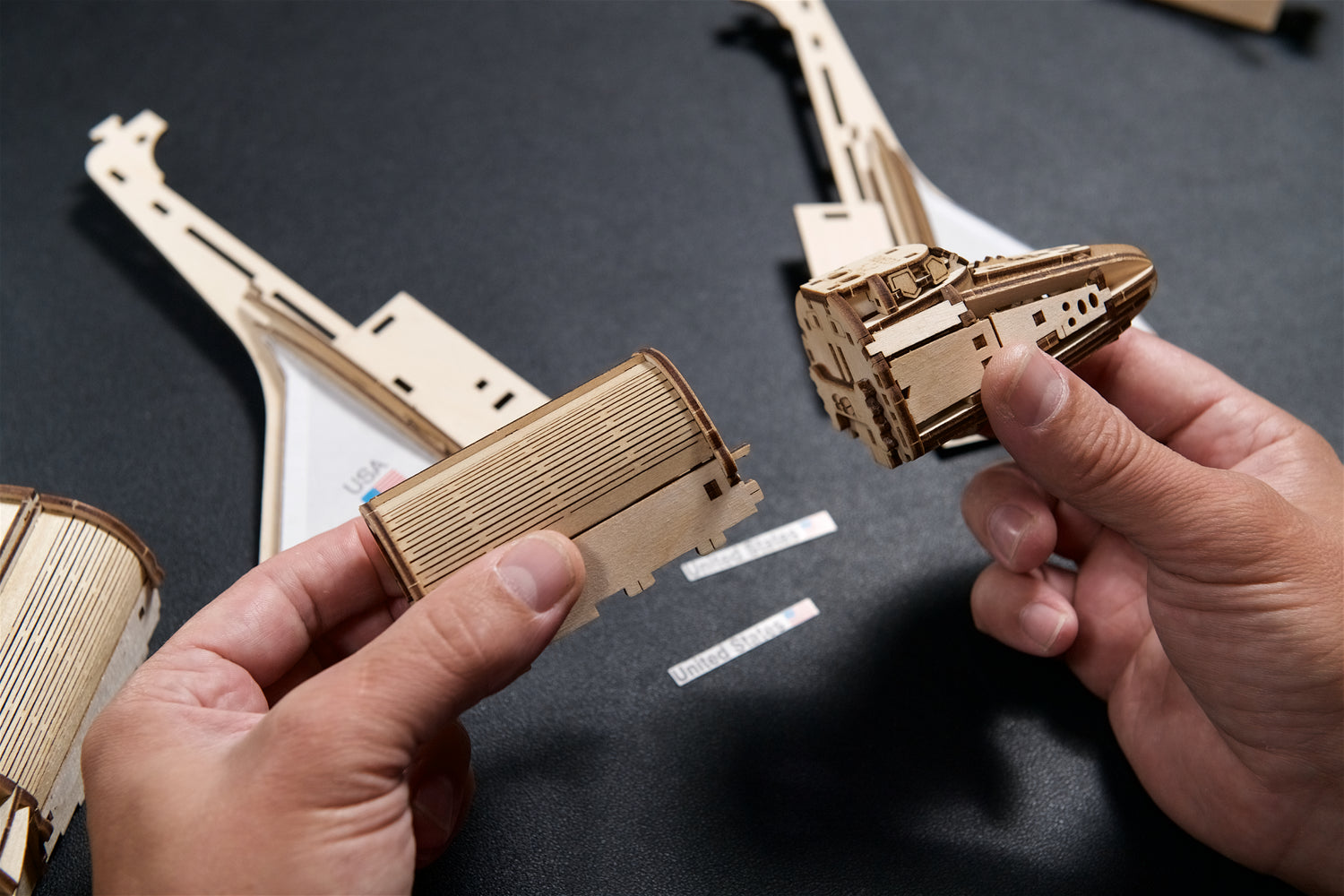 No Glue
Pieces have been designed so they will either click or slide into place. No glue or any other kind of adhesive is needed to build your model.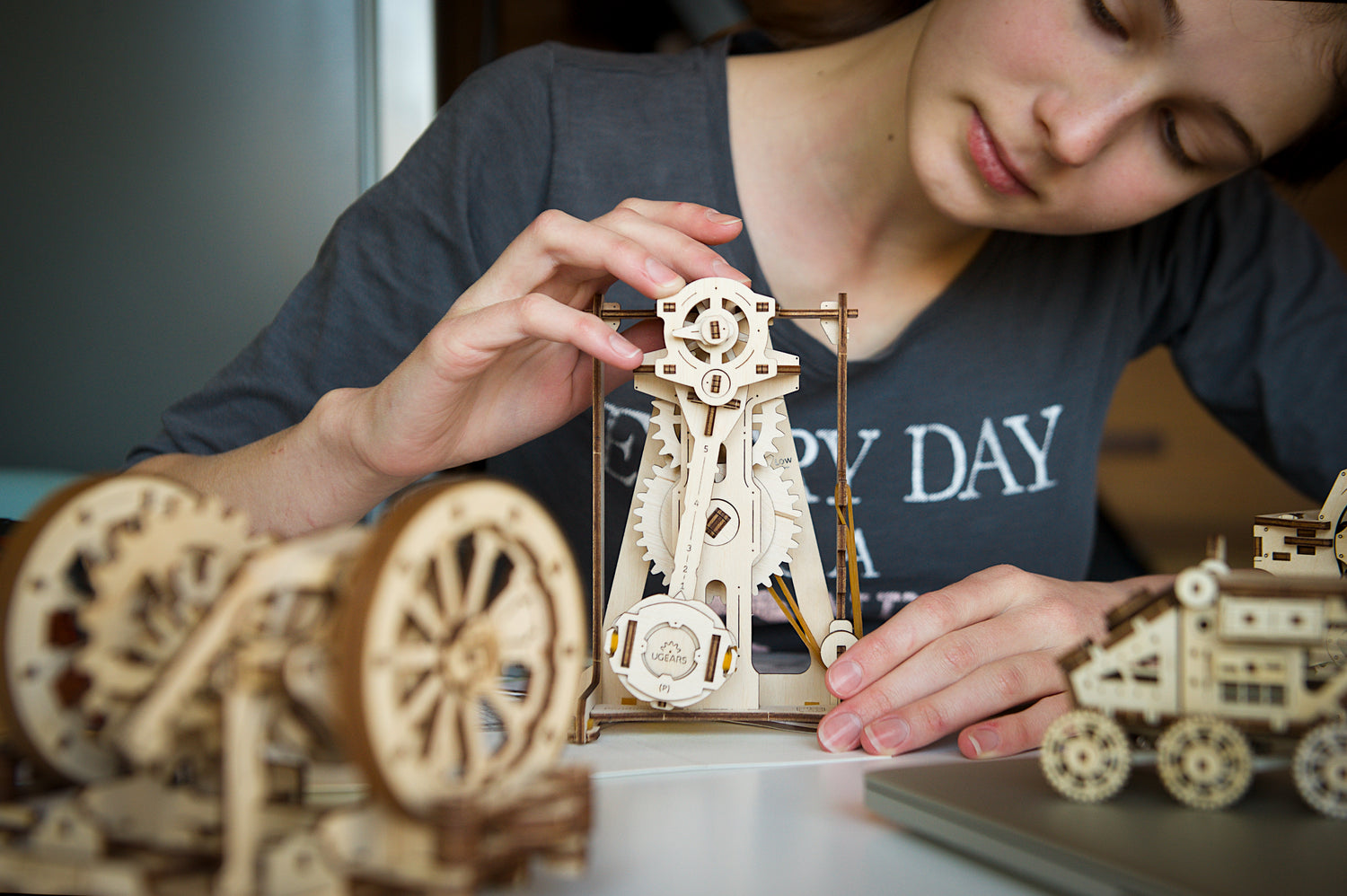 Educational
Models take inspiration from real life inventors and engineers, such as Da Vinci and Galileo. Learn the history behind the model as you build.