SKU:UGR70171
Regular price
Sale price
£60.99 GBP
Unit price
per
Liquid error (snippets/price line 121): divided by 0% OFF
Sale
Sold out
---
460

Pieces

8

Est. Time (hrs)
14+

Age

Advanced

Difficulty
LxWxH 316 mm x 138 mm x 118 mm
---
Share
Amazing retro truck: The Pickup Lumberjack features handsome 1950's styling, engaging details, moving parts and a spring motor. Similar to other UGears model kits for adults and 3D puzzles for kids, this wooden truck is a combo of refined arts and engineering
Relaxing and fun: Putting together our model building kits is an exciting, hands-on experience. You can assemble this 3D wooden puzzle alone or in good company. Plan for about 8 hours of quality time
Happy rides: Press the start/stop mechanism and your truck will roll on command. This car model kit can travel backwards and forward up to 6 meters (19 ft) and haul loads of 400–450 grams (1 lb) in the truck bed
Everything in the box: No extra tools or glue are needed to assemble UGears engineering toys and DIY projects for adults. Illustrated, step-by-step instructions will keep you on track
Bring joy: Give a ready-to-assemble model kit or present a completed UGears 3D truck as a special handmade gift to retro car fans and hobbyists. Delight your loved ones with UGears model building kits today and always
Kit contains all required components and no glue is required
Precision laser cut plywood. Only requires assembly.
UGears Mechanical Models are self-propelled, mechanical wooden model assembly kits.
Perfect for family projects, puzzle enthusiasts, and hands-on STEM learning
460 parts
Assembly time: 8 hours
Model size 316x138x118mm
Pickup Lumberjack by Ugears. Assemble me. Take me home, country roads!
This old-timey truck sure is pretty to look at, but it's not just for show. The Ugears Pickup Lumberjack is a working truck with a job to do, and that's hauling wood (or hay bales, or work tools—whatever you can imagine)! Based on the popular 1959 Chevrolet 3100, the DIY wooden model features a 1m x 7mm spring motor (same as the powerful Ugears Drift Cobra) allowing the Pickup to travel up to 6 meters and haul loads of 400 - 450 g in the truck bed. The winding knob is stylized to resemble a custom open top air filter emerging from the hood. Lift the hood to reveal the beautiful V8 engine firing away!
The Pickup Lumberjack has 3 modes: R (Reverse), N (Neutral), D (Forward). The spring's energy is transferred to a gear set to increase the gear ratio, through the gearbox, then to the drive shaft, differential, and rear axle. A Start/Stop mechanism located in the truck bed allows you to start the truck on command. Because this is Ugears, and because we love to focus on the small, whimsical details that make a model exceptional, a small pendulum under the seats simulates the shaking of a truck's powerful engine. Bent plywood gives the model beautiful lines and 1950's styling. The Pickup's doors open from inside and outside, and the tailgate folds down. The front wheels can be turned using the steering wheel and locked in place for graceful turns. The Pickup Lumberjack also features front and rear spring suspension so you don't get bounced around too much on those country roads.
Take a journey back in time, into the woods, with the Pickup Lumberjack from Ugears. The sun is up. The mist has cleared, leaving drops of dew on the forest's carpet of moss and ferns. You've had a big breakfast of pancakes, eggs and bacon—what they call the "lumberjack special" at the diner in town. You're ready to work, and so is your dependable Chevy truck. You find the old logging road at the forest's edge and follow the twin tracks into the dark green heart of the woods. Your muscles are still sore from yesterday's labors, your shin is a bit banged up from where the log hit it, but your body is electric, craving physical labor. You are strong, confident and happy in a way that only people who work outdoors know.
You pull off the road, back the truck closer to the stand of beech trees and offload your gear. Birdsong and the whir of insects fills your ears. The humid aroma of plants, loamy earth, and the gasoline smell that hangs around the truck gladdens your heart. You check the oil in the saw. Good to go. Three strong pulls and it fires up. Before the sun is overhead the bed of your Pickup Lumberjack is stacked high with cut logs. You drive back the way you came, along the only road into these woods—the road you and your trusty truck know so well.
The Pickup Lumberjack from Ugears is the newest addition to our outstanding collection of trucks, cars, motorbikes and other vehicles. The Pickup Lumberjack model kit has 460 pieces, is rated "Advanced" difficulty, and will provide 8+ hours of fun during assembly. If you love trucks, check out the Heavy Boy Truck VM-03 long hauler with Trailer, the vintage Truck UGM-11 with its set of additions, or the standalone Tanker or Fire Truck. Start your collection of wooden model trucks today, but don't stop there! The Ugears catalog of 3D puzzles, DIY model kits, automatons, robots, wooden puzzle boxes and STEM Lab model kits has all kinds of fascinating, ingenious, charming models for every taste or interest.
With Ugears mechanical models and 3D puzzles, the fun doesn't stop with the build. Your Pickup, with its engaging details, moving parts and spring motor, is meant to be played with and enjoyed, not just displayed. The Pickup Lumberjack wooden truck model is ready to assemble right out of the box—no special tools or glue required. Just follow the detailed, illustrated instructions in 11 languages (English, German, Ukrainian, French, Polish, Spanish, Russian, Japan, Italian, Chinese and Korean) for a successful build. If you break a part during assembly, shoot us an email at customerservice@ugearsmodels.com and we'll be glad to send you replacement parts at no additional cost. Have a question, or something not quite right with your build? You can find helpful tips and suggestions from our international family of Ugears builders on the Ugears Fan Club Facebook page, or just email us your question. We're proud to be known for outstanding customer service.
The Pickup Lumberjack truck model hails back to a simpler time, before you needed a degree in computer science to fix your car or truck's engine. Dings and dents from work were what gave your truck character, not something to be embarrassed about when you drove to the shopping center. This old-timey working pickup truck model will make a handsome, retro addition to your home or office decor. It's also a great holiday or birthday gift idea for your favorite hobbyist or truck lover. Give a ready-to-assemble model kit or present a completed Ugears Pickup Lumberjack as a special handmade gift to a family member or friend, something in which you invested your time and talents.
The Ugears Pickup Lumberjack will appeal to truck lovers (especially Chevy fans!), fans of retro automotive design and 1950's style, model building hobbyists, people who love to work with their hands, and anyone who appreciates outstanding design or a DIY challenge.
View full details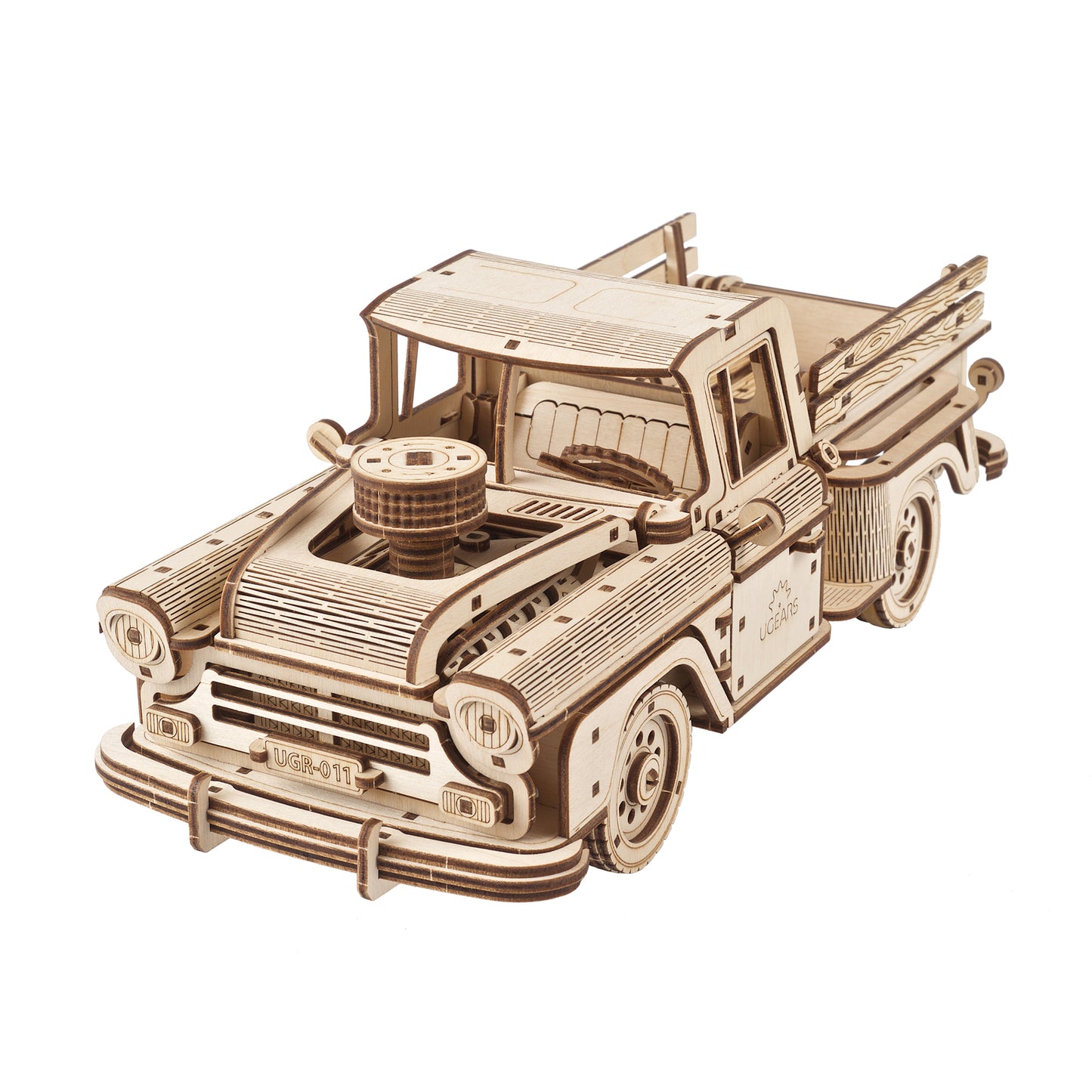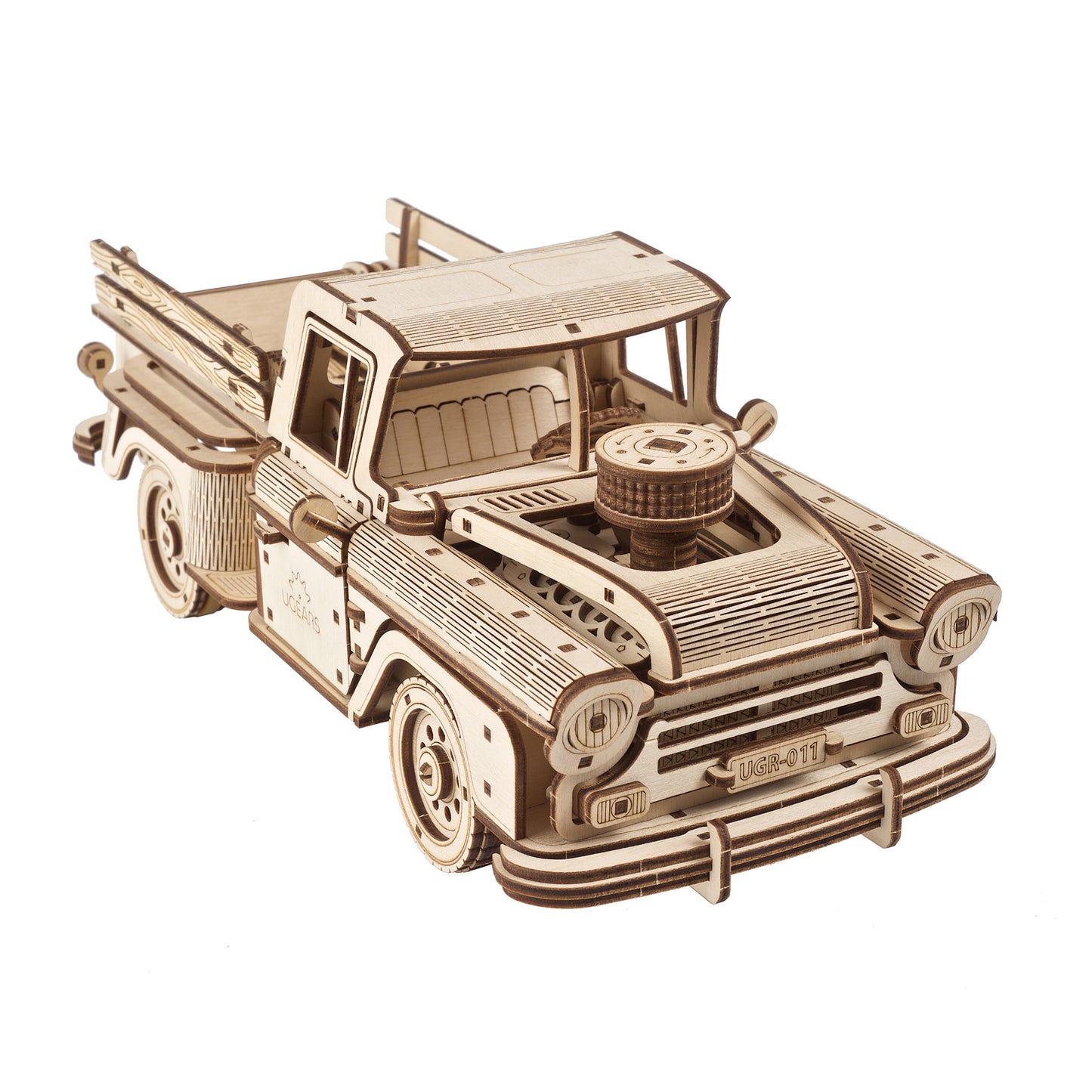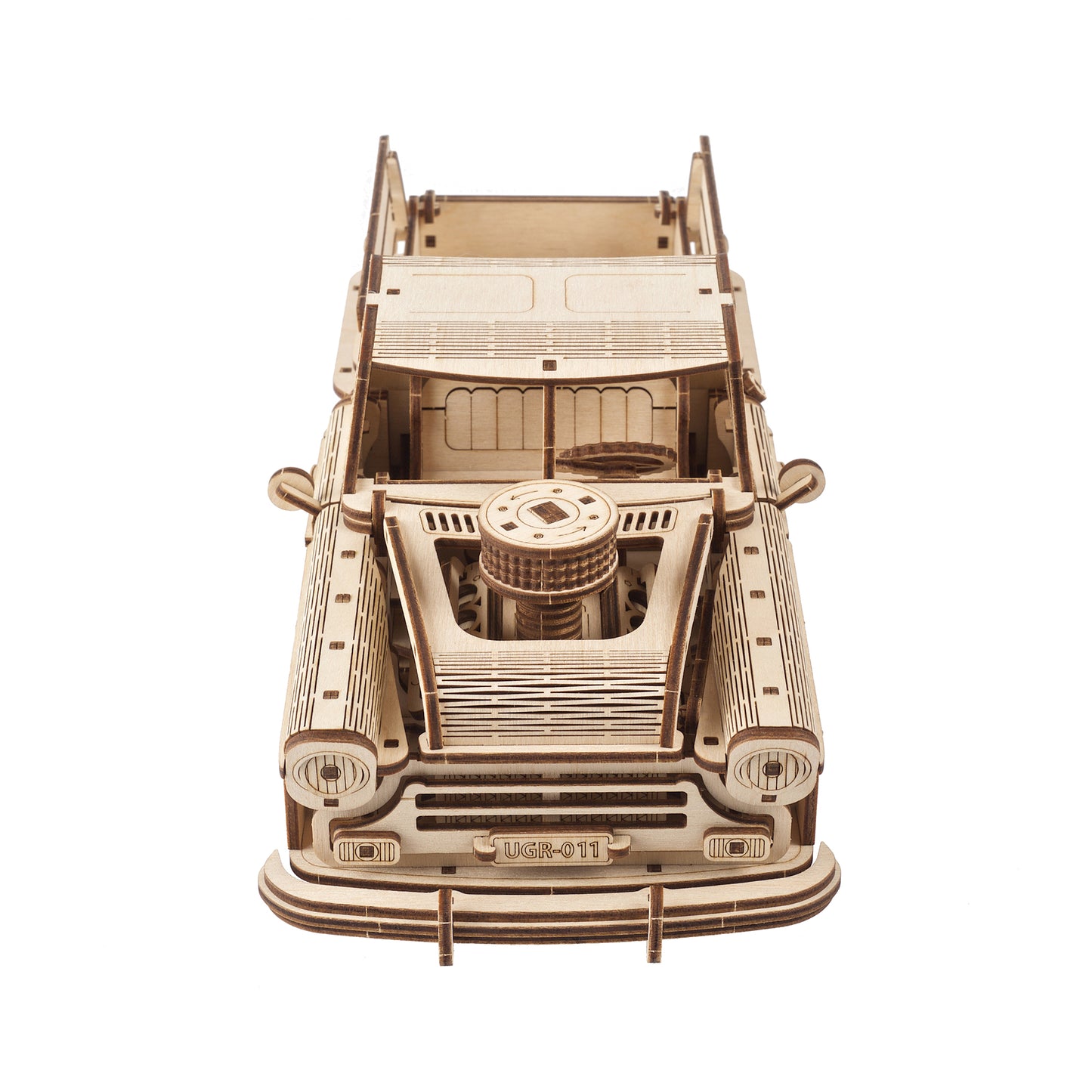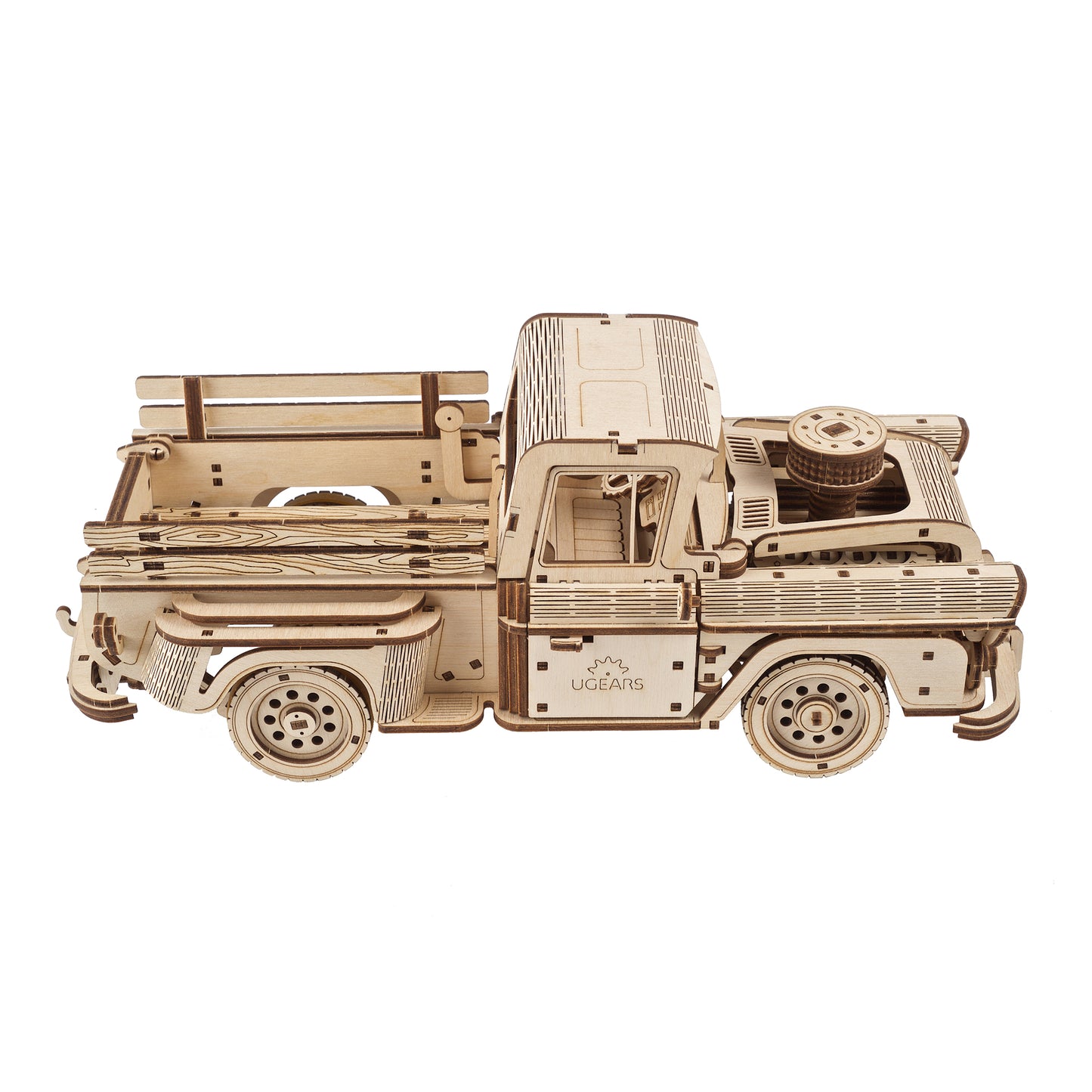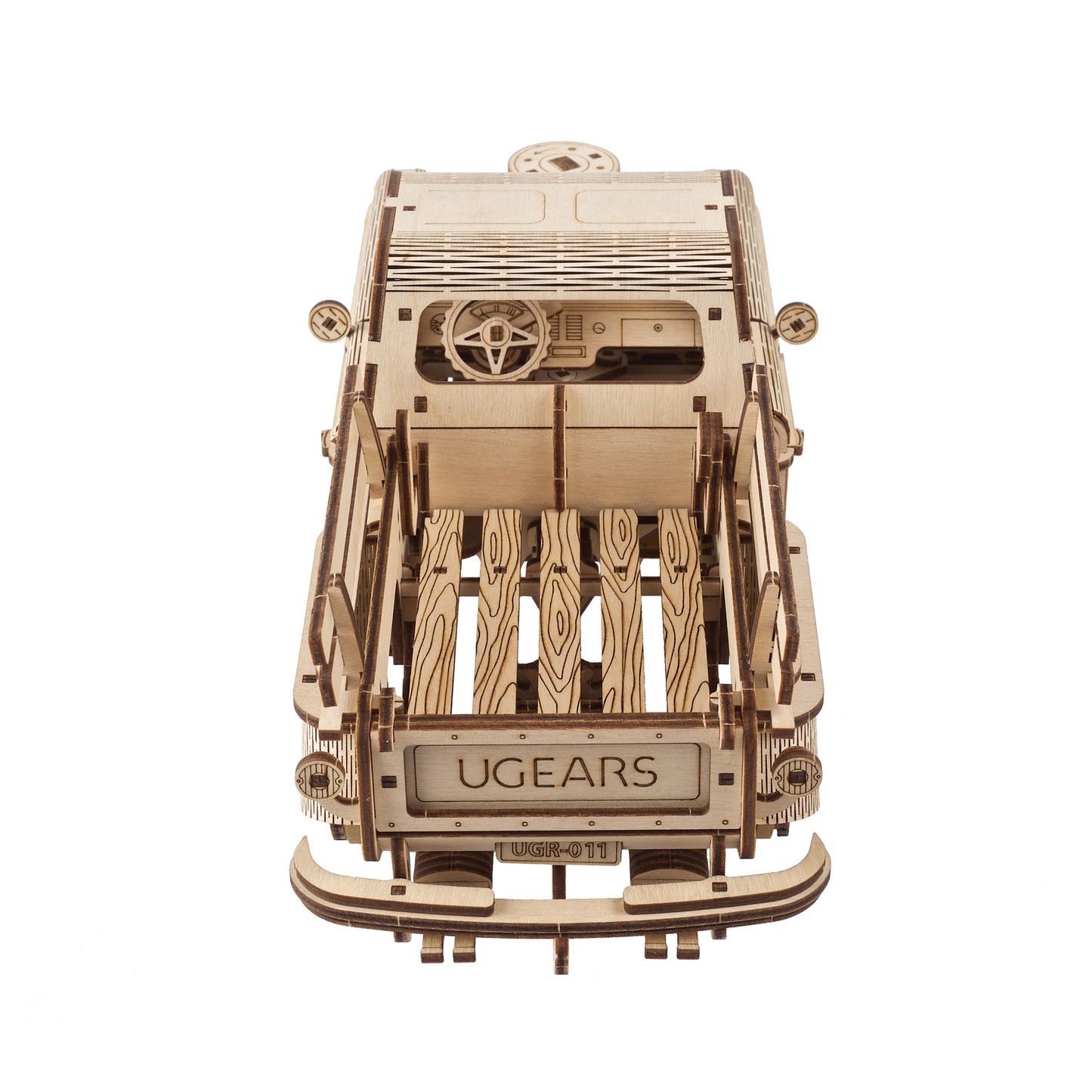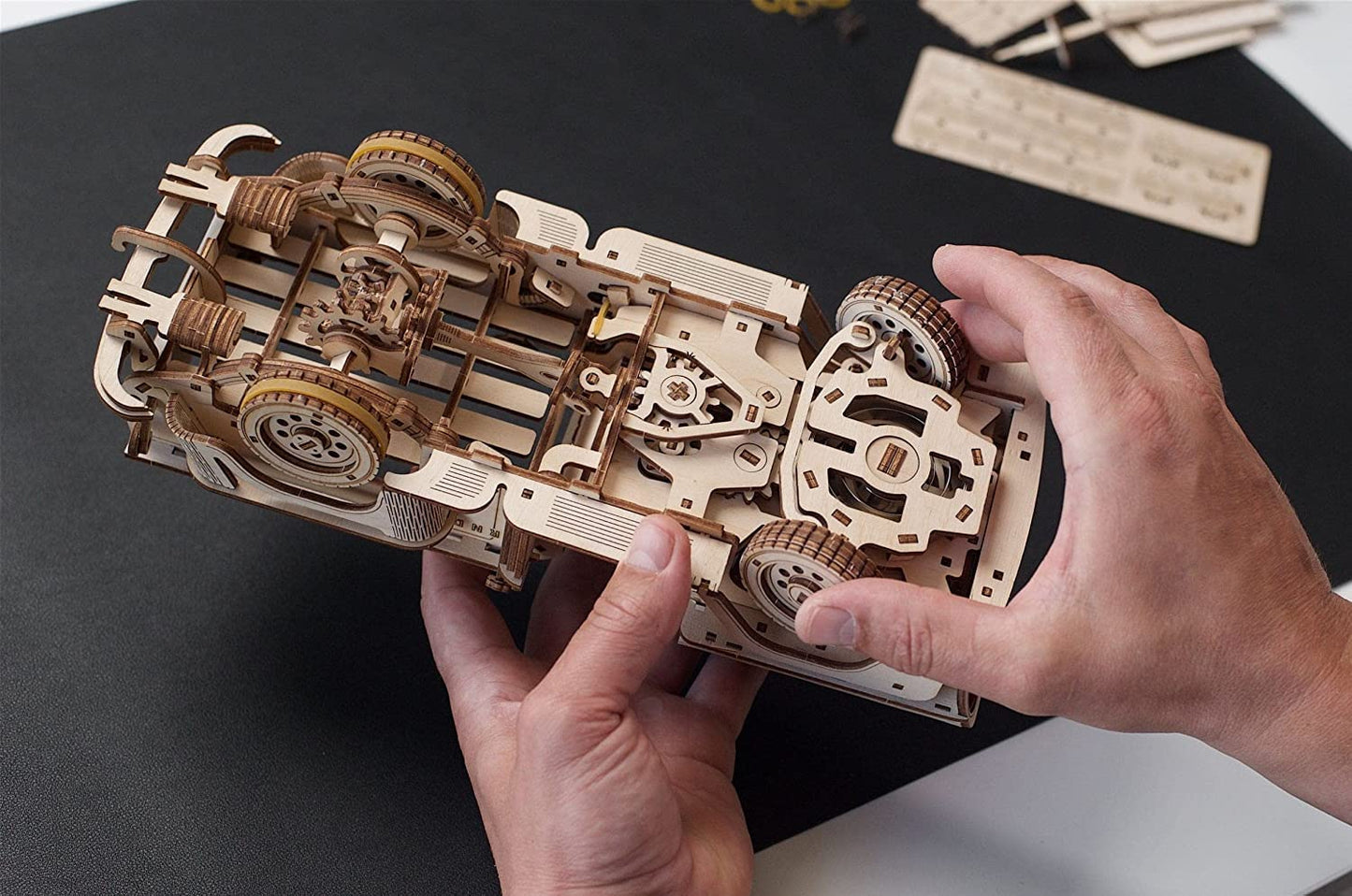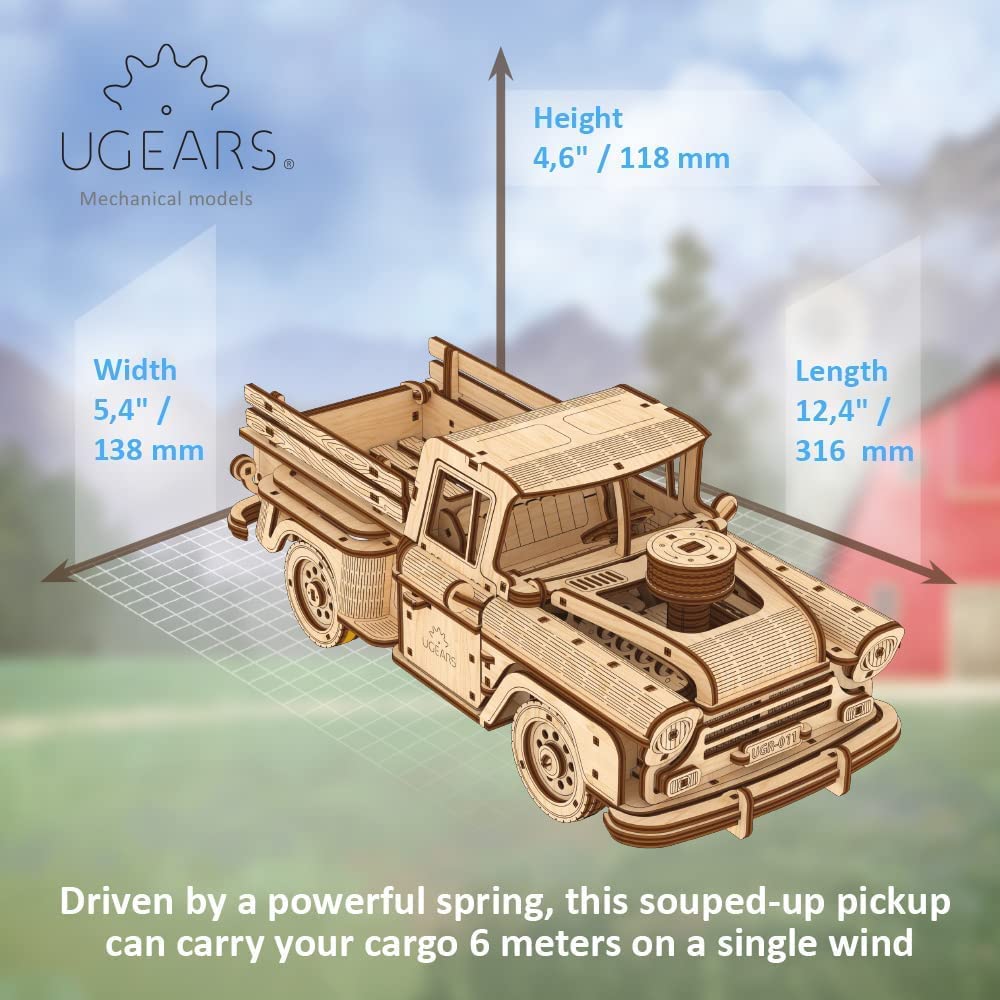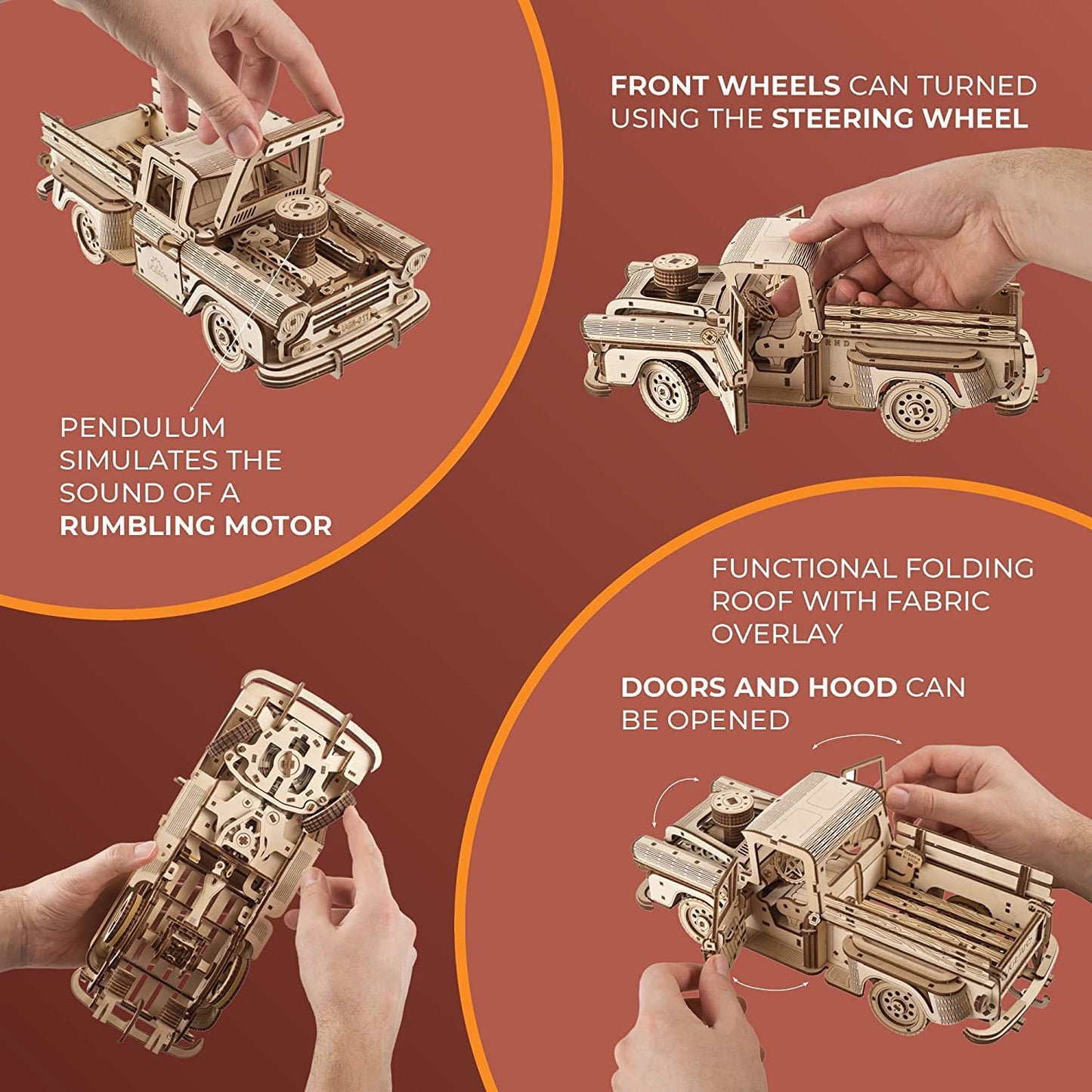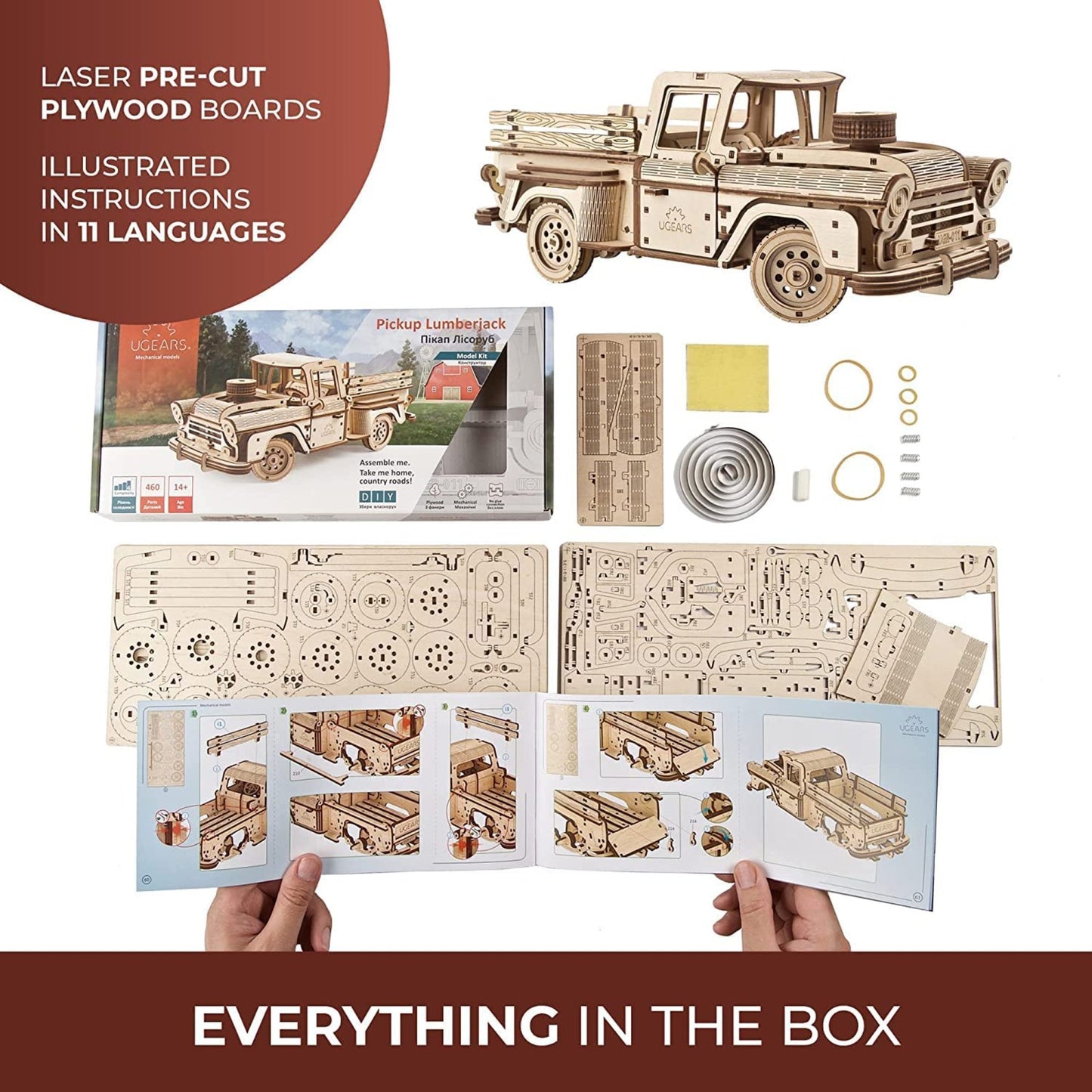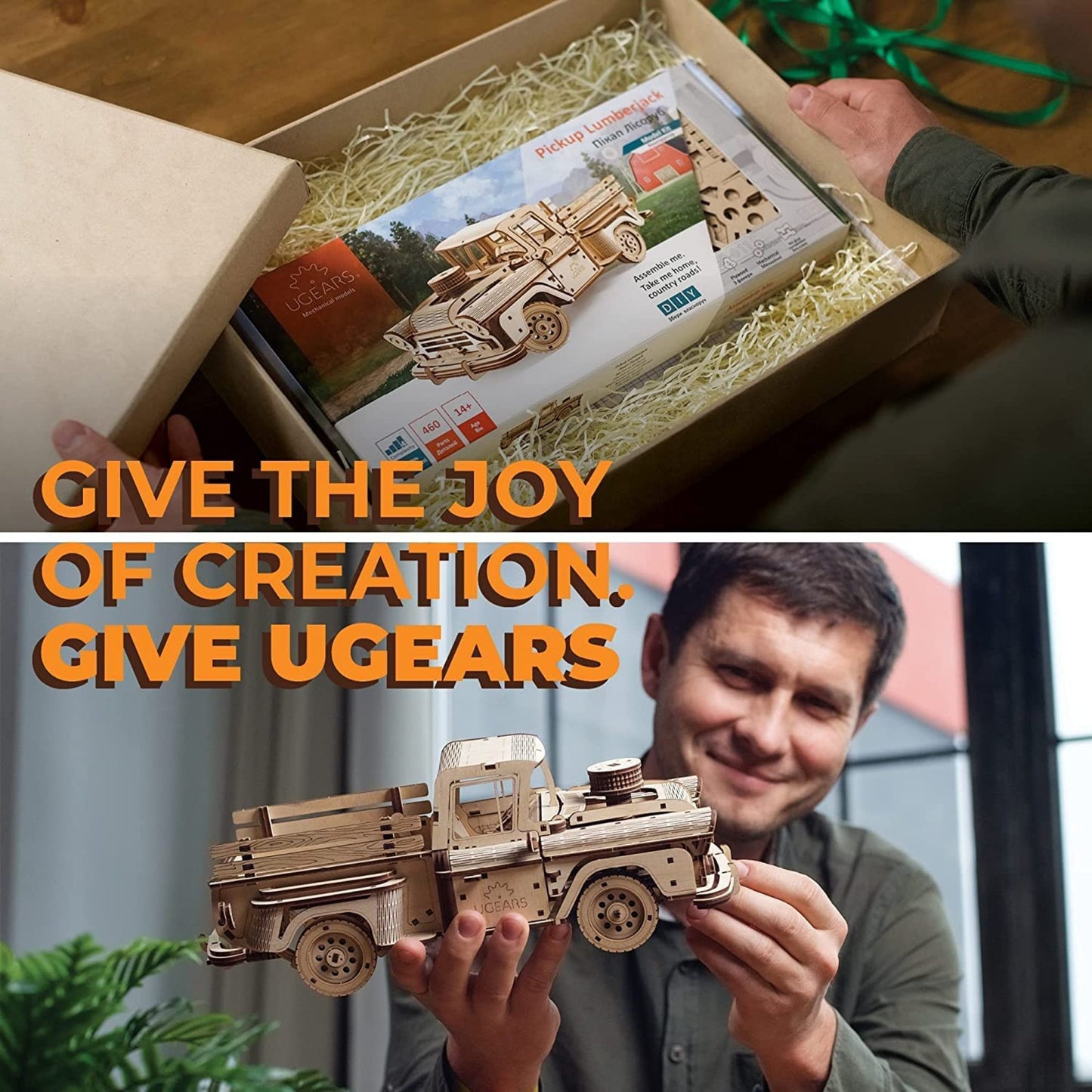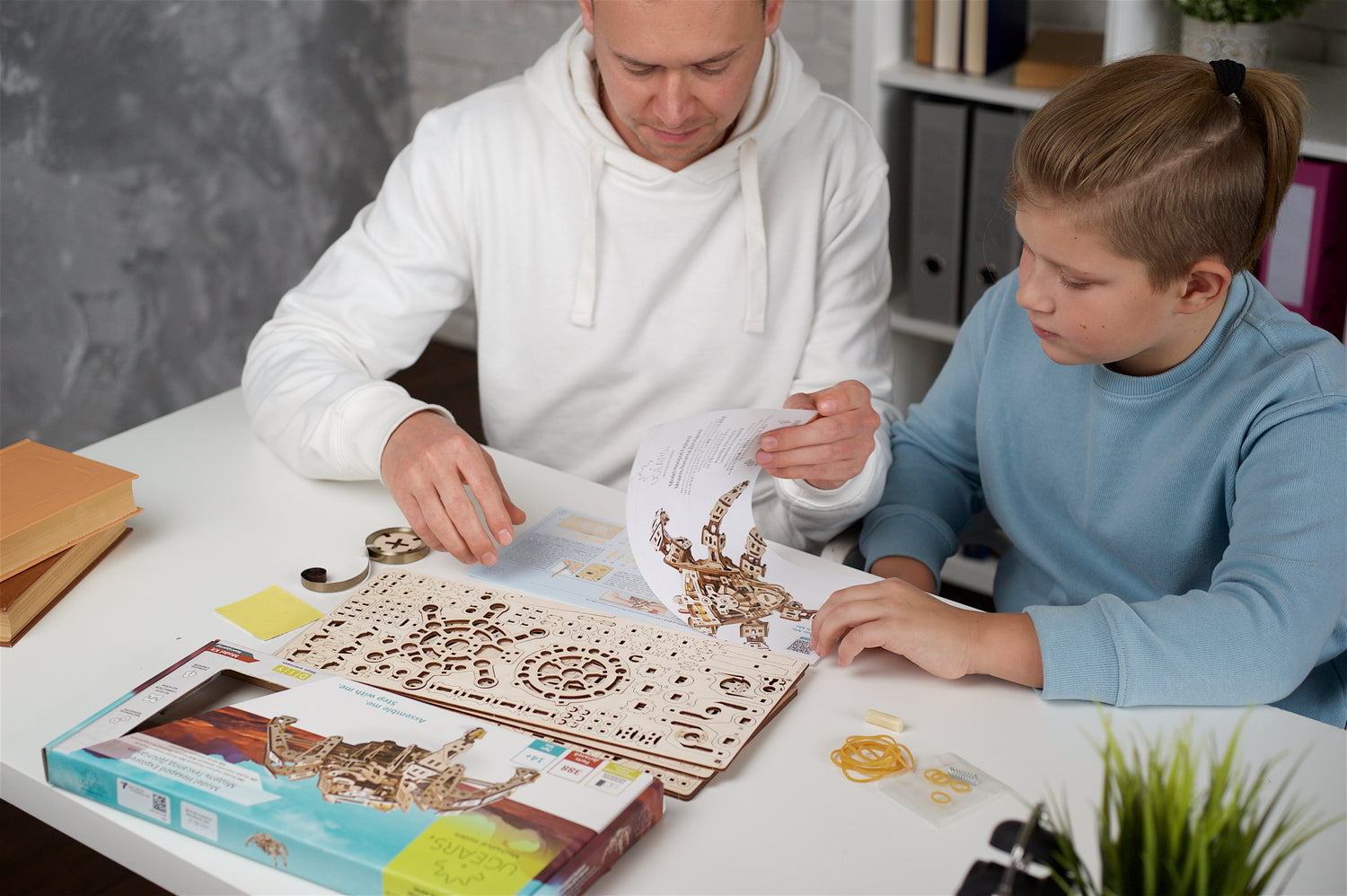 Ready to Build
Ugears models are made from sustainably sourced, laser cut plywood sheets. Everything you need is inside the box, so you can get building right away.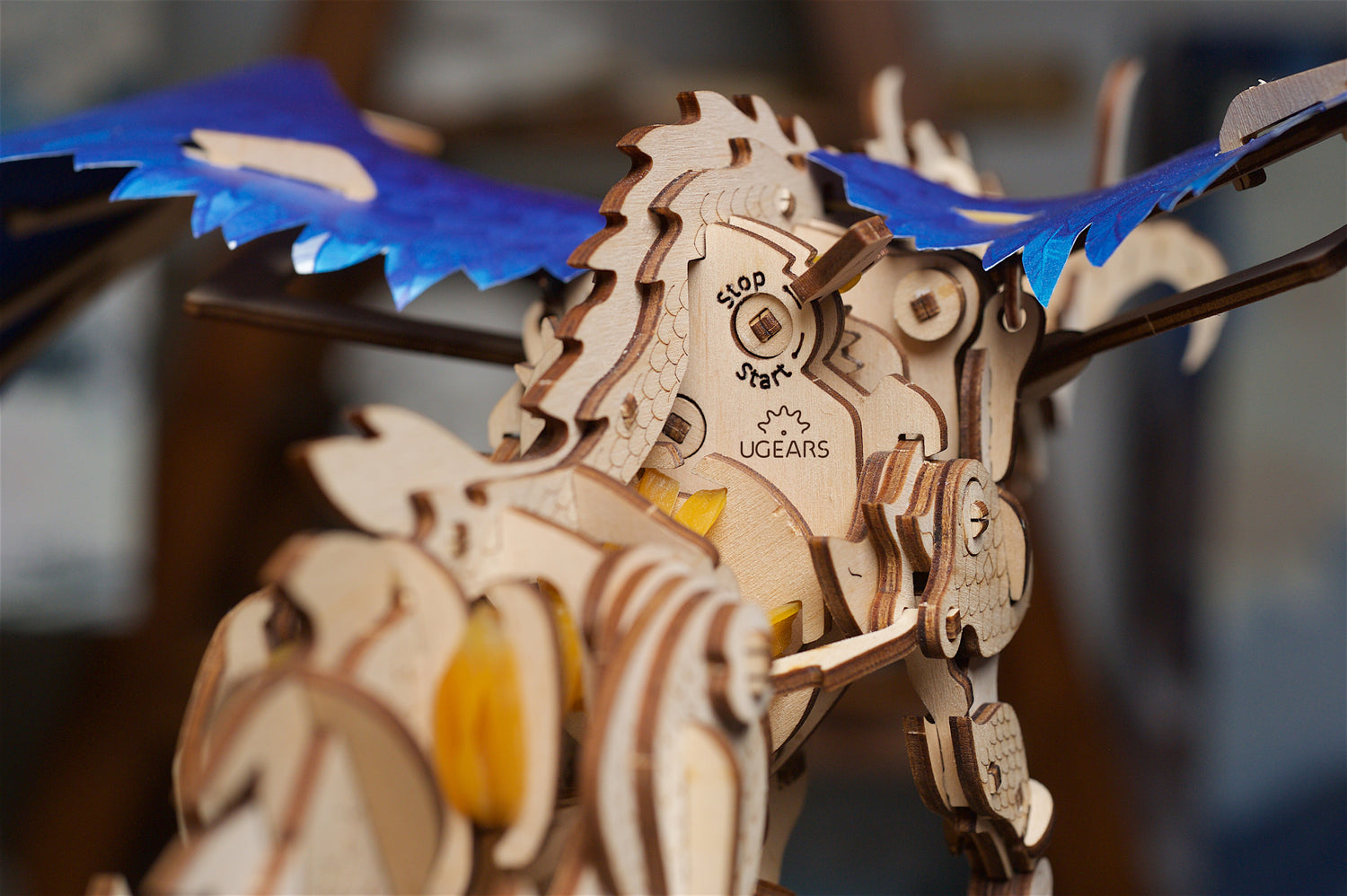 Mechanical
No batteries, no electricity, just Ugears. All mechanical models are powered by the ingenious mechanisms built by you. Just wind up your model and watch it come to life.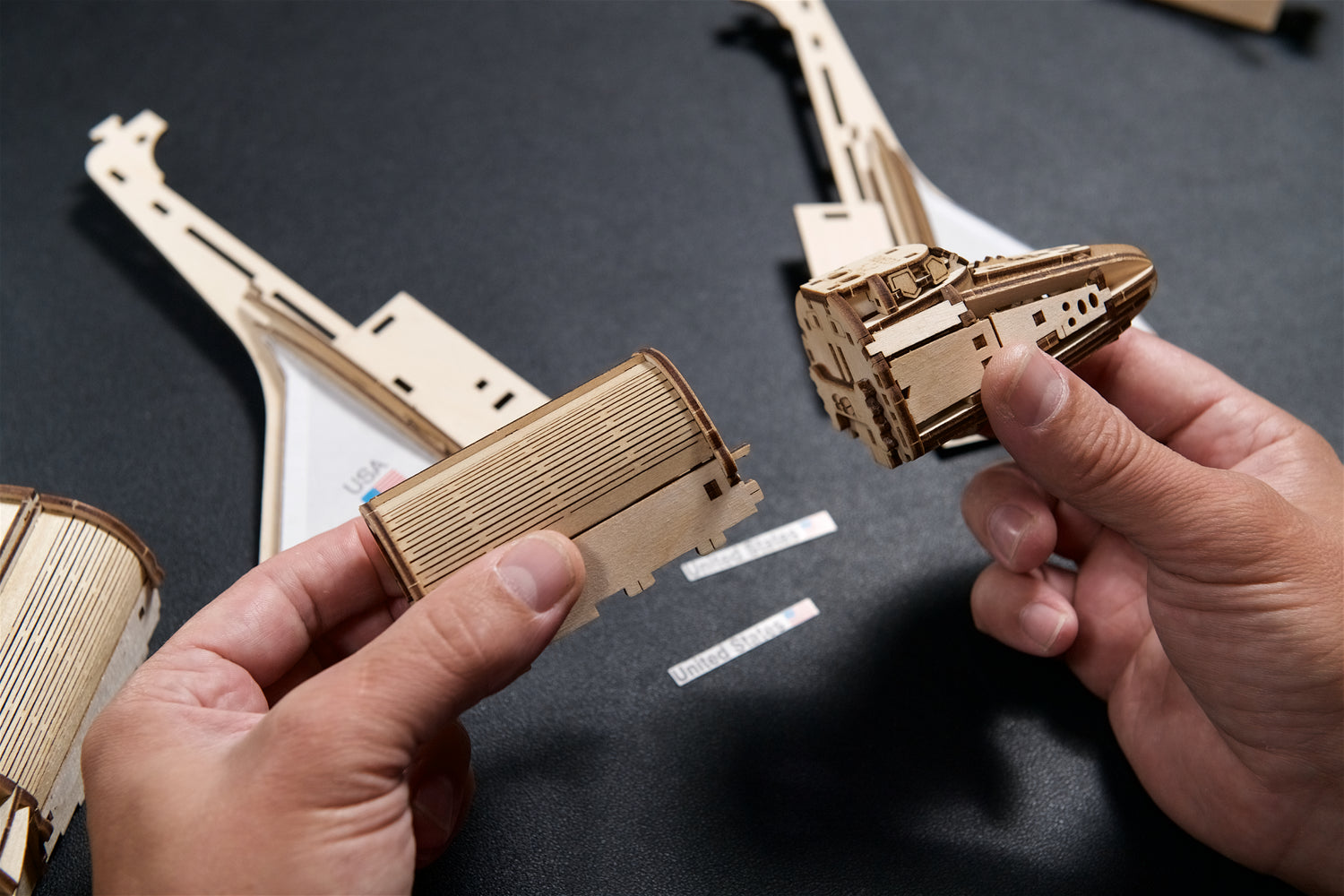 No Glue
Pieces have been designed so they will either click or slide into place. No glue or any other kind of adhesive is needed to build your model.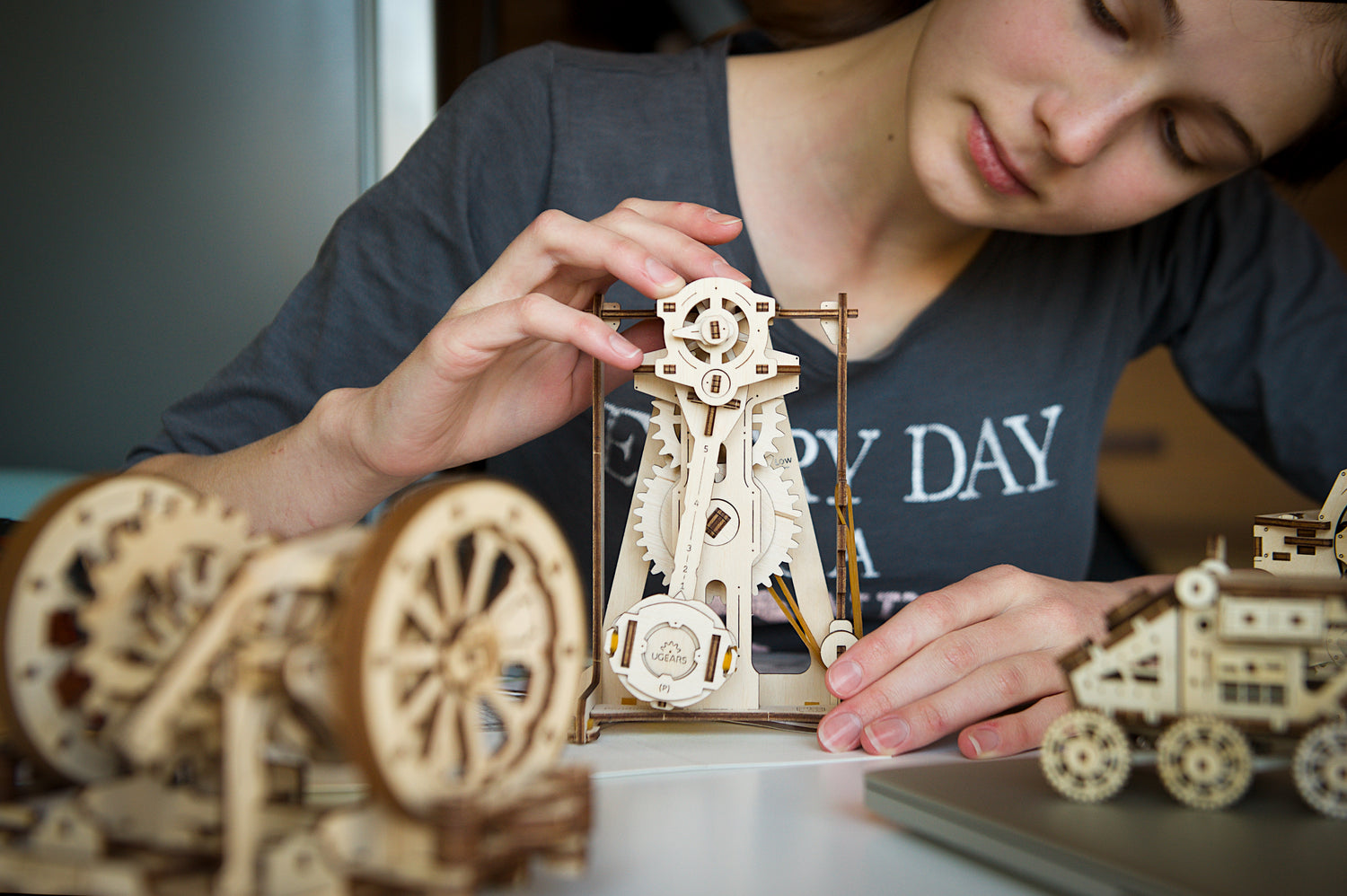 Educational
Models take inspiration from real life inventors and engineers, such as Da Vinci and Galileo. Learn the history behind the model as you build.