SKU:UGR70170
Regular price
Sale price
£47.99 GBP
Unit price
per
Liquid error (snippets/price line 121): divided by 0% OFF
Sale
Sold out
---
315

Pieces

7

Est. Time (hrs)
14+

Age

Advanced

Difficulty
LxWxH 270 mm x 265 mm x 270 mm
---
Share
A work of art and engineering: The UGears DIY Marble Run Tiered Hoist features three main marble tracks, a 3-tiered stair lift, and interesting trap and release mechanisms. This is a fascinating 3D wooden puzzle and a kinetic marble sculpture all in one
Advanced model kits: Marble run 3D wooden puzzles for adults are above average in difficulty. Model building kits in this series will keep you happily busy for over 5 hours
Everything included: The woodworking kit comes with clear instructions, extra parts and 10 colourful marbles. Build your own marble coaster with confidence and start playing right away
Modular design: This is the 3rd UGears wooden marble maze. It works as a standalone, or it can be connected from the front or side to our Chain Hoist and Stepped Hoist marble runs. More marble tracks mean even more racing adventures for you and your friends
Gorgeous gift: UGears building kits for adults and 3D puzzles for kids will delight all the hobbyists in your life. Get ready for a good DIY challenge and many hours of fun together with this new Marble Run Tiered Hoist
Kit contains all required components and no glue is required
Precision laser cut plywood. Only requires assembly.
UGears Mechanical Models are self-propelled, mechanical wooden model assembly kits.
Perfect for family projects, puzzle enthusiasts, and hands-on STEM learning
315 parts
Assembly time: 7 hours
Model size 270x265x270mm
Marble Run Tiered Hoist – wooden 3D puzzle from Ugears
The fun with marble runs continues with Ugears' Marble Run Tiered Hoist, the third in a series of Ugears modular marble runs. This unique entrant in our growing collection of entertaining wooden marble runs features a 3-tiered stair lift that raises the marbles to the top for amusement park adventures. This wooden DIY kit is both a 3D puzzle and a fun toy. The Marble Run Tiered Hoist features a fascinating lift, three new track elements, and interesting trap and release mechanisms sprinkled throughout. Turn the hand crank and watch the marbles make their journeys through various obstacles down to the collection tray below. Multiple tracks and elements are packed into a compact space in this well-designed DIY marble run.
Which marble will take which track, and what adventures await? Guessing is part of the fun. The Marble Run Tiered Hoist has three main marble tracks. The first features a marble trap in which three marbles must work together to make their escape. The third ball is the hero, opening the gate for the second trapped marble, which in turn opens the gate for the first—teamwork! All three marbles then escape down a well. The second track is a speedy roller coaster, and the third is a four-level ramp descent. All marbles come to rest in the collection tray, where they form an orderly line behind a gate, waiting their turn for more adventures! A special rocker arm presses the gate down and carries each marble to the return track, where they run like excited school children back to the tiered hoist to begin the next ride.
The model kit comes with everything you need right in the box. Individual pieces are laser pre-cut into high quality wood composite boards, and can be snapped together without need of glue or special tools. We've included a set of detailed, illustrated instructions in 11 languages to guide you on your build. There are 10 colored marbles included in the kit, plus sandpaper and wax to smooth and lubricate the gears and other moving parts. The Marble Run Tiered Hoist has 315 pieces, is rated "Advanced" level, and has an estimated assembly time of 5 hours. If you break a piece during construction, don't worry! Our team of outstanding customer service representatives will gladly fill your request for replacement parts, free of charge, as part of our commitment to outstanding customer service.
We have designed the Marble Run Tiered Hoist and the entire line of Ugears marble runs to be modular, that is, the Tiered Hoist works as a standalone or it can be connected frontally or laterally to other Ugears marble runs of the same or different design (2 or 4 models can be connected, in pairs, using the special connectors included in the kit). A trigger mechanism just before the return track can send marbles back to the tiered hoist, to an adjoining marble run, or toggle between the two (you set your preference with a pull latch). Connect up to four marble runs to form an amazing, complex system of interconnected elements, all powered by a single crank. It's like the marbles have been turned loose for a fun day at a miniature amusement park! Keep an eye on your favorite marble and watch its ever-changing adventures through a series of obstacles, lifts, and tracks.
Ugears marble runs, and our entire collection of Ugears models, puzzle boxes, wooden puzzles, and brain teasers, are not just static models for display, they are meant for hours of play. With that in mind, we designed the Tiered Hoist to have a strong base and tightened frame parts to provide rigidity to the structure. A muscular gear drive delivers power both to the 3-tiered stair lift and to the rocker arm down below. Accept the challenge of building this ingenious device, then enjoy hours of fun watching the colored marbles climb the stairs, pass through various obstacles, free each other from captivity, then wait their turn to start again. Marble runs and marble races are an online video phenomenon, with thousands of videos racking up millions of views. It's even more exciting when you've built the marble run yourself—you're not just passively watching a video of someone else's creation, you're the creator!
The Marble Run Tiered Hoist is a fun challenge for experienced modelers—a great "gift to self" DIY idea or gift idea for the hobbyist in your life. Enjoy hours of construction fun, then when your marble run DIY masterpiece is complete, send the marbles on their maiden runs. Watch your ingenious machine raise marbles up the stairs before sending them down a multi-tiered ramp, through a roller coaster ride, or into a trap, from which the marbles can only escape with a little help from their friends. The Ugears Marble Run Tiered Hoist is an intriguing standalone machine, or it can form part of an intricate, interconnected collection of Ugears marble runs.
Looking for a unique addition to your home or office? You'll be glad to have the Marble Run Tiered Hoist on your desk for a bit of mental diversion during the work day. Playing games is exercise for the brain and studies have shown that short periods of play at work actually increases productivity. Or place your Ugears wooden marble run on a shelf in the family room and bring it down for your children, grandchildren, or nieces and nephews to watch the marbles go on fantastic adventures. The Marble Run Tiered Hoist should appeal to those who enjoy marble runs, Rube Goldberg contraptions, clever engineering, and anyone up for a good DIY challenge. If you've already built the first two Ugears model runs (Chain Hoist, Stepped Hoist) congratulations and get ready to enjoy this third entry in your growing collection.
View full details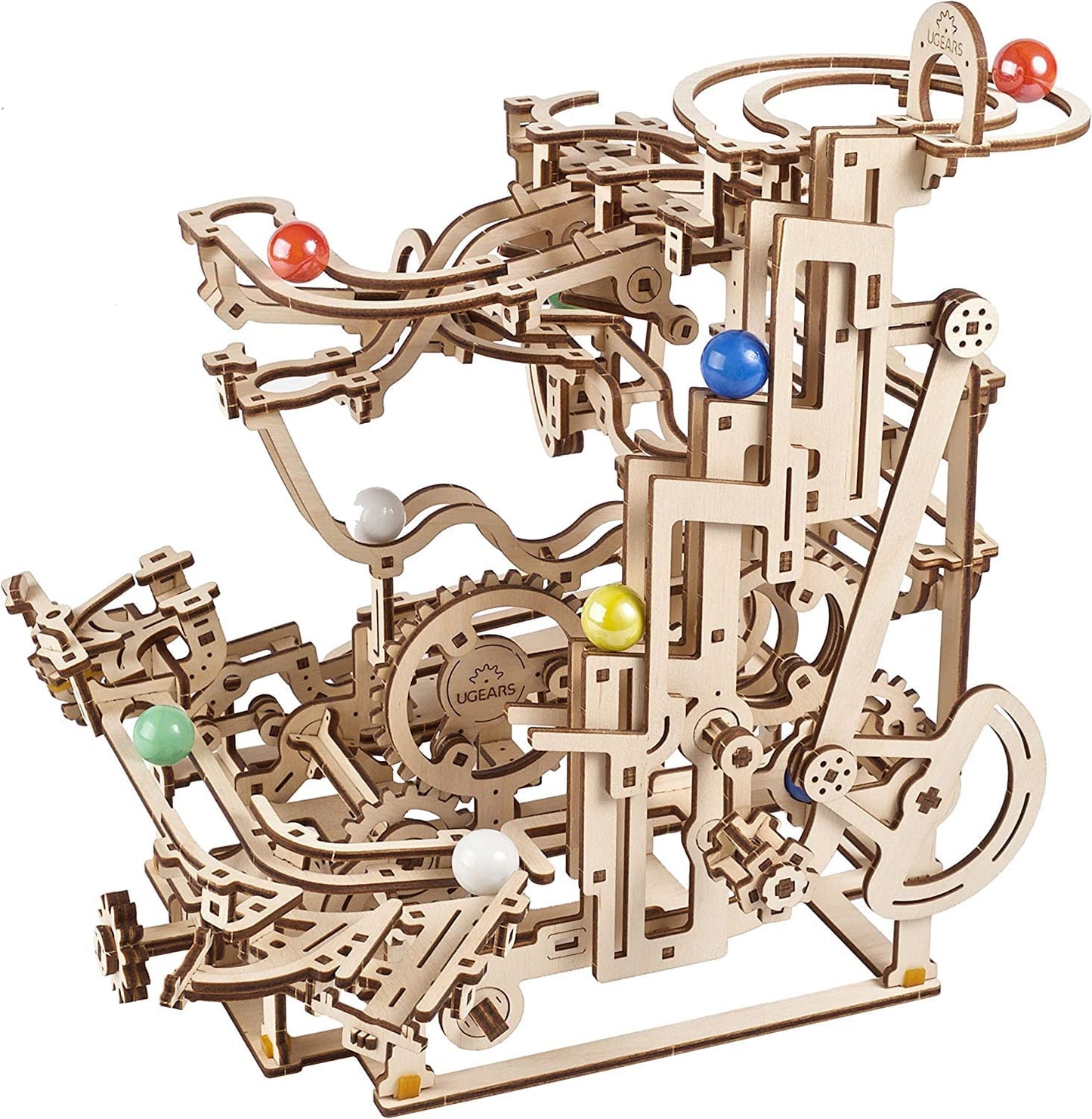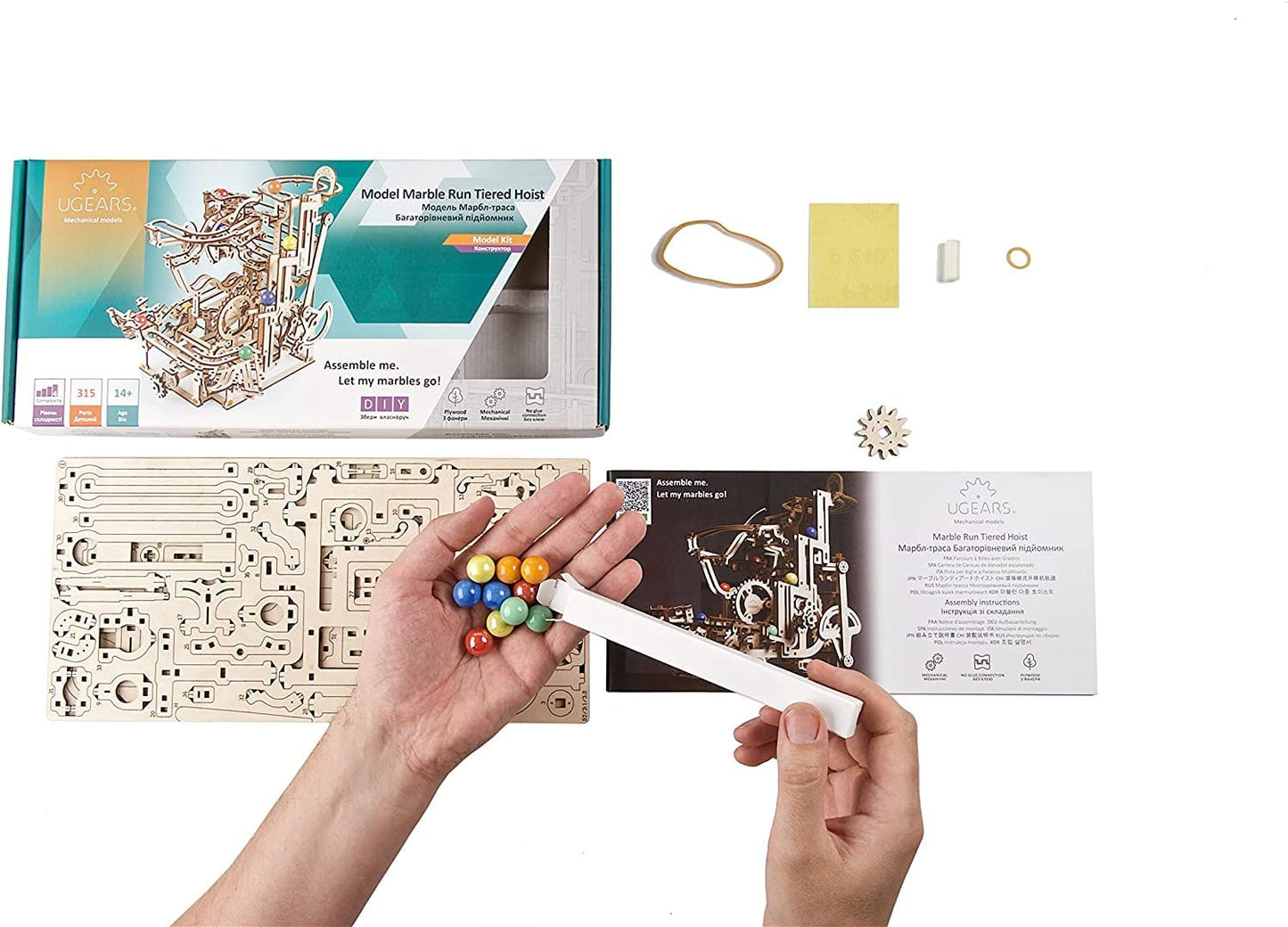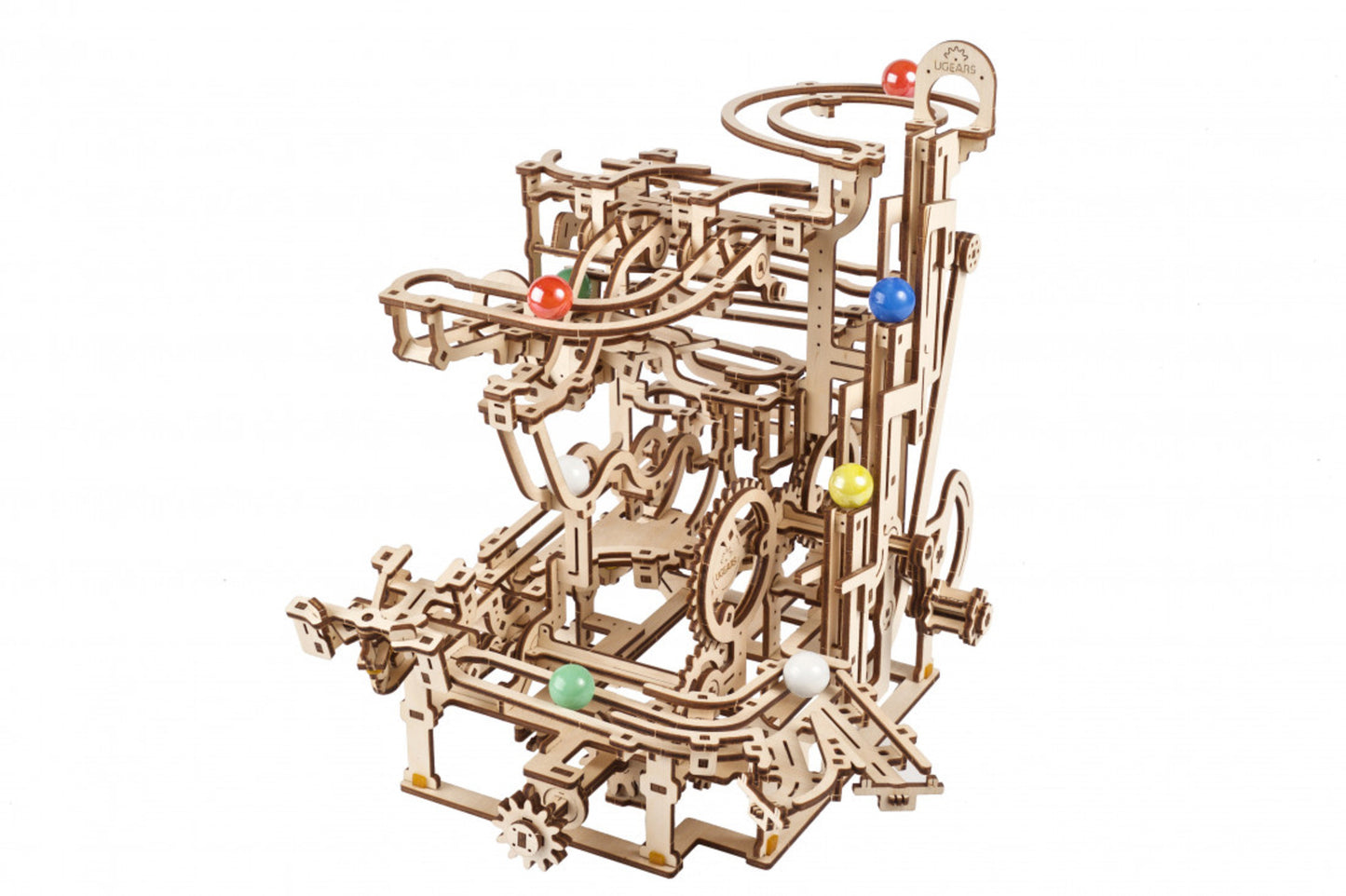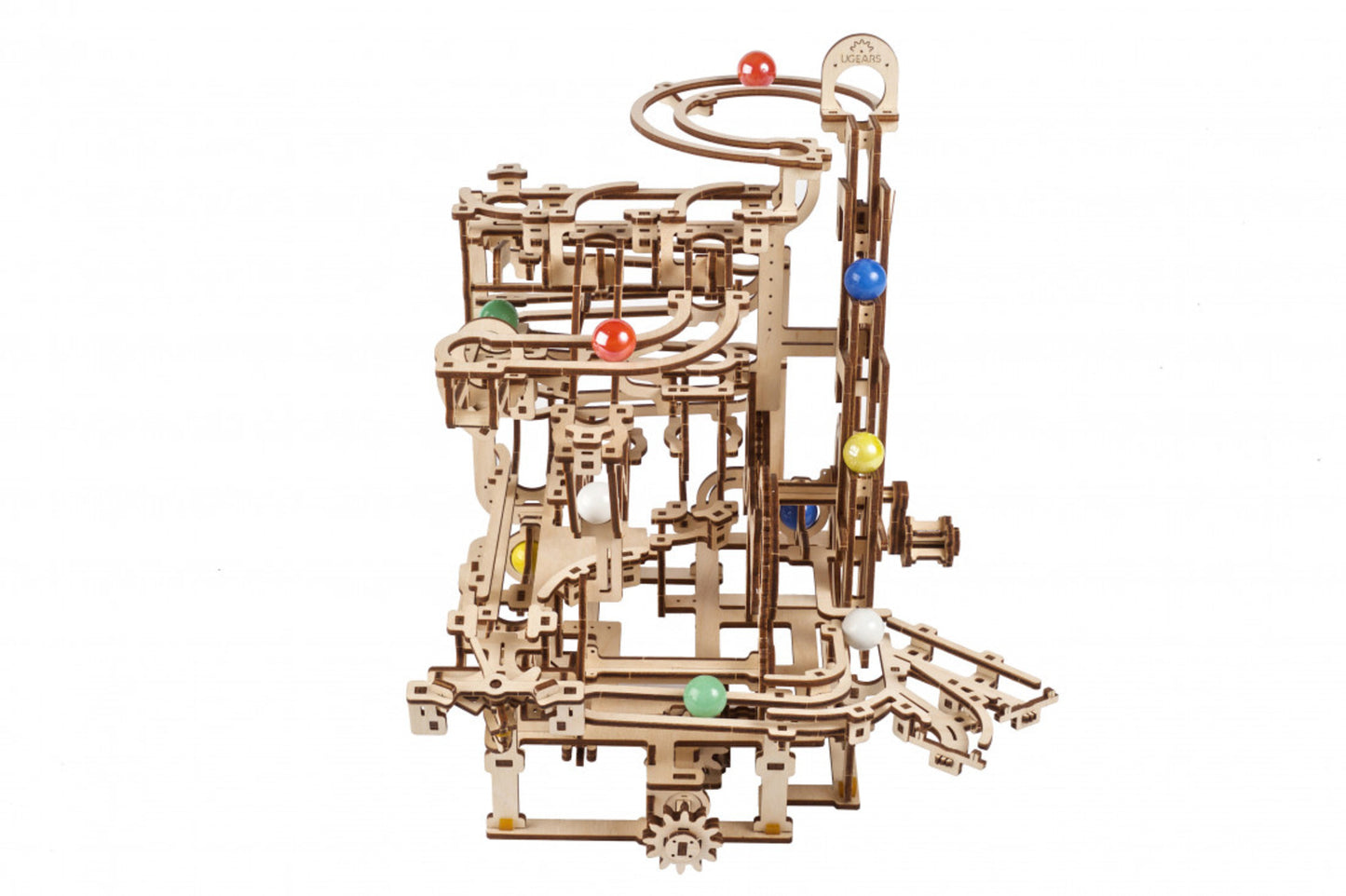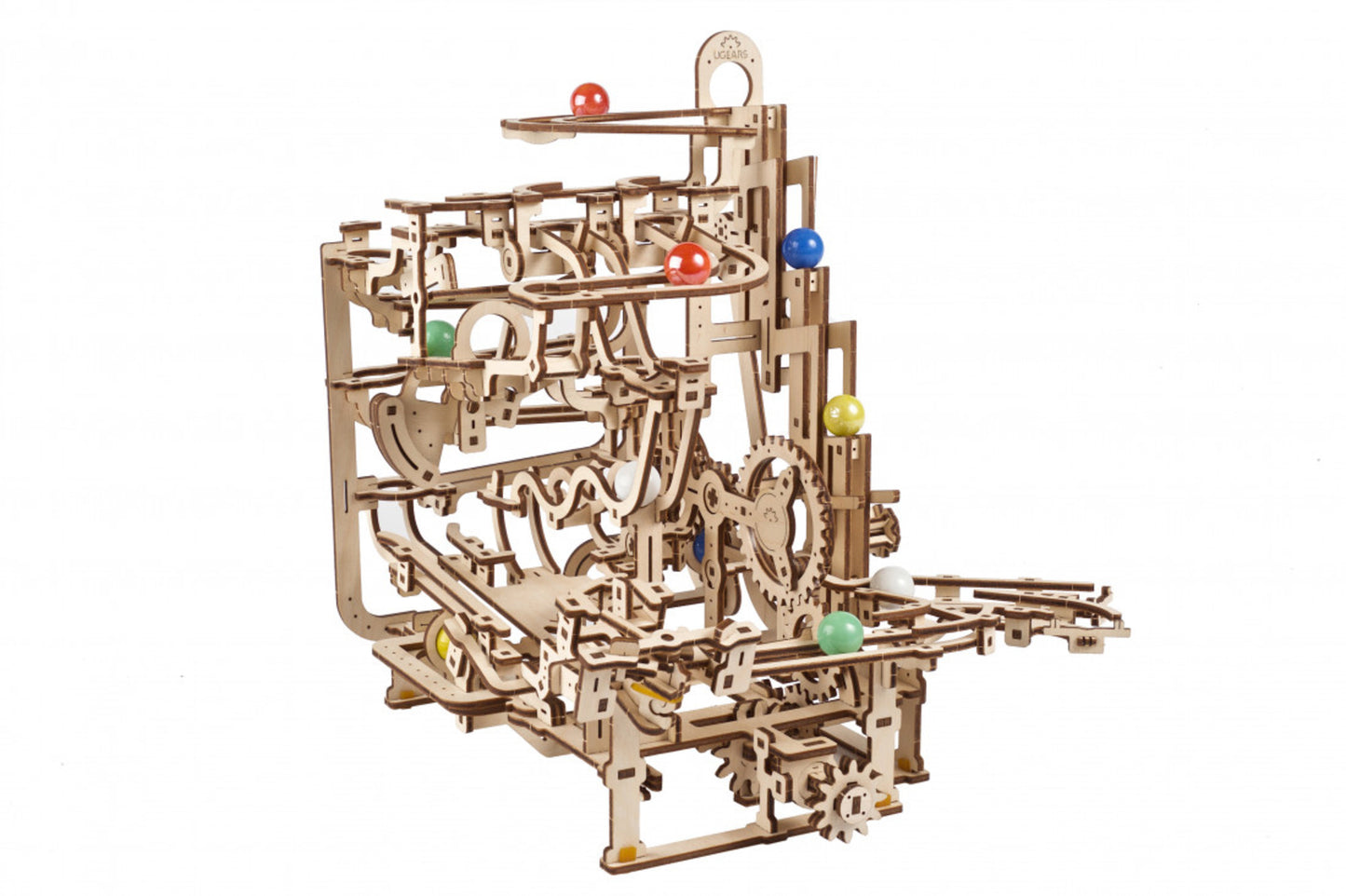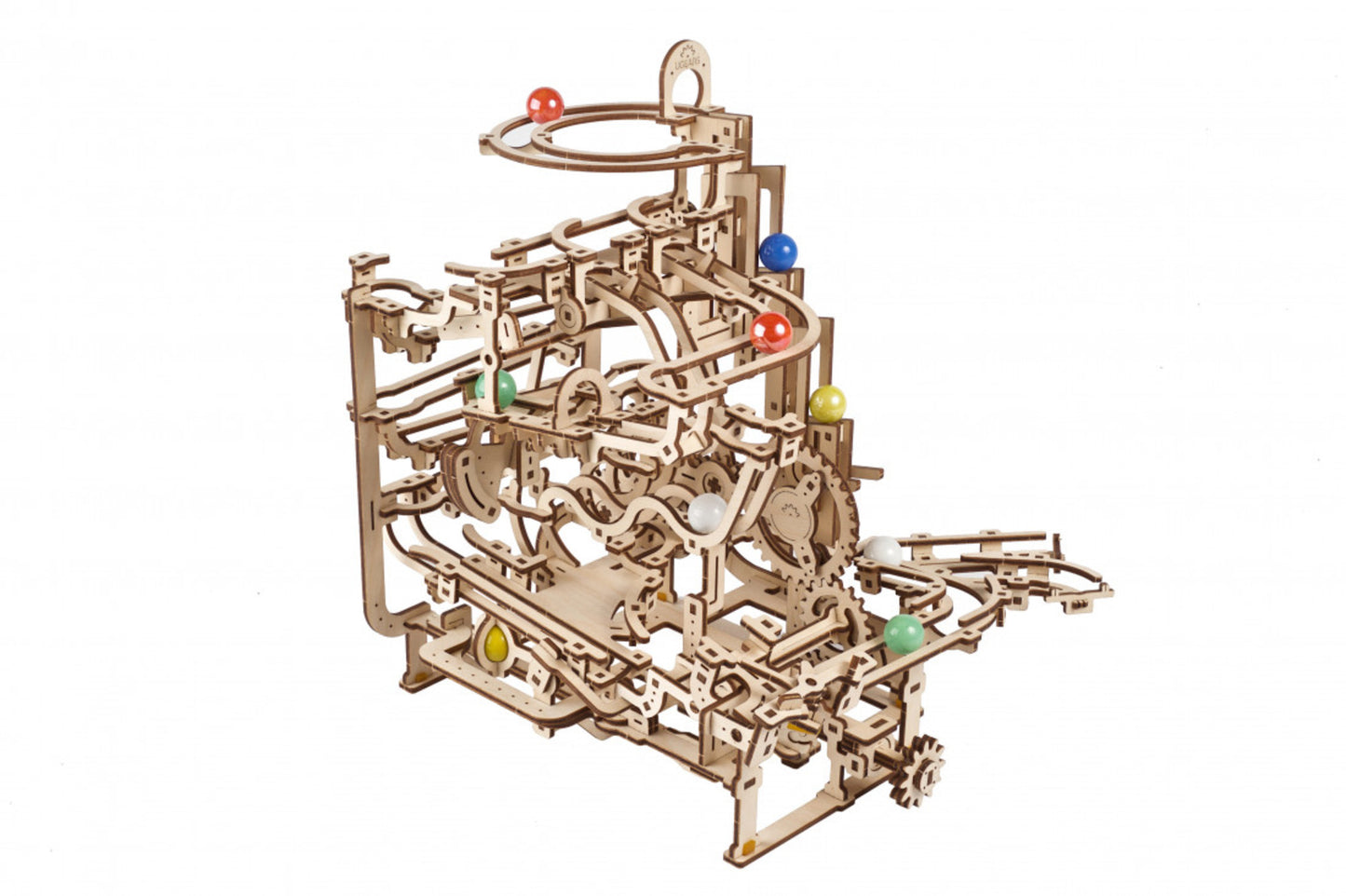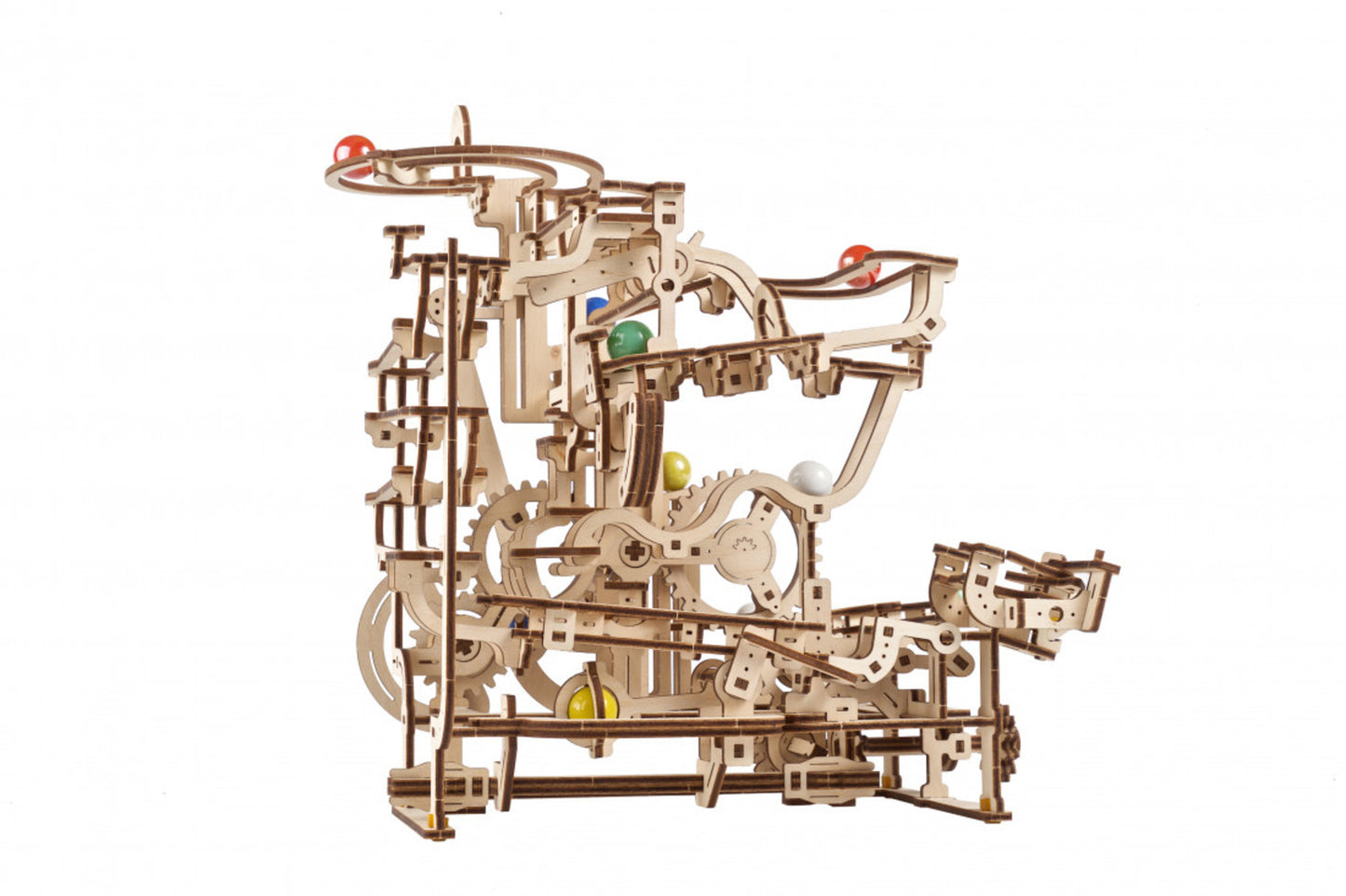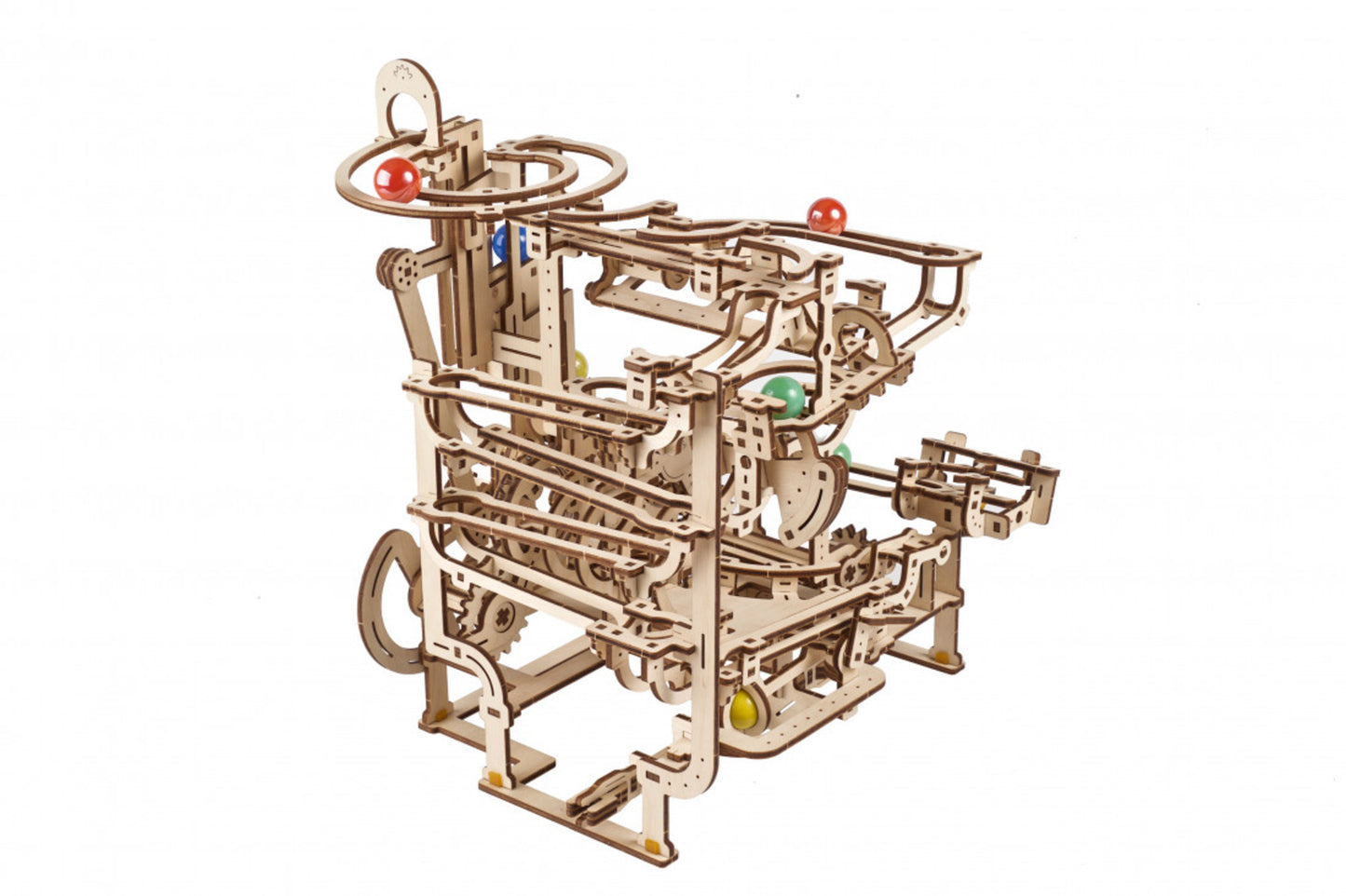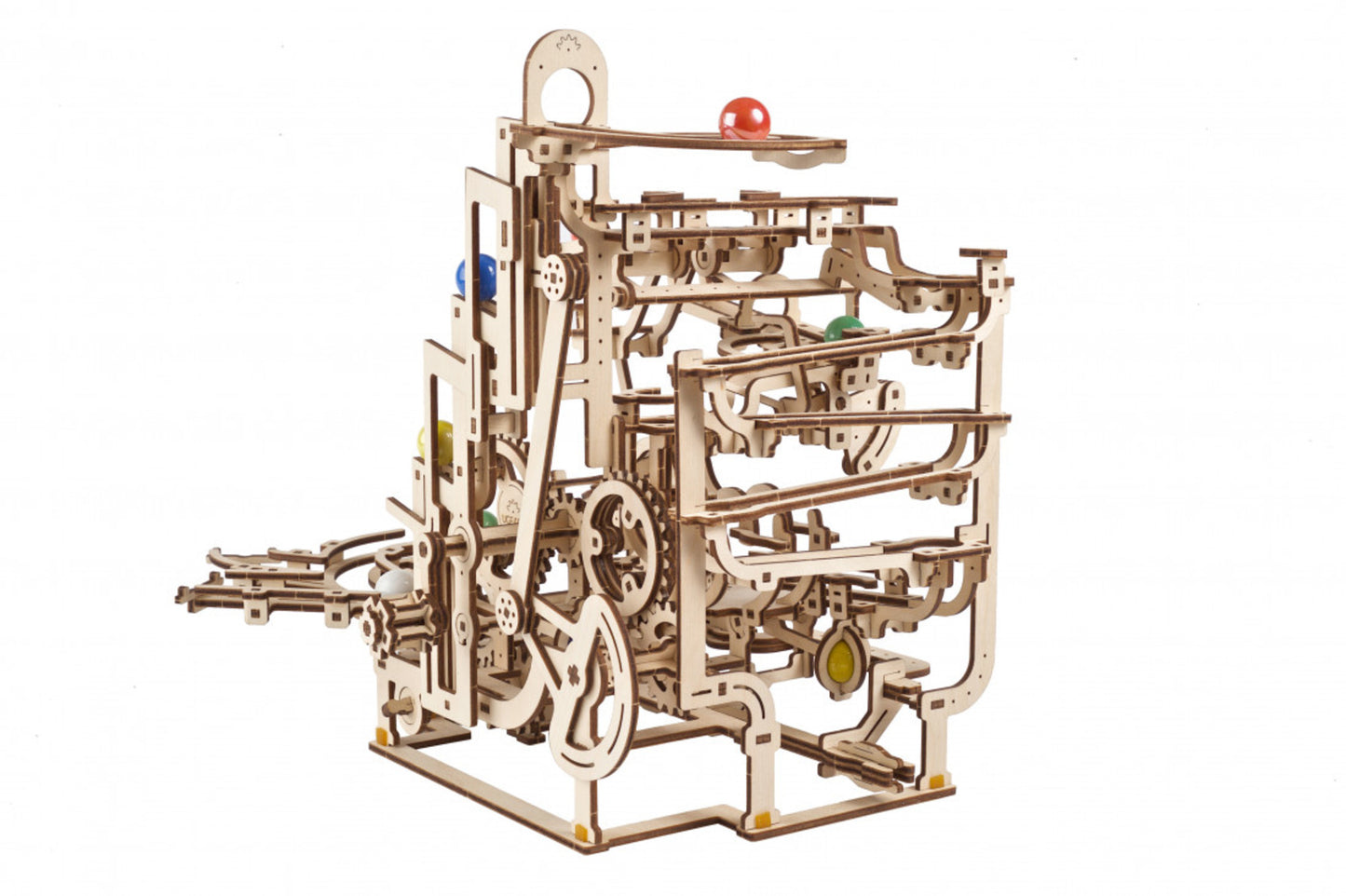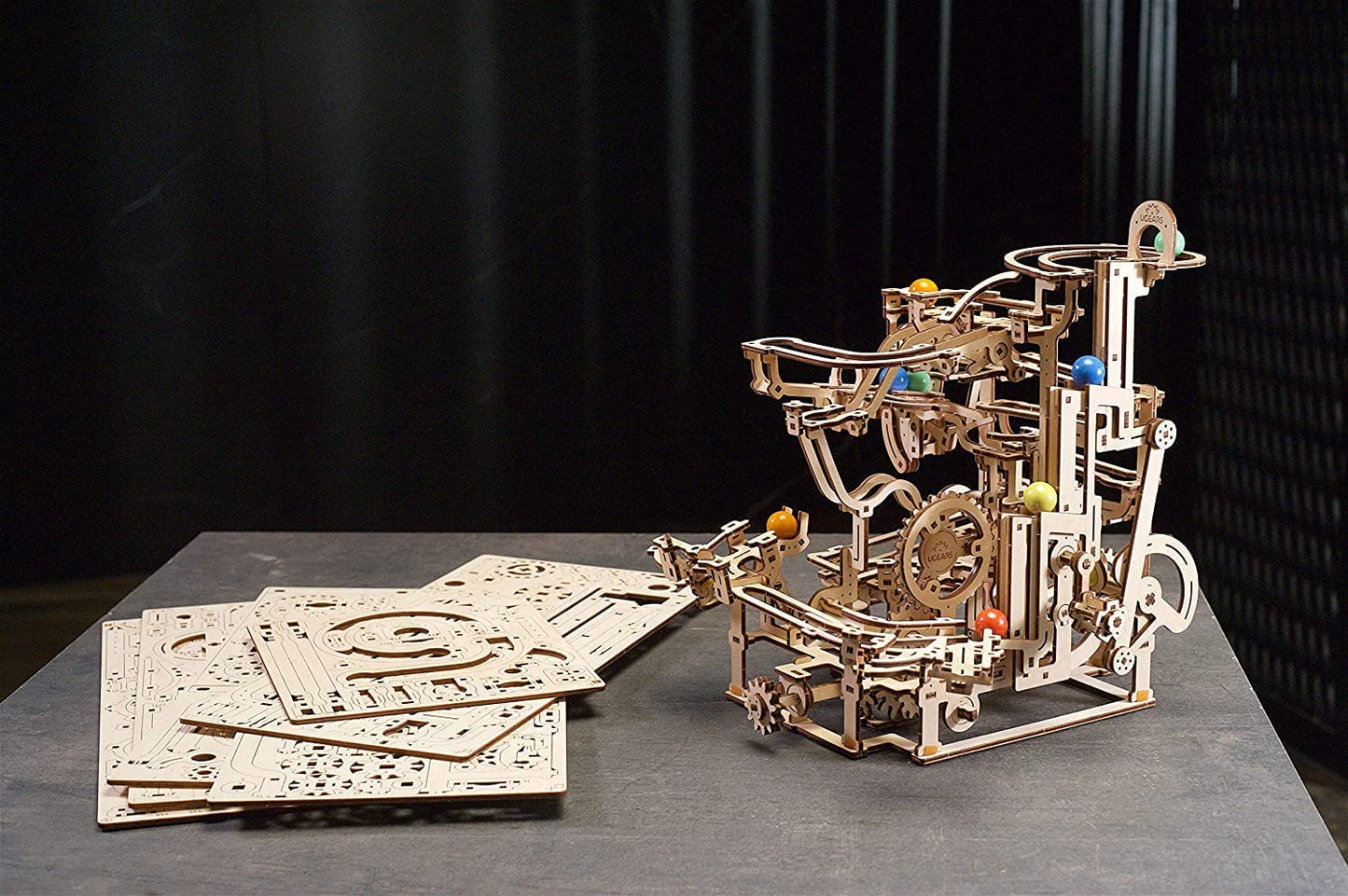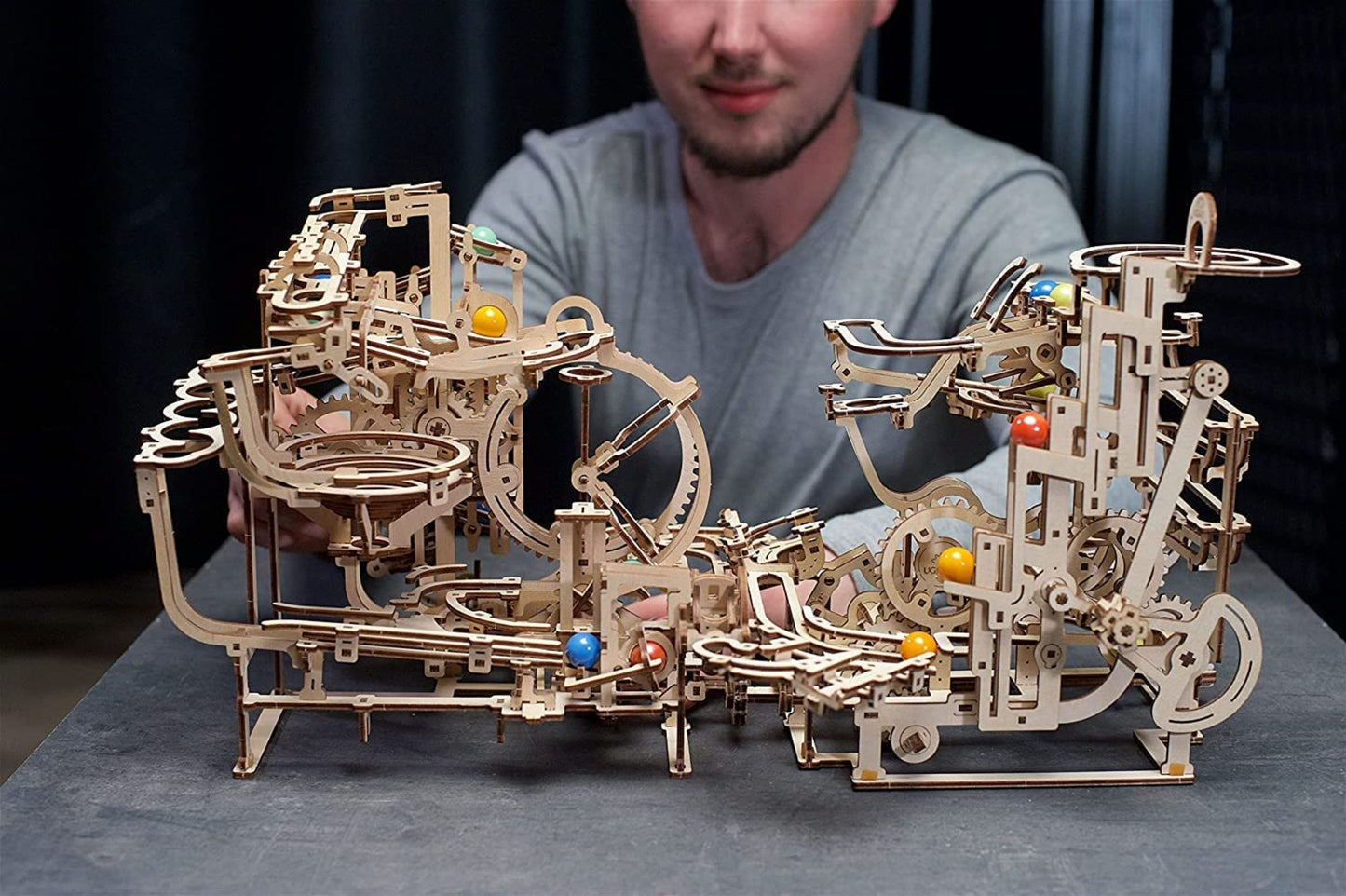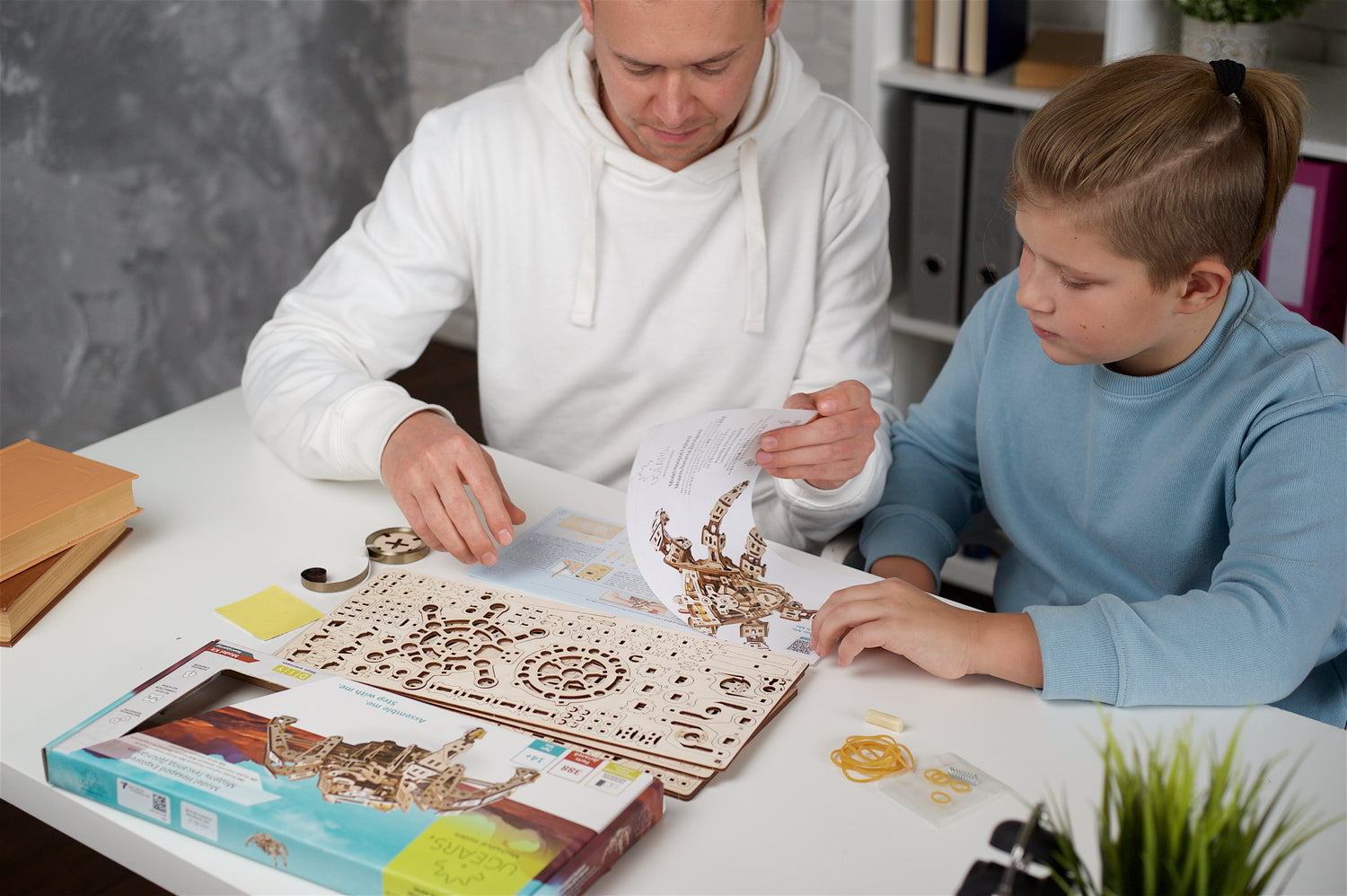 Ready to Build
Ugears models are made from sustainably sourced, laser cut plywood sheets. Everything you need is inside the box, so you can get building right away.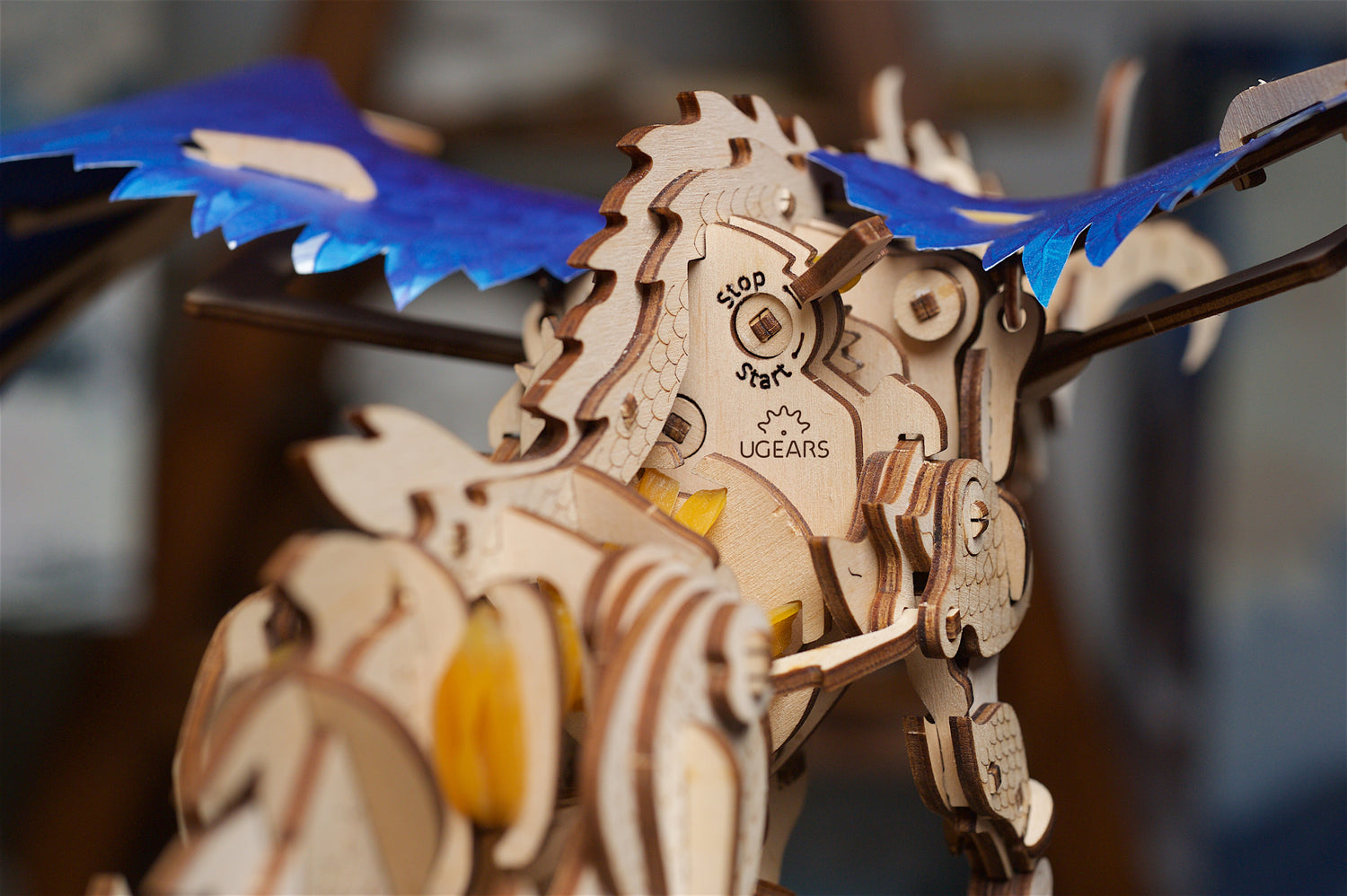 Mechanical
No batteries, no electricity, just Ugears. All mechanical models are powered by the ingenious mechanisms built by you. Just wind up your model and watch it come to life.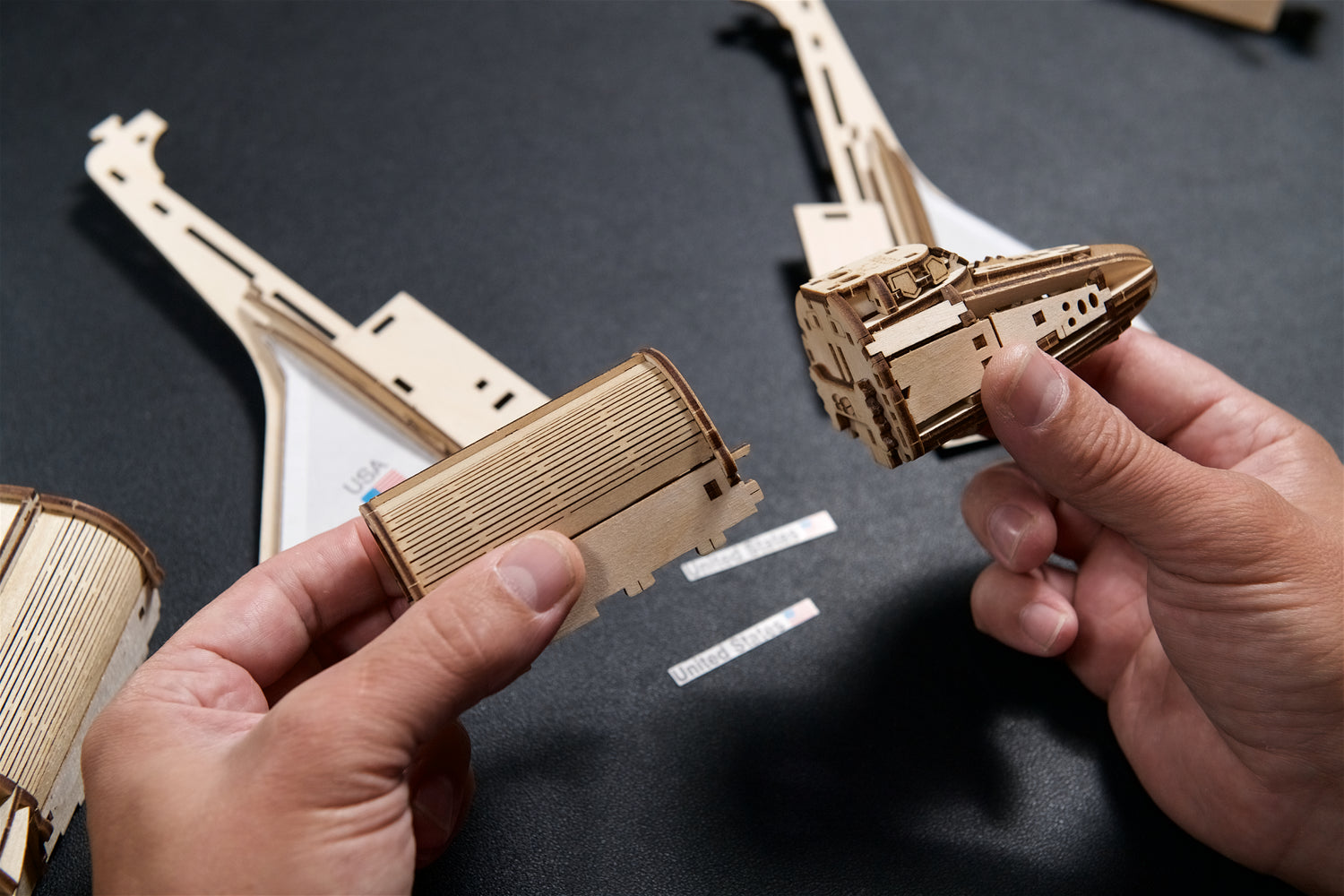 No Glue
Pieces have been designed so they will either click or slide into place. No glue or any other kind of adhesive is needed to build your model.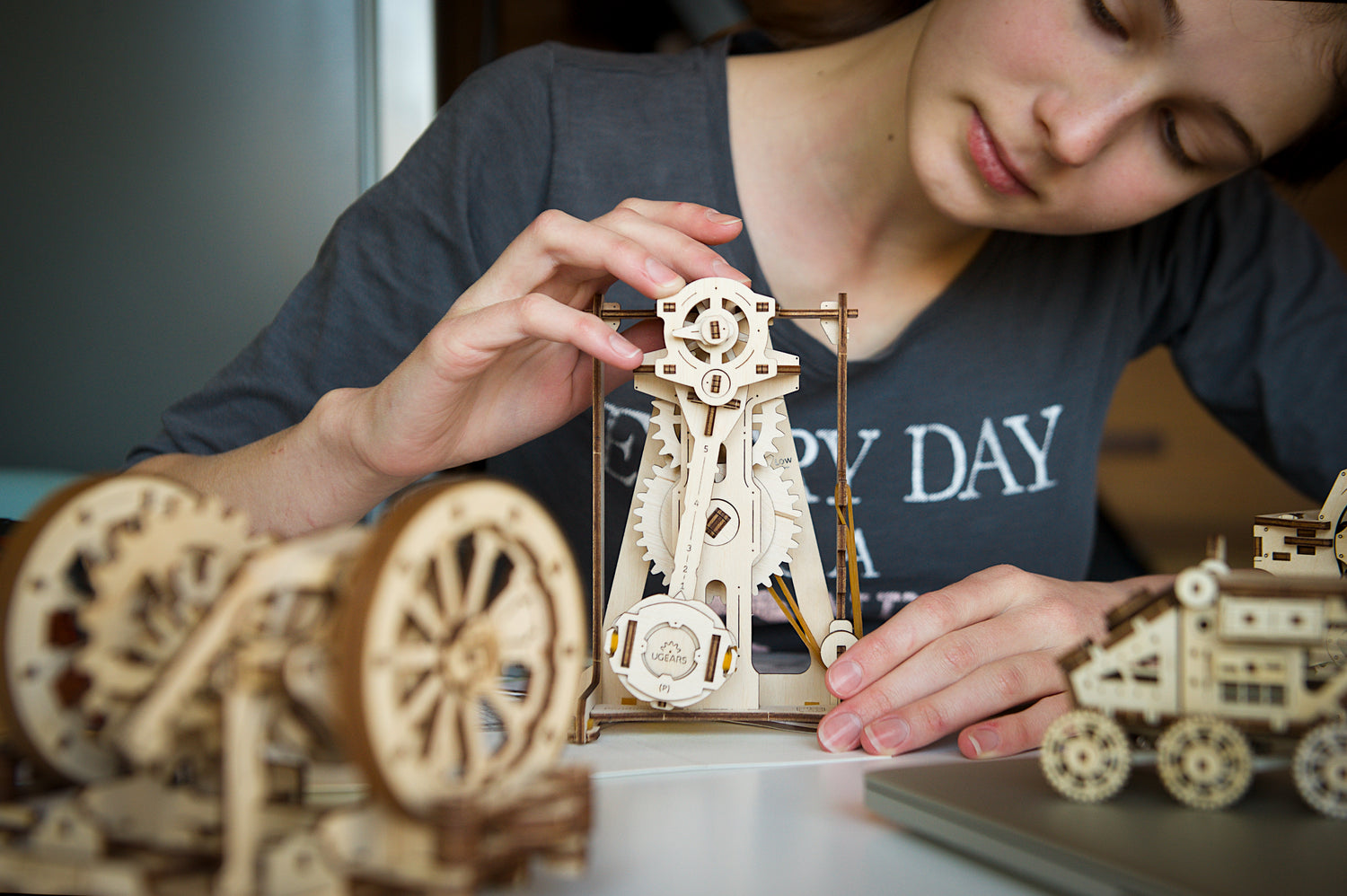 Educational
Models take inspiration from real life inventors and engineers, such as Da Vinci and Galileo. Learn the history behind the model as you build.