SKU:UGR70169
Regular price
Sale price
£11.99 GBP
Unit price
per
Liquid error (snippets/price line 121): divided by 0% OFF
Sale
Sold out
---
44

Pieces

1

Est. Time (hrs)
LxWxH 200 mm x 97 mm x 52 mm
---
Share
The Old Clock Tower mini-model by UGears brings a charming medieval atmosphere into your home or office. This beautiful DIY wooden clock tower model is a mechanical mechanism in the form of a tower with clock face, moving gears, a moving pendulum, whimsical characters, and a weather vane on top. Scroll the large gear to set the hands of the clock, the pendulum, and the weather vane in motion. The weather vane is a trumpeter holding on to a banner blowing in the wind. For comic effect, a man is suspended from the clock's spinning minute hand, holding on for dear life. Another man climbs a ladder below the clock—perhaps a cleaner or clock repairman? Behind the clock a suspicious-looking figure enters a hidden door—a thief storing his loot in the clock tower, or maybe a hunchback, bringing his lunch back? Invent your own story as you spin the gears and watch the mechanism come to life.
Clock towers occupied a central place in the life of medieval and Renaissance European cities. Invented in the 11th century, clock towers could sound the alarm in case of emergency; call people to worship, weddings or funerals; put the wealth or importance of a city on public display; and more prosaically, let townsfolk know what time it was, in an age when most people didn't own a watch or have a clock at home. Clock towers often featured interesting decorative elements and innovative engineering in the clockworks. Most medieval and Renaissance clock towers have been lost to time, war, or modernization, but there are still a few that survive in European cities—for example the Torre dell'Orologio in Venice's St. Mark's Square, the Prague Astronomical Clock with its procession of twelve apostles, or the Zytglogge in Bern, Switzerland.
The Old Clock Tower adds to our collection of fun mini-models and original desktop 3D puzzles and DIY mechanical models, designed with a steampunk sensibility. This mini-model fits in the palm of your hand, and is an easy build, with only 44 parts and an estimated construction time of 1 hour, making It'suitable for all ages and levels of experience. No glue or special tools are required to assemble this model kit—just snap the pieces together (after lightly sanding and lubricating the moving gears with the included wax), following the detailed, illustrated instructions. Everything you need for assembly comes right in the box. A simple build, but the results are amazing and will have you wanting to build more, and more challenging UGears wooden puzzles and models.
The UGears model Clock Tower will appeal to those who love history, architecture, clocks, and those who enjoy 3D puzzles and lightly-challenging but rewarding DIY projects. Build it with your kids for a fun family activity. Pair the Old Clock Tower with the Steampunk Clock and the Vintage Alarm Clock to start your collection of UGears decorative clocks. The Old Clock Tower is a fun, simple DIY project, a great gift idea for any age, and will make an attractive addition to your home or office decor. Bring a bit of Renaissance character to your desktop with this attractive wooden decorative clock and its cast of characters.
Kit contains all required components and no glue is required
Precision laser cut plywood. Only requires assembly.
UGears Mechanical Models are self-propelled, mechanical wooden model assembly kits.
Perfect for family projects, puzzle enthusiasts, and hands-on STEM learning
44 parts
Assembly time: 1 hours
Model size 200x97x52mm
The old clock tower – another clock in the Ugears collection
The Old Clock Tower mini-model by Ugears brings a charming medieval atmosphere into your home or office. This beautiful DIY wooden clock tower model is a mechanical mechanism in the form of a tower with clock face, moving gears, a moving pendulum, whimsical characters, and a weather vane on top. Scroll the large gear to set the hands of the clock, the pendulum, and the weather vane in motion. The weather vane is a trumpeter holding on to a banner blowing in the wind. For comic effect, a man is suspended from the clock's spinning minute hand, holding on for dear life. Another man climbs a ladder below the clock—perhaps a cleaner or clock repairman? Behind the clock a suspicious-looking figure enters a hidden door—a thief storing his loot in the clock tower, or maybe a hunchback, bringing his lunch back? Invent your own story as you spin the gears and watch the mechanism come to life.
Clock towers occupied a central place in the life of medieval and Renaissance European cities. Invented in the 11th century, clock towers could sound the alarm in case of emergency; call people to worship, weddings or funerals; put the wealth or importance of a city on public display; and more prosaically, let townsfolk know what time it was, in an age when most people didn't own a watch or have a clock at home. Clock towers often featured interesting decorative elements and innovative engineering in the clockworks. Most medieval and Renaissance clock towers have been lost to time, war, or modernization, but there are still a few that survive in European cities—for example the Torre dell'Orologio in Venice's St. Mark's Square, the Prague Astronomical Clock with its procession of twelve apostles, or the Zytglogge in Bern, Switzerland.
The Old Clock Tower adds to our collection of fun mini-models and original desktop 3d puzzles and DIY mechanical models, designed with a steampunk sensibility. This mini-model fits in the palm of your hand, and is an easy build, with only 44 parts and an estimated construction time of 1 hour, making it suitable for all ages and levels of experience. No glue or special tools are required to assemble this model kit—just snap the pieces together (after lightly sanding and lubricating the moving gears with the included wax), following the detailed, illustrated instructions. Everything you need for assembly comes right in the box. A simple build, but the results are amazing and will have you wanting to build more, and more challenging Ugears wooden puzzles and models.
The Ugears model Clock Tower will appeal to those who love history, architecture, clocks, and those who enjoy 3D puzzles and lightly-challenging but rewarding DIY projects. Build it with your kids for a fun family activity. Pair the Old Clock Tower with the Steampunk Clock and the Vintage Alarm Clock to start your collection of Ugears decorative clocks. The Old Clock Tower is a fun, simple DIY project, a great gift idea for any age, and will make an attractive addition to your home or office decor. Bring a bit of Renaissance character to your desktop with this attractive wooden decorative clock and its cast of characters.
View full details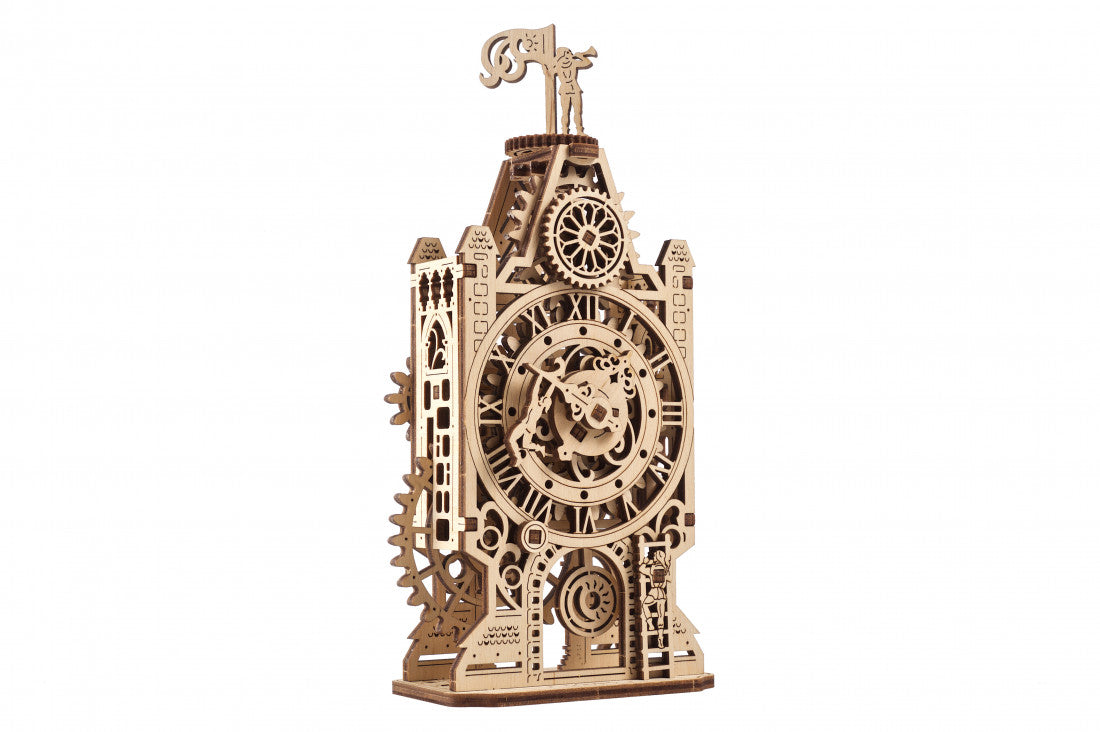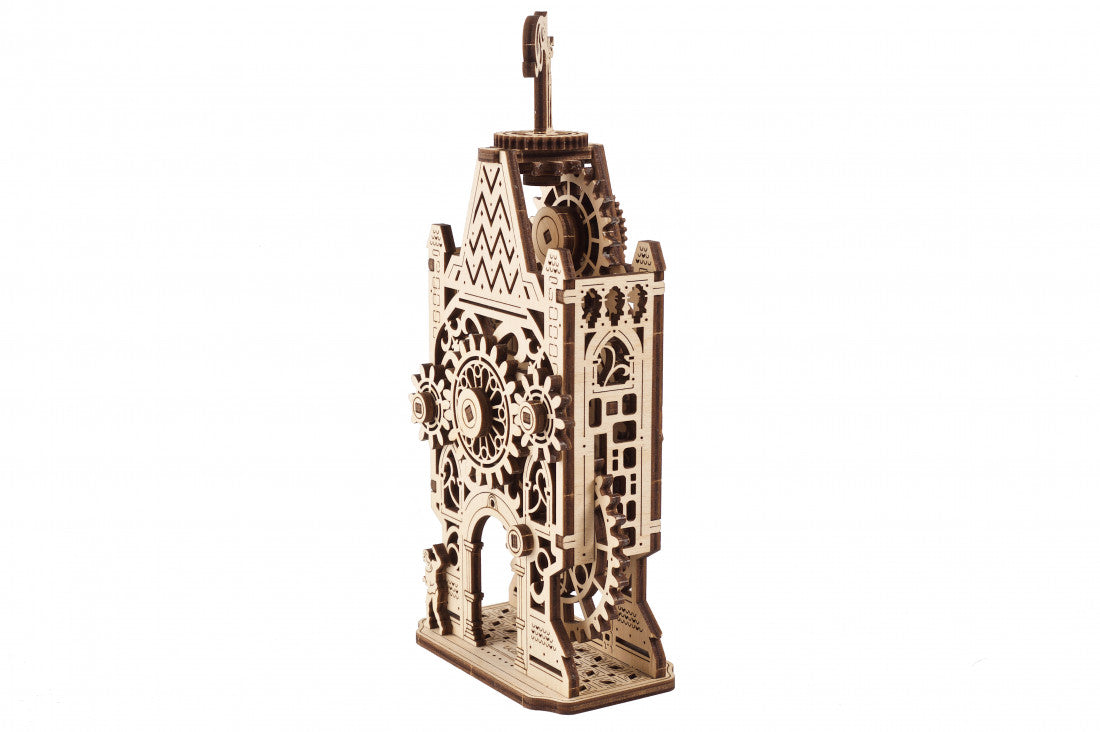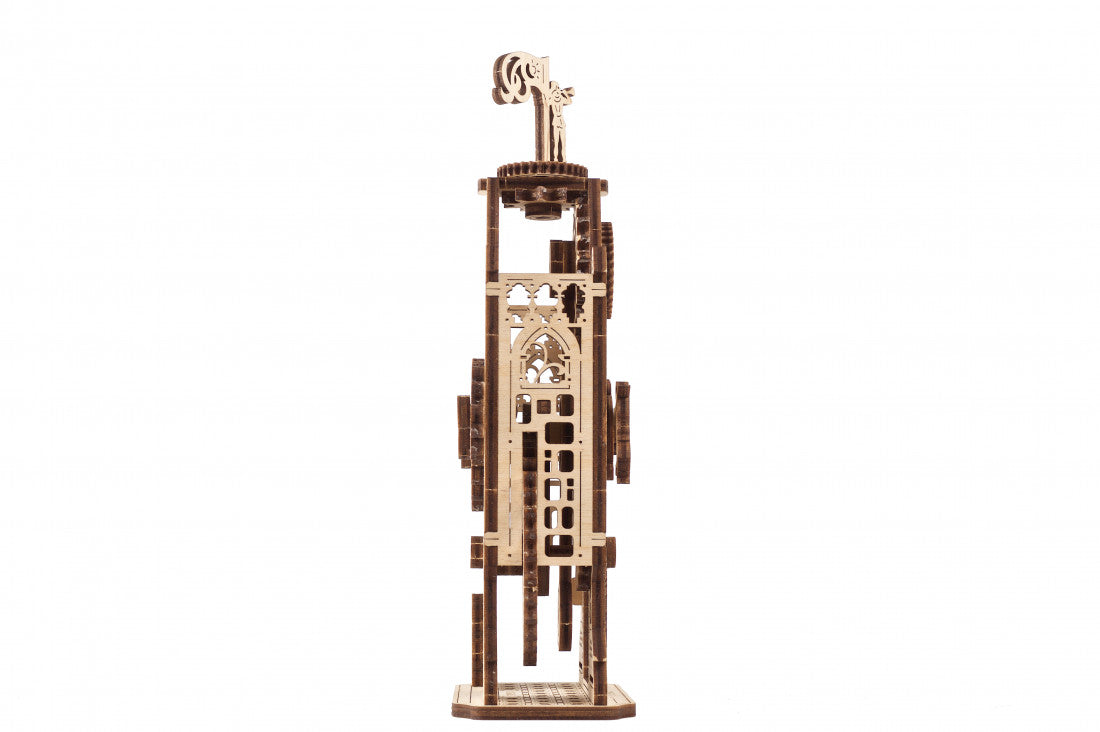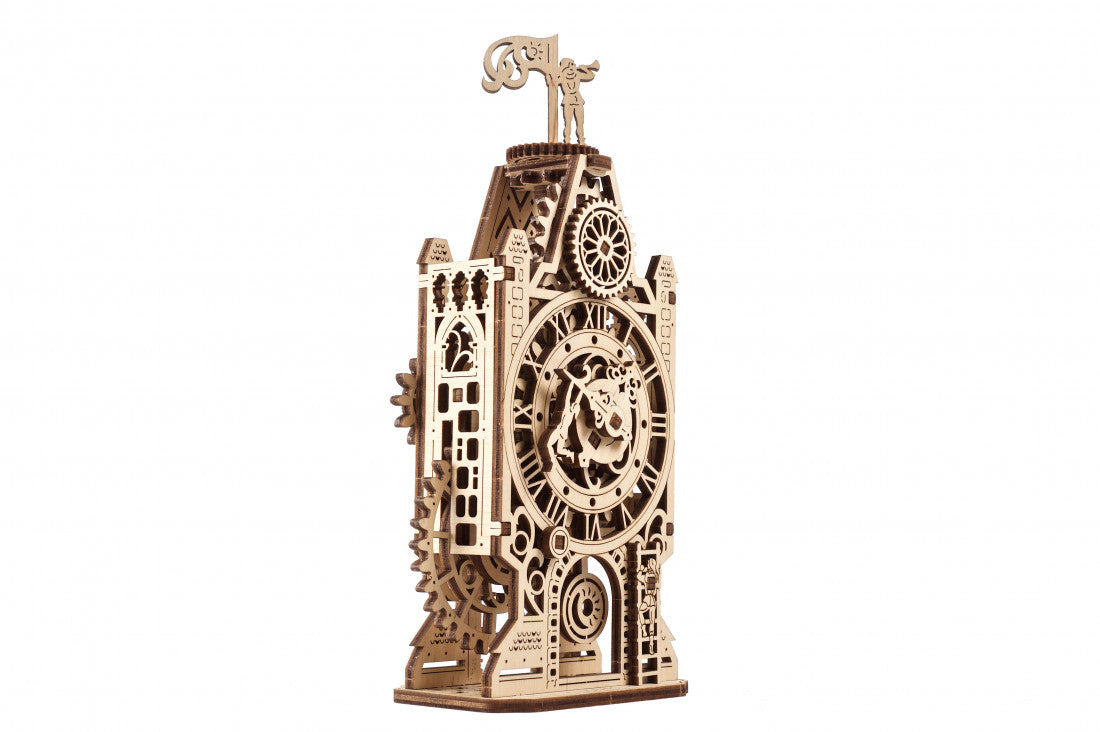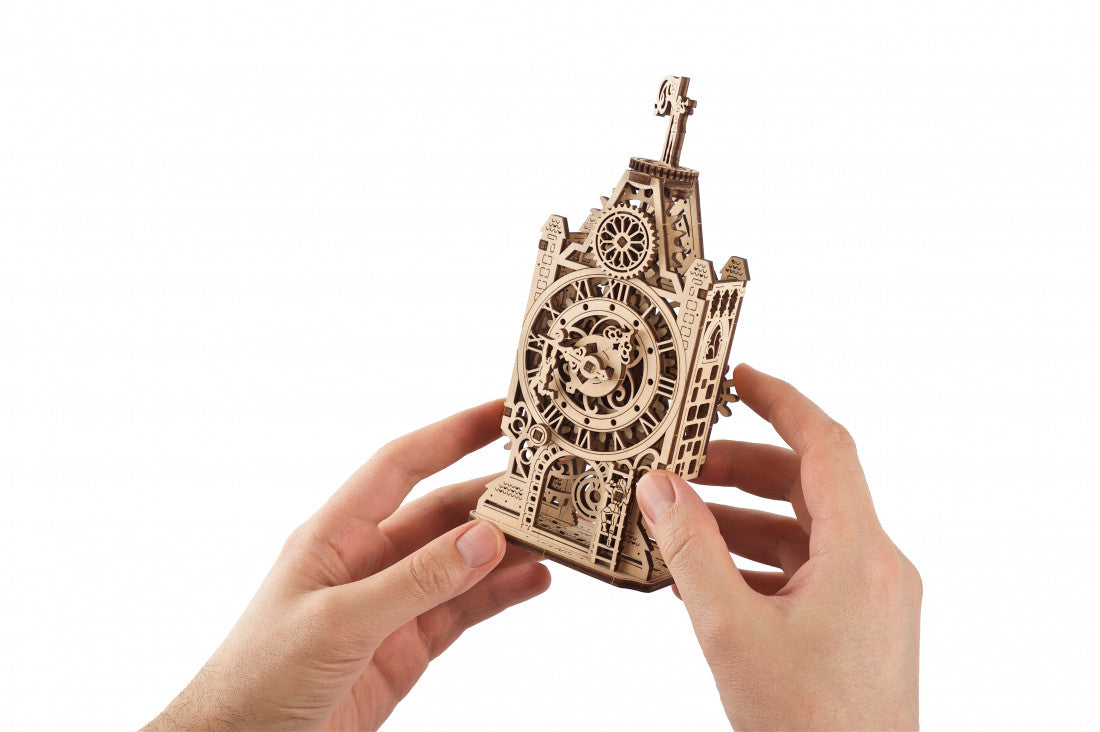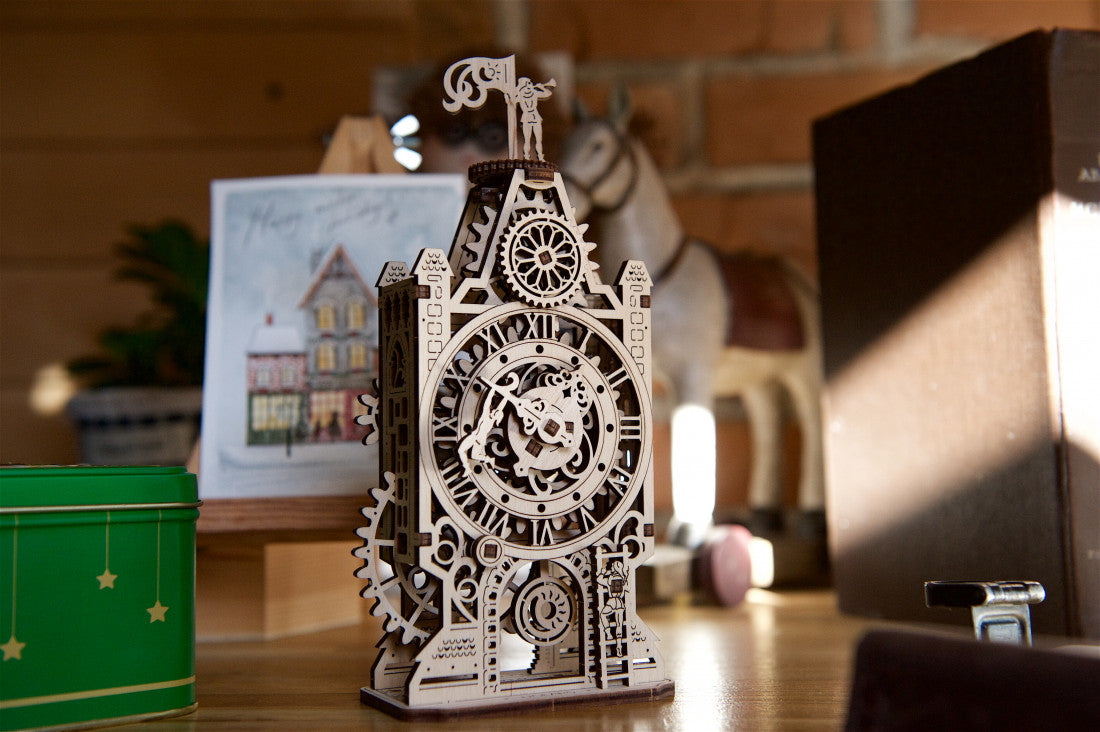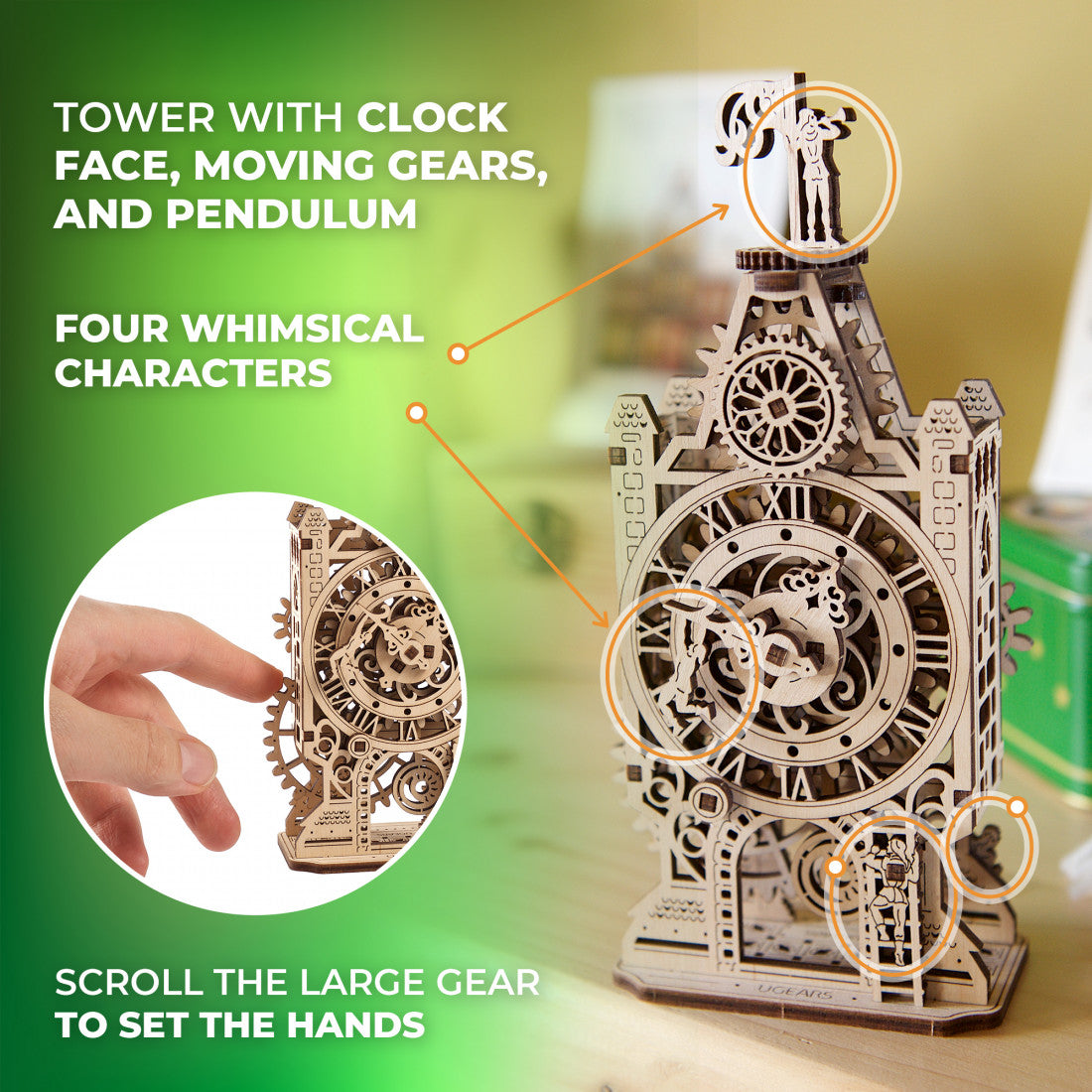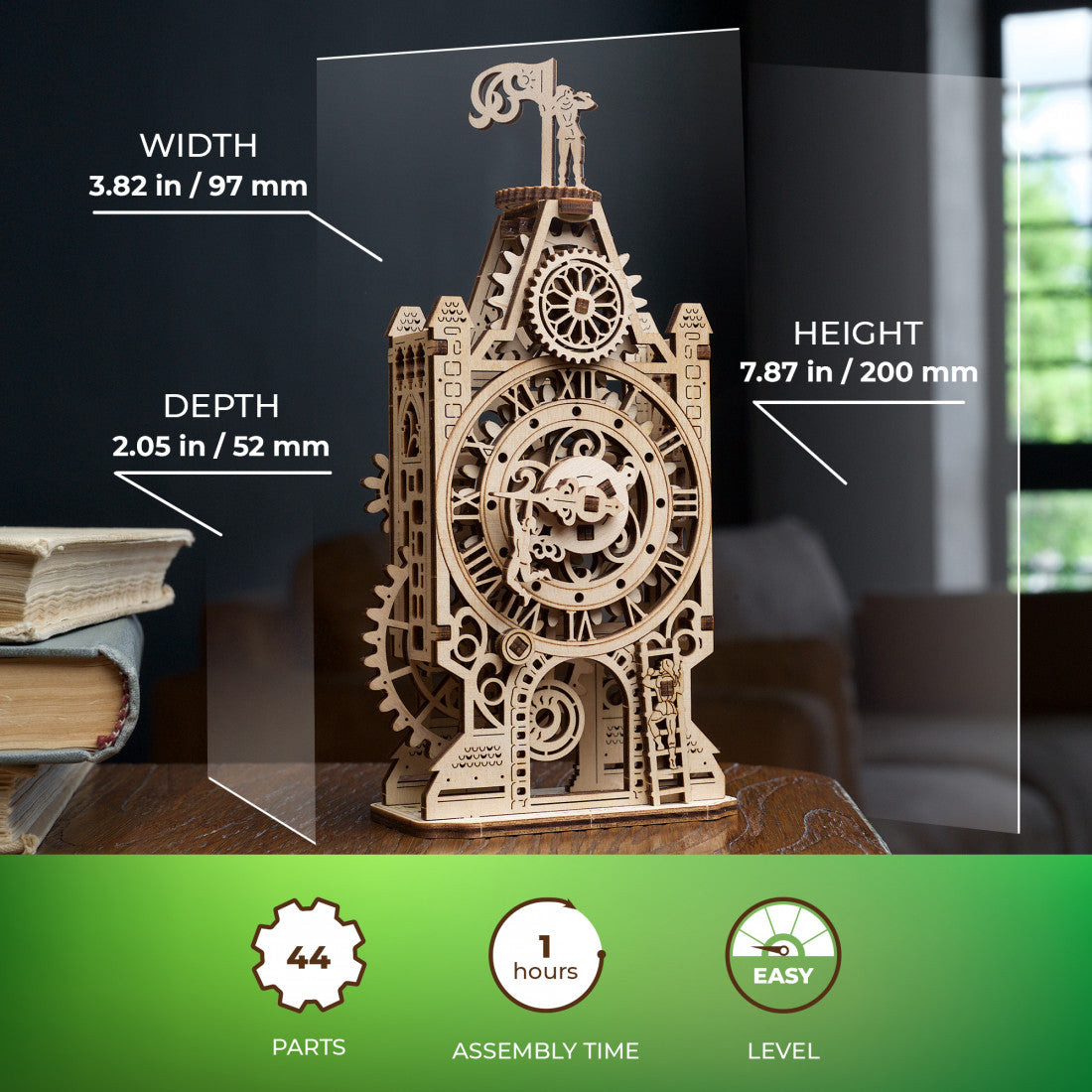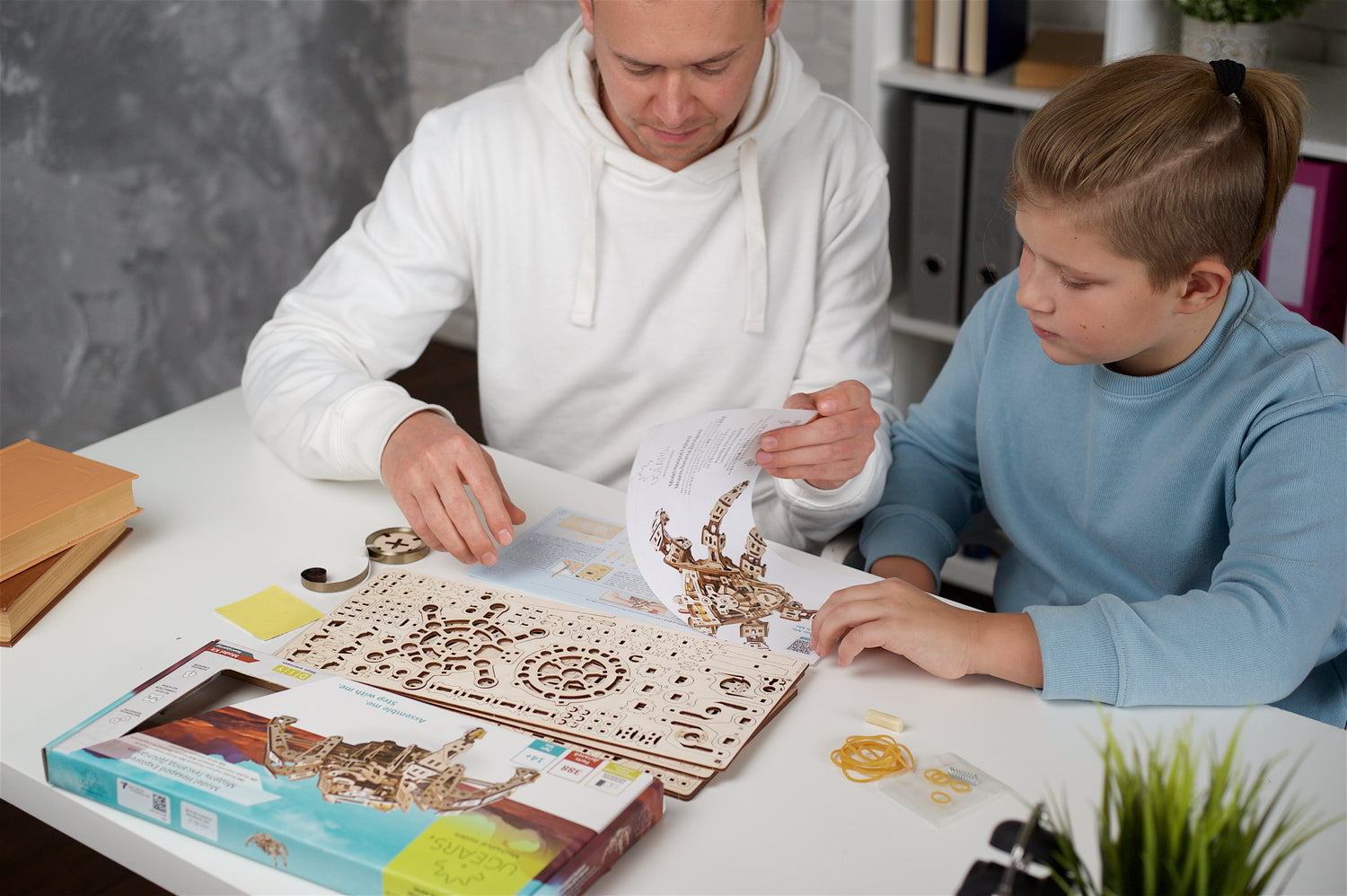 Ready to Build
Ugears models are made from sustainably sourced, laser cut plywood sheets. Everything you need is inside the box, so you can get building right away.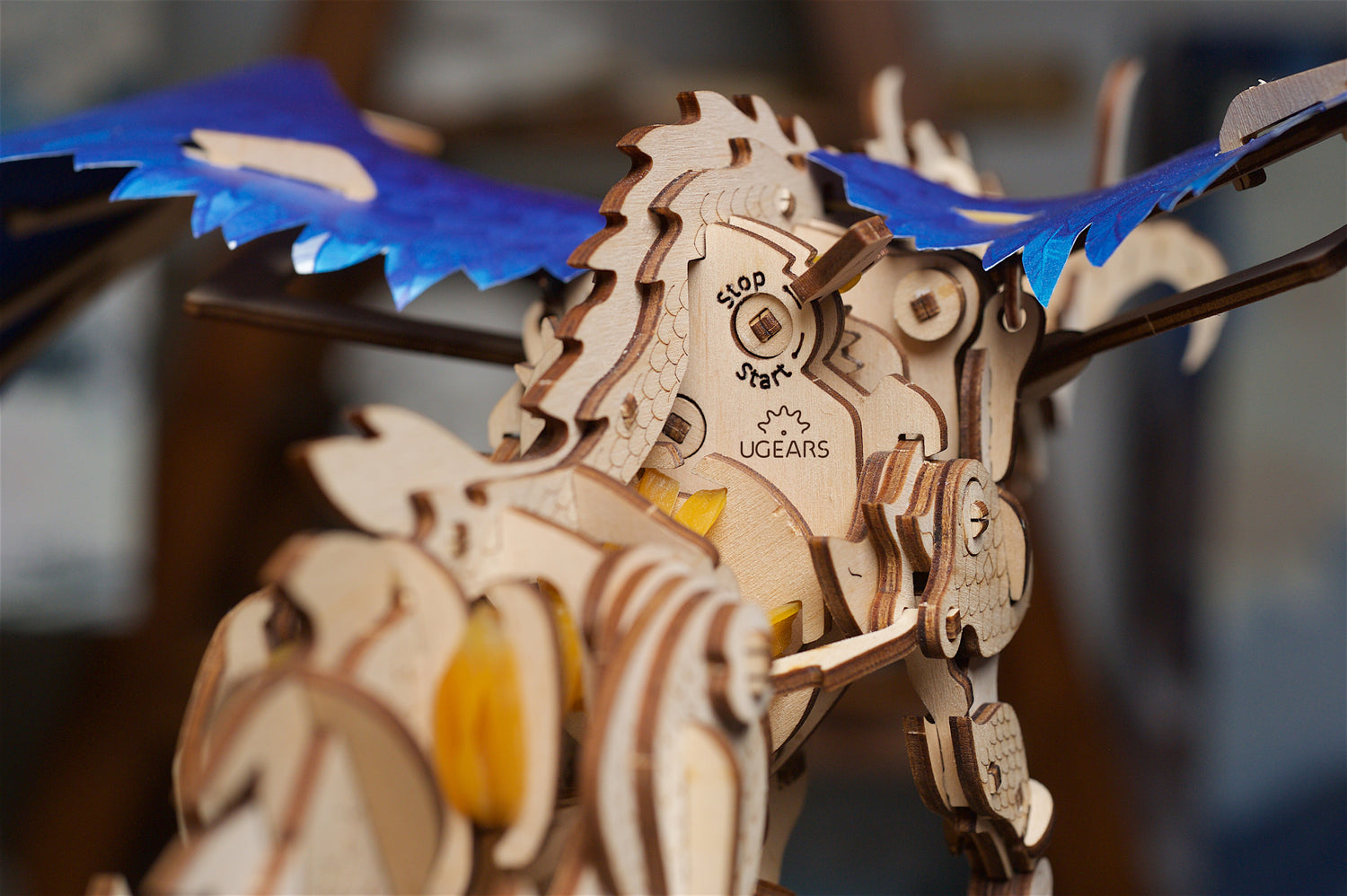 Mechanical
No batteries, no electricity, just Ugears. All mechanical models are powered by the ingenious mechanisms built by you. Just wind up your model and watch it come to life.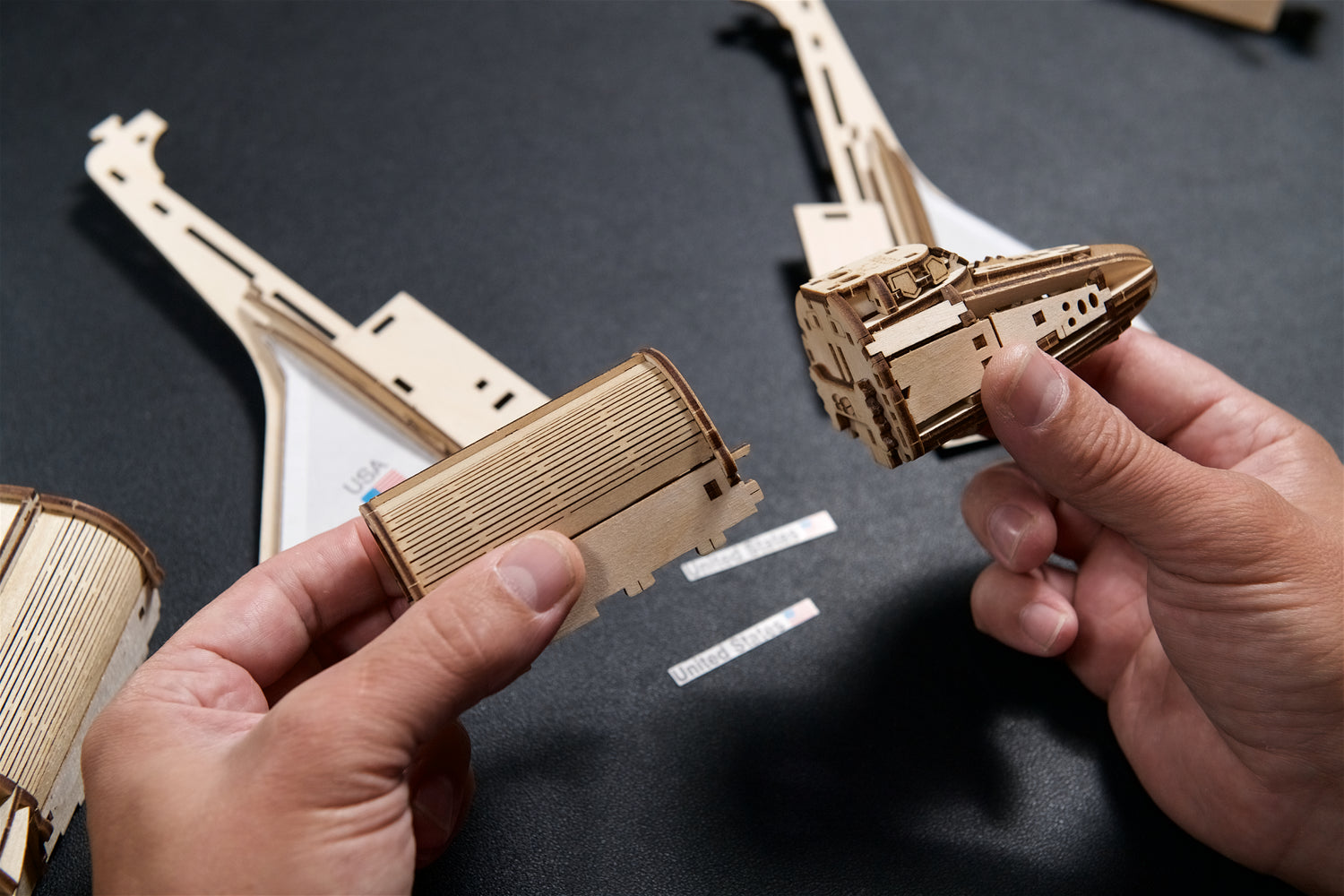 No Glue
Pieces have been designed so they will either click or slide into place. No glue or any other kind of adhesive is needed to build your model.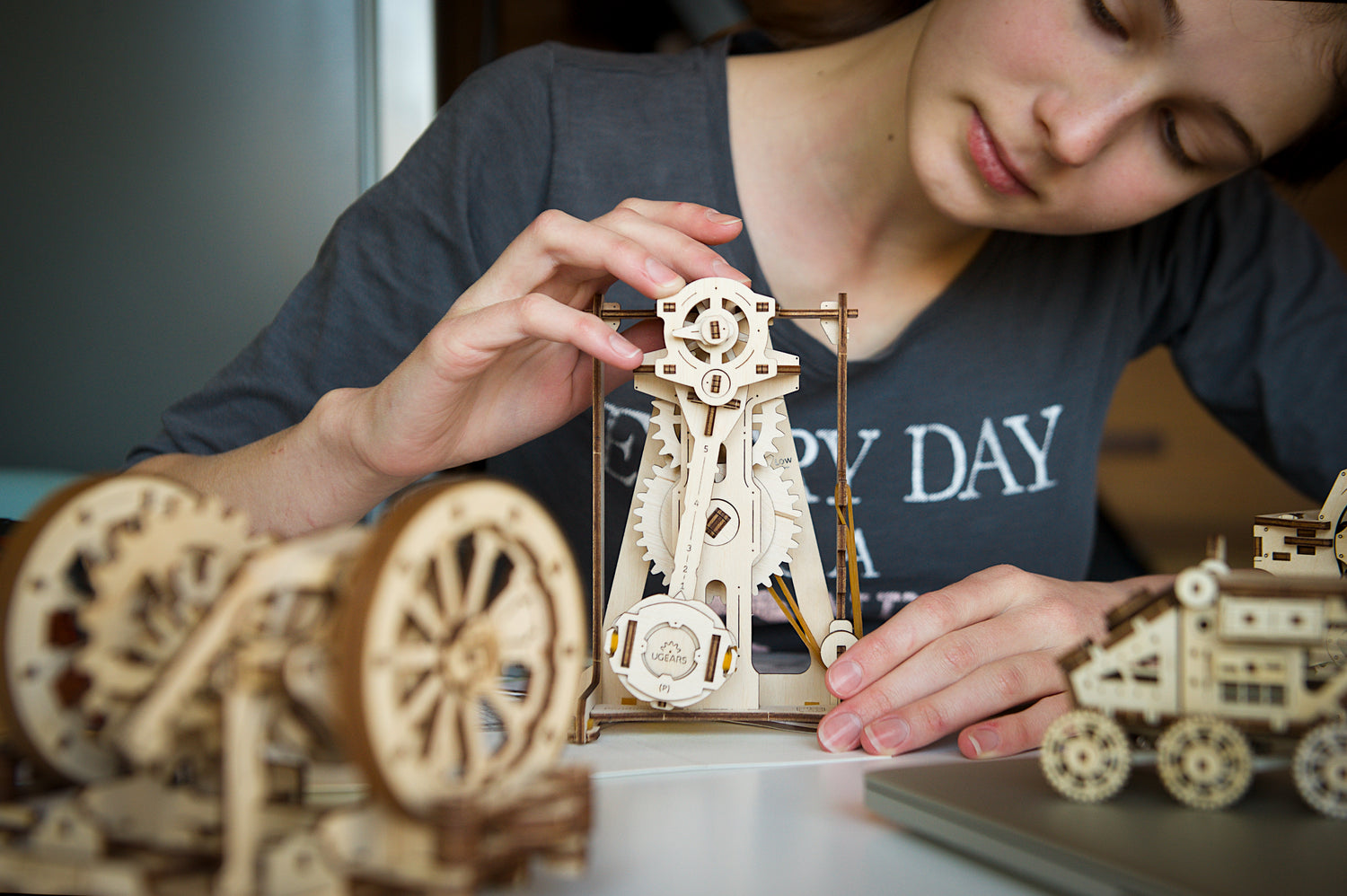 Educational
Models take inspiration from real life inventors and engineers, such as Da Vinci and Galileo. Learn the history behind the model as you build.