SKU:UGR70159
Regular price
Sale price
£10.50 GBP
Unit price
per
Liquid error (snippets/price line 121): divided by 0% OFF
Sale
Sold out
---
84

Pieces

2

Est. Time (hrs)
LxWxH 150 mm x 130 mm x 80 mm
---
Share
Amazing retro biplane: The UGears Mini Biplane model is both a fun toy and an attractive decorative item to place on the shelf. We opted for an open design, making the Biplane fuselage light and transparent, revealing the model's inner workings.
Relaxing and fun: Putting together our model building kits is an exciting, hands-on experience. You can assemble this 3D wooden puzzle alone or in good company. Plan for about 60 minutes to put together this Bi-plane.
Mechanical power: The Mini Biplane wooden model has a turning propeller and is powered by a rubber band motor—just pull the model back along a surface to wind it up, then release and watch it go!
Everything in the box: No extra tools or glue are needed to assemble UGears engineering toys and DIY projects for adults. Illustrated, step-by-step instructions will keep you on track
The aviation fun: Are there any kids (or grownup kids!) who love airplanes in your circle of family and friends? Why not give them a Mini Biplane as a gift for their next birthday or for the holidays?
Kit contains all required components and no glue is required
Precision laser cut plywood. Only requires assembly.
UGears Mechanical Models are self-propelled, mechanical wooden model assembly kits.
Perfect for family projects, puzzle enthusiasts, and hands-on STEM learning
84 parts
Assembly time: 2 hours
Model size 150x130x80mm
Mini-Biplane – the new mechanical model by Ugears
The Wright brothers got it right. When these talented bicycle mechanics set out to build the world's first motor-driven, heavier-than-air airplane, they needed wings that could provide enough lift, yet be light and strong. They went with a biplane design, seen in early hang gliders. Biplanes have two fixed wings, one on top of the other, connected with supporting struts; the bracing permits a lighter wing structure. WWI flyers took to the skies in biplanes, and while the Red Baron is known for his iconic crimson triplane, most of his decorated combat career was spent in biplanes. Advances in aviation technology and materials made the biplane obsolete by the late 1930's, however, biplanes remain a fixture and fan favorite at airshows to this day.
Ugears is known for producing beautiful wooden DIY models characterized by a throwback, steampunk sensibility. Naturally, when we decided to add a flyer to our collection of "Easy" models for young modelers, we couldn't resist the beauty and historical significance of the biplane. The Ugears Mini Biplane model is both a fun toy and an attractive decorative item to place on the shelf. We opted for an open design, making the Biplane fuselage light and transparent, revealing the model's inner workings. Machines should not be mysteries! We want to encourage our young builders' natural curiosity, and help them learn about motors and simple mechanics.
The Mini Biplane wooden model has a turning propeller and is powered by a rubber band motor—just pull the model back along a surface to wind it up, then release and watch it go! No glue or special tools are required to assemble this DIY kit, just punch the pre-cut pieces out of their composite wood boards and snap them together. When assembling the airplane model, remember to lightly sand and wax the moving parts to make them run smoothly. The model's toy-like appearance and simple mechanics make the Mini Biplane an excellent starter model and introduction to the fascinating world of Ugears 3D puzzles, DIY model kits, automatons, robots, wooden puzzle boxes and STEM Lab model kits. As your child learns to build these delightful, engaging toys they will also be building their mechanical knowledge and aptitude.
The Mini Biplane will appeal to anyone who loves model planes or who is interested in aviation. It joins the Aviator (with its interchangeable airplane and helicopter components) and the Flight Starter models in our Ugears family of flyers (you could also count the fearsome Windstorm Dragon and beautiful Butterfly as flyers!). Are there any kids (or grownup kids!) who love airplanes in your circle of family and friends? Why not give them a Mini Biplane as a gift for their next birthday or for the holidays? The Ugears Mini Biplane is a fun, lightly challenging, and satisfying creative project for families to work on together, and an attractive addition to your home decor. Let Ugears help your child's imagination take flight!
View full details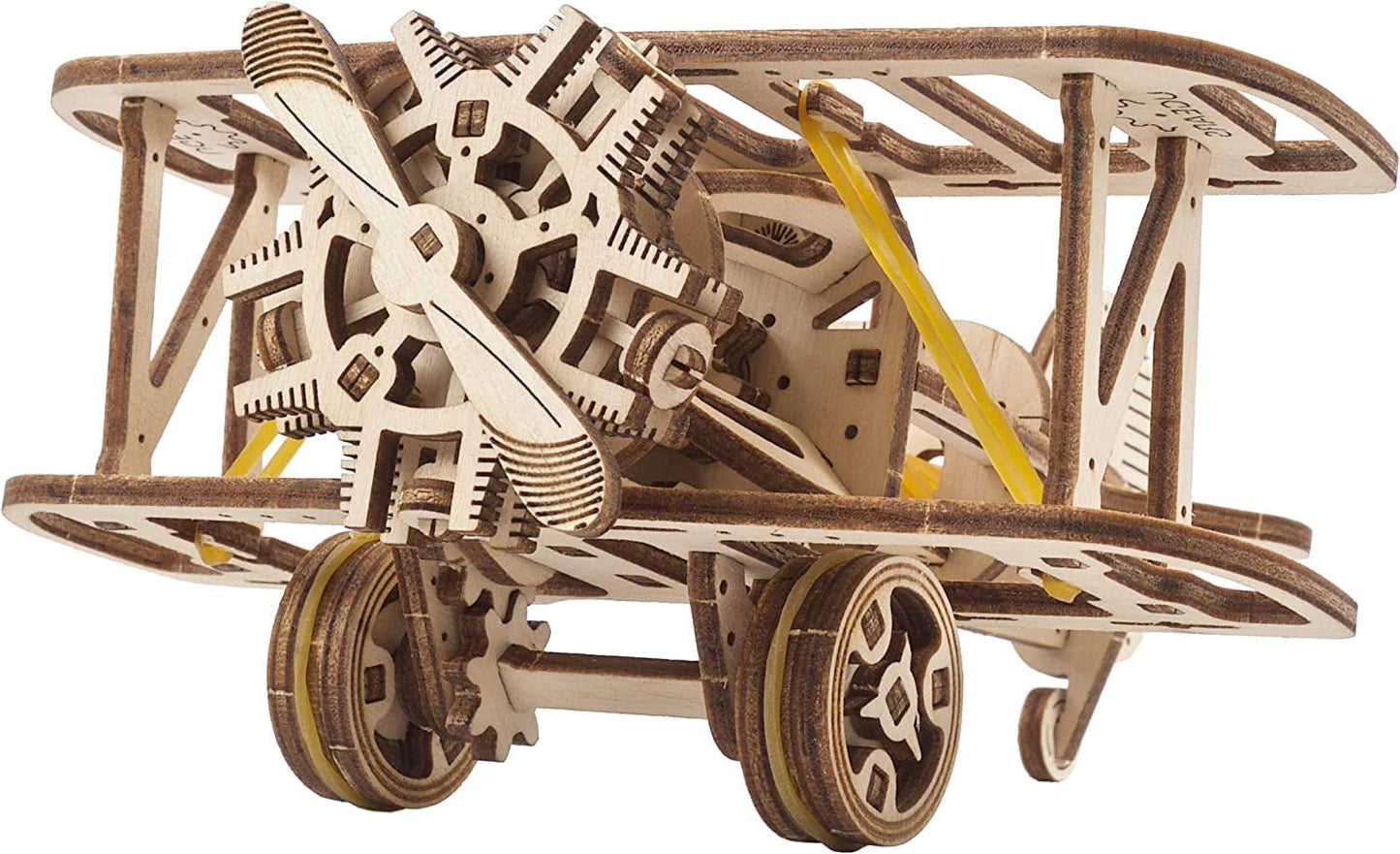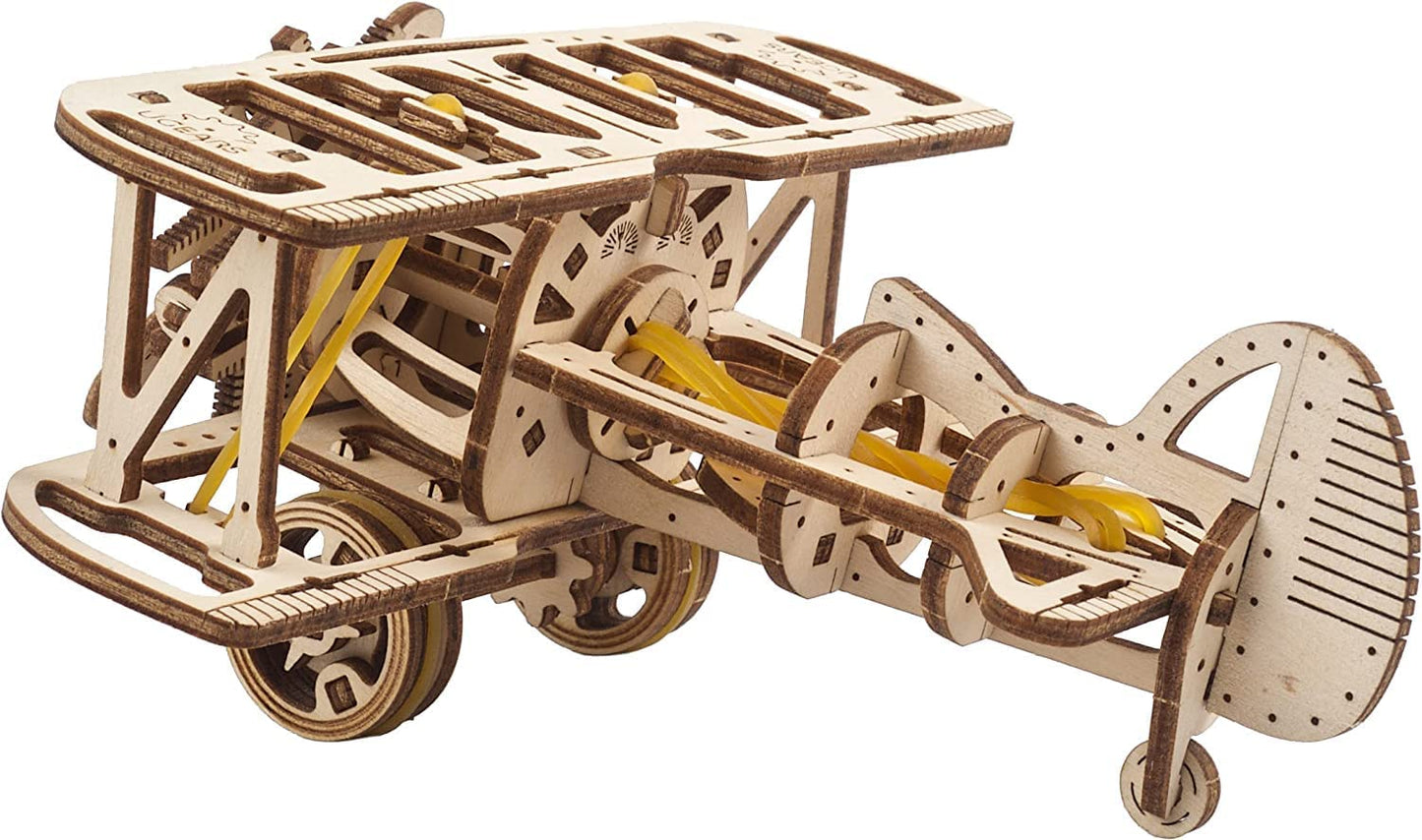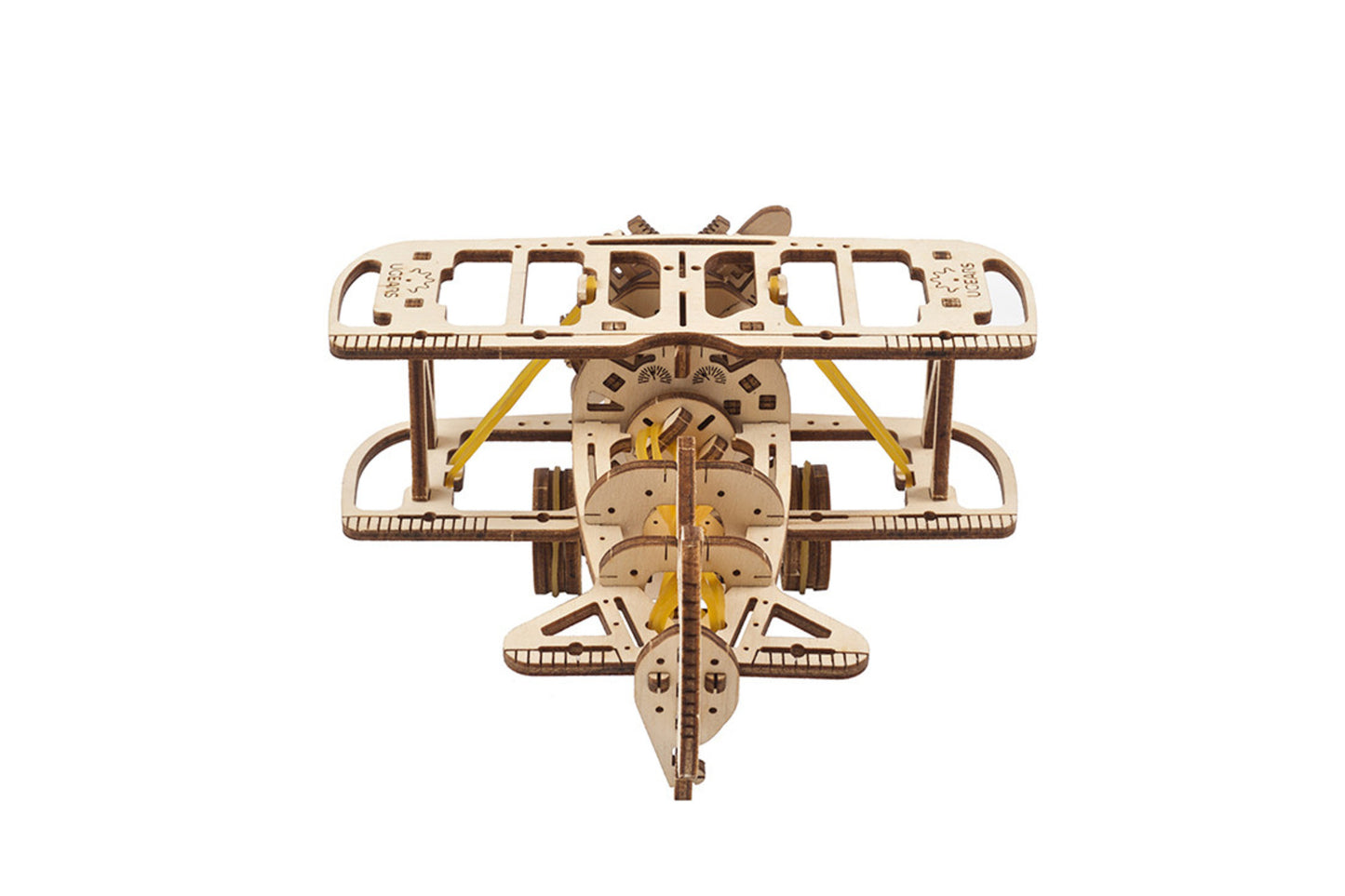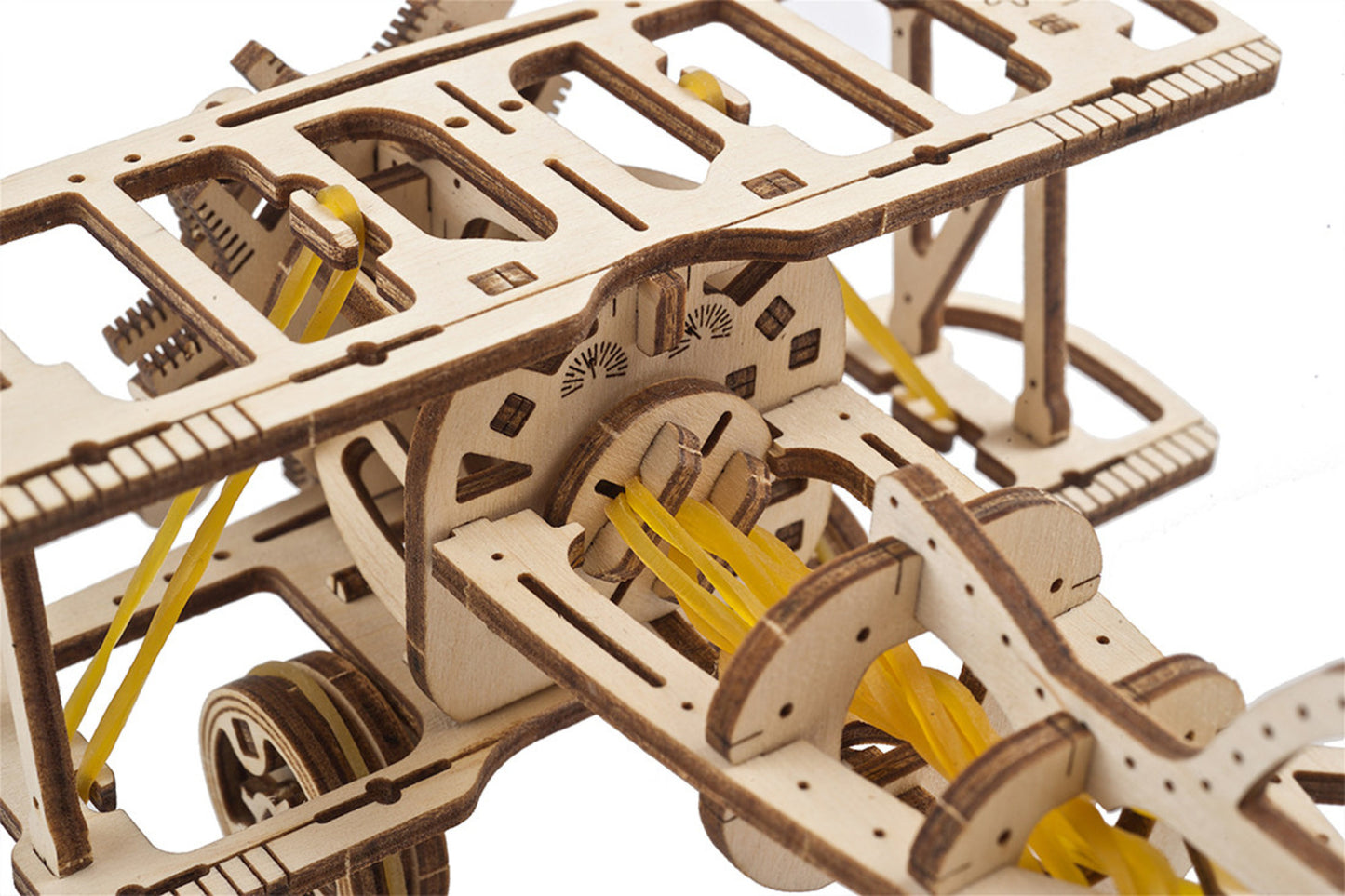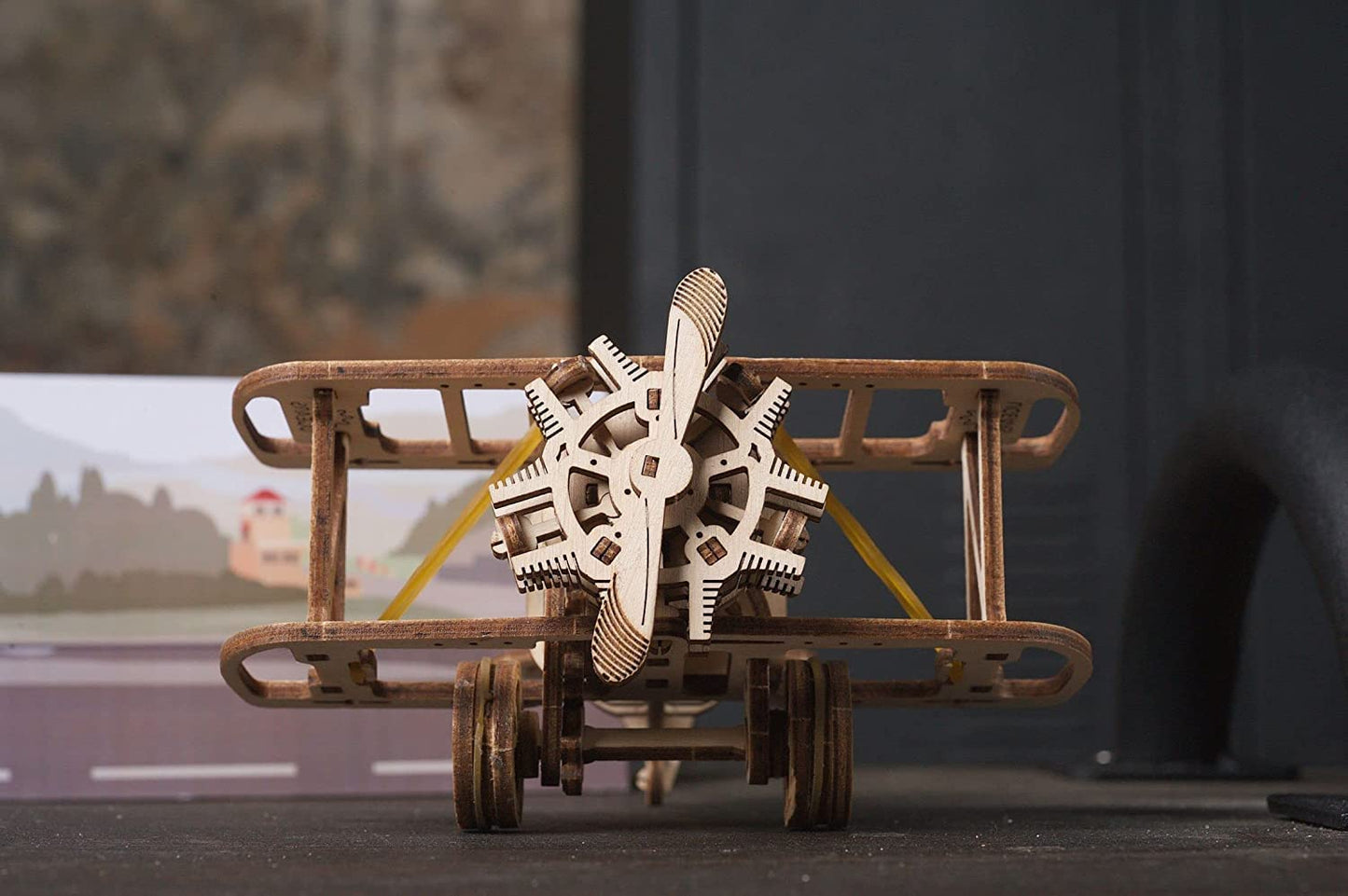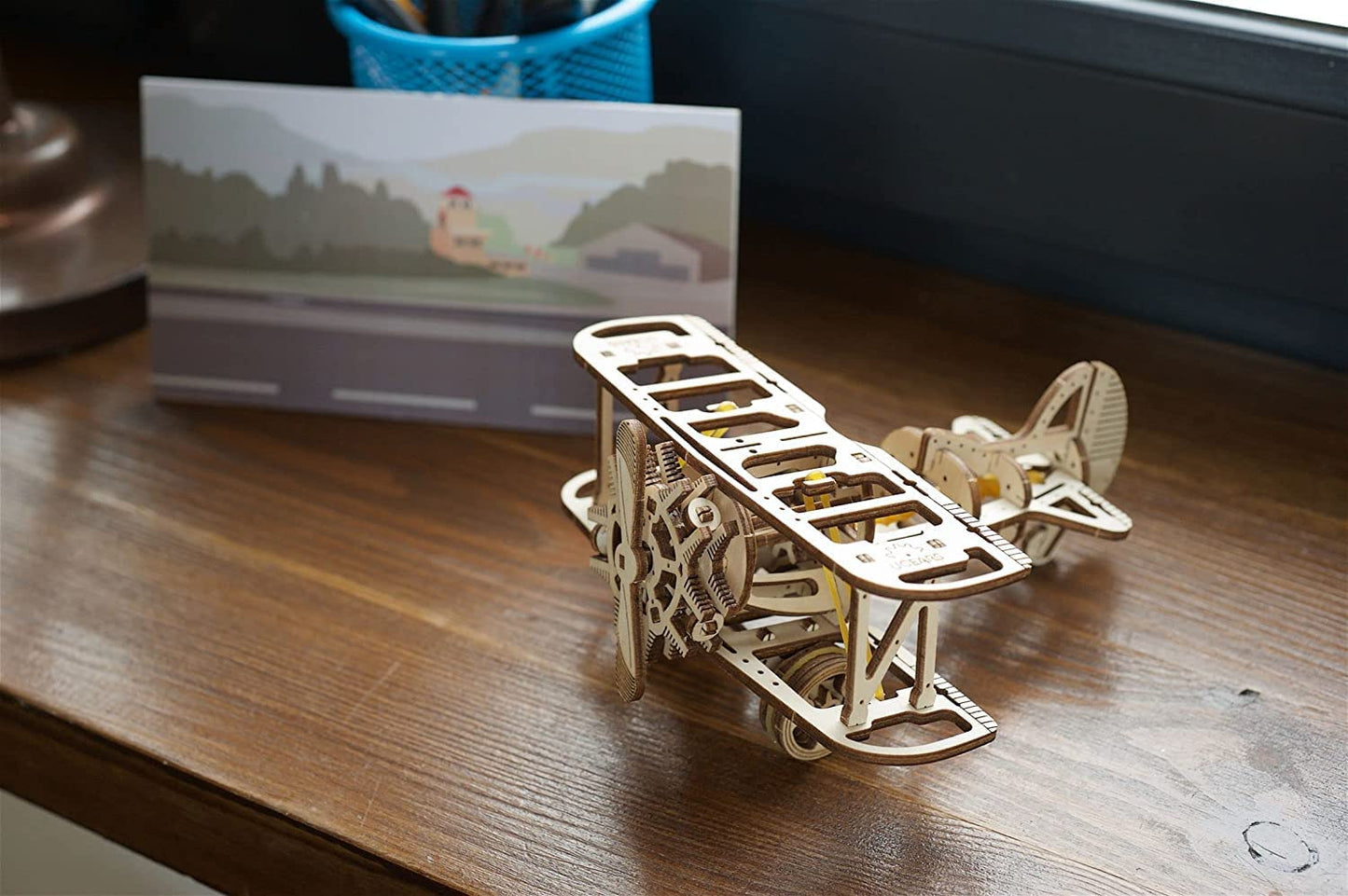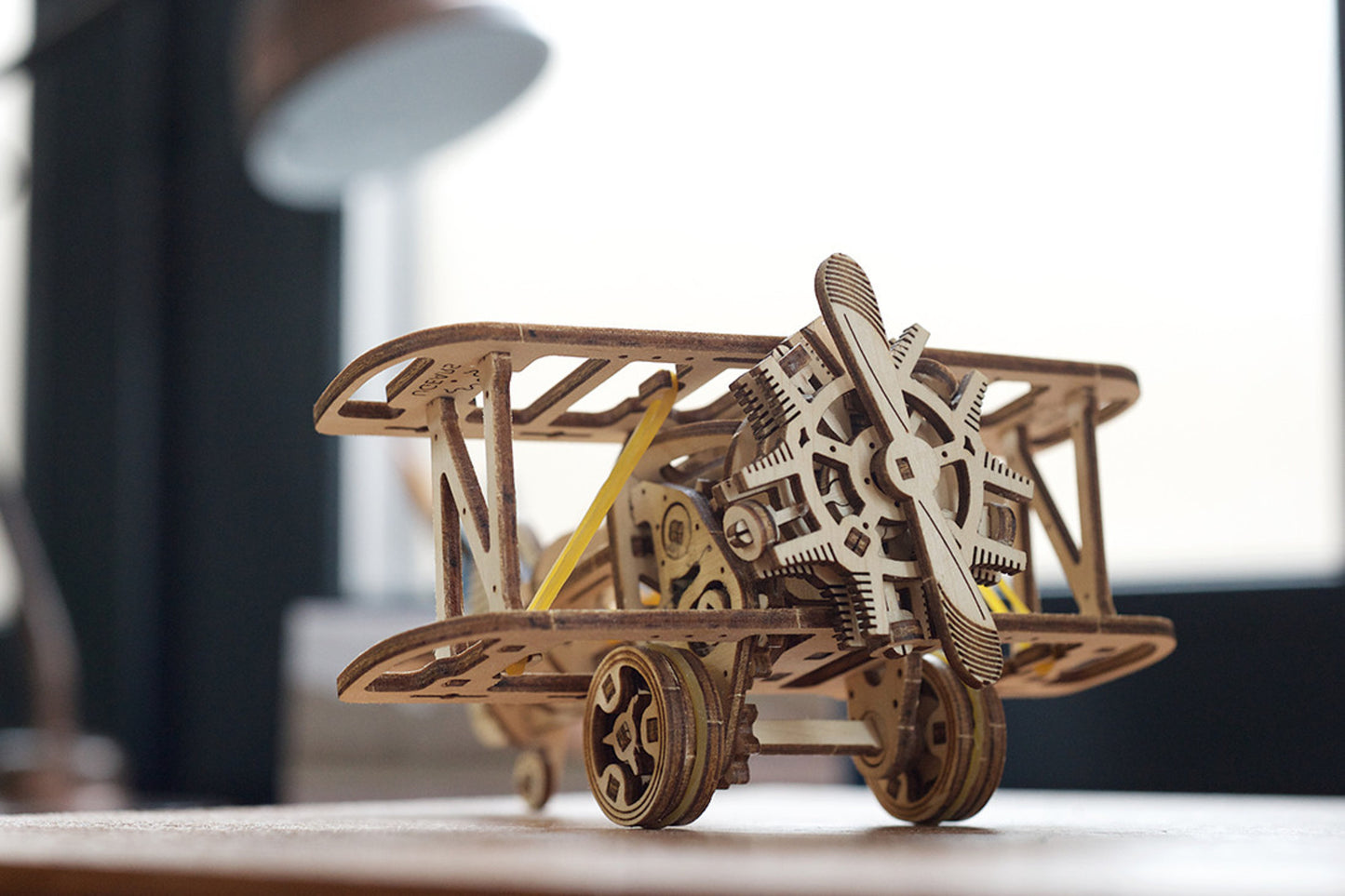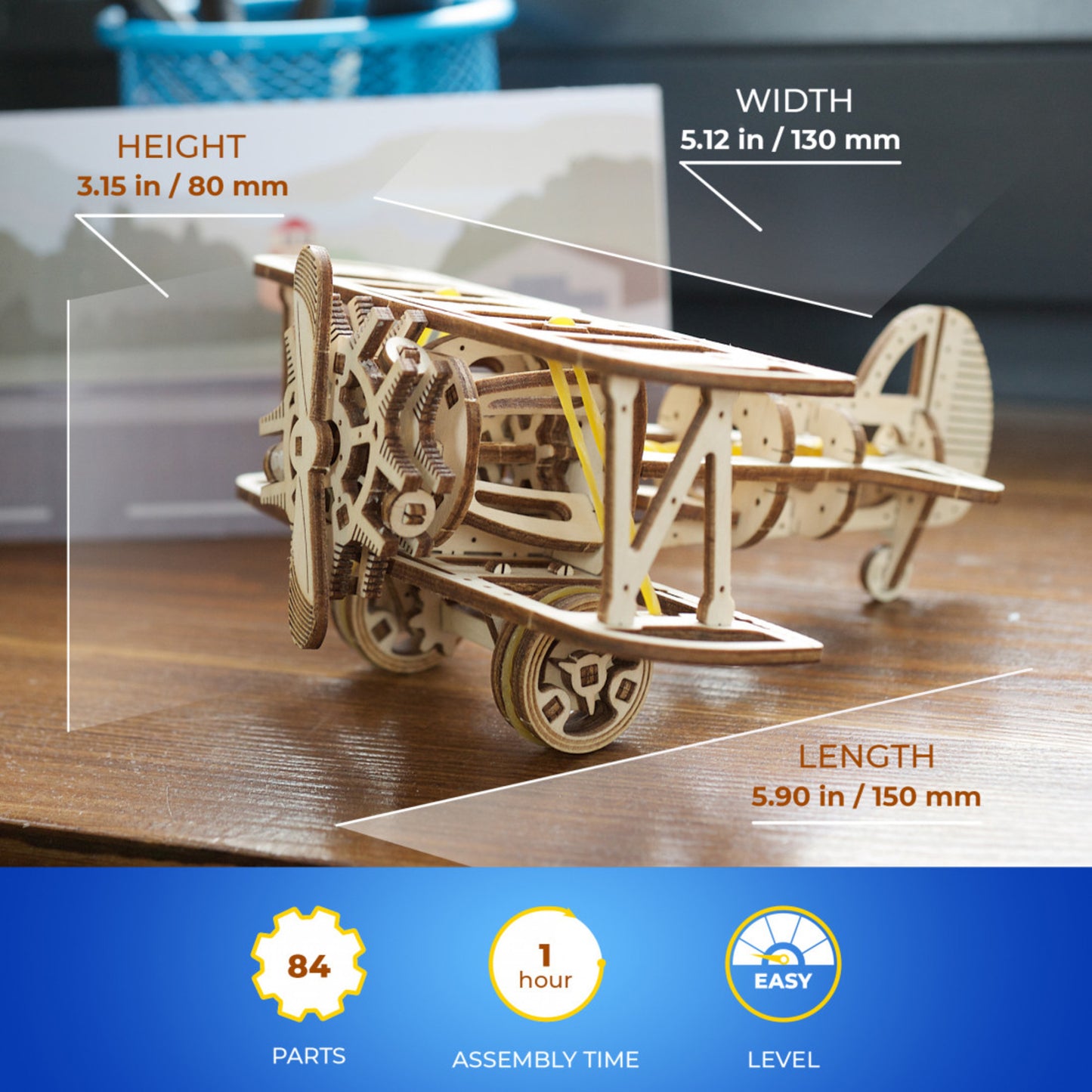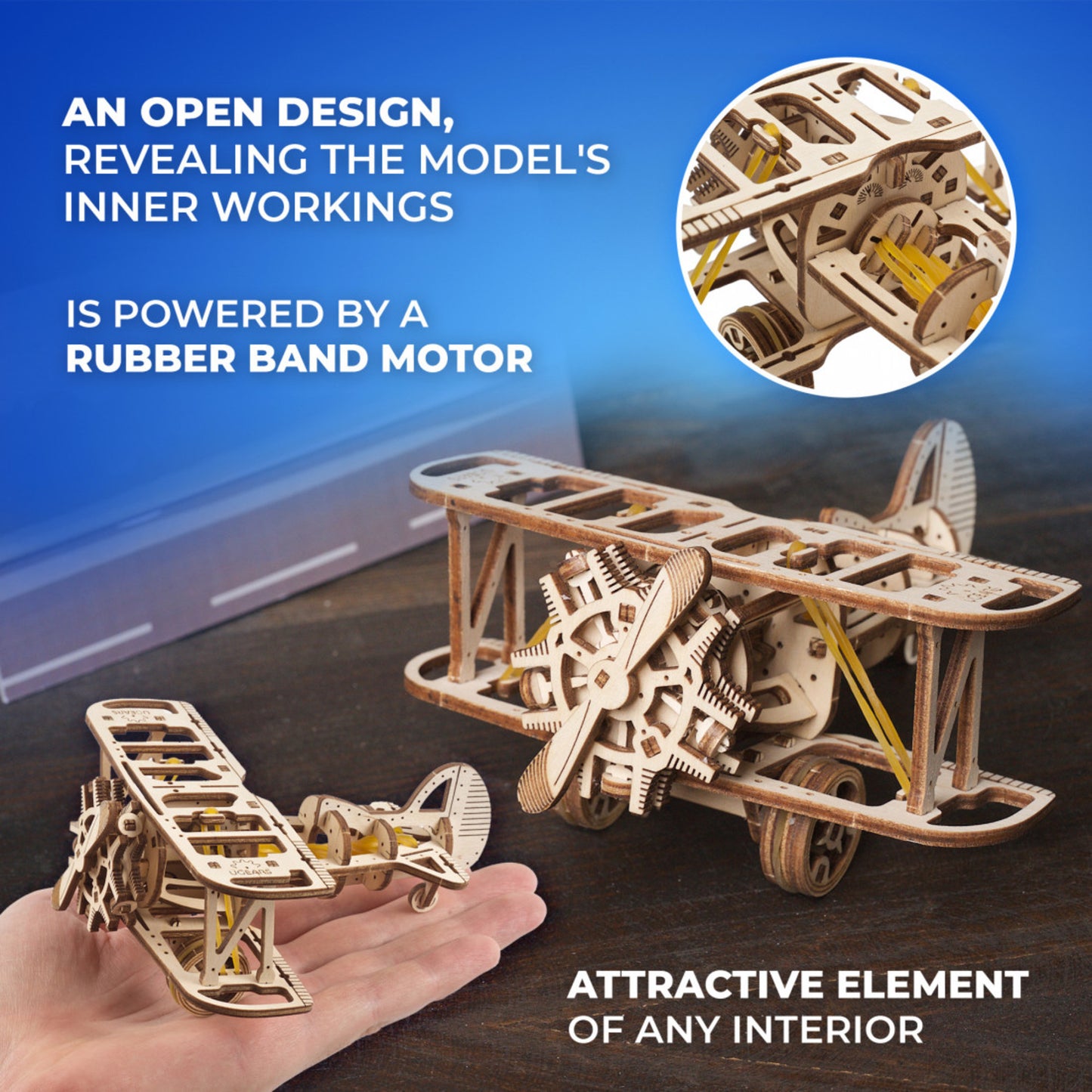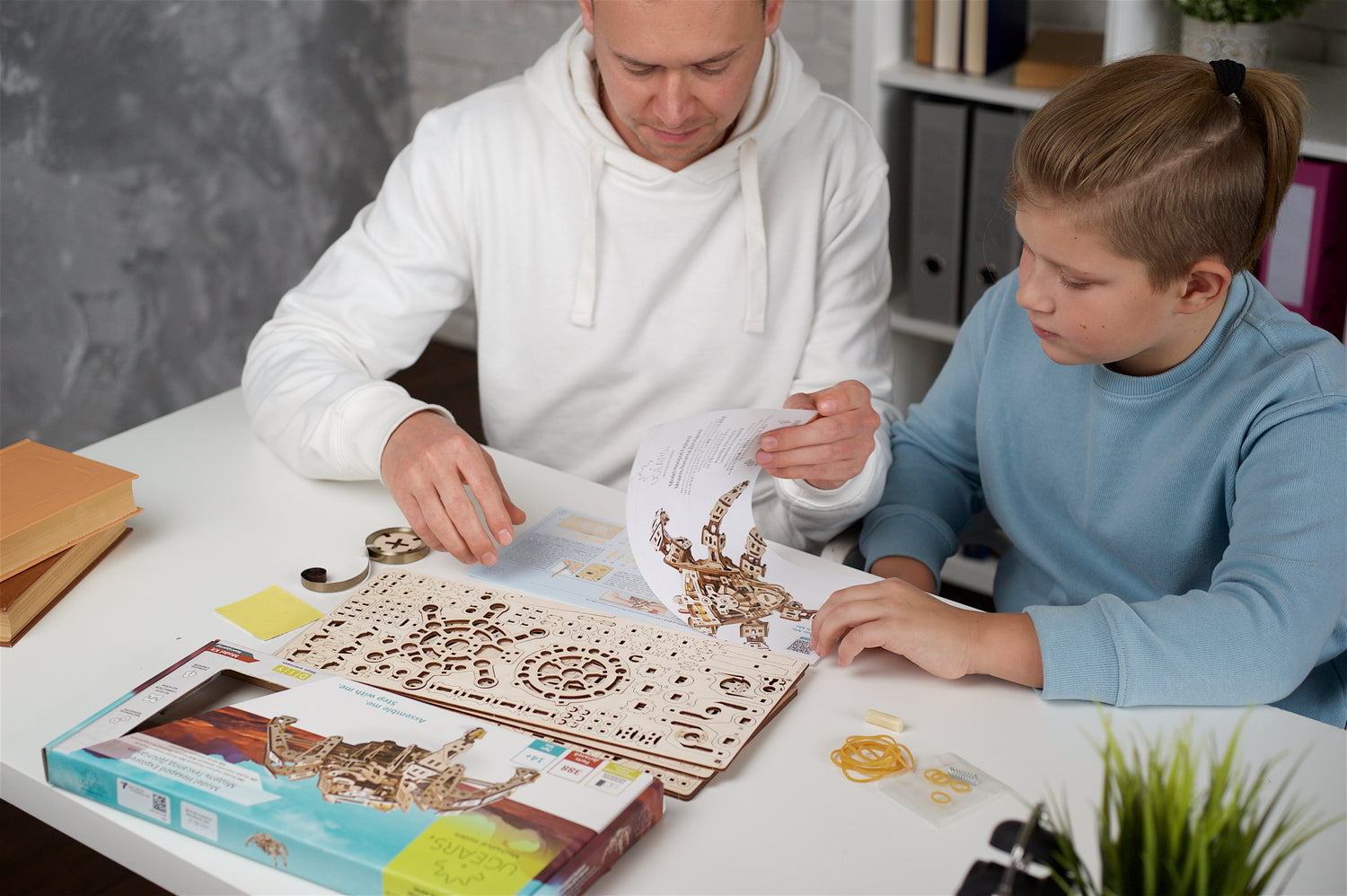 Ready to Build
Ugears models are made from sustainably sourced, laser cut plywood sheets. Everything you need is inside the box, so you can get building right away.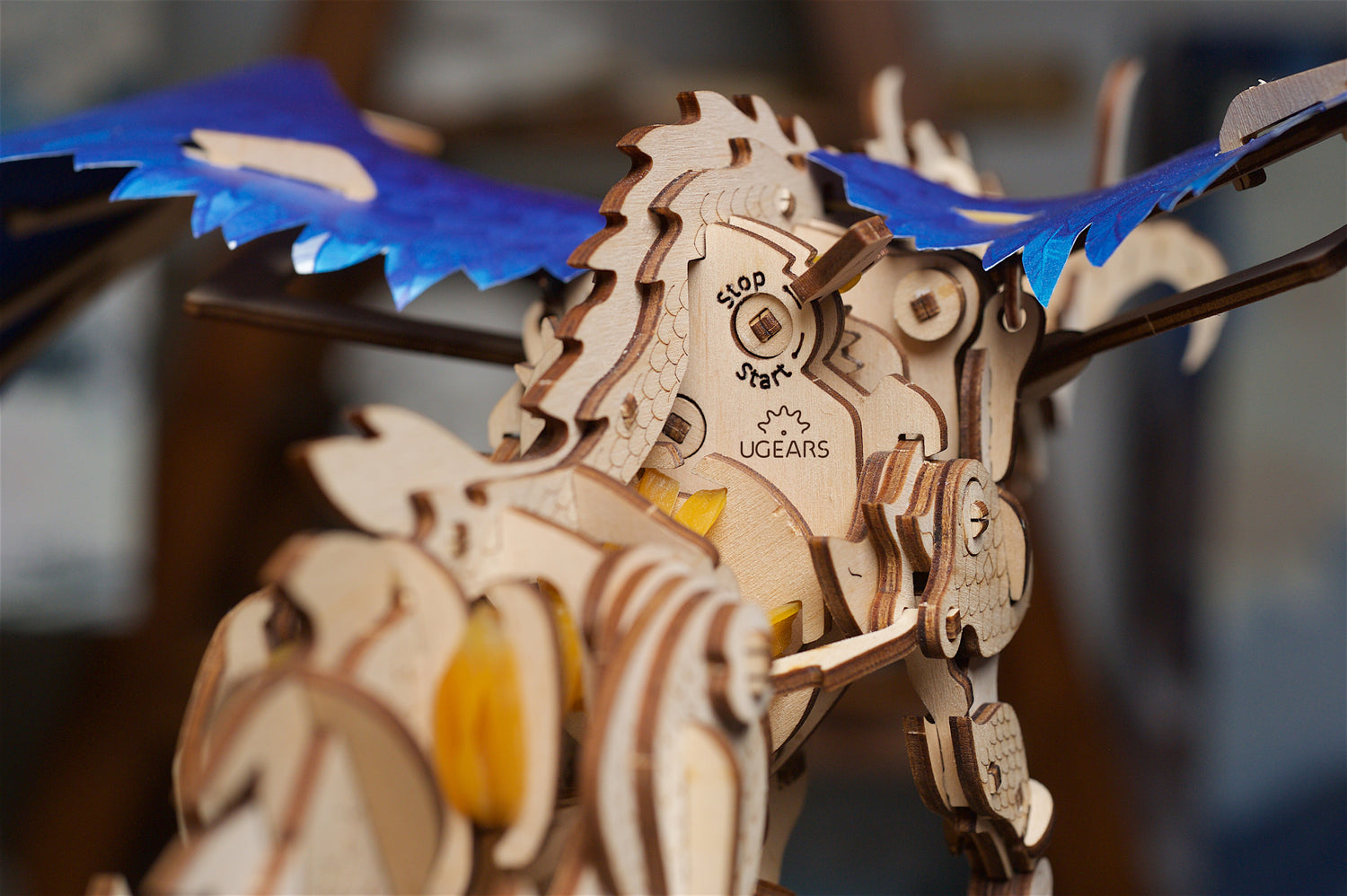 Mechanical
No batteries, no electricity, just Ugears. All mechanical models are powered by the ingenious mechanisms built by you. Just wind up your model and watch it come to life.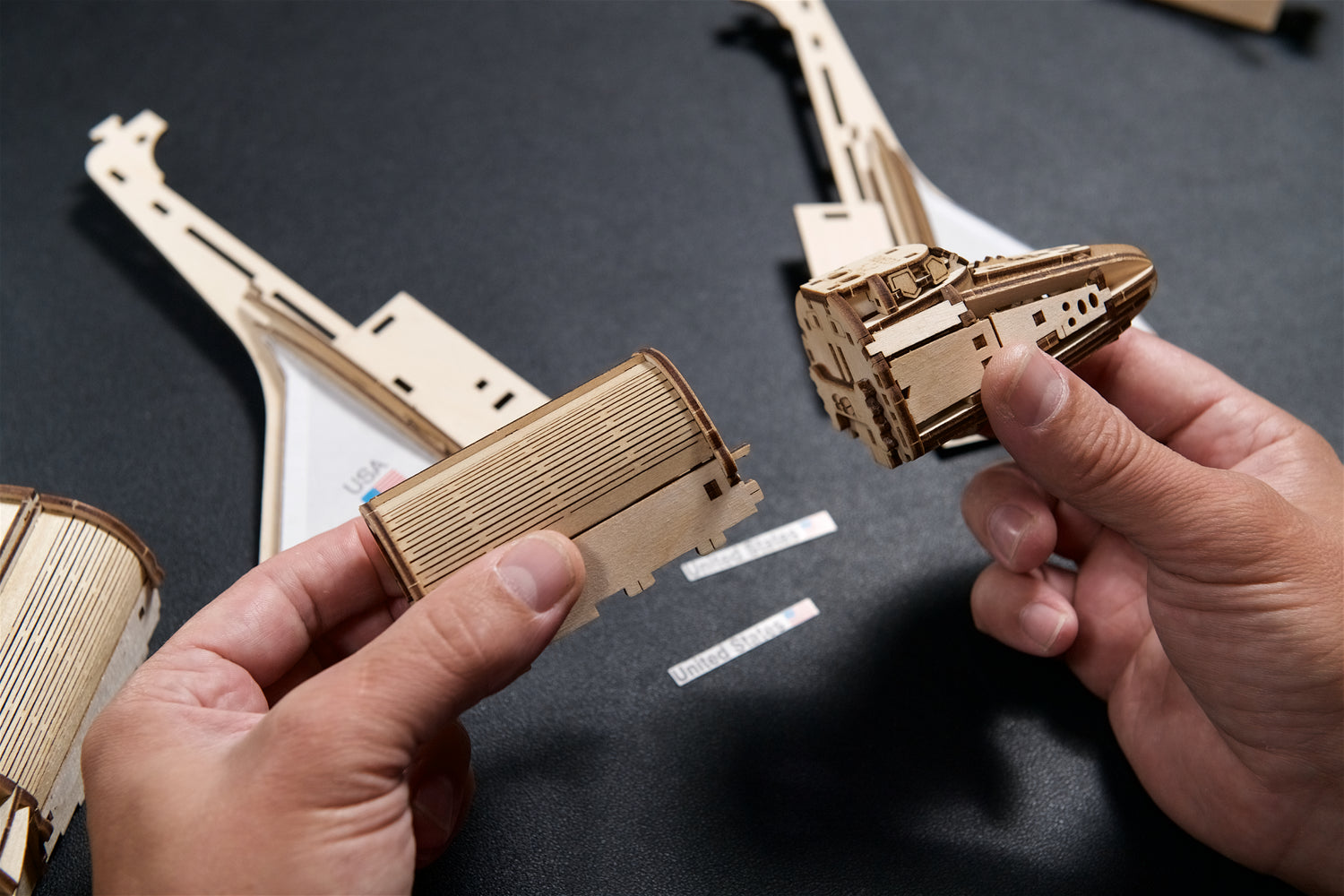 No Glue
Pieces have been designed so they will either click or slide into place. No glue or any other kind of adhesive is needed to build your model.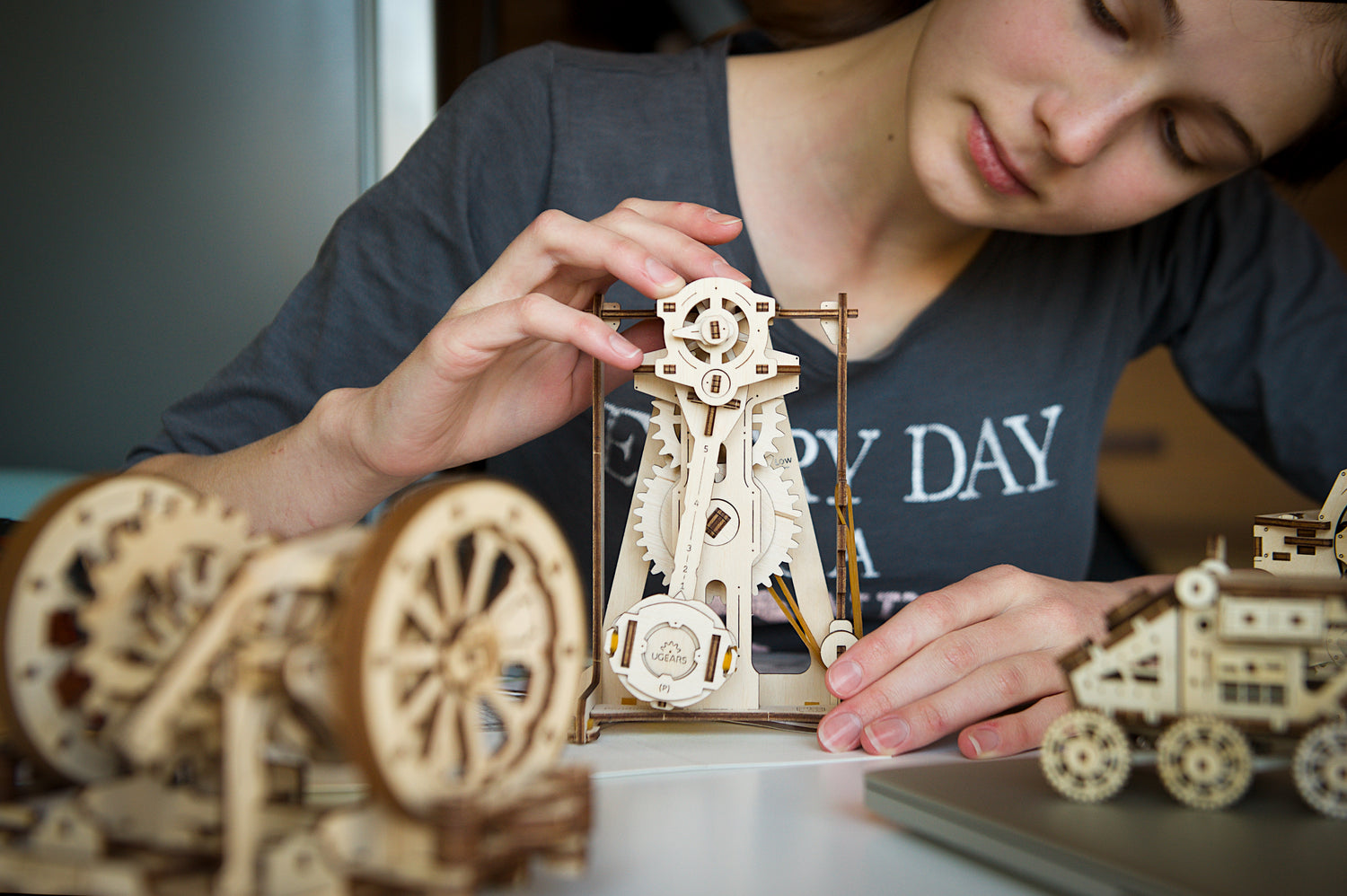 Educational
Models take inspiration from real life inventors and engineers, such as Da Vinci and Galileo. Learn the history behind the model as you build.