SKU:UGR70158
Regular price
Sale price
£43.99 GBP
Unit price
per
Liquid error (snippets/price line 121): divided by 0% OFF
Sale
Sold out
---
388

Pieces

8

Est. Time (hrs)
14+

Age

Advanced

Difficulty
LxWxH 270 mm x 220 mm x 95 mm
---
Share
Creepy cool: The UGears Hexapod Explorer wooden puzzle kit is part insect, part robot, and part extraterrestrial rover. This striking 3D puzzle construction is beautifully designed for lifelike movement
Pure mechanics: Our model building kits rely solely on mechanics. This wooden insect model works without any electronic components. Once assembled, the insect puzzle is powered by a metal spring
Versatile gait: The Hexapod Explorer can walk up to 10 feet on its own legs without any support. Also, you can make your wooden robot puzzle toy creep, crawl, or skitter at any speed you want
Build and explore: Children and adults will love building this mysterious mechanical spider. It can take about 8 hours to assemble the 388 wooden puzzle pieces before your robobug takes its first skittering steps
Out-of-this-world gift: The Hexapod Explorer 3D robot puzzle is our champion extraterrestrial explorer. Expand your collection of UGears model kits to build for adults and kids today. You'll love your wooden insect kit
Kit contains all required components and no glue is required
Precision laser cut plywood. Only requires assembly.
UGears Mechanical Models are self-propelled, mechanical wooden model assembly kits.
Perfect for family projects, puzzle enthusiasts, and hands-on STEM learning
388 parts
Assembly time: 8 hours
Model size 270x220x95mm
Hexapod Explorer – wooden mechanical spiderbot from UGEARS
Your cat is going to love/hate us for this one! Are you ready for the coolest crawler available anywhere on the model market? Introducing the Ugears Hexapod Explorer: part insect, part robot, part extraterrestrial rover. Driven by a powerful spring motor, the Hexapod Explorer can walk up to 3 meters on its own legs, without need of an auxiliary or supporting wheel like other models have. The ability to bear its own weight, on the legs alone, allows the Hexapod Explorer to navigate slightly rough terrain, like a planetary rover stepping out of the capsule to explore new worlds. Another amazing feature that makes our walker unique is that the Hexapod Explorer comes with a variable speed dial. You can make your robo-bug creep, crawl, or skitter at any speed you want! When the Hexapod stops walking, pick it up and watch the legs come to life and flail about, just like a real insect, crab or spider would do. It's the stuff of nightmares, or a mechanical model-maker's dreams, depending on one's perspective!
This DIY Hexapod Explorer takes its place as champion walker among Ugears' amazing family of mechanoids, automatons, 3D puzzles, and wooden mechanical marvels. We've created a purely mechanical, wooden walking robot, without electronic components. At Ugears we believe design should be elegant, in every sense of the word—simple, smart, and beautiful to look at. As Theo Jansen has said, "The walls betweenartandengineeringexist only in our minds." We are committed to surprising and delighting our growing base of customers in 85 countries across five continents with designs that have that "Wow!" factor.
We are fortunate to live in an exciting age of space exploration and rapid technological advancement. Mankind's first steps on another celestial sphere came in 1969, with the Apollo 11 moonwalk of Neil Armstrong and Buzz Aldrin. From 1997 to the present there have been six different Mars rovers operating on the red planet. Imagine you are the commander of a mission to explore Planet X. A rover can only take photos and samples along its solitary path. But imagine if your landing craft could release a robotic army of Hexapod Explorers to skitter across the surface of the new planet in every direction, testing the soil, collecting rock samples, searching for alien life forms. Each night the Hexapods rest, and each day they recharge and come to life, continuing their explorations and scientific work. Maybe a lander from another civilization on a different planet arrives, sees the Hexapods, and believes them to be the dominant life form on Planet X!
The Hexapod Explorer wooden model kit has 388 pieces and features a strong metal spring that powers the robot's walking action, and rubber band foot pads for better traction on smooth surfaces. This DIY model is rated Medium level with an assembly time of approximately 8 hours. The internal spring is wound with a ratchet key located on the belly. With a ratchet mechanism you don't have to hold the key while winding to prevent slippage—potential energy is stored with each twist, without slippage, until the spring is fully loaded. The Hexapod Explorer can traverse rough surfaces and even step over obstacles of 1-2 cm. Crank the model up, set it down, choose the desired speed using the dial on the Hexapod's head, then release the "go" switch at the rear to set the model in motion. You can change speeds at any time, either mid-run or on the next go.
We often find our inspiration in nature. Hexapods, the subphylum that includes insects, are the most diverse and prevalent life form on Earth, representing half of all known species. Three pairs of jointed legs is a very stable design for traversing all kinds of terrain, which helps explain why insects have been so successful in colonizing almost every square meter of the planet. We think the Hexapod most resembles a beetle. Did you know there are over 400,000 different species of beetles, makingColeopterathe most diverse order known to science, with fully 25% of all known animal life forms? British evolutionary biologist J.B.S. Haldane is said to have quipped that if there is in fact a God, the Creator seems to have "an inordinate fondness for beetles." We are also fond of our Hexapod!
Let's face it, the six-legged, hard-shelled beetle is a winning design, and so is the Ugears Hexapod Explorer. In fact, the Hexapod's movements are so lifelike you might be tempted to play a practical joke on an unsuspecting friend by asking them to pick up your resting but partly wound-up Hexapod (set on high-speed skitter mode for maximum scare effect). Our advice: Don't do it! Not unless you want to be picking up the pieces after your Hexapod Explorer is dropped to the ground or flung against the nearest wall by your startled friend. Our advice is the same for cats—cats and Hexapods are an unstable mixture, so keep them apart! That is unless you think eight hours of build time istotallyworth it for a viral video of your cat pouncing on and dismembering your Ugears Hexapod Explorer—you'll have to decide for yourself!
Are you looking for a cool, creepy-crawly Halloween toy or decoration? Do you have a child, a niece or nephew, or a neighbor who is into robotics? Kids and adults will love building the Hexapod Explorer and seeing it come to life as it takes its first skittering steps. Building Ugears models is a great way to learn basic principles of science and engineering, including principles from biology like animal locomotion. We love it when families come together to work on a Ugears project. When parents and children spend time assembling a cool mechanical toy like the Hexapod Explorer they get to experience the satisfaction of creating something together, then the fun of playing with it together. Building models is also a great way to develop mechanical competence, learn how to problem solve and learn how to follow detailed, illustrated instructions (a useful skill for kids and adults).
The Ugears Hexapod Explorer is a unique gift idea for friends or family members who love nature, insects, robots, model building, DIY projects, puzzles, or for anyone who appreciates outstanding mechanical and aesthetic design.
View full details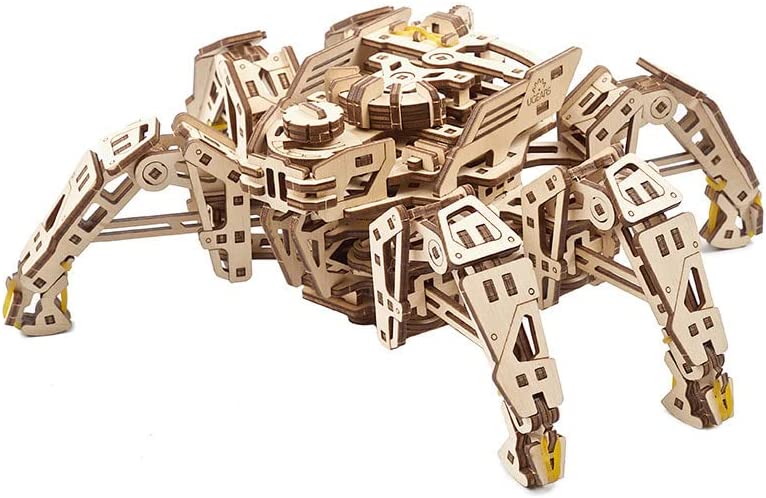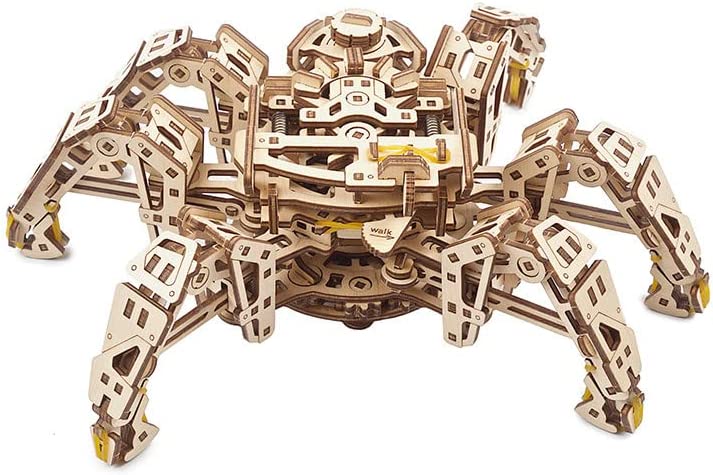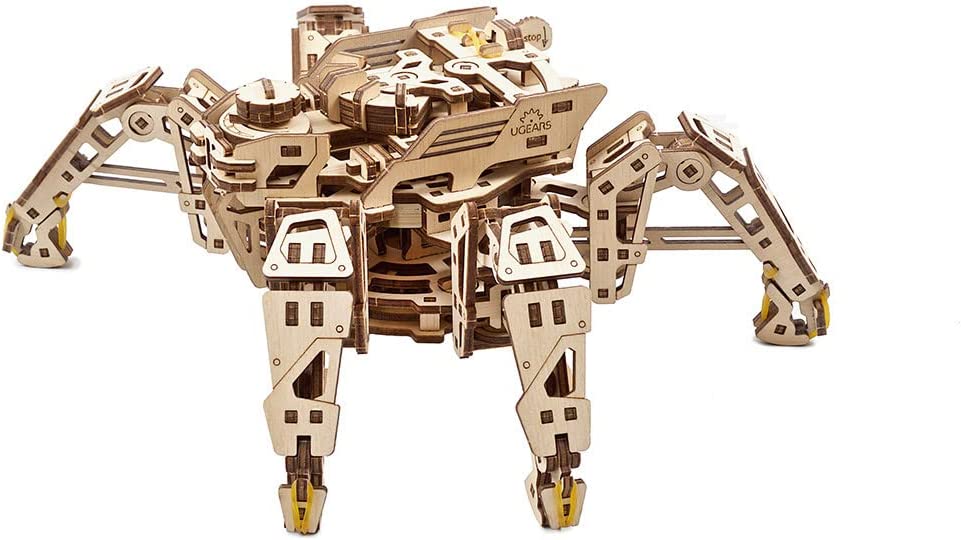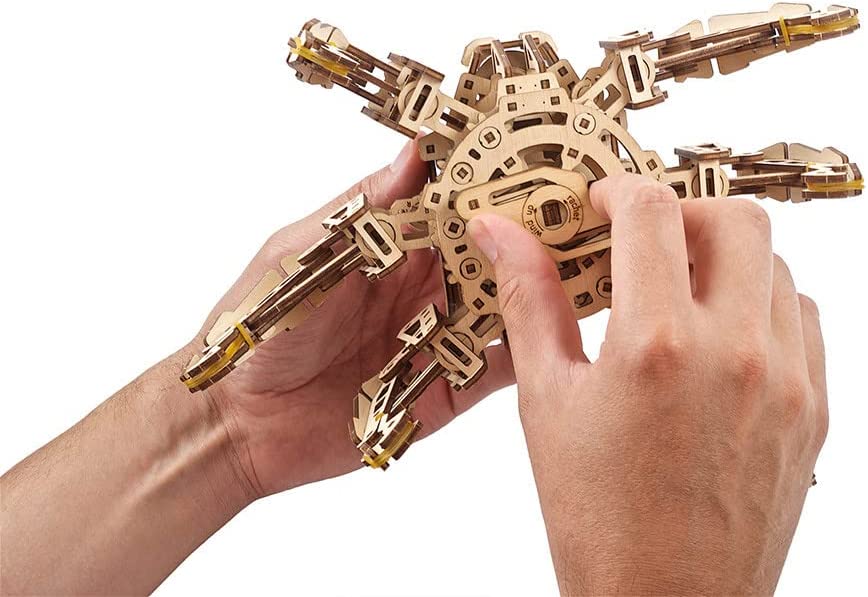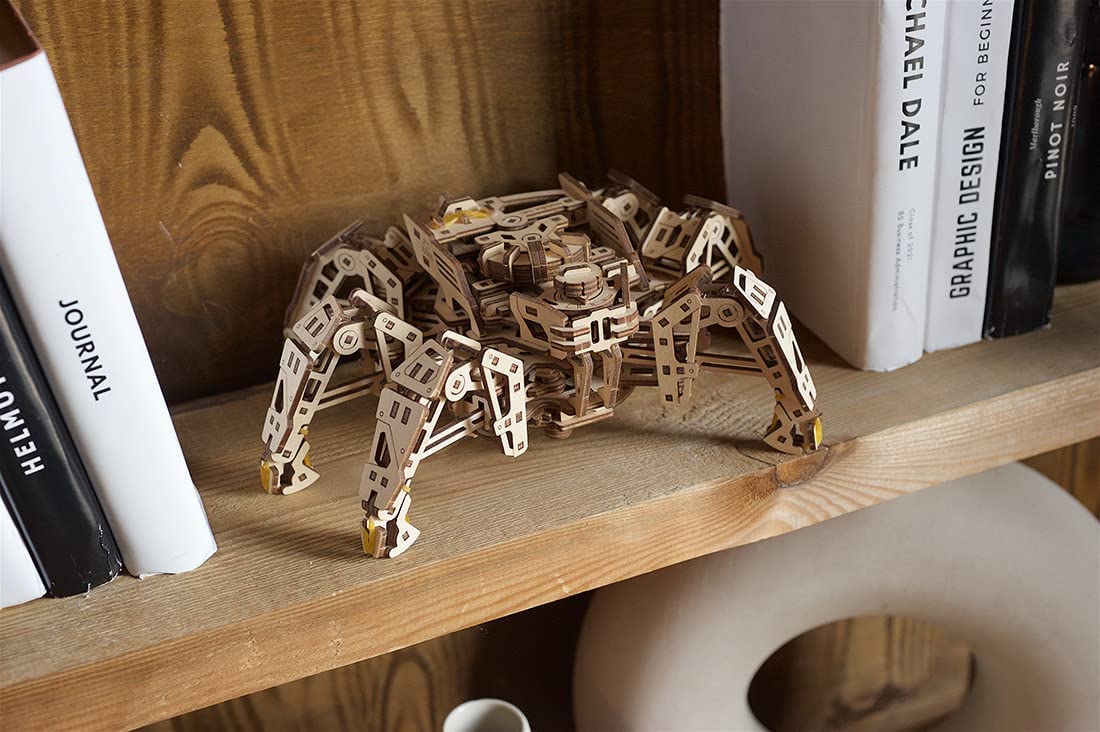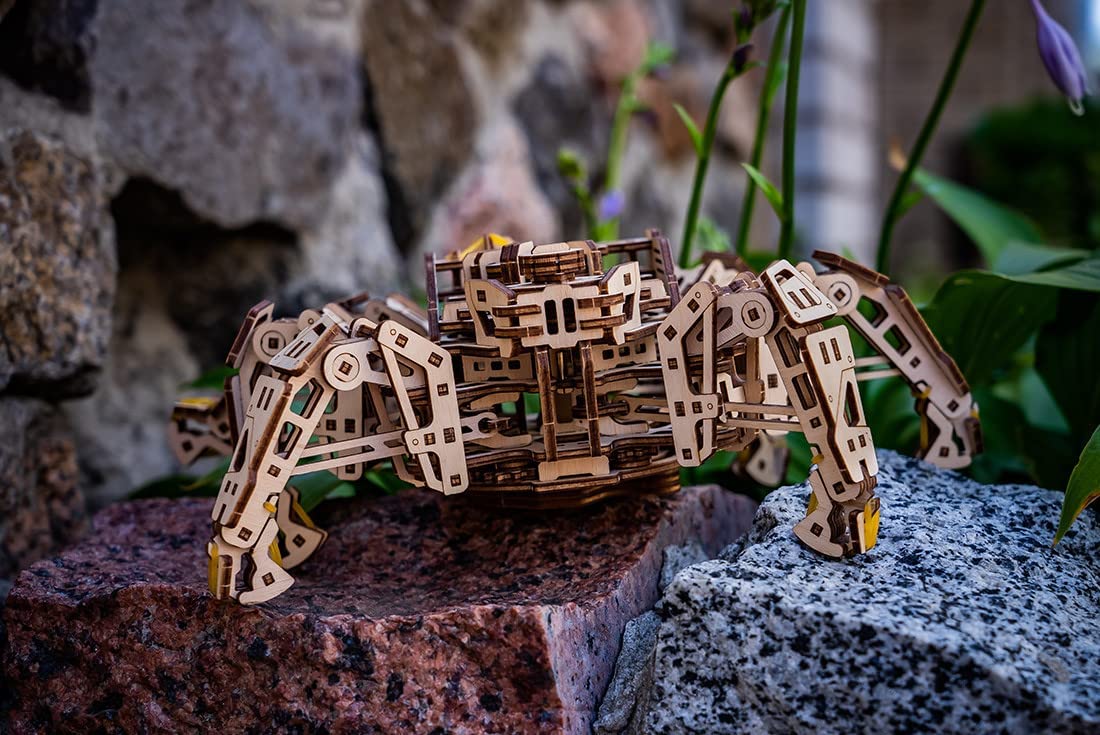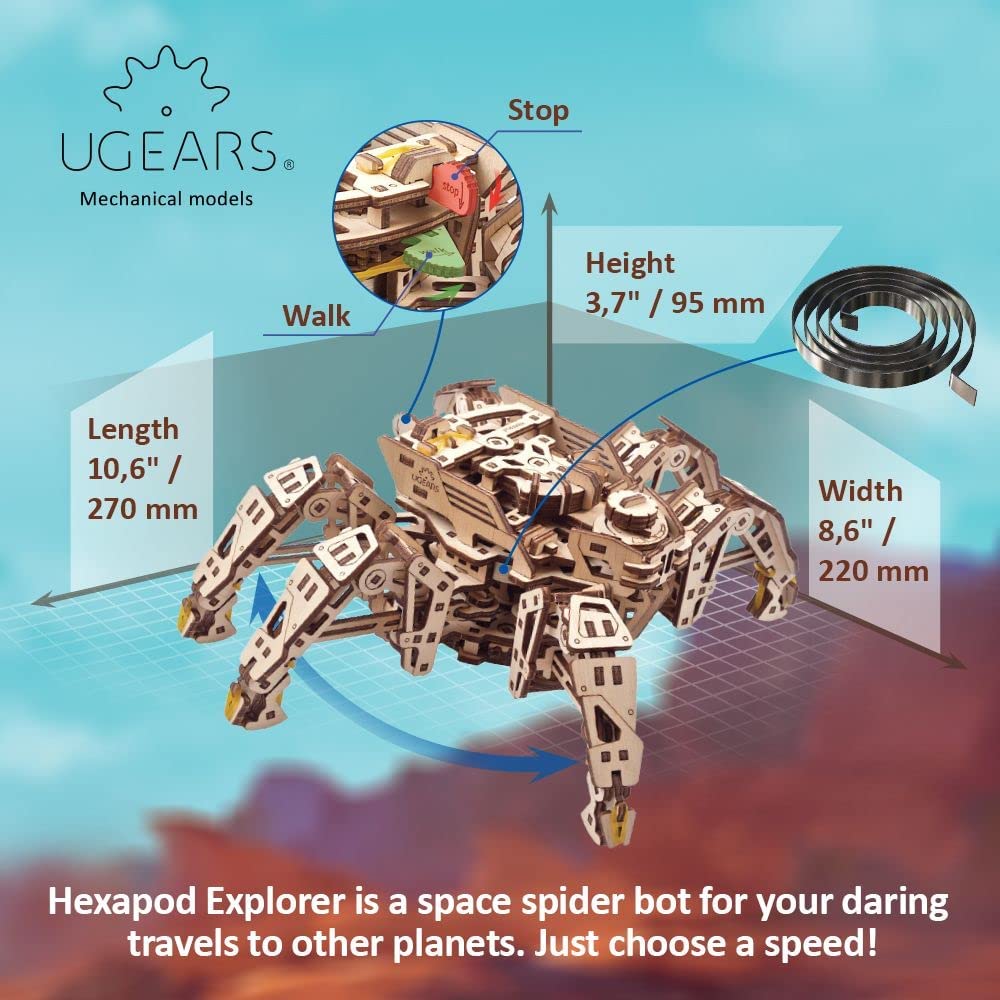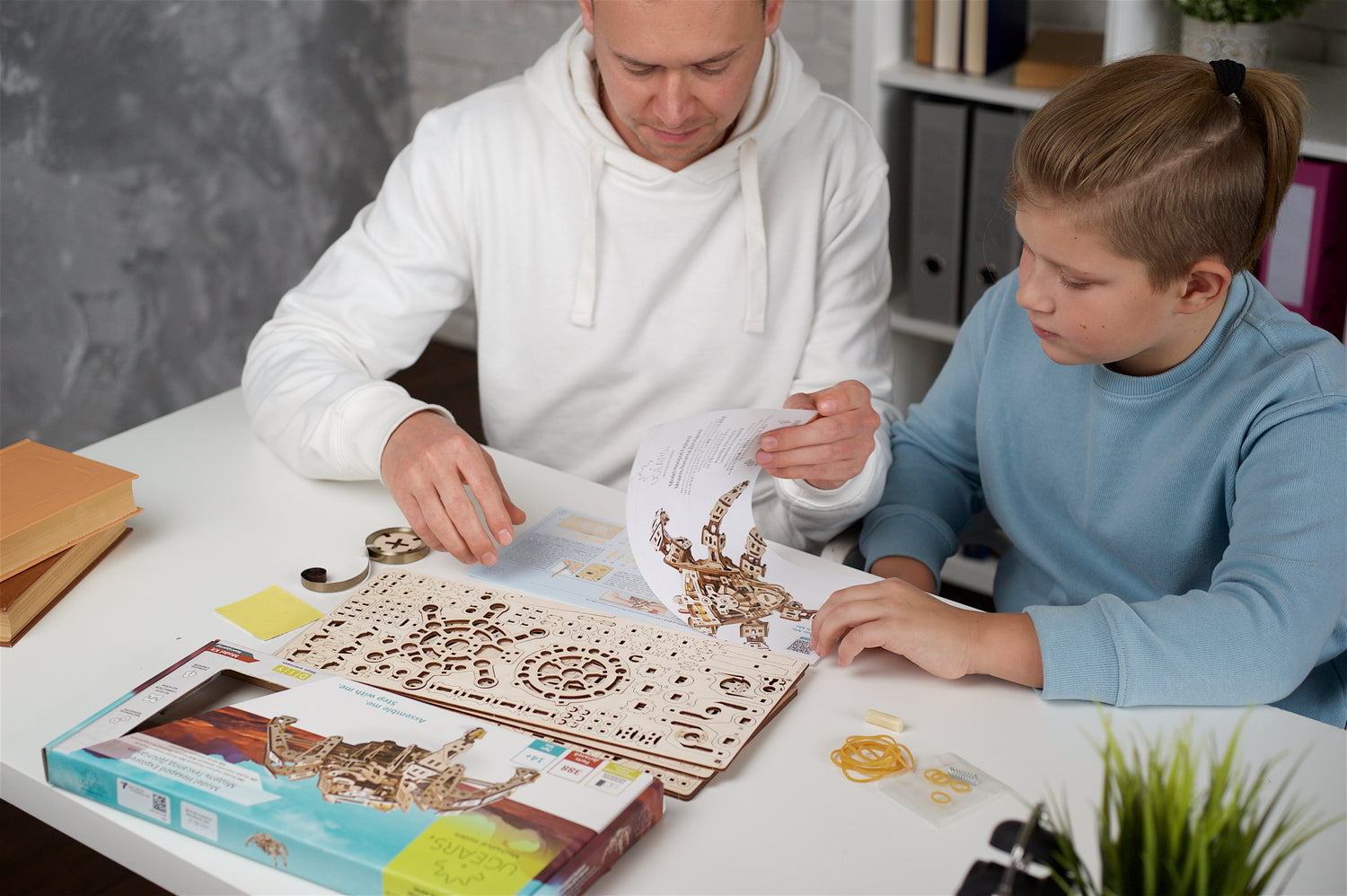 Ready to Build
Ugears models are made from sustainably sourced, laser cut plywood sheets. Everything you need is inside the box, so you can get building right away.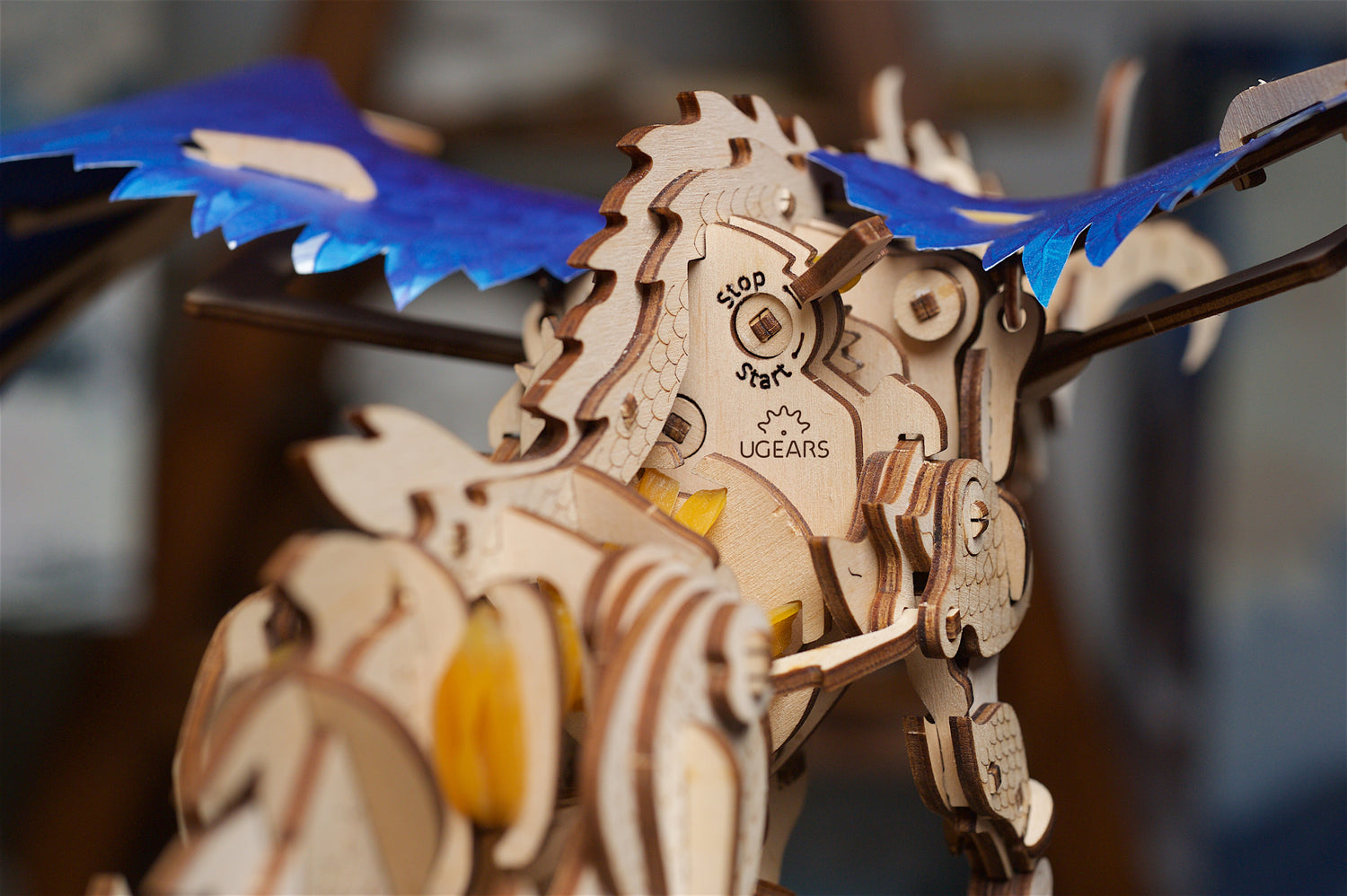 Mechanical
No batteries, no electricity, just Ugears. All mechanical models are powered by the ingenious mechanisms built by you. Just wind up your model and watch it come to life.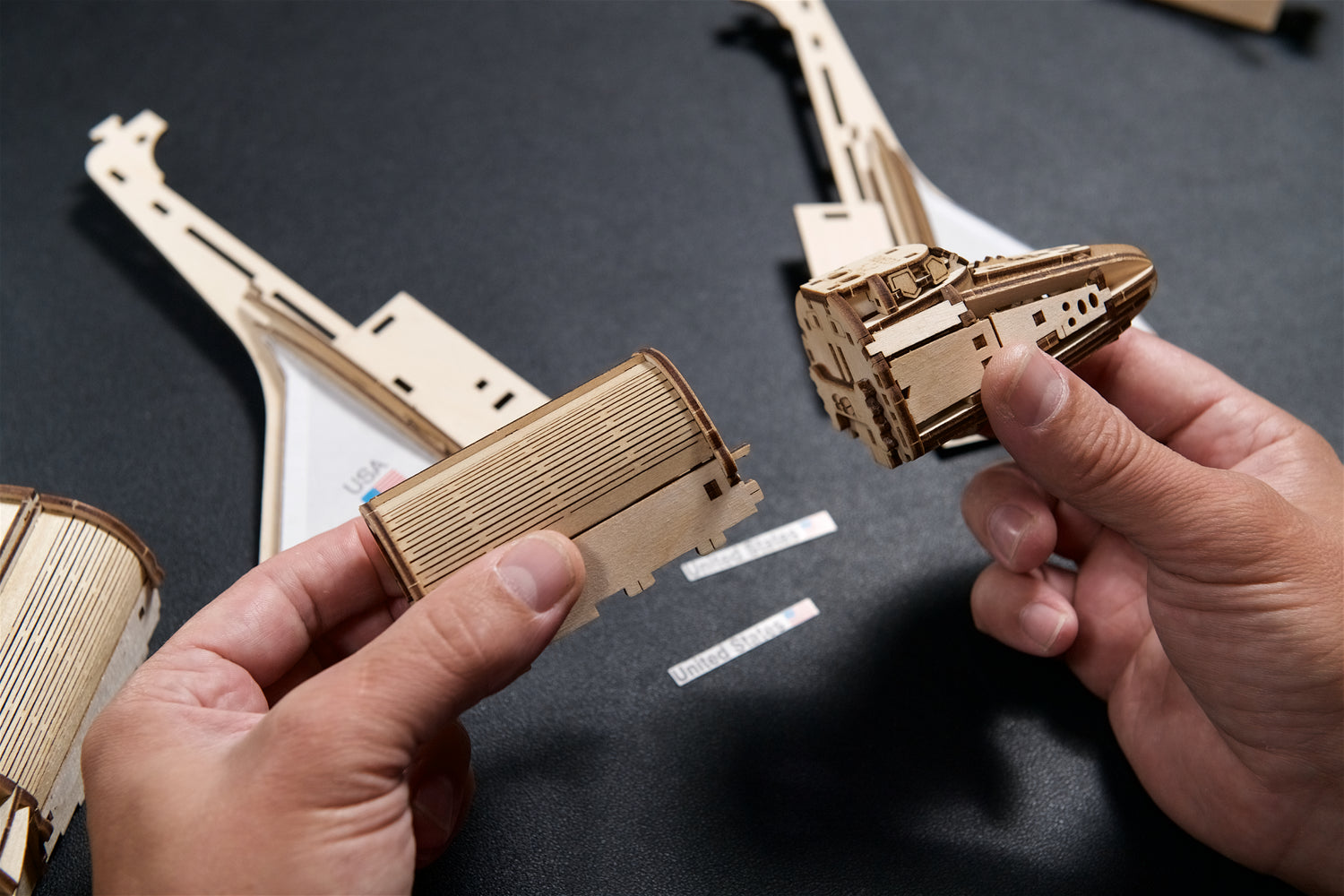 No Glue
Pieces have been designed so they will either click or slide into place. No glue or any other kind of adhesive is needed to build your model.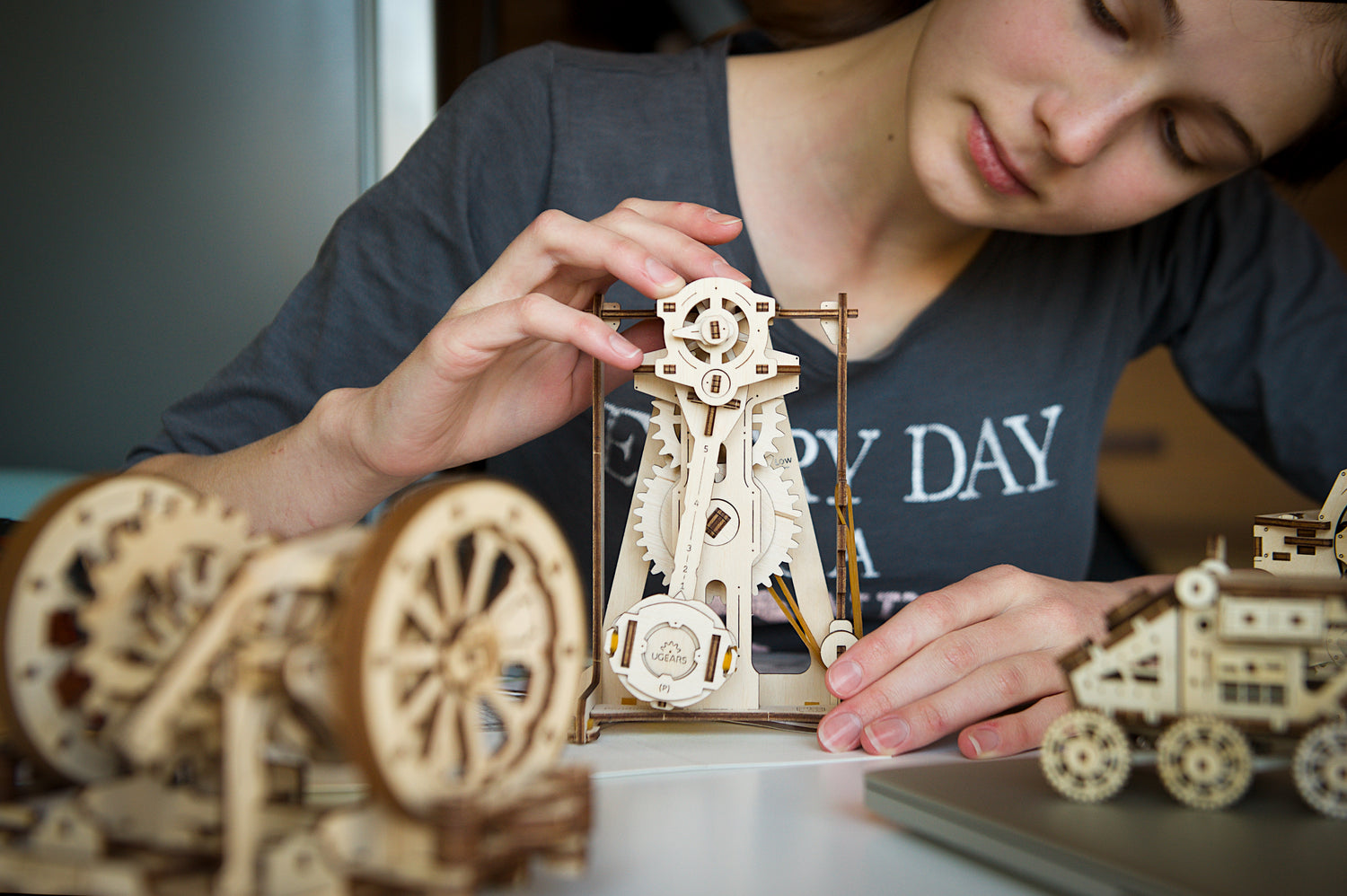 Educational
Models take inspiration from real life inventors and engineers, such as Da Vinci and Galileo. Learn the history behind the model as you build.