SKU:UGR70152
Regular price
Sale price
£22.50 GBP
Unit price
per
Liquid error (snippets/price line 121): divided by 0% OFF
Sale
Sold out
---
117

Pieces

3

Est. Time (hrs)
LxWxH 463 mm x 365 mm x 63 mm
---
Share
UGears ARITHMETIC KIT, part of UGears STEM Lab collection, consists of two ready-to-assemble models: A Mechanical Addiator and a Mechanical Multiplier.
The CURVIMETER model kit is a miniature map measurer, also known as an opisometer. This mechanical toy measures the length of arbitrary curved lines and helps to calculate the distance between points on a map more precisely than a ruler or a compass can. You can use it for completing homework assignments or while hiking in remote areas without Internet access. Like other UGears construction kits for adults and children, this educational toy has an iconic design and is easy to use.
The RANDOM GENERATOR mechanical model will randomly generate one of six possible results (e.g., yes, no, later) based on probability theory. This 3D puzzle is powered by a rack-and-gear drive initiated manually that
The COUNTER model kit is capable of registering repetitive actions. Featuring three cylinder gears with numbers from 0 to 9 and a Geneva Drive, this mechanical puzzle can record values from 1 to 999. Use this mechanical toy to count steps or count visitors, to clock up items on a production line or the score in sports. Like other UGears construction kits for adults and children, this educational toy has an iconic design and it moves, too.
Kit contains all required components and no glue is required
Precision laser cut plywood. Only requires assembly.
UGears Mechanical Models are self-propelled, mechanical wooden model assembly kits.
Perfect for family projects, puzzle enthusiasts, and hands-on STEM learning
117 parts
Assembly time: 1.5 hours
Model size Additor 215x110x23mm
Model size Multiplier 248x255x40mm
Educational 3D puzzle Arithmetic kit by Ugears STEM Lab. Discover in AR
Assemble the Arithmetic Kit and discover how the Mechanical Addiator and Mechanical Multiplier work.
The model kit comes with a QR-code to the study guide about the mechanisms, the principal of their working, the main characteristics, formulas. It also includes interesting assignments.
Dive into augmented reality and look at how Mechanical Addiator and Mechanical Multiplier work. Interact with the models via a special AR application from Ugears.
UGEARS' Arithmetic Kit, part of UGEARS' STEM Lab collection, consists of two ready-to-assemble models: A Mechanical Addiator and a Mechanical Multiplier.
Find out how the Mechanical Addiator and Mechanical Multiplier work
The Mechanical Addiator is a compact arithmetic machine (or adding machine) that works by moving gear racks, using a stylus included in the kit. By moving the sliding racks, marked with arrows and numbers from 0 to 9, you can add and subtract numbers.
The Mechanical Multiplier is a flat hinge mechanism that accomplishes binary operations on numbers. By moving the dual slider, you can multiply and square numbers from 1 to 12, making the multiplication table fun.
Who invented the Mechanical Addiator and Mechanical Multiplier, and when?
The UGEARS Mechanical Addiator is a DIY wooden model kit based on an addiator that was invented by a St. Petersburg music teacher, Heinrich Kummer, in 1846. Its simple design and compact size made it a popular mathematical tool in its time. Today this simple, fun mechanism is part of UGEARS' outstanding STEM Lab collection.
The UGEARS Mechanical Multiplier is a fun wooden 3D puzzle based on a children's toy, "Consul the Educated Monkey," invented in 1915 by William Henry Robertson, an American high school math teacher. Robertson applied for a patent for a toy that ingeniously uses a hinged mechanism to perform simple multiplication, designed "to stimulate children's interest in the study of numbers."
Uses for The Mechanical Addiator and Mechanical Multiplier
The Mechanical Addiator is used to add and subtract numbers. To do this, the user enters a number value using the stylus, then uses the stylus to enter a second number. The device then shows the result of the desired mathematical operation, according to where the second number was entered (top row for addition, bottom row for subtraction). But the Addiator is not limited to addition and subtraction—you can also use it to multiply and divide.
The Mechanical Multiplier is a simple and interesting way to learn the "unloved" multiplication tables from 1 to 12, and to understand the simple principle of hinge-lever mechanisms. When the two sliders are moved to various numbers, you will see their product displayed in the window above.
Components of the Mechanical Addiator and Mechanical Multiplier, and how they work
The Mechanical Addiator consists of a housing in which four rails or racks are set, with printed values on them. A stylus is used to input values. Numbers are entered from cam slots, and the results are displayed in four center windows. Before starting an addition/subtraction operation using the stylus, the racks should be set so that all windows display "0". The value of the number on which the operation is performed is first entered using the top row of slots; the top slots are then used to add a second number, while the bottom ones are used for subtraction.
The Mechanical Multiplier consists of two sliders which move along a number line (1-12), and a lever system which transfers the movement of the sliders to a "Results" window, which moves along a value field. As you move the two sliders between different number values, the product of their multiplication will appear in the "Results" window. In order to multiply a number by itself (to square it), the right slider should be moved to the extreme right position and fixed at the "X²" symbol.


The Mechanical Addiator consists of:

The Mechanical Multiplier consists of:

Sliders
Lever system
Results window
Value field
Ugears STEM puzzles are designed to suit different age groups with a special focus on learning component. The assembly of the model will be interesting and won't take much time.

STEM lab Model kits come with all you need in a box.

Just like the rest of Ugears wooden model kits, putting STEM Lab models together is fun and comprehensive: everything you need to build, learn, and discover comes in a box. There you will find:

Wooden details pre-cut with a precise high-tech laser in high-quality plywood boards, as well as other materials required for assembly. DIY kits need no glue or additional instruments to build. The details come out of the board with a slight push.
Step-by step illustrated instruction manual of 3D puzzle assembly.
Practical Lab tasks with use of your model.
QR-code to download a pocket study guide about the Ugears model, its mechanism, principle of its working, main characteristics, physical and mechanical formulas, and fun practical tasks.
QR-code to download AR-application. Fascinating innovation from Ugears – new drive to learn more new things!
View full details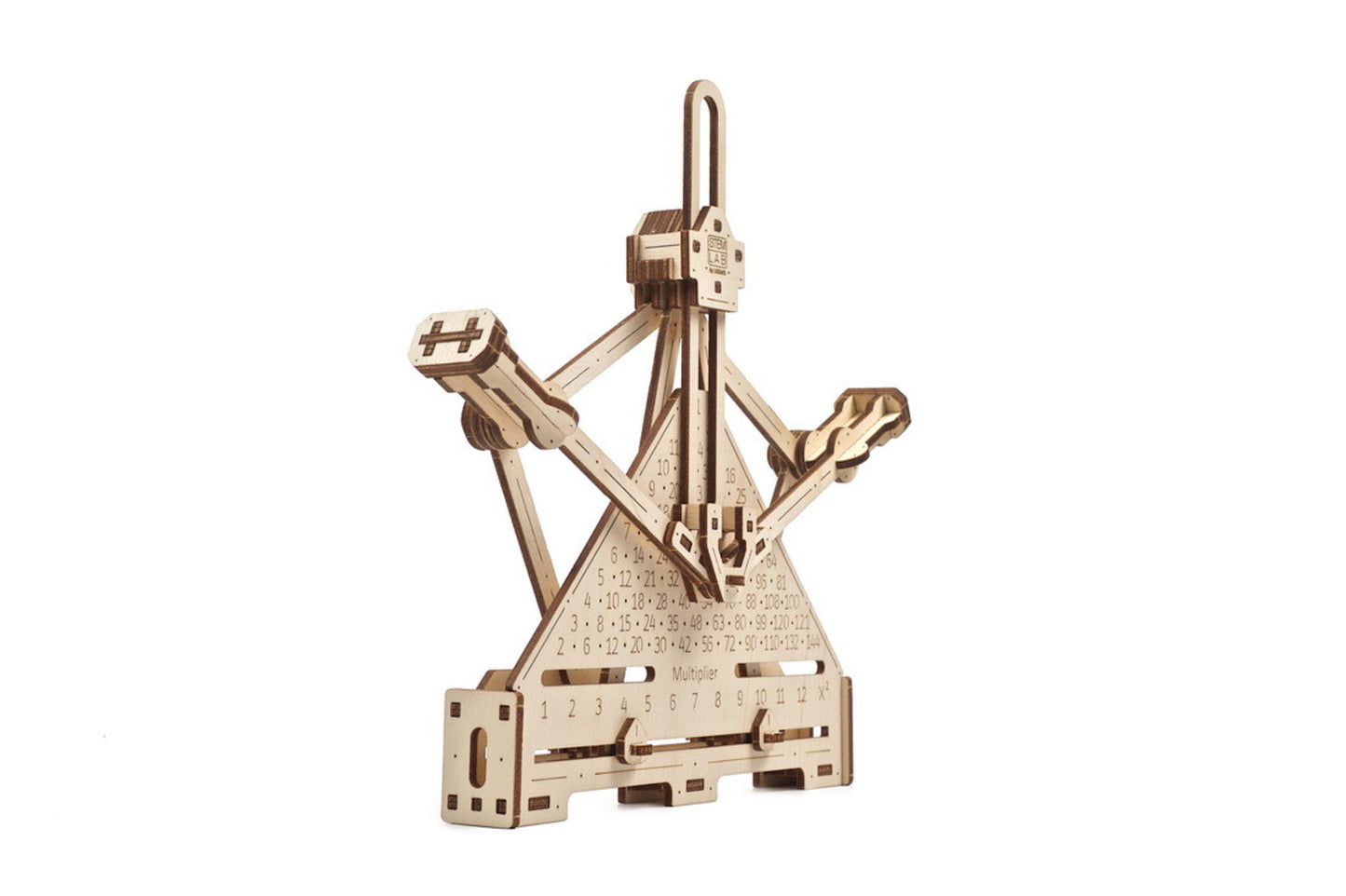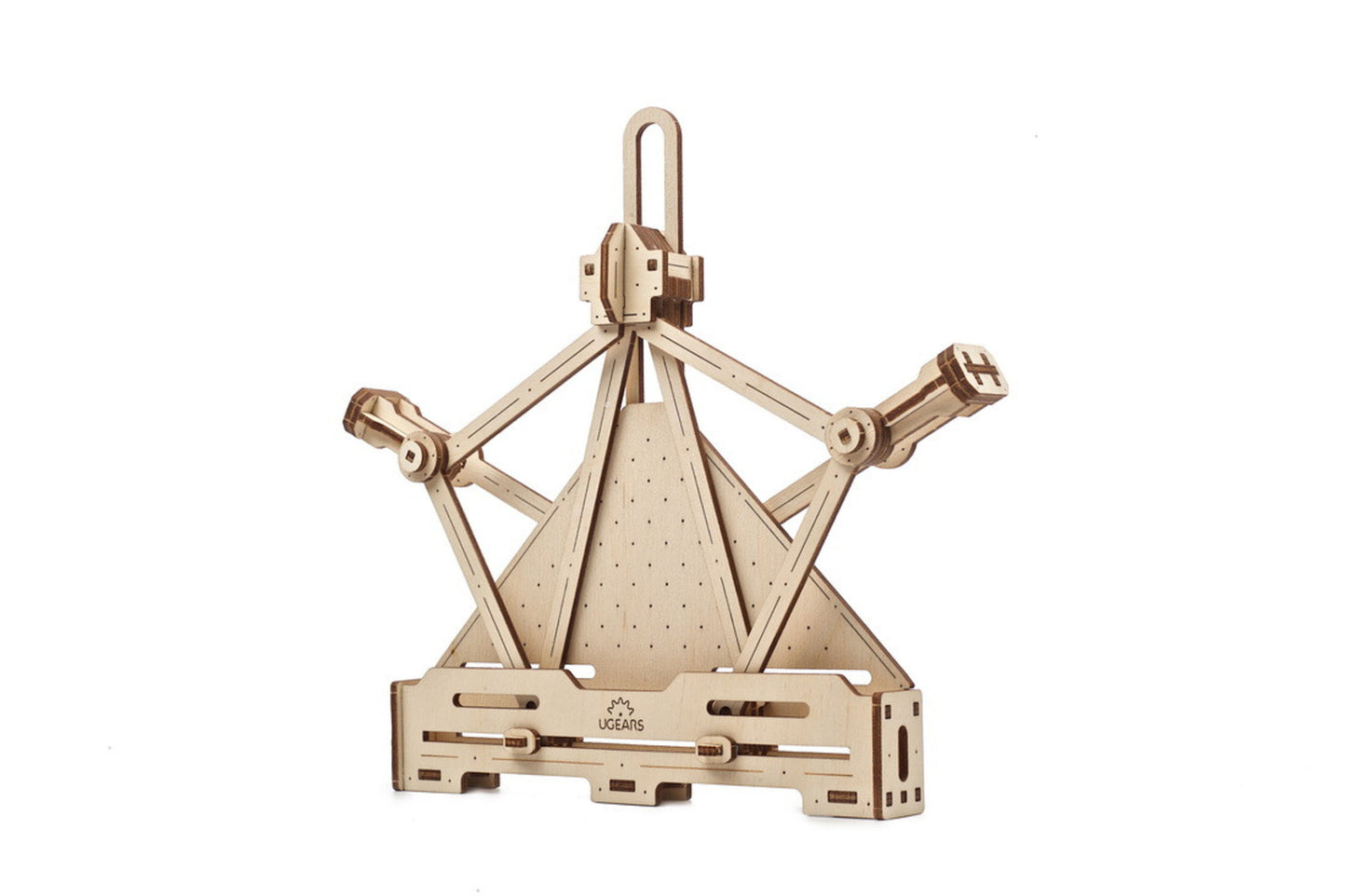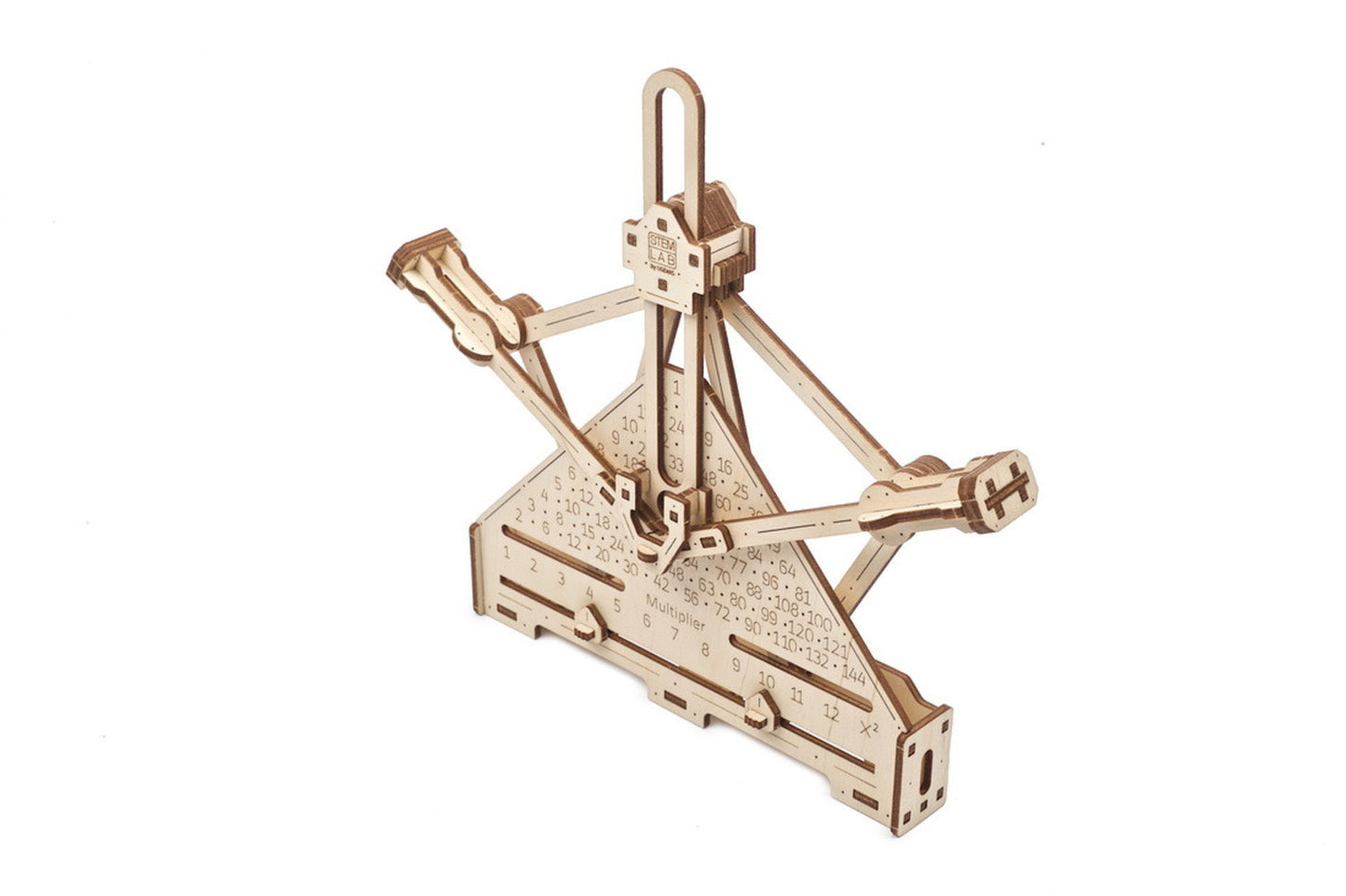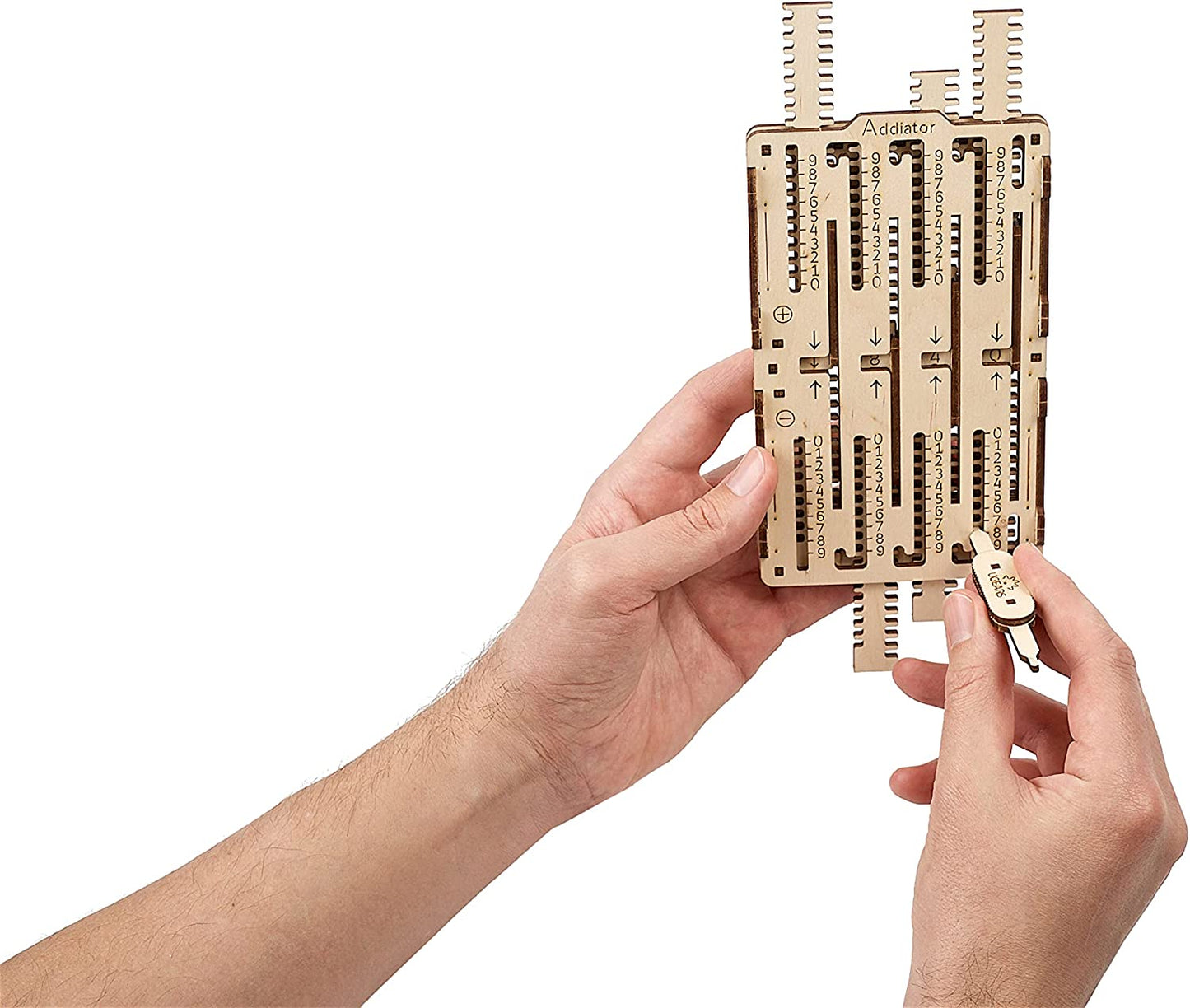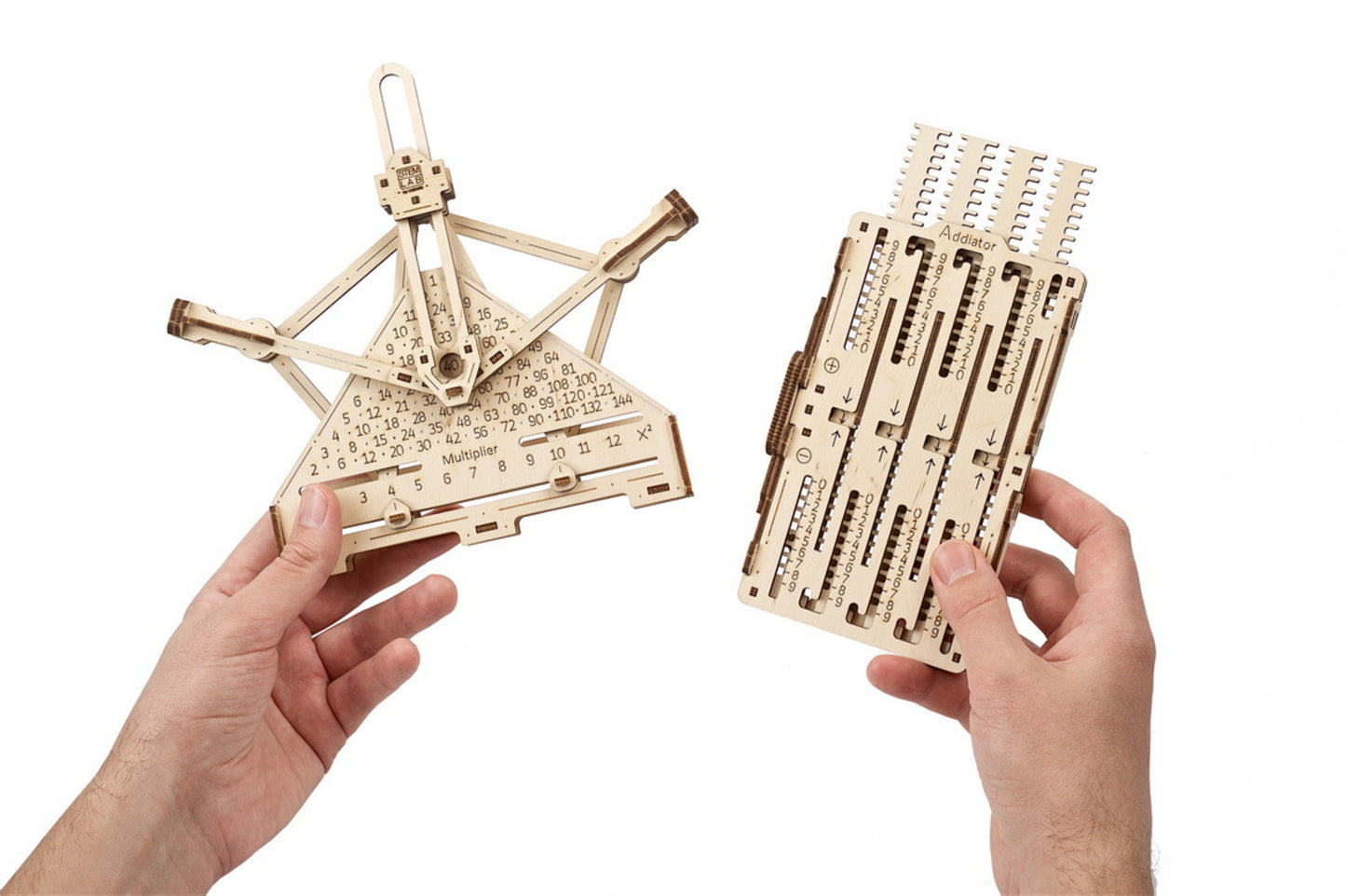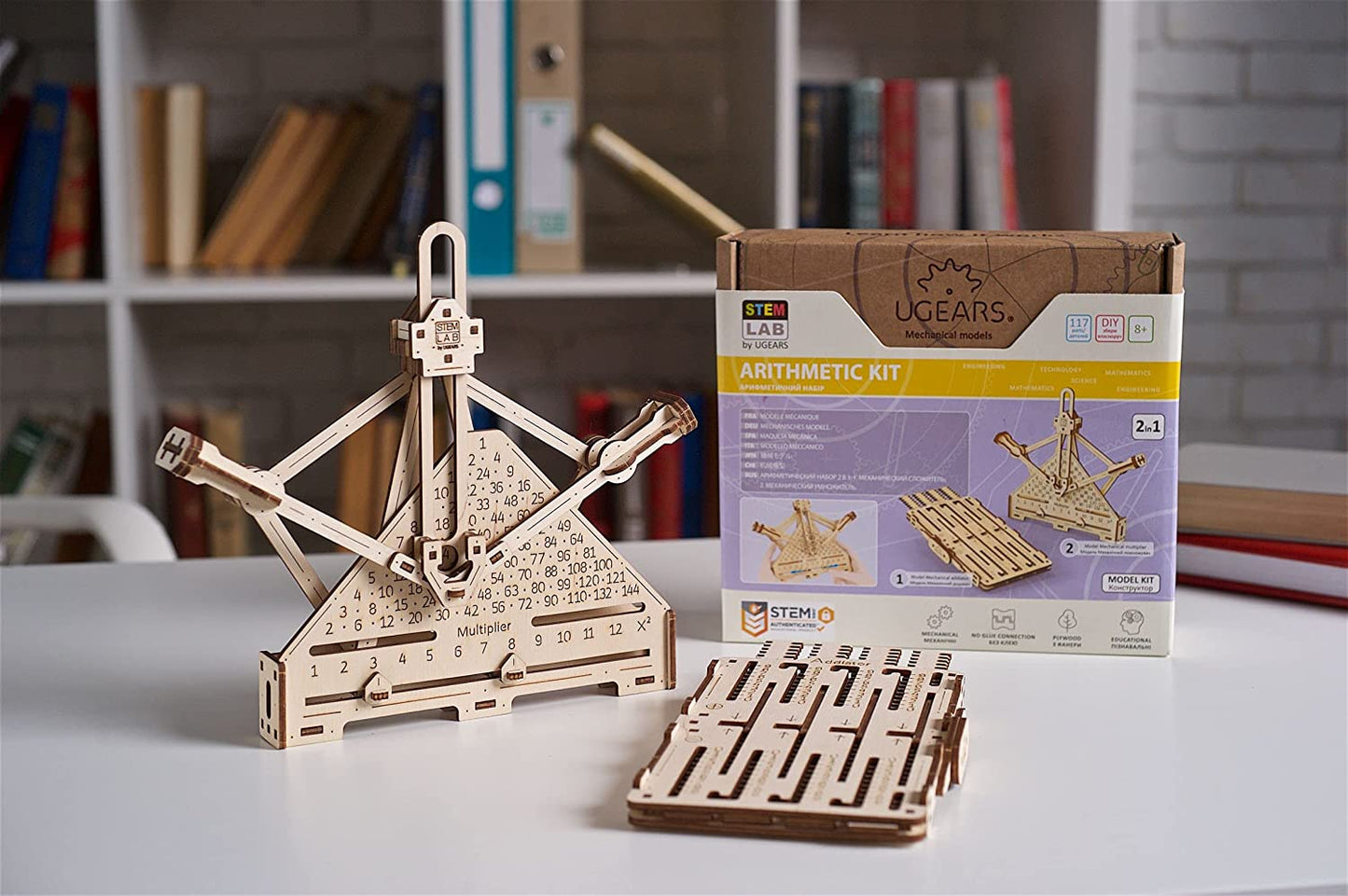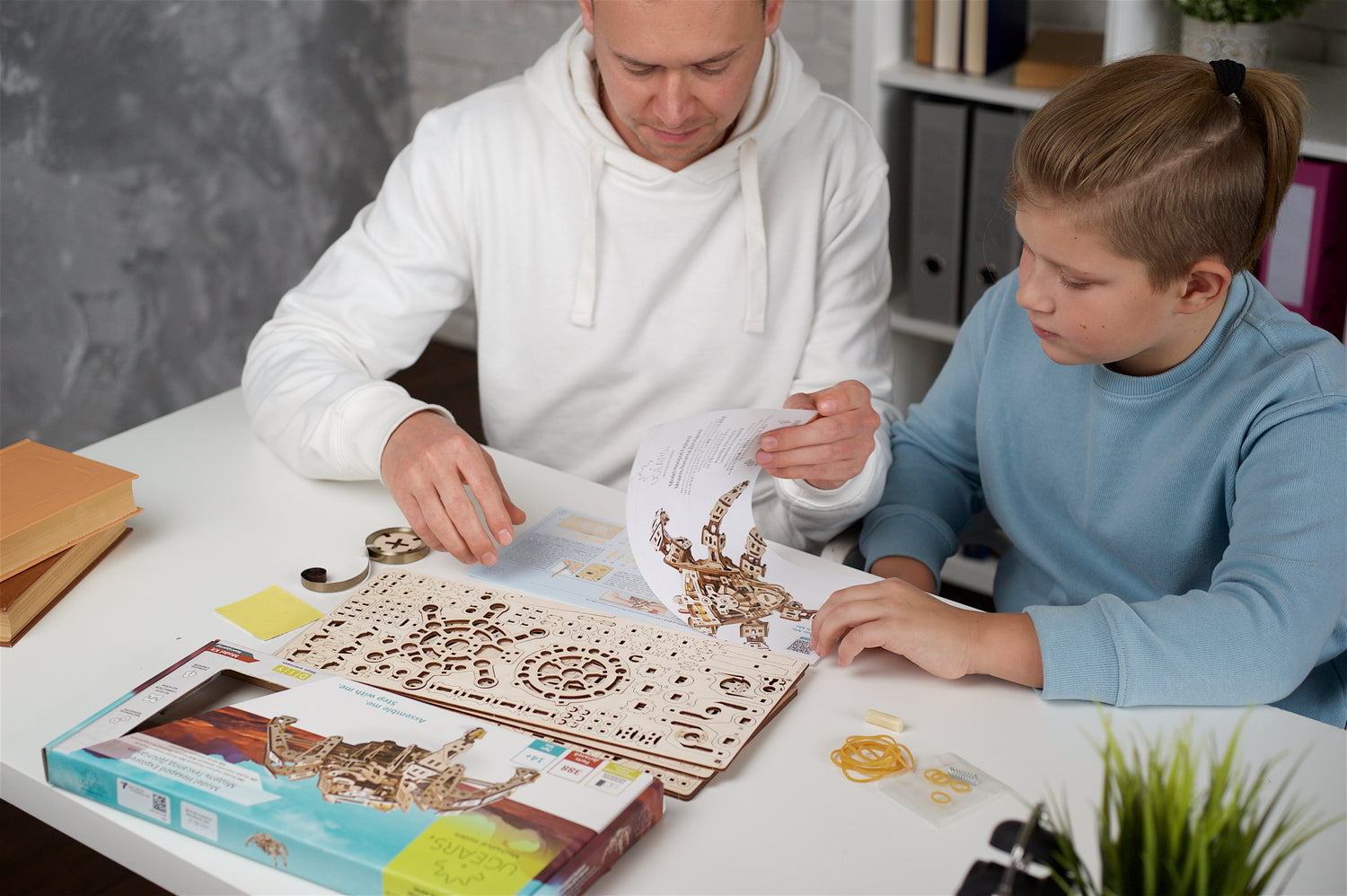 Ready to Build
Ugears models are made from sustainably sourced, laser cut plywood sheets. Everything you need is inside the box, so you can get building right away.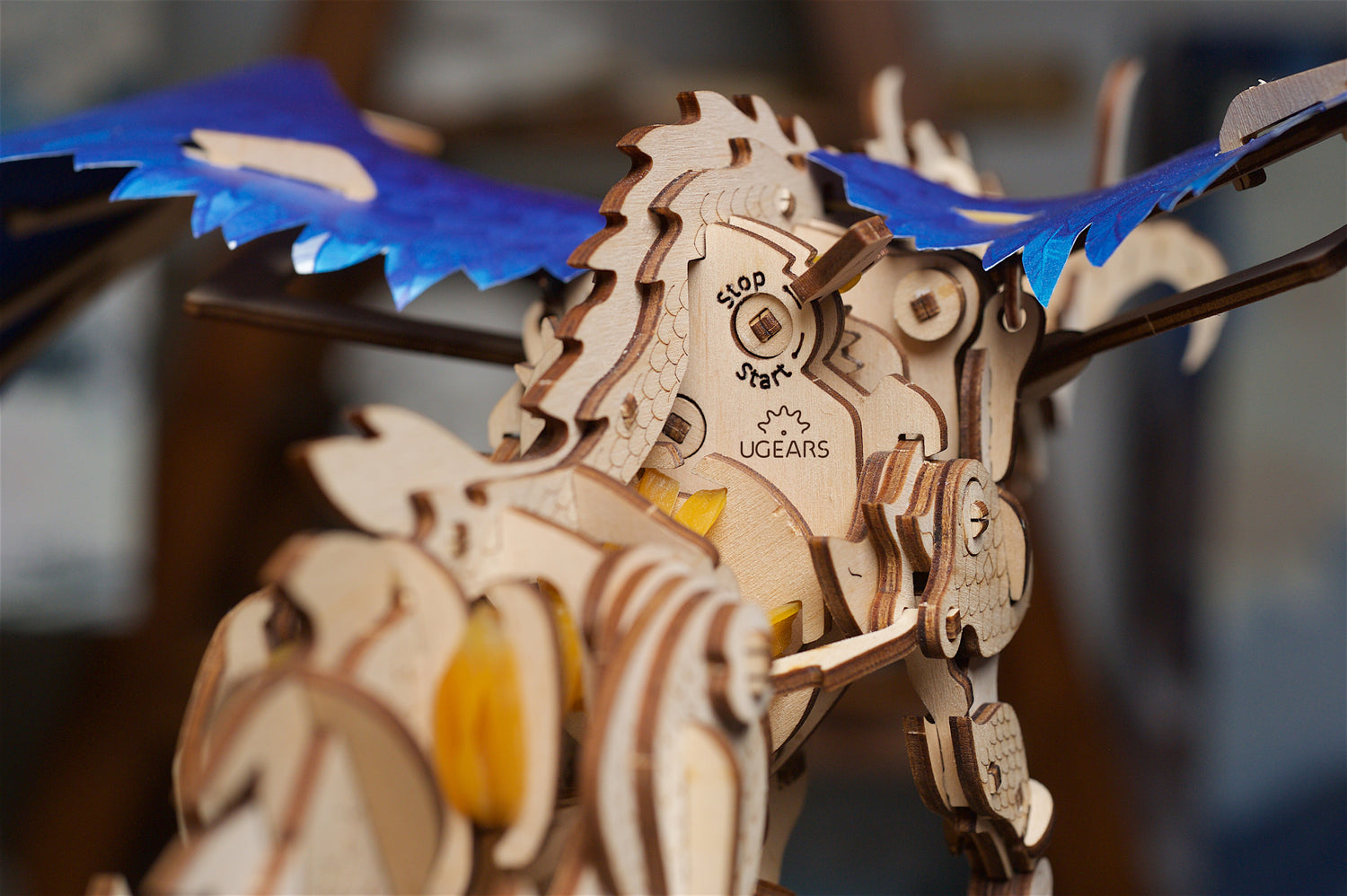 Mechanical
No batteries, no electricity, just Ugears. All mechanical models are powered by the ingenious mechanisms built by you. Just wind up your model and watch it come to life.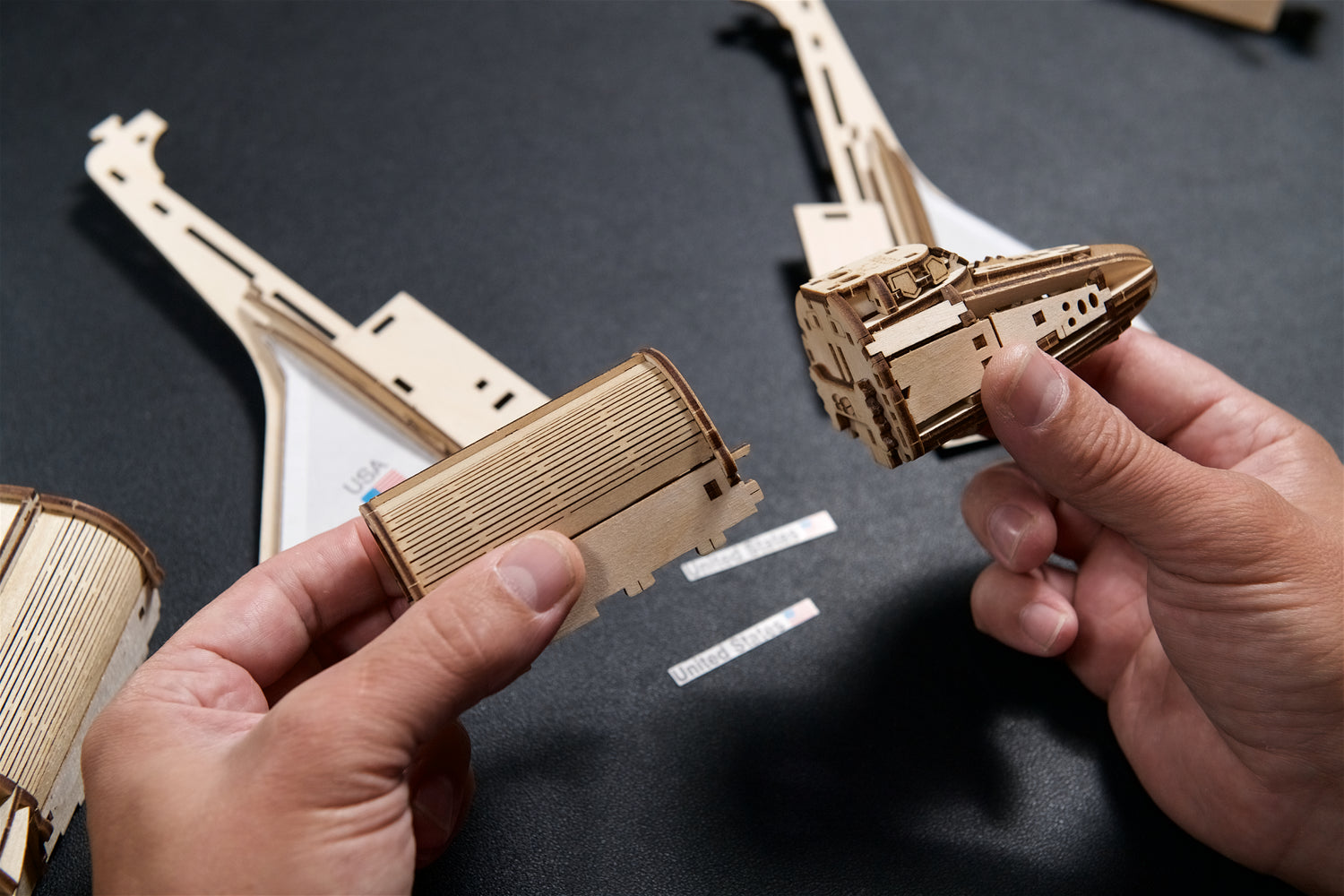 No Glue
Pieces have been designed so they will either click or slide into place. No glue or any other kind of adhesive is needed to build your model.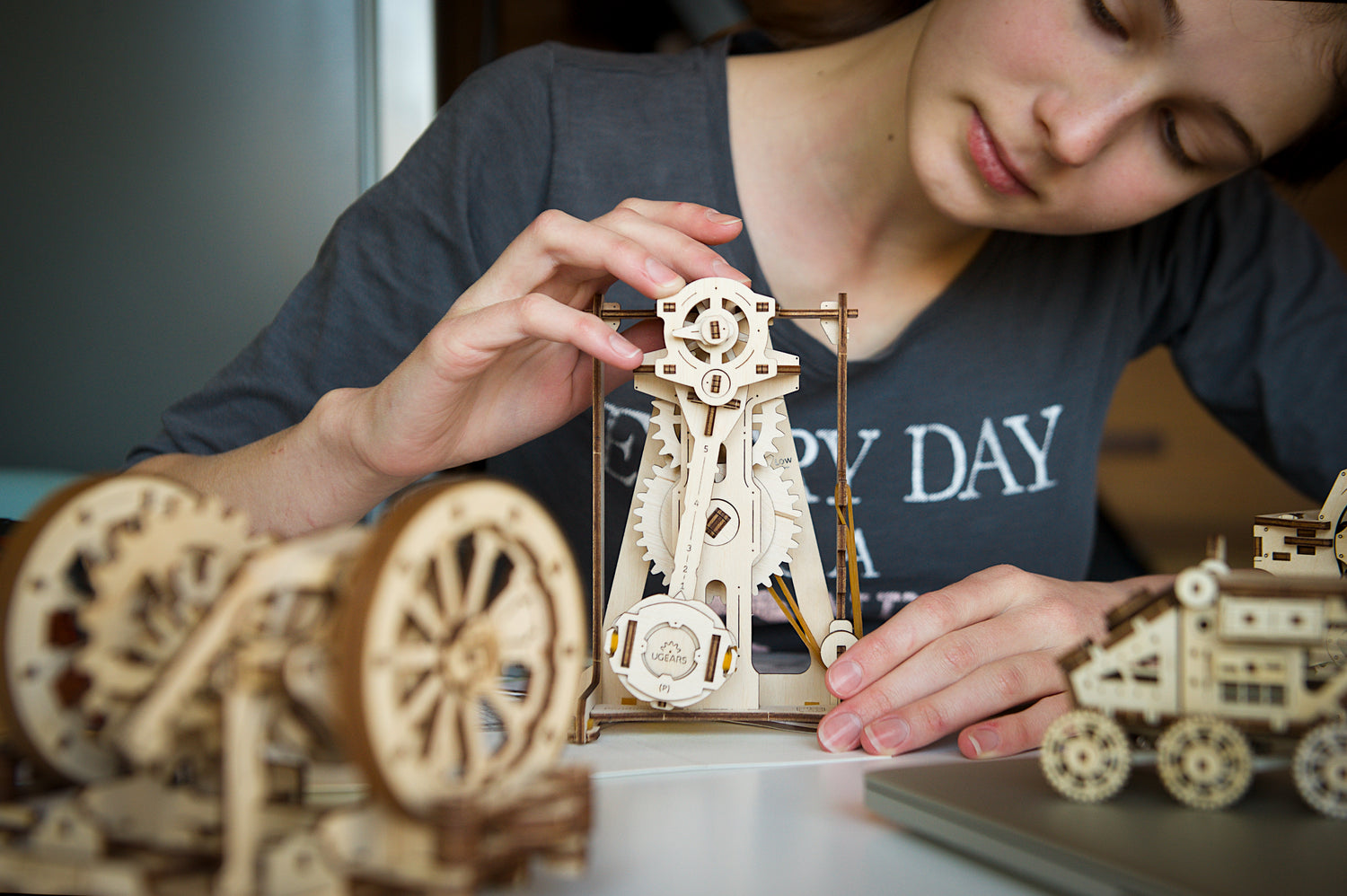 Educational
Models take inspiration from real life inventors and engineers, such as Da Vinci and Galileo. Learn the history behind the model as you build.