SKU:UGR70137
Regular price
Sale price
£31.99 GBP
Unit price
per
Liquid error (snippets/price line 121): divided by 0% OFF
Sale
Sold out
---
380

Pieces

9

Est. Time (hrs)
14+

Age

Advanced

Difficulty
LxWxH 220 mm x 160 mm x 115 mm
---
Share
ASSEMBLING ADVENTURE: Get ready for a truly engaging experience! Putting together the UGears UGR-10 Motorcycle Scrambler wooden model requires a bit of patience and lots of enthusiasm, but no tools or glue. Assemble UGears 3D puzzles for adults on your own or in company with friends or family.
VINTAGE DESIGN: This motorbike model is a dual-sport motorcycle prototype first produced back in the 1950s. Just like a real-life scrambler, our model motorbikes are equipped with fork and pendulum suspensions on both the front and back wheels, so it's a fast, steady ride.
IT MOVES: Similar to other 3D wooden puzzles for adults, this motorbike model kit is driven by a rubber-band motor connected to the wheels via a belt coupling. Turn the wind-up key once, and the motorcycle will travel up to 3.5 meters.
DECORATE YOUR SPACE: All UGears toy motorbikes and DIY kits for adults also make a gorgeous home or office décor. For some extra fun, place a load of sweets, a cute note or just office stationery in the sidecar and let the motorbike deliver the load to your kids or friends across the room.
FASCINATING GIFT: The amazing experience of handcrafting and the impressive designs of UGears wooden puzzles for adults and kids will bring joy to your loved ones. ORDER the UGR-10 Scrambler with Sidecar wooden construction kit NOW for a colleague, a friend or any real biker in your life.
Kit contains all required components and no glue is required
Precision laser cut plywood. Only requires assembly.
UGears Mechanical Models are self-propelled, mechanical wooden model assembly kits.
Perfect for family projects, puzzle enthusiasts, and hands-on STEM learning
380 parts
Assembly time: 9 hours
Model size 220x160x115mm
Scrambler UGR-10 Motor Bike with sidecar
Get ready to hit the road with the fast and enduring classic Scrambler UGR-10 Motor Bike with sidecar from Ugears. We travel to have new experiences, to see places far from home, to meet new people. If you travel by motorbike, you know that the trip—how you get there—matters as much or more than the destination. Bikers know the freedom of the open road, and if you own a scrambler, you know the freedom of going off-road. Whether you prefer to travel alone, or bring company along for the adventure, the Ugears Scrambler is your ticket to freedom and adventure.
The Ugears Scrambler UGR-10 motorbike with sidecar is a beautiful, high-quality DIY model kit, with precision pieces that are laser pre-cut into wooden boards. The Scrambler with Sidecar has 380 pieces and is rated a "Medium" difficulty build, with an estimated construction time of 8 hours. As with all Ugears models, no glue or special tools are required—everything you need to build the model comes right in the box. Builders will enjoy assembling this 3D puzzle with its surprising functionality, full suspension and throwback design. Time to open your garage or workroom, assemble your cool new motorcycle model and see where your imagination takes you!
The Scrambler is based on a dual-sport motorcycle, designed to travel both slick asphalt highways or go full dirt track mode. Dual-sport bikes come from a family of so-called "scramblers": lightweight city motorcycles initially produced by the British companies Triumph and BSA back in the 1950s. The early scramblers were very well adapted to ride rough roads due to their smart suspension design, high-mounted mufflers/exhaust pipes, wide handlebars, and dual-purpose tires. The bikes were stripped down to bare essentials, for the simple reason that fancy stuff meant more weight, and any bits and pieces that stuck out would tend to get snapped off, bent or broken.
Like its real-life analogues, the Ugears model Scrambler is not only fast, but very steady due to a fork and pendulum suspension on the back wheel.The realistic retro design comes complete with a clever imitation of a fully-animated, opposed cylinders engine. One of the outstanding features of this 3D puzzle is that its open design gives you a view of the engine cylinders in action. The bike is beautifully detailed, and has a cool surprise, especially for people who are used to static models: your DIY wooden Scrambler motorcycle has a wind-up keyhole mechanism cleverly hidden under the gas-tank hood. The bike is driven by a rubber band motor connected to the rear wheel via the belt coupling. One winding will fuel up your Scrambler to cover a distance of 3 meters (9 feet). Steer your bike in whatever direction you like with the rotating handle bars!
Who says toys are only for children? Adults need to have fun too! Ugears' Scrambler UGR-10 brings to mind all the fun and excitement of a real dual-sport motorcycle. Build, display, and play with your model scrambler with biker pride. Build your bike with a friend or family member for extra enjoyment, and take joint pride in the work of your own hands. As we like to say at Ugears, there's no glue required to build our 3D puzzles and mechanical models, but there will be bonding!
If you've planned a fun ride and have a good friend who wants to come along, or if you want to bring some extra luggage, you'll be glad to know the Scrambler UGR-10 Motor Bike comes with its own comfortable and spacious sidecar. This additional, extra-cool feature gives your Scrambler the look of either a vintage military transport or if you prefer, the perfect way for a small family to picnic in the countryside. The Ugears wooden model sidecar has enough room to transport tiny passengers, sweets for your sweet, notes or other small cargo. You can easily attach or remove your sidecar from the model bike, according to your preference.
Back in the days when automobiles were a luxury, a bicycle or motorbike was often the only form of transport for families. In 1893 the Frenchman Jean Bertoux won a newspaper contest for designing a novel method to carry a passenger on a bicycle: the sidecar. In WWI the British used sidecars to transport heavy machine guns and ammunition into battle, and as makeshift ambulances. In WWII the Germans in particular continued the wartime use of motorcycle sidecars, though other countries' militaries used them as well. In civilian life, sidecars remained popular into the 1950s, as an affordable alternative to passenger cars. Sidecars have also served as ambulances for lifeguards on California beaches, and for animal hospitals. In rural Africa, where access to healthcare, particularly emergency transport, is lacking, Riders for Health and other NGOs use sidecar ambulances to this day.
The Ugears Scrambler with Sidecar makes a thoughtful gift for any motorcycle-loving friends and family, and will be a delightful addition to any home or office. Model hobbyists, or anyone who appreciates outstanding design and clever engineering will be amazed by the moving engine cylinders and full suspension on this bike. Ugears are great gifts for birthdays, holidays, any occasion or no occasion. Give the Scrambler UGR-10 as a DIY kit wrapped up in its handsome box, or build it yourself and present the finished bike as a personal gift in which you've invested your time and care. You could even place a piece of jewelry, cash or check in the sidecar, for an extra-special gift. Whether it's a gift to yourself or someone you love, the supercool wooden Scrambler with Sidecar is a ticket to adventure!
View full details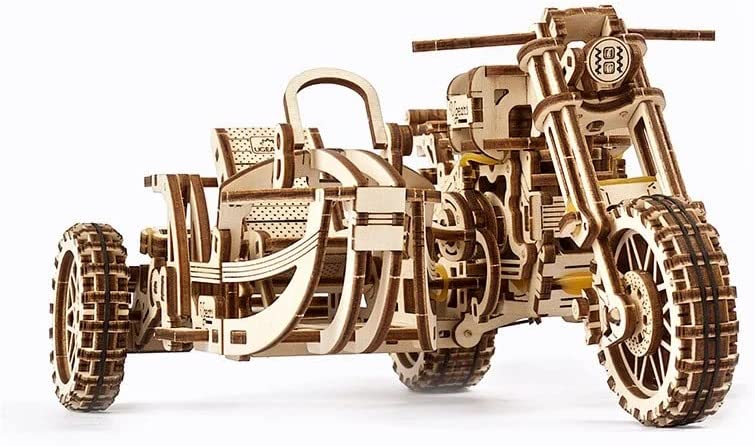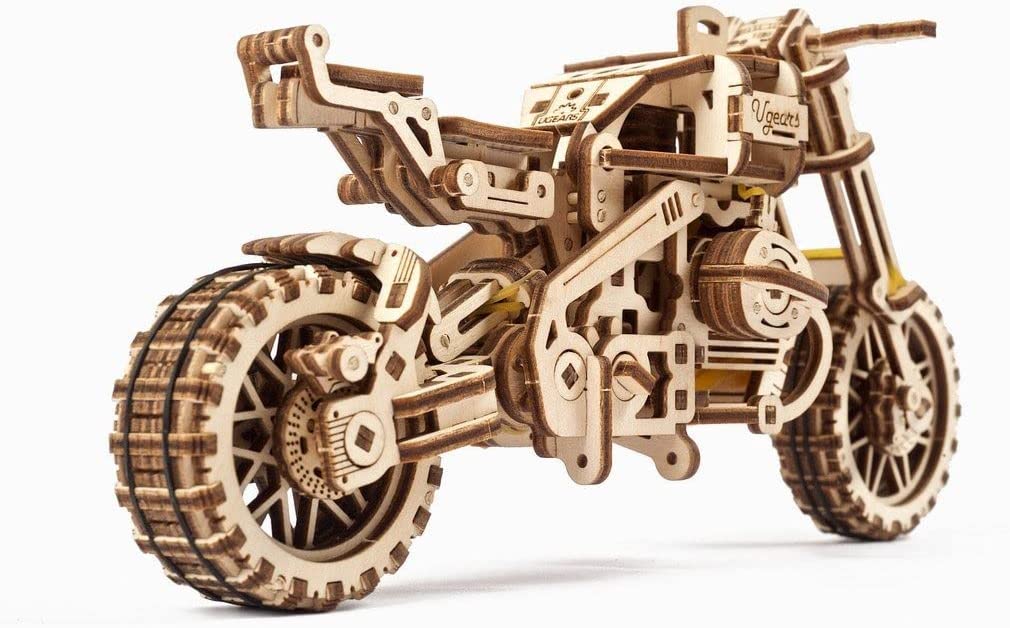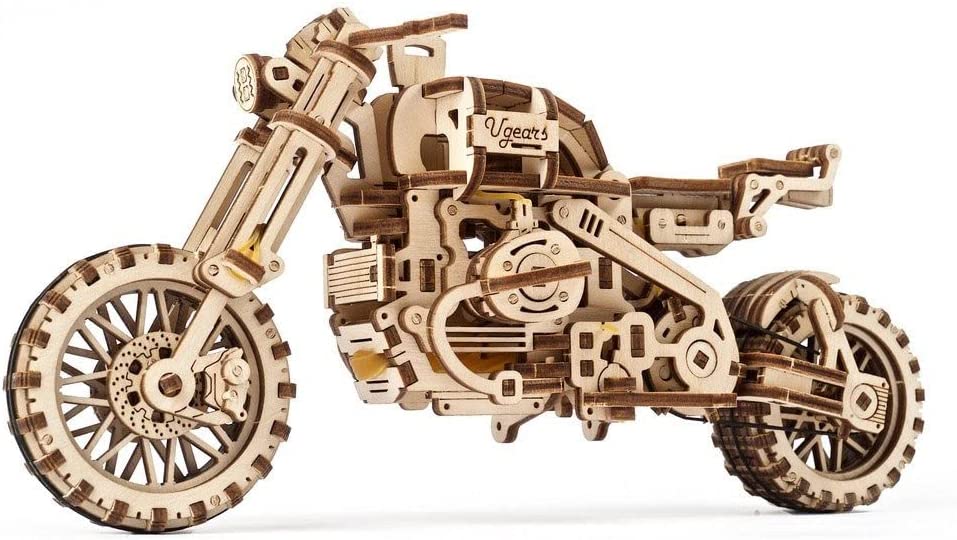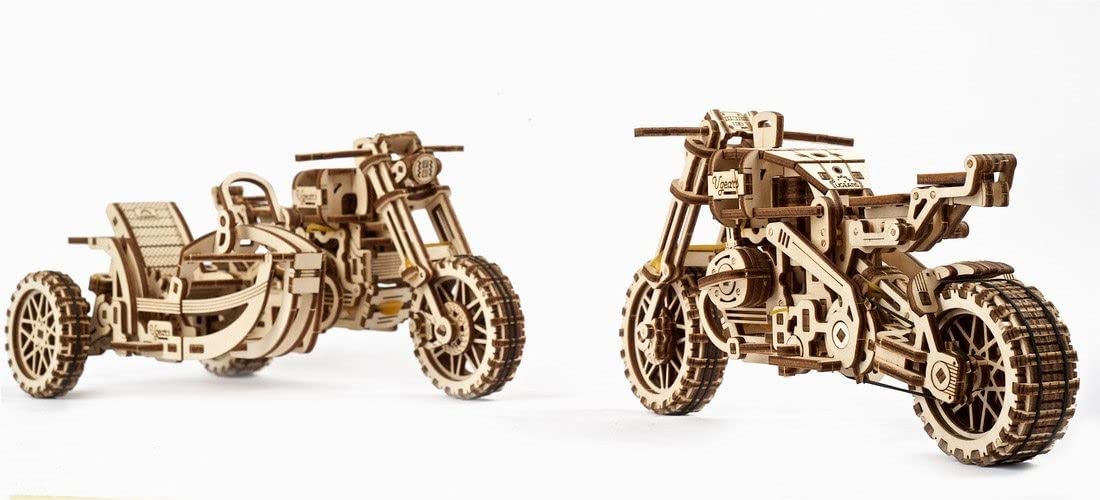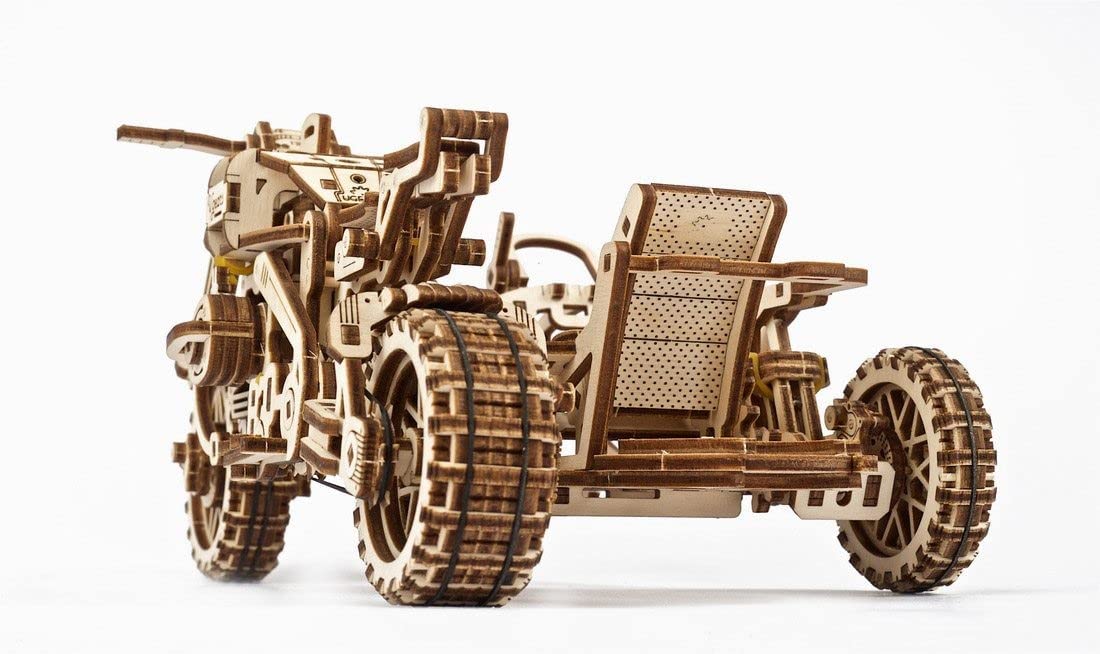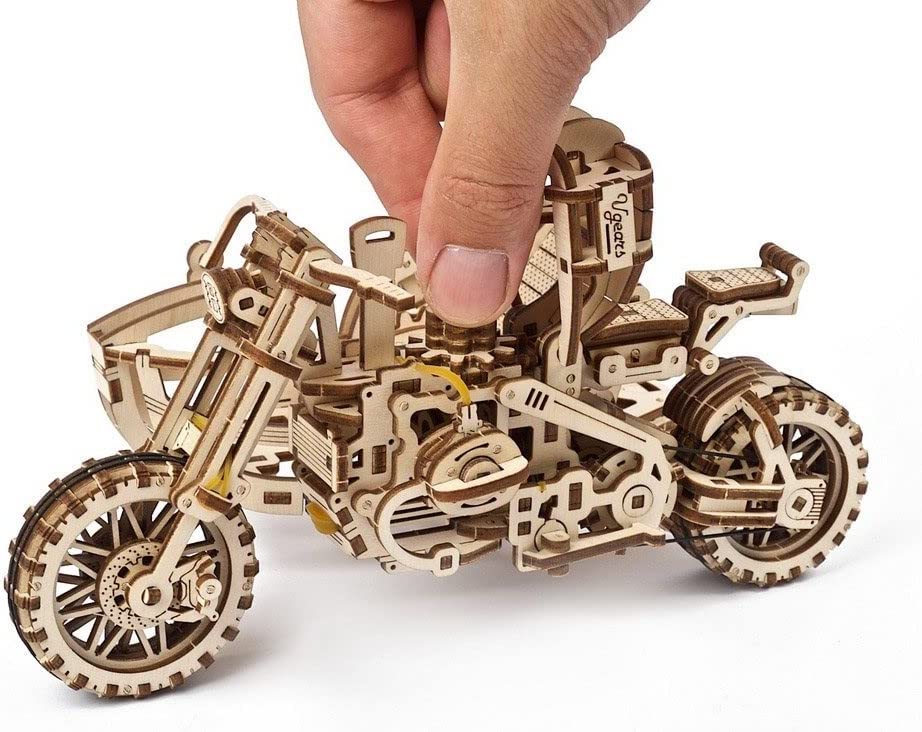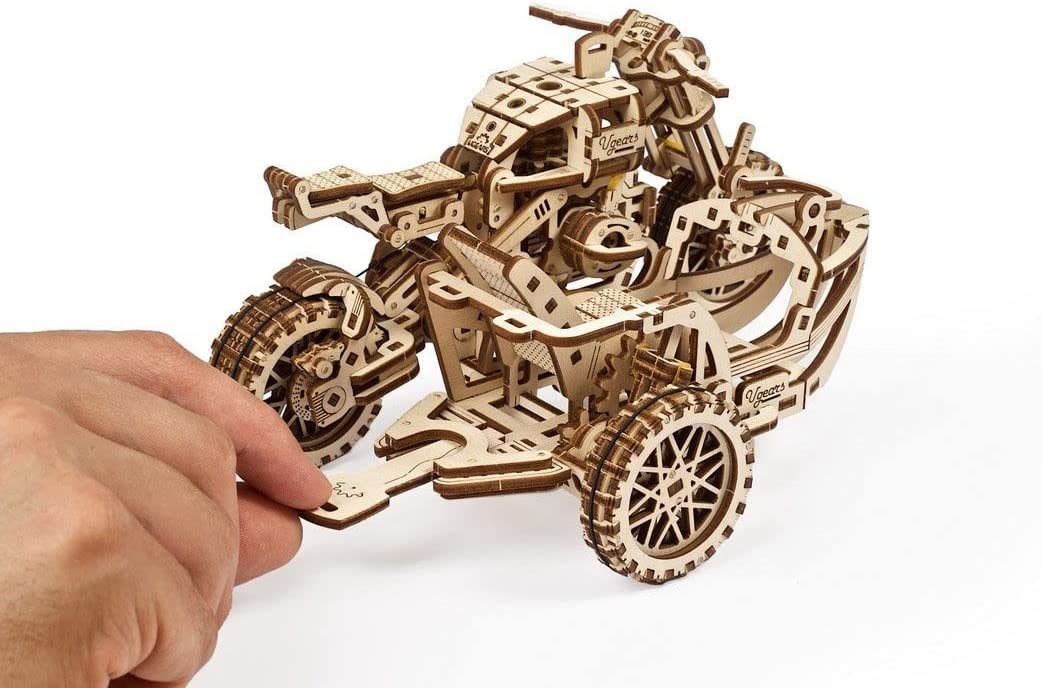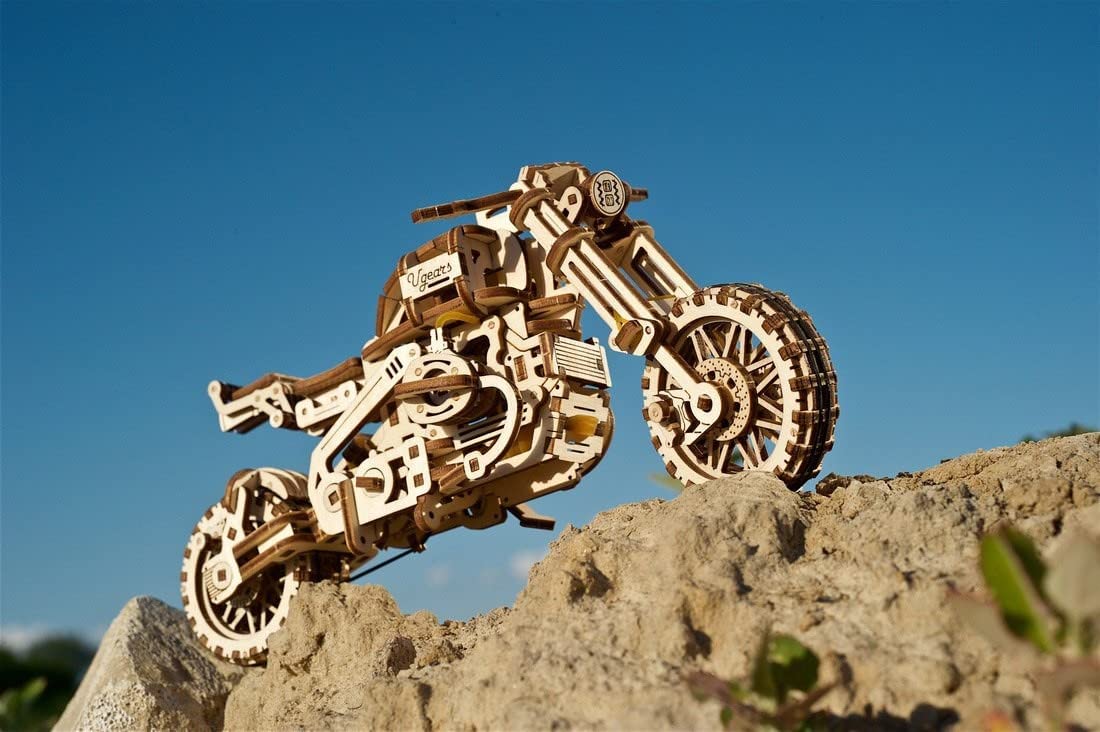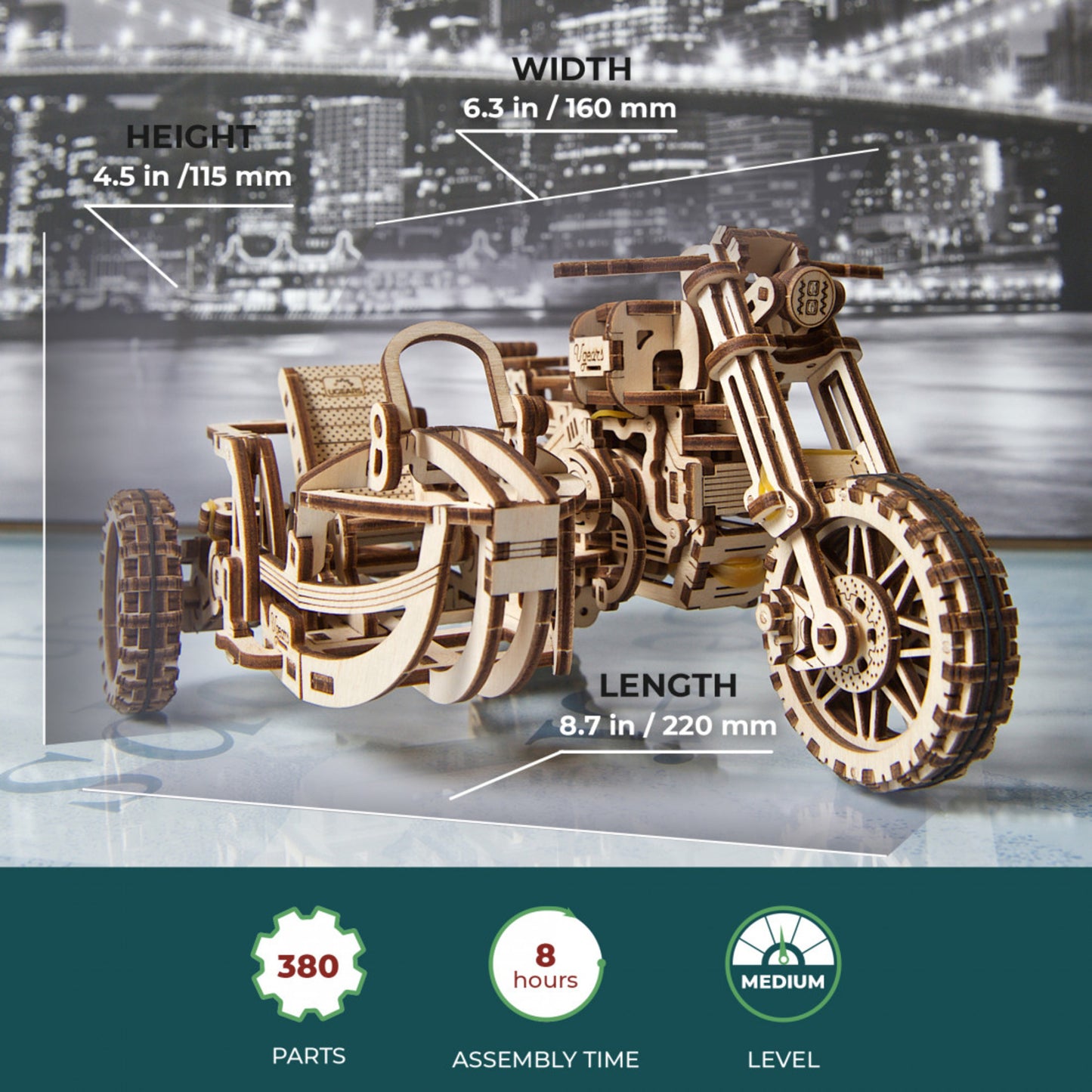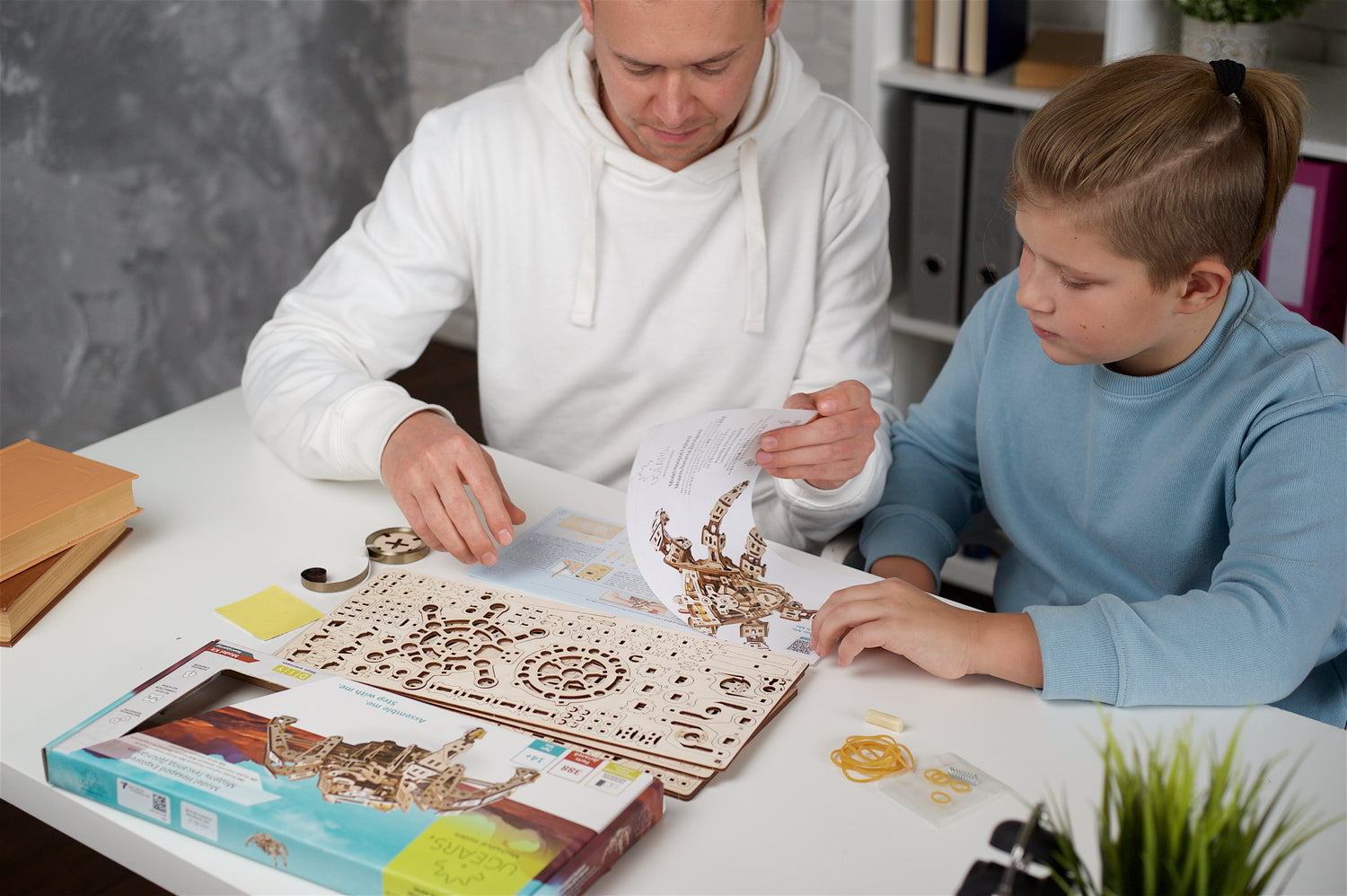 Ready to Build
Ugears models are made from sustainably sourced, laser cut plywood sheets. Everything you need is inside the box, so you can get building right away.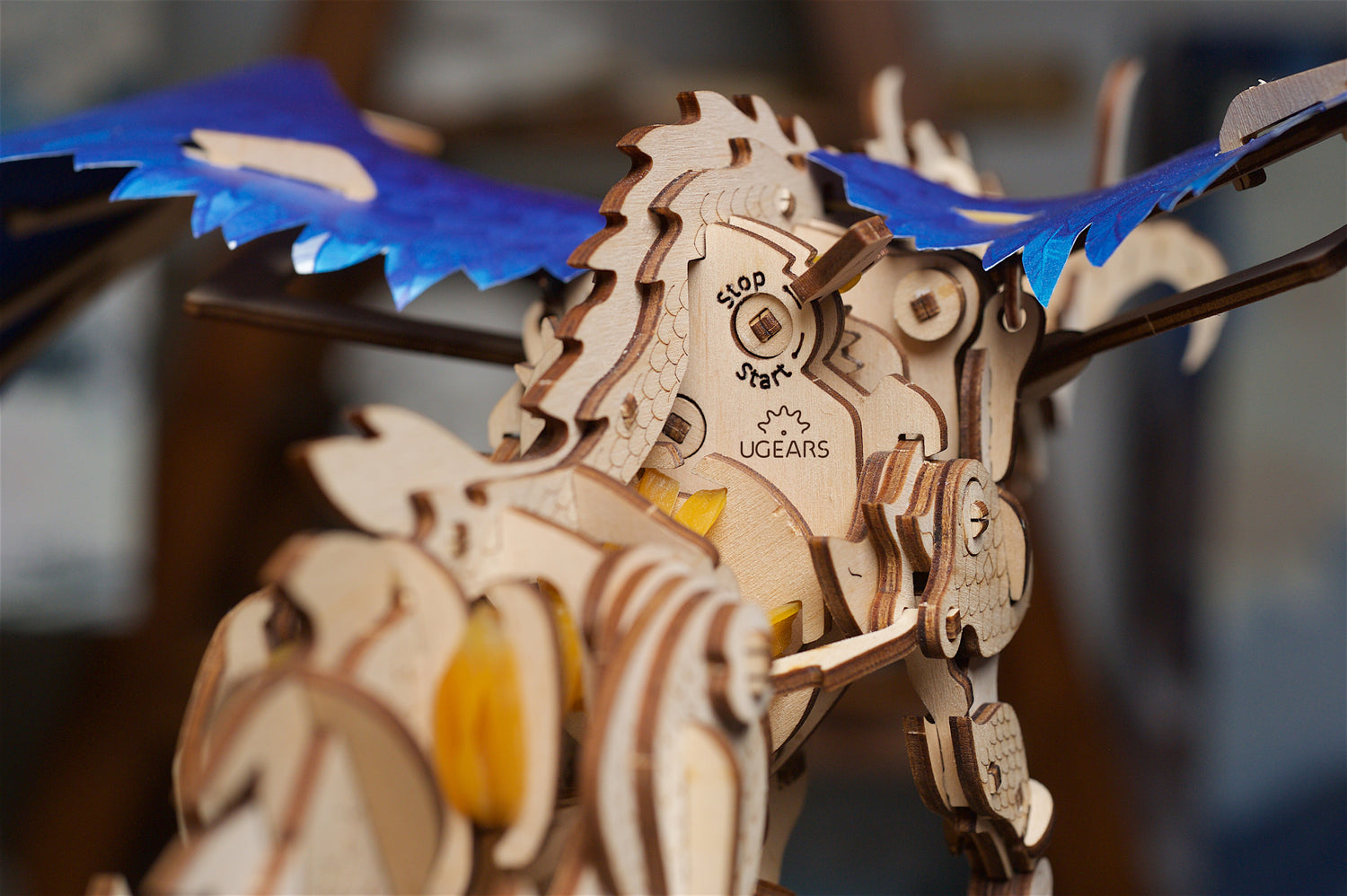 Mechanical
No batteries, no electricity, just Ugears. All mechanical models are powered by the ingenious mechanisms built by you. Just wind up your model and watch it come to life.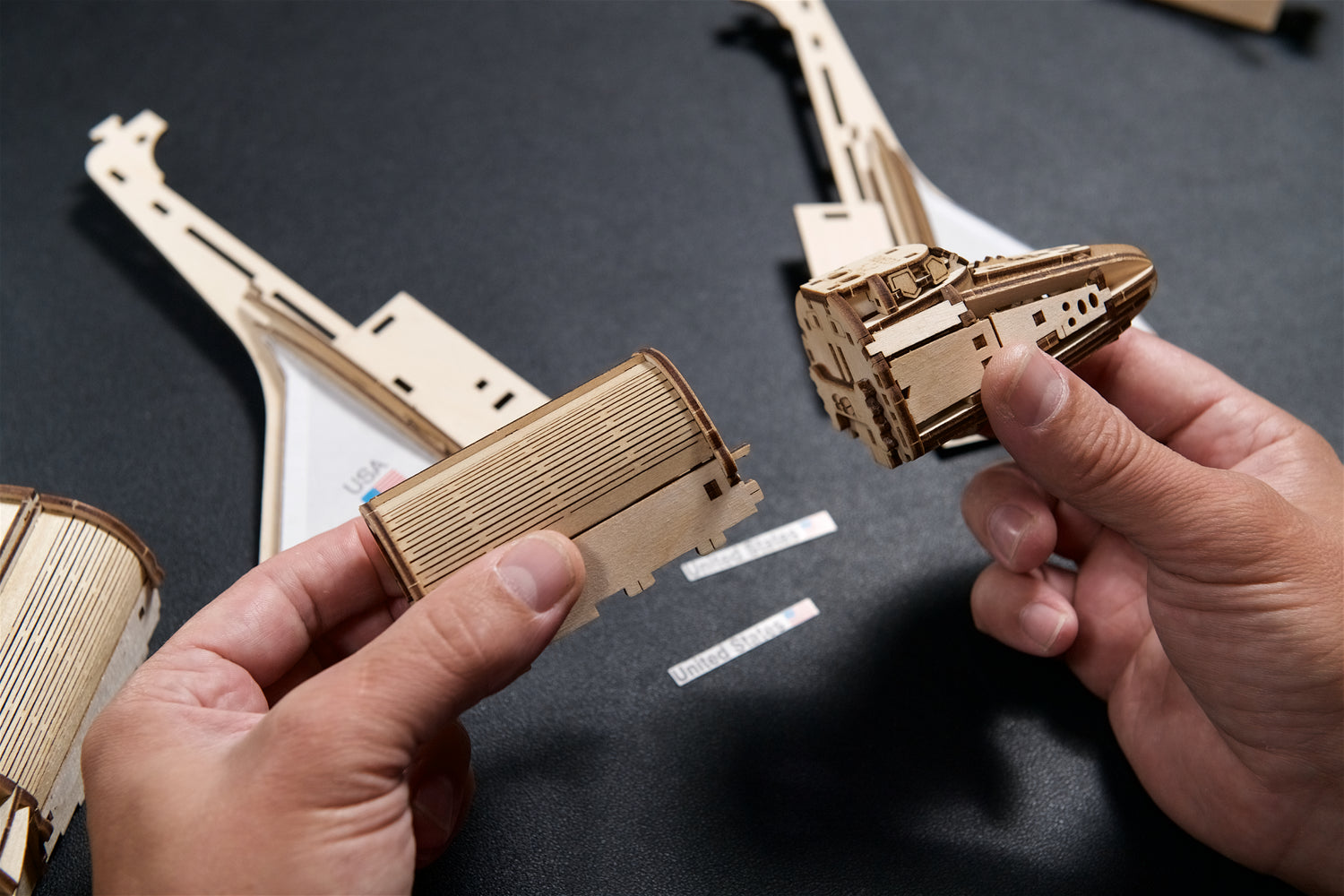 No Glue
Pieces have been designed so they will either click or slide into place. No glue or any other kind of adhesive is needed to build your model.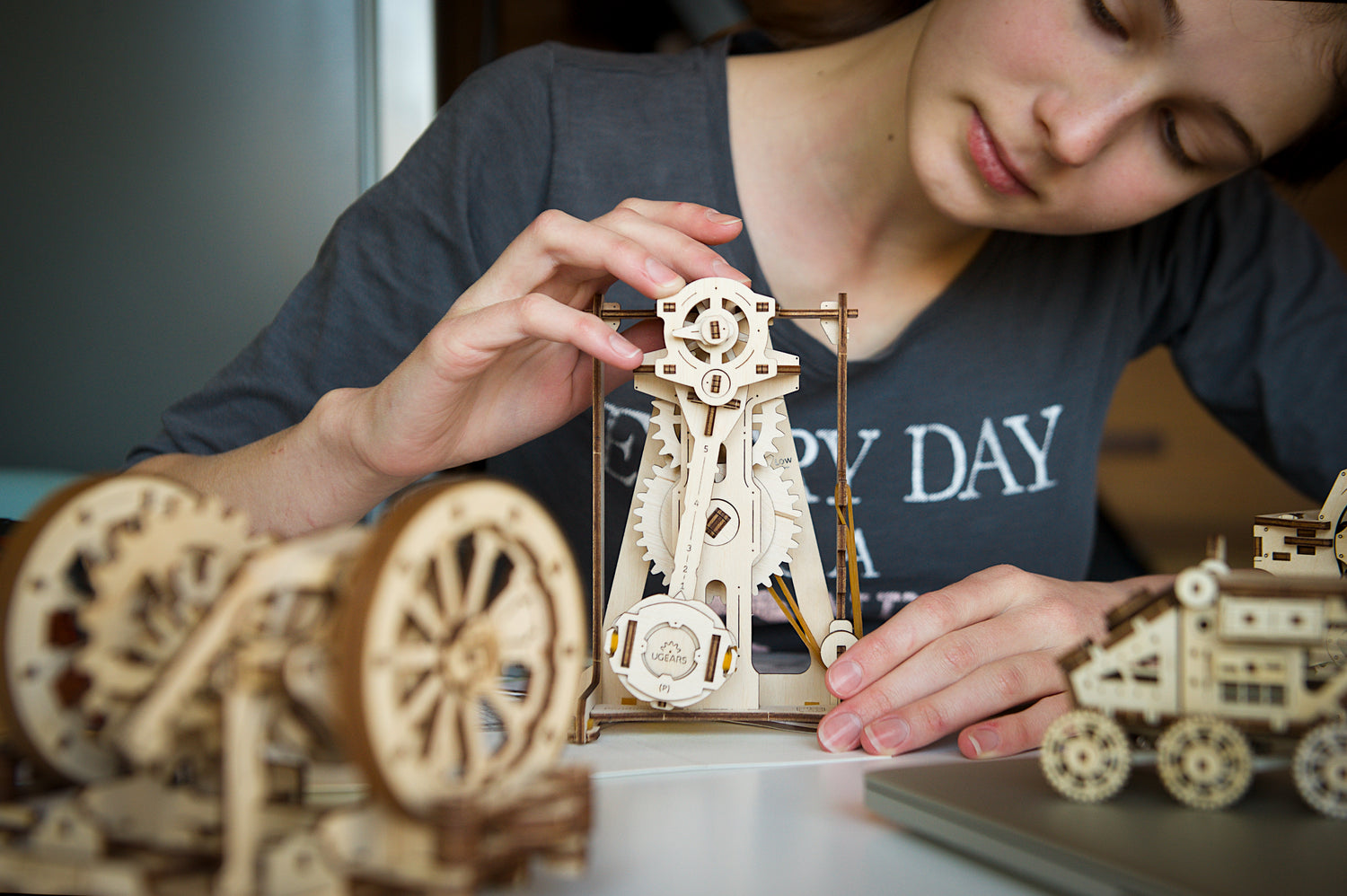 Educational
Models take inspiration from real life inventors and engineers, such as Da Vinci and Galileo. Learn the history behind the model as you build.