SKU:UGR70093
Regular price
Sale price
£10.50 GBP
Unit price
per
Liquid error (snippets/price line 121): divided by 0% OFF
Sale
Sold out
---
43

Pieces

1

Est. Time (hrs)
LxWxH 53 mm x 78 mm x 125 mm
---
Share
Excuse me, what time is it? Time to start your UGears 3D puzzle collection! The simple but elegant Steampunk Clock from UGears is the perfect gateway to a fun new hobby: building UGears models and 3D puzzles. Victorian-inflected Steampunk style combines art, science, and amazing mechanics, so naturally it's an aesthetic we embrace at UGears! This mini wooden mechanical clock model embodies the essence of Steampunk style, with spinning gears, moving minute and hour hands on a clock face, and zany antique design with celestial motifs. Take a walk back in time as you build this homage to Victorian timepieces.
The open design of the Steampunk Clock allows you to see the model's gearing in action. Check out the 90-degree angle coupling, and the unsynchronized clock hands moving on the same axle, each at their own pace. This DIY wooden table clock model features delicate carving throughout the body and lace-like ornamentation, including floral designs and sun, stars, and moon motifs. To set the Steampunk Clock in motion just turn the gears at the base and watch your clock come to life! All UGears mechanical models move without batteries or electricity, and assemble without glue.
The Steampunk Clock is rated "Easy" and has only 43 pieces, which makes it the perfect starter model for those who are new to the fascinating world of UGears mechanical models, 3D puzzles, puzzle boxes, mechanoids and automatons. But even experienced modelers will want this attractive 3D puzzle for their collection. The model is made of high-quality composite wood, has a pleasant wooden scent, and looks great on the shelf.
To assemble this DIY wooden clock model, just punch the pieces out of their laser pre-cut boards and snap them together, following the detailed, illustrated instructions in 11 languages (English, German, Ukrainian, French, Polish, Spanish, Portuguese, Turkish, Italian, Chinese and Korean). Everything you need to assemble your Steampunk Clock model kit comes in the box, including sandpaper and wax. No glue or special tools are required. Be sure to lightly sand and lubricate all moving parts for optimal clock function.
Start a wonderful new hobby when you purchase the Steampunk Clock by UGears, or buy it for a friend and introduce them to the magical world of UGears mechanical models. The Steampunk Clock is a wonderful gift idea, for any age or ability, and a fun family project. Parents and grandparents can enjoy helping children develop their mechanical competence and learn basic principles of science and engineering by building UGears 3D puzzles. Upon completion you have a fun toy to play with together, and the satisfaction of having built something together. The Steampunk Clock is also an elegant display piece for your home or office.
Once you have had success building your Steampunk Clock you'll be ready to take on bigger challenges from the UGears catalogue, including robots, cars and trains, or educational STEM Lab models. You could even move up to building actual working clock models like the UGears Aero Clock wall clock with pendulum, and the Skywatcher Tourbillon Table Clock—DIY wooden clock models that keep accurate time. Start small and dream big!
Kit contains all required components and no glue is required
Precision laser cut plywood. Only requires assembly.
UGears Mechanical Models are self-propelled, mechanical wooden model assembly kits.
Perfect for family projects, puzzle enthusiasts, and hands-on STEM learning
43 parts
Assembly time: 1 hours
Model size 53x78x125mm
3D wooden DIY puzzle Steampunk Clock – perfect gift idea by Ugears
"Excuse me, what time is it?" Time to start your Ugears 3D puzzle collection! The simple but elegant Steampunk Clock from Ugears is the perfect gateway to a fun new hobby: building Ugears models and 3D puzzles. Victorian-inflected Steampunk style combines art, science, and amazing mechanics, so naturally it's an aesthetic we embrace at Ugears! This mini wooden mechanical clock model embodies the essence of Steampunk style, with spinning gears, moving minute and hour hands on a clock face, and zany antique design with celestial motifs. Take a walk back in time as you build this homage to Victorian timepieces.
The open design of the Steampunk Clock allows you to see the model's gearing in action. Check out the 90-degree angle coupling, and the unsynchronized clock hands moving on the same axle, each at their own pace. This DIY wooden table clock model features delicate carving throughout the body and lace-like ornamentation, including floral designs and sun, stars, and moon motifs. To set the Steampunk Clock in motion just turn the gears at the base and watch your clock come to life! All Ugears mechanical models move without batteries or electricity, and assemble without glue.
The Steampunk Clock is rated "Easy" and has only 43 pieces, which makes it the perfect starter model for those who are new to the fascinating world of Ugears mechanical models, 3D puzzles, puzzle boxes, mechanoids and automatons. But even experienced modelers will want this attractive 3D puzzle for their collection. The model is made of high-quality composite wood, has a pleasant wooden scent, and looks great on the shelf.
To assemble this DIY wooden clock model, just punch the pieces out of their laser pre-cut boards and snap them together, following the detailed, illustrated instructions in 11 languages (English, German, Ukrainian, French, Polish, Spanish, Portuguese, Turkish, Italian, Chinese and Korean). Everything you need to assemble your Steampunk Clock model kit comes in the box, including sandpaper and wax. No glue or special tools are required. Be sure to lightly sand and lubricate all moving parts for optimal clock function.
Start a wonderful new hobby when you purchase the Steampunk Clock by Ugears, or buy it for a friend and introduce them to the magical world of Ugears mechanical models. The Steampunk Clock is a wonderful gift idea, for any age or ability, and a fun family project. Parents and grandparents can enjoy helping children develop their mechanical competence and learn basic principles of science and engineering by building Ugears 3D puzzles. Upon completion you have a fun toy to play with together, and the satisfaction of having built something together. The Steampunk Clock is also an elegant display piece for your home or office.
Once you have had success building your Steampunk Clock you'll be ready to take on bigger challenges from the Ugears catalogue, including robots, cars and trains, or educational STEM Lab models. You could even move up to building actual working clock models like the Ugears Aero Clock wall clock with pendulum, and the Skywatcher Tourbillon Table Clock—DIY wooden clock models that keep accurate time. Start small and dream big!
View full details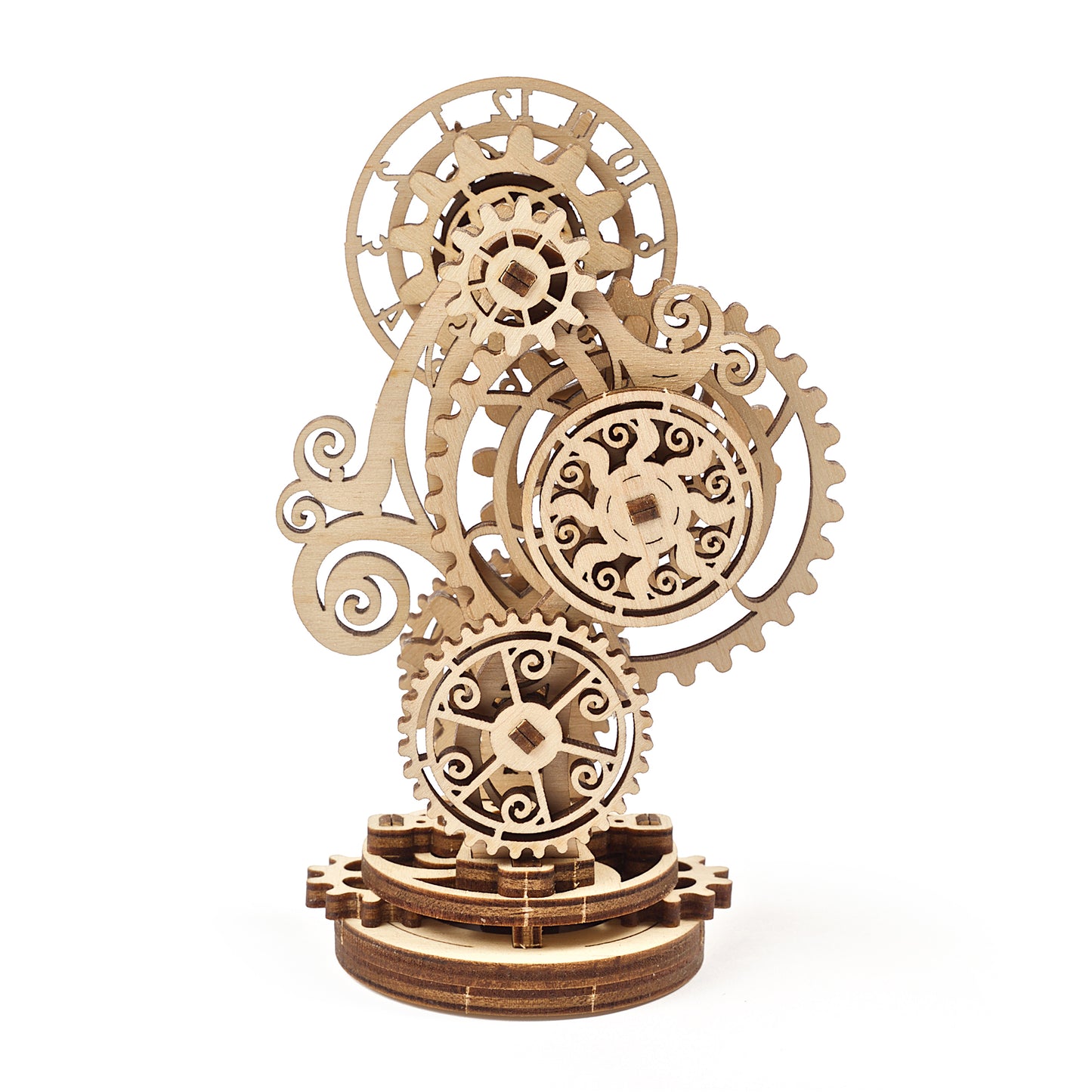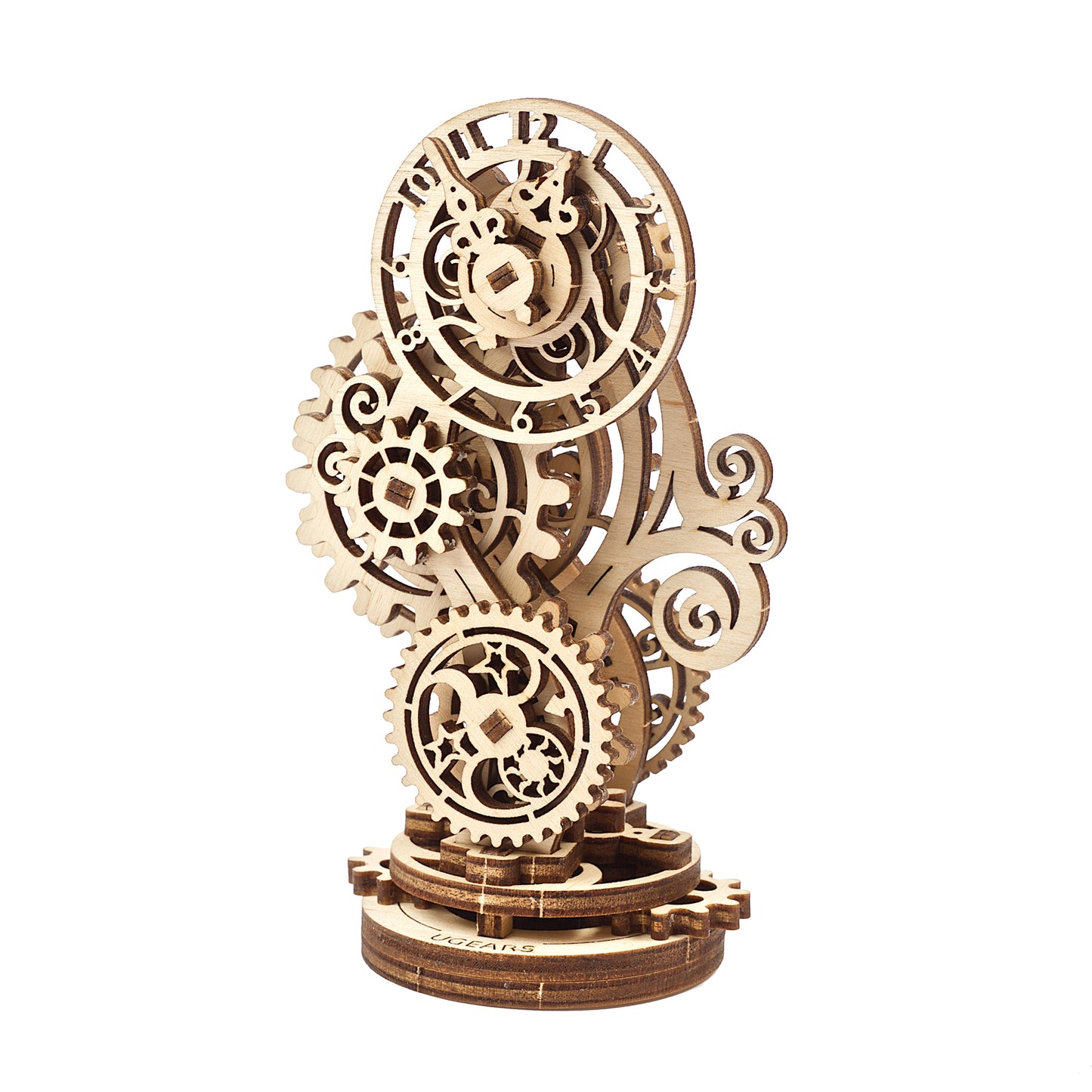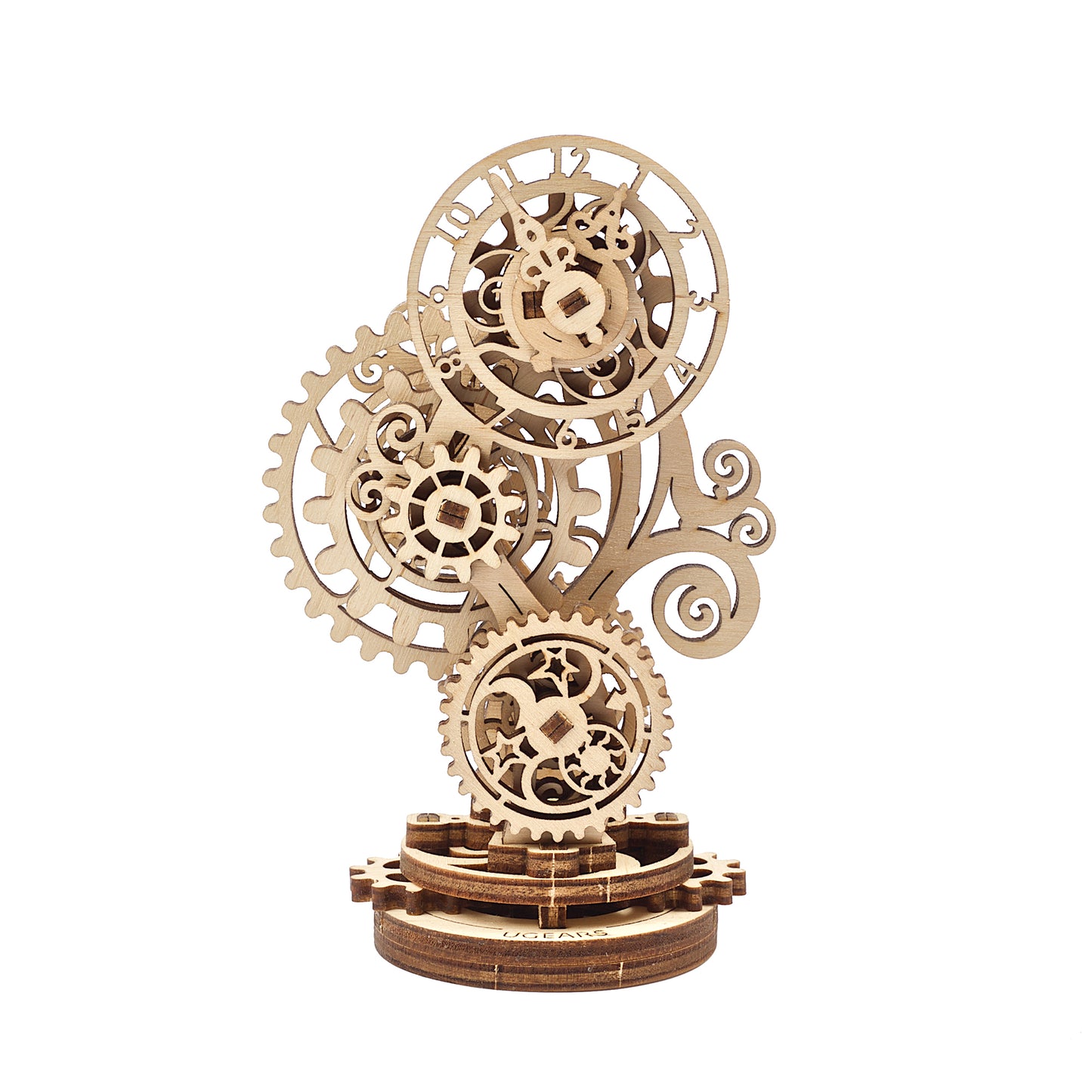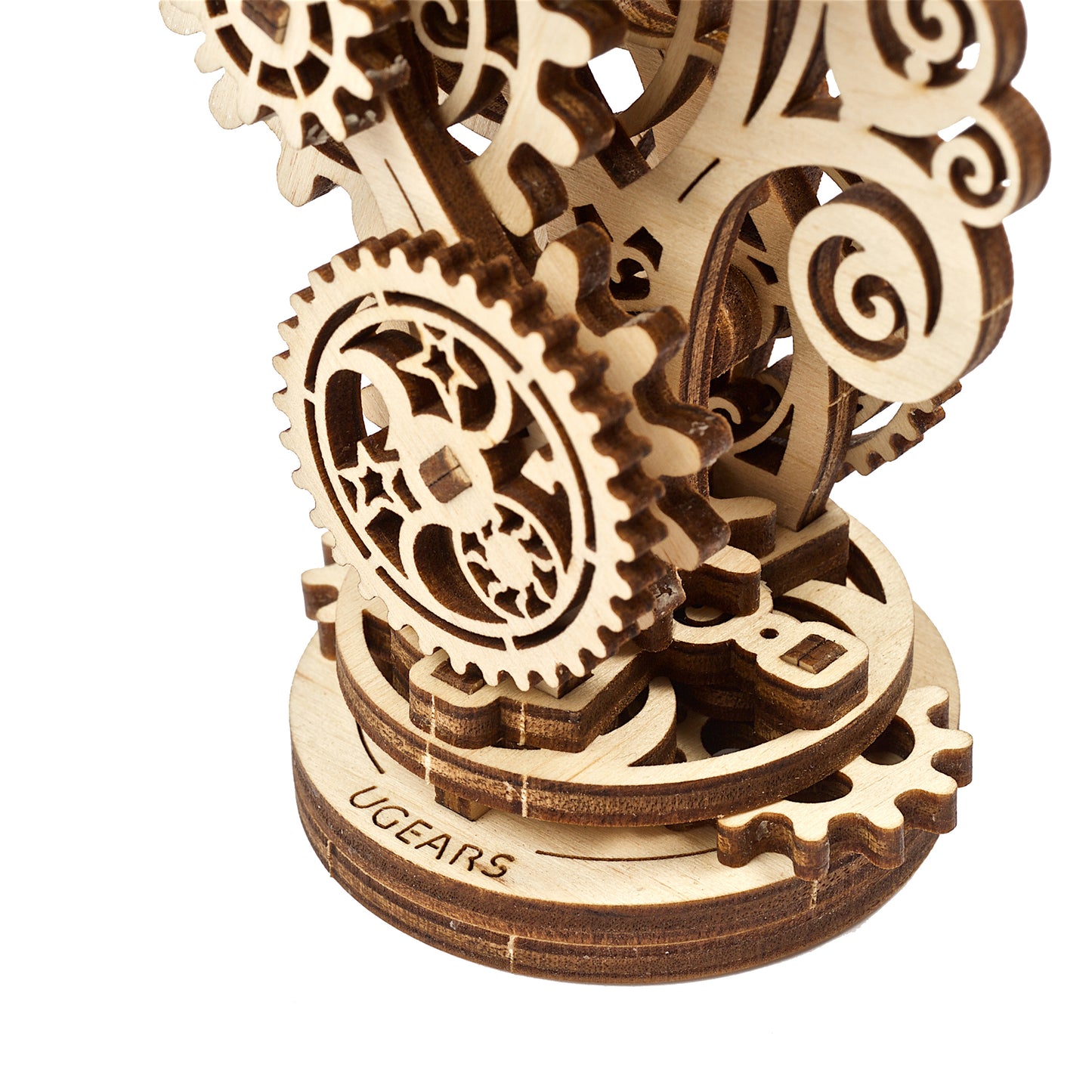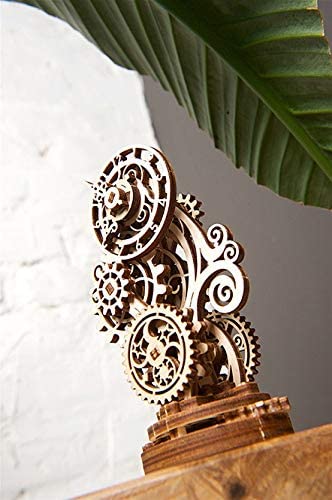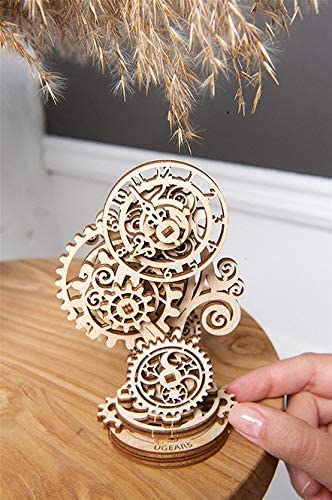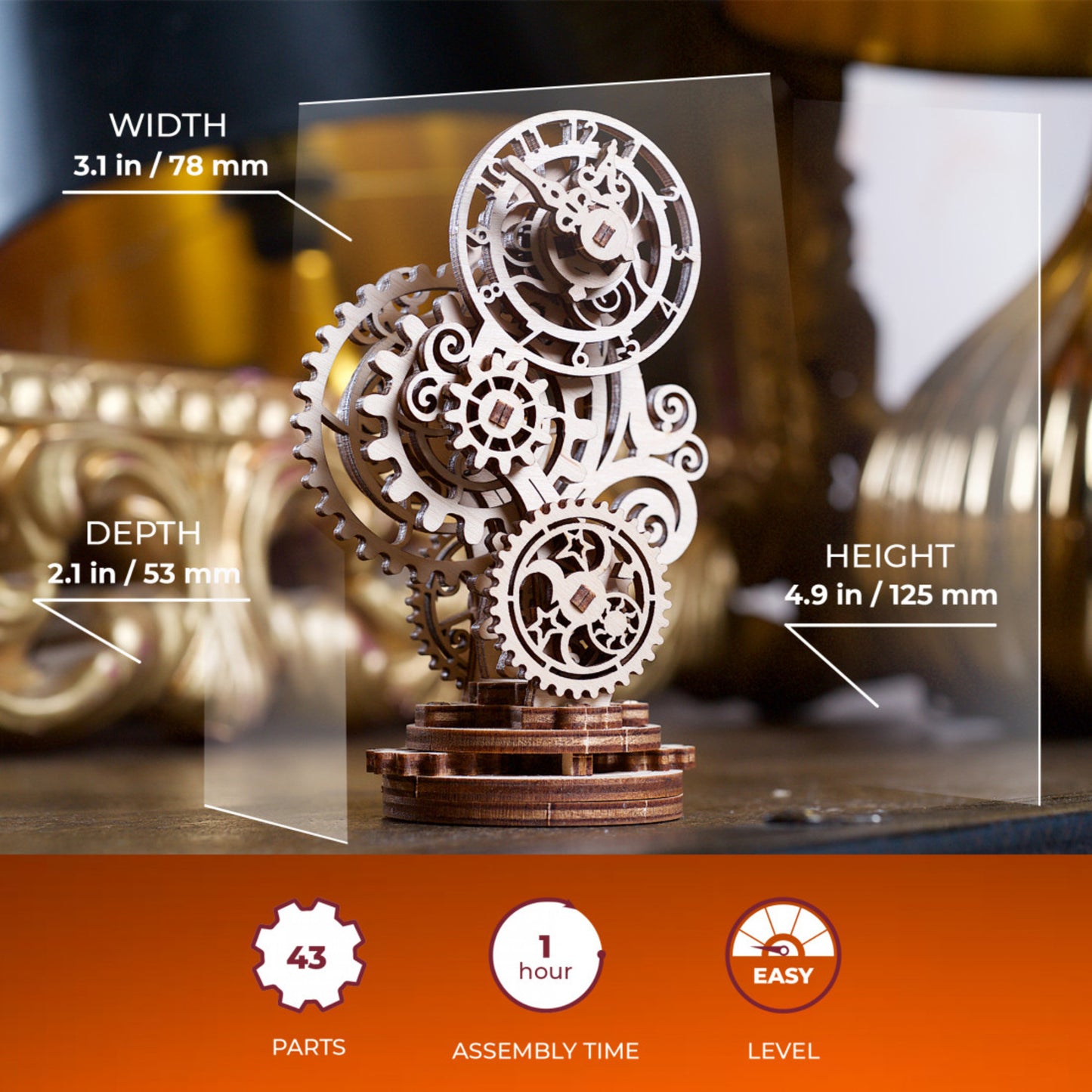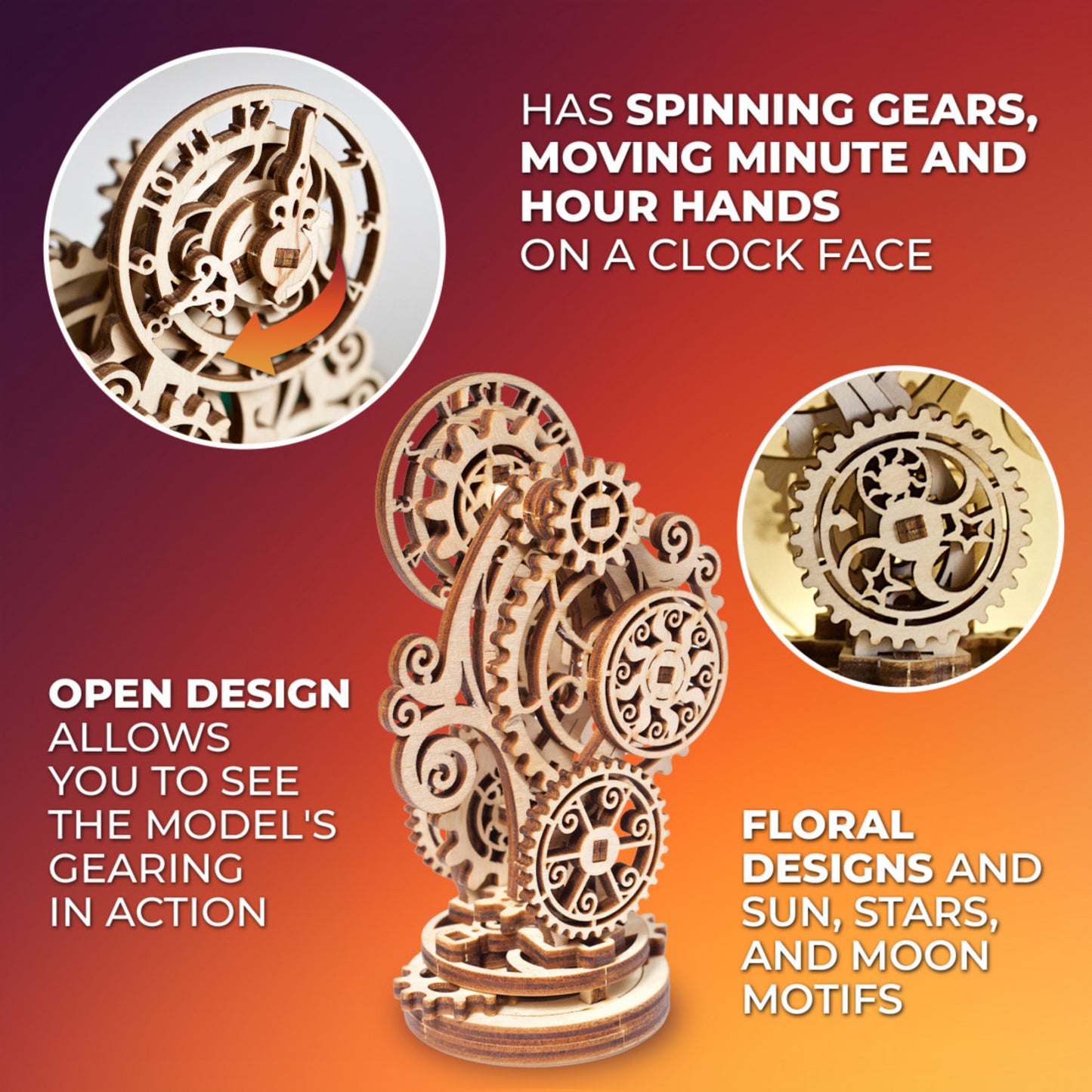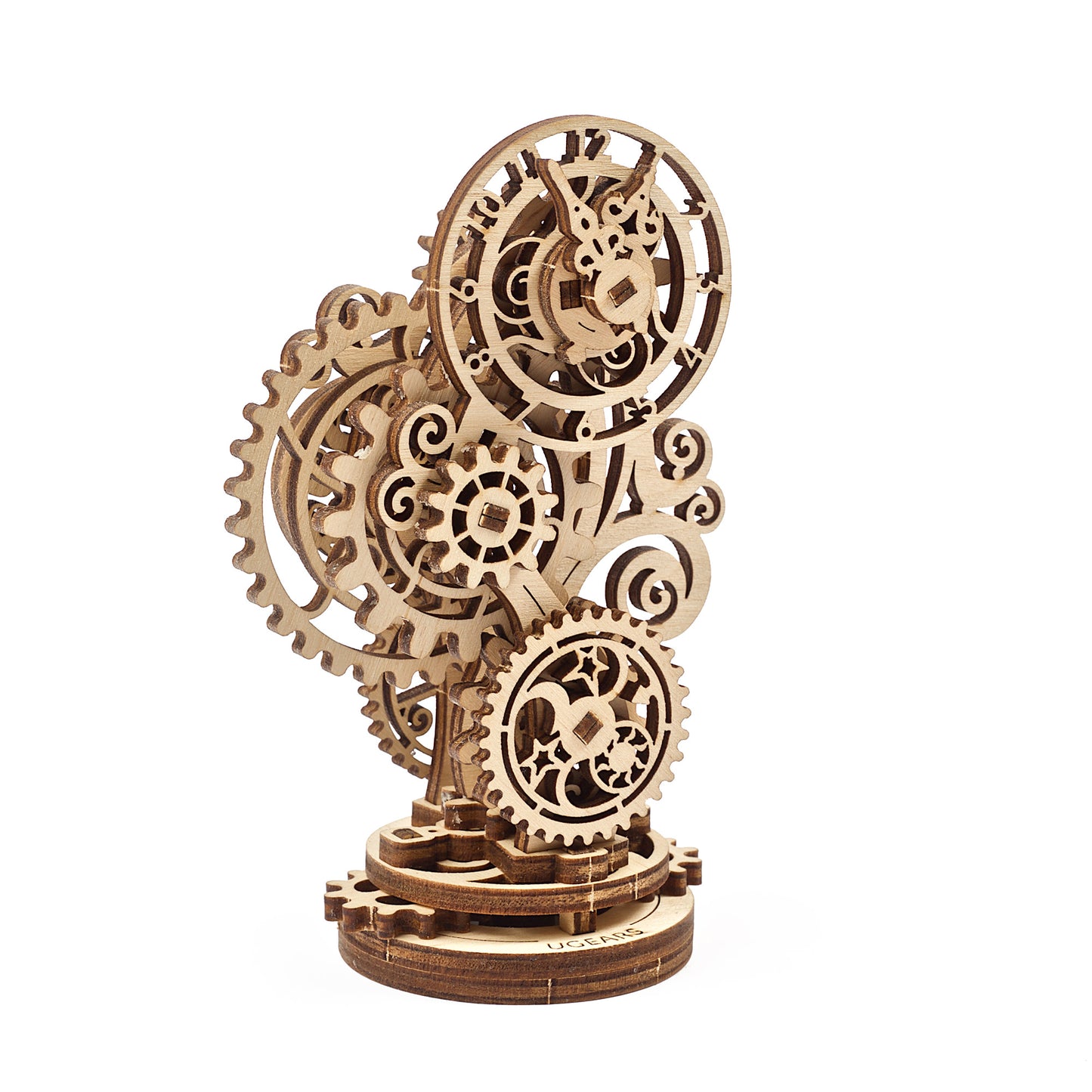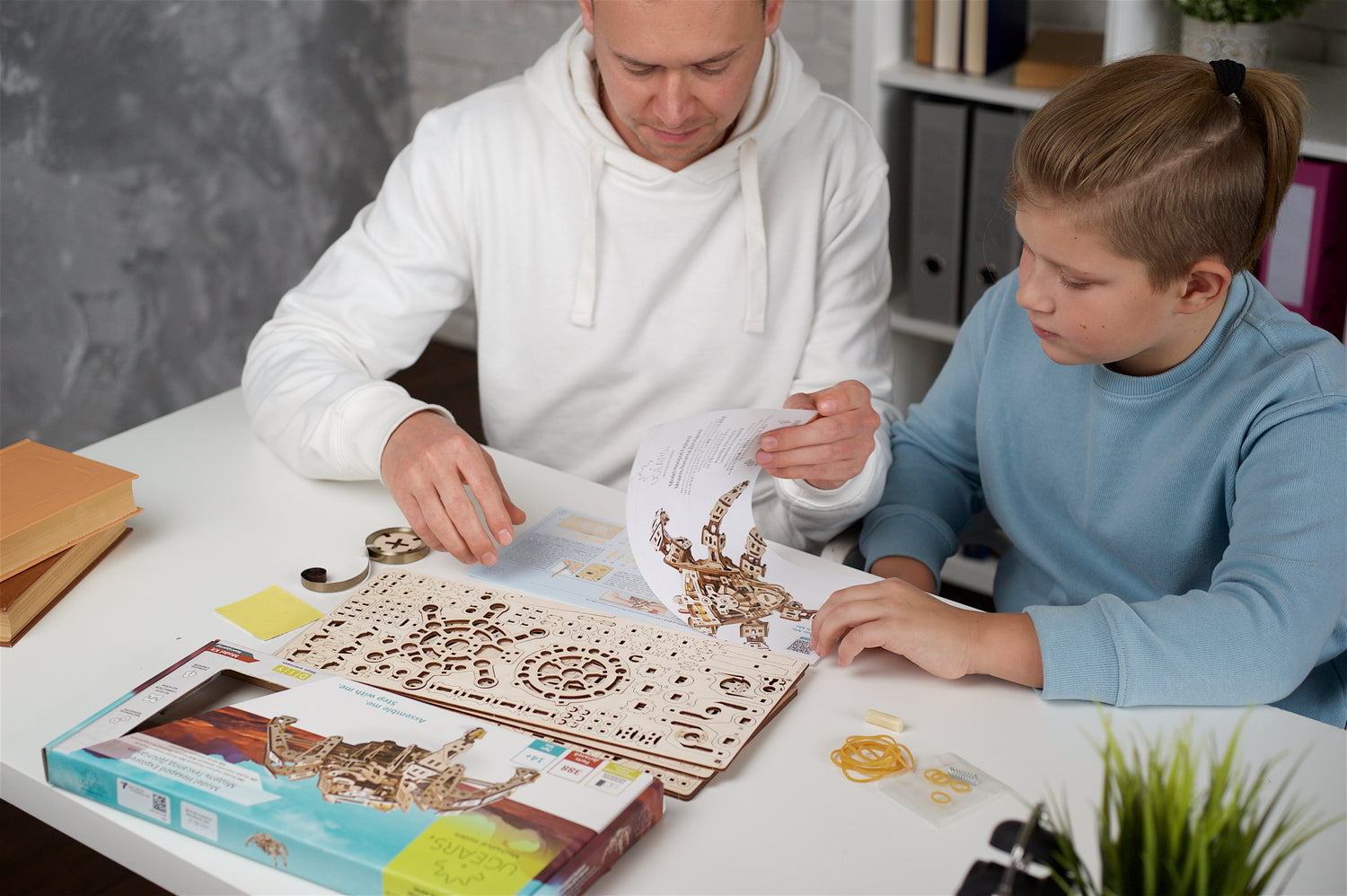 Ready to Build
Ugears models are made from sustainably sourced, laser cut plywood sheets. Everything you need is inside the box, so you can get building right away.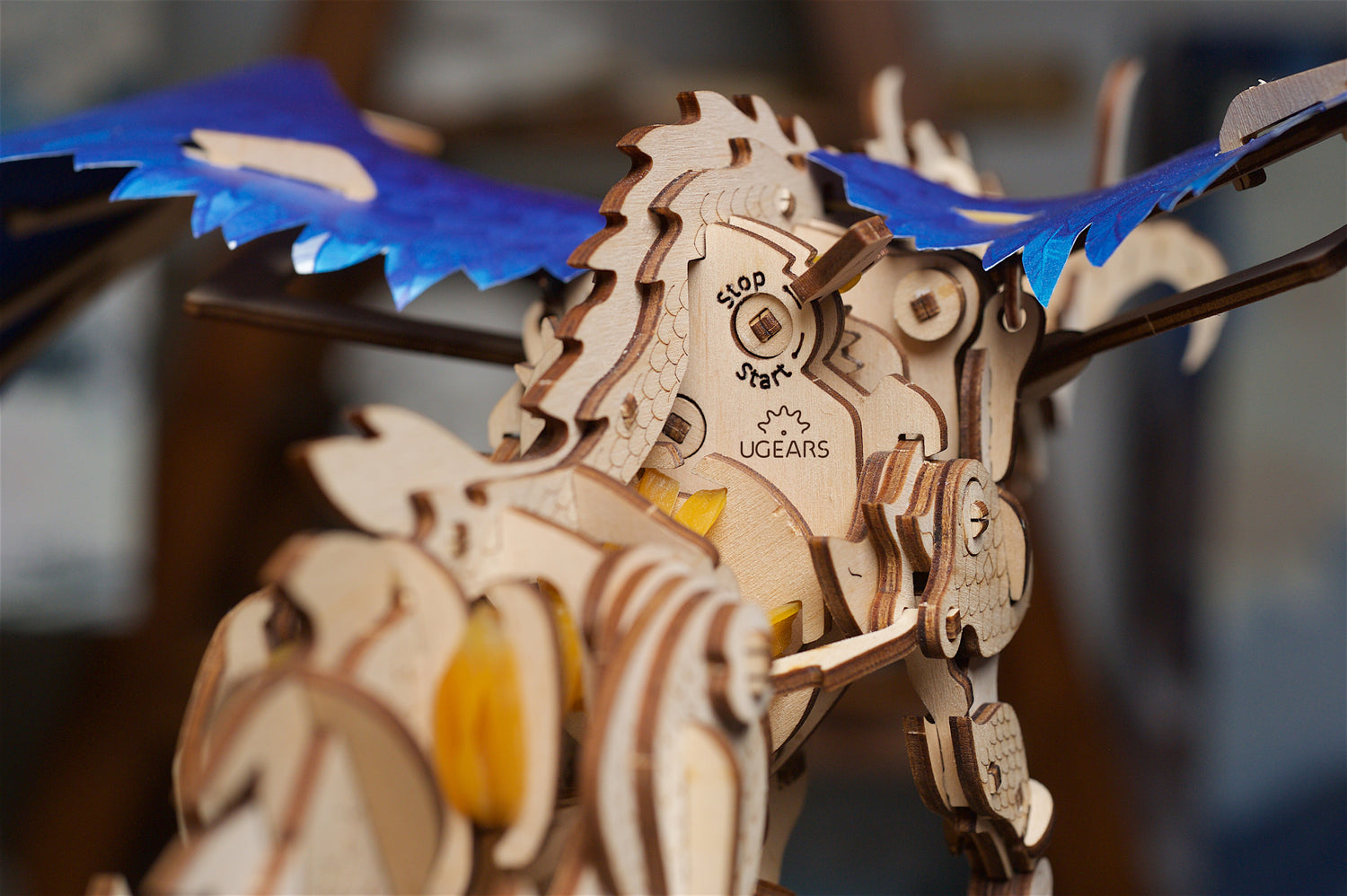 Mechanical
No batteries, no electricity, just Ugears. All mechanical models are powered by the ingenious mechanisms built by you. Just wind up your model and watch it come to life.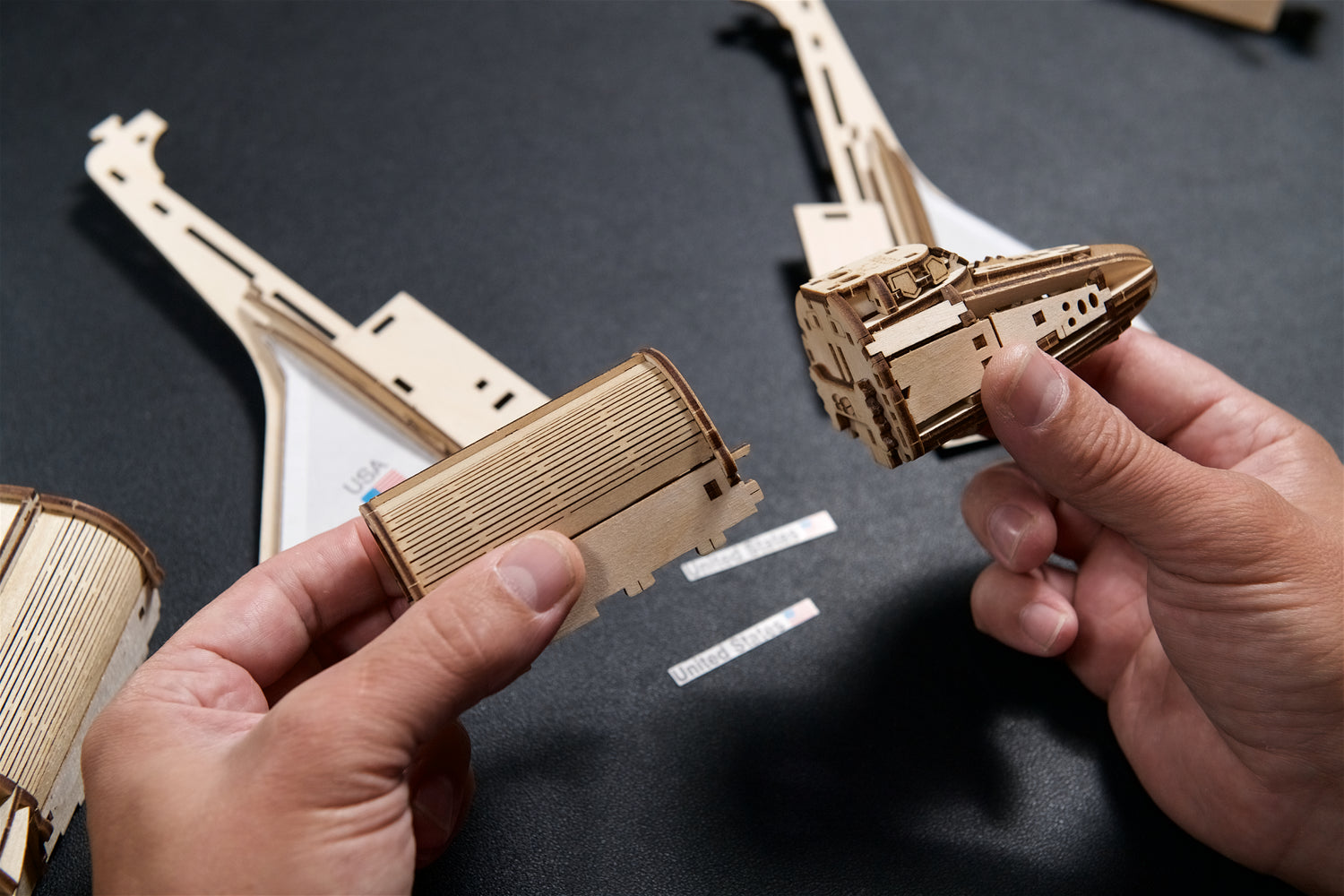 No Glue
Pieces have been designed so they will either click or slide into place. No glue or any other kind of adhesive is needed to build your model.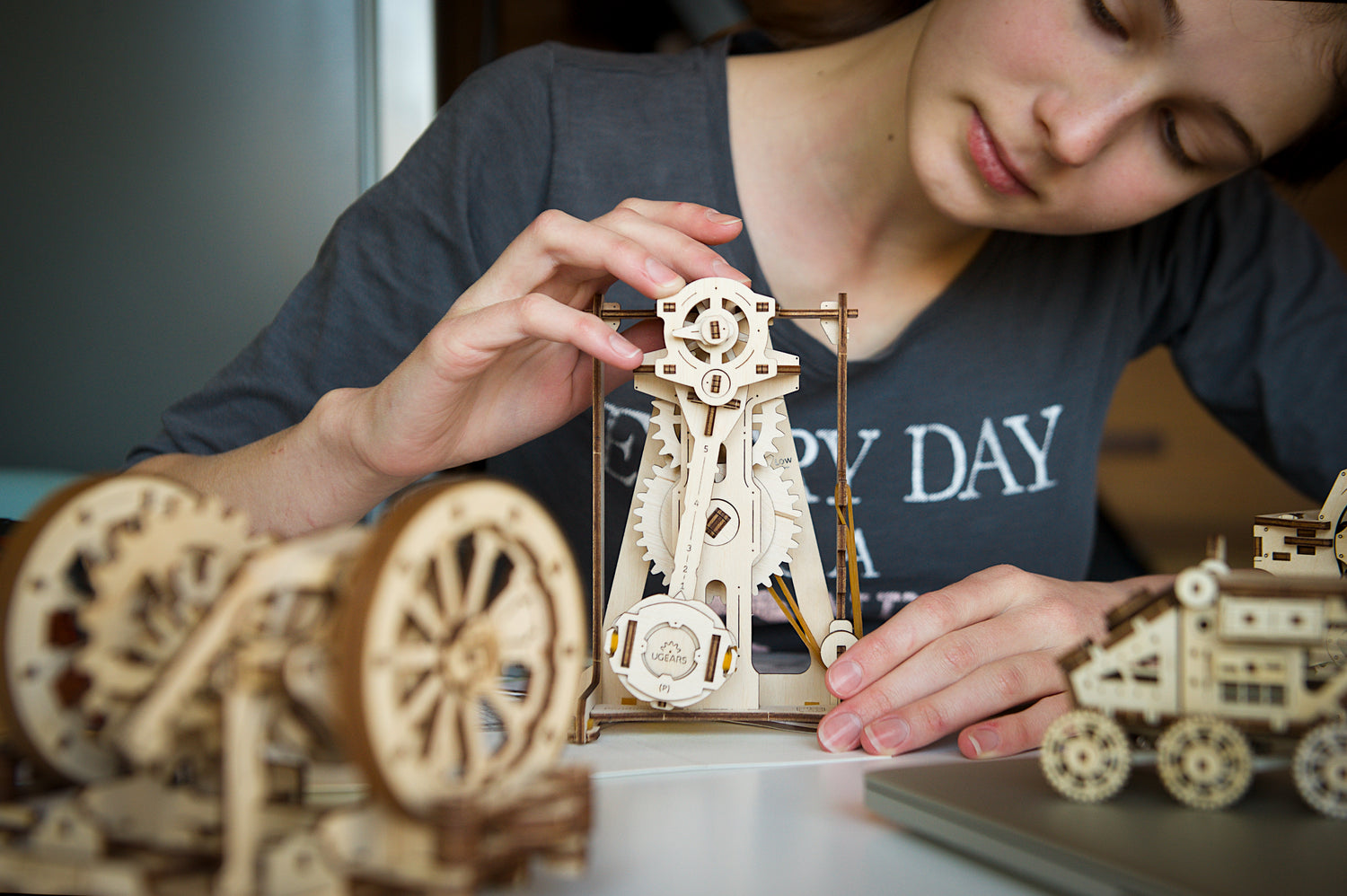 Educational
Models take inspiration from real life inventors and engineers, such as Da Vinci and Galileo. Learn the history behind the model as you build.