SKU:UGR70090
Regular price
Sale price
£56.99 GBP
Unit price
per
Liquid error (snippets/price line 121): divided by 0% OFF
Sale
Sold out
---
189

Pieces

4

Est. Time (hrs)
14+

Age

Medium

Difficulty
LxWxH 175 mm x 140 mm x 100 mm
---
Share
Durable Puzzle Amber Box: This wooden puzzle comes with pre-cut wood pieces with no glue required. Spend your spare time in the construction of with STEM learning puzzle toy and enjoy yourself. Made from natural plywood, with advanced laser cutting technology, the laser-cut pieces are precise, strong, and have smooth surfaces.
Realistic Smooth Design: Create a stunningly beautiful 3D Amber Box puzzle with individually shaped and bendable puzzle pieces. It features a realistic design that will help kids learn about the creature in a safe way while giving them endless hours of fun. The wooden puzzle pieces fit together precisely.
Interesting Stem Learning: UGears puzzles use an exclusively developed, extra-thick wooden piece combined to create a puzzle and give you the best experience possible. Once after complete it, your kids will eager to show off this great puzzle to family, classmates, or friends. Every piece has a completely unique shape.
Stylish Grooved Edges: The 3D Mechanical Amber Box puzzle is also perfect for displaying in a child's bedroom, playroom, or study area. Made with safe, premium quality material that has grooved edges which makes It'safe for children and adults. It also helps to sharps your child's brain.
Ideal Gift for Puzzle Lovers: A perfect gift for any occasion like a Birthday present, Christmas present, New Year Day present, etc. Especially great for those who are fans of such types of puzzles. It is a fun activity to do alone or in a group and also makes a great gift for all ages on birthdays and holidays.
Kit contains all required components and no glue is required
Precision laser cut plywood. Only requires assembly.
UGears Mechanical Models are self-propelled, mechanical wooden model assembly kits.
Perfect for family projects, puzzle enthusiasts, and hands-on STEM learning
189 parts
Assembly time: 4 hours
Model size Open 280x220x200mm
Model size Closed 175x140x100mm
Wooden DIY puzzle The Amber Box — Ugears 3D mechanical model
The crown jewel in Ugears' collection of puzzle boxes and chests, the Amber Box is a classy place to store your jewelry and other precious items. Both decorative and functional, this bejeweled box, with real pieces of inlaid amber and fascinating mechanics, will add grace and interest to your dresser or shelf.
Your treasures find a home within the four delicately ornamented walls of this jewelry box. Floral designs and asian motifs predominate. But the highlight of this model are the five inlaid sections of natural amber on the lid of the box.
Amber has been valued as a gemstone since at least Neolithic times. Composed of fossilized resin from trees of the pine genus, amber is also believed to contain healing properties in folk medicine. "Amber" gives its name to a color that is midway between yellow and orange, but natural amber has a range of hues from whitish to yellow, to orange to red to brown. About 90% of the world's amber comes from the historic Prussian Lithuania region.
Ugears has an entire collection of beautiful 3D puzzle boxes. The Antique Box expands as it opens to reveal six compartments (plus two small secret chests!). The Treasure Box has a key hidden in the lid and a secret keyhole on the side. The Safe can be locked and opened with a three-digit combination of your choosing. The Amber Box, like the Antique Box, has a fascinating mechanism that expands as it opens, presenting six square compartments and two additional small treasure chests for holding, displaying and storing necklaces, earrings, cufflinks, rings, or other precious items. The addition of natural, semi-precious gemstones on the lid make the Amber box the "gem" of the Ugears collection.
This DIY wooden puzzle box gives you the added satisfaction of displaying your jewelry in a beautiful object you built yourself. Like all Ugears models, the Amber Box assembles without glue or any need for additional tools. Just snap the pieces together following the comprehensive, illustrated step-by-step instruction manual in 11 languages: English, Ukrainian, German, Spanish, French, Italian, Portuguese, Polish, Japanese, Chinese, and Korean. Everything you need for assembly comes right in the model kit, including the colorful, semi-precious amber stones that you secure to the lid with special fixtures. As you assemble the Amber Box take a minute to breathe in the pleasant aroma of the art-quality natural composite wooden pieces that you press out of precision laser pre-cut boards. The Amber Box is a delight for the senses!
Like the other models in Ugears' puzzle box collection, the Amber Box is rated "Medium" difficulty, making it a good model for somewhat experienced modelers or those up for a light challenge. Be sure to lightly sand and lubricate moving gears as you build the Box, to ensure optimal function (sandpaper and wax are included in the kit). And if you happen to break a piece during construction, just let our customer service team know and we'll send you replacement parts for free, as part of our commitment to outstanding customer service.
The Amber Box wooden jewelry box includes signature Ugears mechanics, meaning it's not just a pretty item, but a mechanical marvel. The mechanism is set in motion as you lift the lid, activating the three main mechanical blocks: two mechanisms with boxes that expand out to the sides, and a lower drawer in the middle. Press the hidden button concealed on the back of the box to open the two secret chests. A latching lid allows you to move your Amber Box without spilling the contents, so your treasures are safe inside.
The Amber Box is a charming and unique model that will be an exquisite addition to your home decor. The Amber Box makes a perfect gift for someone who enjoys building beautiful things with their own hands, or build the Box yourself and present it as a ready-made gift for someone you treasure.
View full details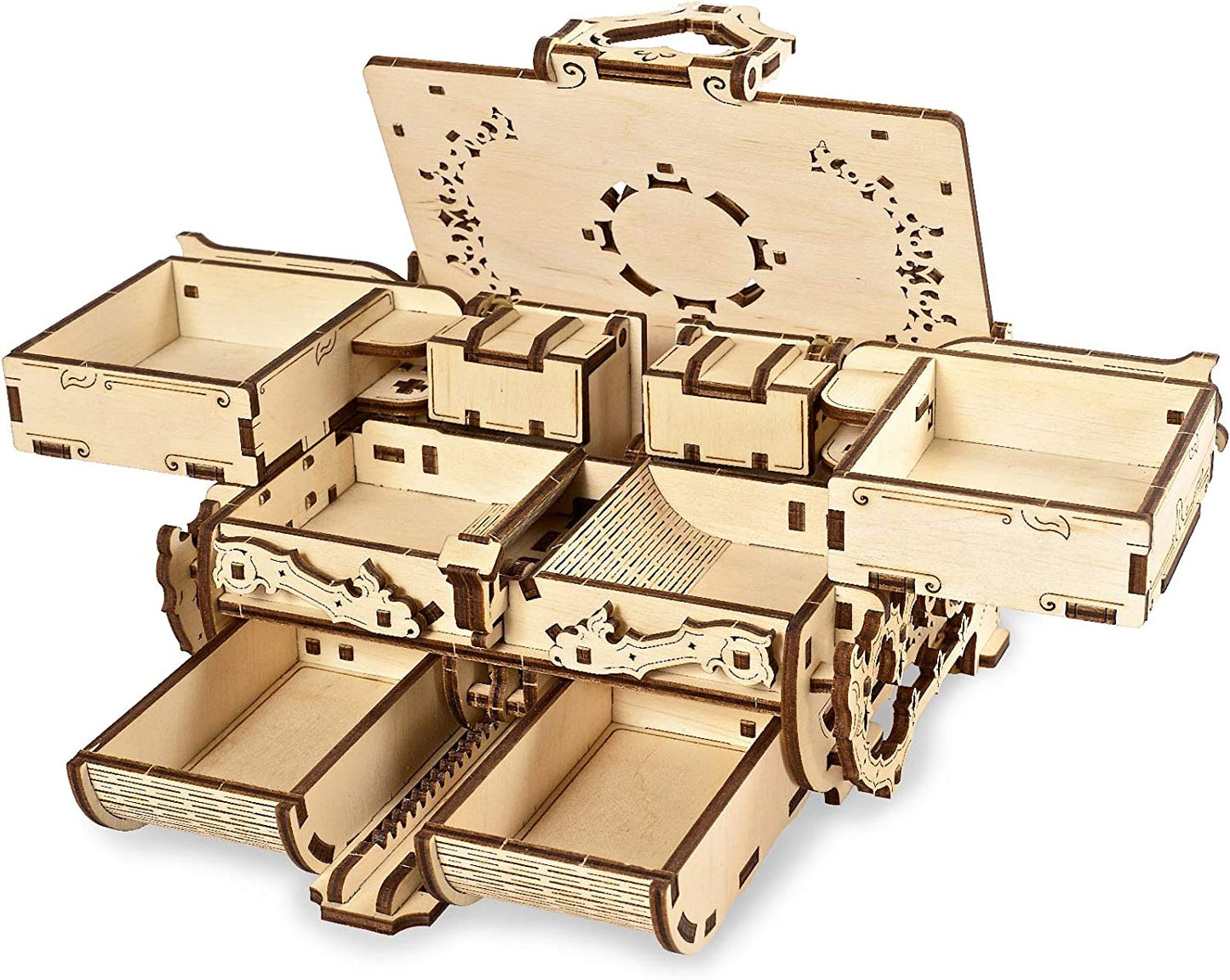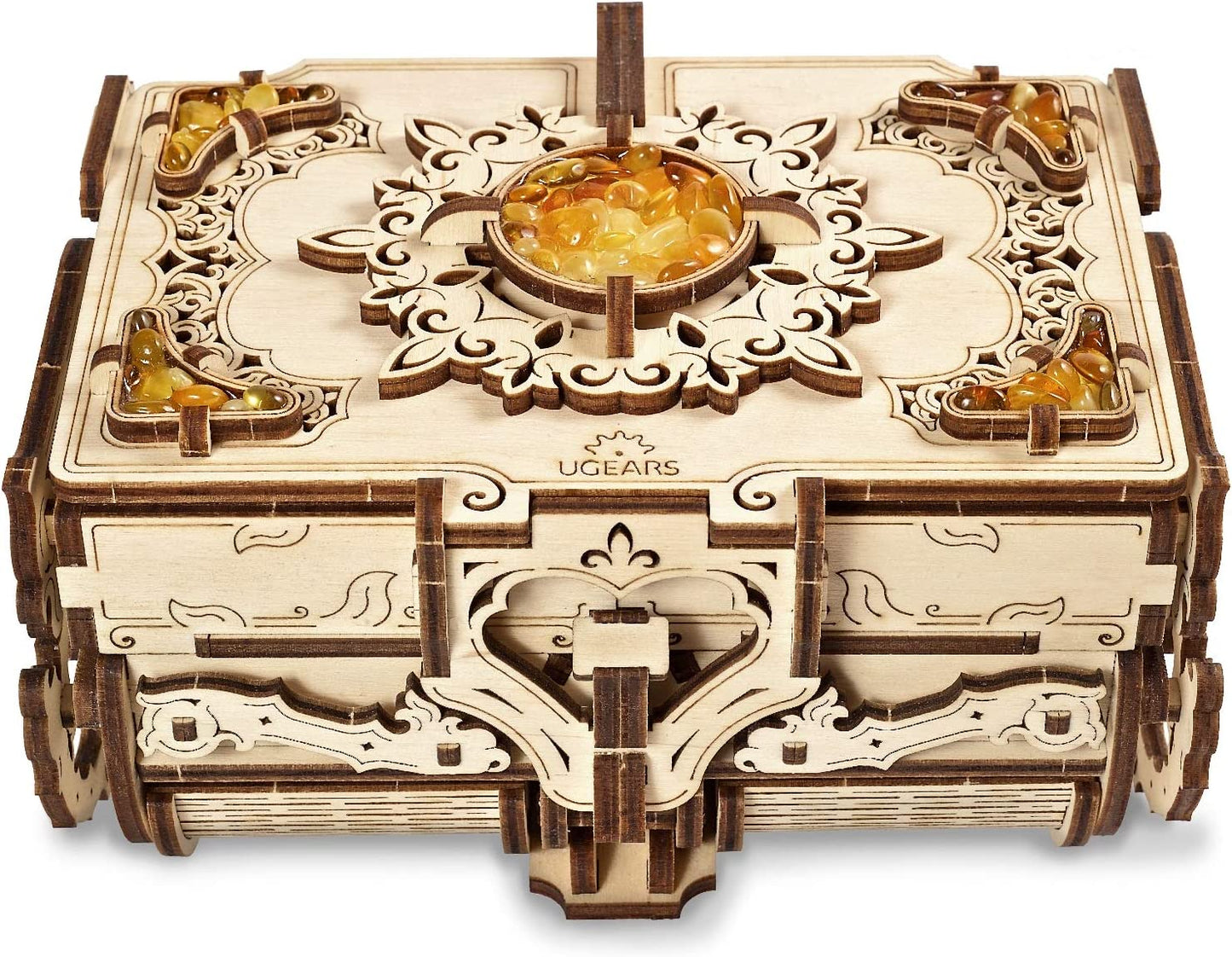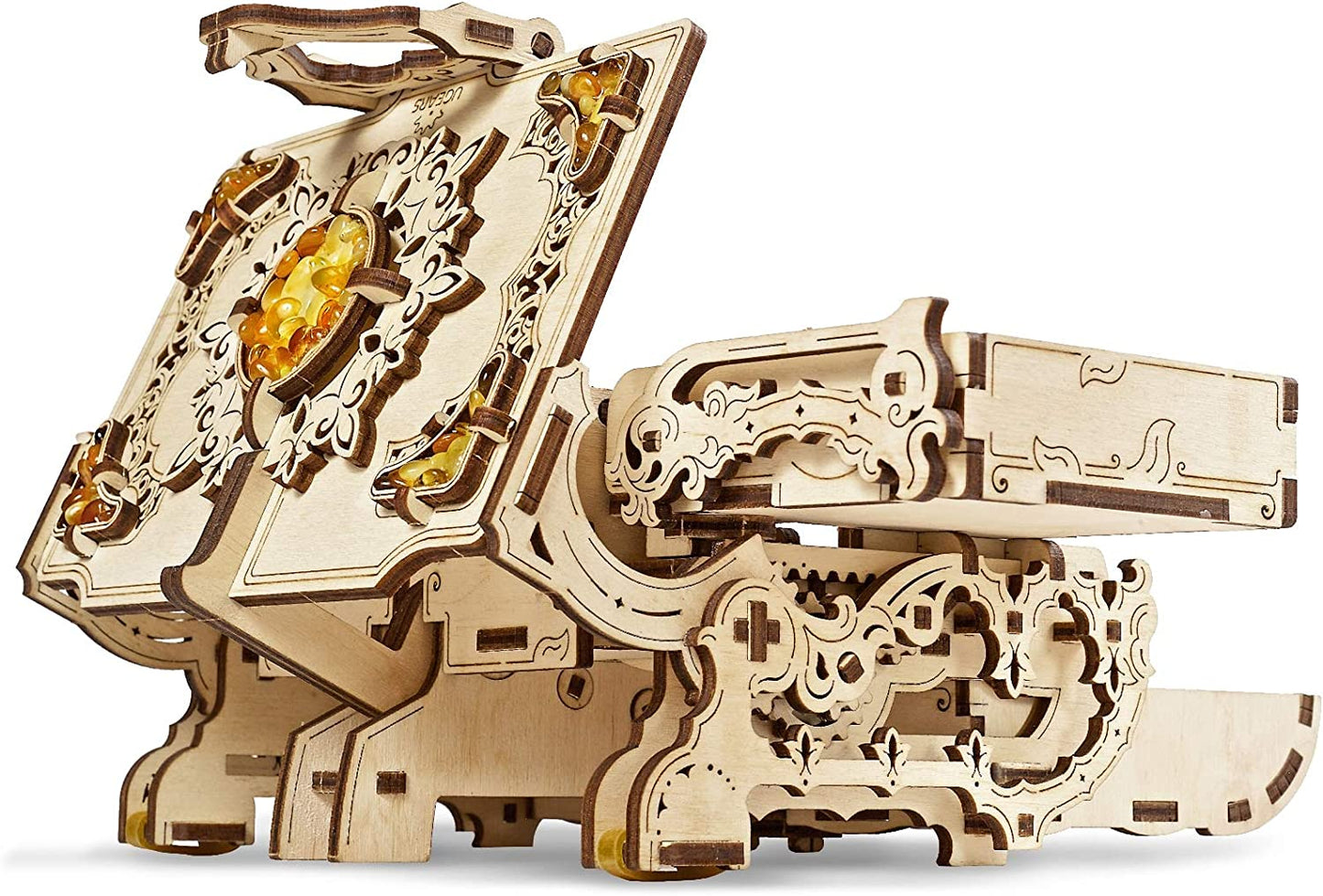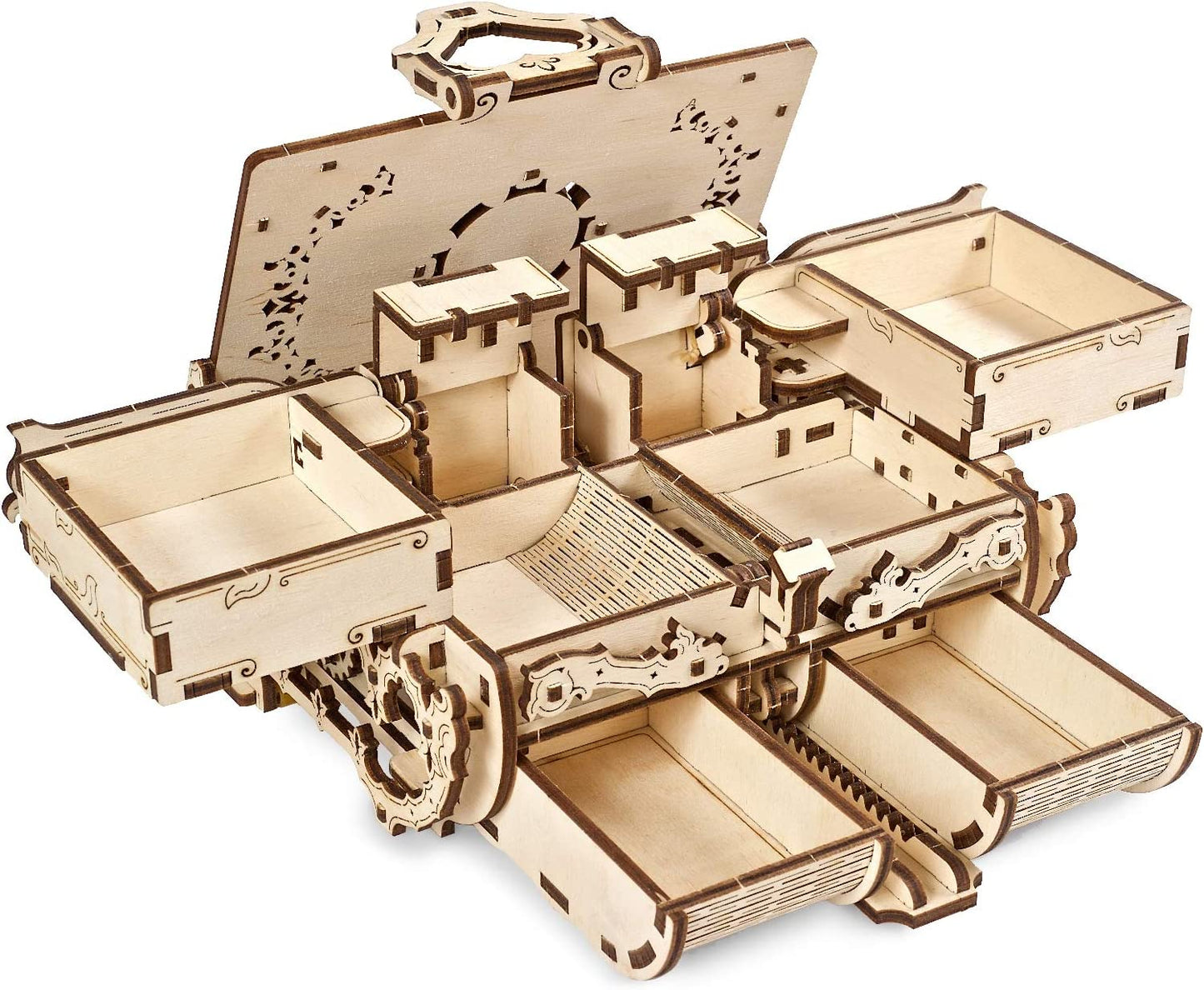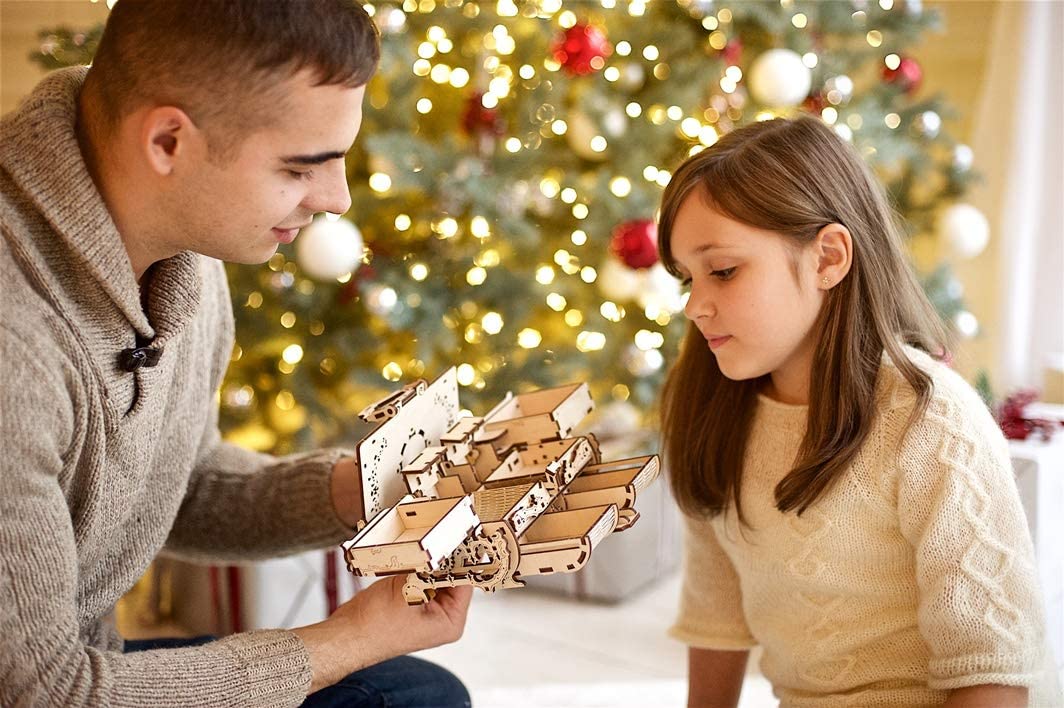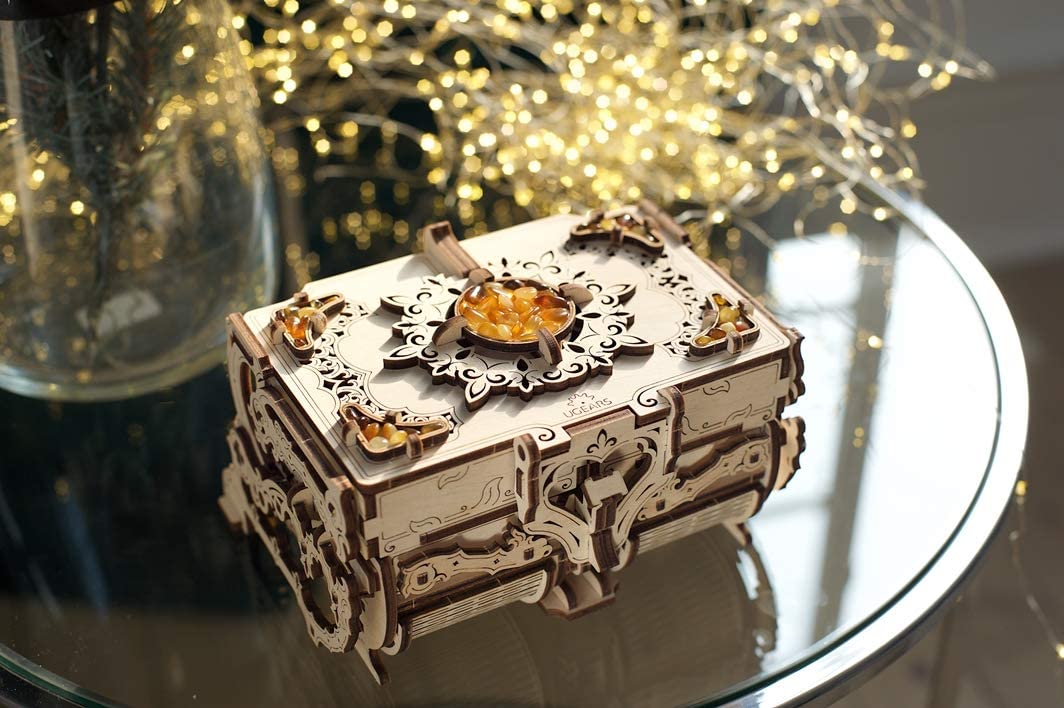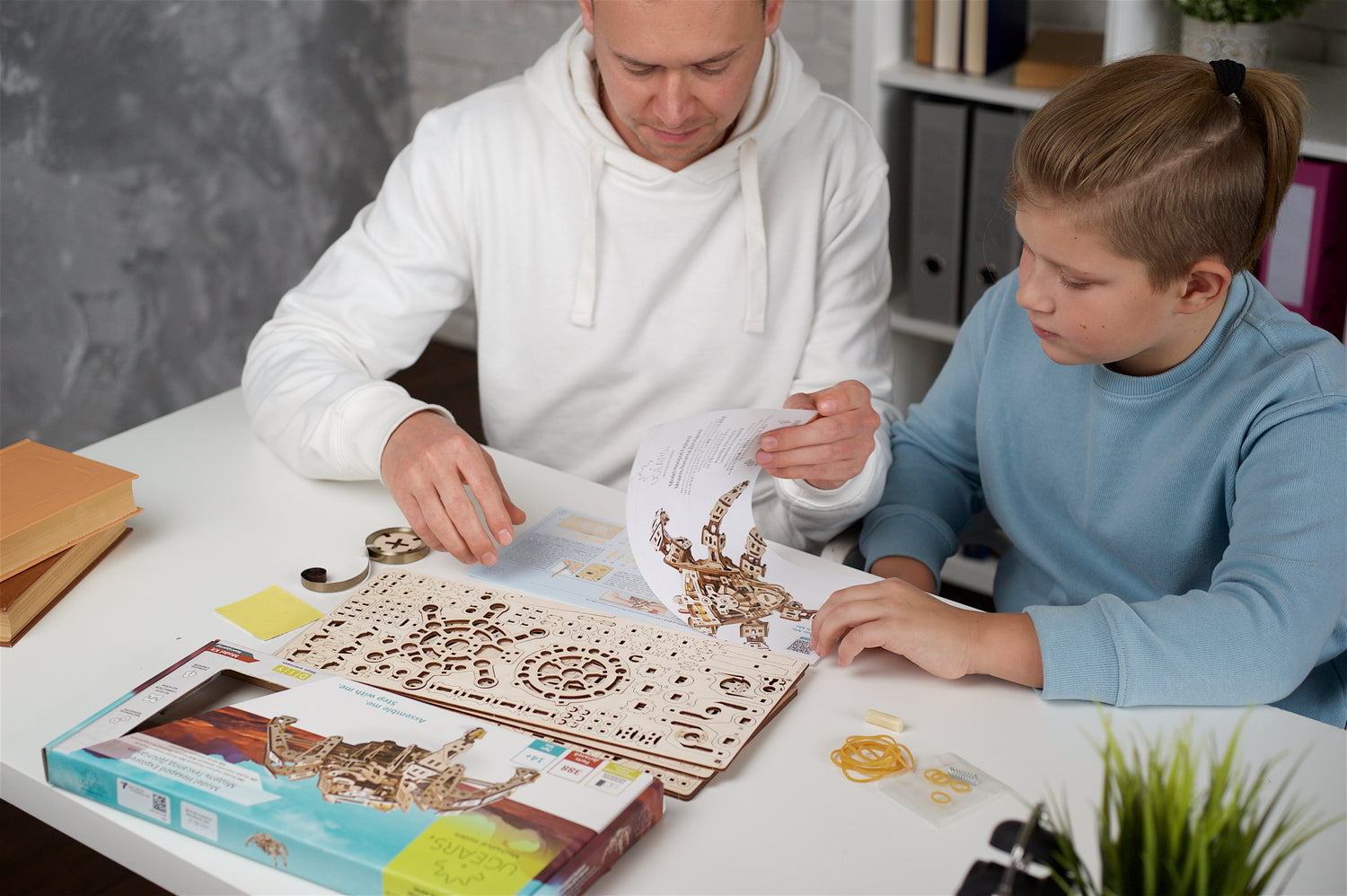 Ready to Build
Ugears models are made from sustainably sourced, laser cut plywood sheets. Everything you need is inside the box, so you can get building right away.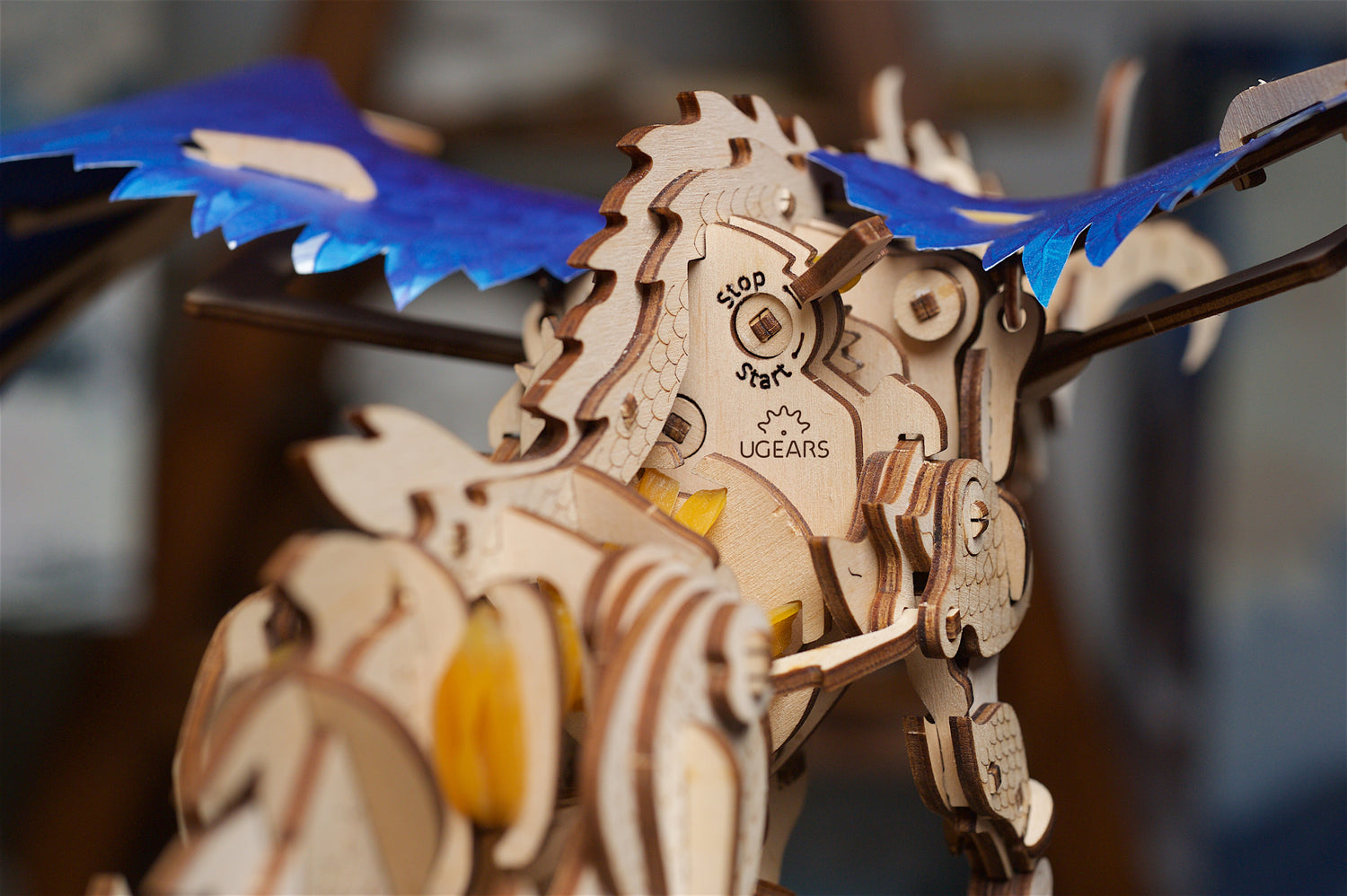 Mechanical
No batteries, no electricity, just Ugears. All mechanical models are powered by the ingenious mechanisms built by you. Just wind up your model and watch it come to life.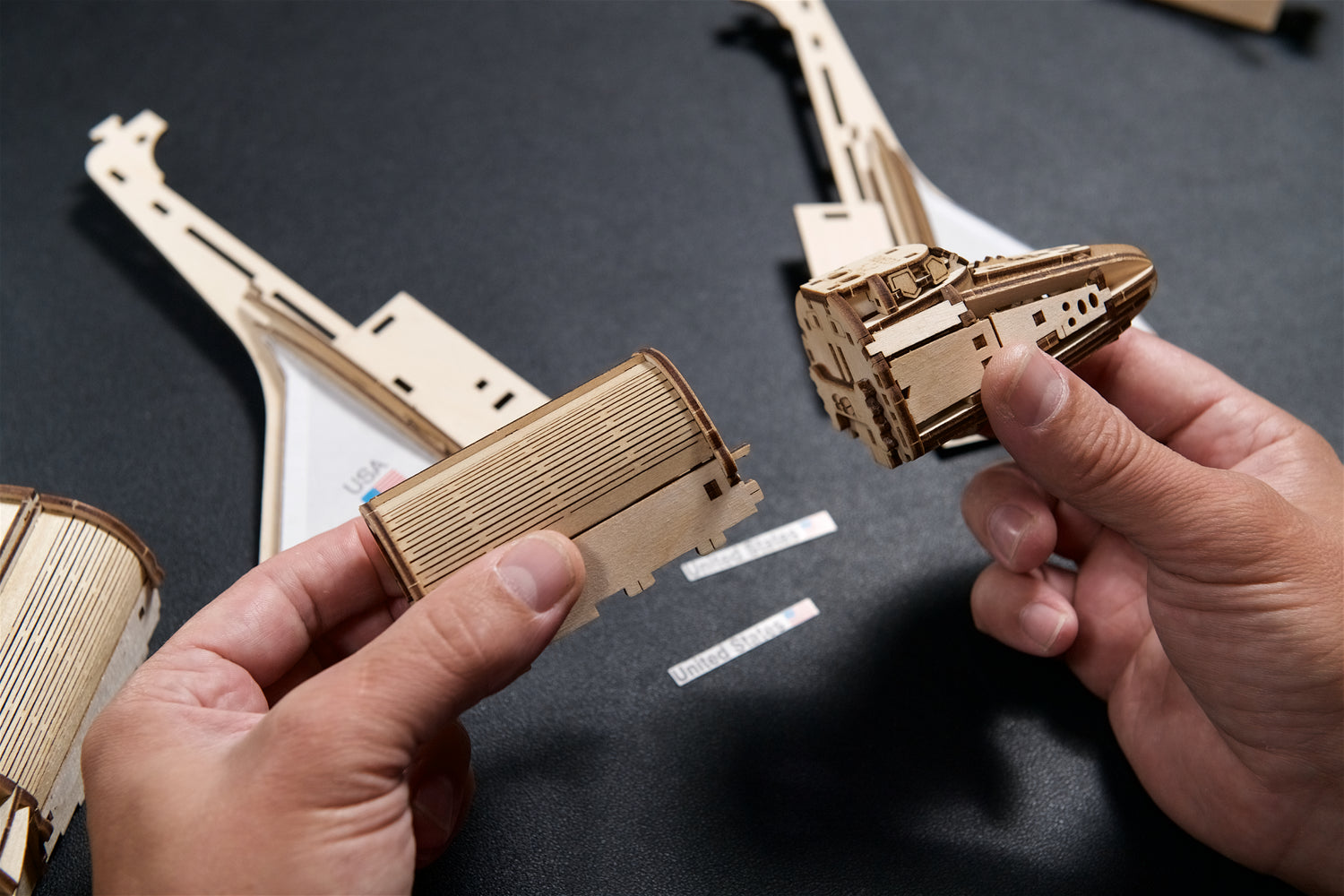 No Glue
Pieces have been designed so they will either click or slide into place. No glue or any other kind of adhesive is needed to build your model.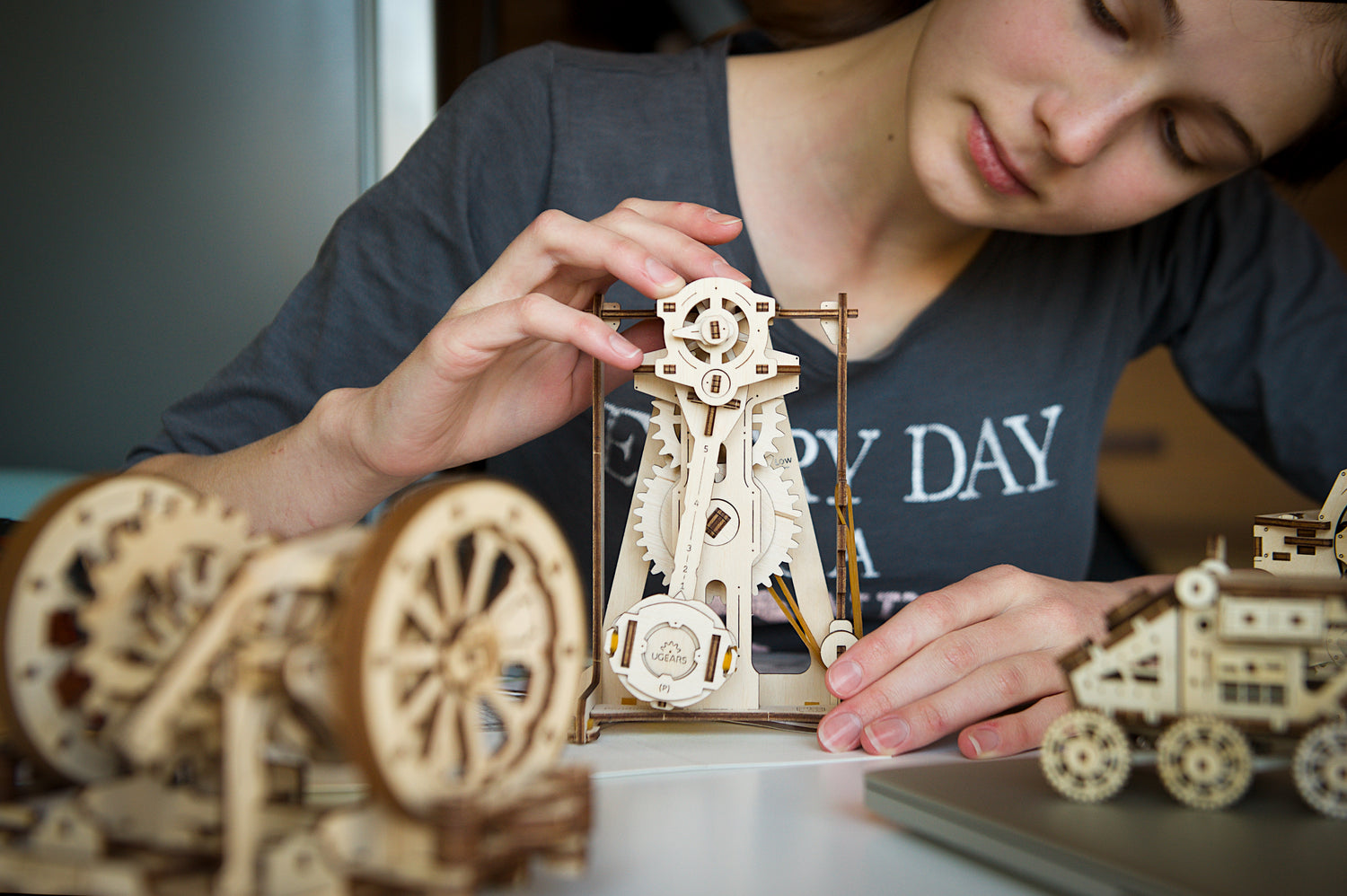 Educational
Models take inspiration from real life inventors and engineers, such as Da Vinci and Galileo. Learn the history behind the model as you build.