SKU:UGR70080
Regular price
Sale price
£37.50 GBP
Unit price
per
Liquid error (snippets/price line 121): divided by 0% OFF
Sale
Sold out
---
300

Pieces

4

Est. Time (hrs)
14+

Age

Advanced

Difficulty
LxWxH 185 mm x 95 mm x 160 mm
---
Share
3D Mechanical Wheel - Monowheel is built in skeleton steampunk style, which means you can see and enjoy the beauty of moving gears. Despite its airy, delicate appearance, your alternative model is sturdy–you can take it outside and give it a good roll around on the pavement and other hard and semi-hard surfaces.
Technical Characteristics - The UGears Monowheel kit comes with 300 parts, including 19 spare parts. Like all UGears family models, it's made of sustainably sourced high grade wood and has everything you will need for assembly.
Quality of the Parts - We use A laser method for cutting items from a plywood board that provides precise hairline cuts. The details have to pull out of the boards and assembled to create a complete model.
Clear Assembly - It includes 300 wooden components, and the building is accessible both for kids and adults comes with a step-by-step, easy to follow assembly guide and requires neither glue nor special tools to full assembled.
Fun Filled Activity Puzzle Cube - You can use it for creating a fun-filled game of activity on any special occasion. For example, I can offer it as a challenge in closed form with the game prize in the middle of the safe. Contenders can try to open the safe, listen to the sounds inside or twist the handle. It will be grand fun, and if nobody succeeds.
Kit contains all required components and no glue is required
Precision laser cut plywood. Only requires assembly.
UGears Mechanical Models are self-propelled, mechanical wooden model assembly kits.
Perfect for family projects, puzzle enthusiasts, and hands-on STEM learning
300 parts
Assembly time: 4 hours
Model size 185x95x160mm
Ugears wooden 3D puzzle Monowheel — vintage steampunk vehicle
We hope you've missed unusual and peculiar mechanical models, because here comes the Monowheel rolling in to join your Ugears collection.
Browsing through old photo archives we stumbled upon an image of a fun and smart transport device invented in the beginning of the XXth century. This was a single wheel accommodating one passenger-driver who looked so pleased with himself sitting inside his curious device that we couldn't help but design one for our collection. We extended our research to find out more about single-wheel mechanisms and found ones that had no operator at all, developed as war machines and all covered in armor. What really inspired us was a similar approach to the transmission employed in all the prototypes starting in the 1860s: a moving outer element with a stationary mechanism inside.
Our peaceful minds striving for creation and curiosity took the best of those two prototypes and today we proudly present the all-wooden mechanical Monowheel!
No armor shell included – your new Monowheel is built in skeleton steampunk style, which means you can see and enjoy the beauty of moving gears. Despite its airy delicate appearance, your new model is quite sturdy – you can take it outside and give it a good roll around on the pavement and other hard and semi-hard surfaces.
The parts of the mechanism imitate a real steam engine. The lack of an outer shell grants easy access to rubber bands should you need to replace them.
Two working modes guarantee even more fun. Mode one with the feet locked will give you uninterrupted rolling straight ahead for about 1.5 – 2 meters (5.7-7.6 ft) until the rubber-band motor's resource is completely released. After that the model gracefully turns around and stops.
The second mode with the feet in the unlocked position your Monowheel will roll ahead while the rubber-band motor is working. After that it turns around, its feet hide inside and the model keeps rolling until it runs into an obstacle. In this mode, the model can cover up to 5 meters, which inspired us to play some mechanical bowling using our new model as a bowling ball. We recommend this new sport to all our friends!
As to the technical characteristics: the Ugears Monowheel kit comes with 300 parts, including 19 spare parts. The assembled model measures at 185 х 95 х 160 mm and like all Ugears family models, it's made of high grade wood and has everything you will need for assembly. The quality of the parts is top-notch: a laser method is used for cutting items from a plywood board that provides precise hairline cuts. The details have to be pulled out of the boards and assembled to create a complete model. Like all other Ugears models, the Monowheel comes with step-by-step, full-color, truly easy to follow instructions in 11 languages (English, German, Ukrainian, French, Polish, Spanish, Russian, Japanese, Italian, Chinese and Korean) and requires neither glue nor special tools to be fully assembled into functional Monowheel.
Let the fun roll in!
View full details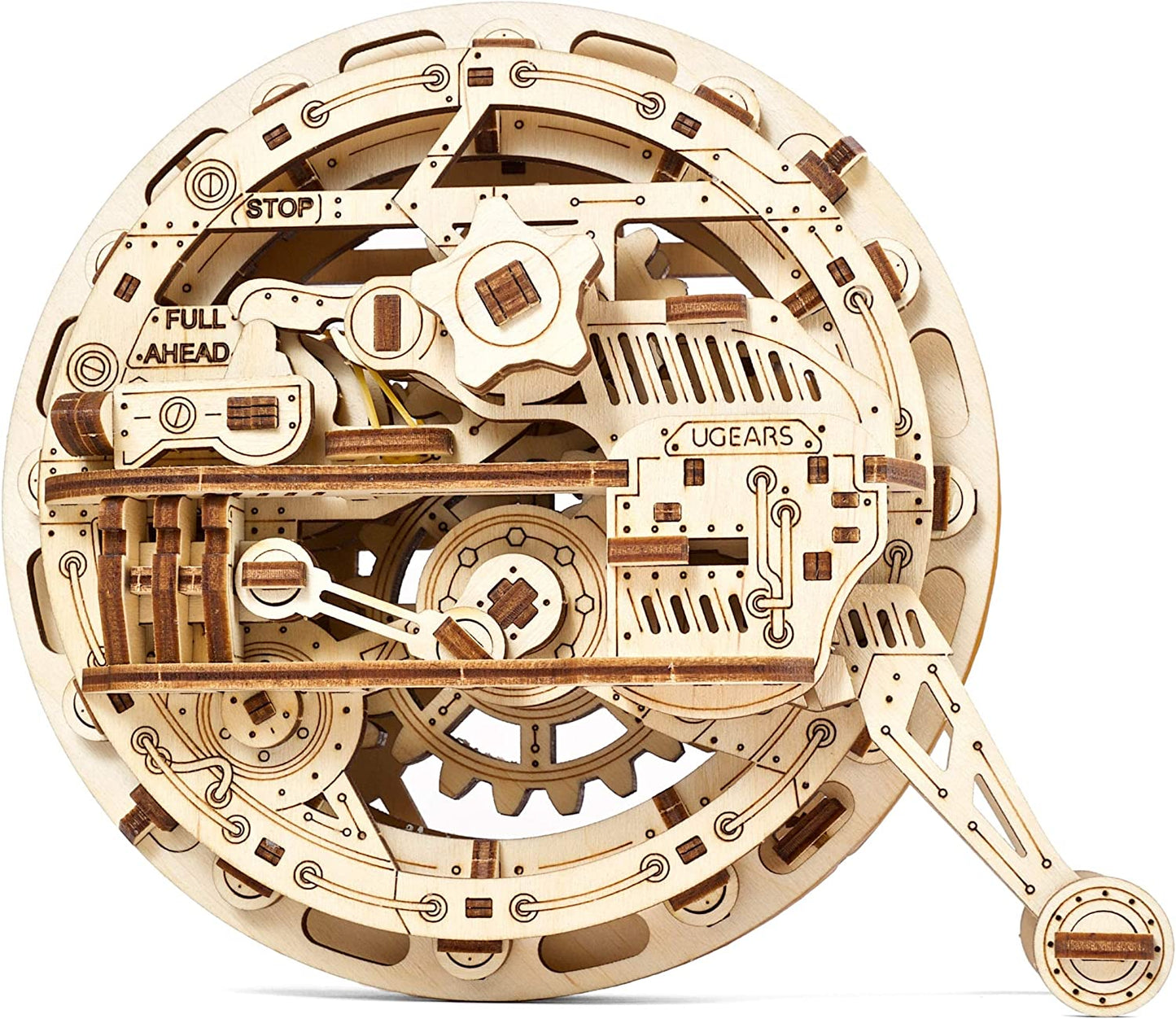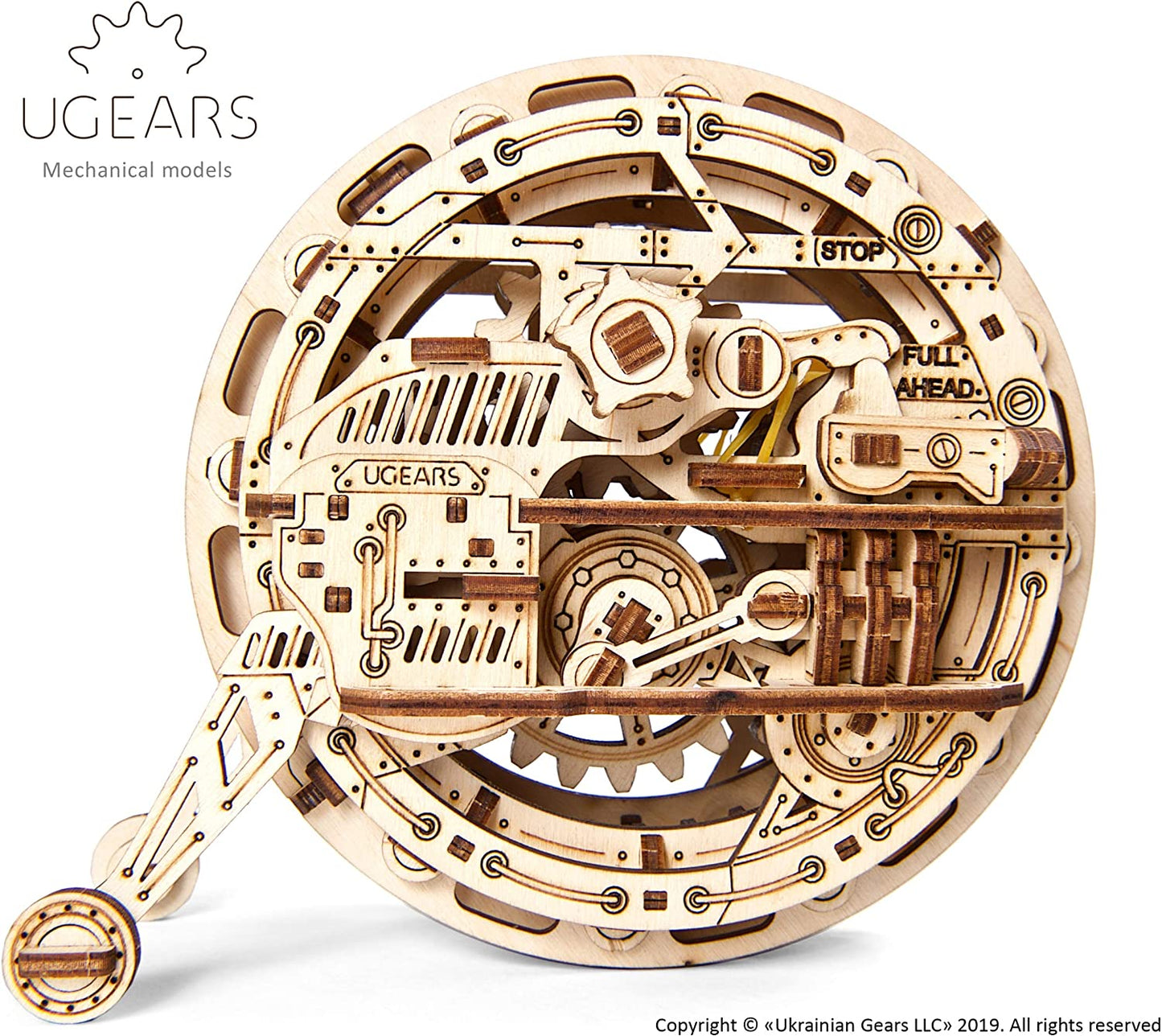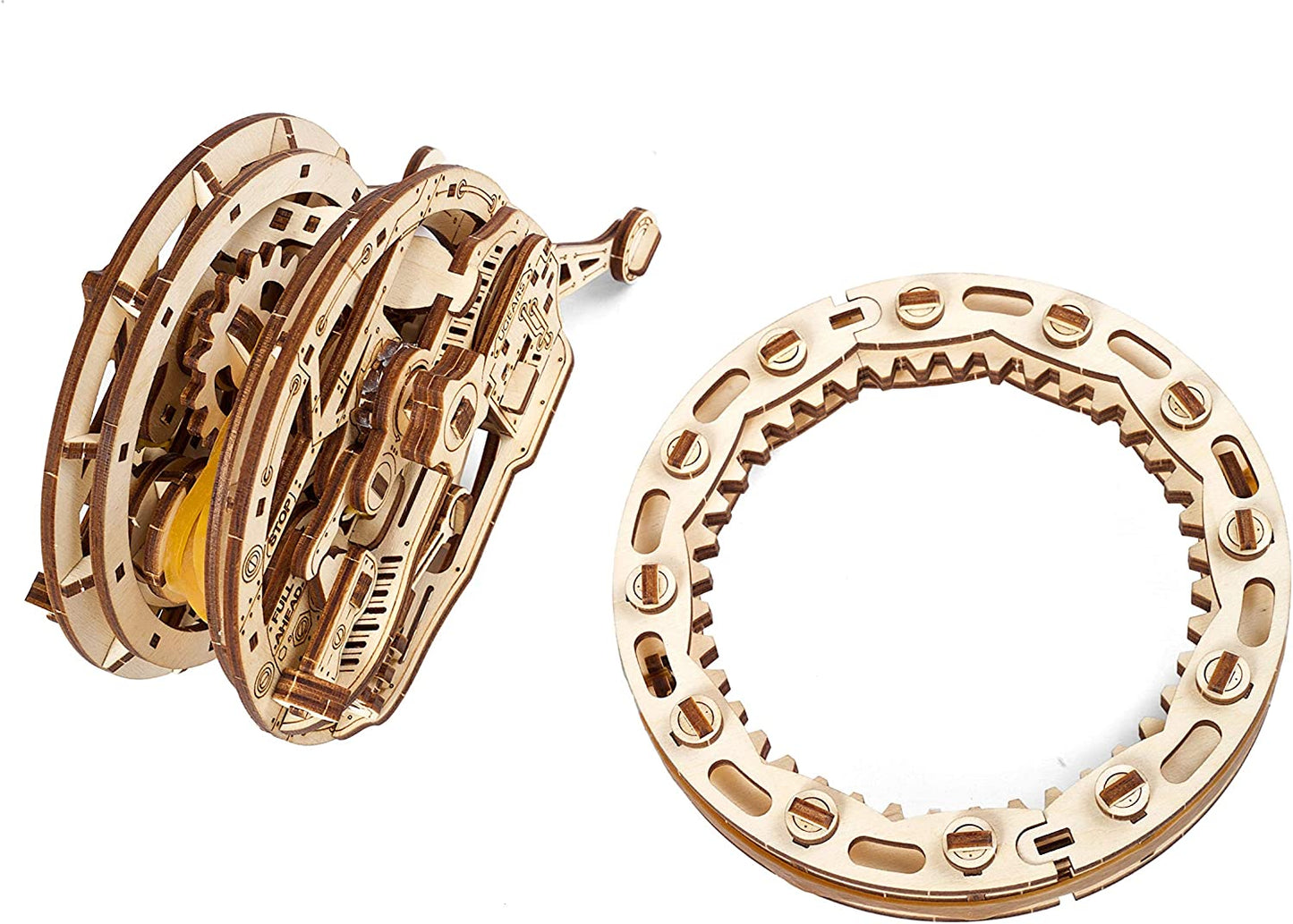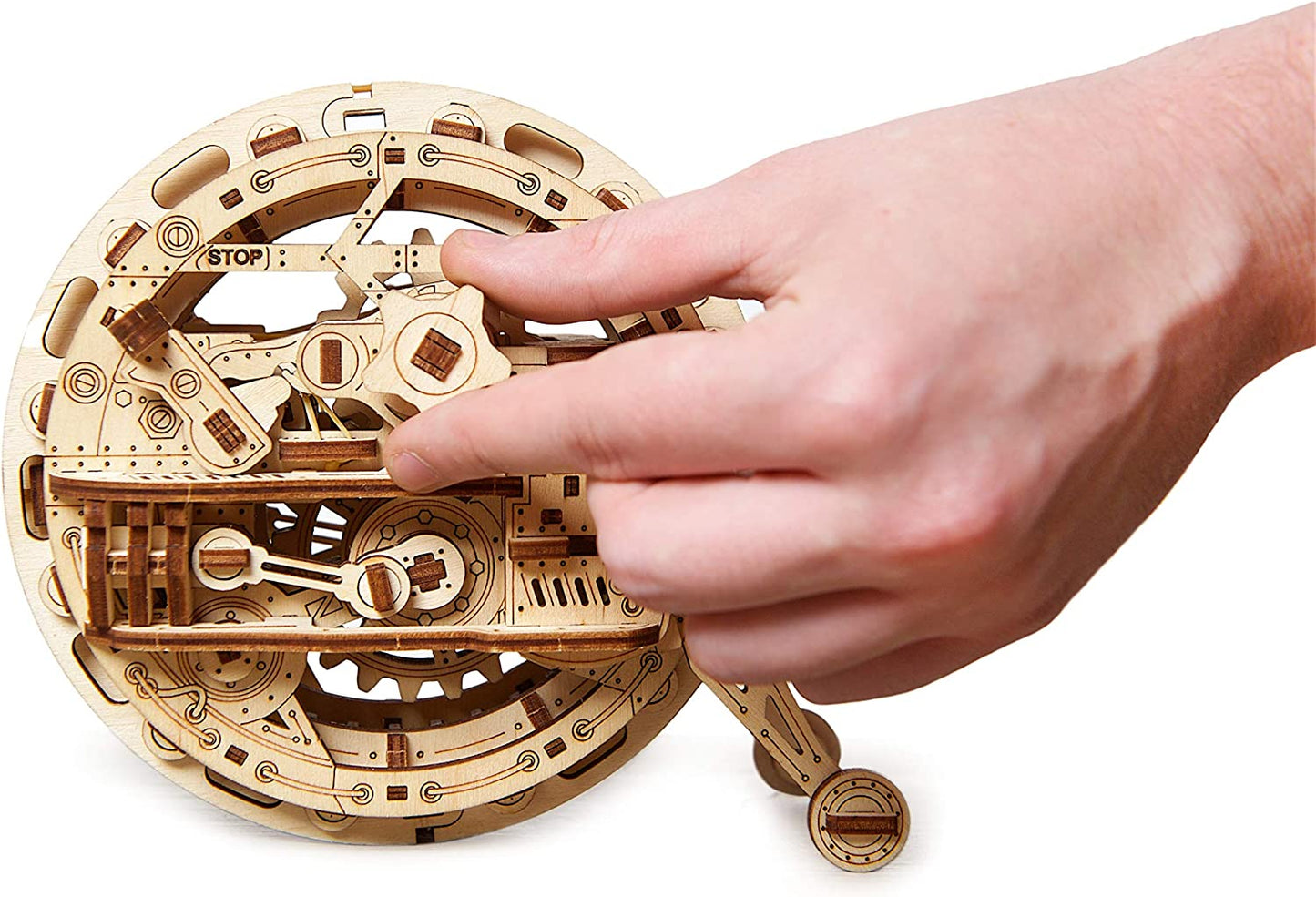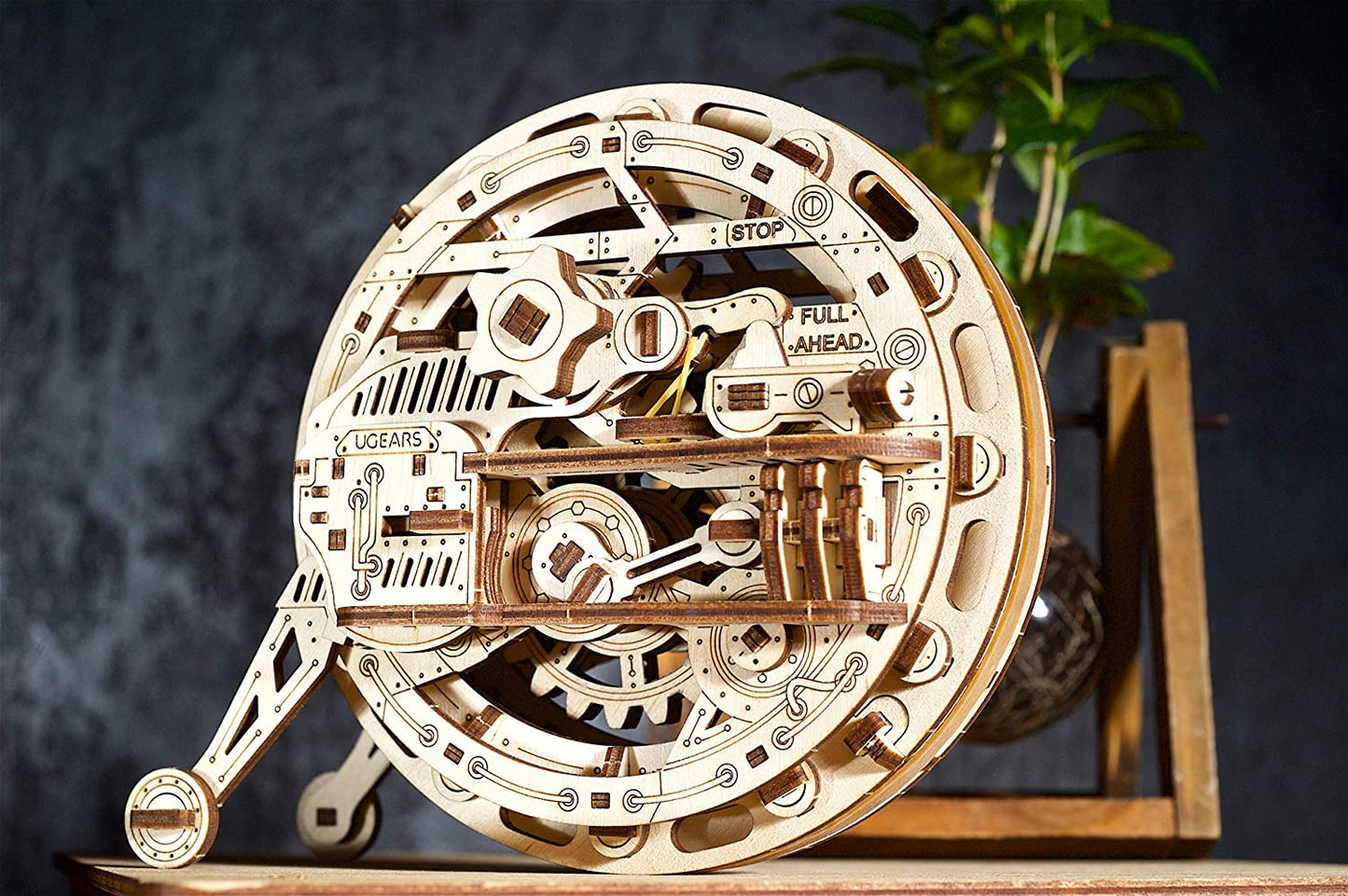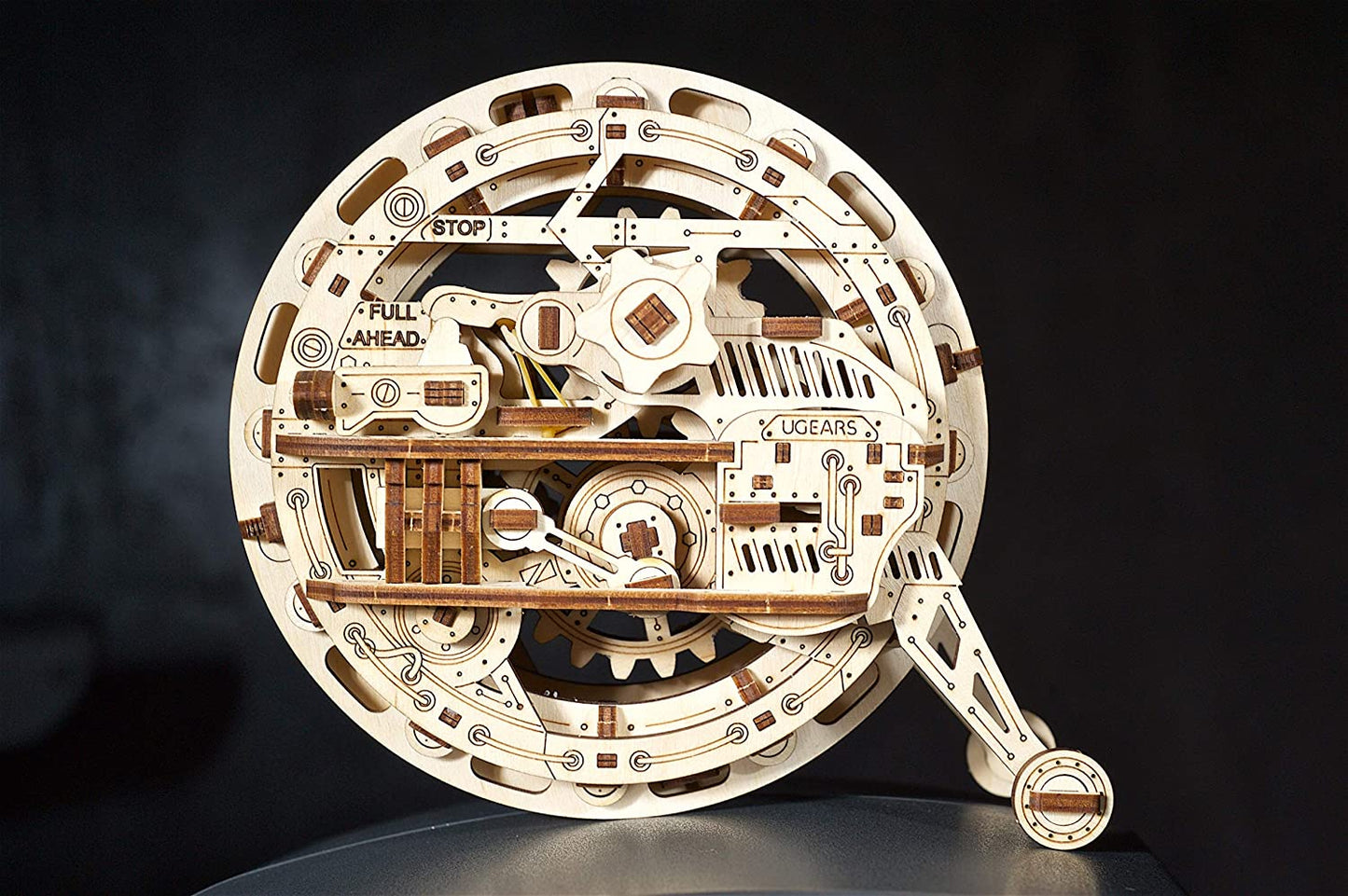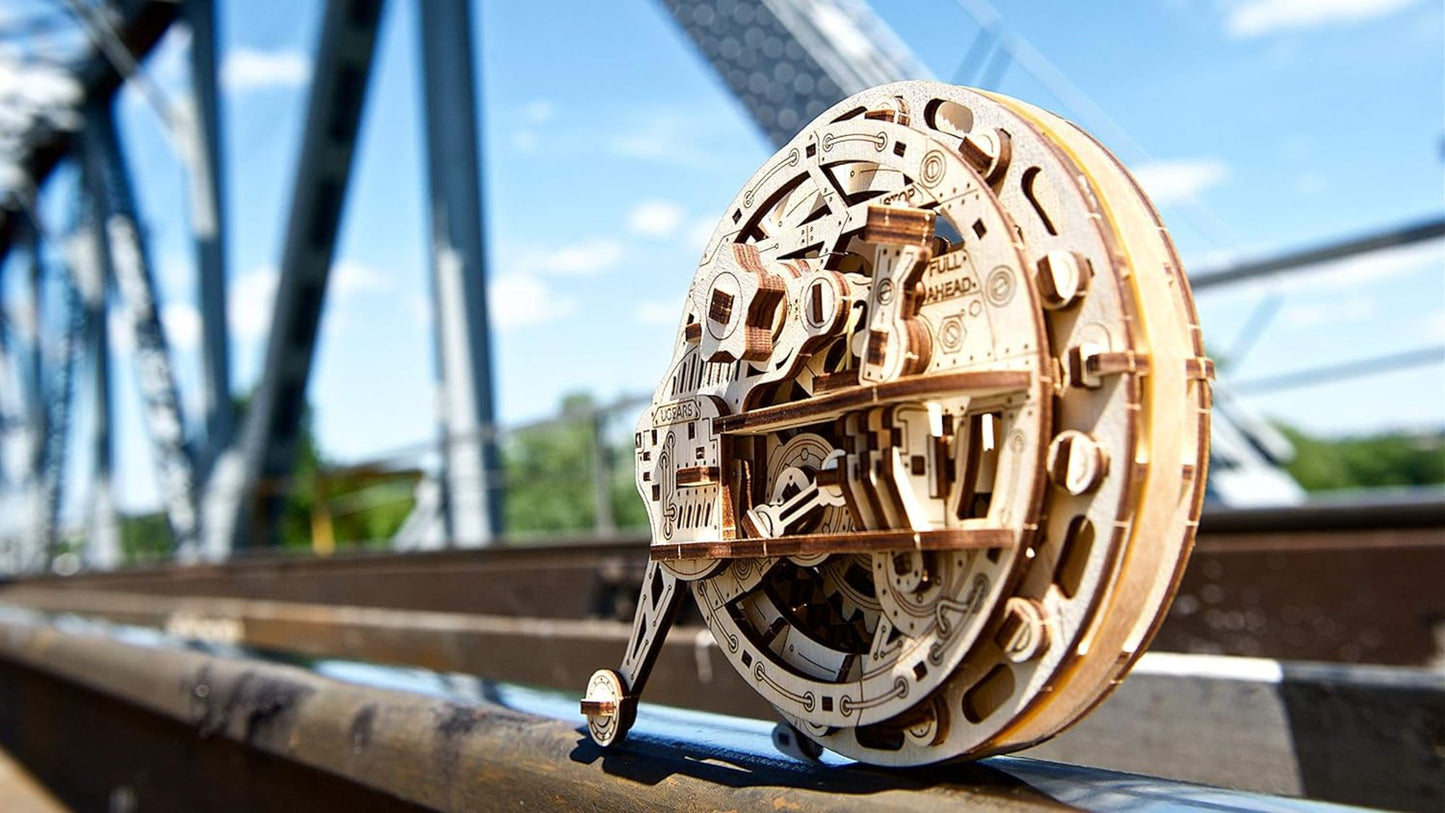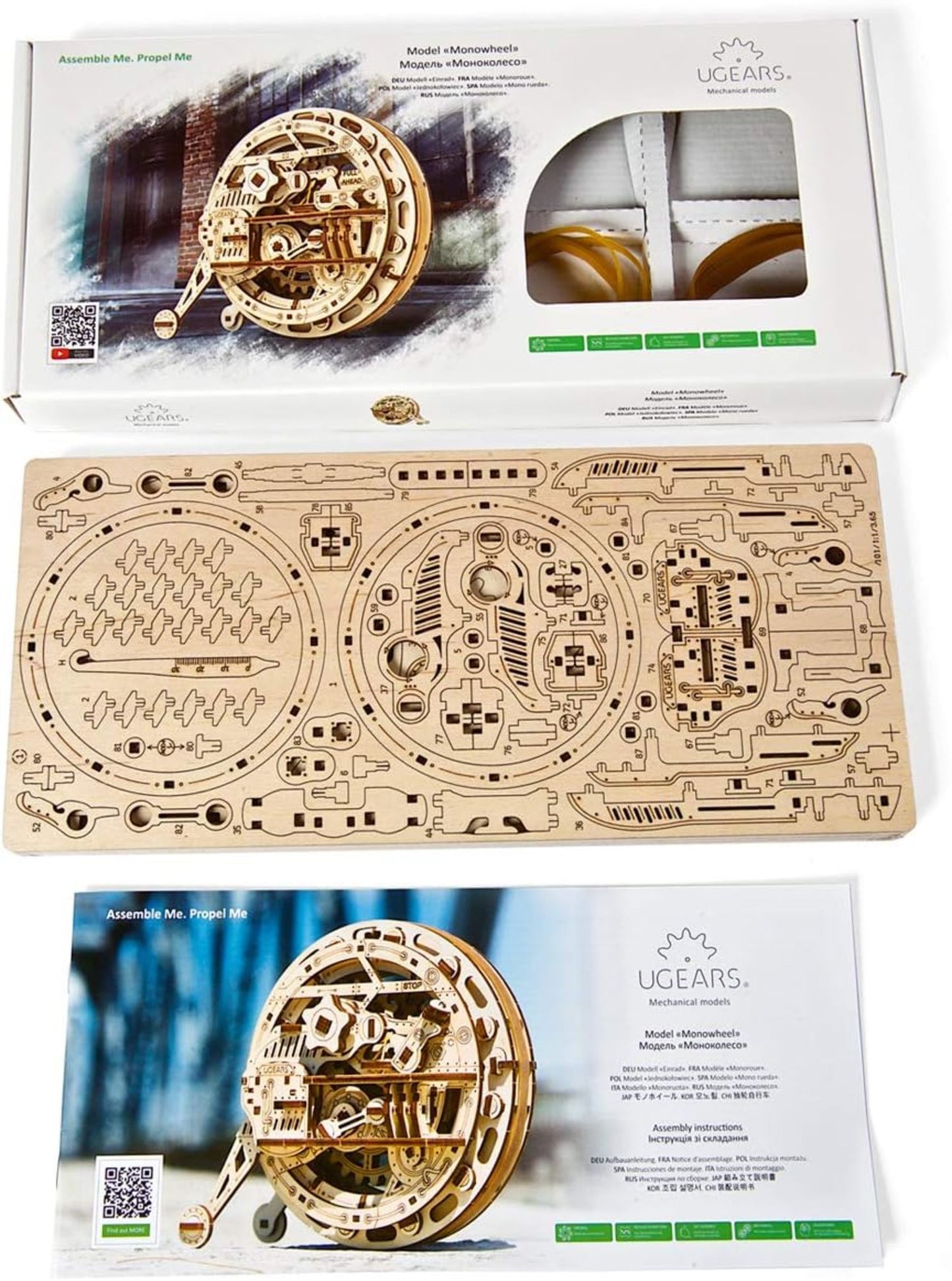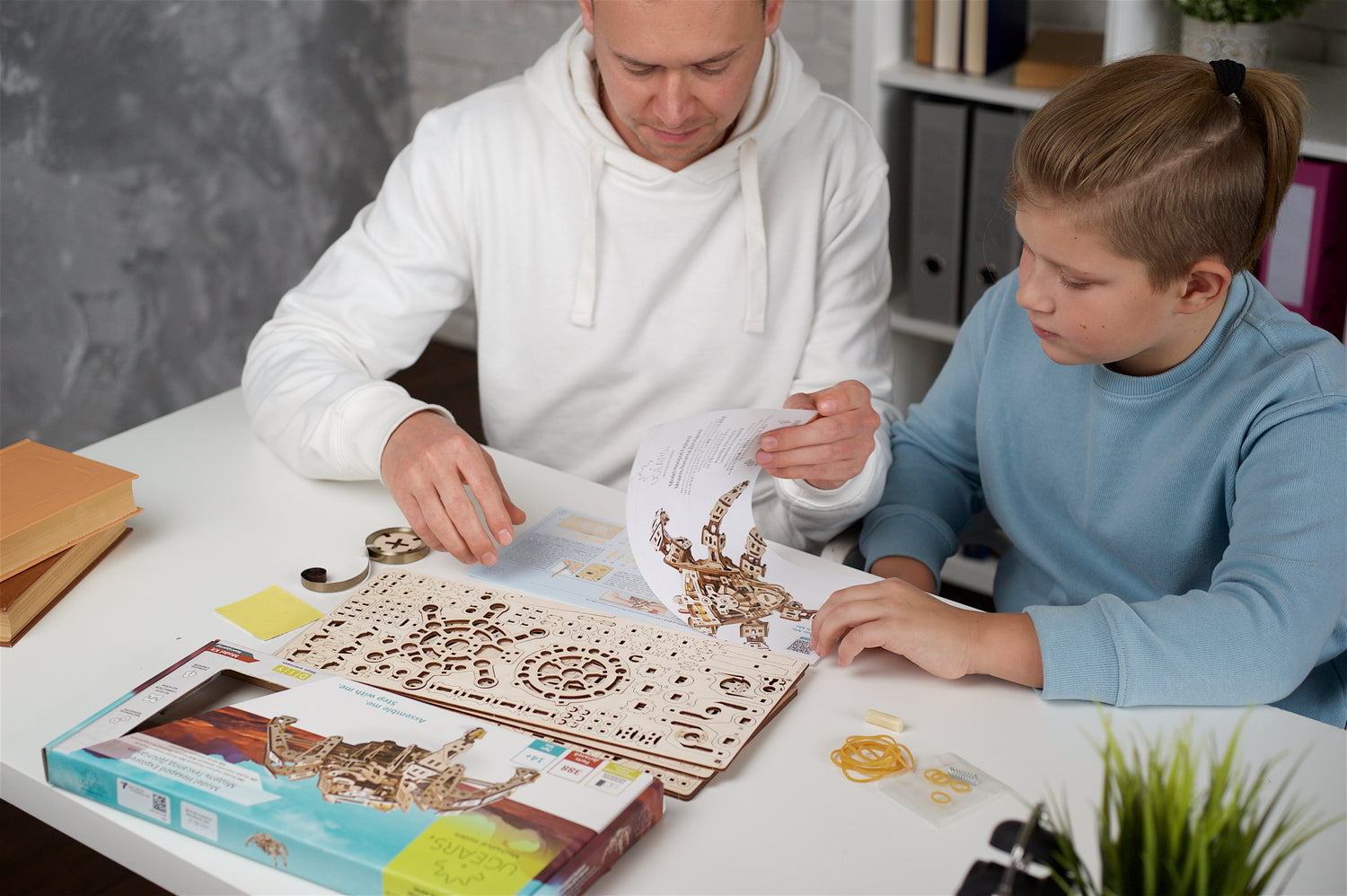 Ready to Build
Ugears models are made from sustainably sourced, laser cut plywood sheets. Everything you need is inside the box, so you can get building right away.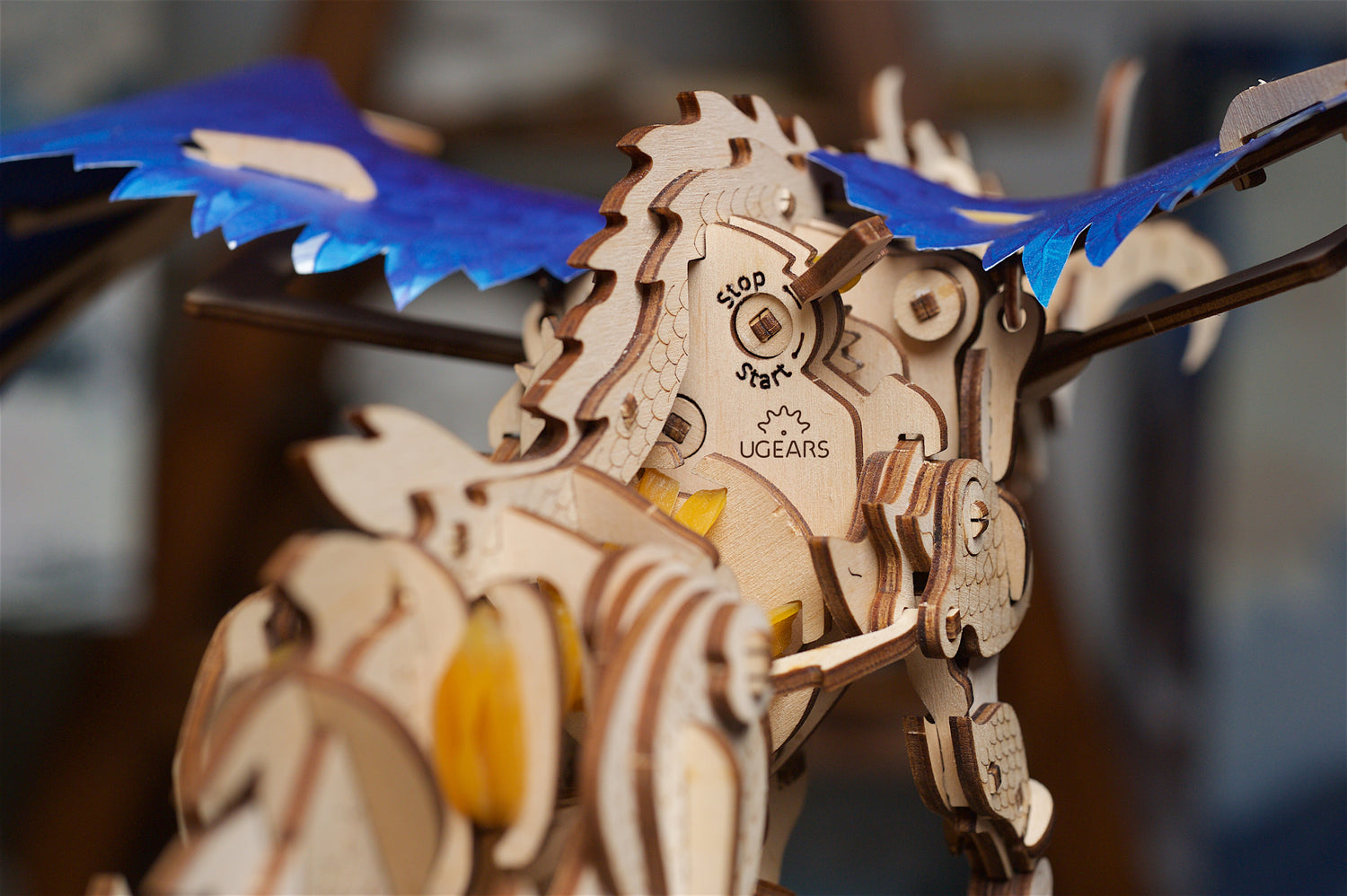 Mechanical
No batteries, no electricity, just Ugears. All mechanical models are powered by the ingenious mechanisms built by you. Just wind up your model and watch it come to life.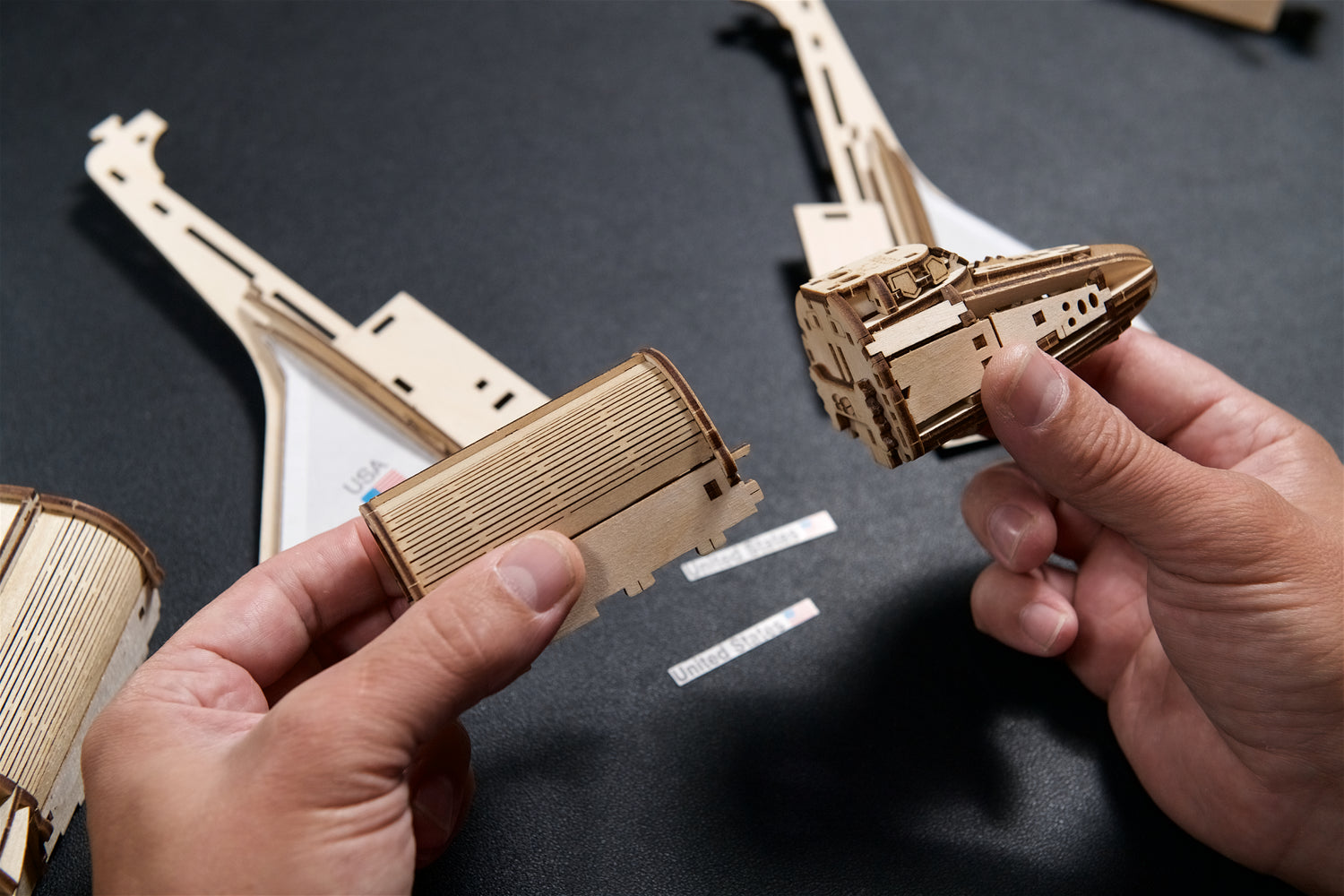 No Glue
Pieces have been designed so they will either click or slide into place. No glue or any other kind of adhesive is needed to build your model.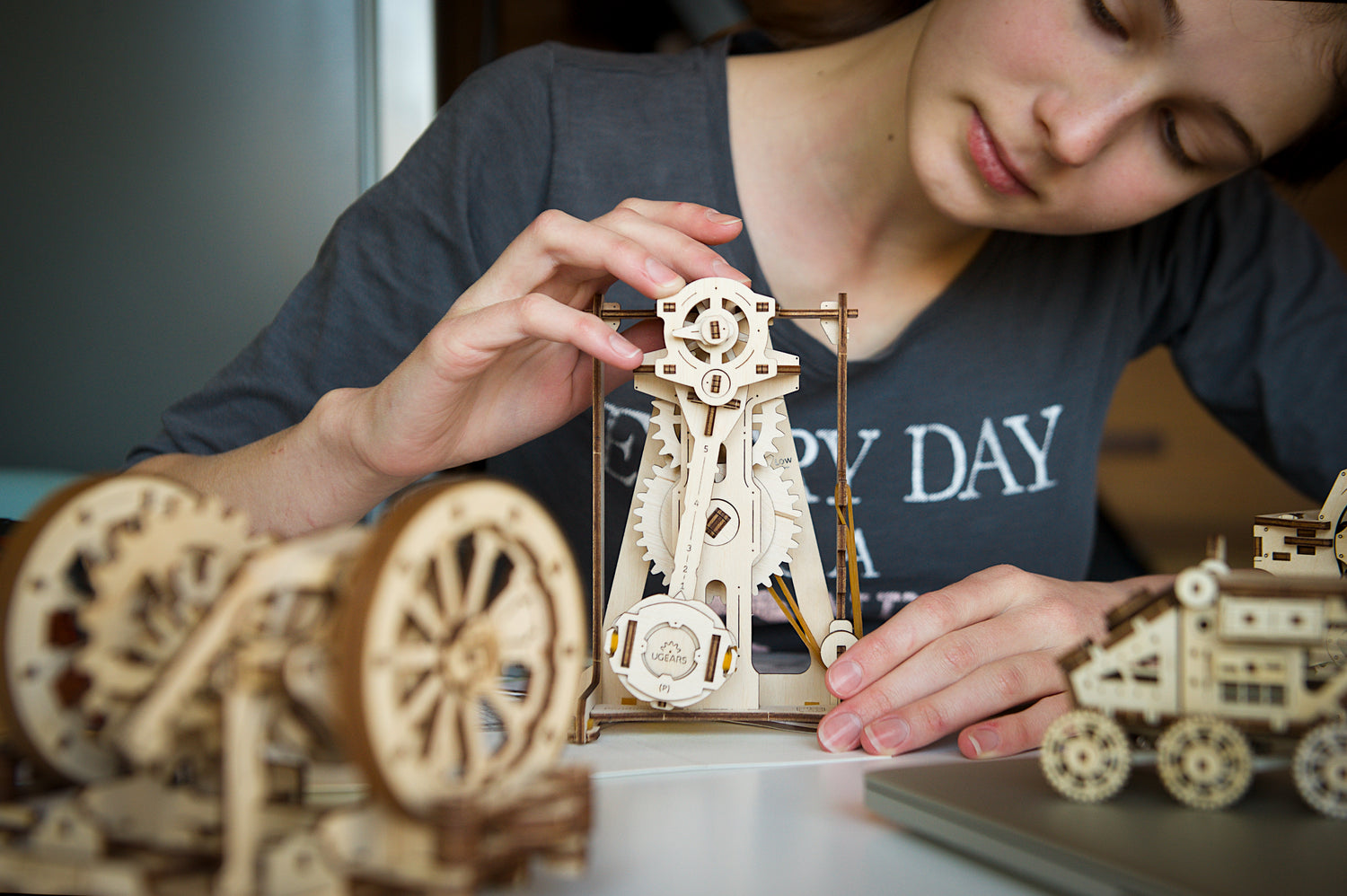 Educational
Models take inspiration from real life inventors and engineers, such as Da Vinci and Galileo. Learn the history behind the model as you build.