SKU:UGR70073
Regular price
Sale price
£74.50 GBP
Unit price
per
Liquid error (snippets/price line 121): divided by 0% OFF
Sale
Sold out
---
735

Pieces

8

Est. Time (hrs)
14+

Age

Advanced

Difficulty
LxWxH 350 mm x 157 mm x 90 mm
---
Share
UNIQUE DESIGN: The 50s had given automobiles a completely new look, producing absolutely unique recognizable designs. The Dream Cabriolet VM-05 is a highly detailed and extremely realistic tribute of the UGears designers and engineers to the automobile industry highlights of that decade
MOVING MECHANISM: The model is traditionally equipped by a rubber-band motor that powers the mechanism and drives the car. The Cabriolet can go forward or back. To ensure you can take a close look at the beautiful eight-cylinder V configuration engine in operation, we introduced the idle mode. In this mode, your Cabriolet will stay still letting you look under the hood to appreciate the beauty of the moving gears
WHEELS: Both front and rear wheels of the model are suspended to make its ride ultimately smooth. Use the steering wheel to move the front wheel coupling and send the Dream Cabriolet in the direction you choose
REALISTIC: To make the design of this unique model even more realistic, UGears engineers added a few important elements that make the automobile look extremely lifelike
MECHANICAL FEATURES: Another mechanical feature is the trunk and hood opening mechanisms that add some extra-vividness to this highly detailed vintage vehicle. Find your favorite retro radio station and your Dream Cabriolet will take you into the dreamlike 50s to share the best of what the decade has to offer
Kit contains all required components and no glue is required
Precision laser cut plywood. Only requires assembly.
UGears Mechanical Models are self-propelled, mechanical wooden model assembly kits.
Perfect for family projects, puzzle enthusiasts, and hands-on STEM learning
735 parts
Assembly time: 13 hours
Model size 350x157x90mm
Dream Cabriolet VM-05
Fanciers of fine automobiles will absolutely fall in love with Ugears' Dream Cabriolet VM-05 wooden car model. This 1950s throwback is a beautiful showpiece but what really sets it apart is the model comes loaded with a host of moving parts and realistic detail. The Dream Cabriolet is an absolute marvel of design, featuring: a hood that lifts to reveal a V8 engine with moving pistons; a trunk that lifts to reveal the winding knob; transmission lever on the steering column that puts the car into reverse, idle or drive gear; front and rear suspension; doors that open and seats that push forward to let passengers in the back; and functional window cranks and windshield wipers. And because this is a signature Ugears model, one of the true gems of our collection, and because we are known for adding extra touches of whimsy, the Dream Cabriolet also has a functional lifting jack and toolkit mounted under the trunk, as well as a hidden fire extinguisher and first-aid kit.
Rockabilly music, letterman's jackets, swing dresses, bobby socks and, of course, cruising Main Street in classic American cars like the 1955 Ford Thunderbird, 1957 Chevy Bel Air, or 1959 Pontiac Bonneville convertibles—the 1950s had a signature style, recognizable the world over. Car design is an art form, and the automakers in Detroit, aka Motor City, began turning out big beautiful coupes and sedans in the '50s that looked like nothing that had come before. The cars carried and conveyed the confident attitude of a country that was realizing its strength and position in the world. Detroit designers looked to the skies for inspiration, to jet airplanes and rockets, and created cars with zippy, sleek lines, particularly the iconic raised fins on rear fenders, which call to mind the tail fins on airplanes or rockets that provide aerodynamic stability at high speed.
At Ugears, we love great design, so how could our crack team of designers and engineers possibly miss the chance to contribute a stylish automotive addition to such a visually interesting period? Take a trip down memory lane and feel a part of the fabulous '50s era with the ingenious Dream Cabriolet VM-05 from Ugears. Imagine it's Friday afternoon and you've just come home from a hard week at school. You spend a pleasant hour cleaning and polishing the chrome on your dream car before calling your best girl for a date. You pick her up—she looks so happy climbing into your Cabriolet—then you drive to the diner, revving your V-8 engine to announce your arrival as the other kids' jaws drop with envy. The waitress wheels over on roller skates to the driver's side window and takes your usual order: two burgers (hold the onions), fries, and rootbeer shakes. Now it's off to the drive-in movie, to meet up with friends and see the latest James Dean film (or at least some of it!). You're young, but somehow you know, life just doesn't get better than this.
The Dream Cabriolet VM-05 model is equipped with a durable rubber-band motor that powers the mechanism and drives the car. The Cabriolet can go forward or back. We've also included idle mode, to ensure you can take a close look at the beautiful eight-cylinder V configuration engine in operation. In this mode, your Cabriolet will stay still, letting you look under the hood to appreciate the beauty of the eight pistons moving in synch. To set your vehicle in motion, simply pull the transmission lever on the steering column, just like you would in a real car. Both front and rear wheels of the model have suspension to make this ride dreamily smooth. Use the steering wheel to move the front axle and send the Dream Cabriolet in the direction you choose.
This highly-detailed, vintage DIY wooden model car is made of high-grade wood and has everything you need for assembly included in the kit. No glue or special tools are required. Just push the pieces out of their precision laser-cut boards and snap them together to assemble the vehicle. Find your favorite oldies radio station, one that plays Bill Haley & His Comets, the Spinners, Drifters or Coasters (all good band names when building a model car!), and settle in for a pleasant afternoon working on your Dream Cabriolet (estimated time of assembly: 13 hours). Like all Ugears 3D puzzles and DIY models, the Cabriolet comes with step-by-step, full-color, easy to follow instructions in 11 languages (English, German, Ukrainian, French, Polish, Spanish, Russian, Japan, Italian, Chinese and Korean). If you break a part during assembly, just let our customer service team know. Replacement parts are free, as part of our overall commitment to customer service.
Ugears models and 3D puzzles appeal to builders and hobbyists who love quality, clever design, and who appreciate ingenious mechanical elements with real world analogues. The Dream Cabriolet VM-05 is a challenging build but what a payoff for your efforts! This wooden model convertible car has gorgeous styling and is absolutely loaded with wonderful, realistic details and moving parts. The Cabriolet will appeal to automotive model hobbyists, to anyone who loves fine cars, or those who appreciate the iconic style of the 50's decade. This model looks great sitting on a shelf, but it's not just a pretty face—Ugears models are meant to be used and enjoyed! The Cabriolet has a powerful rubber band motor to send your stylish ride across the room, in forward or reverse. Or you can put the car in neutral, wind it up, lift the hood and marvel at the moving pistons in the powerful V8 engine.
There's a reason why the Ugears Dream Cabriolet VM-05 is one of our most popular models of all time and the "favorite build" of many Ugears enthusiasts—this model car is pure mechanical rock'n'roll! Order yours today and get ready to be amazed by everything about this best-in-class DIY wooden model car. The Dream Cabriolet model kit also makes a thoughtful gift for the car lovers in your circle of friends and family. Take a ride with us to the not-so-distant past by ordering your Dream Cabriolet VM-05 today!
View full details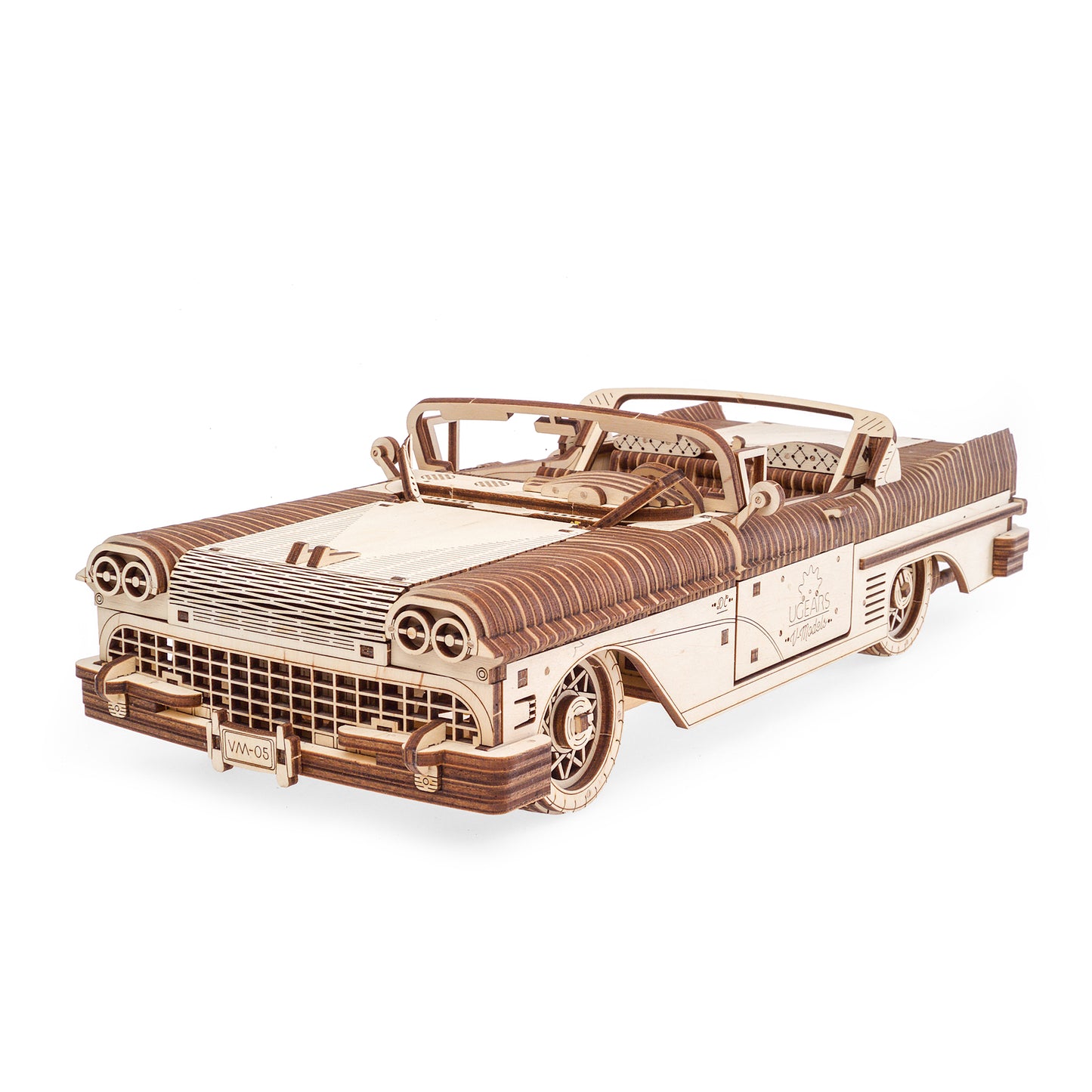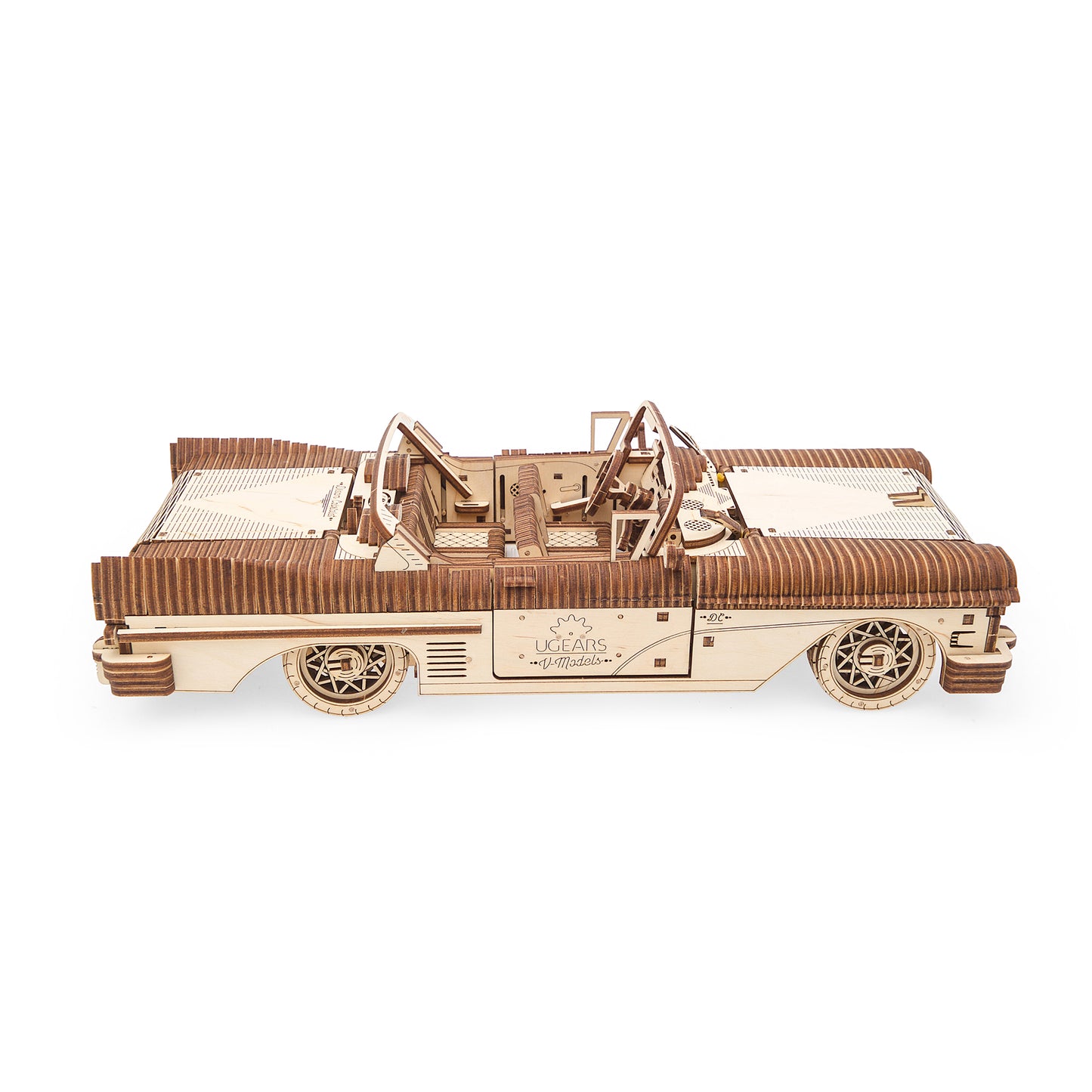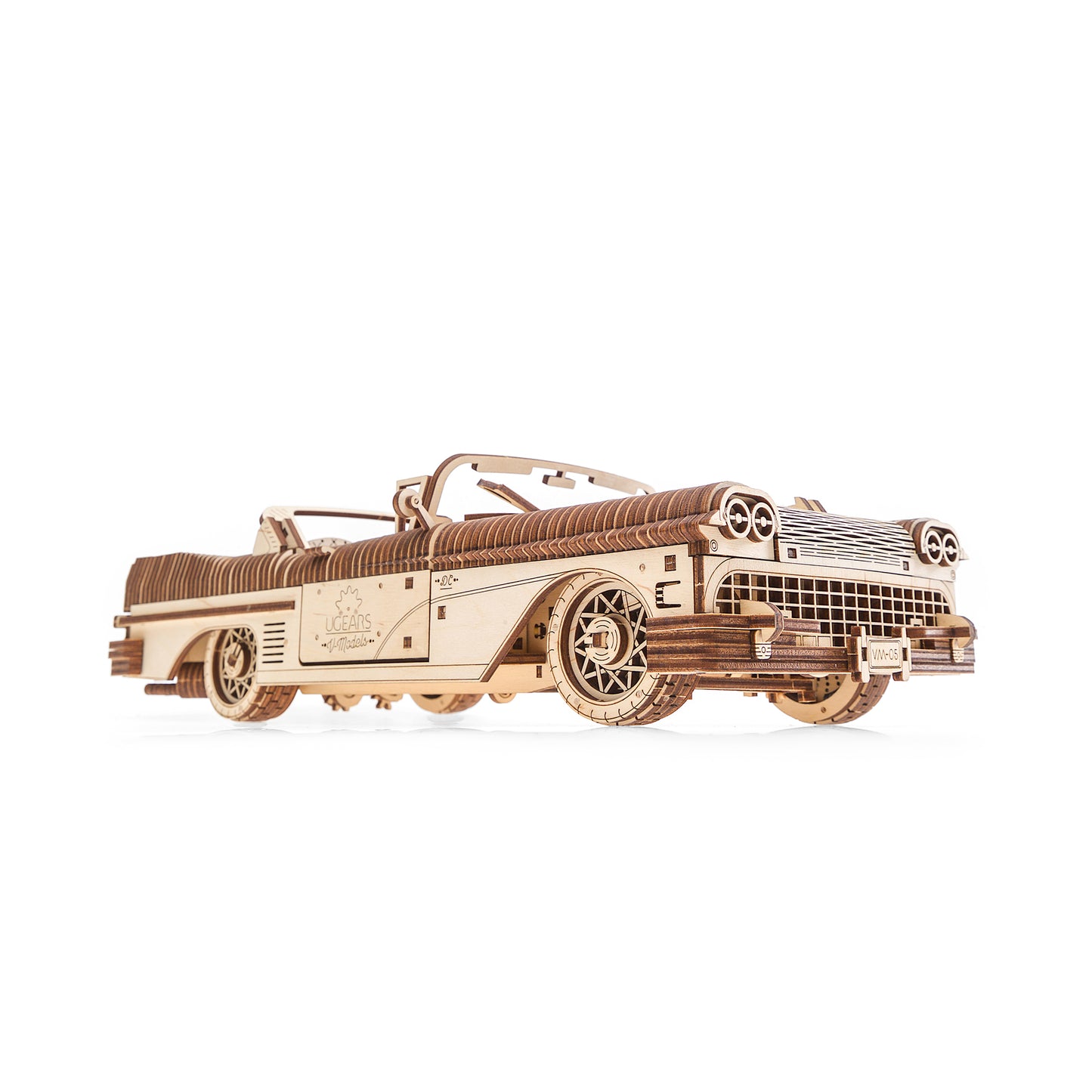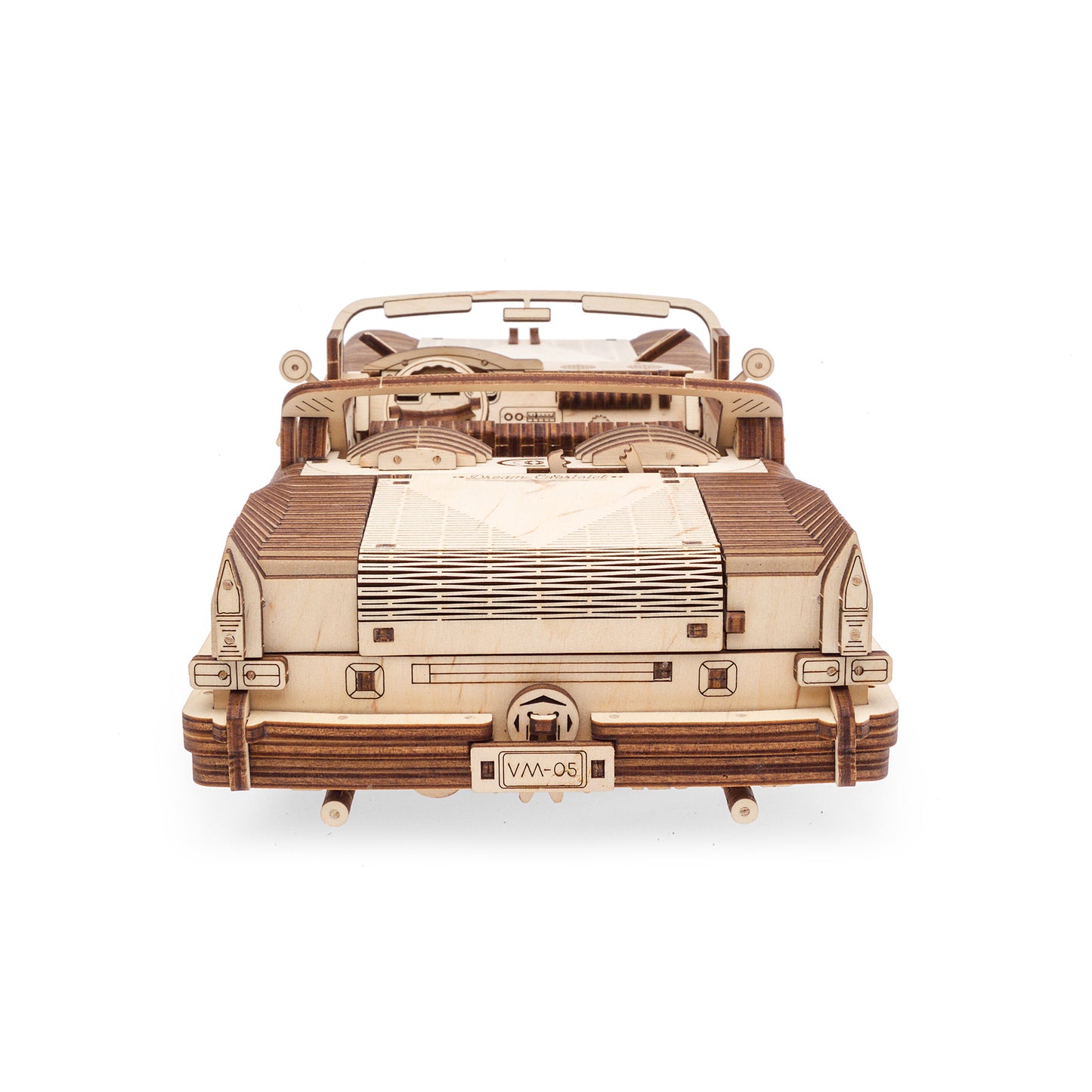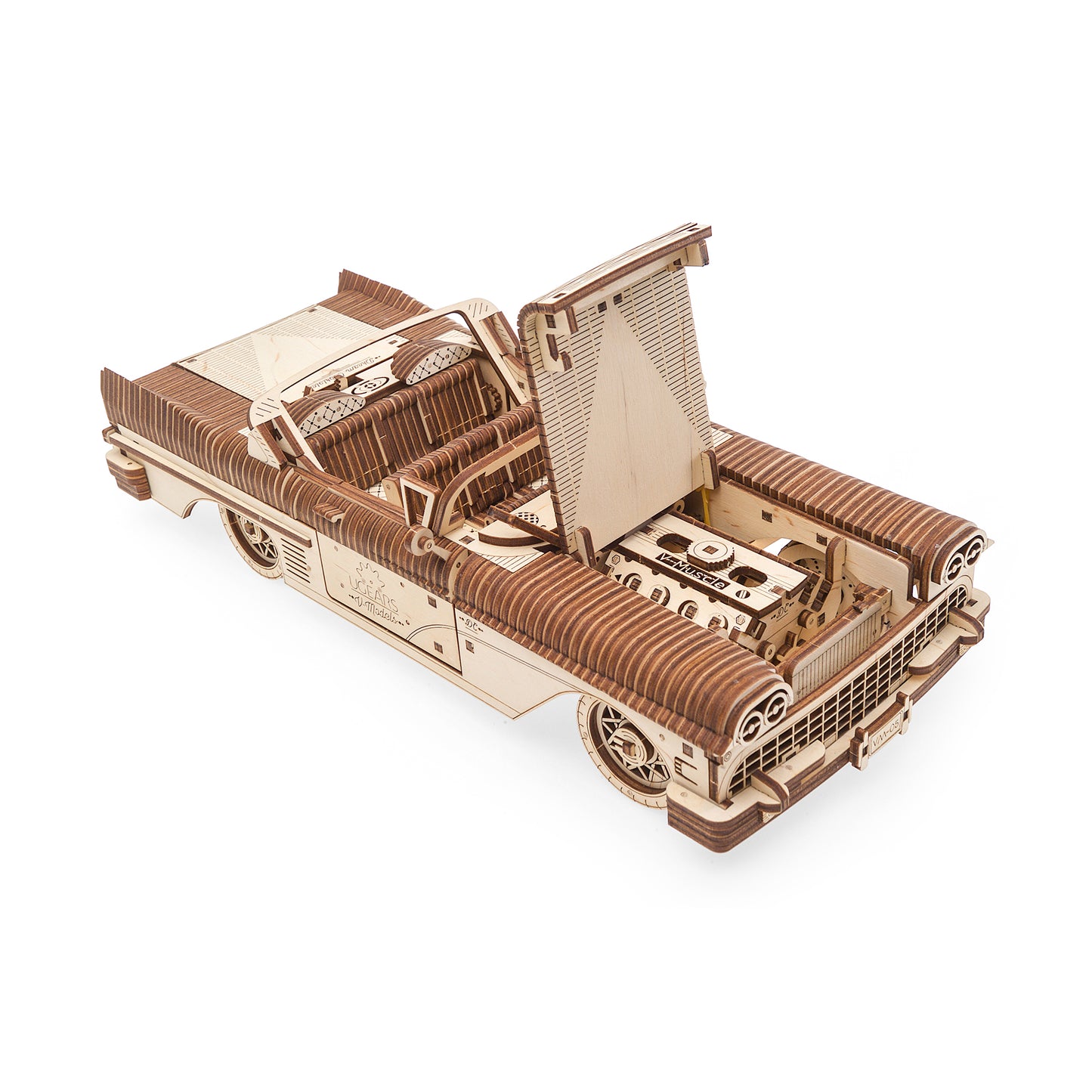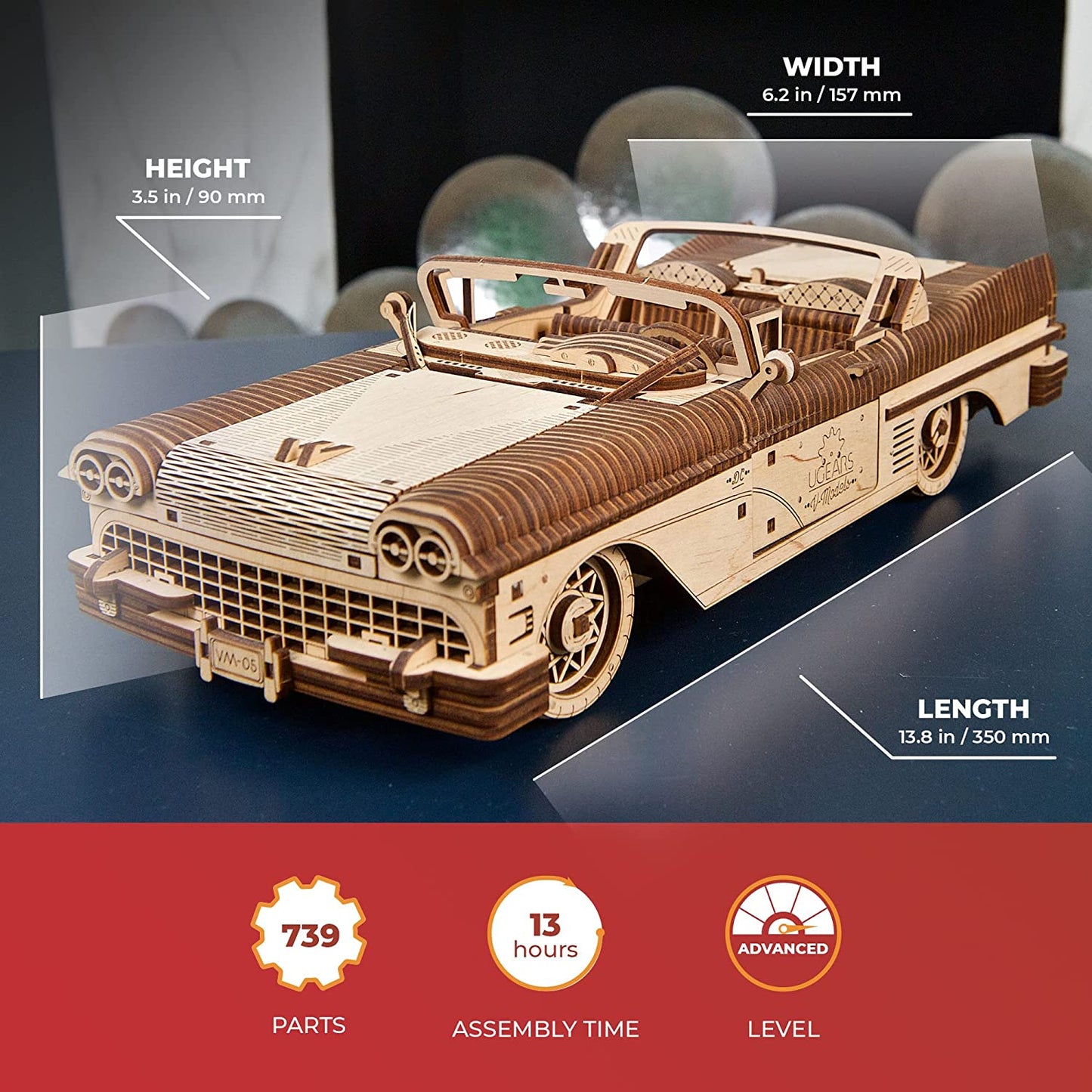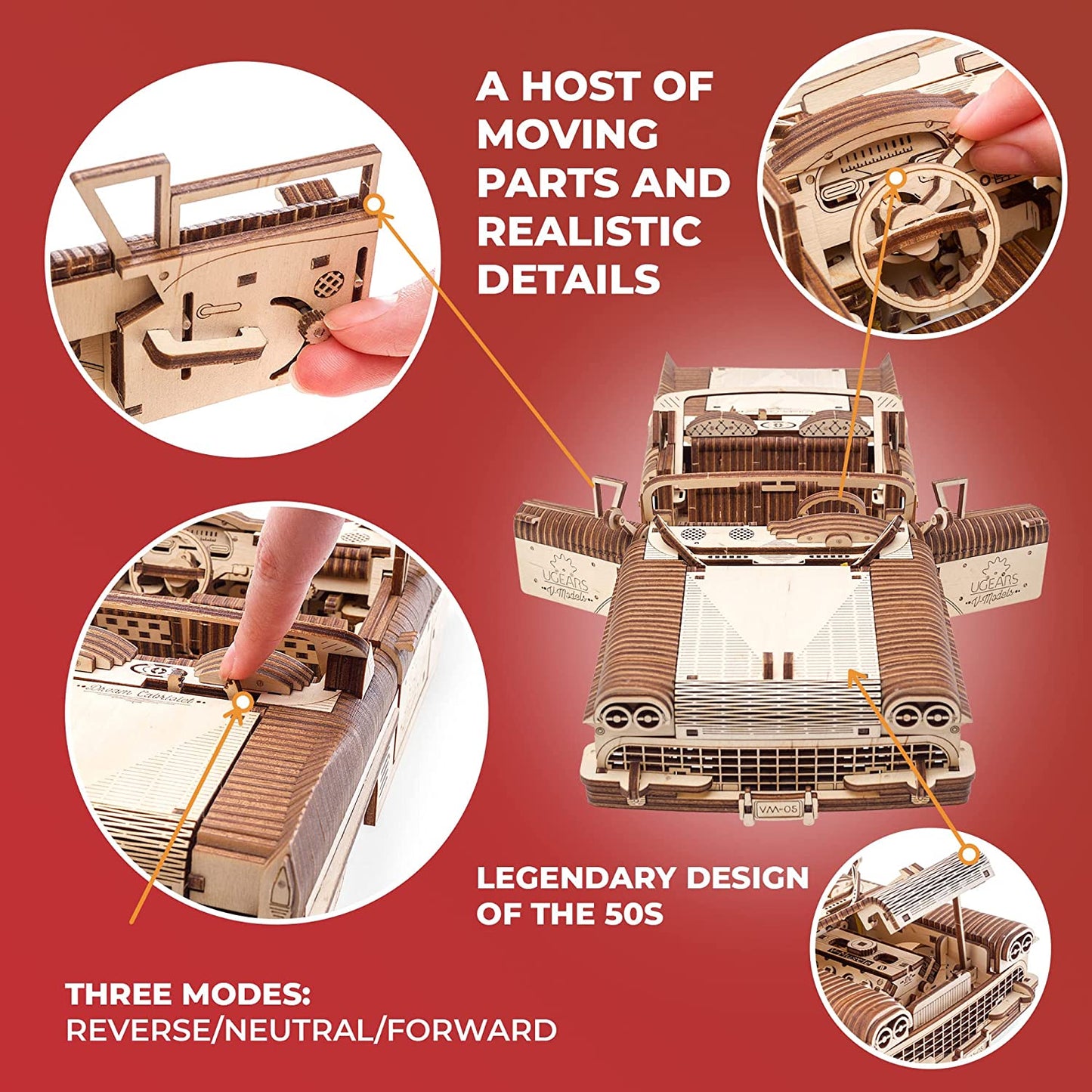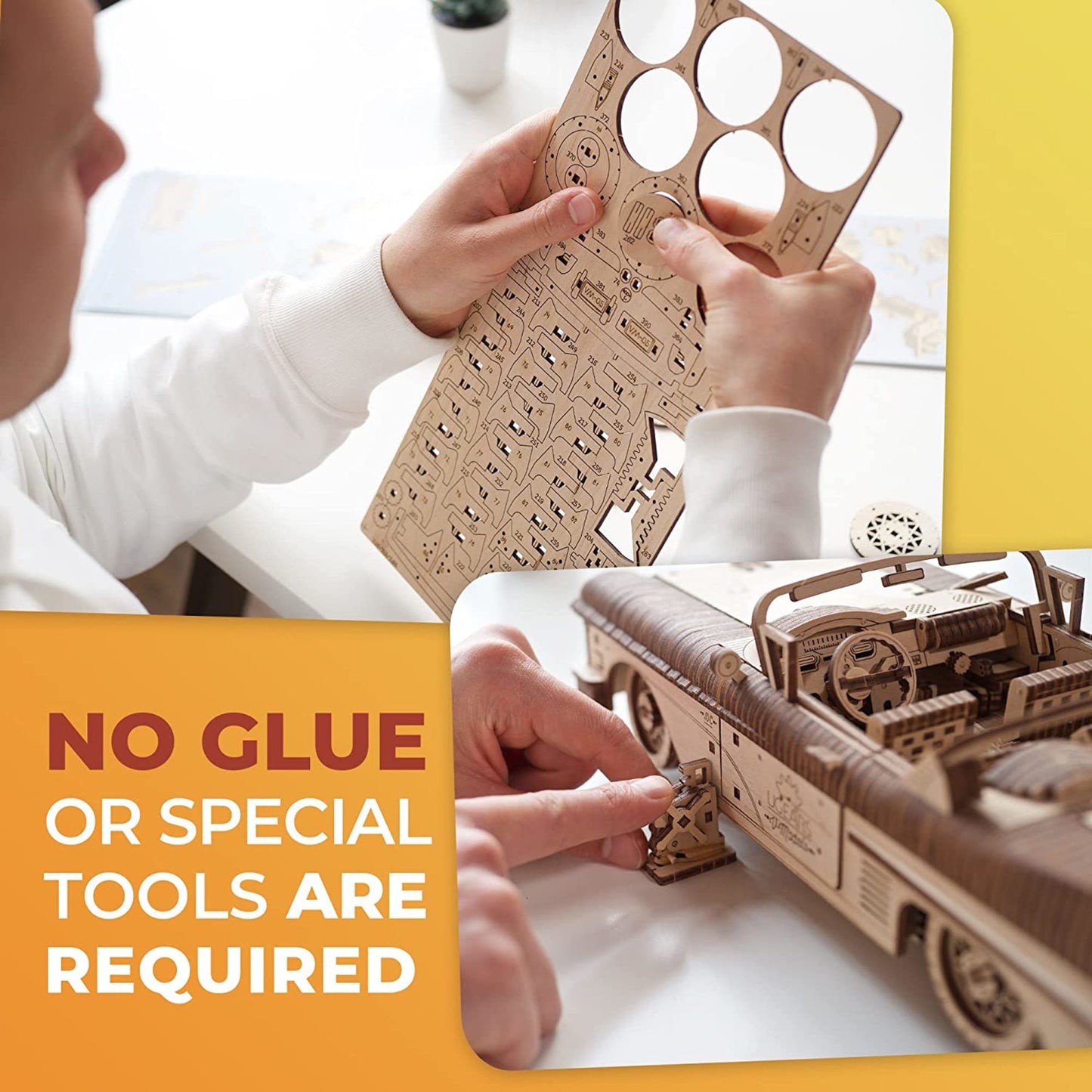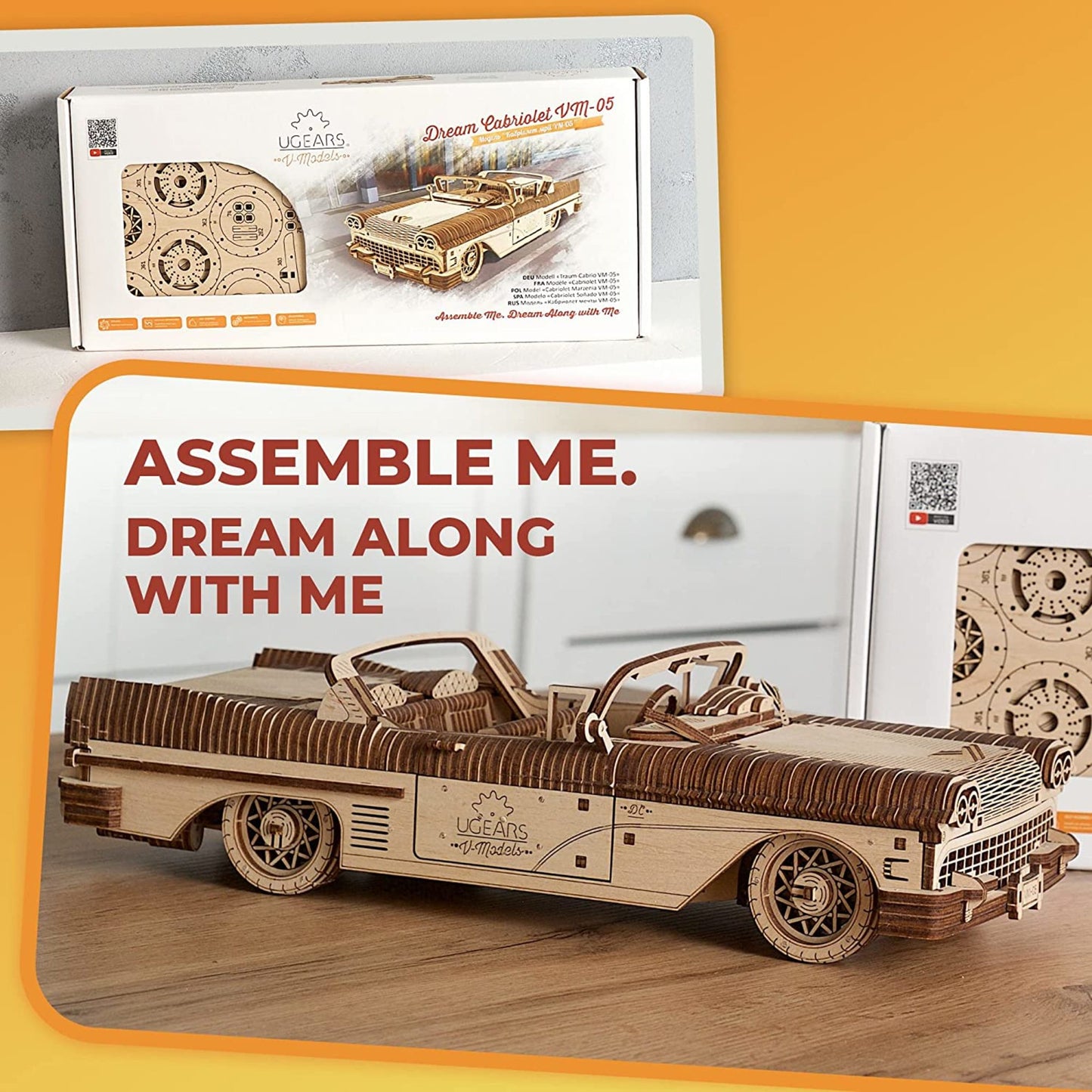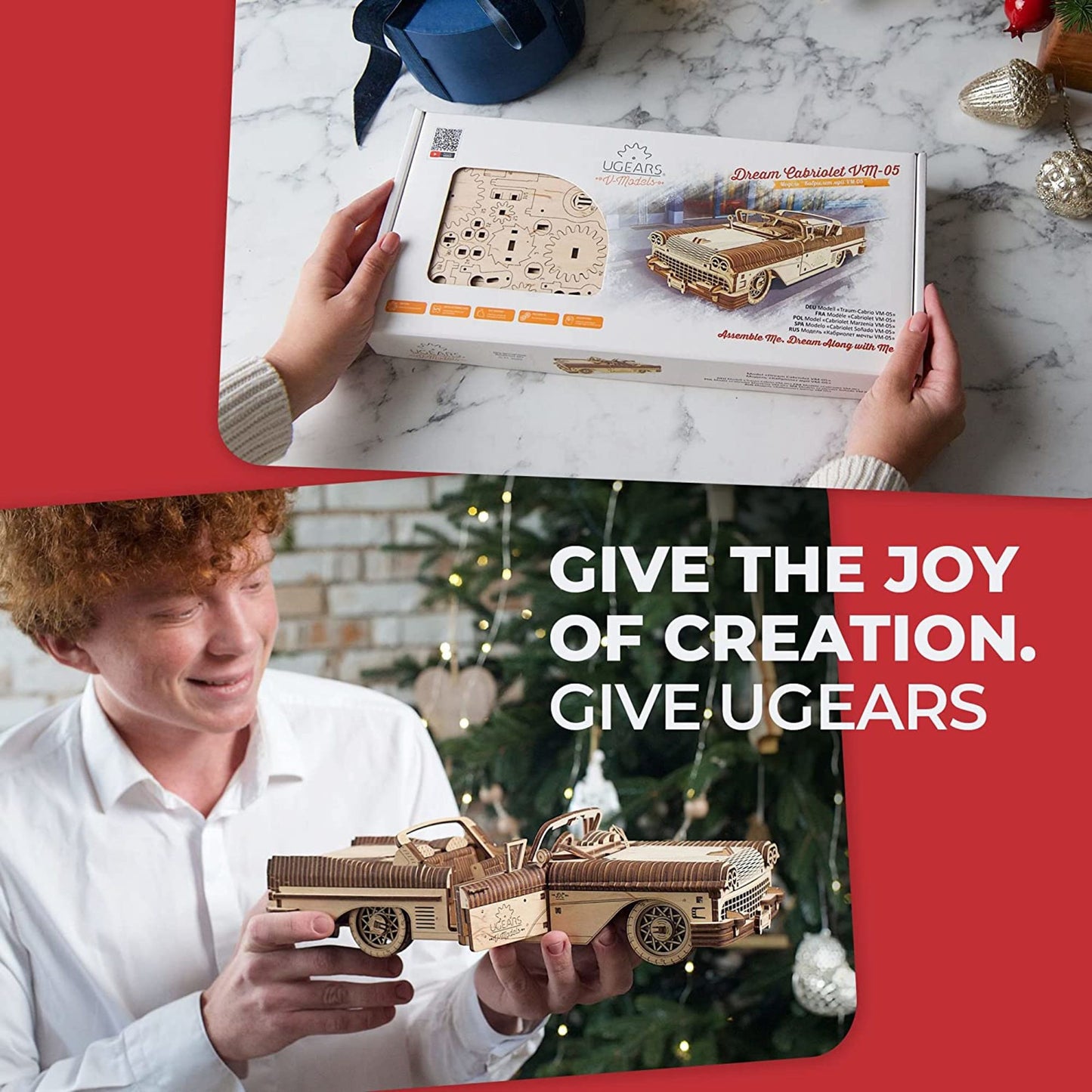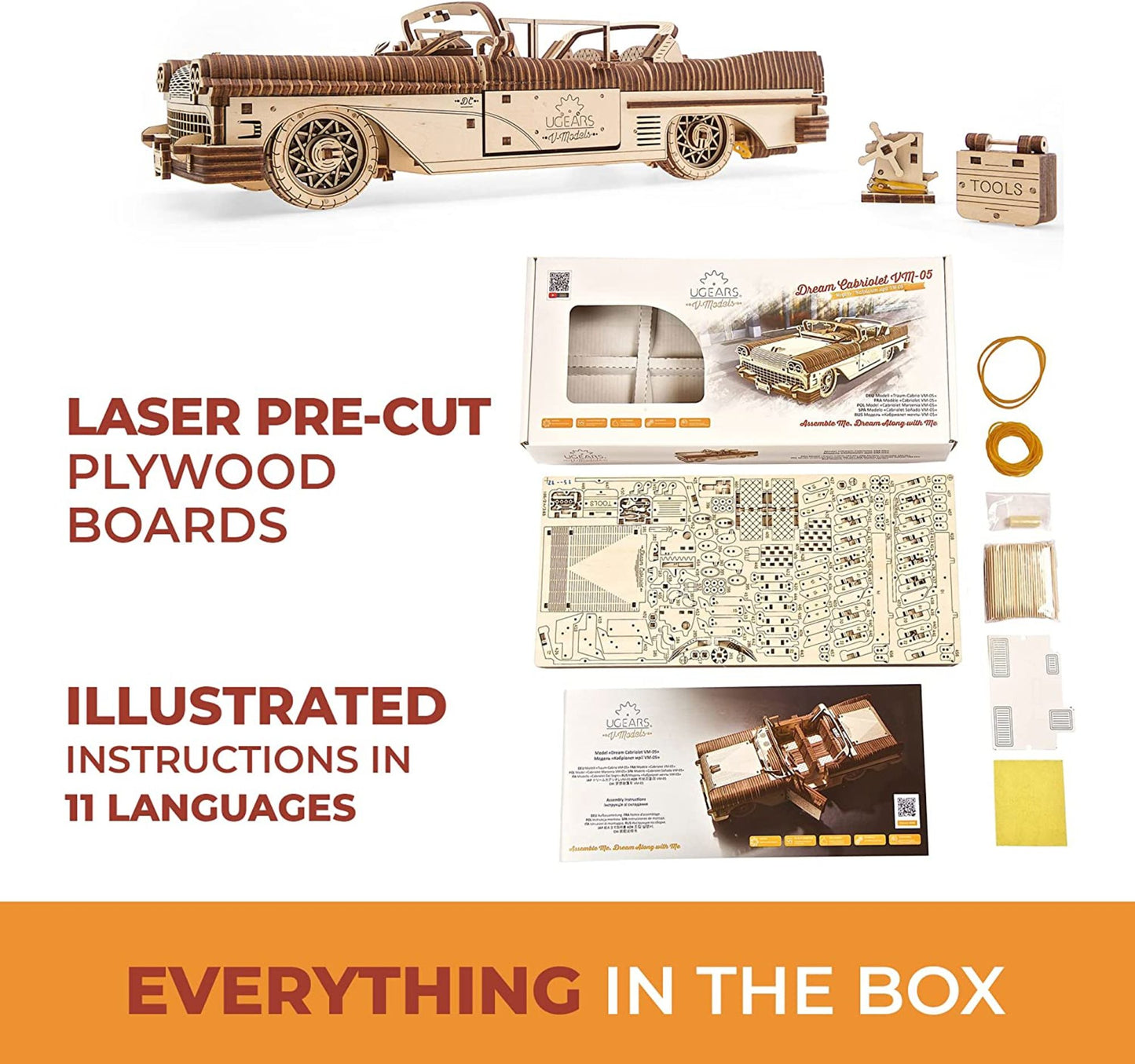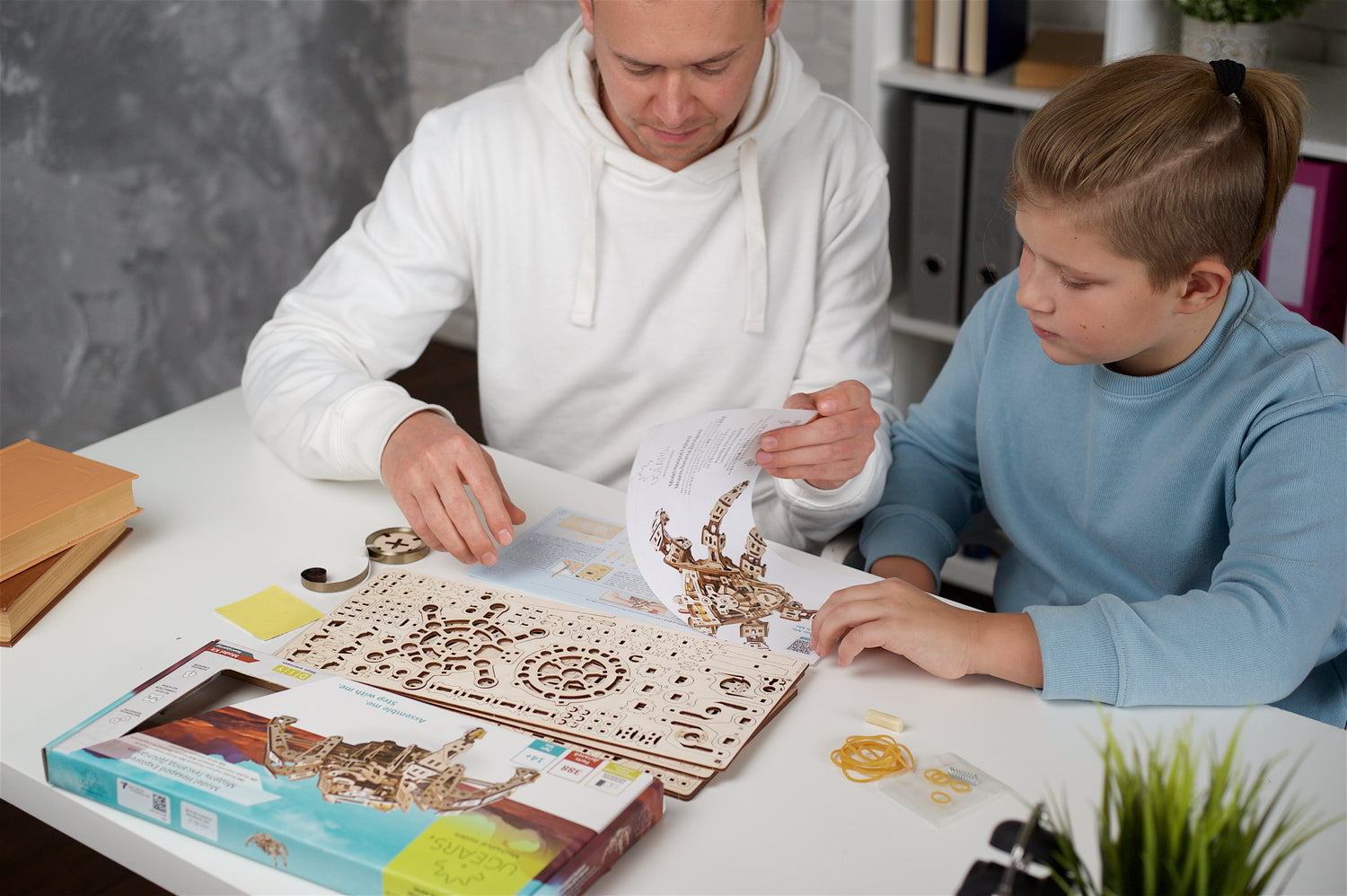 Ready to Build
Ugears models are made from sustainably sourced, laser cut plywood sheets. Everything you need is inside the box, so you can get building right away.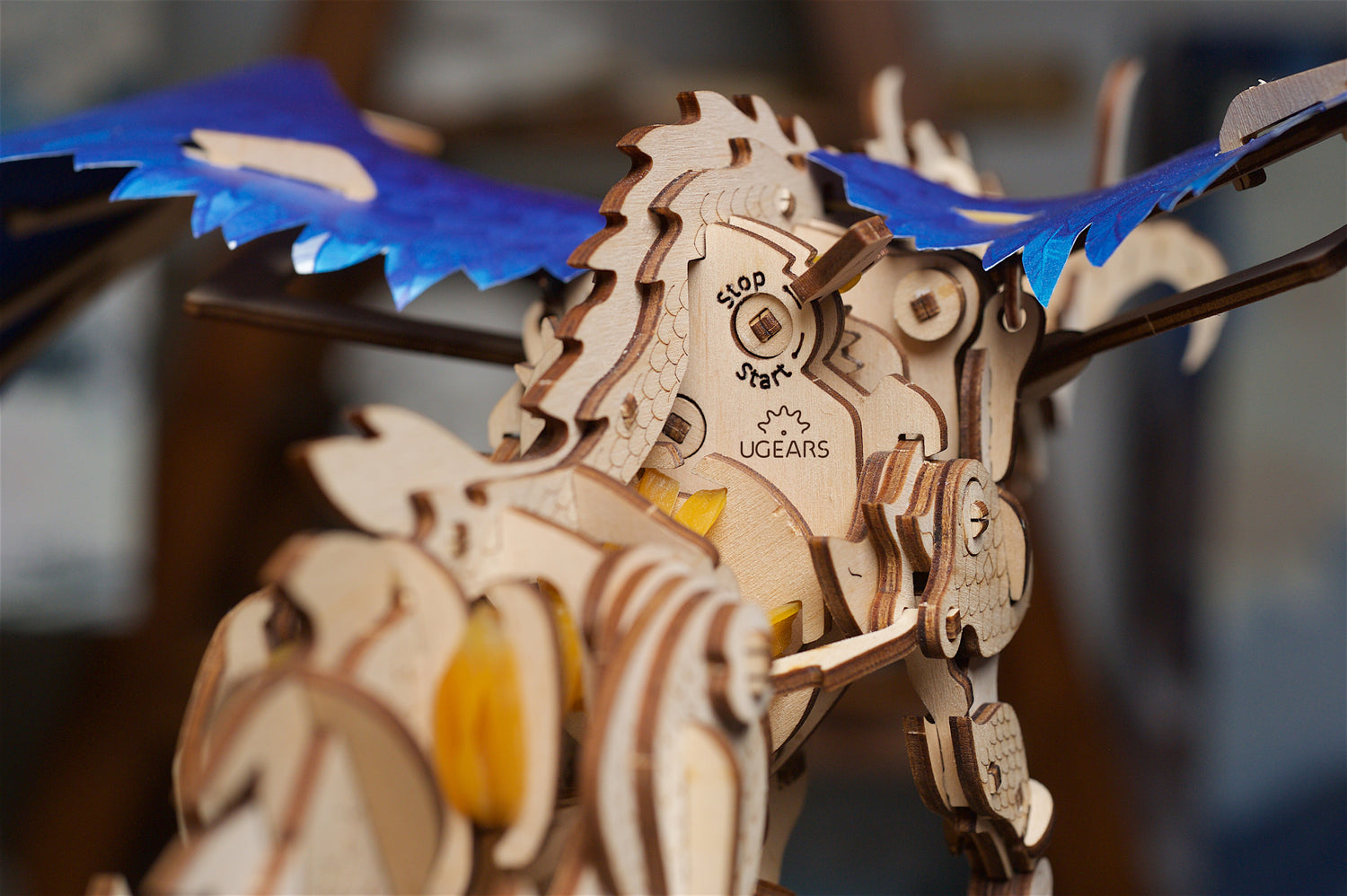 Mechanical
No batteries, no electricity, just Ugears. All mechanical models are powered by the ingenious mechanisms built by you. Just wind up your model and watch it come to life.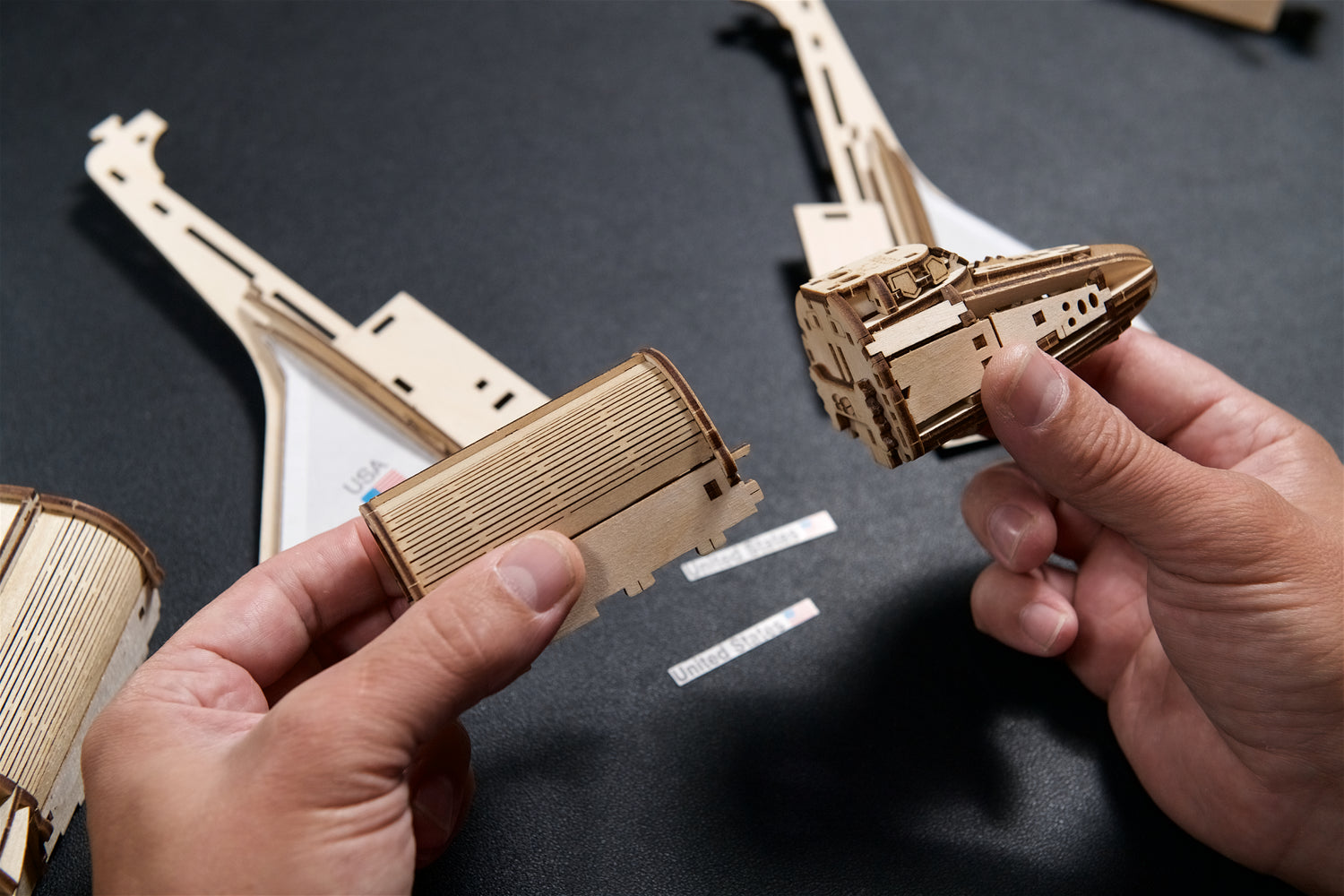 No Glue
Pieces have been designed so they will either click or slide into place. No glue or any other kind of adhesive is needed to build your model.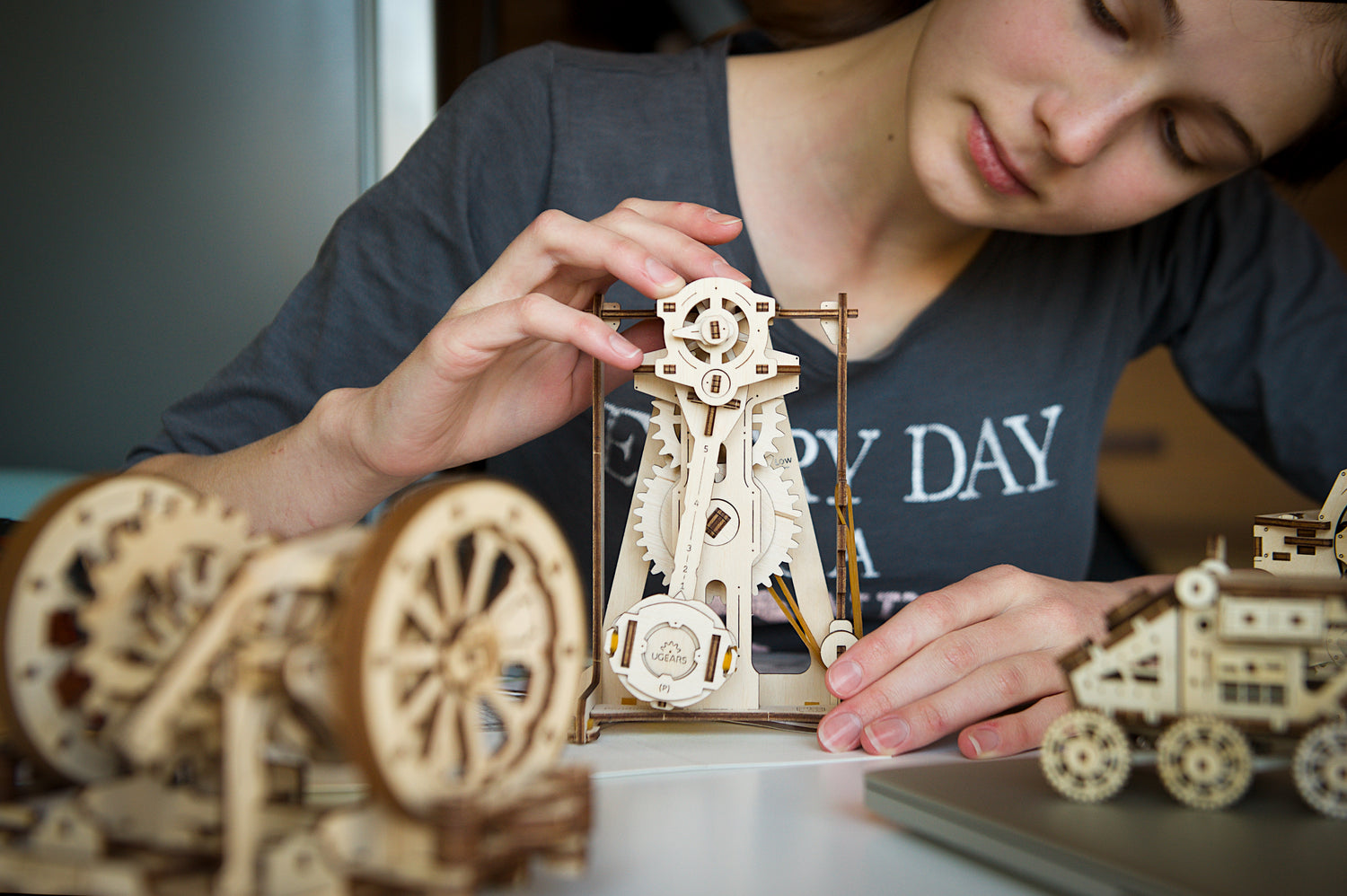 Educational
Models take inspiration from real life inventors and engineers, such as Da Vinci and Galileo. Learn the history behind the model as you build.