SKU:UGR70058
Regular price
Sale price
£74.50 GBP
Unit price
per
Liquid error (snippets/price line 121): divided by 0% OFF
Sale
Sold out
---
538

Pieces

10

Est. Time (hrs)
14+

Age

Advanced

Difficulty
LxWxH 560 mm x 120 mm x 120 mm
---
Share
HISTORICAL: The main symbol of the Industrial Revolution, a powerful and beautiful locomotive is a historical benchmark commencing the time of global technological and economic transformation of society. UGears Express is prepared to take you on a journey to this exciting age of inventions and innovations
DETAILED DESIGN: The minutely detailed futuristic design of the V-Express reveals the beauty of moving details: gears and a flywheel, the work of cylinder-piston arrangement – almost an exact miniature copy of one of the main mechanical blocs of a real locomotive
MOVING MECHANISM: One full winding will give your V-Express energy enough to cover a distance of up to four meters (13 feet). You can change the direction of movement by switching a small lever on the side of the models' body. The locomotive has three settings: forward, back and idle
INCLUDED TENDER: The Tender of the V-Express Steam Train is worth mentioning as a separate point. The coal car with lifting sides has a hatch that you can lock with a tiny latch
CONSTRUCTION: The UGears V-Express Steam Train with Tender model kit is made of sustainably sourced high grade wood and has everything you might need for assembly. The quality of the parts is top-notch: a laser method is used for cutting items from a plywood board that provides precise hairline cuts
Kit contains all required components and no glue is required
Precision laser cut plywood. Only requires assembly.
UGears Mechanical Models are self-propelled, mechanical wooden model assembly kits.
Perfect for family projects, puzzle enthusiasts, and hands-on STEM learning
538 parts
Assembly time: 10 hours
Model size Locomotive 560x120x120mm
Model size Rails 2450x120x120mm
V-Express Steam Train with Tender
Ugears, a wooden model and 3D puzzle company known the world over for its outstanding, retro mechanical designs, pays tribute to the fascinating Victorian era with our V-Express Steam Train with Tender working train model. The steam locomotive is a standout symbol of the Industrial Revolution and Victorian age. Trains and transcontinental railroads opened up the interiors of continents, heralding an age of global technological and economic transformation. For all you train lovers and 3D puzzle enthusiasts, the beautiful steampunk V-Express will take you on a creative journey to an exciting age of invention, innovation, romance and transformation.
The minutely-detailed, retro-futuristic open design of the V-Express wooden train model reveals the beauty of its moving details: including gears and a flywheel, a working cylinder-piston arrangement (almost an exact miniature copy of one of the main mechanical blocs of a real locomotive), firebox with doors that open and close, coupling mechanism, and a coal car with closeable hatch and raisable sides.
Like all of our mechanical models, 3d puzzles, wooden puzzle boxes, robots, automatons and kinetic sculptures, the Ugears V-Express Steam Train is not simply a beautiful static model, it's a working piece of machinery. One full winding will give your V-Express enough energy to cover a distance of up to four meters (13 feet) as you send it down its track. You can change the direction of movement by switching a small lever on the side of the locomotive's body. The locomotive has three settings: forward, back and idle. When the mechanism is in idle you can observe the workings of the moving elements without having to worry that your train will race off, as it does in forward mode. The other exciting option of your new model is to switch it to "back" or reverse setting, then watch as your V-Express locomotive rolls backward and automatically hooks up with its coal Tender.
The Victorian Age, filled with the spirit of the Industrial Revolution, is a deep well of inspiration for designers, engineers and artists. The popularity of neo-Victorianism and the retro-futuristic steampunk aesthetic movements are evidence of people's ongoing fascination (particularly hipsters) with Victorian fashion, design, art and architecture. Maybe it's the complexity of today's world, the heedless speed of technological development, the planned obsolescence of our machines, that has us longing for a world powered by steam, not electrons. Maybe it's the aura of romance in those old black and white movies and posters, the couple saying their goodbyes on a railway platform as the locomotive shrouds them in billowing white clouds of steam. Whatever it is about that age, we love it too, and we know you're going to love the V-Express Steam Train with Tender. This gorgeous, realistic train model is a worthy representation of the Victorian Age.
The locomotive, with its classic "chugga-chugga" piston and connecting rod action, is sure to catch the eye, but the Tender of the V-Express Steam Train is a wonderful connecting car with its own charms. The coal car has lifting sides and a hatch door you can lock with a tiny latch. Of course, since it's driven by a rubber-band motor the locomotive needs no coal, which leaves plenty of room in the tender for whatever small cargo you might want to deliver down the line: sweets, knick knacks or messages. You'll be amazed by the smooth, automatic coupling action between the locomotive and tender.
The Ugears V-Express Steam Train with Tender kit comes with 2.45 meters (96.5 inches) of train tracks for your locomotive and coal car to ride along. This wooden puzzle's 538 pieces are made of high-grade wood composite, and the DIY model kit comes with everything you might need for assembly. The quality of the parts is top-notch: a laser method is used to cut the pieces into a plywood board, providing precise hairline cuts. Simply pull the pieces out of the boards and assemble by snapping them together to create a complete model. Like all other Ugears models, the V-Express Steam Train comes with step-by-step, full-color, easy-to-follow instructions in 11 languages (English, German, Ukrainian, French, Polish, Spanish, Russian, Turkish, Italian, Chinese and Korean) and requires neither glue nor special tools to be fully assembled into functional, self-propelled Train with Tender.
What happens if you break a piece during assembly? We know accidents happen, and we know that each piece in our amazing mechanical models, 3D puzzles, and kinetic sculptures is an important part of an amazing whole. Most Ugears kits include a few "spare parts" for common pieces, but we recommend being extra careful with the unique pieces when assembling your model. If you break a piece, simply get in touch with our outstanding customer service department for a free replacement part. Attention to detail is a big part of what sets Ugears apart from the competition—not only in the beauty and workings of our models but in our approach to customer service.
When you assemble the beautiful Ugears DIY wooden model V-Express Steam Train with Tender you will feel like a collaborating engineer and builder. Discover the magic and satisfaction of creation as you watch a complex machine take shape in your own hands. Building Ugears models is a great way for kids, and adults, to develop mechanical knowledge and competence. Trains have always represented the excitement of going on a journey, and we promise that assembling your Ugears V-Express will be its own exciting journey and DIY model-building adventure. And the best part is when you're done, you don't just have a pretty static model to look at, you have a working mechanical train that you and your kids can play with.
The V-Express Steam Train model is a terrific gift idea for birthdays and holidays. This wooden model kit will appeal to anyone who loves trains and train models, hobbyists and those who appreciate ingenious mechanical action, and those who simply enjoy the beauty and romance of the Victorian Age.
View full details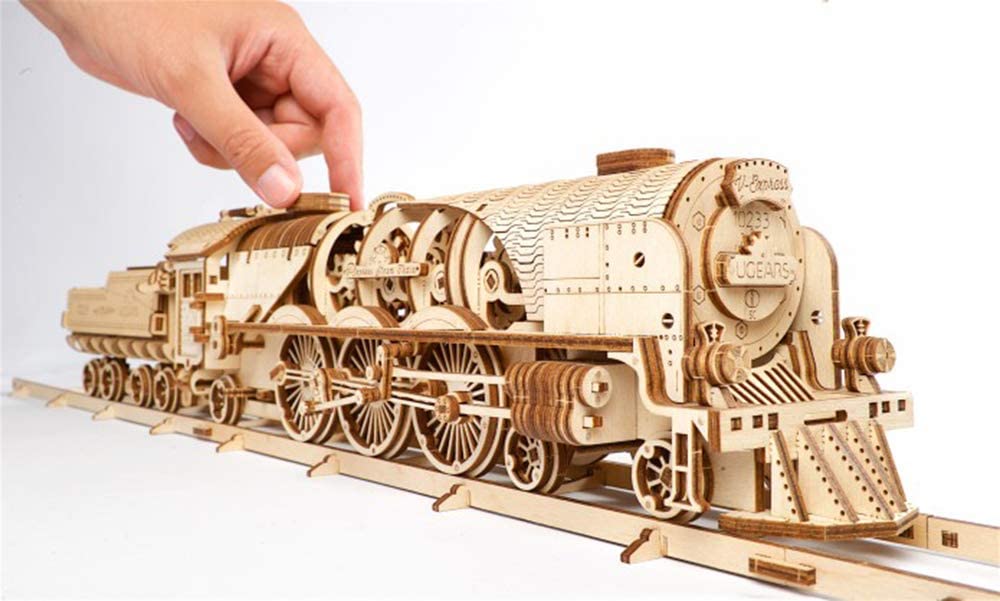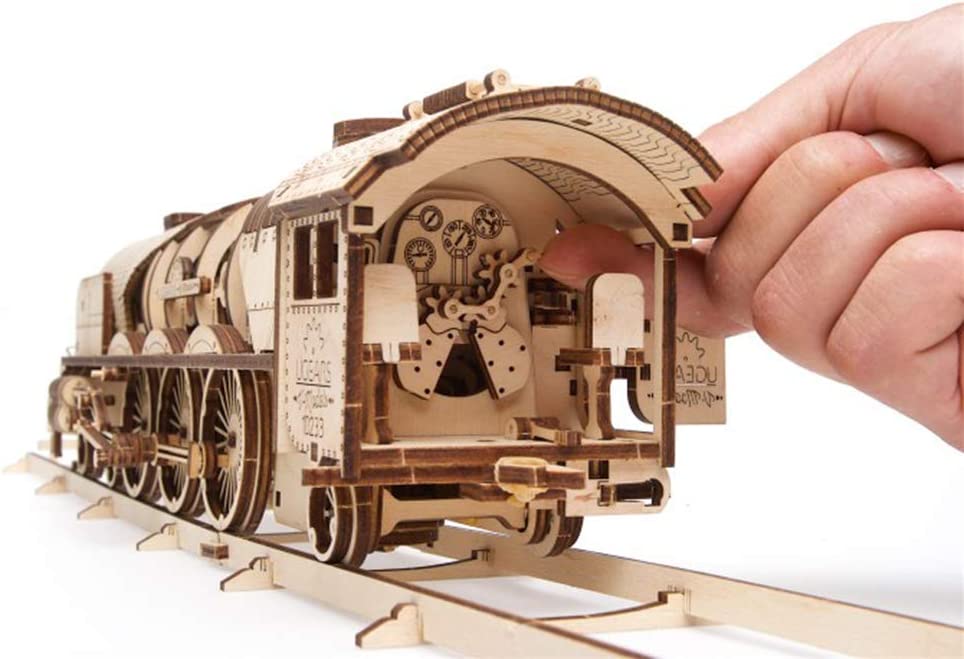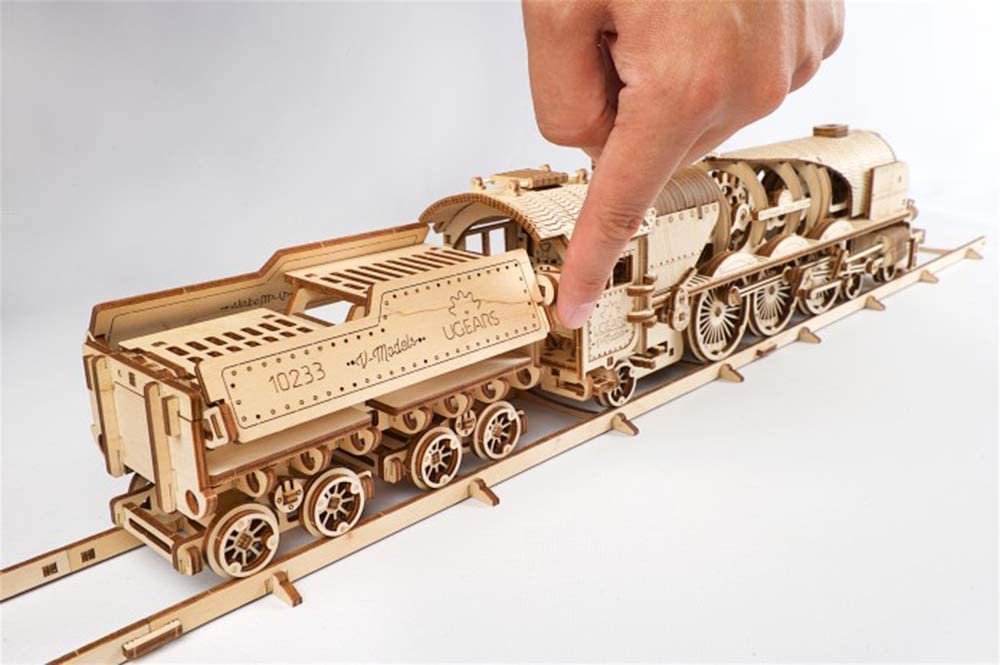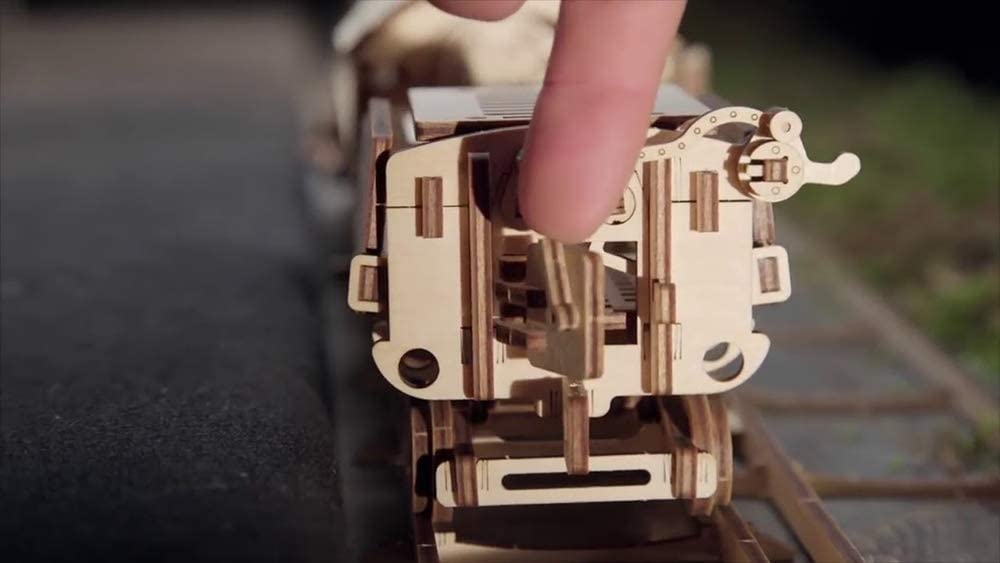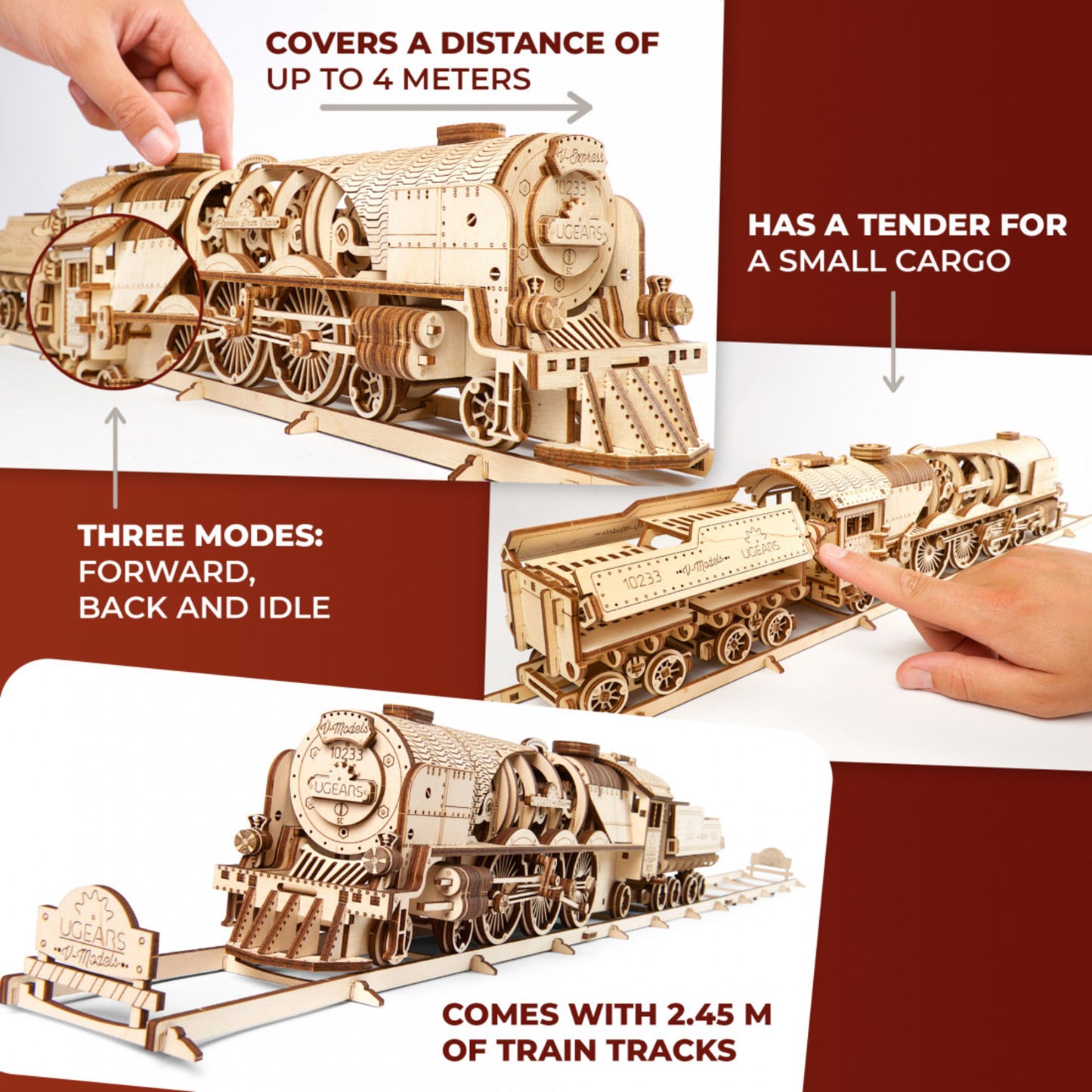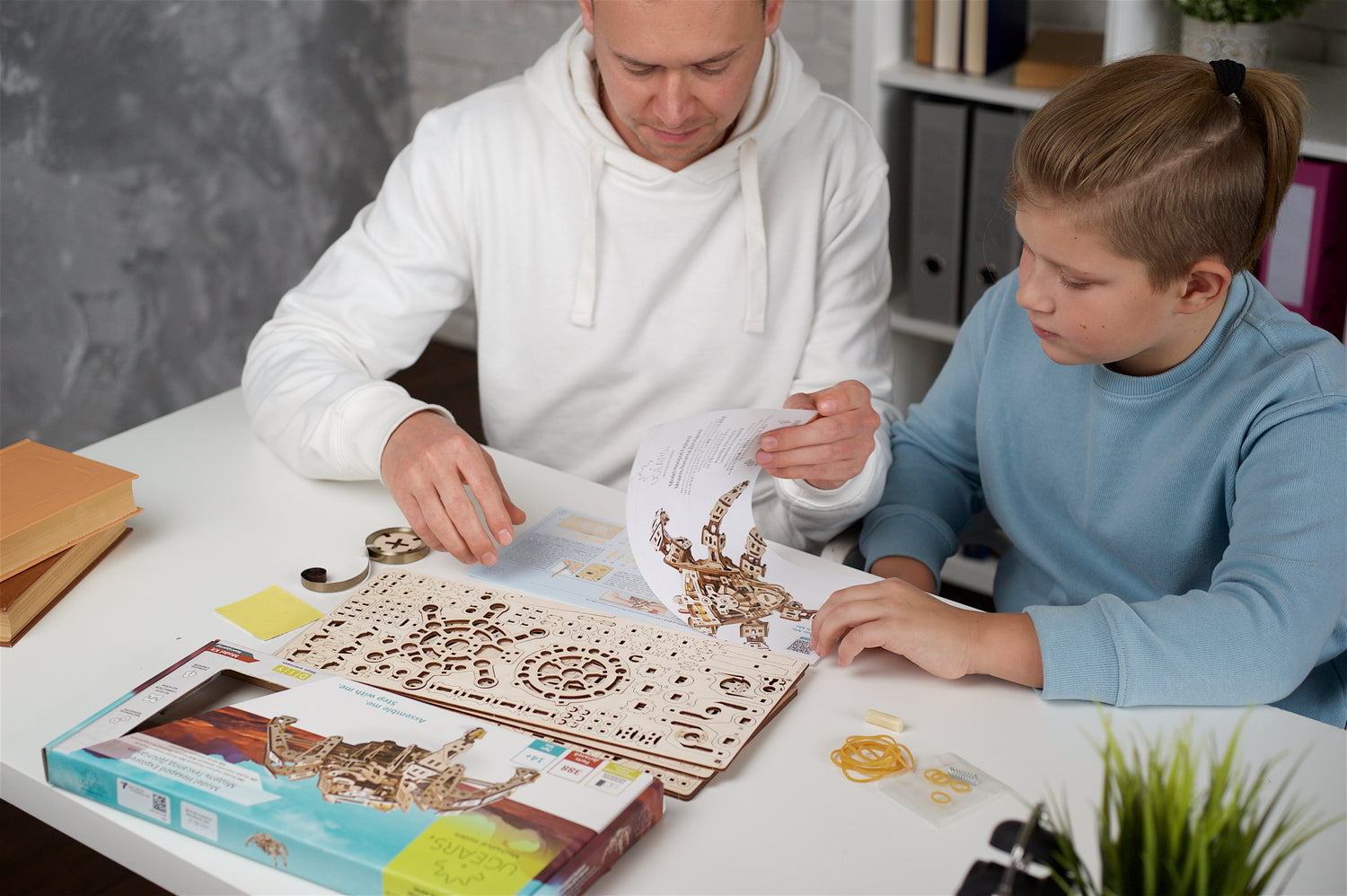 Ready to Build
Ugears models are made from sustainably sourced, laser cut plywood sheets. Everything you need is inside the box, so you can get building right away.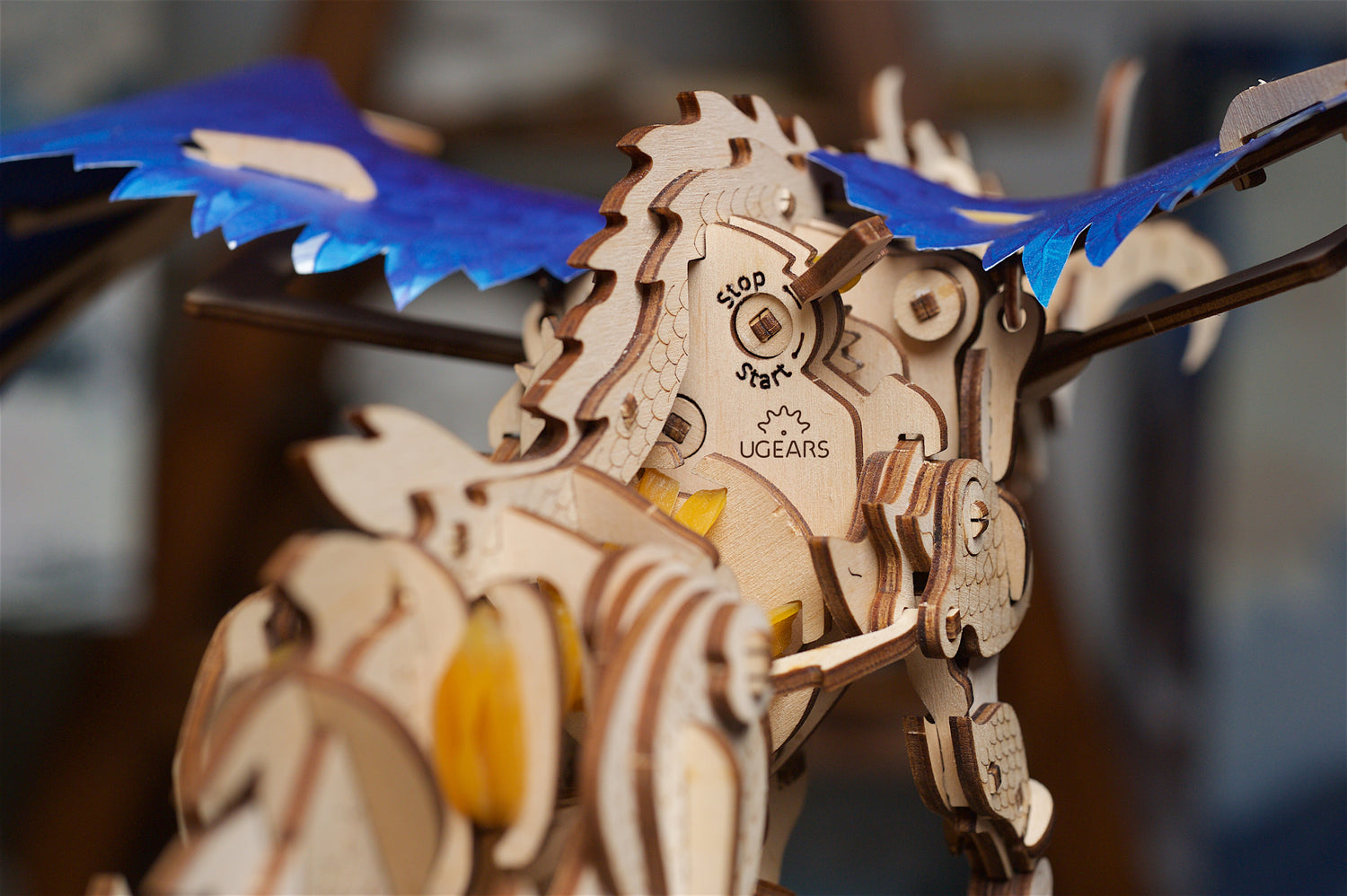 Mechanical
No batteries, no electricity, just Ugears. All mechanical models are powered by the ingenious mechanisms built by you. Just wind up your model and watch it come to life.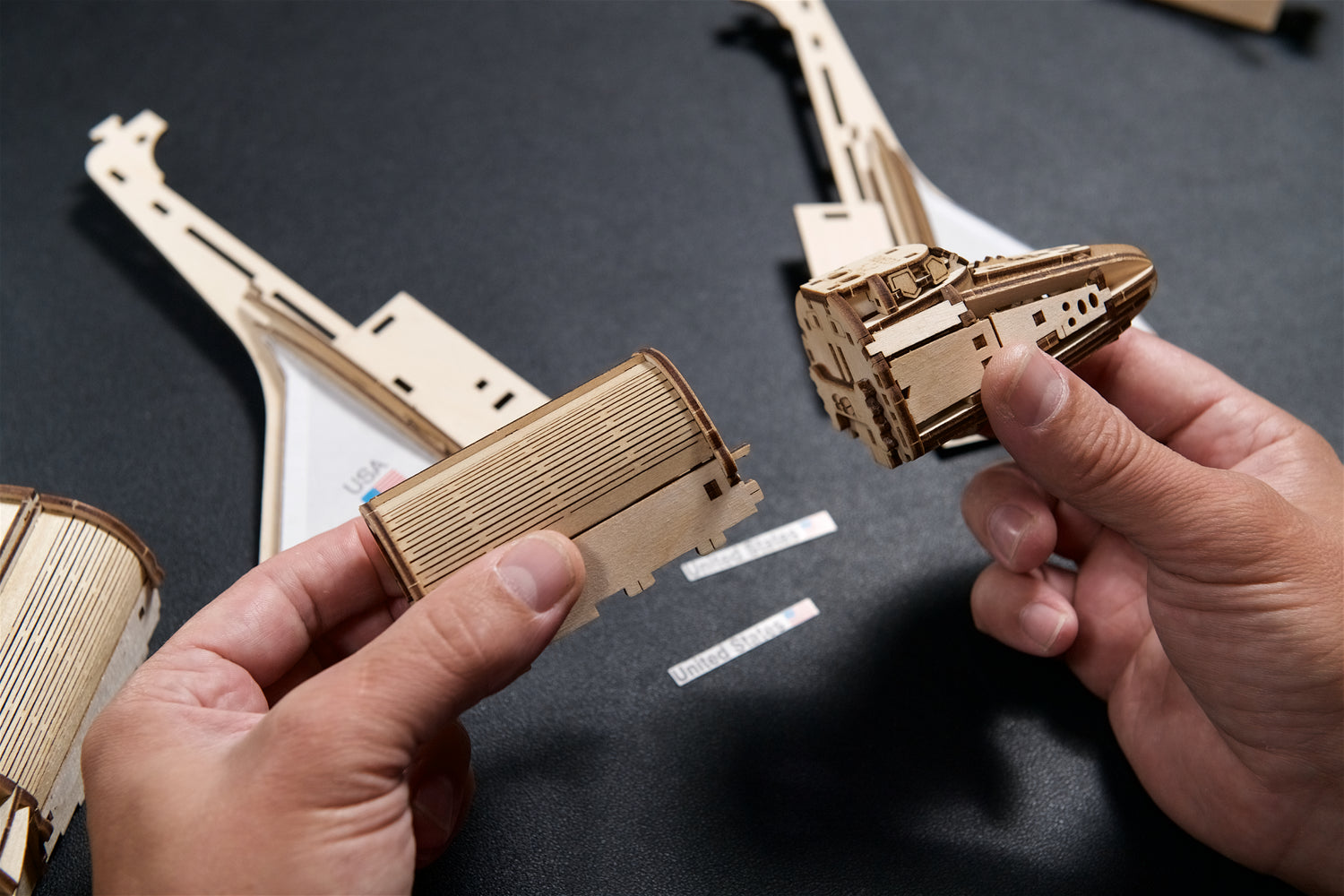 No Glue
Pieces have been designed so they will either click or slide into place. No glue or any other kind of adhesive is needed to build your model.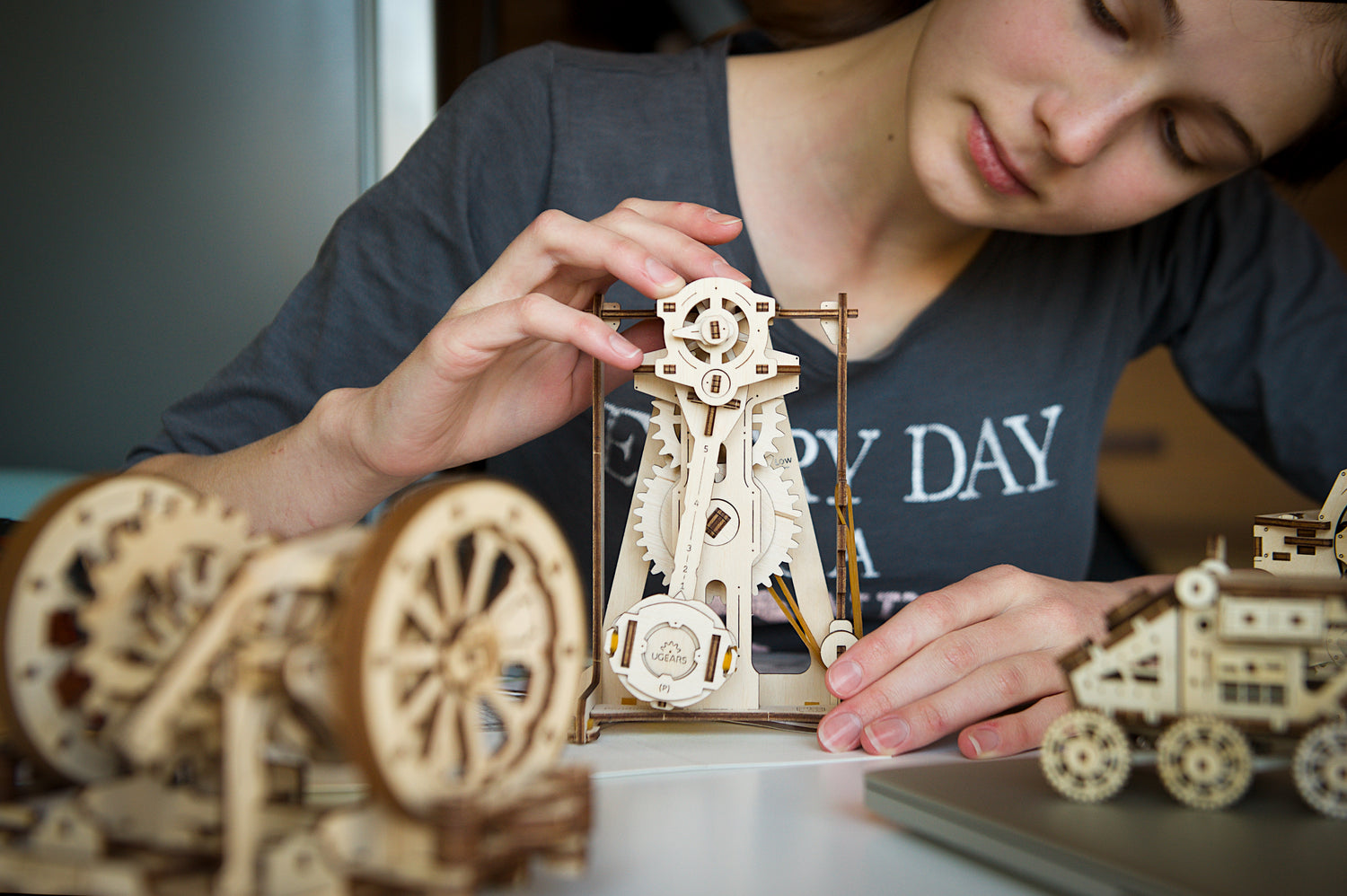 Educational
Models take inspiration from real life inventors and engineers, such as Da Vinci and Galileo. Learn the history behind the model as you build.