SKU:UGR70056
Regular price
Sale price
£74.50 GBP
Unit price
per
Liquid error (snippets/price line 121): divided by 0% OFF
Sale
Sold out
---
541

Pieces

12

Est. Time (hrs)
14+

Age

Advanced

Difficulty
LxWxH 380 mm x 135 mm x 178 mm
---
Share
DESIGN: A turn of the key that sends the fuel along the veins of your 18-wheel beast making it purr like a giant mighty cat. Have you ever experienced anything like that? Now is your chance to join the noble tribe of long-haul truckers with a Heavy Boy Truck VM-03 model
ROBUST AND POWERFUL: The heart of the Heavy Boy Truck VM-03 is a robust R6 engine, powered up by a rubber band motor. With its 3-mode realistic transmission system, and a cozy cabin, equipped with a sleeper, your mighty beast is ready to hit the open road and take on whatever challenges it'll meet along the way
DETAILED DESIGN: The detailed design includes all iconic elements of a long-haul truck – two big pipes and two pairs of mirrors as well as a realistic hook up system that connects your tractor unit to the trailer. For more convenient access to the cabin, a small ladder is mounted under the cabin door. In the rear of the truck you will find a shovel and a gas can
CONSTRUCTION: The Heavy Boy Truck VM-03 model kit is made of sustainably sourced high grade wood and has everything you might need for assembly. The quality of the parts is top-notch: a laser method is used for cutting items from a plywood board that provides precise hairline cuts. The details have to be pulled out of the boards and assembled to create a complete model
INCLUDES: The Truck VM-03 comes with step-by-step, full-colour, truly easy to follow instructions in 11 languages (Ukrainian, English, German, French, Polish, Spanish, Russian, Turkish, Italian, Chinese and Korean) and requires neither glue nor special tools to be fully assembled into functional working Truck
Kit contains all required components and no glue is required
Precision laser cut plywood. Only requires assembly.
UGears Mechanical Models are self-propelled, mechanical wooden model assembly kits.
Perfect for family projects, puzzle enthusiasts, and hands-on STEM learning
541 parts
Assembly time: 12 hours
Model size 380x135x178mm
Heavy Boy Truck VM-03
Ugears wonders if you have ever imagined yourself behind the wheel of a large powerful truck, cruising down the highway, alone in your thoughts, watching the landscape pass by. There has always been a certain romance or mystique to the long-haul trucker, the last of the cowboys. With a powerful team of horses under the hood, the trucker is the biggest guy (or gal) on the road, and sometimes the loneliest. But he's got the freedom of the open road, ever-changing office views, and a workplace as big as the country itself. Whether you're an independent owner operator or a dedicated company man, time on the road clears your head and makes you cherish time at home with your family even more. It's early morning: the mist crawling along the highway fills the air with a sleepy chill. Grab a strong coffee at the truckstop, put on your favorite music, and let your imagination take you on a long-haul journey in the Ugears Heavy Boy Truck VM-03.
The prototype of a modern heavy truck was invented by the American Alexander Winton in 1898. Winton produced cars in a small factory located in Cleveland, and because he needed to get them to customers in different parts of the United States without putting mileage on the cars' odometers, he developed the concept of a heavy truck that could transport large-scale cargoes using a trailer. But the widespread use of trailer trucks really started with the development of asphalt roads in the 1920s, and took off with the formation of the U.S. Interstate Highway System in 1956. Today truckers, the unsung heroes of the highway, transport nearly three-fourths of all freight in the U.S. Without trucks, and the men and women behind the wheel, the economies of every nation on earth would grind to a halt.
Robust and powerful, the Ugears long-hauler has a six-cylinder R6 engine driven by a rubber band motor. This DIY model truck can go for about 5 meters on a single winding. The wooden model truck's transmission system has three modes: forward, back and idle. The front wheels are sprung with shock absorbers, and can turn to set the 3D puzzle truck's direction. The detailed design includes all iconic elements of a classic American conventional cab semi-tractor truck: ten wheels (two up front on the steering axle, and four sets of paired wheels on the drive axles), a functional fifth wheel trailer coupling, a giant grille, air cleaners, two big exhaust pipes running up the side of the cab, roof fairing, air horns, external fuel tanks, two sets of mirrors, and a small step ladder mounted under the cabin door for convenient access.
But this is a Ugears truck, and we are known for going the extra mile by including delightful additional details and touches of whimsy in our wooden mechanical 3D puzzles. Inside the cab you'll find a shovel and a gas can, and for the tired driver, the Heavy Boy offers a cozy sleeping berth with a TV set for watching Convoy, Smokey and the Bandit, Every Which Way But Loose, and the chase scene from License to Kill!
But if all yer doin' is stringin' chicken lights and bobtailing around town you might as well be a 4-wheeler. Time to get to work! The standout feature of the Heavy Boy Truck is that you can couple it with the Ugears Trailer for Heavy Boy Truck VM-03, making a complete semi-tractor-trailer truck. The cargo trailer has tandem axles at the rear, with dual tires (for a total of eight wheels), open sides, and latching back doors. The realistic hook up system brings the two elements of your rig together smartly and securely. Your eighteen-wheeler big rig can now transport cargo across the floor of your home—maybe a tallboy drink for you, or for your sweetie a box of chocolates, flowers, fruit, or even secret notes. The trailer can also serve as a stand for various household items, if the thought of deadheading makes your skin crawl. Whatever you're hauling in your Heavy Boy, the handsome natural wood design will suit any interior.
The wooden mechanical model Heavy Boy Truck VM-03 consists of 541parts, with an estimated 8-9 hours for assembly. Finished tractor truck model size is 30.5 x 13 x 10cm. The Trailer consists of 138parts, and can be assembled in about twohours. Finished trailer model size is 36.5 x 12 x 16cm.
The Heavy Boy Truck VM-03 has everything you need for assembly included in the model kit. The quality of the parts is top-notch: a laser method is used to make precise hairline cuts in a wood composite board. Just push the pieces out and snap them together to create a complete model. No glue or special tools are required. Like all Ugears models, the Heavy Boy Truck VM-03 comes with step-by-step, full-color, easy-to-follow instructions in 11 languages (Ukrainian, English, German, French, Polish, Spanish, Russian, Turkish, Italian, Chinese and Korean). If you break a part during assembly, just let our customer service team know. Replacement parts are free, as part of our overall commitment to customer service.
The Heavy Boy Truck VM-03 will appeal to any boy or girl who ever got a trucker to blow the air horn, to grown-ups who dream of the open road, to dedicated car and truck modellers, to lovers of 3D puzzles, or to anyone who appreciates outstanding, realistic design with attention to every detail. Now's your chance to join the parade (Smokey bear don't like it when we call it a convoy)! Hit the road today with the Heavy Boy Truck VM-03 and Trailer from Ugears. C'mon, c'mon, c'mon let's truck together!
View full details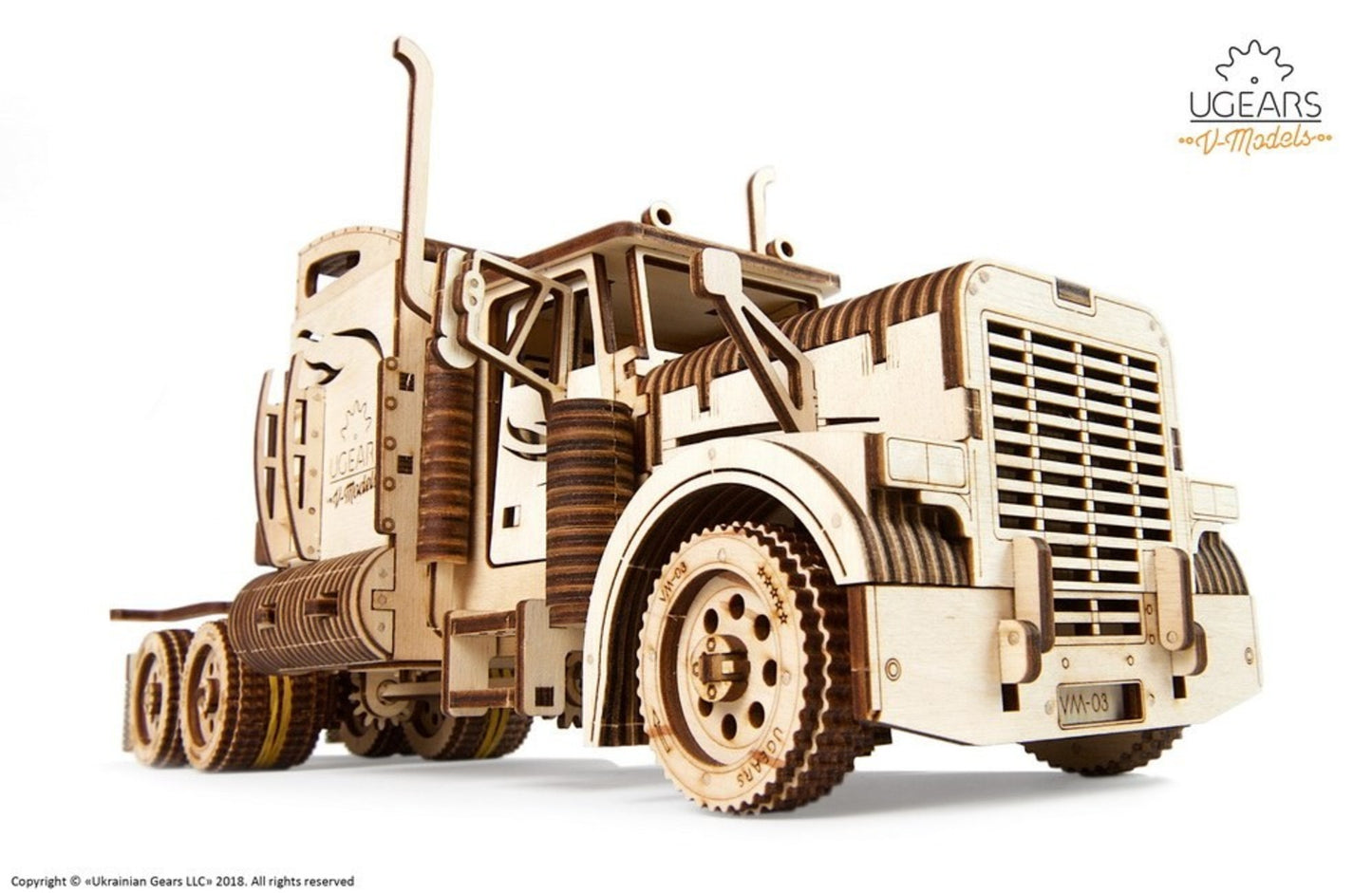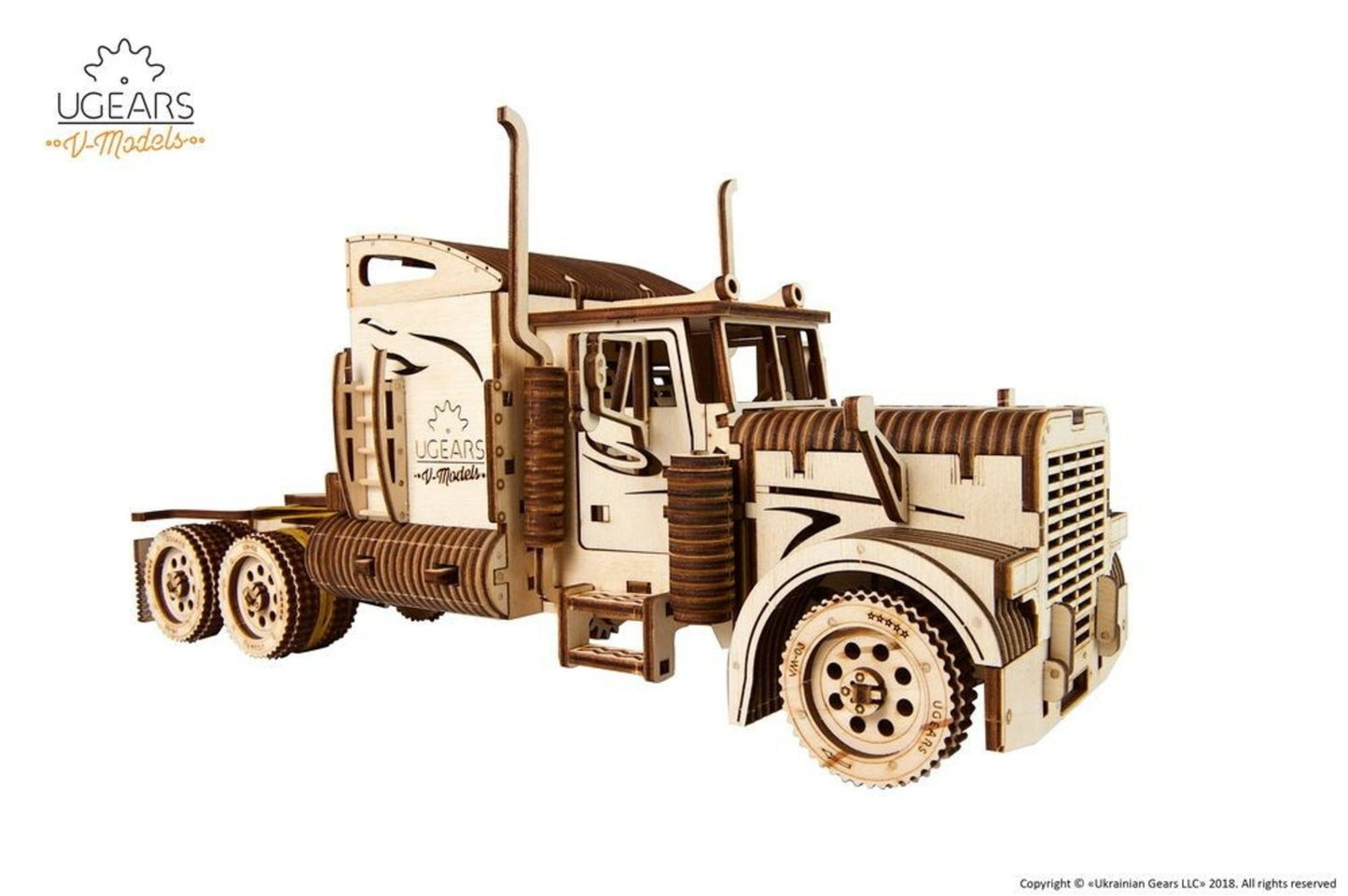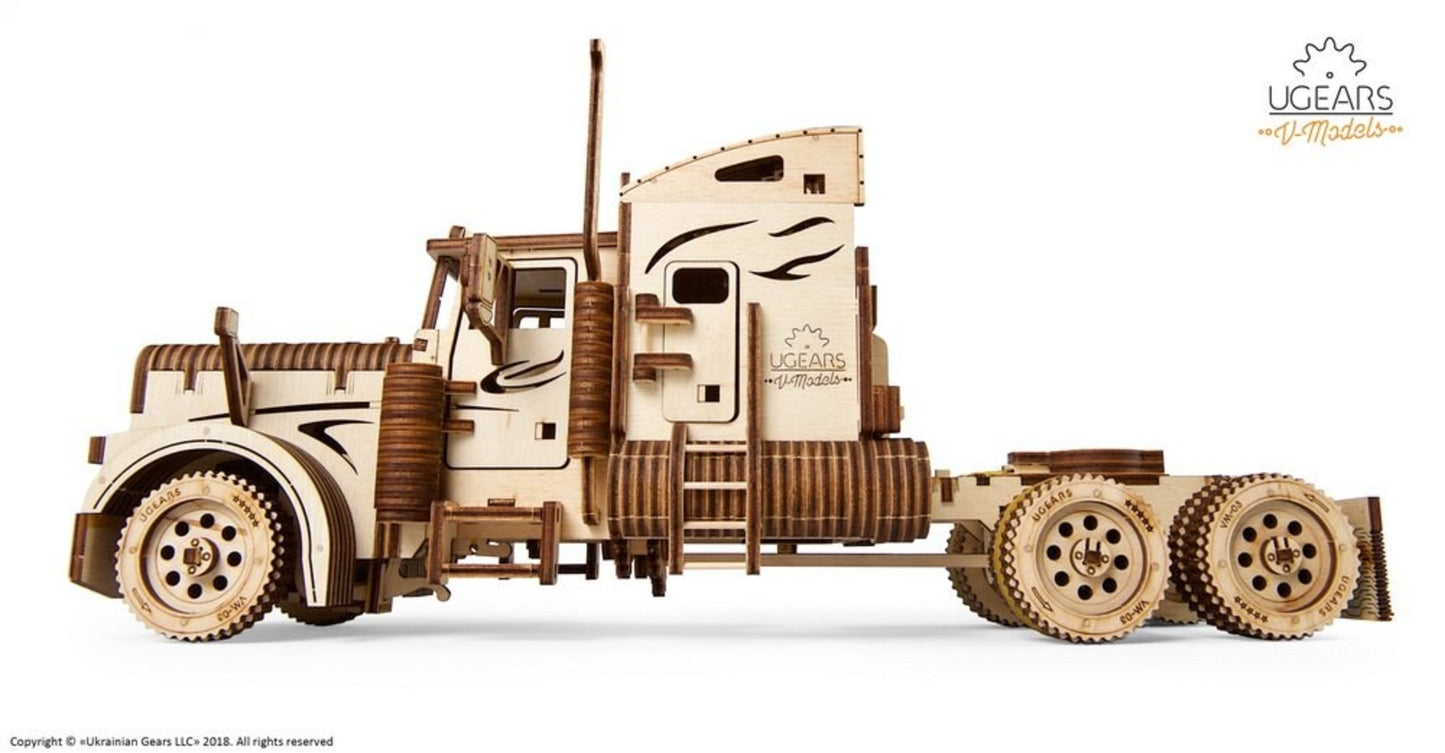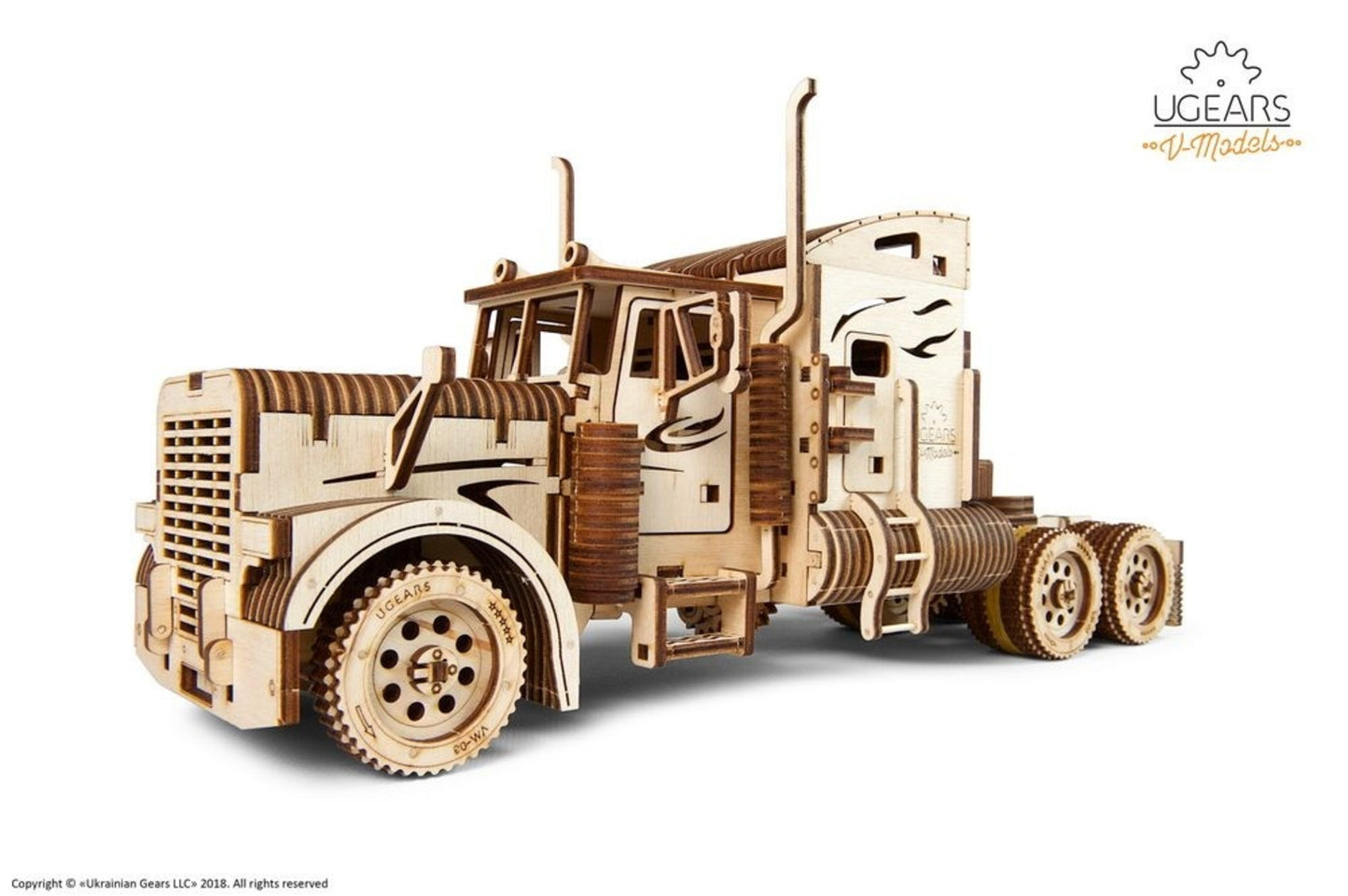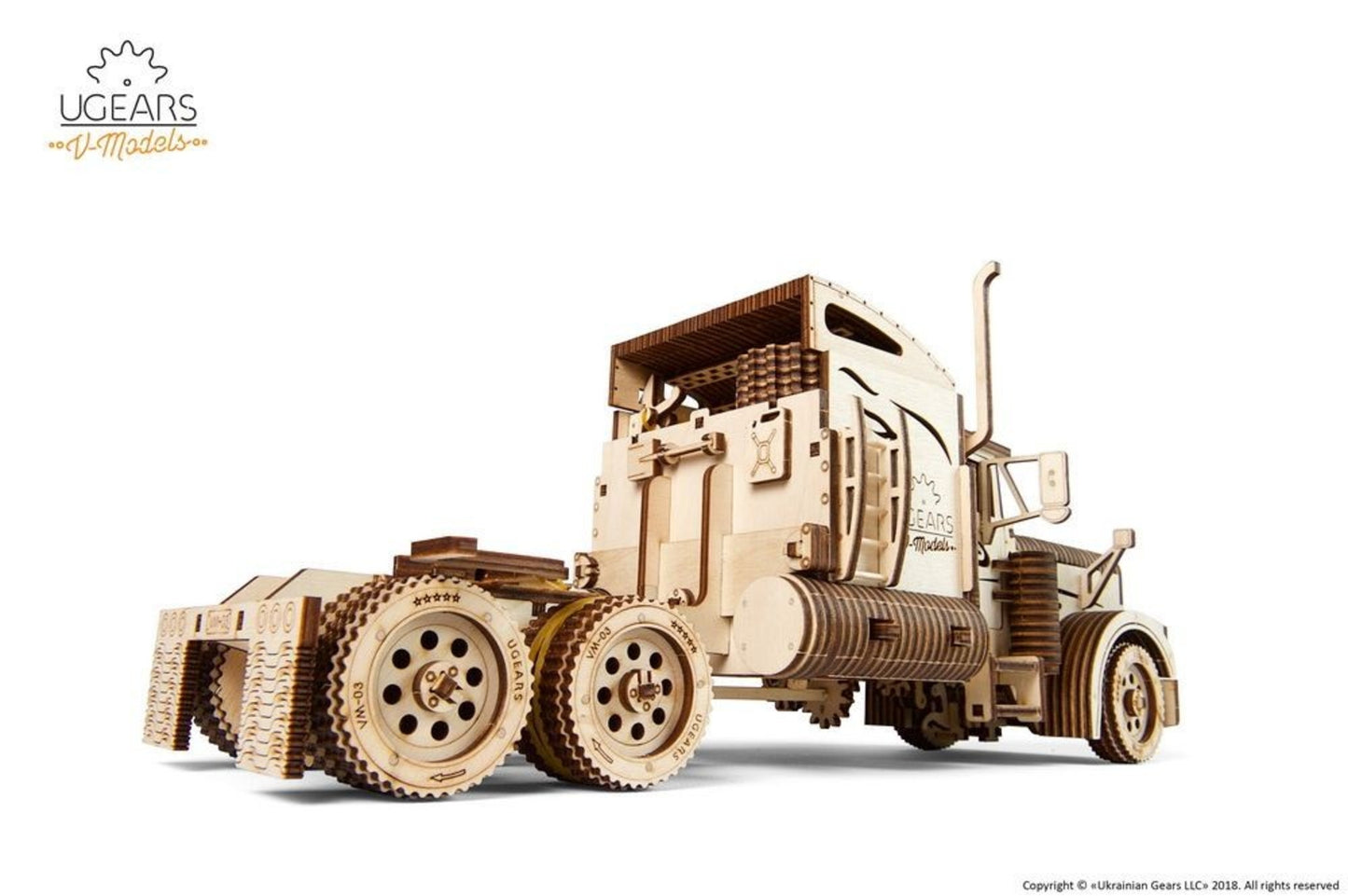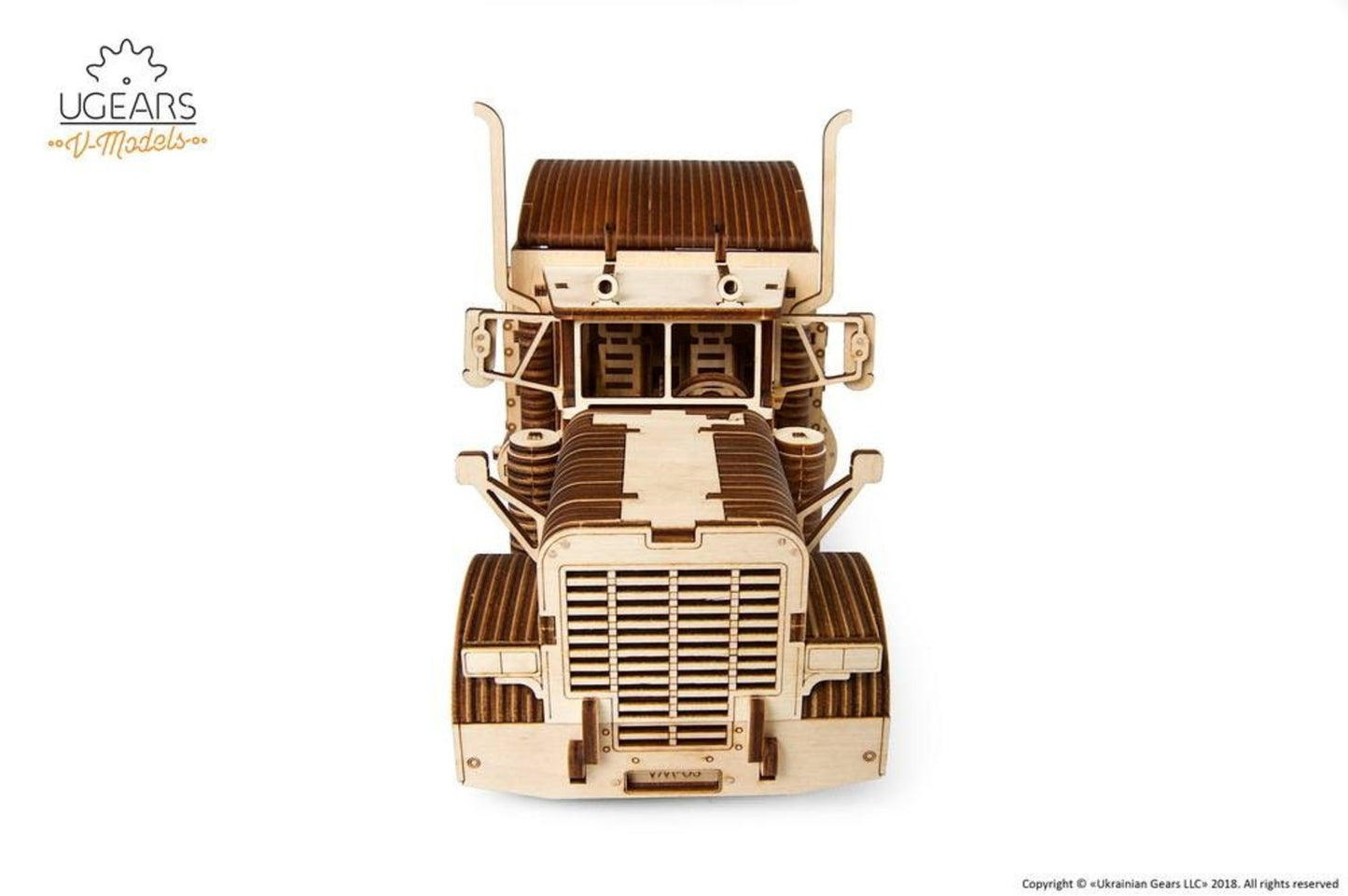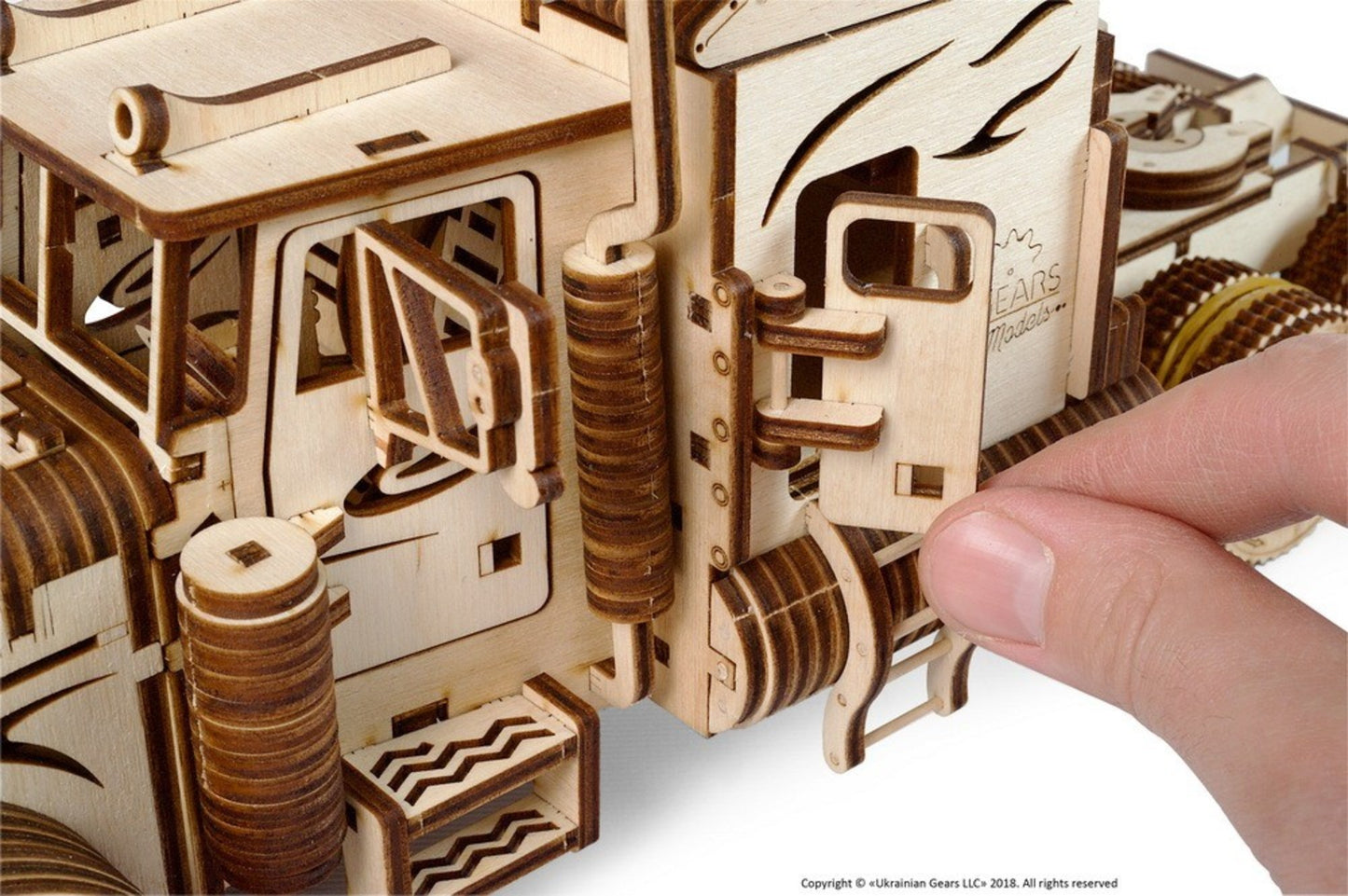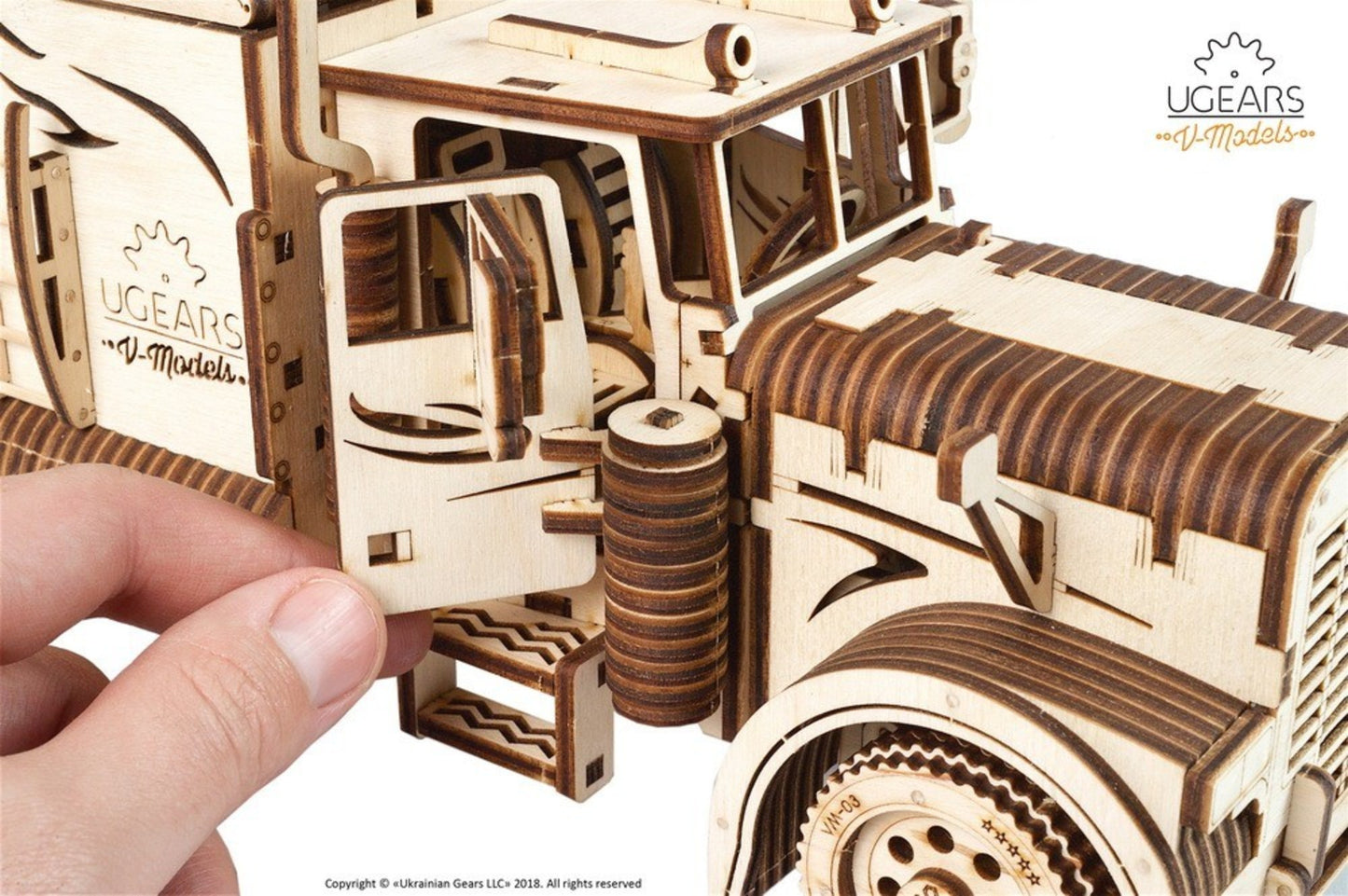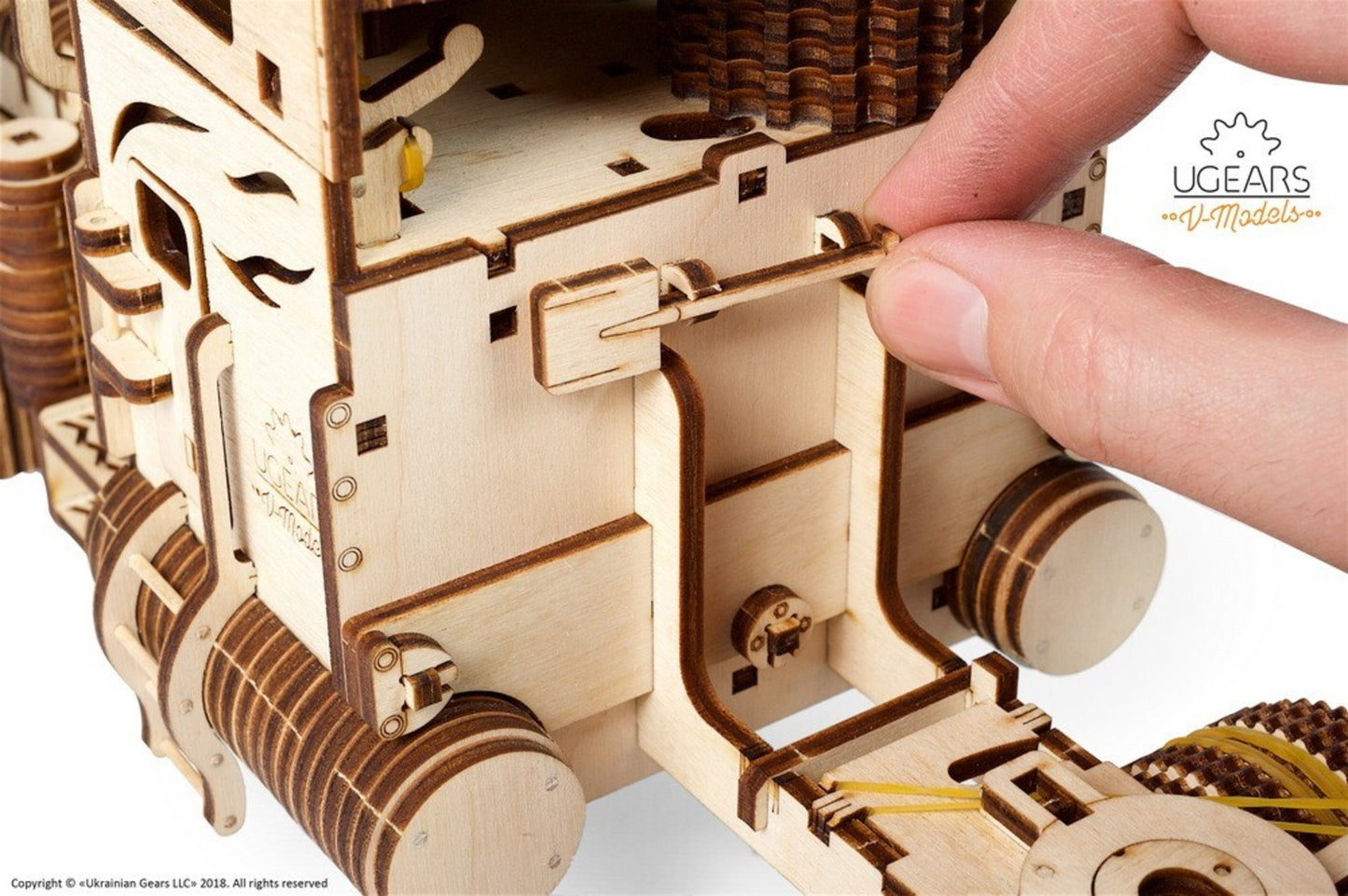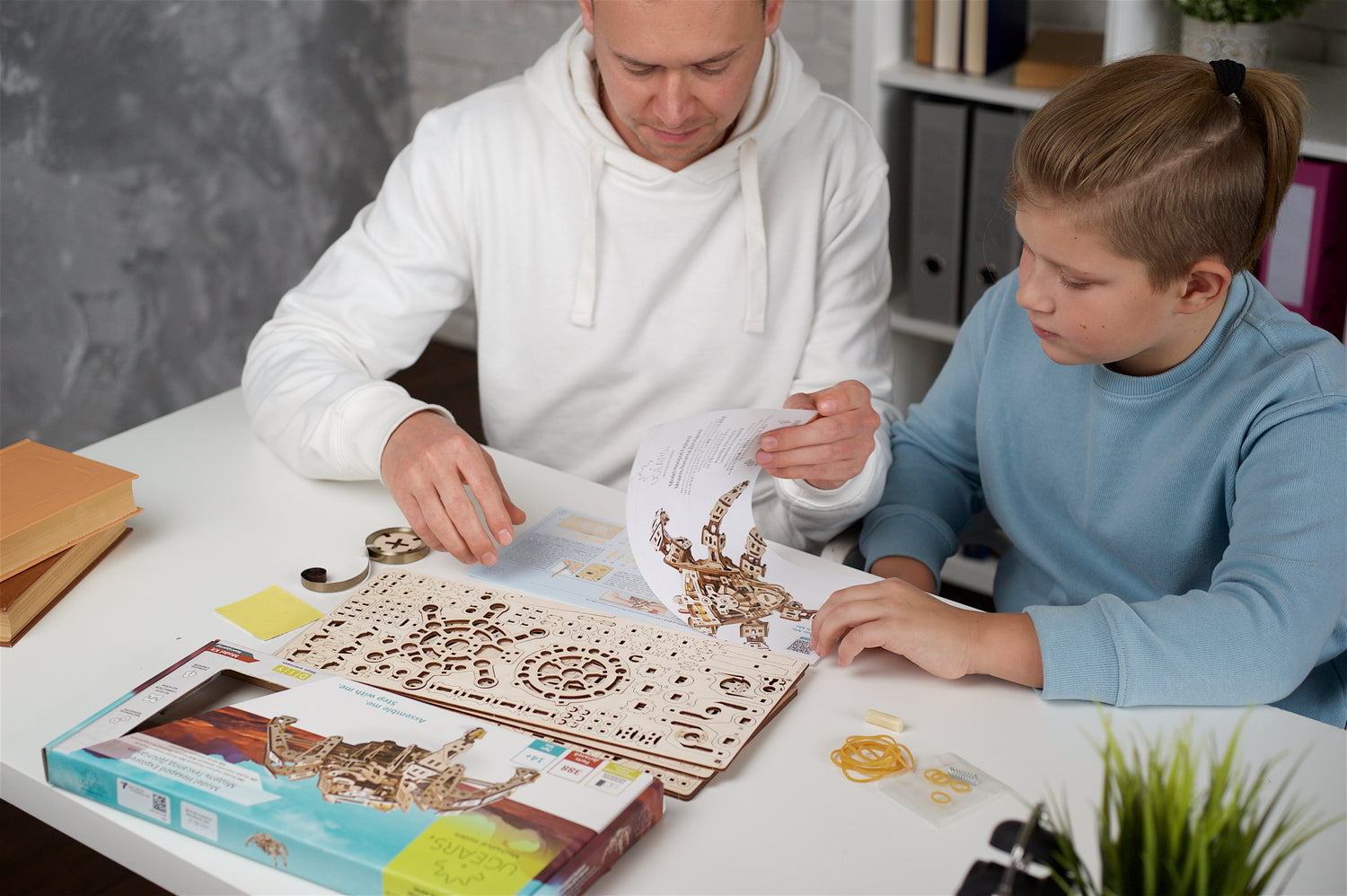 Ready to Build
Ugears models are made from sustainably sourced, laser cut plywood sheets. Everything you need is inside the box, so you can get building right away.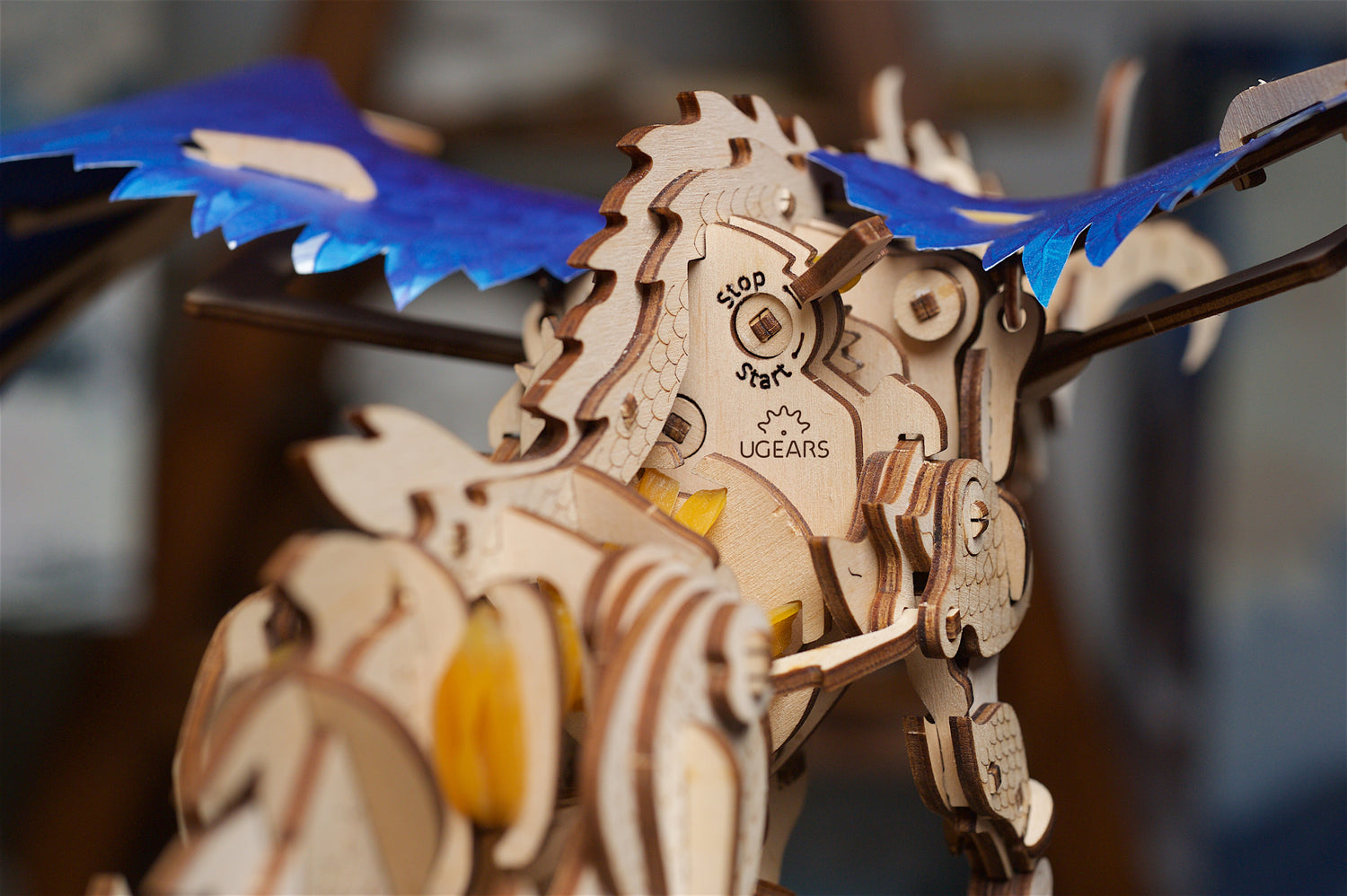 Mechanical
No batteries, no electricity, just Ugears. All mechanical models are powered by the ingenious mechanisms built by you. Just wind up your model and watch it come to life.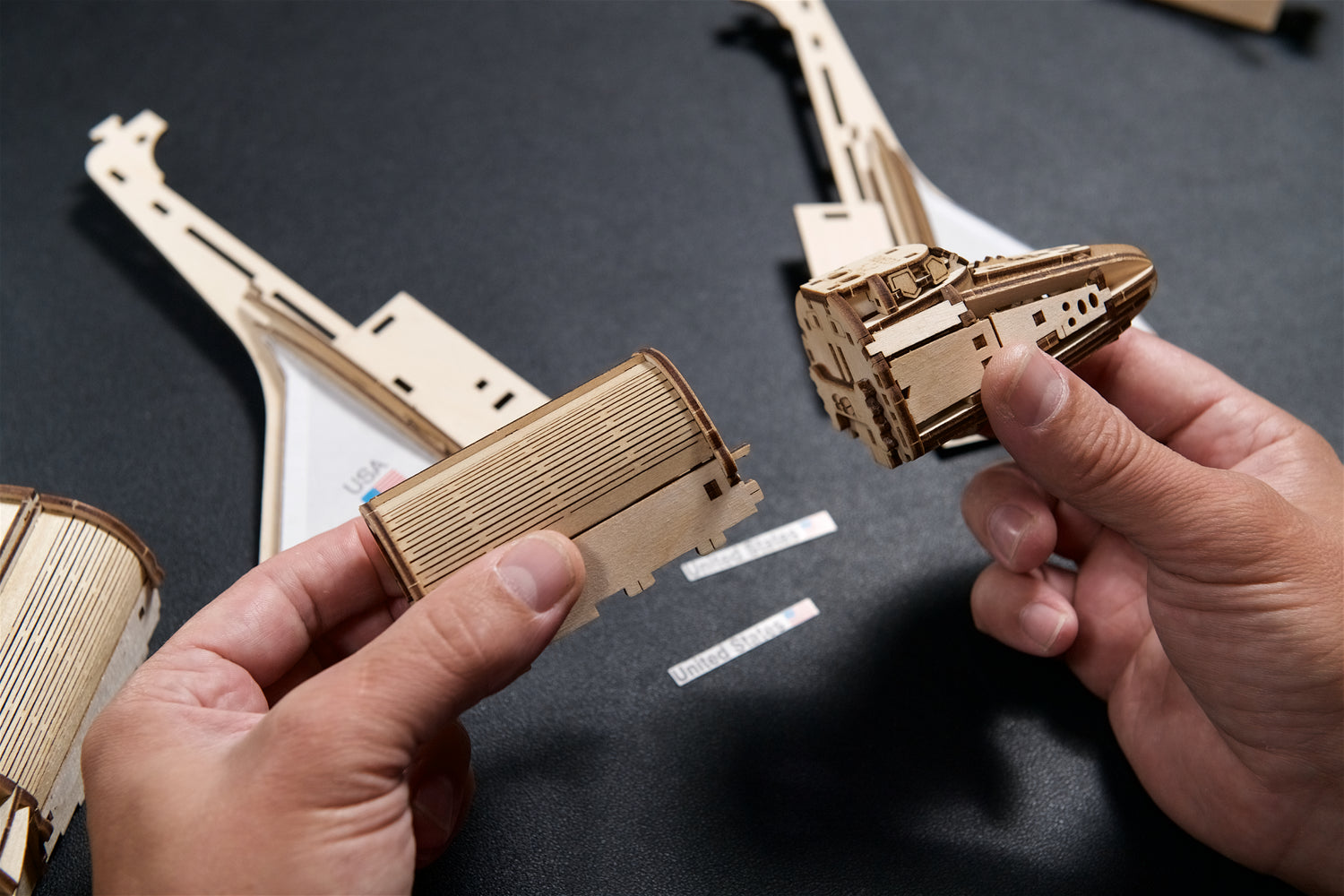 No Glue
Pieces have been designed so they will either click or slide into place. No glue or any other kind of adhesive is needed to build your model.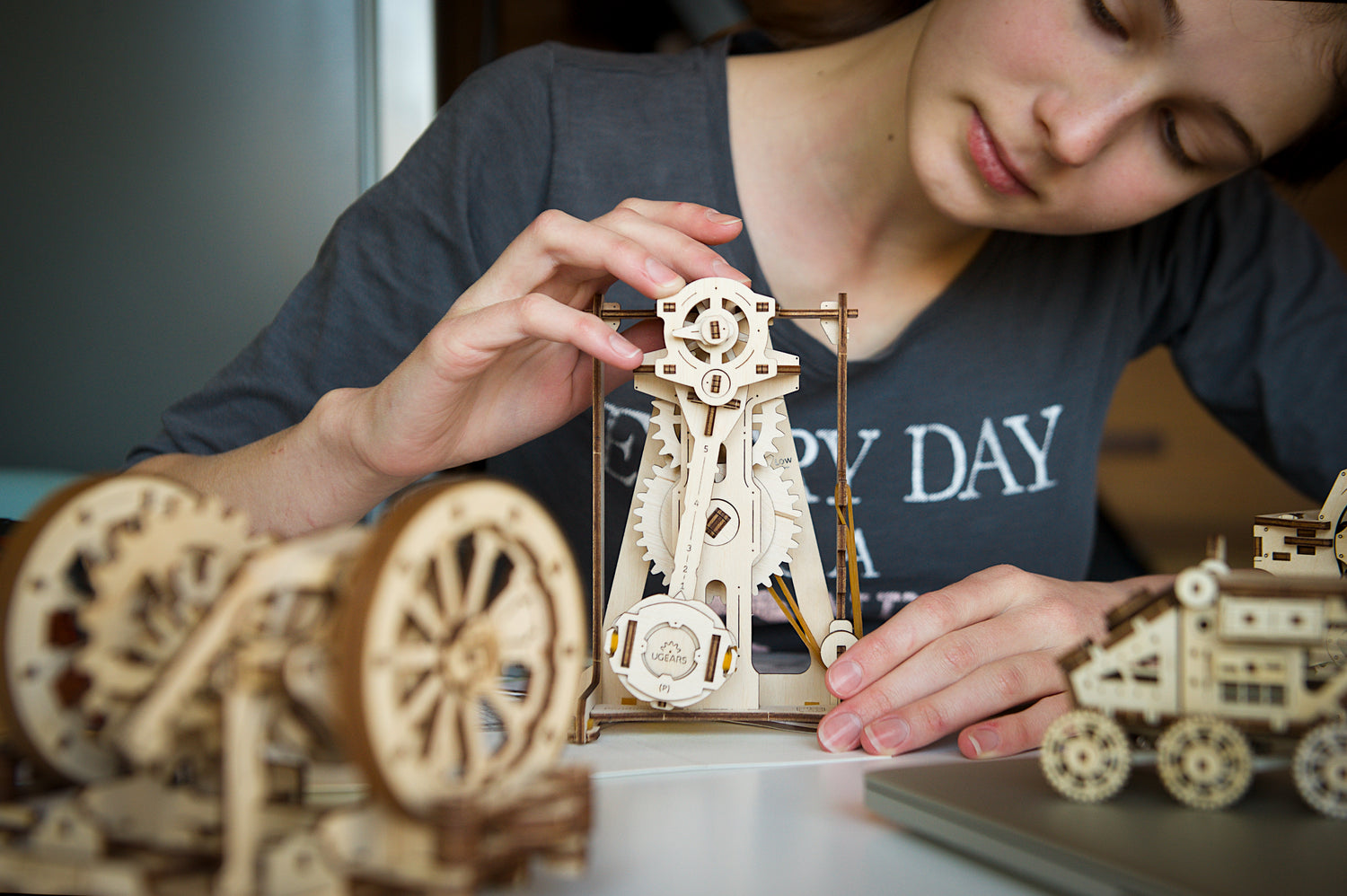 Educational
Models take inspiration from real life inventors and engineers, such as Da Vinci and Galileo. Learn the history behind the model as you build.