SKU:UGR70051
Regular price
Sale price
£28.99 GBP
Unit price
per
Liquid error (snippets/price line 121): divided by 0% OFF
Sale
Sold out
---
189

Pieces

3

Est. Time (hrs)
14+

Age

Medium

Difficulty
LxWxH 258 mm x 84 mm x 105 mm
---
Share
ASSEMBLING ADVENTURE: Get ready for a truly engaging experience! Putting together the UGears UGR-10 Motorcycle Scrambler wooden model requires a bit of patience and lots of enthusiasm, but no tools or glue. Assemble UGears 3D puzzles for adults on your own or in company with friends or family.
VINTAGE DESIGN: This motorbike model is a dual-sport motorcycle prototype first produced back in the 1950s. Just like a real-life scrambler, our model motorbikes are equipped with fork and pendulum suspensions on both the front and back wheels, so it's a fast, steady ride.
IT MOVES: Similar to other 3D wooden puzzles for adults, this motorbike model kit is driven by a rubber-band motor connected to the wheels via a belt coupling. Turn the wind-up key once, and the motorcycle will travel up to 3.5 meters.
DECORATE YOUR SPACE: All UGears toy motorbikes and DIY kits for adults also make a gorgeous home or office décor. For some extra fun, place a load of sweets, a cute note or just office stationery in the sidecar and let the motorbike deliver the load to your kids or friends across the room.
FASCINATING GIFT: The amazing experience of handcrafting and the impressive designs of UGears wooden puzzles for adults and kids will bring joy to your loved ones. ORDER the UGR-10 Scrambler with Sidecar wooden construction kit NOW for a colleague, a friend or any real biker in your life.
Kit contains all required components and no glue is required
Precision laser cut plywood. Only requires assembly.
UGears Mechanical Models are self-propelled, mechanical wooden model assembly kits.
Perfect for family projects, puzzle enthusiasts, and hands-on STEM learning
189 parts
Assembly time: 3 hours
Model size 258x84x105mm
Ugears self-propelled wooden 3D puzzle Bike VM-02
If you're like us at Ugears, you've been spending a lot of time indoors lately. Is life getting a bit too predictable, too routine? Do you miss traveling? Is the open road calling your name? Have you ever dreamed of the freedom of two wheels? Time to turn your computer off and pull your leather jacket on! But wait...before you drop ten grand in the showroom at your local motorcycle dealer on that Triumph or Harley-Davidson you've always dreamed of, may we suggest you first take a test drive with the Bike VM-02 3D wooden puzzle from Ugears?
The low-slung profile and V-twin engine of the VM-02 is evocative of classic American cruisers from the 1930's to the 1960's. Though not a chopper, the Bike features a lengthened fork for stretched-out style and extra "cool." The wide, fat boy back wheel ensures that the model is steady and won't tip over, but it also sends a message—you are large and in charge! This wooden motorcycle model also features turning handlebars to send your bike in whatever direction you choose, making your ride even more life-like and exciting.
Tired of videoconferencing? Instead of yet another Zoom call, how about putting some actual zoooooom in your life! The VM-02 is driven by a powerful rubber band motor that makes the motorcycle ride for as much as 3 meters in one winding. The energy produced by the motor is transmitted to the rear wheel by a belt drive. The design of the Bike allows you to observe the inner workings of the mechanism, including moving pistons that are fascinating to watch. This is what makes Ugears so special, and what differentiates a Ugears model kit from other 3D puzzles: once assembled, our models aren't just for static display, they have super cool mechanical actions.
Who can forget Marlon Brando in The Wild One (1953), or Peter Fonda, Dennis Hopper and Jack Nicholson in Easy Rider (1969) and the Steppenwolf anthem "Born to Be Wild" from that movie's soundtrack? To this day, "Get your motor runnin' / Head out on the highway" continues to serve as a clarion call to bikers. Hollywood helped bring biker culture into the popular imagination, but it didn't create biker culture. Bikers did that themselves. But the 50's outlaw biker culture and 60's biker counterculture of film are just some of the many subcultures that have arisen around motorbikes. You have to include bike touring culture, where friends of all social classes and political bents join to ride together. You have to include the lone biker saluting the other bikers he passes along the road, enjoying unspoken camaraderie in his solitude. And don't forget the ladies—women riders have been a part of the biker community from the beginning.
Once you've reached your destination—the biker bar or roadside cafe—it's time to proudly park your bike out front. You're inside with your friends, but through the window you see people gawking at your beautiful motorcycle. Your Ugears Bike VM-02 model has a center kickstand to help it sit steady and safe on the shelf. Build the Bike VM-02, paint it in your preferred color scheme or leave it unpainted, and let your friends and family gawk at the beautiful bike model you made. Share the dream of freedom, of two wheels and an open road.
A motorcycle has never been merely a means of transportation; it's always been and will forever represent speed, true freedom, and a challenge to the conventional life. With the Ugears Bike VM-02 you get to help create the spirit of the road with your own hands as you build the model. The combination of high-tech design and natural materials make this handsome model a worthy gift for the motorcycle enthusiast in your life, whether that's you, a brother, sister, cousin, friend, business partner or client. Detailed, realistic design ensures that this wooden motorbike model will complement any table or shelf in the home or office.
For those not fully committed to their mid-life crisis, you can still experience the world through a biker's eyes with the bold and beautiful Bike VM-02 from Ugears. Who knows, maybe it will lead to other things...a wonderful new hobby building "old school and oh-so-cool!" mechanical models from Ugears, or maybe an actual Harley hog in your garage. Start small, but dream big!
The Bike VM-02 model is made of high-grade composite wood with a wonderful smell. The quality of the parts is top-notch: a laser method is used for cutting the pieces out of a plywood board, with precise hairline cuts. Simply punch the parts out of the boards and snap them together to create your finished model. Everything you need for assembly comes right in the box. Like all other Ugears models, the Bike comes with step-by-step, full-color, easy-to-follow instructions in 11 languages (Ukrainian, English, German, French, Polish, Spanish, Russian, Turkish, Italian, Chinese and Korean) and doesn't require any glue or special tools to be fully assembled into a functional, working model Bike. If you break a piece during assembly, no sweat—as part of its commitment to customer service, Ugears doesn't charge for replacement parts. The Bike VM-02 has 189 pieces and is rated as a "Medium" level build, with an estimated assembly time of 3-4 hours.
Graceful and bold, your new model Bike VM-02 from Ugears carries the true spirit of the road. This Ugears 3D wooden model Bike is a unique gift idea for friends or family members who love motorcycles, fine machinery, model building, DIY projects, puzzles, or for anyone who appreciates outstanding mechanical and aesthetic design. Add the Bike VM-02 to your Ugears collection or give one as a gift today!
View full details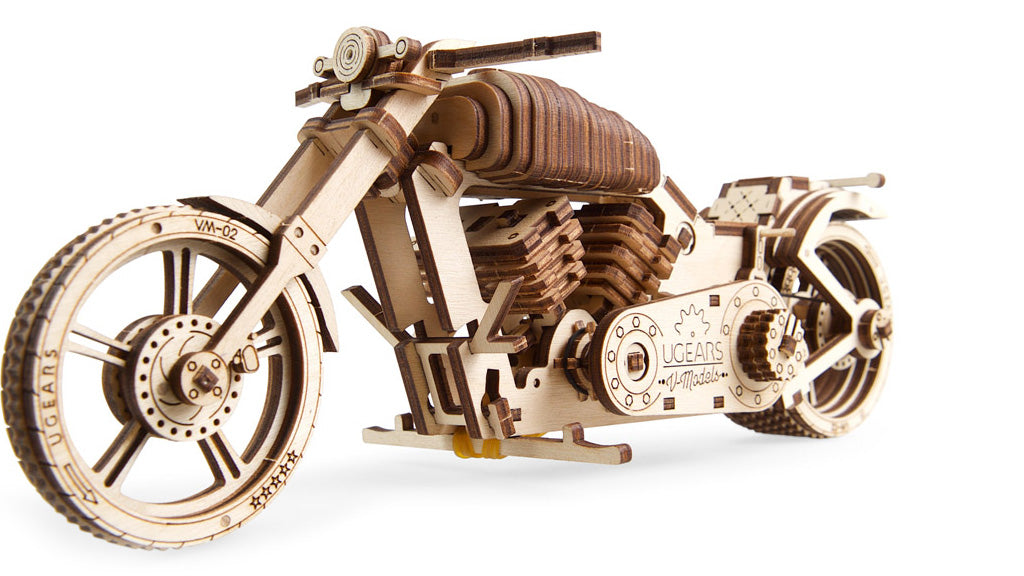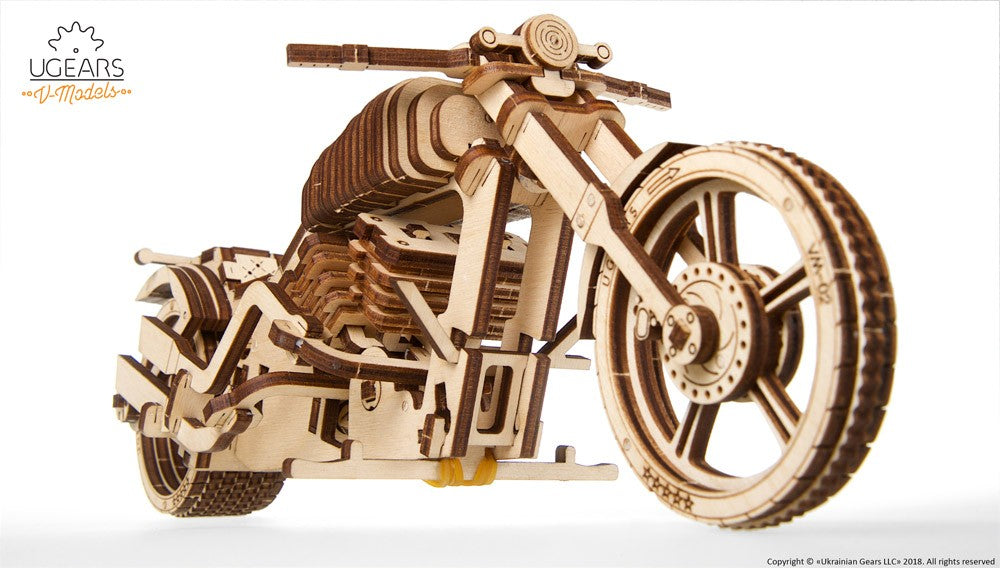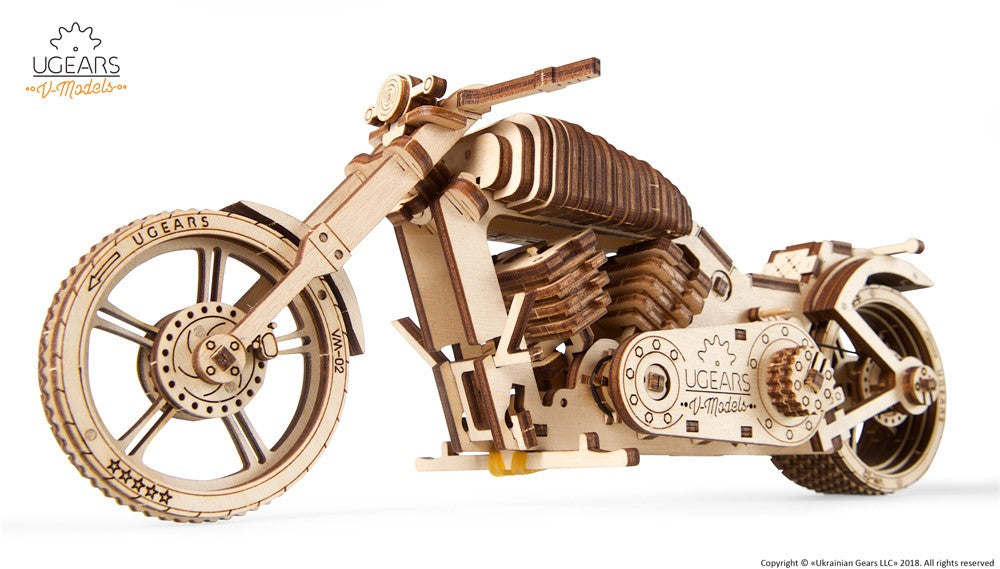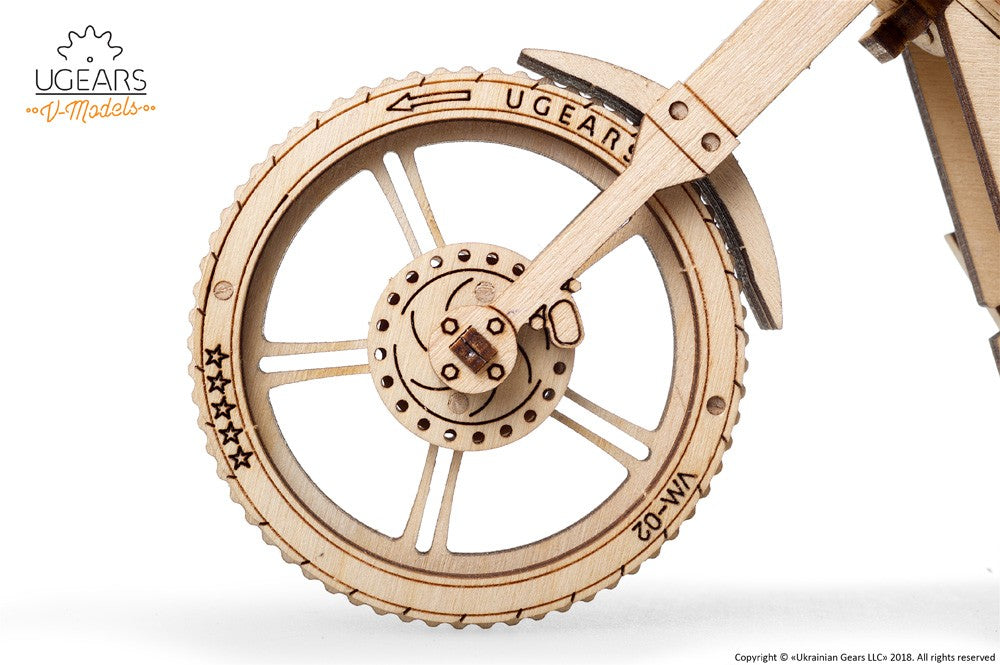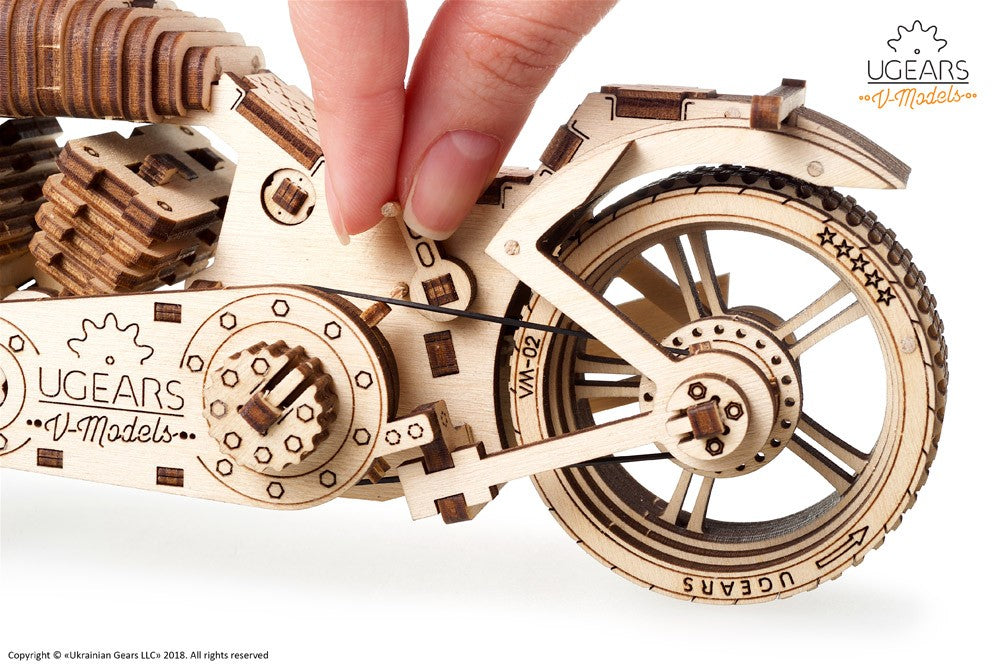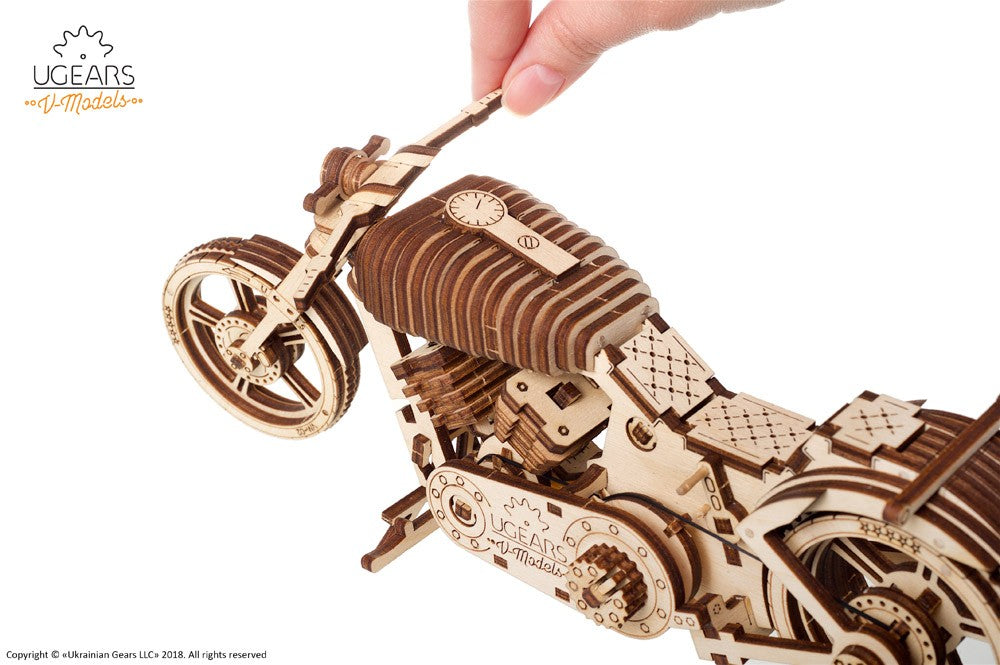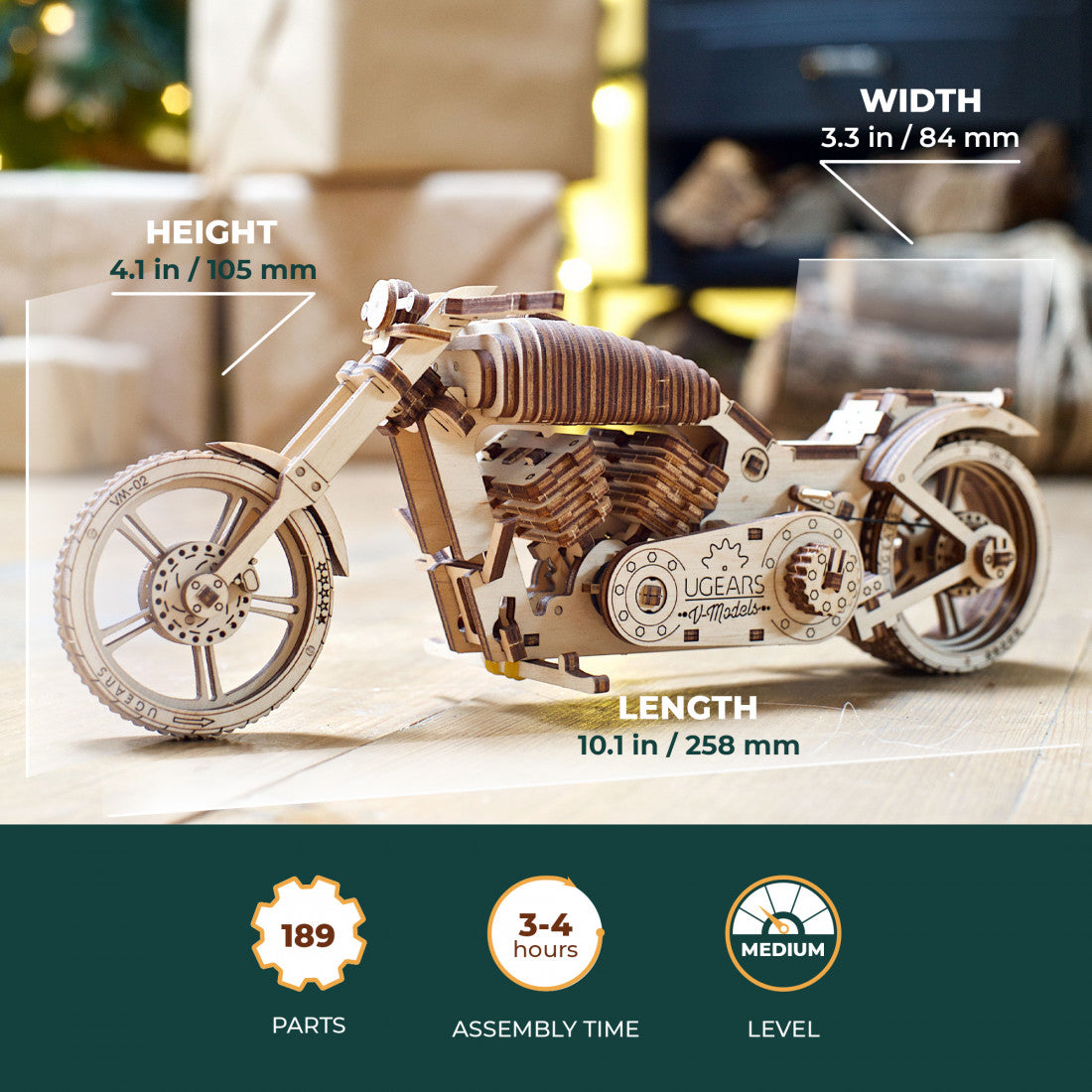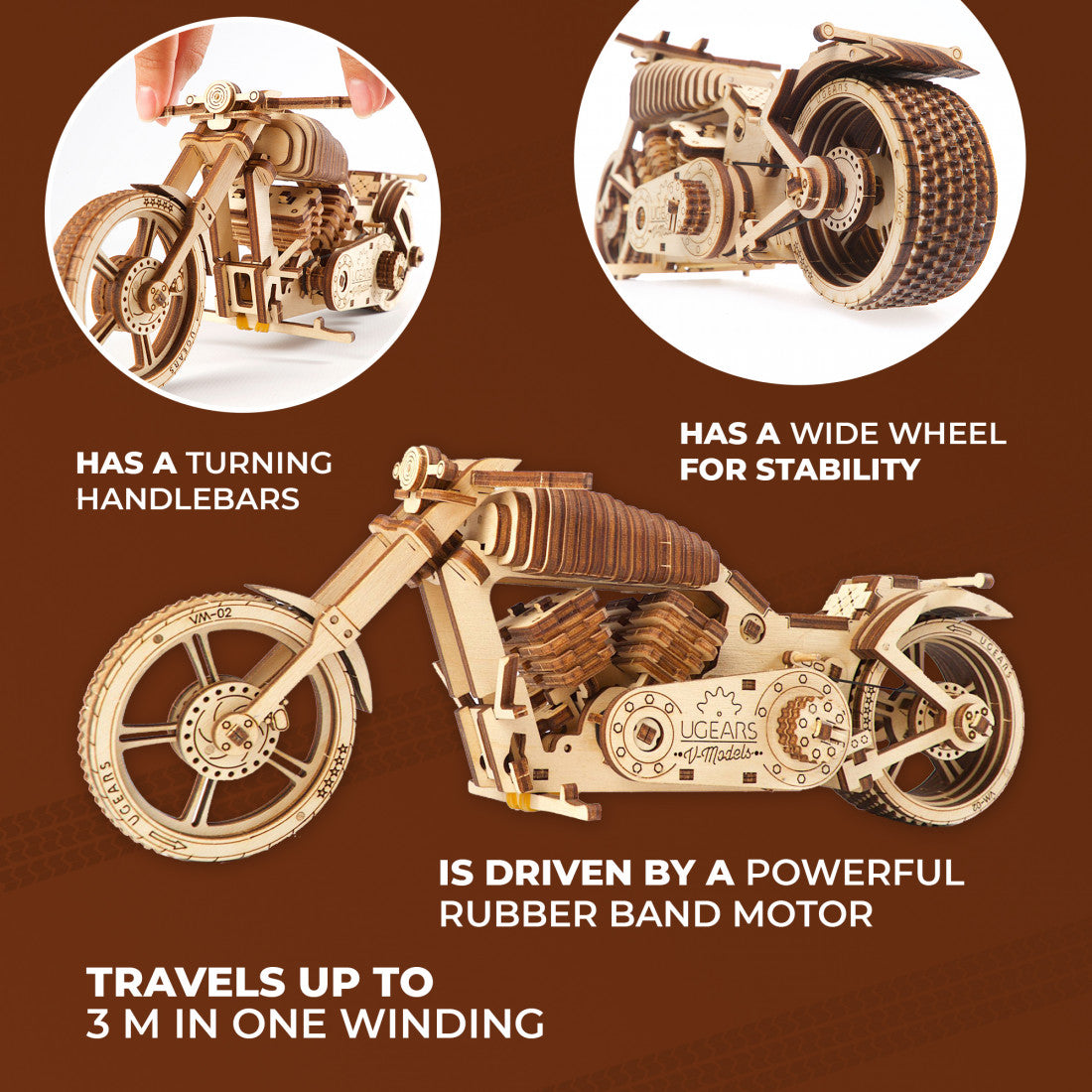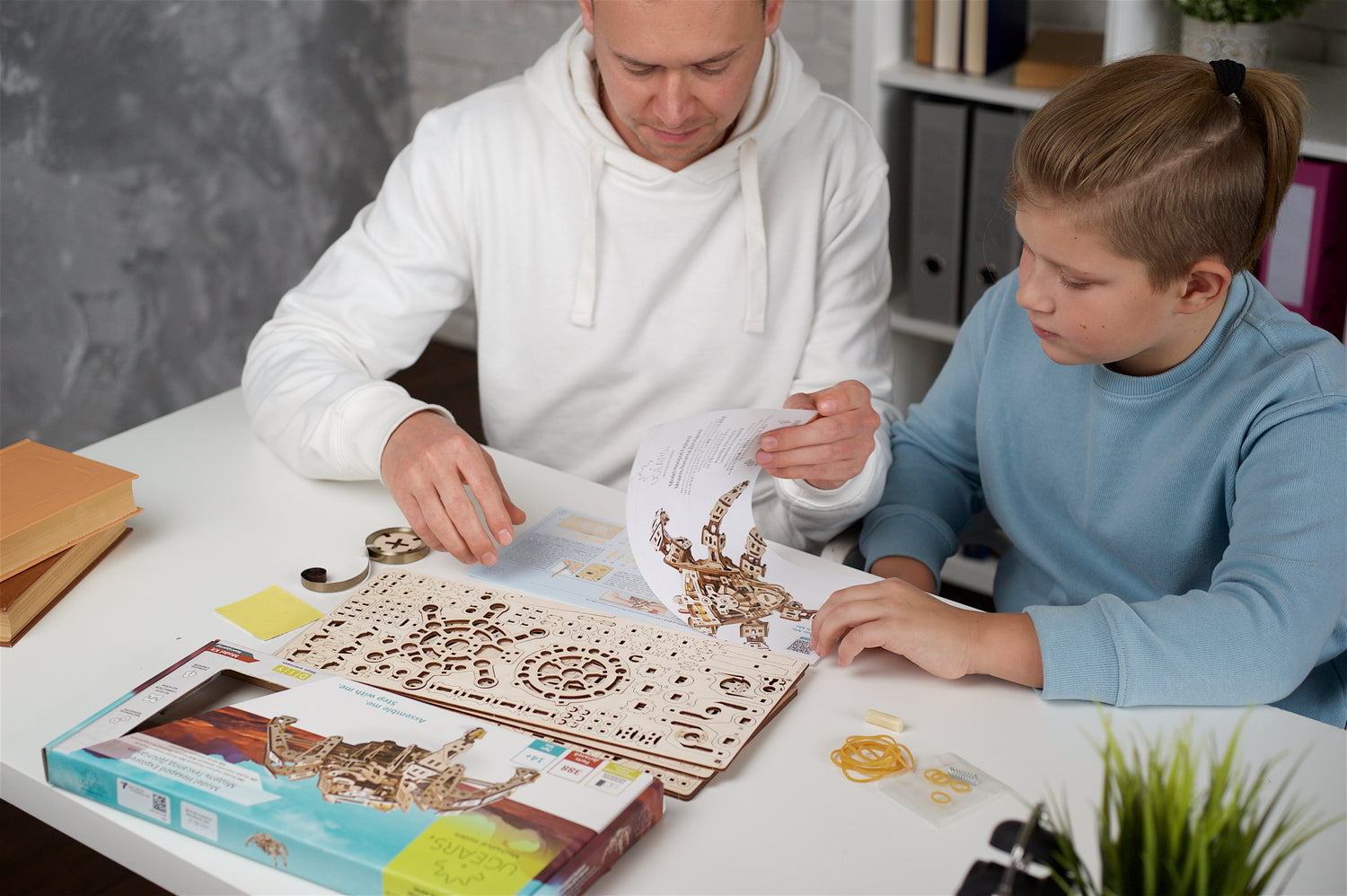 Ready to Build
Ugears models are made from sustainably sourced, laser cut plywood sheets. Everything you need is inside the box, so you can get building right away.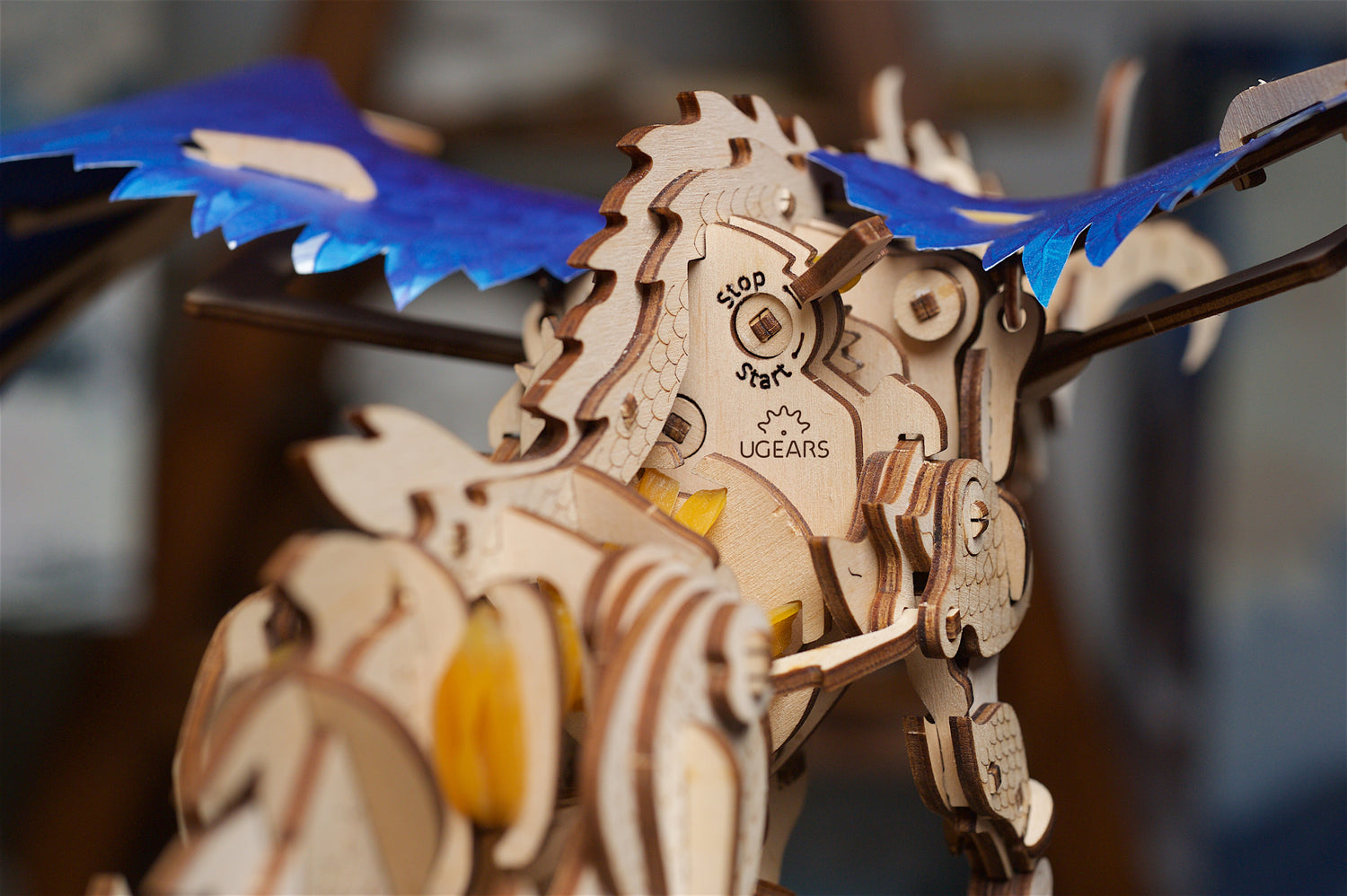 Mechanical
No batteries, no electricity, just Ugears. All mechanical models are powered by the ingenious mechanisms built by you. Just wind up your model and watch it come to life.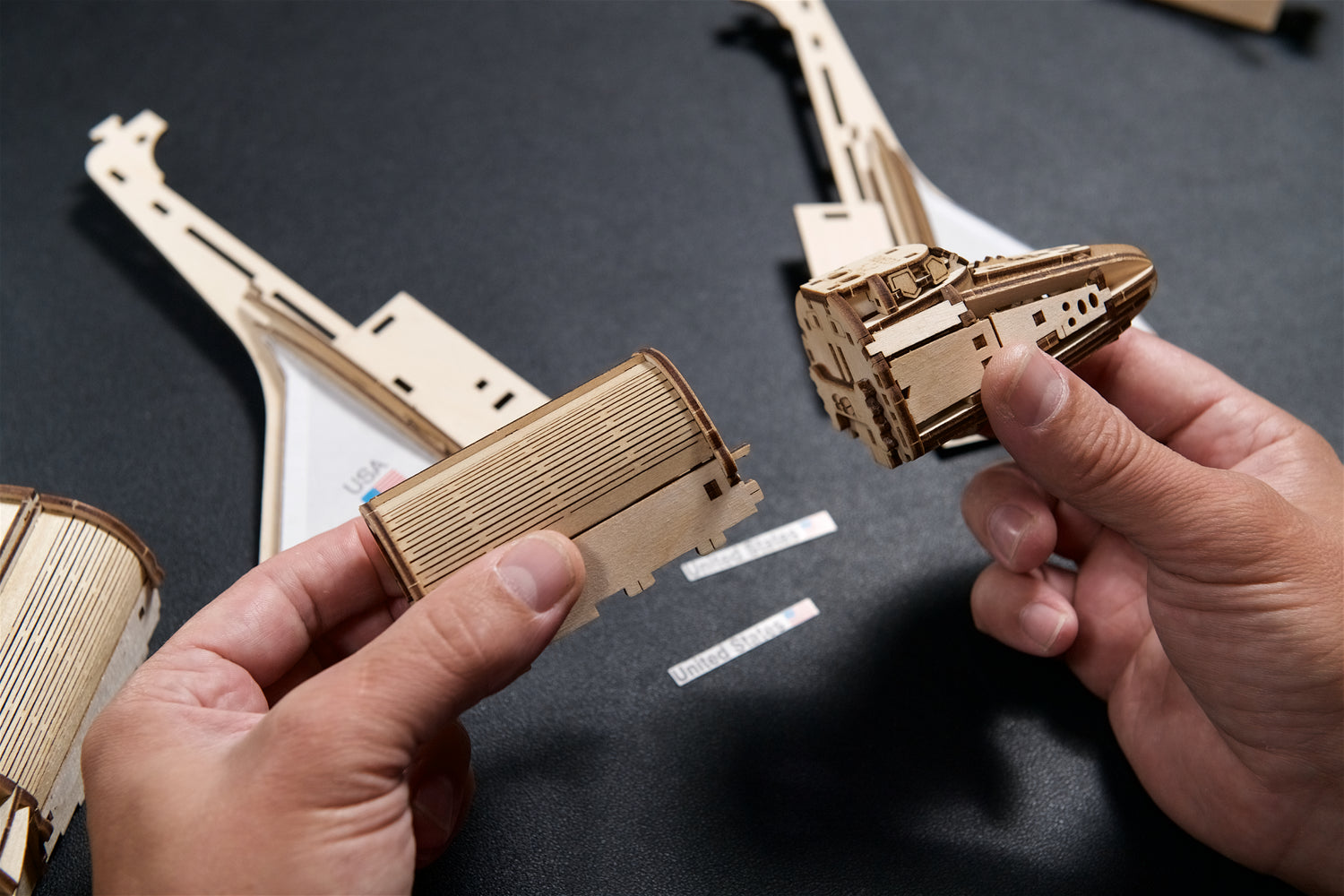 No Glue
Pieces have been designed so they will either click or slide into place. No glue or any other kind of adhesive is needed to build your model.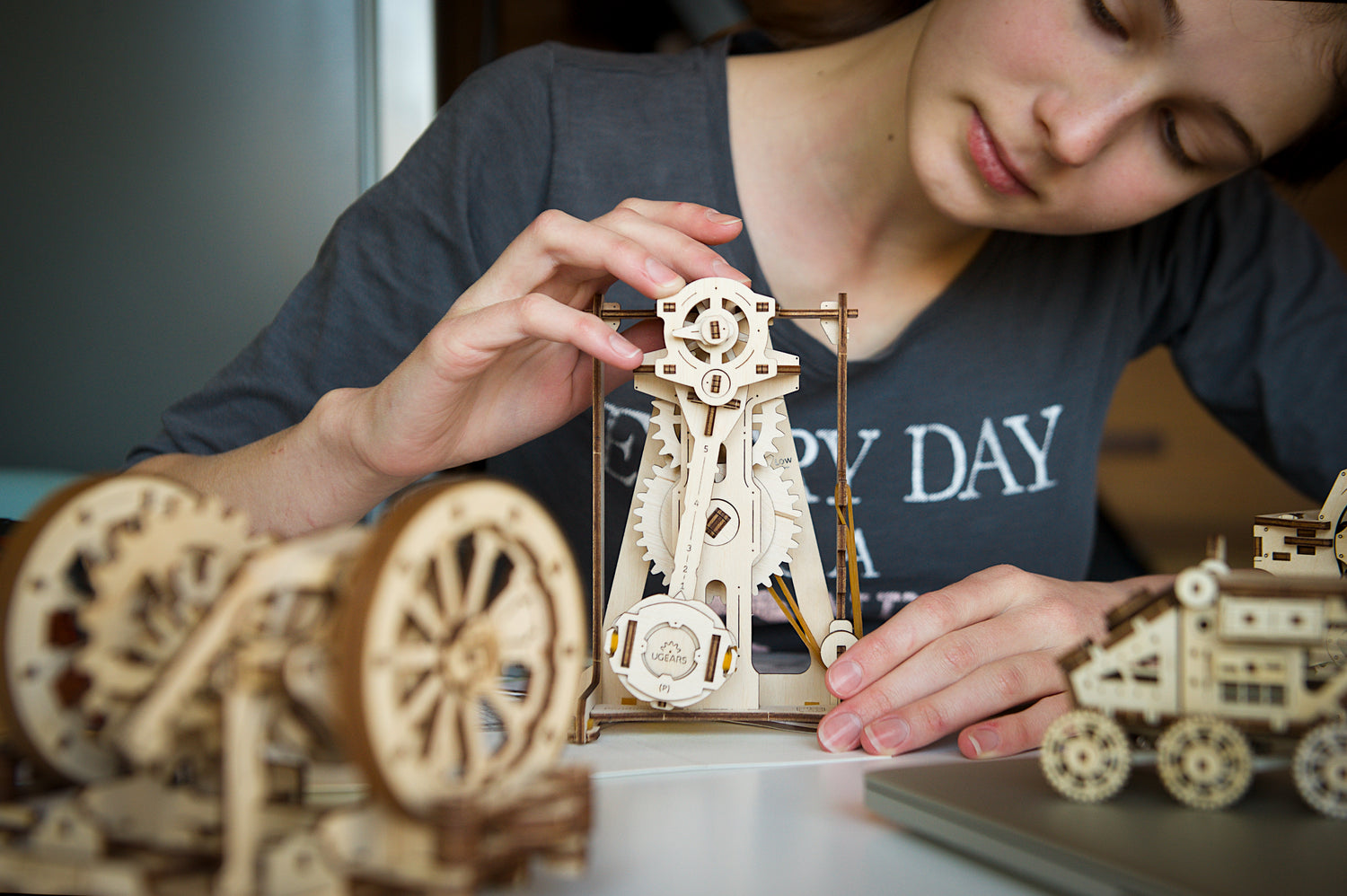 Educational
Models take inspiration from real life inventors and engineers, such as Da Vinci and Galileo. Learn the history behind the model as you build.