SKU:UGR70045
Regular price
Sale price
£38.50 GBP
Unit price
per
Liquid error (snippets/price line 121): divided by 0% OFF
Sale
Sold out
---
248

Pieces

5

Est. Time (hrs)
14+

Age

Advanced

Difficulty
LxWxH 400 mm x 125 mm x 160 mm
---
Share
Unique Texture Design: It features a realistic design that will help kids learn about the creature in a safe way while giving them endless hours of fun. Made with safe, premium quality wood that has grooved edges which makes It'safe for children and adults. The 3D wood puzzle is also perfect for displaying in a child's bedroom, playroom, or study area.
Build Fun & Educational Learning: This stagecoach horse puzzle well craft with superior material to build fun & educational learning for both adults & children who love such type of puzzles. This mechanical wooden puzzle toy uses precision laser cutting of premium- quality wood, which is safe and convenient.
Perfect for Puzzles Games Lovers: Challenge yourself and your loved ones by building this amazing 3D puzzle, display your achievement as artwork or play with your new model toy. Puzzles lovers of any age or gender will enjoy this amazing challenging wood puzzle toy kit. It is also a great choice for decorations or ornaments in the living room, bedroom, coffee house, etc.
Stylish Interlocking Pieces: Stagecoach horse 3D pretty puzzle woodcraft construction kit with strong stylish interlocking puzzle pieces. In most parts, no glue is needed and the pieces are interlocking together. Wooden puzzle has a smooth and well-polished finish with no jagged edges. It is also great to create it with friends and family for long term play.
Stem Learning Toy: 3D puzzles woodcraft construction kits help develop skills like eye coordination, problem-solving, and shape recognition while encouraging creativity. All puzzle pieces are laser cut and sanded thoroughly to ensure smoothness of edges. This beautiful stagecoach horse model will hold a royal style on its own.
Kit contains all required components and no glue is required
Precision laser cut plywood. Only requires assembly.
UGears Mechanical Models are self-propelled, mechanical wooden model assembly kits.
Perfect for family projects, puzzle enthusiasts, and hands-on STEM learning
248 parts
Assembly time: 4.5 hours
Model size 400x125x160mm
Ugears wooden puzzle Stagecoach, self-propelled mechanical model
Feel the free wind of the frontier in your hair, take your family on a thrilling journey to the Wild West with Ugears beautiful mechanical Stagecoach.
Ugears introduces the legendary carrier from the late 18th – 19th century, when the stagecoach became a common means of communication as well as passenger and small cargo transportation in the US. The coach delivering letters, packages and money became a signature attribute of the Wild West culture, as represented in films and stories.
In creating the Stagecoach, Ugears intended to design a model that would be a delight to your eyes and at the same time would be able to face the challenges of the Wild West – should you decide to re-create this romantic period at home with your family. As a result, the Stagecoach has a solid frame and wheels sturdy enough to play with, and a delicate cabin that gives the model an iconic Ugears look.
The doors of the cabin open to let the passengers in and out. If you'd like to deliver a message to your family, two cargo crates on the roof of the cabin will conveniently accommodate your letter. In case your kid is waiting for a package of sweets from the outskirts of civilization at the other end of the table, you can also use your Stagecoach's cabin or crates to deliver those. Also, the crates can be removed and replaced with whatever small package you need delivered.
Simple and comprehensive mechanics guarantees fast but interesting assembly that people of any age will enjoy. Invite your whole family to spend time together re-creating the Wild West spirit and deepening the bonds between you with this exciting game.
Your Stagecoach is fast and needs just a few turns of the winding key to get going. Lock the rear wheel axle to make sure the model is not running away from you while you are winding it.
When all the parcels are delivered, letters sent, and the game is over, you will not want to put your Stagecoach away. Beautiful detail on the side of the cabin, delicate carving combined with curious mechanical elements ensure that the model can become an original handsome addition to any interior.
Made out of high quality plywood without glue, your puzzle will bring hours of joy to the whole family and will make you closer than ever.
They say some cowboys have too much tumbleweed in their blood to settle. But whether your hat is black or white – it is time to hang it on a peg and enjoy some family time with Ugears' Stagecoach.
View full details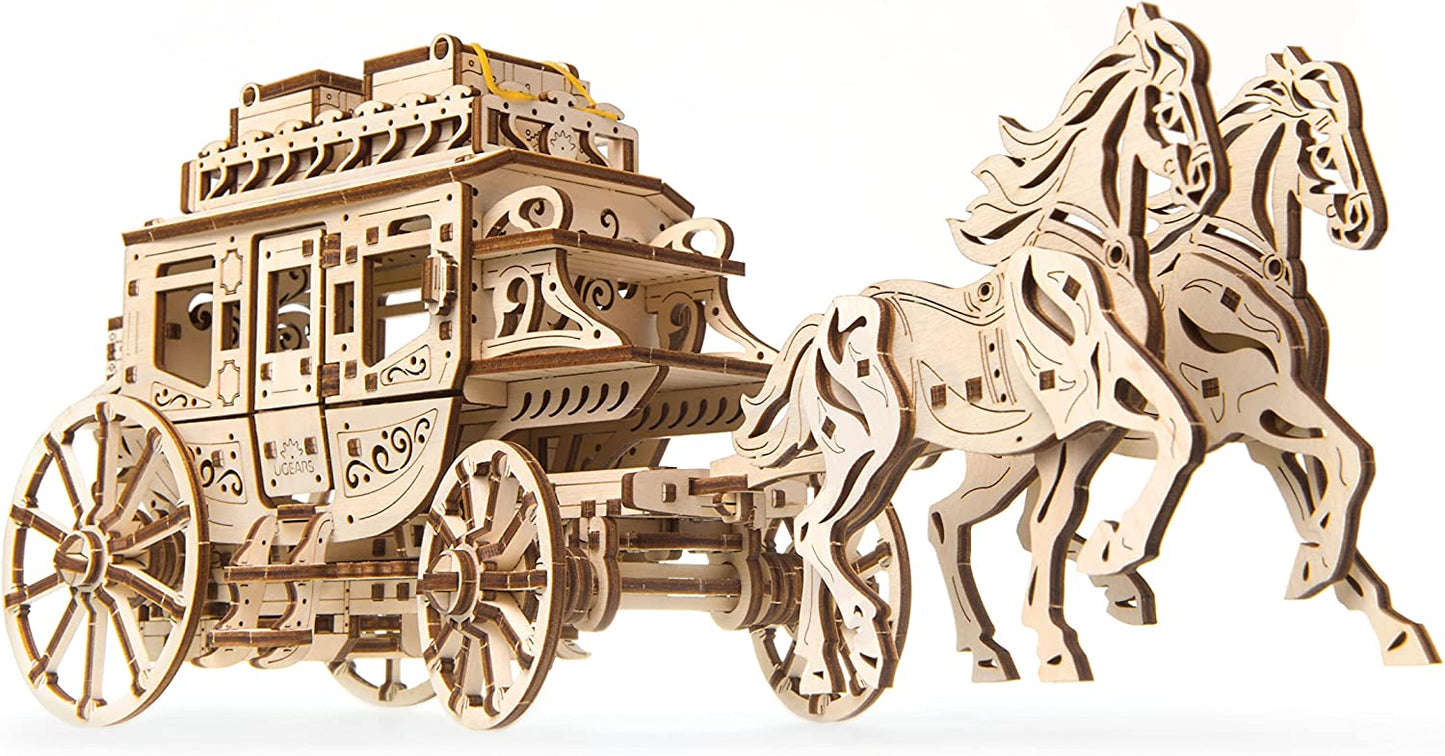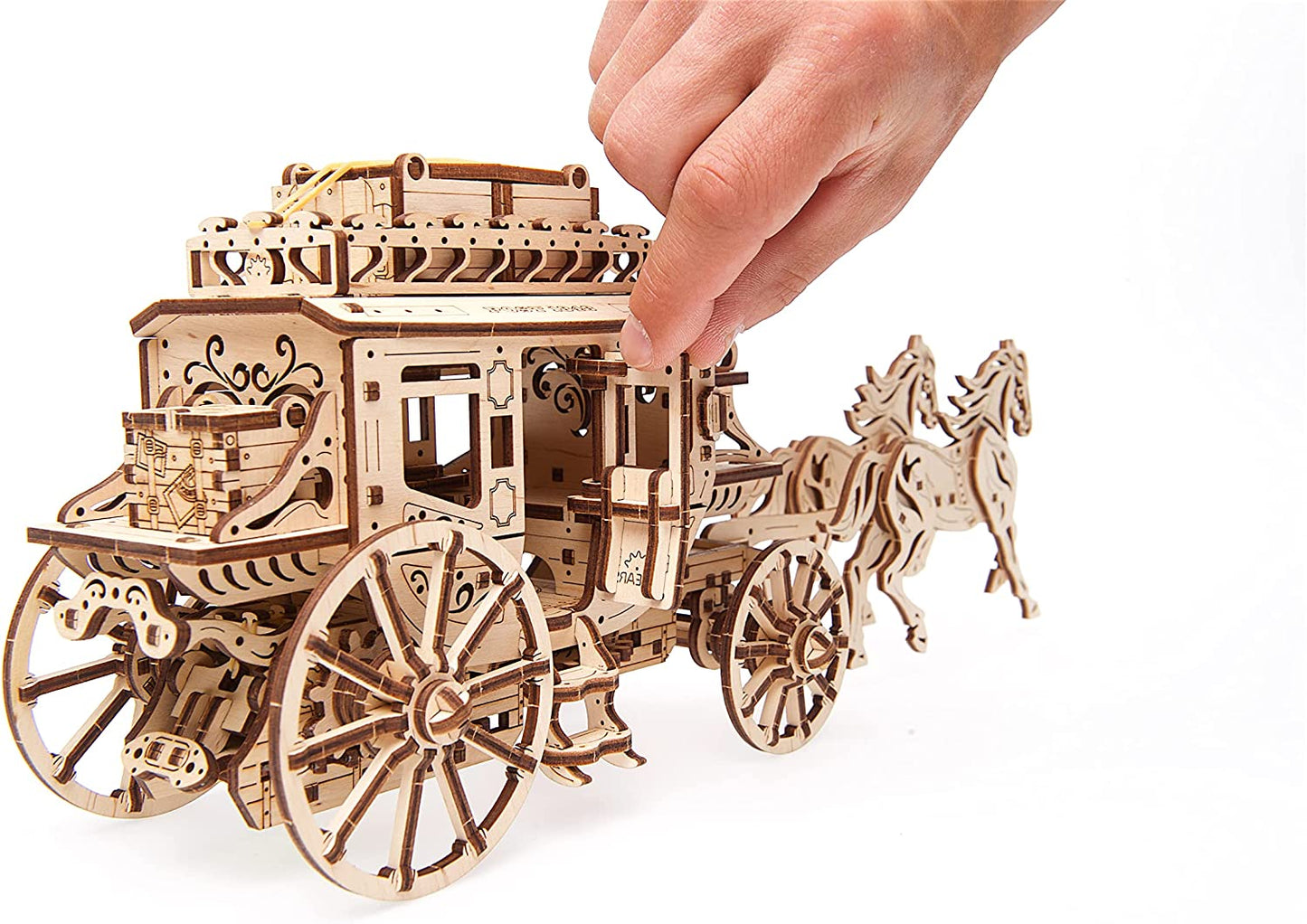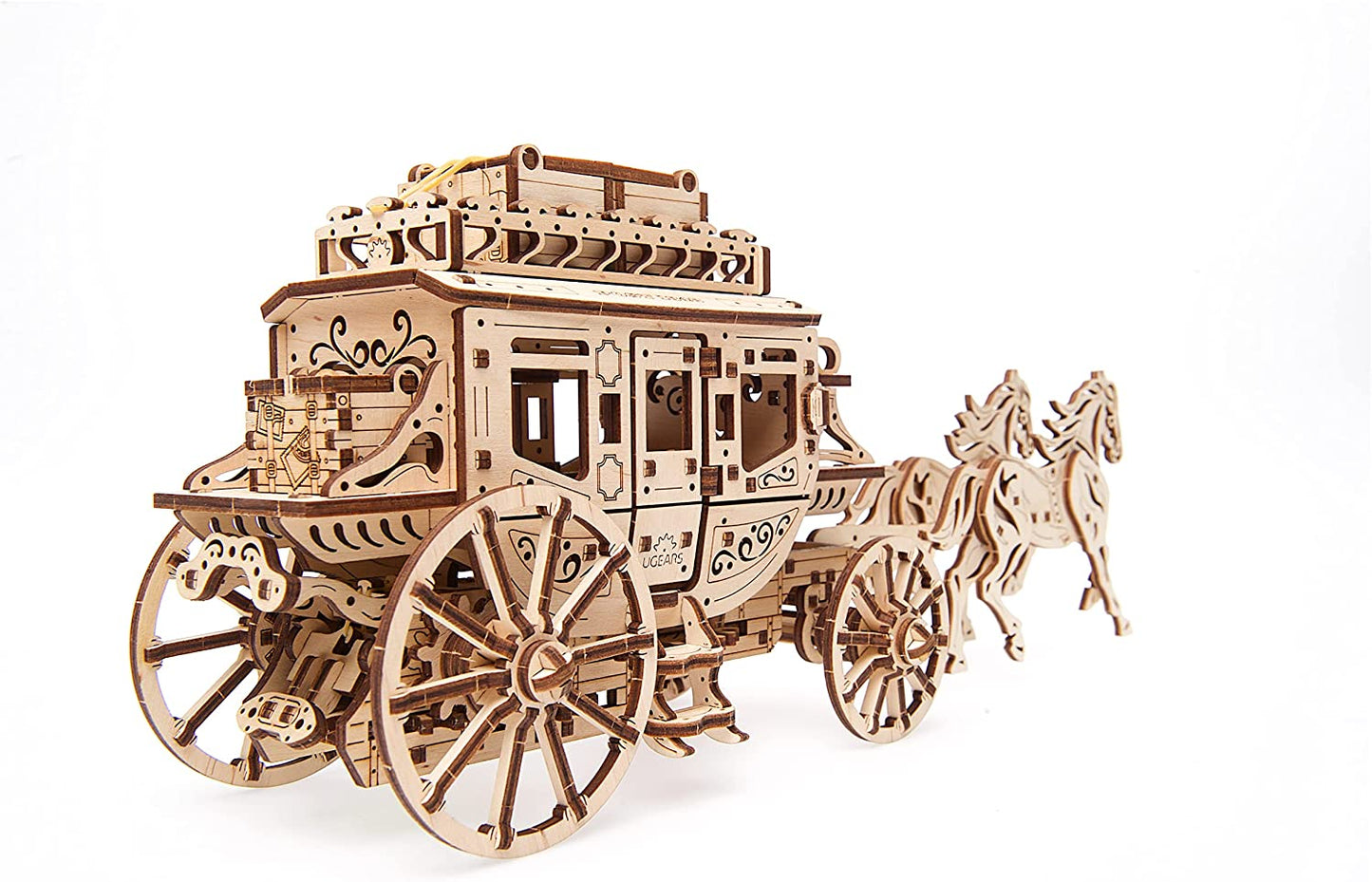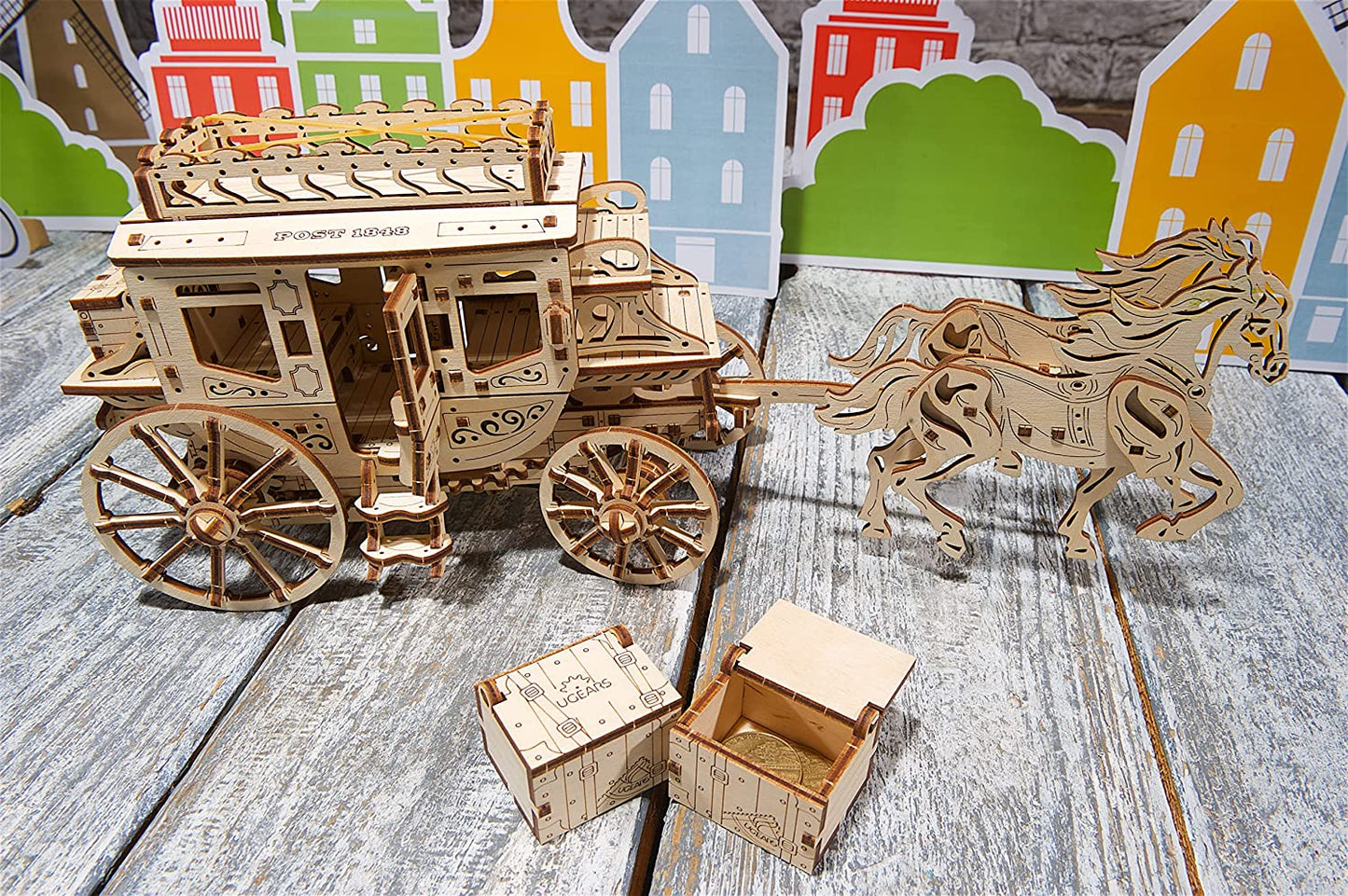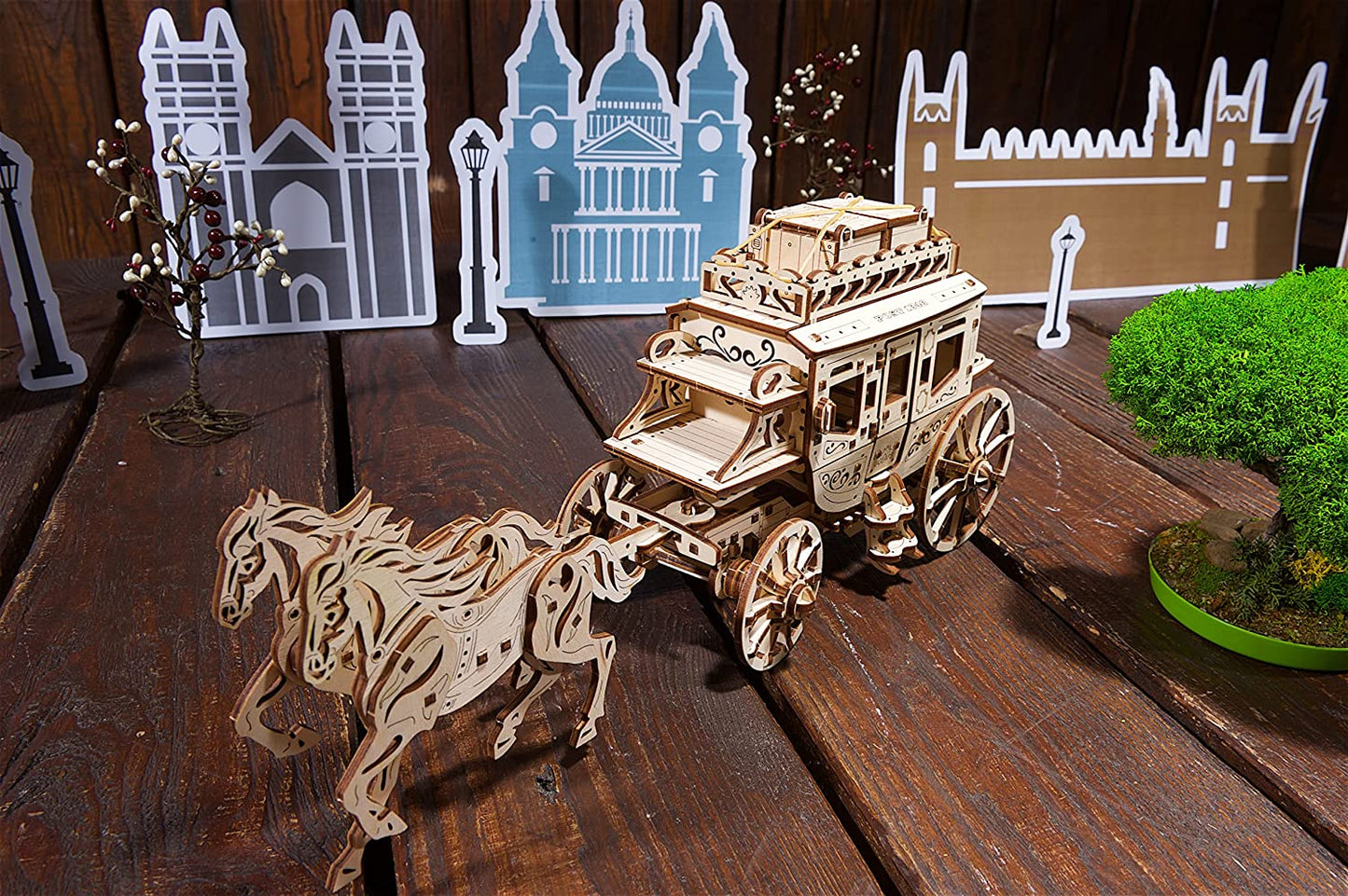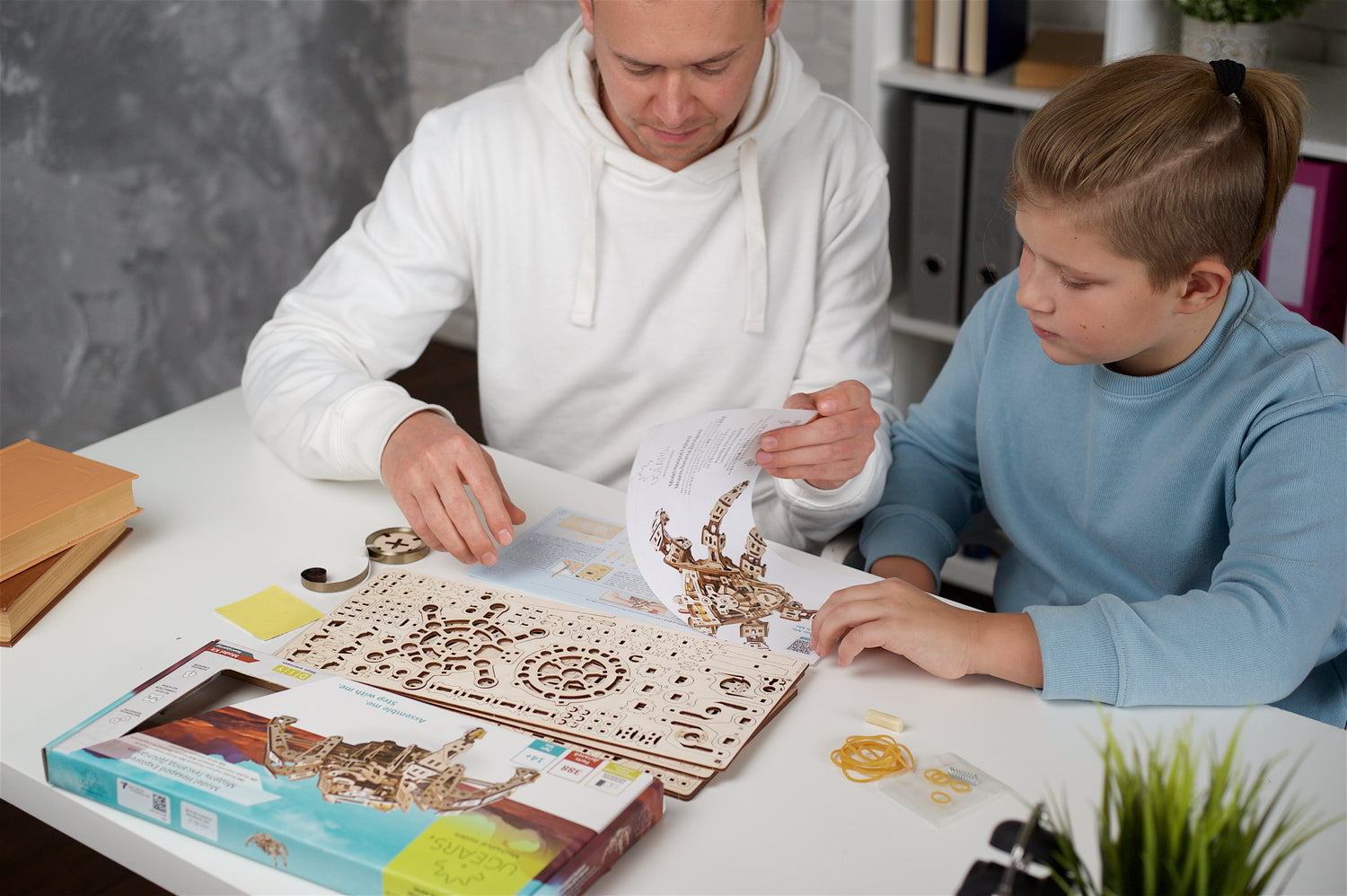 Ready to Build
Ugears models are made from sustainably sourced, laser cut plywood sheets. Everything you need is inside the box, so you can get building right away.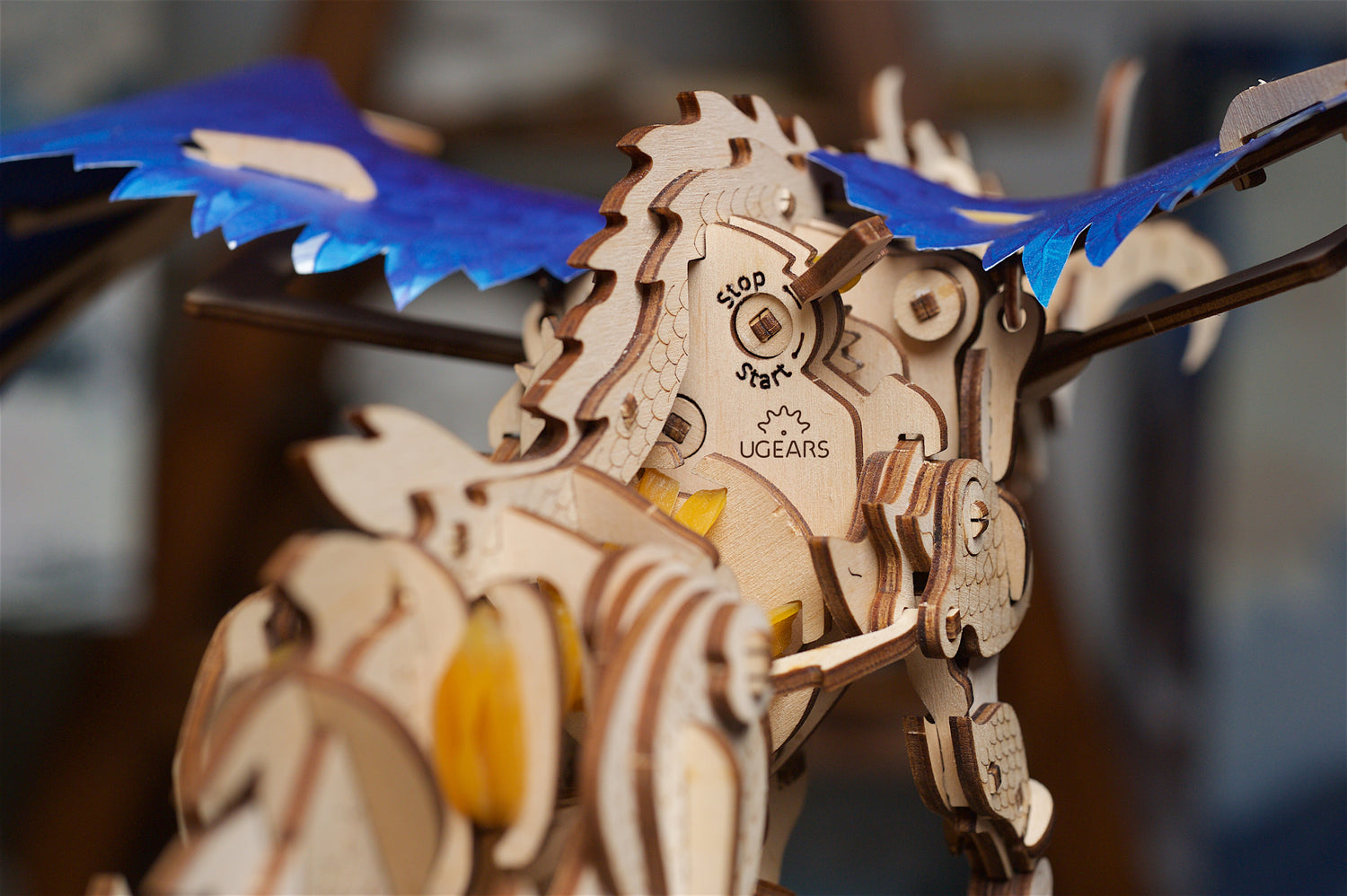 Mechanical
No batteries, no electricity, just Ugears. All mechanical models are powered by the ingenious mechanisms built by you. Just wind up your model and watch it come to life.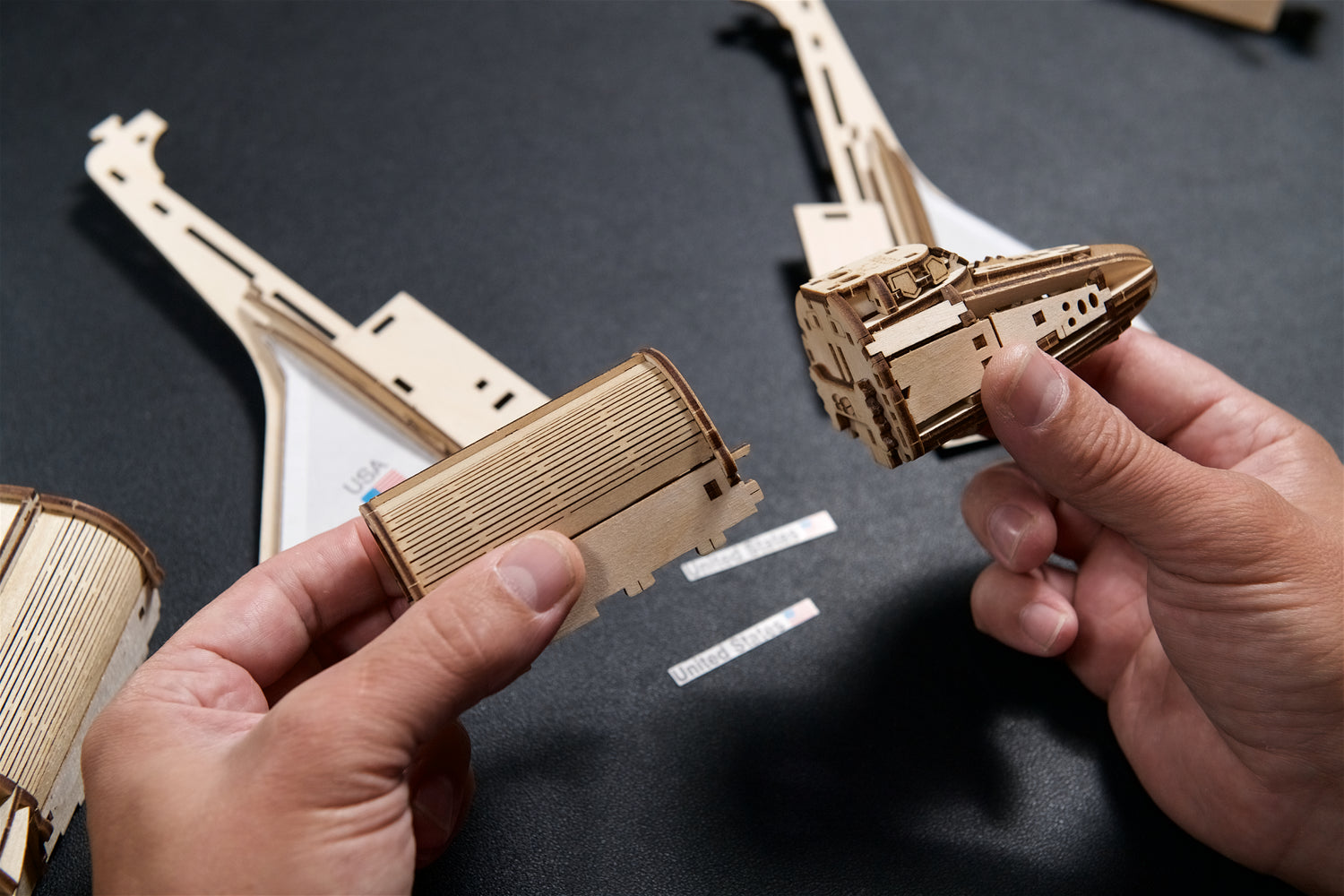 No Glue
Pieces have been designed so they will either click or slide into place. No glue or any other kind of adhesive is needed to build your model.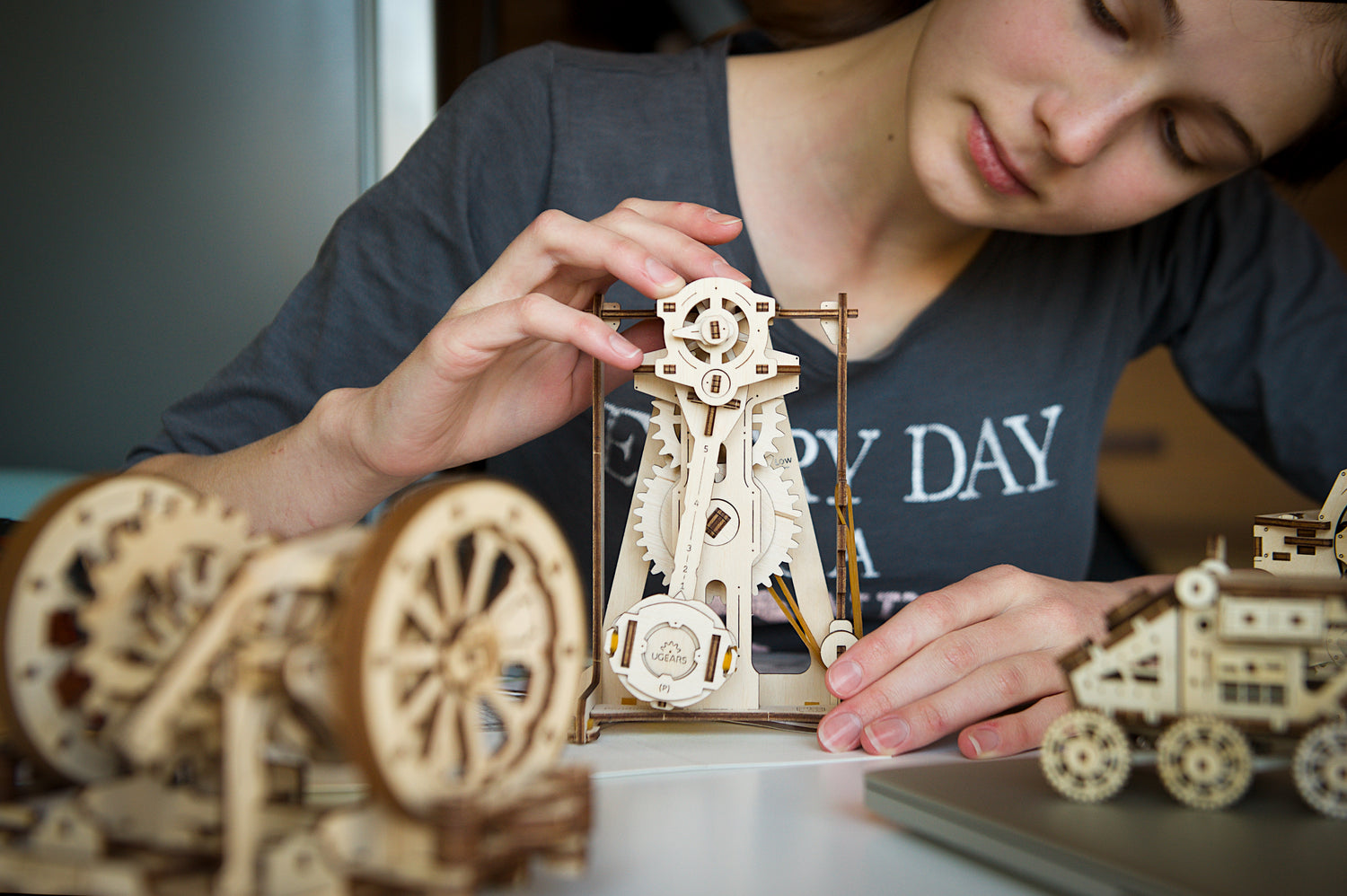 Educational
Models take inspiration from real life inventors and engineers, such as Da Vinci and Galileo. Learn the history behind the model as you build.