SKU:UGR70018
Regular price
Sale price
£60.50 GBP
Unit price
per
Liquid error (snippets/price line 121): divided by 0% OFF
Sale
Sold out
---
322

Pieces

3

Est. Time (hrs)
14+

Age

Medium

Difficulty
LxWxH 650 mm x 345 mm x 415 mm
---
Share
UGears Truck Series with THREE Additions - Tanker, Fire Ladder, Trailer Сhassis – a new generation of our mechanical models with more technical elements and details that make it even more exciting. The Set of Additions for UGM-11 Truck – a perfect way to turn your Truck into Tanker or Fire Truck with a ladder and assemble the Truck's trailer.
The set of Additions for Truck includes: The Tanker with a unique opening mechanism, extendable 3-section Fire Ladder on slewing platform, has the length of 70cm in unfolded state, truck's trailer: the Chassis with wheels on which the Truck's "bed" is set.
The Tanker is equipped with a unique opening mechanism. The Tanker is designed and fit well for standard 0.33 L cans. Twist the knob on the tanker's cap and unfold it in surprising way. The Tanker have a raw, open look so even the casual observer could appreciate the marvels going on inside.
The Fire Ladder has several controls. Press the lever and lift up the ladder. Turn the platform to the right or to the left. Fix the selected position with a special ratchet. All three sections of the ladder are extending ahead. Ascend the ladder and you'll get a real crane with hook at its end. There is even a little ladder to help Firemen to climb on the truck in few seconds. Like in a real Fire Truck it is mounted on back.
The Trailer Сhassis has very realistic springs which are swinging during driving. There is a special rack under the drawbar, so that the model could stand independently.
Kit contains all required components and no glue is required
Precision laser cut plywood. Only requires assembly.
UGears Mechanical Models are self-propelled, mechanical wooden model assembly kits.
Perfect for family projects, puzzle enthusiasts, and hands-on STEM learning
322 parts
Assembly time: 3-4 hours
Model size Tanker 170x115x135mm
Model size Ladder 360x120x175mm
Model size Trailer 225x110x105mm
Ugears Set of Additions for Truck UGM-11:Tanker, Fire Ladder, Trailer
UGEARS Truck Series with THREE Additions - Tanker, Fire Ladder, Trailer Сhassis – a new generation of our mechanical models with more technical elements and details that make it even more exciting. The Set of Additions for UGM-11 Truck – a perfect way to turn your Truck into Tanker or Fire Truck with a ladder and assemble the Truck's trailer.

The set of Additions for Truck includes:
• The Tanker with a unique opening mechanism;
• Extendable 3-section Fire Ladder on slewing platform. Has the length of 70cm in unfolded state
• Truck's Trailer: the Chassis with wheels on which the Truck's "bed" is set.

Having 3 Trucks with a Set of Additions you will create your own car park with Rescue& Fire Truck, Tanker and Truck with Trailer.

The Tanker is equipped with a unique opening mechanism. The Tanker is designed and fit well for standard 0.33 L cans. Twist the knob on the tanker's cap and unfold it in surprising way. The Tanker have a raw, open look so even the casual observer could appreciate the marvels going on inside.

The Fire Ladder has several controls. Press the lever and lift up the ladder. Turn the platform to the right or to the left. Fix the selected position with a special ratchet. All three sections of the ladder are extending ahead. Ascend the ladder and you'll get a real crane with hook at its end. There is even a little ladder to help Firemen to climb on the truck in few seconds. Like in a real Fire Truck it is mounted on back.

The Trailer Сhassis has very realistic springs which are swinging during driving. There is a special rack under the drawbar, so that the model could stand independently.

Assemble without glue like all UGEARS models.
UGM-11 Truck is a separate model.
View full details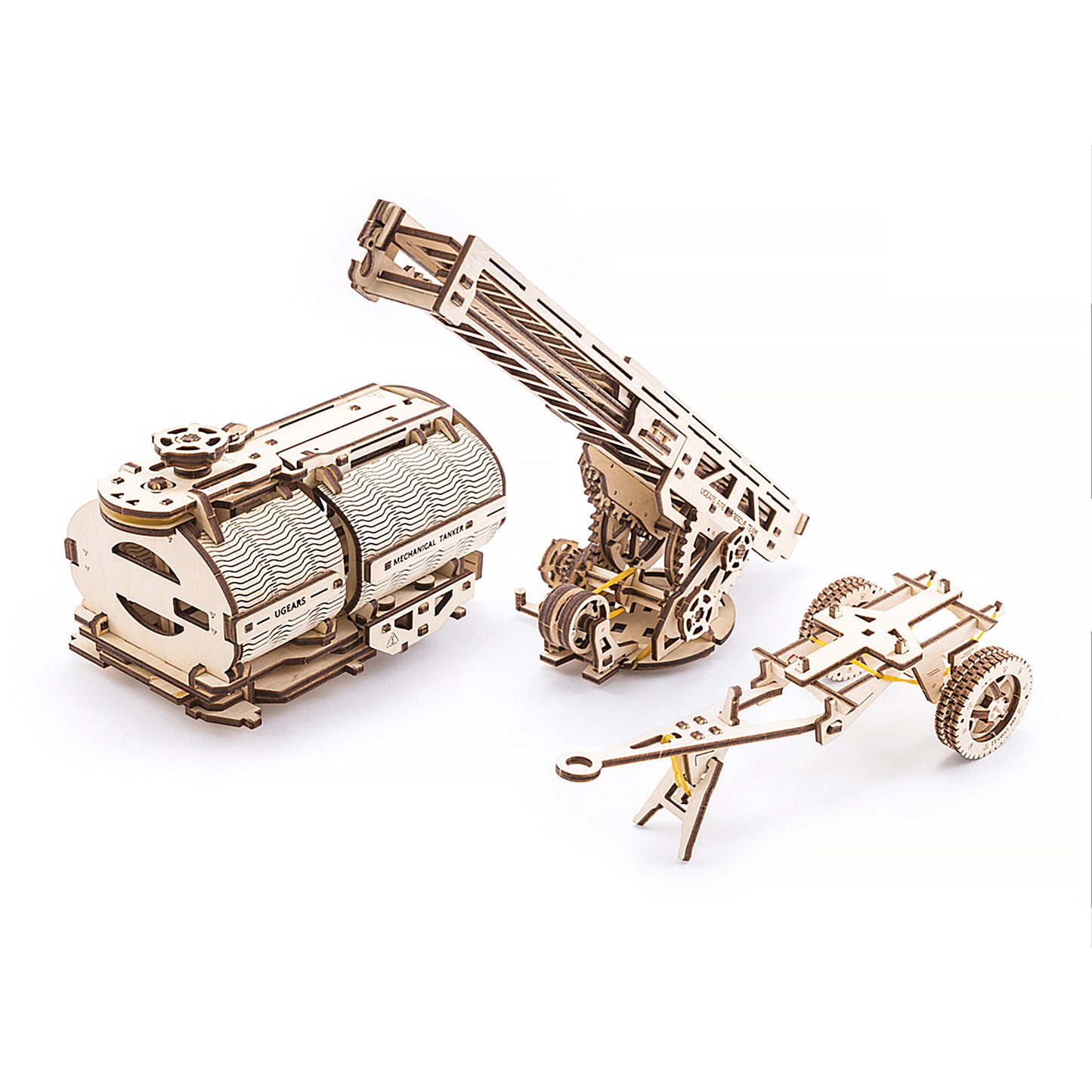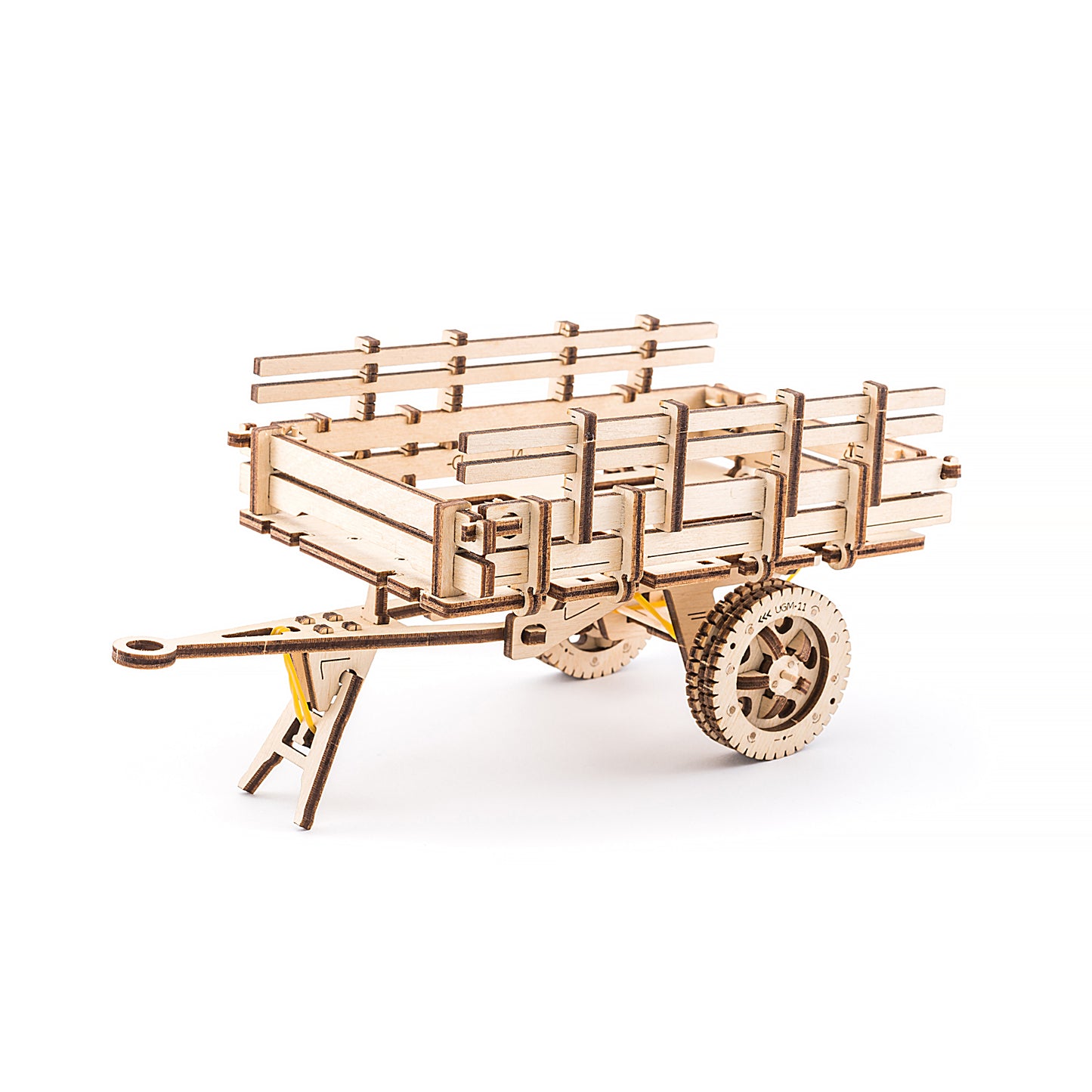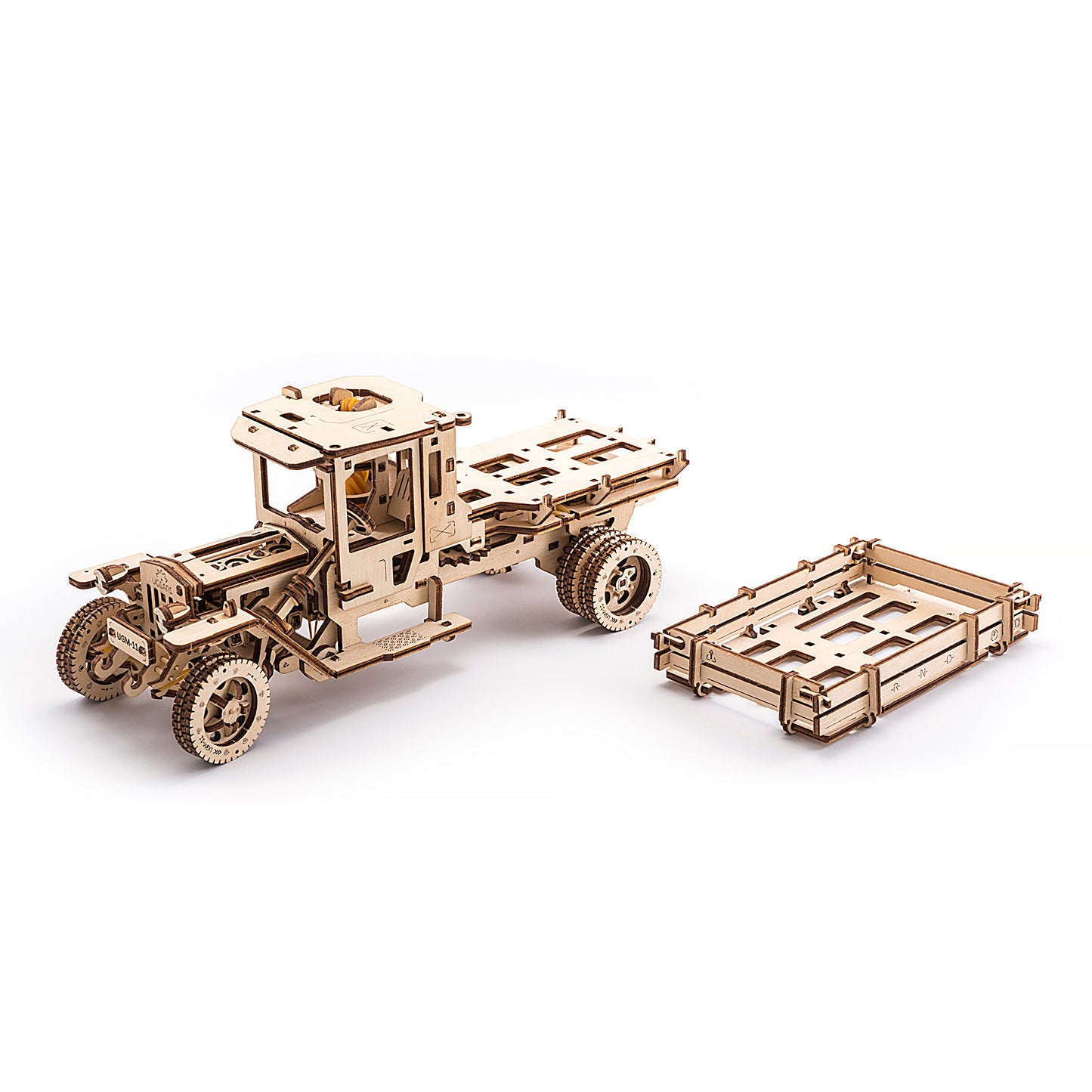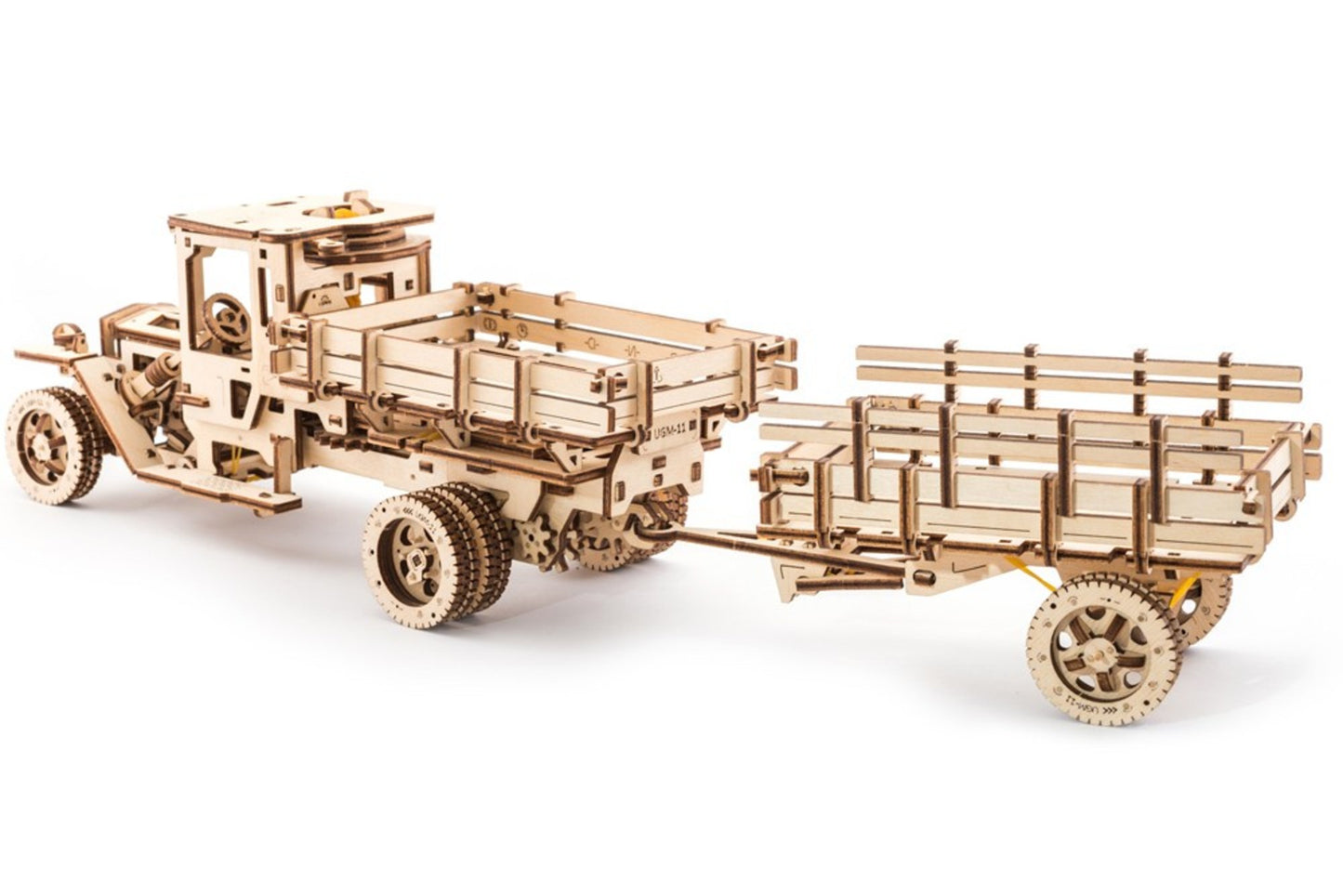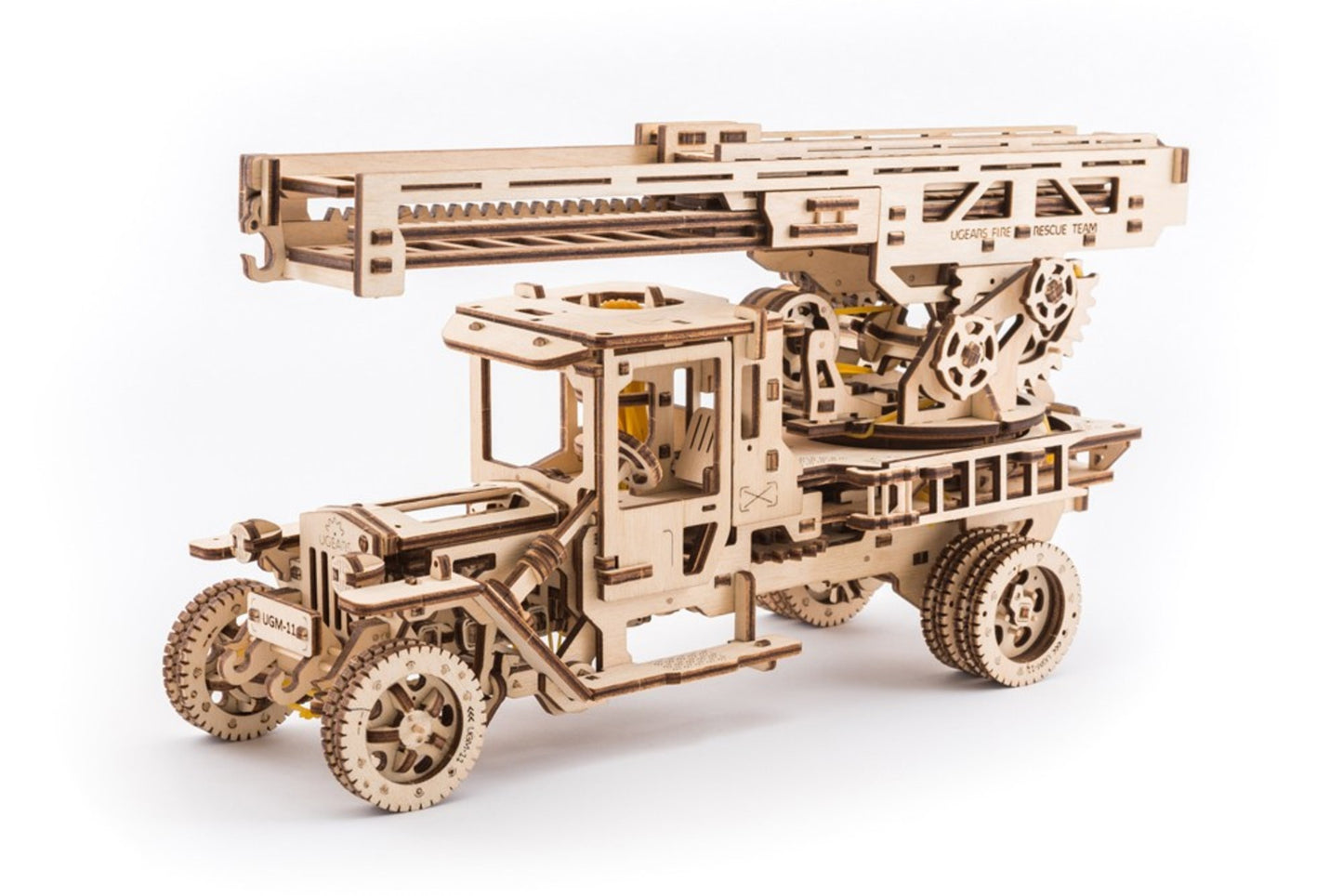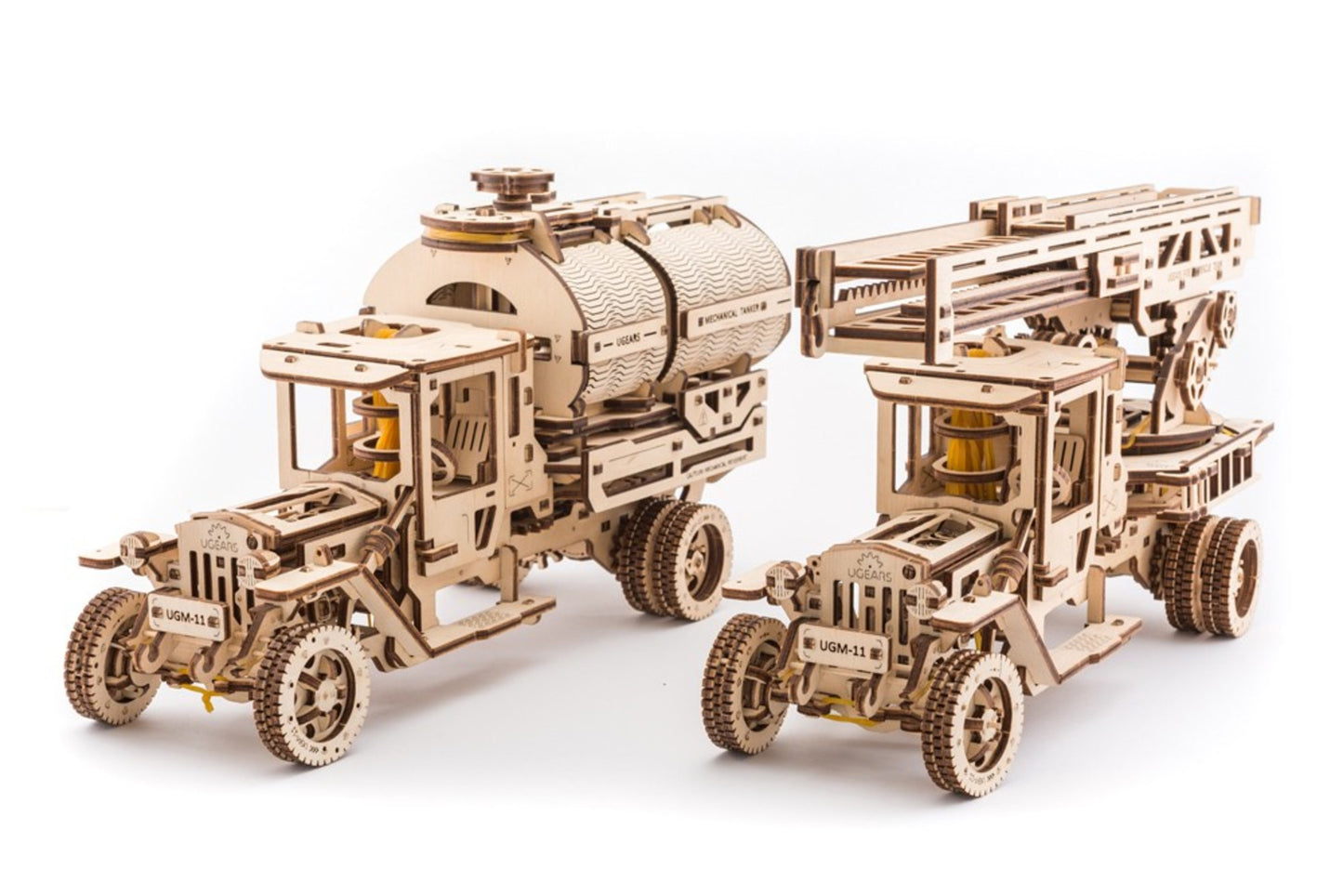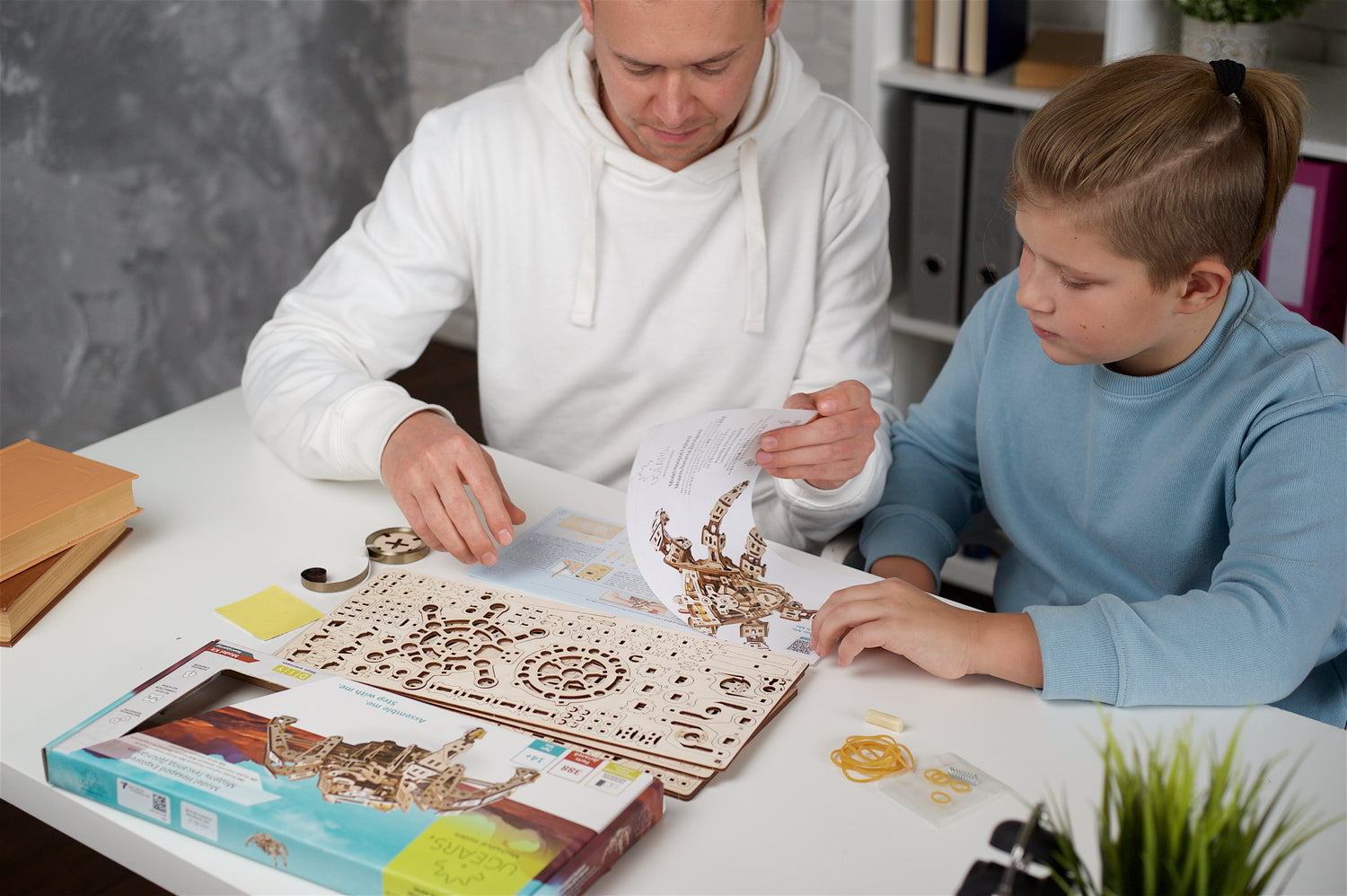 Ready to Build
Ugears models are made from sustainably sourced, laser cut plywood sheets. Everything you need is inside the box, so you can get building right away.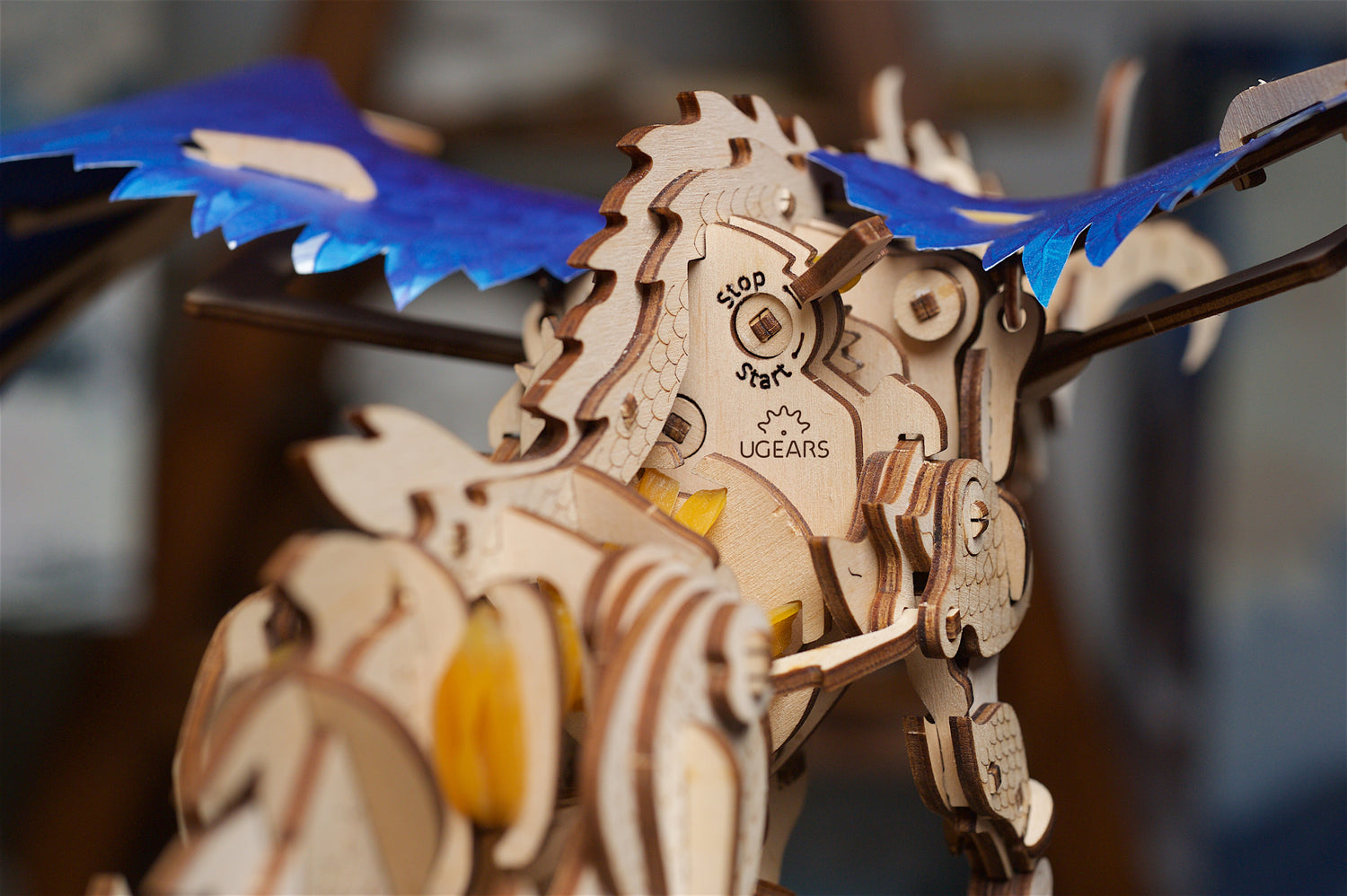 Mechanical
No batteries, no electricity, just Ugears. All mechanical models are powered by the ingenious mechanisms built by you. Just wind up your model and watch it come to life.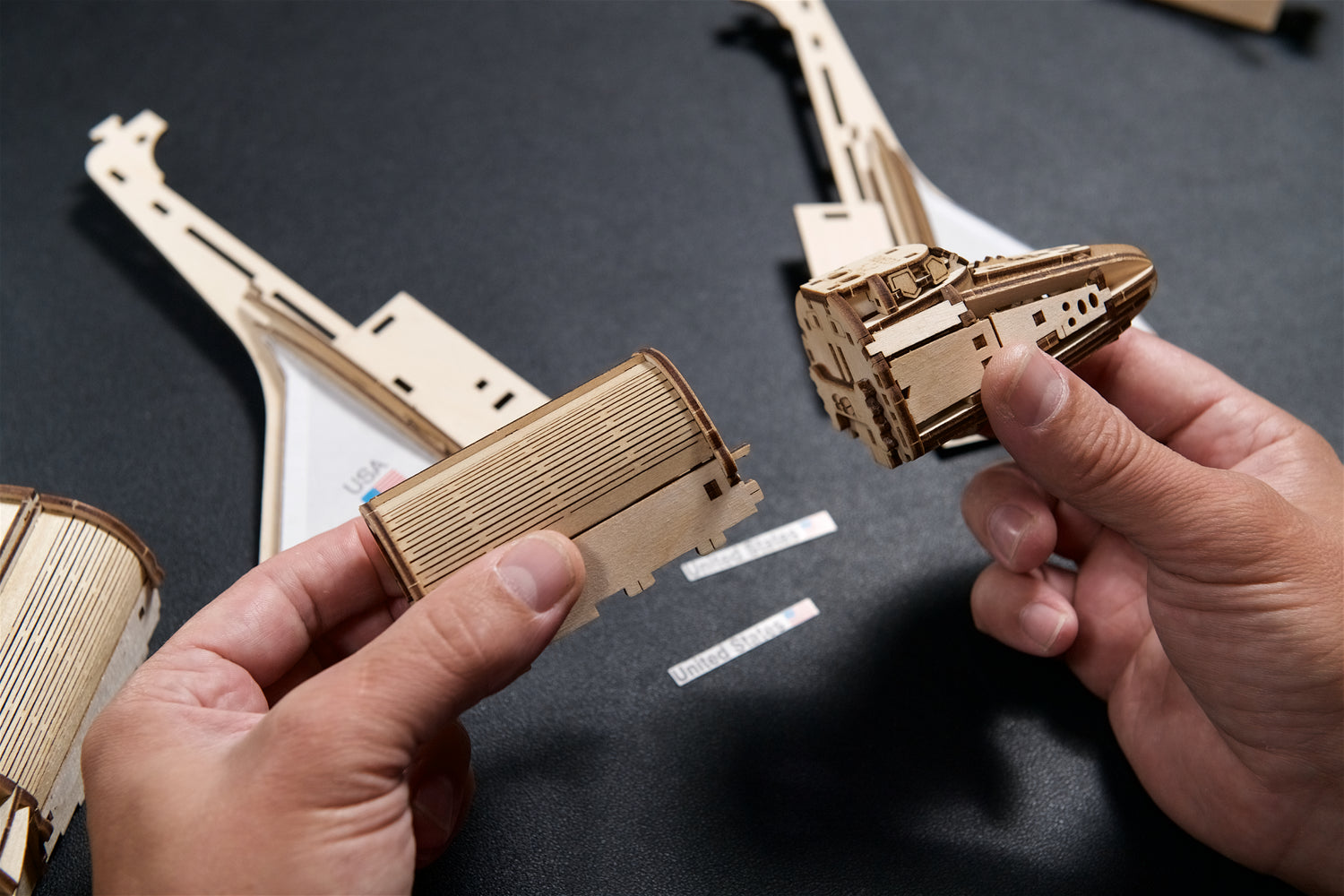 No Glue
Pieces have been designed so they will either click or slide into place. No glue or any other kind of adhesive is needed to build your model.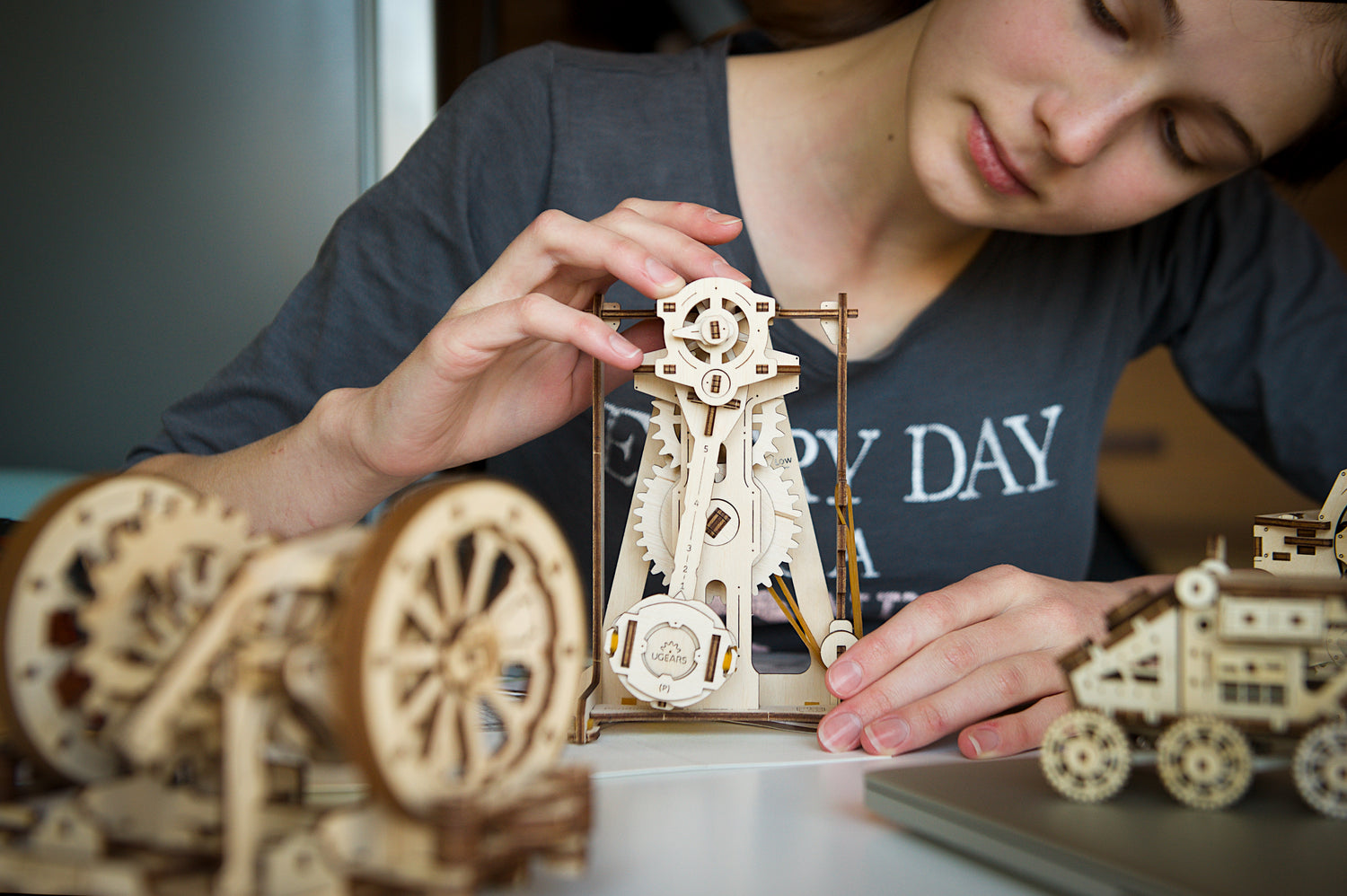 Educational
Models take inspiration from real life inventors and engineers, such as Da Vinci and Galileo. Learn the history behind the model as you build.