SKU:UGR70011
Regular price
Sale price
£56.99 GBP
Unit price
per
Liquid error (snippets/price line 121): divided by 0% OFF
Sale
Sold out
---
179

Pieces

6

Est. Time (hrs)
14+

Age

Advanced

Difficulty
LxWxH 196 mm x 185 mm x 176 mm
---
Share
FUNCTIONAL AND FUN - Teens and adults aged 14 and up will enjoy building their own 3D wooden safe. Creating the safe is challenging and may take a few hours, depending on your pace and patience. Once you've finished, you will have a place to store valuables safely, with the pride of constructing a unique piece.
EXPERTLY CRAFTED - The Model Safe Kit is a 3D wooden puzzle, made from durable plywood and birch. The 179 pieces includes are laser-cut for precision, so your pieces will fit together to be engineered without an issue. No glue is required for constructing your Model Safe Kit for the parts to fit together tightly, but some sanding may be required.
CAPTIVATING HANDCRAFTED DESIGN - The Model Safe Kit is not only functional and fun, but it's designed beautifully, too! The three dimensional wooden puzzle has decorative designs that look captivating in the finished product. Display a truly unique wooden piece on your desk, shelf or nightstand.
BRING THE FAMILY TOGETHER - Building this Model Safe Kit can be engaging and rewarding for the family to complete together. The complexity of this kit will bring families together for hours to create something truly unique to display in their home. This model is a perfect idea for handyman or anyone who enjoys woodworking.
EXPAND YOUR MIND - This 3-D puzzle is classified as medium level difficulty and requires meticulous attention to detail and accuracy when assembling the laser-cut plywood and birch wood pieces. Use this puzzle as a brain teaser and crack the code with a mix of slow knob twists and carefully listening to tumbler movements that will open the lock.
Kit contains all required components and no glue is required
Precision laser cut plywood. Only requires assembly.
UGears Mechanical Models are self-propelled, mechanical wooden model assembly kits.
Perfect for family projects, puzzle enthusiasts, and hands-on STEM learning
179 parts
Assembly time: 6-7 hours
Model size 196x185x176mm
Ugears wooden 3D brain teaser Safe with personal lock combination
Considering safe-cracking as a profession? This might be just where you should start. Build your own safe with a personal lock combination, store your most precious items in the safe (jewelry or candy, your choice), and then promptly forget your combination! Follow the handy steps in the instructions to master the mix of slow knob twists and careful listening to tumbler movements that will open the lock. Will you retrieve your items, or will you have to hire a locksmith? Try it and see.
Rules of the safe opening: At first you should renew code lock: twist the knob safe counterclockwise (left) to one-two turns. You can now dial the code: 1 - Scroll the knob counterclockwise (left) to the first digit from 1 to 9. Stay on it. 2 - Now turn the knob clockwise (right) to the number zero. After passing zero continue to twist the handle to the right to the second code digits from 1 to 9. Stay on it. 3- Again turn the knob counterclockwise (left) to the third digit. If the combination is correct, your safe clicks and opens itself on the third digit. (Briefly rules: twist left to the first digit, then right to the second zero digit and then left of the third digit). To re-close the safe - close the door, scroll the knob counterclockwise (left) - the lock closes itself.
Self-assembly: No glue required
View full details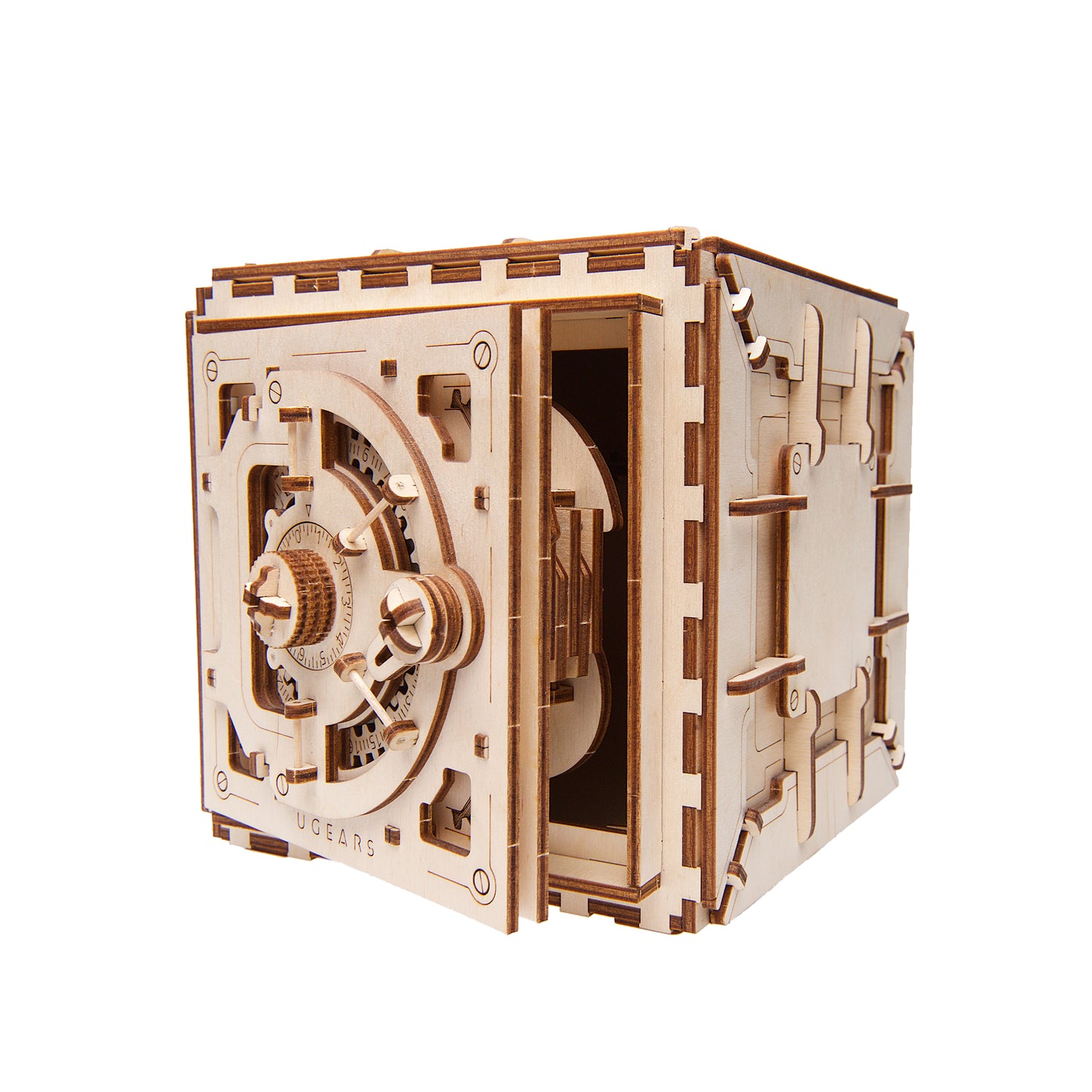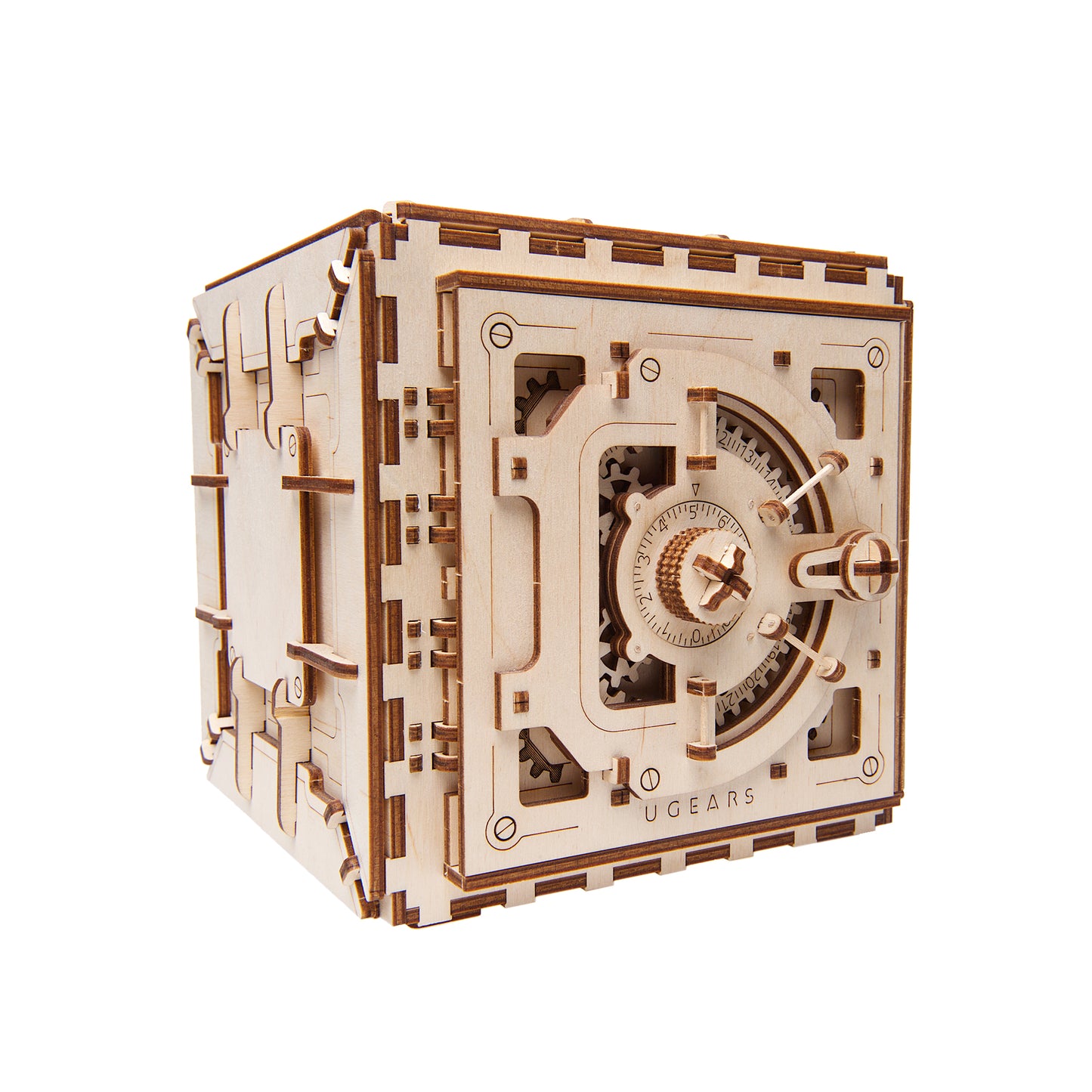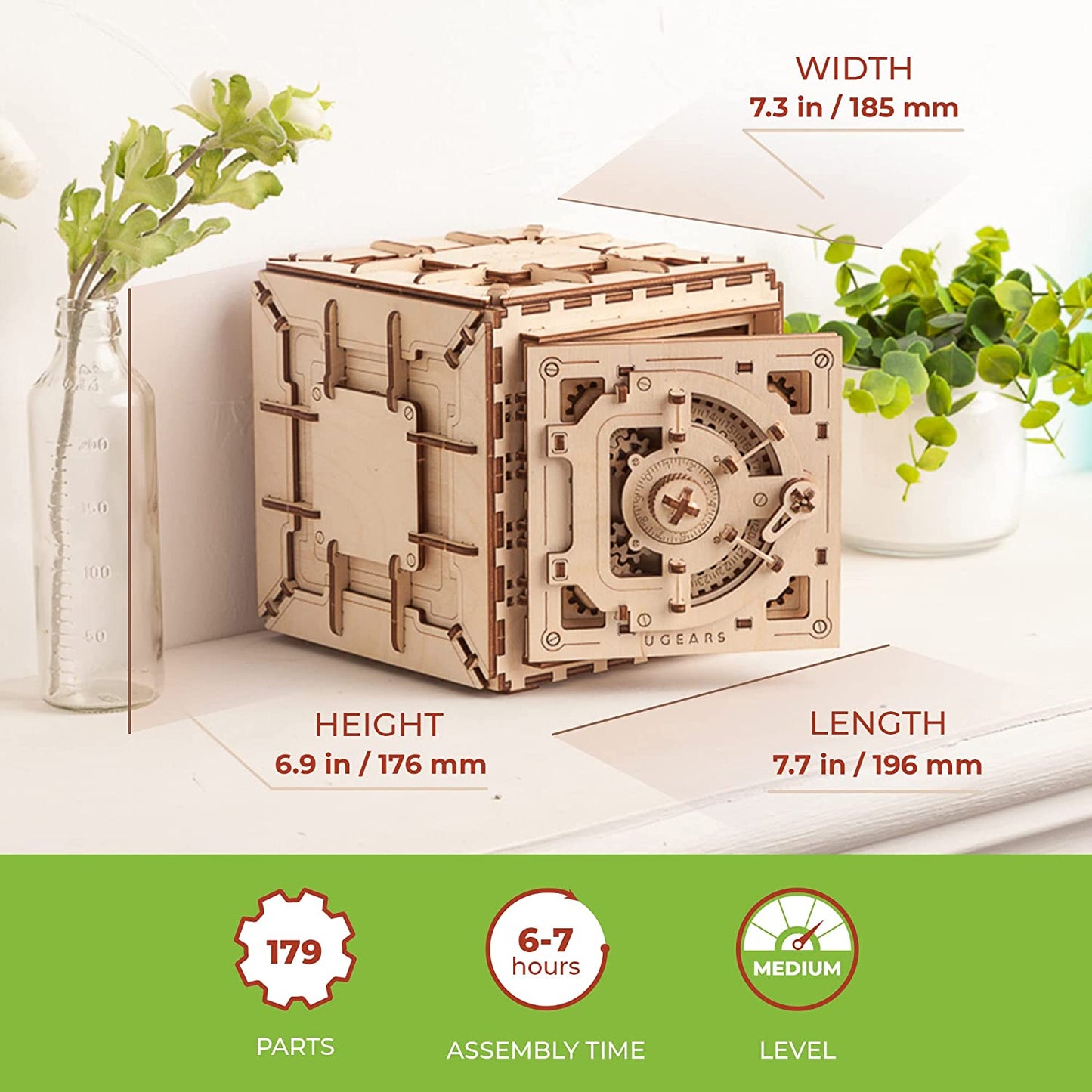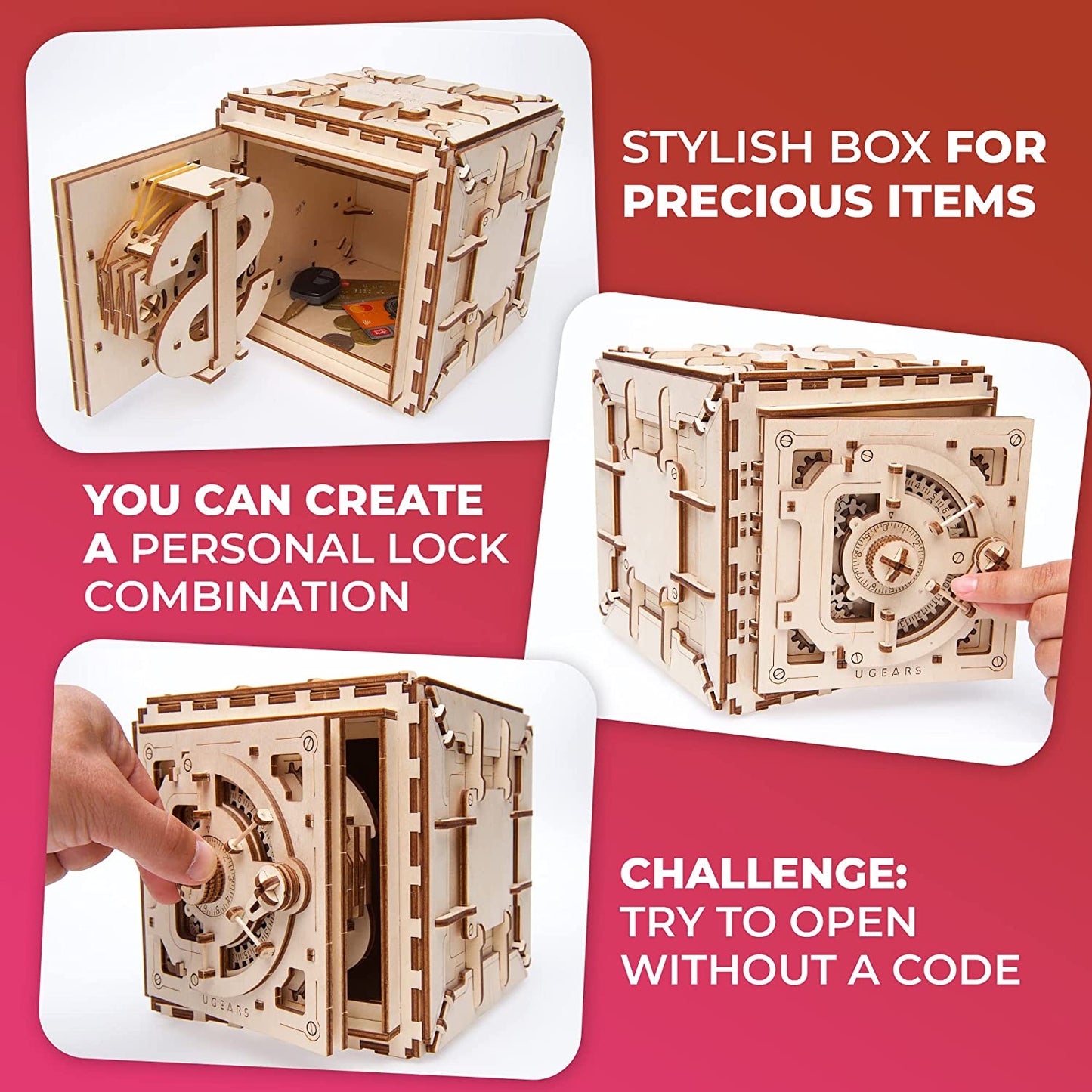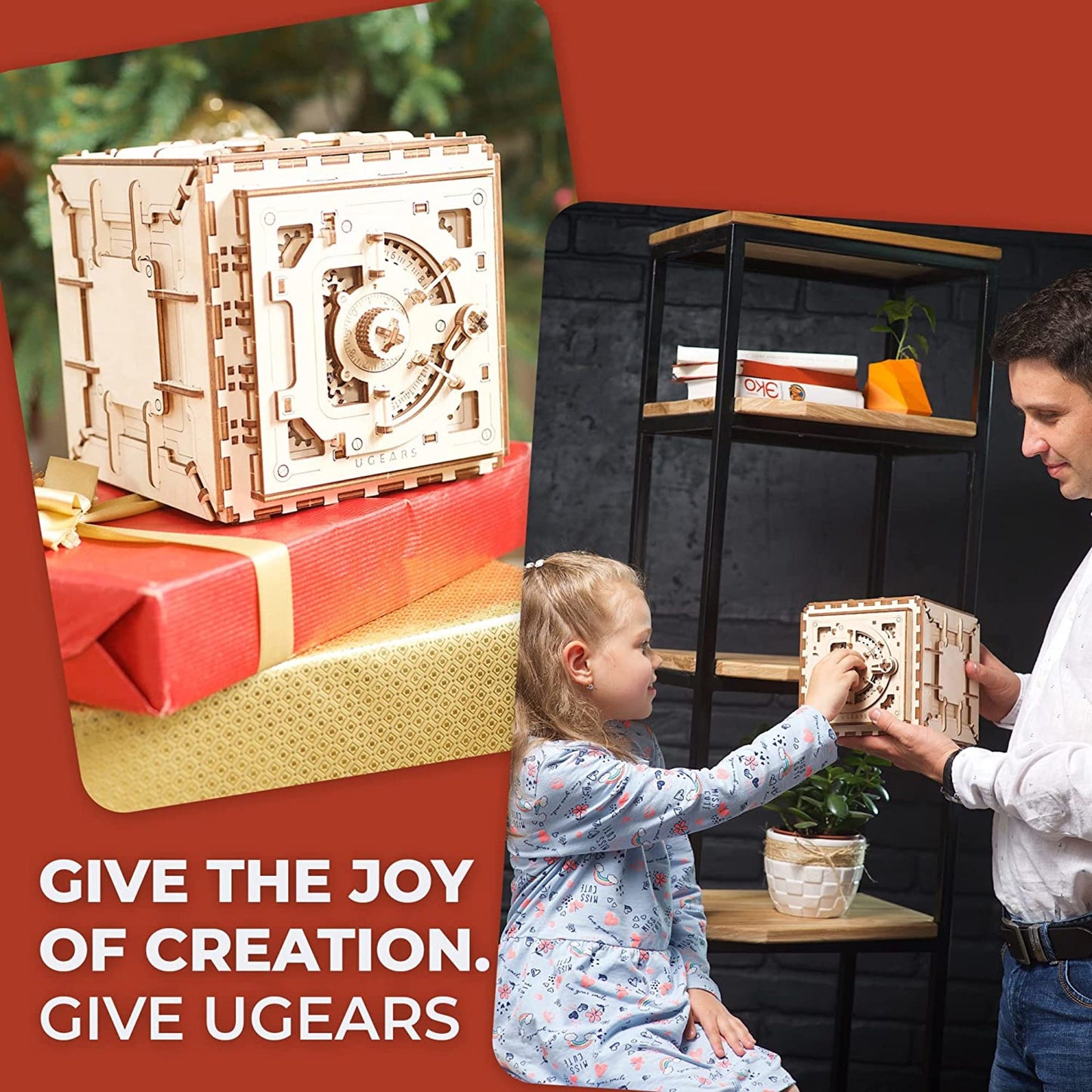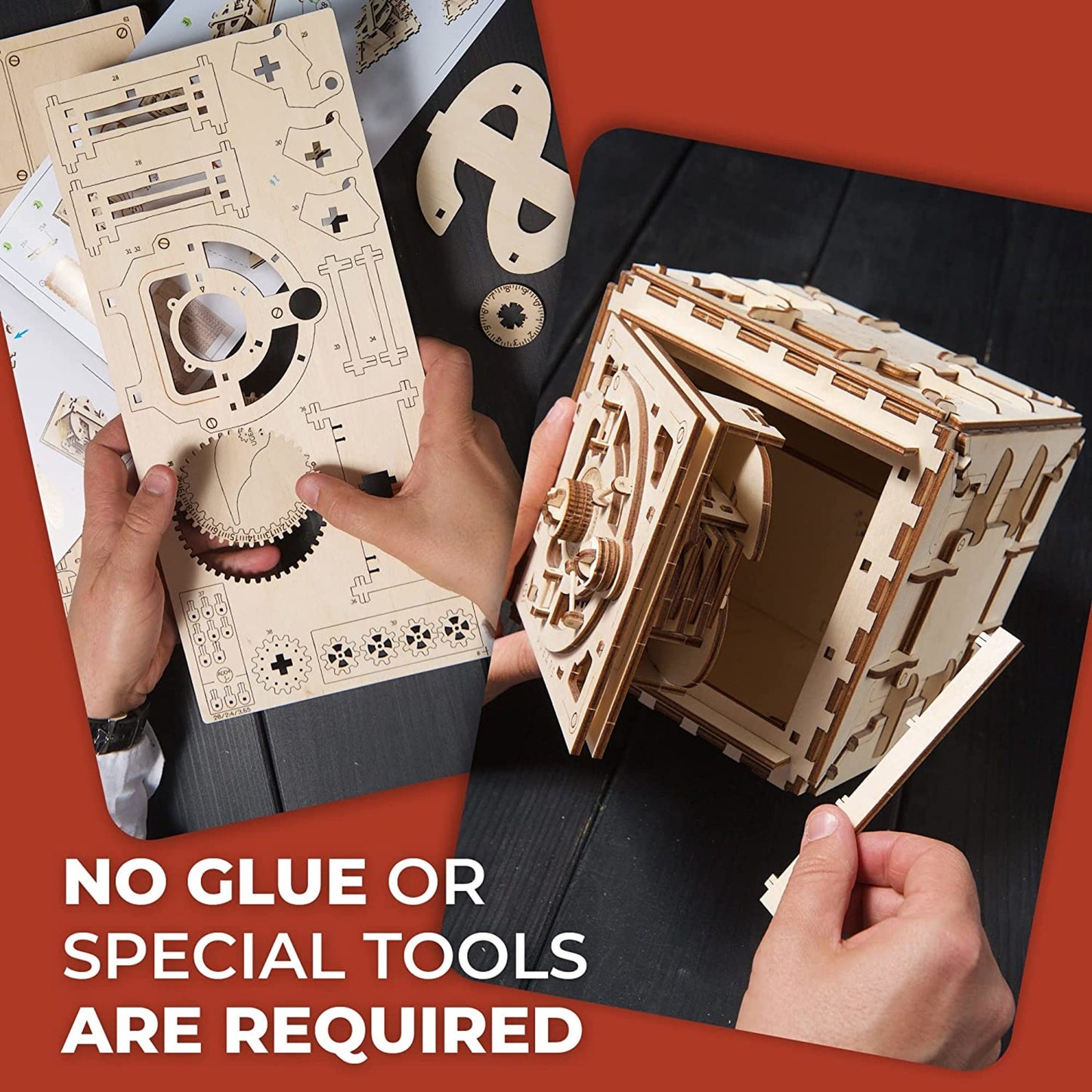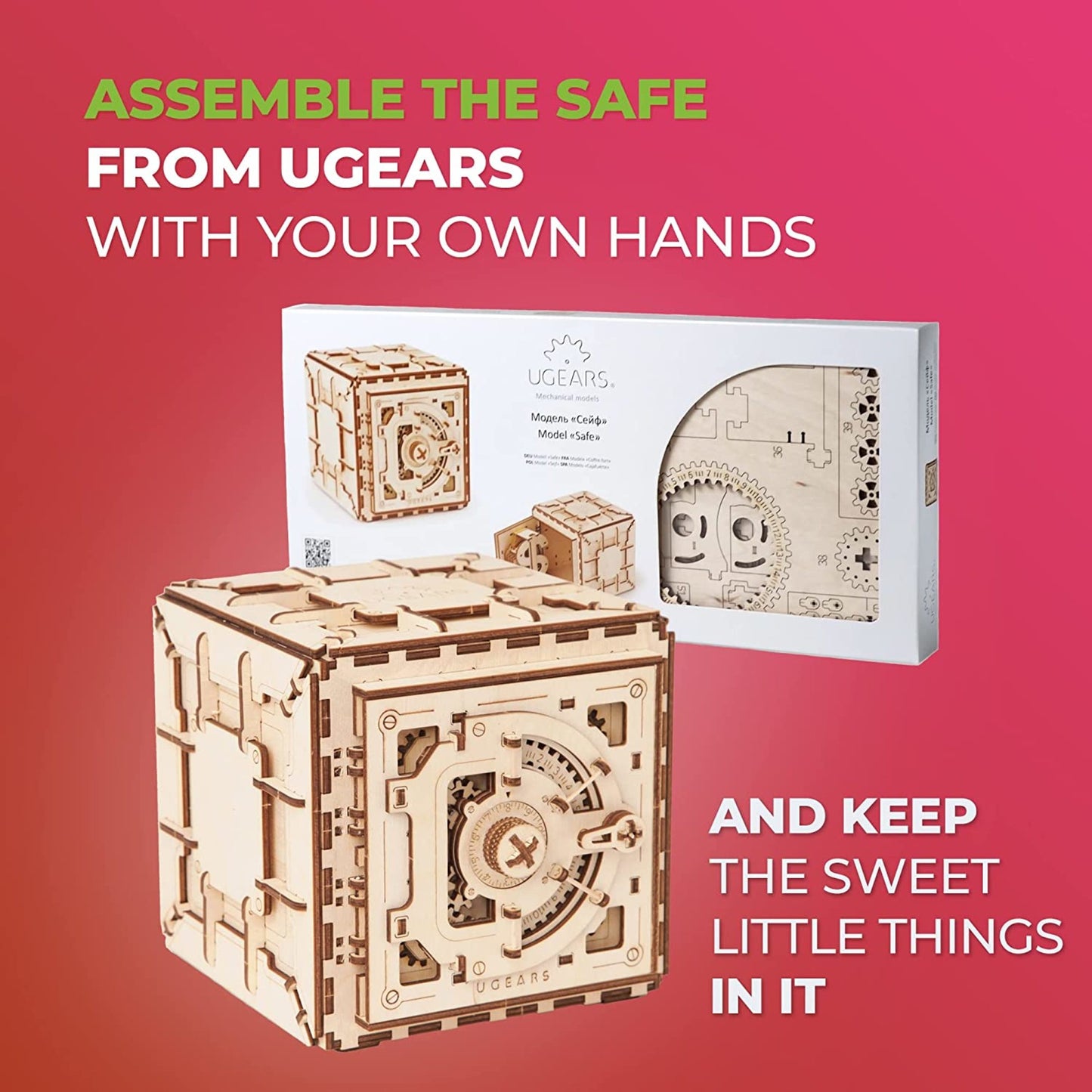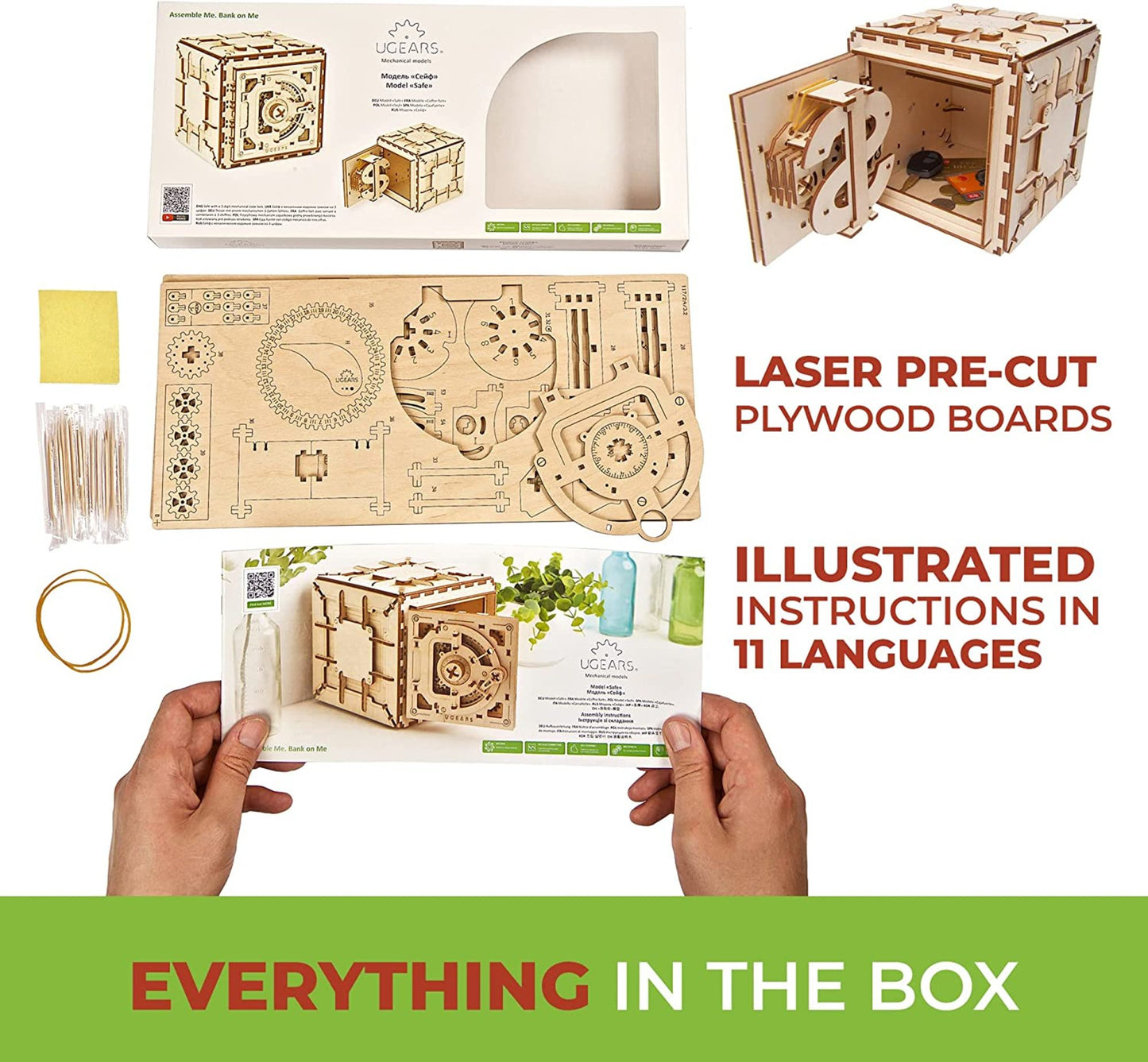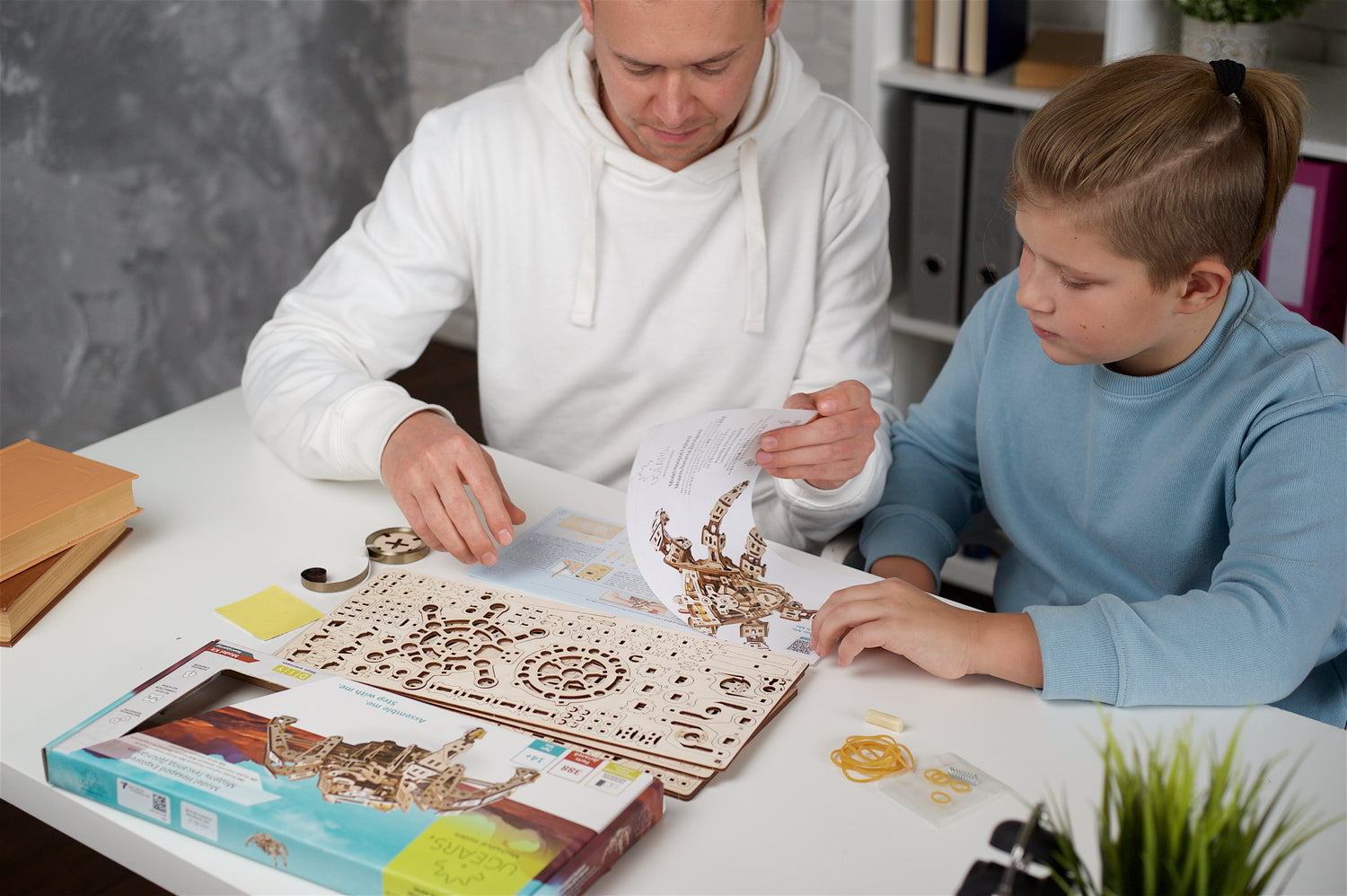 Ready to Build
Ugears models are made from sustainably sourced, laser cut plywood sheets. Everything you need is inside the box, so you can get building right away.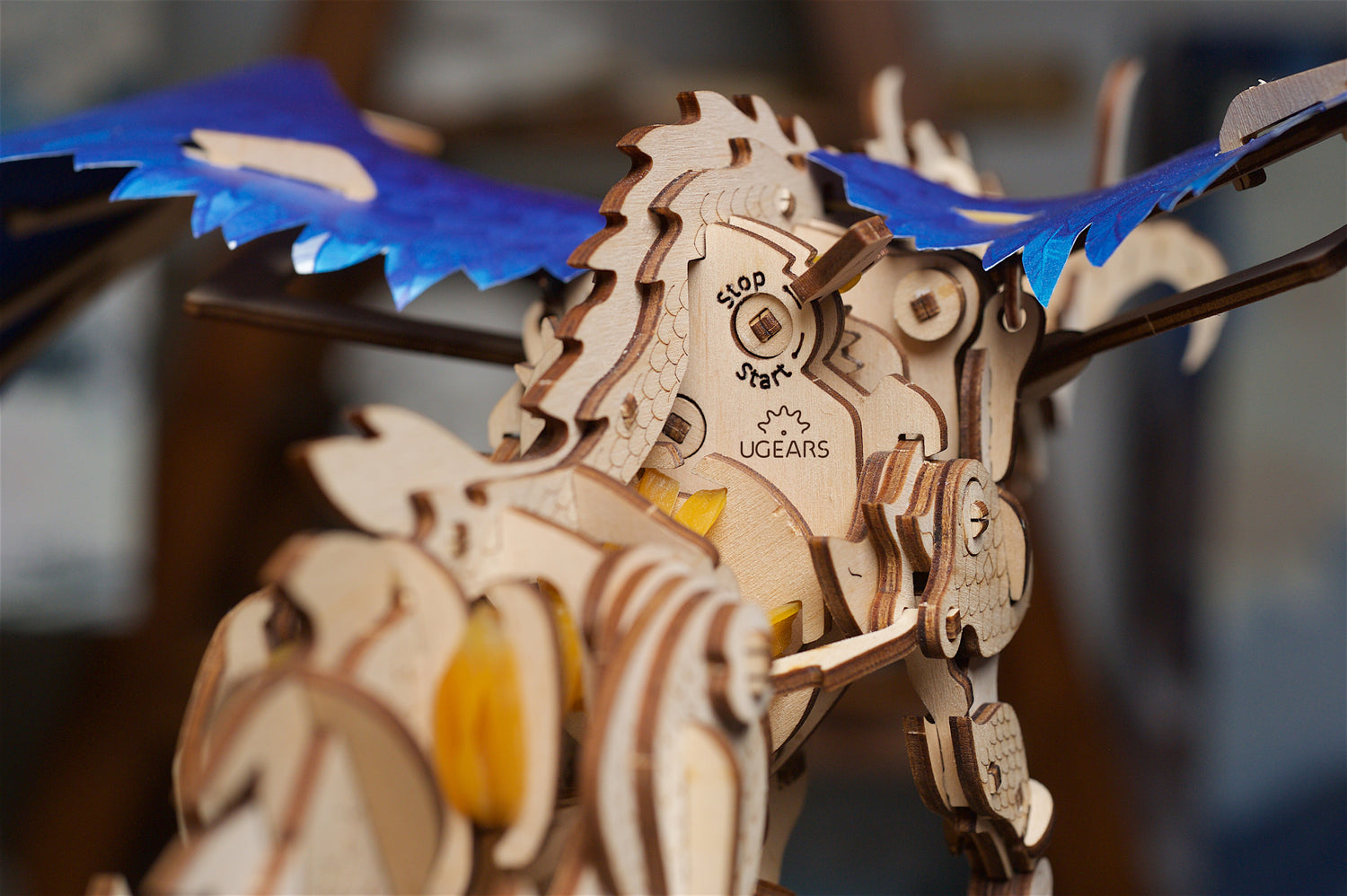 Mechanical
No batteries, no electricity, just Ugears. All mechanical models are powered by the ingenious mechanisms built by you. Just wind up your model and watch it come to life.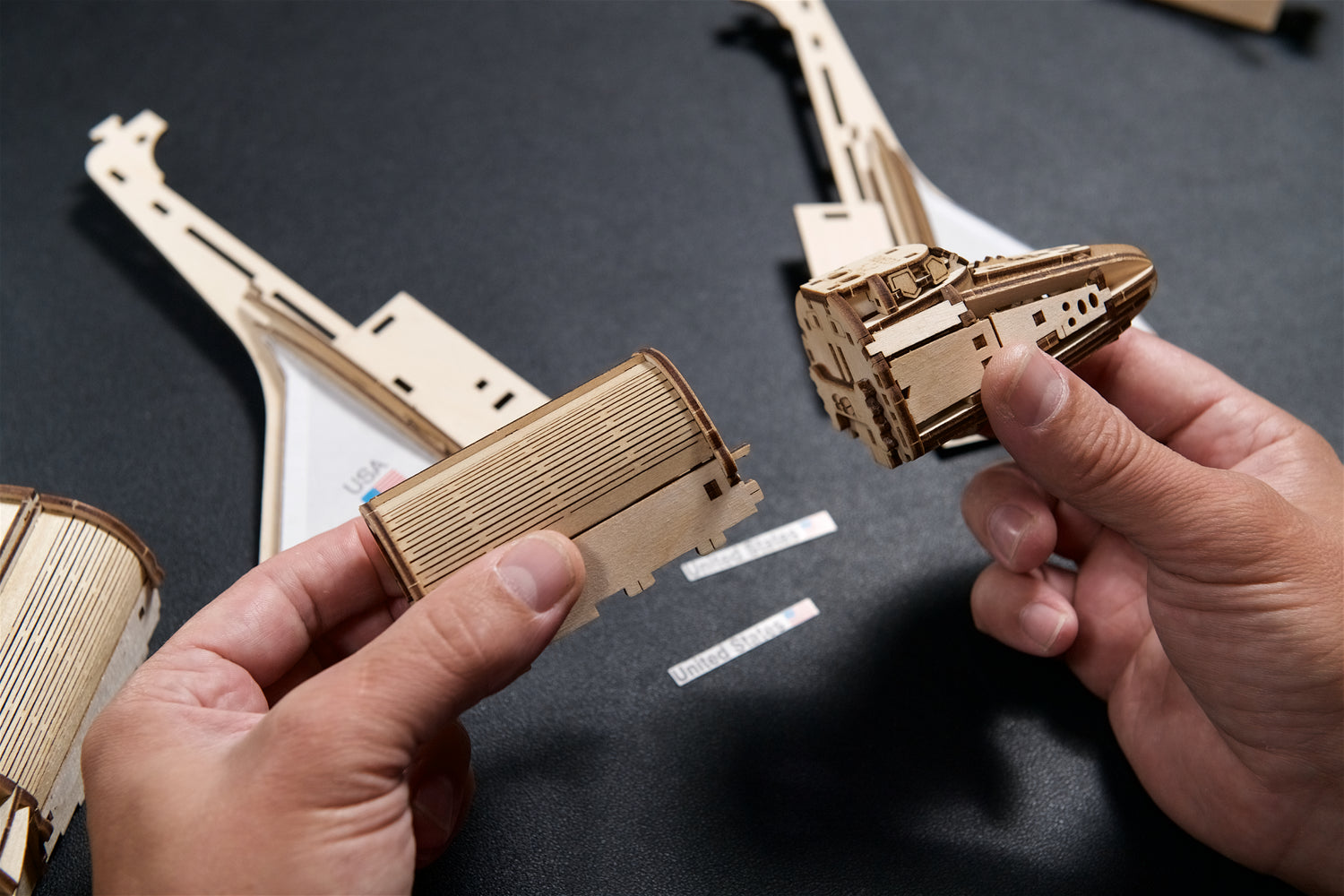 No Glue
Pieces have been designed so they will either click or slide into place. No glue or any other kind of adhesive is needed to build your model.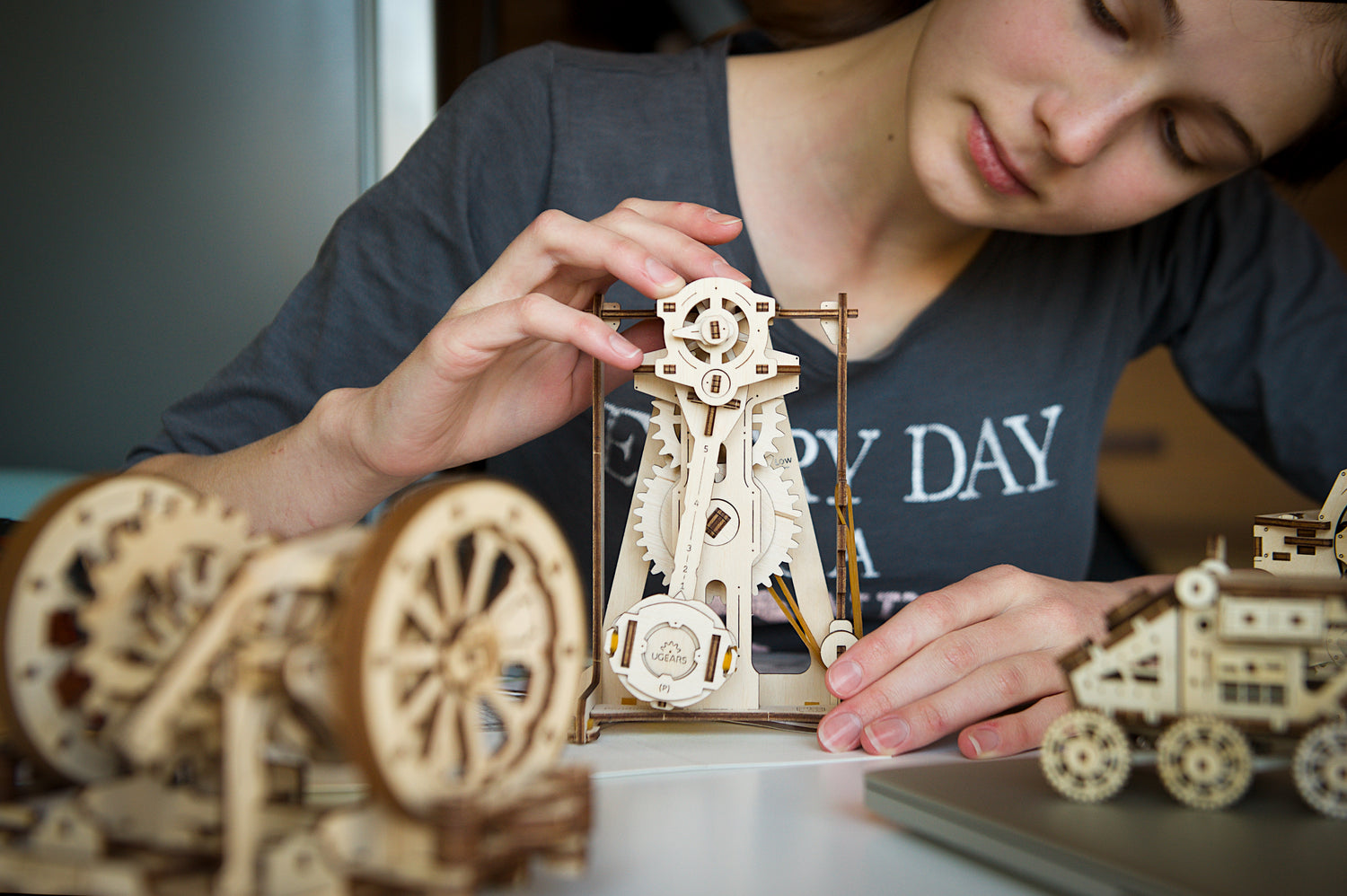 Educational
Models take inspiration from real life inventors and engineers, such as Da Vinci and Galileo. Learn the history behind the model as you build.